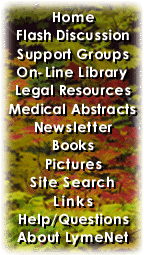 ---
LymeNet on Facebook
LymeNet on Twitter
---
---
The Lyme Disease Network receives a commission from Amazon.com for each purchase originating from this site.
When purchasing from Amazon.com, please
click here first.

Thank you.




Dedicated to the Bachmann Family


LymeNet needs your help:
LymeNet 2020 fund drive

The Lyme Disease Network is a non-profit organization funded by individual donations.

| | |
| --- | --- |
| | |
Author
Topic: need help dealing with school please

pattiecake
LymeNet Contributor
Member # 6424


posted

---

My 6yo son is in first grade and a very good student. Most stuff comes easy to him. That said I will tell you he has lyme and he is having trouble "zoning out" not following directions, the teacher swears he cannot hear her and had his hearing tested and it is fine. She gets annoyed because this behavior comes and goes and has gotten worse since starting ABX (with dr, J). I had a nice chat with her about his lyme and she promised to be understanding and not be so hard on him. (this from a woman who sent him to the principal for not following directions properly!) well I got a phone call from the school saying she wrote up an informal report on his issues and tomorrow I have to go into the school and discuss how we are to handle it! SO much for being understanding! She thinks he is manipulative and possibly ADD. How am I supposed to handle all of this??? Sometimes I think it is because he is so tired and sometimes I literally think he is very bored as the work comes very easy to him. But the problems at school and the fatigue are what made us get him tested for lyme in the first place. I even told her last week that the pharmacy messed up and gave him a stronger than needed ABX and that certainly did not help him any as he was horrendously behaved but she was very sympathetic to my face. What should I ask for?
Thanks everyone
Pattiecake

---

Posts: 687 | From PA | Registered: Oct 2004 | IP: Logged |

mjbucuk
LymeNet Contributor
Member # 843


posted

---

you could have Dr Jones' office write a note... you could also have your son classified as special education "Other Health Impaired" and have it documented that he has this difficulty and that (so the teacher does not continue to penalize him)

---

Posts: 758 | From now TX | Registered: Mar 2001 | IP: Logged |

hwlatin
LymeNet Contributor
Member # 4123


posted

---

Both my sons are dealing with Lyme as well. My youngest has had the roughest time with it. We also see Dr. Jones as well. We have had very good days and very bad days with him, but the trend has always been to the good.

My younger son has been on antibiotics for almost 1 1/2 years now. There have been several times we have had to stop them for a couple of days due to increase herxing.

What you want to do, if it is a public school is ask for a 504. This is a federal program that insures children with medical issues receive the aid that they need to be sucessful in school.

This can include everything from additional time on taking tests, to an aid being in the classroom to assist the child as well as provisions to allow for the consumption of fluids or food to aid in the treatment process.

It is a wide ranging program. The good thing about the 504 is that it will follow them from public school to public school.

I had a real easy time getting one for my son. This might not be the case for all school districts. Dr. Jones may have to write a letter.

---

Posts: 533 | From Las Vegas, NV | Registered: Jun 2003 | IP: Logged |

pattiecake
LymeNet Contributor
Member # 6424


posted

---

Thank you for the suggestion....I get the feeling they do not believe the lyme can make him have trouble. His teacher told me to my face that she thinks he is very smart and "manipulative". Like many lymies he does not often look sick. Altho she has mentioned to me that at times he looks "under the weather".
Pattiecake

---

Posts: 687 | From PA | Registered: Oct 2004 | IP: Logged |

lymemomtooo
Frequent Contributor (1K+ posts)
Member # 5396


posted

---

PC..I used to think that things were good here,so not sure I am of much help..But I was advised by a school psychologist to go for the IEP and put everything into it..It has more teeth supposedly than a 504.

We are almost to the point of an educ. lawyer or versed advocate..Finally got the teachers educated and on board and the principal is being miserable..

One thing that did help was to go in with my husband, he said very little but unfortunately it makes an impression and lay everything on the table..I would go with copies of as much lyme education stuff as I could..Highlight the important stuff or recopy in enlarged print so they can't miss the important stuff..Educators tend to skim.

For the first problem we had to deal with I did a presentation on diabetes and used a styrofoam ball with push pins and repeatedly put them in to represent the number of tests and shots my daughter got in a week, etc..I also had a test kit and lancetes for any of them to try..I go no takers.But it made an impression on all but 1.

Good luck..these diseases are horrible enough without the other things that happen. lymemomtooo

---

Posts: 2360 | From SE PA | Registered: Mar 2004 | IP: Logged |

Lyddie
Unregistered



posted

---

You could try talking with the principal or the school nurse, and try to get allies in the system.Usually there is one person who can understand and believe the Lyme materials. If you do a 504, then the principal is usually the one who works with you, and the nurse is usually involved too.


We have actually had a good experience w/teh 504 route. Like Lymemometoo, we are dealing with diabetes and Lyme both, so we have been doing 504's for years.
I would emphasize that I write the 504 myself, then we have a meeting in which they can amend it, and then we all sign it.
YOu don't have to "get" a 504 via tests etc. Dr. Jones' diagnosis is al you should need, and a 504 just lays out the plan for the school to follow to address this diagnosed medical issue in school.

I get ideas from an Office of Civil Rights *Federal Dept. of Ed.) booklet, but you can check all kinds of samples online, and also you can call your local Fed. Dept. of Ed. OCR to speak direcctly with someone who can hlep you. They take complaints, and will investigatetoo, but I ahve always used them for suggestions. Then I let the principal know, with a smile, that I got lots of good suggestions from OCR . This lets him know that I know what our rights are and have been validated by that federal agency, without being adversarial.

It was easier if my daughter couldn't use her wrist due to Lyme, something concrete and visible (she wore a splint). The "softer" cognitive stuff is harder to deal with and might very well be handled better w/an IEP. But it COULD be handled with a 504, which can be quick and easy to do.
I think the off and on quality of Lyme cognitive symptoms causes suspicion and misunderstandings. We went through this with our other daughter.
Good luck!


---

IP: Logged |

pattiecake
LymeNet Contributor
Member # 6424


posted

---

My husband will be going into the school with me today. I don't know how much help the nurse will be because I told her the day his hearing test was given and she looked at me with the "look" that told me she did not believe it. Just a gut feeling I got and I am usually right. What kind of stuff do you put in a 504? and what kind of stuff in an IEP? My daughter has a gifted Iep but the school makes it up and I go over it with them and just sign it if I am happy with it. I think this kind of situation is harder.
Pattiecake

---

Posts: 687 | From PA | Registered: Oct 2004 | IP: Logged |

URsodeer2me
LymeNet Contributor
Member # 2258


posted

---

Patticke,

My boy has an IEP, and it is quite a process in my school district. I'd compare it to a deposition.

The hubby going is a good thing. The ones who wrote back before me, wrote about a note from Dr. Jones, that is a good idea for the school records.

Every school district has a medical doctor the district uses. You have a right to have a medical doctor at the hearing.

My son's situation changed for the better after I requested the doctor be present at the meeting. We had him conferenced in, and he was very helpful.

The school district's doctor knew of my son's doctor's, and told the school that if such and such was caused by lyme per what my son's doctor said that then it was.

The doctor's presence made a real difference. I had two disatrous IEP's prior to the one with the doctor. Not many folks request a doctor, and they must provide one in my district if you request it.

Good luck.

---

Posts: 167 | From Sunny side of the street | Registered: Mar 2002 | IP: Logged |

Lyddie
Unregistered



posted

---

You can have Dr. J. tell them that Lyme can resemble ADD, and can come and go. He can also sign off on the plan. When you write it, put lines at the end for signatures from Jones, principal, yourself, nurse and teacher. They commit to the plan by signing.In my OCR booklet under ADD, they list the following 504 accomodations:

adjust student seating (meaning quieter place)

use simple, concise instructions

provide a peer helper

teach compensatory strategies

administer meds

monitor stress and fatigue (If your son is tired, then you should write in the plan that he may need to sleep late and come in late w/out penalty. The school should be responsible for making the work up that he missed. He might also need to take breaks in the nurses' office to rest, and, again, the tecaher/school is repsonsible for making sure he hasn't missed anything)

Modify assignments

change instructional pace

provide supervision during transitions, disruptions, filed trips

use study guides, organizing rools

provide counseling

oops- lots more- will single space!!

initiate frequent parent coommunication
establish a school/home behavior mgmt. program
provide training for staff
establish a cue between student and teacher
assign chores around room/school
modify environment to avoid distractions
have child work alone or in a study carrel
highlight important directions
provide a checklist for student , parent or
teacher to record assigments/tasks
use a timer to help w/focus
have student restate or write directions
allow student to use tapes instead of
paper
let student stand while working
inservice staff/students w/permission
develop a behavior mod. plan
supply rewards to promote good behavior
prescribe phsycial activity
determine trigger points and prevent
provide a sociogram design, such as a
circle of friends

This is for a kid without illness as a source of the ADD. There are lists for many different illnesses in this booklet.I think it sounds like the biggest thing that could help your son might be a fairly simple plan that
1) exflains that he has Lyme, what it is, and what effect it has on him at school (you can enclose Jones' info or the ABC pamphlet)
2) That he is tired and distractible at times, but not always. Whatever other cognitive or behavioral problems.
3) He may need to sleep late, and should not be considered "tardy" or be penalized, and the school should help him keep up.
4) he may need to take rest breaks in the nurses' office (this is a frequent accomodation under various illnesses)
5) that the teacher should communicate with you (daily, weekly ?) in writing, and you will work together if a plan is needed to address any problems

That's just a start...

I think it helps to make a few concessions. For instance, I didn't push the idea that if my daughter forgot her homework and left it at home, that it was because she had Lyme. I tried to sound like I had tough expectations and wasn't making excuses, and tried to stay away from fuzzy accomodation requests that would be hard to implement. Being specific just helps the school function. Sometimes hostility comes when they just can't figure out how to handle something.

Finally, we did end up meeting with a lawyer for ideas. It cost $150, well worth it, and she never came to the school, although we let the school know we had met w/her, again with a smile, for suggestions only. As a result, we had a form for the teachers that they could fill out every day (or when my daughter was not in class due to health) with work missed, homework,place to attach class notes and materials , grades missing etc. The nurse or an aide can then pick these up from the teacher(s) at the end of the day if your son has missed class time due to the need for rest.

Hope this helps. We've met this type of skepticisim but with a specific 504, they are obligated to do certain things no matter how they feel.

Good luck. Glad your husband is going- wish mine had!


---

IP: Logged |

pattiecake
LymeNet Contributor
Member # 6424


posted

---

can someone hook me up with a link to printable info describing these kinds of symptoms relating to lyme so I can bring it today?
Thanks,
Pattiecake

---

Posts: 687 | From PA | Registered: Oct 2004 | IP: Logged |

Lyddie
Unregistered



posted

---

The second link listed above has the ABC's of Lyme pamphlet, which is a great one to use. It works better if you print it in color, I think!

---

IP: Logged |

pattiecake
LymeNet Contributor
Member # 6424


posted

---

Thanks everyone! I will let you know how it goes.
Pattiecake

---

Posts: 687 | From PA | Registered: Oct 2004 | IP: Logged |

snowboarder
LymeNet Contributor
Member # 6346


posted

---

Hi,

Patticake I can't offer much adivce myself. My daughter is missing schola lot and is a 2nd grader.

Last year they approached me about putting her in the gifted program and I said no...glad I didn't. I contacted the school nurse which was the best thing to do becuase my daughter has missed so much school from bad herxing.

Of course they were shocked when I said lyme because there's so few cases reported of lyme in this state and doc's don't even believe it exists. (Her old pediatrician said this to me).

She said to get a note and they could possibly work on having someone come out to our home and work with her on days a new concept is introduced or when she needs help.

This nurse seemed so nice and understanding maybe you want to try that first but work on the 504 or IEP. I'm not familiar with a 504 but from what hwaltin wrote it sounds like the best route to take since your son is
such a good student.

Best of luck and let us know the outcome!


---

Posts: 738 | From Colorado | Registered: Oct 2004 | IP: Logged |

hwlatin
LymeNet Contributor
Member # 4123


posted

---

The 504 is part of the Americans with Disabilities Act. It actually requires the school to make reasonable changes so that a child with disabilities has the same chance to learn as the child that does not have disabilities.

With a medical condition the 504 will carry more weight and give you more control over the situation. The school has to respond to your request. So by asking for either is all that it should take. If the school refuses, it is time to see an attorney.

By the way my other son is in the gifted program and is number one in his class go figure how this disease effects everyone so different. Actually my younger son is gifted too. It is sad to see how frustrating this disease can really be.

The real frightning thing is that at my young son's school almost 50% of the kids are diagnosed with ADD/ADHD and on medication. Makes you really think.


[This message has been edited by hwlatin (edited 14 January 2005).]

---

Posts: 533 | From Las Vegas, NV | Registered: Jun 2003 | IP: Logged |

pab
Frequent Contributor (1K+ posts)
Member # 904


posted

---

This is a good website to check out 504's and IEP's:

------------------


---

Posts: 2775 | From MN | Registered: Apr 2001 | IP: Logged |

Barrie
Member
Member # 1796


posted

---

My daughter also has lyme and goes to Dr. Jones. She has an IEP. I am in the public schools as a school nurse. In Maryland,or at least our county, the guidance counslers handle 504 plans. They do not carry near the weight of an IEP in Maryland. Legally, we have to meet for IEPs not 504s. I go to IEP/PST meetings weekly. When the school doesn't want to do the work involved in an IEP they will try to talk the parents into a 504. IEP's are much more time consuming for the school. Legally, we have to have all kinds of documentation for IEP it is all very legal. Also, an IEP follows with the child and yearly has to be reviewed. The 504 is handled very causually here compared to the IEP. I don't know if it is like that in other states but, that is how it is in Maryland. It took a while to get the IEP but,once we got the meetings it all went fast. First, write a letter to the school requesting an IEP meeting. That side steps the PST (pupil services meeting) that is usually done first to see if there is a need to go to IEP. Sometimes, the school gets a little bent out of shape because they feel like the parents are not following proper procedure. I am now on both sides of the fence and I explain to the IEP team, of which I am part of,why parents do this. The way it is supposed to work is the parents bring up a concern to the teacher, then the teacher calls for a PST meeting to discuss if there is a problem, then it is referred to IEP where the parents are then brought into the discussion. That can easily waste months. Dr. Jones was instrumental in getting us the IEP. He filled out some form, sorry I don't remember exactly what he filled out, maybe it was just a letter. I am sure he does it all the time and if you call the office they could fax something to the school. We also had our own neuropsych. testing done. Our school was very cooperative with us once we got past all the red tape and actually got the meetings started. Guidance was another story altogether,which is another reason we really did not want them to control the 504. The IEP team was great and continues to be very helpful. Luckily, for us, there were already two other girls at her high school with lyme who also see Dr. Jones so they were very open to everything we presented. I hope this didn't confuse you. I see some people have success with 504 and some with IEP. I only know what worked for us and it was the IEP. My daughter has all kinds of accomadations for gym and testing and so forth. At this age, 14, she is included in the IEP meetings. I was the proverbial squeaky but, nice wheel. I also ordered the pamphlet "The ABC's of Lyme Disease" to hand out to all of the teachers,IEP group, everyone my daughter had contact with in the school. Dr. Jones has them in his office but, you can order them from (sorry, I don't know fancy computer stuff how to highlight this email address) E-mail: [email protected] They are great about sending you as many as you need. I found them very helpful for the teachers. It is very hard,stressful & time consuming fighting for your child. But, there is nothing more important. Sorry, this was so long. Good luck with your school.

---

Posts: 70 | Registered: Nov 2001 | IP: Logged |

hwlatin
LymeNet Contributor
Member # 4123


posted

---

Barrie, has brought up some good points. I would consult others in your area to find out how the system works there. I know for us it has worked well and gave us quick relief.

My mom worked in LAUSD and she was involved with alot of IEP's and 504's, there are pluses and minuses on both sides.

---

Posts: 533 | From Las Vegas, NV | Registered: Jun 2003 | IP: Logged |

pattiecake
LymeNet Contributor
Member # 6424


posted

---

WELL had the meeting and the woman was very nice. She asked us to state his strength and weaknesses. We discussed his issues and I made sure she understood that he has lyme and it is related. I asked her to make sure that his lyme was considered in all of this...not lable him with being ADD or difficult. She is going to view him in his class environment (as a 3rd party) for 3 days and call me. She said that then she will come up with a strategy to help him deal with these "issues". I also spoke with his teacher and re-iterated the lyme issue and she kept talking about how his behavior was so erratic and I explained to her that is how lyme is. Not sure she believes me but she seemed interested. I get the feeling tho that she still thinks it is a discipline problem and that he isnt conforming on purpose. I will be dropping off papers that are written by Dr. J. I also called his office and they offered to call the school but the woman we spoke to (at his school) did not think it was necessary at this time. He also offered to write a letter and that I will have him do. I did not mention 504 yet as I want to see what they come up with first. I didnt want to go in blazing about it and put them on the defensive. I will keep that in my back pocket if it is needed. My mind is just racing and Im trying to sort it all out. His teacher said that he has absolutely no academic problems at this time and considers him gifted. (thank goodness for small favors) I really think fatigue is a big part for him and they even said if we thought he needed a nap or snack they would allow so that was very positive. I do know tho that my son would NEVER sleep in the nurses office.
Any comments on how it went are appreciated
Patticake

---

Posts: 687 | From PA | Registered: Oct 2004 | IP: Logged |

Lyddie
Unregistered



posted

---

Sounds hopeful. I just want to say that, at least in our experience, a 504 isn't a threat or a last resort or anythign to keep in your back pocket. It is just a handy dandy way to record what you have agreed upon and who does what, when, where etc.

My youngest has a one page 504 for asthma that pretty much just says that if she needs her inhaler, teachers should let her go to her lcoker, that she cna keep an inhaler in her locker, and that every once in awhile, she might come in late if she needs a nebulizer treatment, and shouldn't be penalized as tardy.

On the other hand, the diabetees 504 for my other daughter as 20+ pages long (see American Diabetes ASssoc. site for sample).

Her lyme 504 was 2 pages and was written as suggestions rather than requirements. I wrote tht the teacher's discretion could be used in evaluating which accomodiations were needed when.

Rest and snack could be agreed upon in writing and presto! that's a 504. You can keep adding on. There's no set form for a 504. But is is binding and OCR can intervene if someone in the school doesn't abide by it.

I ahve bee told by OCR that the rights exist even w/out the plan, so you can complain even if there is no 504. The 504 also helps the school avoid this by setting out in writing what they should do to meet their obligation.


So it isn't an enforcement tool intitially, but sort of a guide to working together. But later it can be used for enforcement. The school is required by law to provide one for a child w/helath needs. The statee Dept.of Ed. can tell you more about that.

That's all! It's great that some people in the school sound willing to help. Have a good weekend!

---

IP: Logged |

cootiegirl
Frequent Contributor (1K+ posts)
Member # 3216


posted

---

Hi Pattycake,
I sent you an email with some things that we have done, so you can read that at your leisure. It sounds like the school is open to working with you, so be sure to reinforce whatever good ideas they come up with. The nap idea shows me they are thinking outside the box already and that is good....

The teacher sounds like a borderline dingbat but stay cool for now. Like ducks, teachers that don't understand a particular behavior will attempt to explain it away with a psych label like ADD or a discipline problem. I'm sure in time you will bring her around and she may become your biggest champion...
cootiegirl

---

Posts: 1728 | From New York State | Registered: Oct 2002 | IP: Logged |

mjbucuk
LymeNet Contributor
Member # 843


posted

---

When my son first got sick, the nurse at the school kept asking if he would be in school tomorrow, like we knew which days he would have a bad headache. She implied that this high honor roll student had school-phobia. Tim has never forgotten the mistrust that the school displayed.

He was classified under OHI in 6th grade (he is now a senior) and this has turned out to be the best thing for us. He has had varying needs from year to year (even semester to semester). At one point he was in a wheelchair, another time he could not read anything w/o triggering massive headaches; sometimes he was herxing and was in bed for a week or so on pain meds... For my son the Lyme and Babesia symptoms and severity have changed over time --- unpredictable as to what may be next. Some of the time he has needed no accomodations, some of the time he has needed multiple accomodations, and some of the time he has been homebound. Notes from Dr Jones office have always been enough to get us thru each change... Do they have a preference for 504 vs OHI? I am not trying to scare you, just want you to find what will work best for your son.

I have listed some quotes from articles below which delineate some of the differences between 504 and Special Ed OHI. My personal opinion is that OHI offers the most protection for your child and you. I am not sure, but I also think that you have more leverage with OHI.

Best wishes!!

http://www.chrisdendy.com/rights.htm

OHI "means having limited strength, vitality, or alertness due to chronic or acute health problems that adversely affect a student's educational performance."
http://www.nldline.com/iep_vs_504.htm

Issues of Discipline

If your child simply has a 504 Plan and this child misbehaves in school, the school may decide that the child's behavior is not related to the disability and the child can be expelled from school permanently. Under IDEA the child has the right to a fair and appropriate education, even if expelled from school. Section 504 and ADA do not provide these protections. This can be particularly problematic for children with TS and associated disorders.

Procedural Protections

Section 504 does not include a clearly established "Prior Written Notice" requirement. In contrast, IDEA includes an elaborate system of procedural safeguards designed to protect the child and parents. These safeguards include written notice before any change of placement and the right to an independent educational evaluation at public expense. Section 504 does not include these protections.
http://www.sandrarief.com/tips/tips_edrights.htm

What Both Laws Have in Common:

Require school districts to provide FAPE in the LRE

Provision of supports (adaptations / accommodations / modifications) to enable the student to participate and learn in the general education program

Provide opportunity for student to participate in extracurricular and non-academic activities

Nondiscriminatory evaluation by the school district

Procedural due process

Which One is Right for My Child - A 504 Plan or an IEP?

This is a decision that the team (parents and school personnel) must make considering eligibility criteria and the specific needs of the individual student. For students with ADHD who have more significant school difficulties, IDEA is usually preferable because:

IEPs provide more protections (procedural safeguards, monitoring, and regulations) with regard to evaluation, frequency of review, parent participation, disciplinary actions, and other factors


Specific goals and short term objectives are a key component of the plan, and regularly monitored for progress


There is a much wider range of program options, services and supports available


IDEA provides funding for programs/services (Section 504 is non-funded)

For students who have milder impairments, and don't need special education, a 504 Plan is a faster, easier procedure for obtaining accommodations and supports. They can be very effective for those students whose educational needs can be addressed through adjustments, modifications, and accommodations in the general curriculum/classroom.

---

Posts: 758 | From now TX | Registered: Mar 2001 | IP: Logged |

pattiecake
LymeNet Contributor
Member # 6424


posted

---

mjbucuk,

It sounds like for my son a 504 might be the way to start for now as he is still getting acceptional grades and gets along well in the classroom. He just seems to zone out, not hear directions, and can be impulsive like talk when he isnt supposed to. THe teacher happens to have a VERY LOW tolerence for his up and down behavior. THat is why she thinks he is doing all of this "selective listening" on purpose. I tried to tell her that lyme is like that but she does not believe me. The other lady that we spoke to seems more open to helping with his medical needs. I guess I will wait unitl Thursday and see what they come up with and then can I start with a 504 and if that isnt working or effective than I can talk about the other options? or do I have to go for the others immediately?
Thanks a ton
Patti

---

Posts: 687 | From PA | Registered: Oct 2004 | IP: Logged |

lymebrat
Frequent Contributor (1K+ posts)
Member # 3208


posted

---

Hi Pattiecake,

Sorry to hear your son has Lyme and that the school isn't being helpful. As luck would have it, I had been homeschooling my son ( and later my daughter) for a year before he was diagnosed with lyme...

So when he became sick, I was able to continue homeschooling him and work around his illness...

I homeschooled my son for 3 years and my daughter for 1 year. This year my husband and I decided to send the kids to public school.

I was very worried about how they would handle my children's illness and was pleasantly surprised when the school nurse called Dr.Jones and talked with him about lyme.

She was willing to work out a 504 plan and even asked Dr.Jones for educational material so she could educate her staff.

Luckily both my children are getting better and so far we haven't had to implement the 504 plan, but it is so nice knowing that it is set in place if one of them should have a relapse or set back.

My advice would be to have Dr.Jones contact the school and get the school nurse involved in your child's education plan.

I'm not sure if the laws are the same in all states, but one of the things I was concerned about was that my son would get tired and need a break..the nurse worked into our plan that if my son needed a break, he was allowed to go to the nurses office to lay down...

So maybe you and your child's teacher can work out a similar plan with your child's pediatrician, Dr.Jones, the school nurse and school board.

And don't be afraid to step on this teachers toes in order to get the help you need. I would talk to the principal and the school board and bring up your concerns about the way she handled this situation.

Don't worry about hurting her feelings...for after all she will only be your child's teacher for about 9 months out of his life..you are his mom and need to do what you think is best.

Trust your instincts and follow them..if there is one thing I have learned from having two children with lyme, it's that you need to trust your instincts!

GOOD LUCK!!

Keeping you and your son in my thoughts and prayers..

~LymeBrat

---

Posts: 3154 | From NH , USA | Registered: Oct 2002 | IP: Logged |

ticktox
Member
Member # 6739


posted

---

Several people have suggested that the school nurse might be a good source of support within your school. While you may find this to be true, often times the school nurses share the mainstream medical establishment's view of Lyme. This means they are often the most resistant to the idea that your child has Lyme and that it could be causing the range of symptoms that it does. School nurses can often be one of your biggest obstacles. They can also influence other school staff who consider them the "medical experts" within the school. Just as most doctors don't understand Lyme, a majority of nurses don't either. Yet they think they do. So maybe you will be one of the lucky ones that can consider the school nurse an ally, just proceed cautiously and don't be surprised if they are not.

---

Posts: 57 | From CT | Registered: Jan 2005 | IP: Logged |

hwlatin
LymeNet Contributor
Member # 4123


posted

---

Please excuse my brain. I dont know where I was at last week. I meant to say the IEP is the better way to go. To many accronyms running through my head. Sorry if I confused anybody.

---

Posts: 533 | From Las Vegas, NV | Registered: Jun 2003 | IP: Logged |
Contact Us | LymeNet home page | Privacy Statement

Powered by UBB.classic™ 6.7.3

---
The Lyme Disease Network is a non-profit organization funded by individual donations. If you would like to support the Network and the LymeNet system of Web services, please send your donations to:
The Lyme Disease Network of New Jersey
907 Pebble Creek Court, Pennington, NJ 08534 USA
http://www.lymenet.org/
---
Home | Flash Discussion | Support Groups | On-Line Library
Legal Resources | Medical Abstracts | Newsletter | Books
Pictures | Site Search | Links | Help/Questions
About LymeNet | Contact Us
---
© 1993-2020 The Lyme Disease Network of New Jersey, Inc.
All Rights Reserved.
Use of the LymeNet Site is subject to Terms and Conditions.
---