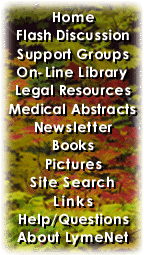 ---
LymeNet on Facebook
LymeNet on Twitter
---
---
The Lyme Disease Network receives a commission from Amazon.com for each purchase originating from this site.
When purchasing from Amazon.com, please
click here first.

Thank you.




Dedicated to the Bachmann Family


LymeNet needs your help:
LymeNet 2020 fund drive

The Lyme Disease Network is a non-profit organization funded by individual donations.

| | |
| --- | --- |
| | |
Author
Topic: improvement with neurolyme

heiwalove
Frequent Contributor (1K+ posts)
Member # 6467


posted

---

has anyone been almost completely incapacitated neurologically, brain fog to the point of being unable to think or process, barely able to read or watch a movie, etc, and improved with treatment?

please, i need hope.

thank you.

---

Posts: 1848 | From seattle, wa | Registered: Nov 2004 | IP: Logged |

WIZARD
LymeNet Contributor
Member # 4597


posted

---

Hi,

My husband who was 2 weeks from tick bite to treatment had severe cognitive issues. He has improved greatly with treatment, but we are not there yet. He has been in treatment 18 months, but the last 2 have been the most cognitive improvement. He has B12 shots and Thyroid pills, they have turned around his energy, which helps him cope.

Hang in there, it is a very long road.

Wizard

------------------


---

Posts: 252 | From USA | Registered: Sep 2003 | IP: Logged |

achey
LymeNet Contributor
Member # 6284


posted

---


I had symptoms like you are talking abt. I have been on zith iv for 10 weeks now, and am seeing some really nice improvement. It's still two steps forward and one back or sometimes 15 back, but in the big picture, I'm definitely moving forward.




---

Posts: 663 | From NH USA | Registered: Sep 2004 | IP: Logged |

fish
LymeNet Contributor
Member # 4096


posted

---

I had lyme symptoms for about 12 years. After camping in Finger Lakes region of NY with fiance (now husband) I got a bite on my back but never could see a rash (had a crawling feeling in the skin several times a day for 6 months though. Docs said spider bite or eczema (right.)

I developed over the next months debilitating fatigue, neck pain, dizziness, tingling in extremities and lots of ear pain and hearing problems for the first 3 years or so after bite. Would nap in the restroom of work during lunch, just miserable back then. No doc ever considered lyme, most said it could be stress (it wasn't). Never tested me for lyme and I never considered it a possiblity either. So, out of despiration I began taking mega vitamins and increased exercise jsut to see if it would help. Luckily that took just enough edge off of the symptoms I could be productive but was still generally ill and could not stop rubbing my aching neck.

Then, I got married and was getting worse (just up and quit a job and slept for 3 months straight to see if that would help. It didn't. Was told "chronic fatigue". In 1996 had son and 20 months later had daughter. Suprisingly I felt pretty good during both pregnancies but always wondered what had been wrong with me for the previous 5 years...

After my second child was born everything came rushing back and got very bad. Doctors wrote it off as "you have two babies, of course you feel bad..."

I started getting muscle pains and slight neuro stuff after that. Everytime I would start exercise program I would fall ill for several weeks, feeling bad in the head.

Then 4 years ago, the neuro stuff began: forgetfullness, depression, anxiety, bumping into things a lot, dropping things, missing appointments, repeating conversations, etc. I never had any of this before, ever. I was an athlete and happy person generally.

My children were both sick (with lyme but we didnt know it then) and were a lot to handle so of course I was always dismissed by doctors with being a sleepless mom. (Kids most likely were born with lyme).

3 years ago, I began getting REALLY depressed, lost motivation to do ANYTHING, couldn't complete even the simplist tasks (everything seemed overwhelming), had terrible mood swings, lots and lots of head pressure and frequent infections (pneumonia once ever 10 months, many sinus infections I had never had 1 ever before, etc). Life was miserable.

2 years ago: bells palsy (2 times), excruciating joint pain that seemed like RA (lasted a month), body fatigue like I'd run a marathon just walking a block or going up stairs (legs would give out), shooting pains all over, nerve pain down leg, floaters in eyes, hearing almost gone (like hearing under water), couldnt do simple math, (bounced checks, etc), couldn't remember phone numbers, etc. Couldn't remember where I lived if I left the house, crying jags daily, couldn't find the kid's school a couple of times (3 blocks away) and severe head pressure and felt like I was run over by a truck in general. Had complete left side weakness that lasted for 15 minutes (head scan showed no signs of stroke in the ER) Got into several minor car accidents, one I had no shoes on (I couln't explain why I had no shoes on to officer...) I had suicidal thoughts too. Tried once - weak attempt. (yikes, never said this out loud before except to hubby). Got told "probably" MS but general doc was running a lyme test in the meanwhile. Was positive for lyme by ELISA and WB.

I also believed I might have bartonella so I was also treated for this about 6 months into treating lyme and it made me feel so much better. But was negative on two bart tests.

6 months later, daughter and son tested positive on WB, too. Then husband did too. Daughter also tested by PCR positive for bartonella.

Bottom line, we are all feeling GREAT today. EVERY ONE of my symptoms is gone and has been gone for 3 months, most have been gone for at least 8 months (just noticable monthly herxing until 3 months ago.

I never did IVs. Just 19 months of straight oral abx combos for lyme and barts. I actually "got my brain back" after about a year of abx. 4 months of treating bartonella took away the remaining fatigue.

Is it gone?? Will we relapse??? I wish I knew what would happen. But, in the meantime, I have my old life back and even my thyroid function is normal again. Hubby is running 5-6 miles a day, feeling great too.

I may be atypical, I may not be. Who knows. This disease is so different in so many people. Different strains, different co-infections, different immune systems, different genetic markers, etc...What I can say is I thank God often for my success and for my family's too. It helped that we had the money to do all that travelling and buying all those abx. Thankfully, we didn't have to take a break in treatment.

I hope for the same success for all of you, especially you, heiwalove, as I've noticed what a rough time of it you've had thus far.

Many times in that first year of treatment I felt like giving up. Still had suicidal thoughts (fleeting) in that first year into treatment. Try to hang in there. I hope you can get it to a manageable point someday soon, if not completely get rid of it. I wrote this out to help everyone see that here's one case where a person went from couch-ridden and house-bound to fully functional again in under two years. Thinking of ya.

---

Posts: 340 | From Harrisburg, PA | Registered: Jun 2003 | IP: Logged |

aklnwlf
Frequent Contributor (5K+ posts)
Member # 5960


posted

---

Hi there HL,

I have alot of the neuro stuff going on too. Still early in my treatment (5 months orals) but at least I know what town I'm in.

Hang in there!! There's lots of folks on this site that have really encouraging stories.

Hey, I can remember for over 2 years not knowing what was wrong with me. Can you relate?? I'm just so grateful to know what I'm dealing with and that I'm ill and not a nut case. (ok, maybe a little nutty)!!

Anywho, glad you're on this site.

---

Posts: 5521 | From Columbus, GA | Registered: Jul 2004 | IP: Logged |

hatsnscarfs
LymeNet Contributor
Member # 6562


posted

---

Hang in there Heiwalove -
Two weeks after my tick bite I started getting lost and confused. Brain fog continued to increase and a few months later the brain fog was severe and almost constant.

I could only think clearly (well maybe only semi-clearly) the first hour after I woke up and very late at night when I should have been sleeping. Reading or watching a movie was out of the question. I could not follow a plot or keep my attention focused on anything. I would forget what I was doing, reading, saying, hearing. I would read the same thing over and over.

It became impossible to do more than the simplest tasks. I spent a lot of time staring into space and thinking about nothing since I couldn't remember what I was thinking long enough to form a coherent thought.

My brain would turn back on for brief periods each day and I would quickly do whatever I really needed to do before the brain fog returned. This was the only time I spoke to other people so they had no idea that "a tick had eaten my brain".

I originally took Doxy for 28 days. When I finished it I got so sick within a few days that I started taking it again. The brain fog got really bad and persisted

After 90 more continous days of taking doxycycline 200mgs/day I woke up feeling "normal". It did not last but each day I had longer periods where I could think more clearly and started to feel like my old self. I felt a great sense of hope.

200mgs of Doxy wasn't enough to really make me better and finally I got to an LLMD who switched me to Tetracycline 1500mgs/day. Within a day or 2 my brain fog lifted. Now 7 weeks later I am functioning again, working, starting to exercise, even able to do math in my head!

I did have one week of horrible herxing a few weeks into the Tetracycline. I'm hoping this month won't be as bad. I have a big flare in symptoms every 30 days.

I'm getting mild brain fog from time to time but nothing like before. I'm using Podi Patches on my feet every night. These help remove toxins and have helped me enormously.

You can search for Fulfillment09s earlier posts about Podi Patches.

A few months ago I couldn't imagine that I would be functioning as well as I am now.
I hope your fog starts to lift soon too.

h&s

---

Posts: 956 | From MA | Registered: Nov 2004 | IP: Logged |

Wink9
Member
Member # 4516


posted

---

ABSOLUTELY! A lot.

I've been treating for a year and a half now and those symptoms are MUCH better.

If I have a really good day and overdo it, then I know the next day I may be in for one of "those" days. I call them my "no personality days" and if I do have to leave the house, my husband does all the talking and decision making for me. Unfortunately, I had a rash of them over the holiday, but hubby took care of it.

It will get better. On those days, just relax and try not to get worried. It will only make it worse. I have found the best thing for me is to play a video game or computer card game- I know silly. It keeps me stimulated just enough that it kind of takes my mind off the fact I can't carry on a conversation or watch TV.

You are normal. That is what I really needed to hear when I lost hope.

Hang in there!

---

Posts: 60 | From Ohio | Registered: Sep 2003 | IP: Logged |

treepatrol
Honored Contributor (10K+ posts)
Member # 4117


posted

---

Yes keep after it. It will improve.

---

Posts: 10564 | From PA Where the Creeks are Red | Registered: Jun 2003 | IP: Logged |

Areneli
Frequent Contributor (1K+ posts)
Member # 6740


posted

---

Just five weeks ago I couldn't read anything longer than a few paragraphs or follow a movie plot. I haven't worked for a year as was too sick. I have lived in delirium as I see it today. Days passed and I didn't do anything productive, not even laundry or cleaning at home.
I have just started treatment a little over a month ago.
First I took Questran 3 times a day that helped me tremendously (70% better). Three weeks later I have started on Amoxicillin: at first 3g/day of Augmentin, following week 4.5 g/day, this week 6 g/day. Initially in this treatment I had diarrhoea but later I have adapted and today I am fine.
I had to go to sugar free diet and keep it that way because of yeast infection. Today I am yeast free.
Currently I have started going to work- today will be my 3rd day; it's hard but doable.

In the meantime I continue with Questran (at different hours than the antibiotics to prevent absorption of ABX problems).


[This message has been edited by Areneli (edited 20 January 2005).]

---

Posts: 1538 | From Planet Earth | Registered: Jan 2005 | IP: Logged |

TheCrimeOfLyme
Frequent Contributor (1K+ posts)
Member # 4019


posted

---

Yes and for example:

I was so confused I forgot my name, my address and quite a few times, my phone number.

I got lost trying to find my way home, more than once.

I couldnt start my antibiotics when I was first prescribed them because there was a 2 and a 4 on the bottle. That was too much information for me. I didnt know what the 2 and 4 meant. Take 4 pills twice a day? Take 8 pills at once? I didnt get it.

I couldnt do math, AT ALL. I left the checkbook balance go.

I couldnt read, period. NOt only could I not focus on the words, it just didnt make sense. Not to mention, I had WAY too many severe skull spliting headaches.

I was bed bound for 4 months straight and ended up with sleep paralysis on top of all the brain things.

I forgot my daughters name and called her "girl with the blonde curls, come here"

My sister ( who is the only one who really helped me) was at my house every single morning ( I think) for the first four months of my treating lyme. I was as she called " a trainwreck"

I couldnt make food, I didnt know what the buttons on the stove meant. My sister had to cook for me.

I felt like I was drunk THE ENTIRE TIME.. but not in a good way. Drunk and scared, very scared. I couldnt clear my brain for anything. It never stopped. People would talk and I would see their mouth moving but not get it. I would slur my speach like I was drunk.

I couldnt wawlk a straight line. I couldnt feel my feet touch the ground.

It was HELL and yes, THAT ALL IS GONE. Once in a while ( like last night) it will come back but be gone again in 2-3 days.

Antibiotics is what did it.

Are you seeing a LLMD Yet?

---

Posts: 3169 | From Greensburg, Pennsylvania | Registered: Jun 2003 | IP: Logged |

HeadPain
Member
Member # 6731


posted

---

Good question...I am wondering this too.

How many abx's did those with improvement have to try before they started helping. I've been on 3 different IV abx - Clafornan, DOxy and Primaxin...no better so far.....

---

Posts: 21 | From East Texas | Registered: Jan 2005 | IP: Logged |

lymeinhell
Frequent Contributor (1K+ posts)
Member # 4622


posted

---

I was to the point that watching TV would give me a panic attack. I couldn't read because more than a few words and I was lost. Lights and sounds freaked me out.

If I walked into anyplace with fluorescent lighting, I would nearly faint. I had absolutely no retention of anything.

If someone spoke to me, after one sentence, my brain shut off. And I work in finance and crunch numbers for a living - how the heck I kept my job is beyond me.

9 months of treatment and I've been off abx for over 2 months now. I'm a pain-free normal person who's biggest remaining battle is yeast.

I work 9 hours a day and commute an hour each way. I go to the gym, clean my house, go to the mall and do normal things again.

It does get better.

And if you really want to lift the brainfog - address the yeast with regular treatment

(which will get worse the longer you are on treatment, regardless of how good you are watching your diet), and try the detox patches - www.podipatch.com

Most of us are walking timebombs loaded with neurotoxins we've absorbed from living in a toxin filled planet (and mouths full of mercury fillings).

Add to that the neurotoxins released from killed off bacteria - and there you go - bye bye brain capacity, hello brainfog.

Sometimes it's the Lyme that is the straw that breaks the camel's back. And not only do we need to address Lyme, we also need to take care of these other issues in order to fully recover.

Hang in there!!

------------------
Julie G.
___________
lymeinhell

---

Posts: 2257 | From a better place than I was 11 yrs ago | Registered: Sep 2003 | IP: Logged |

duramater
LymeNet Contributor
Member # 6480


posted

---

Hi Hiewalove:

The first "bout" of Lyme I had was meningitis. Had to re-learn how to read (was a PhD student!) and walk the damage was so great. After two weeks on Claforan(yeah, I know) and then 6 months later a couple of months of IV, I was able to walk my way back to grad school. After IV treatment, did PT for the walking and cognitive remediation for the reading. Got everything back.

Several years later (and I do mean several), got meningitis again from Lyme. In addition to the general cognitive decline this time I also got severe depression. Several months of IV primaxin and some psych meds too helped to wipe out the symptoms. BTW, I never improve WHILE ON the antibiotics. It isonce they aredone, over several months I get better.

I'm very ill again but this is after about 6 years since the last "bout." I have neuro symptoms again (along with cardiac and other stuff), but so far the docs have only treated me with some doxy. That hasn't helped at all so far but will try mino next.

So while I'm sick again, I did have HORRIFIC neuro stuff and with some solid treatment, got tons better and stayed that way for a fairly long period of time. It does take some time (and work) to get things back once the antibiotics are finished, but it does come back.

Only in the last few years has research demonstrated how brains are infinitely more resilient than first thought. Hope this gives you something to hang onto.

Best,
~DM

---

Posts: 689 | From western MA (we say buttER and pizzA) | Registered: Nov 2004 | IP: Logged |

lymeinhell
Frequent Contributor (1K+ posts)
Member # 4622


posted

---

To Headpain - I was only on 2 and at the same time - Rifampin (for Lyme and Bartonella) and Flagyl as a cyst buster. I'm chronic and have had this for 10 years and was only diagnosed last March.

3 different IV's over how long a time period? I honestly didn't see much improvement until the 4th month - when I started taking Diflucan regularly and using the detox patches.

It does take time to finally see some good days - then again, I was treated for co-infection from the get-go based on symptoms (tests always came up negative but LLMD felt I was textbook Bart).

------------------
Julie G.
___________
lymeinhell

---

Posts: 2257 | From a better place than I was 11 yrs ago | Registered: Sep 2003 | IP: Logged |

lymiecanuck
Unregistered



posted

---

Hi

I have a long way to go in treatment but in Sept 2003 I was like a stroke patient. i barely spoke cause it was too hard to find words I would pause between words and just bascially answered thing with one word answers.

I walked like I was drunk banged into the walls all the time. Would forget stuff immediately afterwards, and when I was finally able to drive again, (which I should not have been doing) would get lost, need a detailed map to go 10 minutes away on a simple route and still get lost a few times along the way.

Couldn't write something down while on the phone and get it right. Would look at the calendar and my brain would process something different than what was there. Like i have an appt today would get ready and realise no for tommorrow and even show up for an appt that wasn't that day at all.

Quite a bit of all this has improved. I still have trouble with many things but am only into my second months of treatment. Have been under treated before.

Lymiecanuck

---

IP: Logged |

giftoflife
Member
Member # 6748


posted

---

You are not alone. My son went for months in a fog before he was diagnosed. Wasn't able to move. Just curled up on the couch or in bed. Didn't know where he was sometimes. He's been on meds since Sep. and is getting better. Hang in there!

---

Posts: 30 | From MA | Registered: Jan 2005 | IP: Logged |

heiwalove
Frequent Contributor (1K+ posts)
Member # 6467


posted

---

up

---

Posts: 1848 | From seattle, wa | Registered: Nov 2004 | IP: Logged |

AmandaPI
Member
Member # 5587


posted

---

I have had terrible neuro/psych/cog problems and it comes and goes.

Last week I couldn't find my way home, couldn't find a word let alone form a sentenceand staggered like I was drunk.

It's nice to hear about the stories of people that have recovered or are improving.

It gives me hope when I feel like I will never get well.

Good luck in your recovery.

---

Posts: 80 | From Salt Lake City, Utah USA | Registered: Apr 2004 | IP: Logged |

cmichaelo
LymeNet Contributor
Member # 5873


posted

---

I have neuro lyme.

At my worst stage I was basically unable to work [at work]. Just couldn't concentrate, remember and comprehend and was easily distracted.

This lasted for about 3 months.

Several times I also became either very depressed or agressive.

And I had, and have, all the other typical signs of neuro lyme (headache, numbness, vision, etc).

The last couple of months I've greatly improved wrt to brainfog and am now getting some work done and I feel better overall.

I'm on Minocycline now, which seems to be helping.

I have also been treated for Babesia since day 1, and still am, using many different protocols.

It's possible this was the ticket as well. I don't know. Though I never got a positive test for Babs.

Still have fainting fits, headaches, watery eyes, numbness, and so on.

Michael

---

Posts: 702 | From NY | Registered: Jul 2004 | IP: Logged |

heiwalove
Frequent Contributor (1K+ posts)
Member # 6467


posted

---

michael,

what is your babesia protocol?

thanks.

---

Posts: 1848 | From seattle, wa | Registered: Nov 2004 | IP: Logged |

cigi
LymeNet Contributor
Member # 6600


posted

---

I was on rocephin and flagyl at the same time with a mix of zithromax orals. My third week into flagyl, I lost it. WAs taken off zithromax and flagyl (1000 mg 7 days per week for 1 month). Putin the hospital for 3 days because cooincidently my sodium plummeted to a danger level. Lost m;y personality, my self. While on many xanax for my nerves, got my self back miraculously Friday night. I felt like the movie "Awakenings" with Robin Williams. I felt like me again,till yesterday,when it started again and I am mentally lost. Low positive for lyme from Stony Brook and last year igg positive for bartonella. I try to keep telling myself it's the disease, not me. But when you're not yourself for so long, you start to wonder who you are. Keep the faith. I teach ccd and gave my kids the lesson on Footprints in the sant. Maybe God gave me Friday ok to show that there is future hope.
He can't make everyone suffer for so long, it 's just so hard to justify so much suffering, mental and physical. Have a brain spec scan on Wednesday to check for lesions and encephillis.

Good luck - keep faith. Nothing can take our personalities as much as we suffer with this horrible disease. I have 2 sisters and a neice and my son that have this. My son neurological, but not that bad on meds for 2 years. One sister for 8 years, 2yrs.of iv, neurological the other I would swear for 20 years that she was diagnosed with "fibromyalgia". Nothing psychological for her thank God.

Once again, I get off the tangent all the time when I start going on a rampage with ignorance from this disease. God bless.

Cigi

---

Posts: 320 | From Upstate, NY USA | Registered: Dec 2004 | IP: Logged |

cigi
LymeNet Contributor
Member # 6600


posted

---

sorry for the misspellings. didn't really reread it till I submitted it.


Cigi

---

Posts: 320 | From Upstate, NY USA | Registered: Dec 2004 | IP: Logged |

ladyhawk
Unregistered



posted

---

Me too, am actually diagnosed with Neuroborreliosis and Borreliosis (I live in Europe and we do not call it lyme).

Had,(key word for me just now) all fo those symptoms and then some. I am happy to say that after almost 2 months of my combo/pulse therapy with metronidazole(IV)/flucanazole (oral) and azith (oral) I am feeling so much better I am almost afraid to stop.

I have my ups and downs with herxing but it is becoming less and less frequent and intensity/duration is less as well!

I will take a break from IV Metronidazole in Feb when I have to attend a wedding in the US so we will see what happens.

It's great to feel better and actually feel like I have some control over my life again after 2 1/2 yrs of this disease from hell. I almost feel like I shouldn't say anthing because I am afraid I will jinx it.

Good luck to you and please think positive, I know it has helped me greatly.

kind regards,
ladyhawk

---

IP: Logged |

cmichaelo
LymeNet Contributor
Member # 5873


posted

---

quote:

---

Originally posted by heiwalove:
what is your babesia protocol?


---

I did

- one month of Zith and Flagyl,
- one month of Zith and Mepron,
- two months of Plaquenil (still on this)

...and all along I've been taking Artemisinin.

Michael

---

Posts: 702 | From NY | Registered: Jul 2004 | IP: Logged |

heiwalove
Frequent Contributor (1K+ posts)
Member # 6467


posted

---

up for more encouragement..

---

Posts: 1848 | From seattle, wa | Registered: Nov 2004 | IP: Logged |

daniella
LymeNet Contributor
Member # 6753


posted

---

Heilowave,

Yes, Yes I have. I have driven 1 hour in the wrong direction when in a fog. And upon arrival wondering how I got there.

I improved immensly on IV abx... Really got in there. I recently was getting like that again and started amoxicillan to get to my brain.

After a few weeks it was much better.
Best of luck

daniella


---

Posts: 968 | From private | Registered: Jan 2005 | IP: Logged |

heiwalove
Frequent Contributor (1K+ posts)
Member # 6467


posted

---

do you absolutely need IV antibiotics for neurolyme or can some orals do the trick? not sure about IV and ins. coverage, etc.

help?

---

Posts: 1848 | From seattle, wa | Registered: Nov 2004 | IP: Logged |

hatsnscarfs
LymeNet Contributor
Member # 6562


posted

---

Oral tetracycline 1,500mgs/day is working for me. Cheap too.
h&s

---

Posts: 956 | From MA | Registered: Nov 2004 | IP: Logged |

heiwalove
Frequent Contributor (1K+ posts)
Member # 6467


posted

---

up

---

Posts: 1848 | From seattle, wa | Registered: Nov 2004 | IP: Logged |

SandiB
LymeNet Contributor
Member # 1557


posted

---

There is hope! Three and a half years ago I was walking around in a fog, had short term memory lose, dyslexia, and a host of neuro symptoms....tingling in my arms and legs, hands, face, and constant ringing in my right ear. I also had joint and muscle pain off and on. Felt like I was pushing a wheelbarrel full of rocks up a hill all the time.

After 18 months on doxy and biaxin the symptoms started to first diminish and then slowly disappear. Today I am symptom free, except for some stiffness in my right knee which comes and goes. I am pain free, have thrown away my eye glasses as I now have 20/20 vision...before I wore glasses to read and drive. My mind is better than ever. I am still on biaxin 500 mgs twice a day. Remarkable recovery as I went undiagnosed for 27 years, and I am a senior citizen....so if I could beat down the Lyme than I believe anyone can. It takes a positive attitude, determination and discipline. Taking your antibiotics on schedule, and probiotics a least twice a day is crucial. Developing a proper sleep pattern and resting in the afternoons even if only for 30 minutes after lunch are also important.

I also believe you have to take vitamin supplements, protein drinks, detox herbs, and eat a healthy diet inorder to regain your health. All needed to build a healthy immune system, our greatest fighter against the Bb.
As you start to regain your strength you have to add exercise....nothing strenuous. Just start walking and increase slowly the distance you feel comfortable doing. You can do it.

My sincerest best wishes,
SandiB

---

Posts: 991 | From USA | Registered: Aug 2001 | IP: Logged |
Contact Us | LymeNet home page | Privacy Statement

Powered by UBB.classic™ 6.7.3

---
The Lyme Disease Network is a non-profit organization funded by individual donations. If you would like to support the Network and the LymeNet system of Web services, please send your donations to:
The Lyme Disease Network of New Jersey
907 Pebble Creek Court, Pennington, NJ 08534 USA
http://www.lymenet.org/
---
Home | Flash Discussion | Support Groups | On-Line Library
Legal Resources | Medical Abstracts | Newsletter | Books
Pictures | Site Search | Links | Help/Questions
About LymeNet | Contact Us
---
© 1993-2020 The Lyme Disease Network of New Jersey, Inc.
All Rights Reserved.
Use of the LymeNet Site is subject to Terms and Conditions.
---