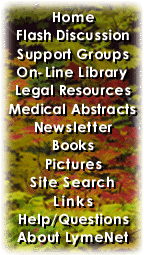 ---
LymeNet on Facebook
LymeNet on Twitter
---
---
The Lyme Disease Network receives a commission from Amazon.com for each purchase originating from this site.
When purchasing from Amazon.com, please
click here first.

Thank you.




Dedicated to the Bachmann Family


LymeNet needs your help:
LymeNet 2020 fund drive

The Lyme Disease Network is a non-profit organization funded by individual donations.

| | |
| --- | --- |
| | |
Author
Topic: 1000mg Flagyl... HELP!!!

James H
LymeNet Contributor
Member # 6380


posted

---

I'm on 1000mg of Flagyl for 5 days to prep for a Western Blot and have finished 3 days.

I have symptome orders of magnitude worse than anything I have ever felt. I think I need to stiop this stuff immediately as it is doing damage. I am not on ANYTHING else.

Herxheimer? But if flagyl only gets spirochettes out of the cysts where they are dormant but does not kill them it is not a herxheimer but spirichettes having a wild party and boring holes through my cels.

Overnight my brain, which had been functioning well again has turned to jello. i am having difficultu even typing this. My hands shake. My head feels the size of a beachball and has stabbing pains. My neck is so stiff it will hardly move, and my tounge keeps going numb. If I just fell over dead right now it would not suprise me. This is scaring me.

I AM NOT taking the other 2 days of this but I am wondering if I should take a zith or something to try to rein in what the flagyl has unleashed? Of course it is the weekend and no way to consult an LLMD. I am 45 from a hospital and have learned already not to go to an ER unledd you have been shot or in a car accident. They don't do anything at all except give a big bill and probably make notes that you need a psyche eval for 'imaginary' illnesses.

My wife checked my BP this AM... a normal 112/80. I don't think I am having a stroke or anything before anyone brings that up. I think it is just what the Flagyl stirred up.

I think I need to stop the flagyl stat before it kills me.

Anyone have anysuggestions on getting this under conterol?

---

Posts: 714 | From San Antonio TX | Registered: Oct 2004 | IP: Logged |

KH
LymeNet Contributor
Member # 4170


posted

---

From what I have read it does kill the cyst forms. (from a medical publication) I would stop the medication as you do not want to regress to a worse state than when you started.

I took 1000 mg a day for 2 days a week for 6 months and never had a reaction to it, however my load was probably lower than yours is now.

Why is your LLMD tesing you if you already know you have lyme? Your symptoms should be enough for a clinical diagnosis. Just my opinion here.


[This message has been edited by KH (edited 29 January 2005).]

---

Posts: 101 | From Houston, Tx | Registered: Jul 2003 | IP: Logged |

Lymetoo
Moderator
Member # 743


posted

---

You're right. Don't take anymore! When my LLMD starts us on flagyl, we take 1/4 pill! [of 250mg] and if we react, we lower it to a sliver!!

We work our way up until we can handle the drug. It is very dangerous to overdo flagyl. Sounds like your WB is going to show positive! But I'm sorry you're suffering so!

I'm pretty sure KH is right. It KILLS spirochetes in the cyst form.

------------------
oops!
Lymetutu


---

Posts: 96109 | From Texas | Registered: Feb 2001 | IP: Logged |

James H
LymeNet Contributor
Member # 6380


posted

---

I think she needs it to survive in the perverse medico-legal climate we have in this country.

I don't think she intends to kill me, at least not right away. There was more concern that I would not get any reaction (or WB result) at all, since I had been pounding this down for months while I looked for help. I was nearly symptom free with a modest amount of artemisinin to keep the malarial stuff at bay.

I would feel better about what is happening if I thought the Flagyl was actually killing spirochettes instead of brain cells, and this is just a herx and not a keet party.

I was thinking of taking a zith, which is what she was going to have me take in the first place before having second thoughts and switching to flagyl instead. Or maybe I should just stop everything ans try to detox. I miss my mind already.

---

Posts: 714 | From San Antonio TX | Registered: Oct 2004 | IP: Logged |

efsd25
LymeNet Contributor
Member # 2272


posted

---

Hi James H,
Sounds like Flagyl found its mark! Yes, Flagyl is used with Lyme to kill the cyst form and it usally hits folks pretty hard at first( It kills the cyst-it does not "free" spirchetes.

I had to interrupt flagyl myself before finishing the 1st week( a few years ago) due to herxing.

The solution is stop the flagyl for now and focus on detoxing. Personally, I would take the following ( all over the counter):

1) drink lots of water
2) Phytosterol( beta-sitosterol)this naturally generates more bile, which grabs the toxins, so they can removed from our system.
3) chlorella- which helps bind the toxins, so they will be eliminated and not be reabsorbed in our system.
4) Activated charcoal caps- also binds the toxins to be eliminated.
5) Metamucil - to keep things moving in our digestive tract.

These will accelerate the detox for you. Use the dosages on the containers. I would not take Zith, until the herx has died down or you have a chance to talk with your LLMD.

Hope this helps,

Ernie

---

Posts: 546 | From Cascadia subduction zone | Registered: Mar 2002 | IP: Logged |

beachcomber
Frequent Contributor (1K+ posts)
Member # 5320


posted

---

Hi, James:

I only had to take Flagyl for 10 days for C-Diff., 1000mg/day. The evening of day 1 I thought I was surely going to die. I had all the symptoms you describe. For me, Flagyl was an evil drug.

It was the weekend, so no-one to call and discuss this. I found a post on here that described ramping up on Flagyl by starting with 1/4 dose, then 1/2 dose, then 3/4 dose, then full dose - over a 10 day period. So, I took it upon myself to follow that.

I never did get to the full dose. I swear I started hallucinating on Flagyl. I lay on the living room floor for a whole day. It was like I was back in the 70s and had taken a recreational drug - only, there was nothing remotely fun about it.

Good news is, the ramping up worked ok & cleared up my problem. So, I say back off if you have to. I'm not an MD so, this is just my opinion.

Some people do fine on Flagyl. I hope I never have to take it again! Oh, and do NOT have a drop of alcohol - my pharmacist said to even ixnay the Listerine.

Bc

---

Posts: 1452 | Registered: Feb 2004 | IP: Logged |

James H
LymeNet Contributor
Member # 6380


posted

---

Thanks.

I am not taking anything else for now. I'm just drinking lots of tea.. plain old Lipton green tea as I don't have any funky vitamin store teas and I'm sure not going to drive into the city like this.

Its hard to think clearly enough to figure out what to do.

I feel much better about this if it is because of their deaths instead of their freedom. It will pass.

If the flagyl was suppoded to stir things up it has already done enough of that. Enough stirring for now.

---

Posts: 714 | From San Antonio TX | Registered: Oct 2004 | IP: Logged |

robi
Frequent Contributor (1K+ posts)
Member # 5547


posted

---

Just to comfort you I copied this from Dr. B's Guidelines:

"Metronidazole (Flagyl) is commonly used in select patients with treatment resistant, chronic Lyme. When present in a hostile environment, such as growth medium lacking some nutrients, or spinal fluid, or serum with certain antibiotics added, Bb will change into a cystic form. This cyst seems to be able to remain dormant, but when placed into an environment more favorable to its growth, the cyst can open, and an intact spirochete emerges. The conventional antibiotics used for Lyme, such as the penicillins, cephalosporins, etc. do not kill the cystic form of Bb. Furthermore, the cyst lacks the usual surface antigens found on the spirochete (these are the markers detected by ELISAs and western blots). This may be another reason for the chronically sick Lyme patient remaining seronegative.

There is evidence that metronidazole will kill the cystic form. This fits with the now well known clinical observations that metronidazole can be remarkably effective for many chronic Lyme patients. However, this medication apparently has no effect on intact spirochetes. Therefore, the trend now is to treat the chronically infected patient who has resistant disease by combining metronidazole with one or two other antibiotics to target all forms of Bb."

Hope it's helpful,
robi




---

Posts: 2503 | From here | Registered: Apr 2004 | IP: Logged |

James H
LymeNet Contributor
Member # 6380


posted

---

Robi,

Thanks for looking that up! You know, I remember reading that once. The trouble is with this stuff, the times you really need to be able to figure out what is going on are the times you do not have the brain function to do so.

From the reaction this may actually be a useful medicin for me if used more gently.

---

Posts: 714 | From San Antonio TX | Registered: Oct 2004 | IP: Logged |

dontlikeliver
Frequent Contributor (1K+ posts)
Member # 4749


posted

---

Hi James,

Your reaction to Flagyl sounds much like mine. I did about 5 days of it and couldn't cope any more. Re-tried it again, but only lasted about 3 days.

I felt pretty much like what you describe - horrible/nightmare.

I also kept feeling like I was going to collapse, even when I was lying on the floor, I still felt like I was going to collapse.

I can't remember the dose I was on, but I don't think it was as much as 1000mg.

DLL

---

Posts: 2824 | From The Back of Beyond | Registered: Oct 2003 | IP: Logged |

cigi
LymeNet Contributor
Member # 6600


posted

---

I did flagyl for 30 days - 7 days a week 1,000 mg. My doctor said that since I've been having psych symptoms, are you ready for it? I did it near Christams. The second week I was a basket case - took bloods - wbc, rbc, hemocrit,...everything low. She said by next week you should start to feel better. Oddly, the third week, all bloods came back raised and I had mental clarity for 2 days. Here it is a month later, and I begged to be committed. It's odd,but since the flagyl, my nose (believe it or not) has been vibrating constantly. I think its comical for that but the psych aspect for me is almost unbearable. When you're in the house that you picked out the color paint with your husband and 9 year old son, and you barely recognize yourself, your family, friends...and ask your doctor to be committed - you know there's trouble. Don't feel freaked by this. I assume it has popped cysts and that's whats giving you the reactions that you're having. I was told by many to drink alot of water to flush out the keets, but for me that had a different reaction. I ended up in the hospital for 3 days with dropped sodium - (under 120 you could seizure - I was down to 114). They're not sure what caused that so I have to follow upwith the renal doctor. It might have nothing to do with water and just how my body reacted to all meds which is probably what happened. Alot of water is important.

Flagyl could be brutal - so I have heard and have somewhat experienced. I also heard you SHOULD NOT have alcohol of any kind (I wish I could drink) and also, something about aged cheese also. I've spoken to so many people, I'm not sure where I heard it.

I take tranquilizers when needed to reduce anxiety - you could crawl out of your skin with this (I did - not all have had this reaction)

good luck - here if you need to talk, vent, ask - I'n no pro - but recently have been through the ringer like many of you.

God bless,

Cigi

---

Posts: 320 | From Upstate, NY USA | Registered: Dec 2004 | IP: Logged |

dontlikeliver
Frequent Contributor (1K+ posts)
Member # 4749


posted

---

Yes, no alcohol even includes mouthwash with alcohol, so I've been told. Can cause a very bad reaction.

DLL

---

Posts: 2824 | From The Back of Beyond | Registered: Oct 2003 | IP: Logged |

Recipegirl05
LymeNet Contributor
Member # 6729


posted

---

Hey James,

I'm so sorry you're suffering so. Flagyl goes straight to the nerves & penetrates the BBB and causes painful neuropathies------as you know.


Everyone has given you great advice.


The achiness Flagyl causes is beyond belief. The herx is putting tremendous stress on the body which can be damaging-----which I'm sure you know, too.


I get it. You're right she's trying hard to get a positive WB so she CAN treat you.


I was so worried about my son not having a positive test, yet I knew he had LD symptoms. I was so relieved she gave Zith prior to his testing. She told him to take Zith a minimum of 5 days prior to testing.


Anyway, do you have any Magnesium around?


I can only tell you what I would do. I would take the Mg and take some Motrin as prescribed on bottle. It will start to calm the nerves down a bit. Don't stop the Mg.


If there's a drugstore or even a grocery stor nearby, they might carry the liquid Magnesium Citrate Marnie talks about (in laxative section).


Don't over do on that either; but I'd take about 1 tablespoon initially. It works so fast as it's so absorbable.


If you can eat, try to get some protein or something down to dilute symptoms. Sounds crazy, but food always helped my pain.


My now retired LLMD would not give me Flagyl until my initial bacterial load was way down after several months of treatment with Zithromax. He said Flagyl would throw me for a loop.


If it were me, I'd let my body get back to normal and ask your LLMD if you can take Zithromax 250 mg twice daily for 12 days and on the 13th day ------go have your test done.


I realize they only run the WB on Mondays there, so you would want to time it out for the 13th day to be a Monday.


I would not be in any hurry to take the WB test without taking the Zithromax-----if it were me.


Of course, she may say since you're herxing to take the test quickly------I haven't a clue there.


Anyway, Monday I would call & if your nerves are still badly inflammed, I'd ask for a RX of Klonopin for a few days or something for nerve pain (anti-convulsant).


Even the herb, Valerian will help calm the nerves a bit, along with Mg & Motrin.


So sorry this has happened. I know your wife will take good care of you.


Let us know how you do.


Just call her Monday & see what she says.

Take Care,
Jan

---

Posts: 222 | From Texas | Registered: Jan 2005 | IP: Logged |

James H
LymeNet Contributor
Member # 6380


posted

---

Hi Jan,

Thanks for the kind words.

The idea behind the Flagyl was that it was even more effective at stirring things up ahead of a WB than Zithromax, so I doubt a lack of stirring will be a problem. Same idea as the 5 days of Zith, just a nastier drug.

I had my symptoms very under control prior to coming in, so I think getting a positive WB seemed iffy.

It seems to be settling down a little with a skipped flagyl dose and lots of tea, some food, and yes some Mg Citrate.

My poor wife had been the ER queen during the week preceding our visit, so much of the attention had to be diverted to that... Fortunately she is better so one of us is fit to drive monday.

I'll email you when I get a chance.

---

Posts: 714 | From San Antonio TX | Registered: Oct 2004 | IP: Logged |

Recipegirl05
LymeNet Contributor
Member # 6729


posted

---

James,


So glad to hear it's easing up a bit.


Don't worry about e-mailing me, just take care of yourself.


Good luck Monday.


Take Care,
Jan

---

Posts: 222 | From Texas | Registered: Jan 2005 | IP: Logged |
Contact Us | LymeNet home page | Privacy Statement

Powered by UBB.classic™ 6.7.3

---
The Lyme Disease Network is a non-profit organization funded by individual donations. If you would like to support the Network and the LymeNet system of Web services, please send your donations to:
The Lyme Disease Network of New Jersey
907 Pebble Creek Court, Pennington, NJ 08534 USA
http://www.lymenet.org/
---
Home | Flash Discussion | Support Groups | On-Line Library
Legal Resources | Medical Abstracts | Newsletter | Books
Pictures | Site Search | Links | Help/Questions
About LymeNet | Contact Us
---
© 1993-2020 The Lyme Disease Network of New Jersey, Inc.
All Rights Reserved.
Use of the LymeNet Site is subject to Terms and Conditions.
---