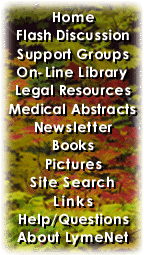 ---
LymeNet on Facebook
LymeNet on Twitter
---
---
The Lyme Disease Network receives a commission from Amazon.com for each purchase originating from this site.
When purchasing from Amazon.com, please
click here first.

Thank you.




Dedicated to the Bachmann Family


LymeNet needs your help:
LymeNet 2020 fund drive

The Lyme Disease Network is a non-profit organization funded by individual donations.

| | |
| --- | --- |
| | |
Author
Topic: Can it really be the lyme that is causing daughter's unrelenting 2 yr. fever?

SuZ-Q
LymeNet Contributor
Member # 5903


posted

---

My 13 year old daughter was hospitalized with a tick bite at age 6, but not diagnosed with Lyme and Bartonella until age 12(WB confirmed). She has been on oral abx for a little over a year and been on Mepron twice.

Two years ago her symptoms dramatically increased and she developed an unrelenting fever. Her fever generally stays between 100 & 102, but has been as high as 104.4(prior to diagnosis & treatment).

Most of the time her fever hovers around 100, but about 1 week out of every 4-6 weeks it jumps to 102. This often coincides with a change in abx, but not always. Her other symptoms include ear and throat pain,fatigue,joint and muscle pain, severe neck and back pain, light sensitivity, mood swings, ADD, weight gain, balance problems,short term memory loss, occassional twitching and trembling and a few minor symptoms. She has gotten to where she can actually function fairly well if the fever is under 101. Most people would have no idea she is sick. Symptoms worsen as fever rises. She misses a week or more of school every month. Last year she was on home-bound status for most of the year.

My main question is as follows: Are there other causes of fever we should be looking into or should we assume the fever is all coming from TBD's? Our LLMD just ran tests for viral causes which were all negative and CT scans of chest and abdomen which were normal. I'm wondering if there could be brain involvement since Bb likes the nervous system and that is where the internal thermal regulator is located (hypothalmus)? I also wonder how she can appear fairly normal with a fever. Can your body adjust to a long-term fever? Can your body reset your normal temp? Her fever decreases during the summer and long breaks from school - can stress be exacerbating the problem?

I had hoped to see more progress on the fever issue after more than a year on oral abx. We are feeling confused and desperate for some answers!! Your opinions are welcome and very appreciated!
THANKS!
Suzy

---

Posts: 260 | From Virginia | Registered: Jul 2004 | IP: Logged |

Lyddie
Unregistered



posted

---

Suz-Q I'm sorry about your daughter's fever. I'll bet the body does reset. I did have a year with elevated temperature once, about 18 years ago, 4 years after I think I got infected w/Lyme (in retrospect). I also didn't always feel sick, but sometimes I did. Doctors couldn't find any explanation. It went away after a fairly long time. Then I was left with a lot of fatigue, weakness, dizziness etc. instead.

I wanted to ask about the wieight gain you mentioned. I forget, has her thyroid been tested? MY almost 15 year-old is having a big problem with weight gain on a diet of 1200-1500 calories (not that much food).

Because this distresses her, some MD's have tried to pigeonhole her with an eating disorder, however two specialists (a psychologist and nutritionist) agree
with me that she doesn't.

Just owndering what your daughter's experience with this is. Not sure what our otions are, but she can't keep gaining weight, it's causing her so much anxiety.

Due to her diabetes, I really know what she eats, so her calorie and carb counts are accurate.

She did have low thyroid hormones for a couple of years, but lately they are (low) normal range. I' m scared to press for thryoid supplements because she might need to be on them for life. But gaining weight like this is so traumatic for a teenager. None of her pants fit her, and she doesn't eat as much as anyone else!

Noone is really listening to her or to me on this issue.




---

IP: Logged |

Tincup
Honored Contributor (10K+ posts)
Member # 5829


posted

---

Hey there in Virginia...

I LOVE Virginia.

I have a bunch of ideas here.. and it would take me forever to post it all.

Sooooo.. since it is nearly 2 AM... oh it IS 2 AM.. I will put some key words down for you to consider.. then check back later.

Hope you don't mind.. I am a bit tired.

1. Having a fever once a month go UP like that could co-inside (did I spell that right?) with herxing. Many folks have an increase in temps while herxing... or during the keet reproduction cycle.

2. Fever could be hitting with a menstrual cycle kicking it off... in other words.. hormones.

3. Thyroid disfunction.

4. Hypothylumus involvement. I had this BAD.. and the chiropractic neurologist works on me and it helps... LOTS.

5. Bartonella

6. Ehrlichiosis or Rocky Mountain Spotted Fever

7. Are you using advil to reduce fever and inflammation.. it will help usually... and makes all the difference in the world to me.

8. I have a "delayed" response to external temps.. it takes at least 20 minutes to react to the outside or a different temperature.. and by then the conditions have usually changed and my response is to over react to the change.. too much sweating.. or too much feeling cold... even when the temps are normal outside again.

8. At such a young age has she taken doxycycline? This would be the drug of choice for some of the fever causing co-infections.. but she may not have had it due to the age??

9. Some folks get better in the summer.. and worse in the winter.. and some do the opposite. Normally more do worse in the spring.. from what I have seen here. Rather interesting to see. So maybe she has the "get worse in the fall/winter" situation? That would explain her being better in the summer.

I am NOT a doctor.. just tossing out some possibilities that might ring a bell.

Hope it helps?

And most of all.. hope YOU all feel better.

---

Posts: 20352 | From The Moon | Registered: Jun 2004 | IP: Logged |

GiGi
Frequent Contributor (5K+ posts)
Member # 259


posted

---

Suzy, I have met many youngsters at our doctor's office that have similar symptoms as your daughter shows and as you related them. All of these children and teenagers have also heavy metal toxicity besides Lyme. They are neuro symptoms caused by neurotoxins. You may want to read the Symptom List I recently posted. It is by no means complete, but you will get a pretty good idea.
http://flash.lymenet.org/ubb/Forum1/HTML/029368.html

I might also add that I have not met a single Lyme patient yet during the last eight years that did not also have mercury and other heavy metal problems. I now work closely with the doctor that has helped us to get well and I have learned to see the big picture when someone is chronically ill.

Take care. Best wishes to your family.

---

Posts: 9834 | From Washington State | Registered: Oct 2000 | IP: Logged |

SuZ-Q
LymeNet Contributor
Member # 5903


posted

---

Thanks to all for your thoughtful replies!

She does test positive for thyroid antibodies, but so far her thyroid levels are still in the normal range. Hashimoto's runs in our family big time. She's going back to endocrinologist in late February; I guess he'll retest her. He's a good doctor, been taking care of our son for years. Lyddie, is your daughter still on the Zoloft - I gained a lot of weight while I was on it. (I hope that other situation that took place following her hospitalization we've talked about is improving-think about you all alot).

She's been on doxy several times and several other things to treat Bart and also Mepron for Babs. One of the nurse-practitioners at our LLMD says, "co-infection city", but shouldn't the abx be making more of a dent in it by now? She's been on Zith almost the whole time, doesn't that treat Bart?

Tincup, is there a test to find out about hypothalmus involvement? That is the thing that keeps coming up in my mind. I keep trying to research this on the net, but I have not found much info at all.

The monthly spike started long before her menses and they(her menses) are still not very regulated, so I don't think it is related to that. I have wondered about the die off cycle of the "keets" causing a herx.
Advil and Tylenol don't phase the fevers at all and she doesn't follow the normal pattern of low in the morning, climbing to a peak in early evening. She stays wiin 2-3 tenths of a degree all day and trends take several days to establish. It just seems so weird. She also has periods of facial flushing where her skin becomes beet red & feels like a firecracker, but it doesn't seem to impact her fever much.

I hadn't given much thought to toxic metal. She hasn't had any fillings, but I guess the thimerasol(sp?) in vaccinations could have introduced plenty of mercury. She once had a mercury thermometer break while taking a temp, but the break was on the outside of her mouth and we grabbed it immediately. Didn't see any sign of leakage. She consumes a fairly regular diet of fish-mostly tuna. Maybe we should cut back.

We're going back the the LLMD in early February. Do any of you have any suggestion for questions I should ask the doctor or any tests we should request?

Thanks again to everyone for your help - it is greatly appreciated!!!!

Suzy

---

Posts: 260 | From Virginia | Registered: Jul 2004 | IP: Logged |

Lyddie
Unregistered



posted

---

Suz-Q, has your daughter's ANA been tested? You mentioned positive thyroid autoantibodies...Has automimmune activity been considerd as a cause for the fever? I know that a lupus-like situation (which can be triggered by Lyme) can cause low grade fever, anyway.

You've heard this before from me, but we did (me and my 2 daughters) have very positive autoimmune labs (ANA, even anti-DNA, others)along with positive Lyme Western Blots. The fact that you have type 1 diabetes in your family would argue for strong familial tendency (as you mentioned yourself).

Apparently, it can be harder to treat Lyme and other TBD's with this autoimmunity going on, but treatment for the Lyme has in fact greatly reduced our autoimmune labs.. after 3 years.

Has your daughter been on Plaquenil? Both the LLMD and the rheumatologist (who interpretes this situation as lupus) prescribed Plaquenil, not only to make the abx more effective, but to calm down the autoimmune activity.

Just a thought..

Re weight gain, my daughter had been off Zoloft totally since early Setpember. She's up to 1500 calories/day now and regaining hunger. But she is gaining weight for no reason and is also very puffy, as if with fluid. She has some abnormal kidney tests (protein in urine) too, so I am meeting w/endocrinologist aboout thyroid and kidney stuff.

Do you know what the presence of thyroid autoantibody does? Would this contribute to some of your child's symptoms?

You are so considerate to think of us and I appreciate your support. The situation w/the hospital and social services is almost over. Our providers and school gave us glowing references, once given the chance. I'll let you know...It turns out that the source of the trouble was inadequate charting by nurses..I'll e-mail you.

You and your family are also in our thoughts...

---

IP: Logged |

SuZ-Q
LymeNet Contributor
Member # 5903


posted

---

Hi, Lyddie,

Glad to hear you are seeing light at the end of the tunnel on the hospital episode. I had a feeling it was related to the nursing staff based on the info you had given me.

My daughter was on plaquenil for about 9-10 months. Right now she is on an anti-viral.
They are going to try something new next time -it starts with an "L", but I can't recall the name. Leva-something , maybe?

The positive thryroid antibodies means(according to our endoc) that her body is starting to develop an autoimmune situation where her body destroys her thyroid (Hashimoto's). My mom has it, her mom had it and so did hers. My mother-in-law also has it. He thinks that she will definetly develop it, but it could take years.
As far as other autoimmune disorders go, we have had her tested by 2 rheumatologists and our LLMD has done some tests, but they say there is no sign of Lupus, JRA, etc. She has had times where she has had a low
positive ANA and her SED rate is usually elevated or borderline. I was given the impression that the lyme itself could be the cause of these readings. Don't think either has been tested for a while.

I am glad you are seeing an endocrinologist soon. The puffiness and kidney abnormalities is concerning. Hope everything turns out okay. Does your daughter ever visit the Lyme Teen site? Mine just discovered it a week or so ago thanks to a post I saw on General.
If she would like to talk to mine sometime on-line, e-mail me. I can tell you how she is listed on the Lyme Teen site.
Thanks for all you input and support!!

---

Posts: 260 | From Virginia | Registered: Jul 2004 | IP: Logged |

lymebrat
Frequent Contributor (1K+ posts)
Member # 3208


posted

---

Hi,

Sorry to hear about your daughters fevers.. You've been given alot of good advice ..I just wanted to share my daughter's story as it may be of some help...

My daughter was diagnosed with Cyclic Vomiting Syndrome when she was 18 months old..she had vomiting episodes every 4 -6 weeks..

She would wake up at 4:00 am and vomit every 10 mins for up to 6 hours....

When she was 4 years old, she began getting periods of high fevers. She had a fever of over 104 for nearly 3 weeks..her lips were bright red and peeling and she was miserable.

When the fever finally broke, she continued to have fevers every 7-10 days about 102..

Her pedi sent her to a ton of specialists and the specialist at the Children's hospital ran a bunch of blood tests including lyme.

She came back positive for lyme. I was told that they thought she was fine from the lyme as she had had 2 weeks of meds

They also thought she had Reoccurring Fever Syndrome and an Auto Immune Disorder as well.They wanted to send her to an infectious disease specialist, and I refused..Been there..done that

So I took her to my sons LLMD and he started treating her for the lyme. She is now 6 years old and has only had 1 vomiting episode since she began treatment and the only time she has a fever is when she is sick..

So in our case, she still had lyme in her system and once she began taking the Zithromax and Amoxicillian, she began to get better.

I'm not sure if this is the case with your daughter or not, but thought I would pass it along, just in case.

Wishing your daughter wellness,
~LymeBrat

---

Posts: 3154 | From NH , USA | Registered: Oct 2002 | IP: Logged |

bpeck
Frequent Contributor (1K+ posts)
Member # 3235


posted

---

The normal rise in body temp for a healthy person is about 1.5 degrees F over a 24 hr. period.. with the lowest temp upon rising in the am.

I had an abnormally low temp in the am.. about 96.8.. but it would rise during the day.. not every day.. but alot to between 99.5 and 100.5 deg F.

And like your daughter, sometimes I reach some elevated temp and just stay there.. and sometimes various parts of my body (but not my face) would feel extreemely hot to the touch- hubby would say - you're like a stove

I was operational at 100 degrees too- an did not appear sick.. I called it 'operational fever'..

And I was this way for years.

I had Babesia along with Lyme...And I think I sucessfully erradicated Babesia.. (but still have some lyme in my body).

My temperature is now within normal range and I do not get these high temps anymore.. and haven't for almost 2 years post Babesia therapy.

So.. in my case- I think these high temps were Babesia (not Lyme)..

Igenex has an excellent DNA (or RNA) test for Babs (FISH) but depending on what part of the county you're in I'd talk to tem about the species. Might be worth it to test for Babesia... even though you've treated for it already.

Barb

[This message has been edited by bpeck (edited 30 January 2005).]

---

Posts: 1873 | From VT | Registered: Oct 2002 | IP: Logged |

Lymetoo
Moderator
Member # 743


posted

---

quote:

---

Originally posted by SuZ-Q:
She consumes a fairly regular diet of fish-mostly tuna. Maybe we should cut back.

---

I just read an article on the mercury in fish, especially tuna, shark and ?? I'm definitely quitting the tuna for good.

I used to eat it about twice a month....But I had read something about the mercury a few years ago too, and haven't had tuna more than 2 or 3 times in the past year or two.

I would encourage you to cut this from her diet. Maybe the difference will even be noticeable!


------------------
oops!
Lymetutu


---

Posts: 95255 | From Texas | Registered: Feb 2001 | IP: Logged |

groovy2
Frequent Contributor (1K+ posts)
Member # 6304


posted

---

I have had low grade fever almost constantly
sence I was infected with lymes 17 yrs ago.

---

Posts: 2999 | From Austin tx USA | Registered: Oct 2004 | IP: Logged |

KrisKraft
LymeNet Contributor
Member # 4329


posted

---

Have you had her tested for "relapsing fever", another common tick borne disease?

---

Posts: 245 | From Palo Alto, CA USA | Registered: Jul 2003 | IP: Logged |

liz28
Unregistered



posted

---

For me, the answer to this turned out to be bartonella combined with babesia. When I started on ketek/omnicef this Sept., my Lyme symptoms dramatically dropped away, although it's still lurking in case I stop the abx.

I was shocked to discover that two completely different sets of symptoms were left over. The babesia caused sweats, dizziness/vertigo, and mild relapsing fever.

The bart was awful. It had been held back with flagyl, but never cured, and roared back with much of what you describe: agonizingly sore, swollen throat, mood swings, fever, splitting sinus headaches.

The babesia is almost gone after three months, thanks to artemisinin (a must) and 10ml/2x day of mepron. I've been on septra/bactrim for bart for one month, and even though I need something stronger, it's obvious bart, not Lyme, was always my main problem.

---

IP: Logged |

SuZ-Q
LymeNet Contributor
Member # 5903


posted

---

Thanks so much to everyone for your ideas!!

Tincup, I would really like to hear more about hypothalmus involvement if you have time. This is the one thing I keep coming back to in my mind.

Thanks everyone and to anyone else who may reply!!
Suzy

---

Posts: 260 | From Virginia | Registered: Jul 2004 | IP: Logged |
Contact Us | LymeNet home page | Privacy Statement

Powered by UBB.classic™ 6.7.3

---
The Lyme Disease Network is a non-profit organization funded by individual donations. If you would like to support the Network and the LymeNet system of Web services, please send your donations to:
The Lyme Disease Network of New Jersey
907 Pebble Creek Court, Pennington, NJ 08534 USA
http://www.lymenet.org/
---
Home | Flash Discussion | Support Groups | On-Line Library
Legal Resources | Medical Abstracts | Newsletter | Books
Pictures | Site Search | Links | Help/Questions
About LymeNet | Contact Us
---
© 1993-2020 The Lyme Disease Network of New Jersey, Inc.
All Rights Reserved.
Use of the LymeNet Site is subject to Terms and Conditions.
---