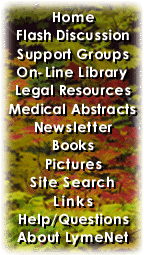 ---
LymeNet on Facebook
LymeNet on Twitter
---
---
The Lyme Disease Network receives a commission from Amazon.com for each purchase originating from this site.
When purchasing from Amazon.com, please
click here first.

Thank you.




Dedicated to the Bachmann Family


LymeNet needs your help:
LymeNet 2020 fund drive

The Lyme Disease Network is a non-profit organization funded by individual donations.

| | |
| --- | --- |
| | |
Author
Topic: Chronic Sinusitis for 8 year old, surgery???

beach4so
LymeNet Contributor
Member # 3832


posted

---

My son Dominic who is 8 and has been battling lyme now for 2 years has seen a new Dr. by the request of our LLMD. This new Dr. has discovered that Dominic has chronic sinusitis. The x-rays show that the sinuses on April 27 were 8 mm bigger then they are suppose to be and filled with pus.

Dominic went back to this Dr. on May 19 and did another x-ray the sinuses have gone up to 9 almost 10 mm. The Dr. spoke to Dr. C and they are worried that he could get meningitis with the infection being so close to the brain. We tried Flonase and Muslix from the April 27 appt. he had major drainage so we thought that was working. But with it getting bigger it seems nothing is helping.... Considering he has been on antibiotics for the better part of 2 years he shouldn't have an infection.

Dominic had a Cat Scan done on Monday and we are waiting for the results of that test. He has been diagnosed with allergies and we are adjusting to our new very clean house, air purifiers with hepa filters in every room, daily vacuuming with the new hepa filter bag less vacuum.

I am just wondering if any of ya'll had Chronic Sinusitis and what to expect. The dr said we would wait for the Cat Scan but that he might need surgery. This just terrifies me. I know they are excited that they **think** they found what might be holding him back from recovery from lyme.

So what are ya'll thoughts and opinions on Chronic Sinusitis? I tried to do a search but the search is not working.

Thanks for all ya'll help
Starr

---

Posts: 698 | From Louisiana | Registered: Apr 2003 | IP: Logged |

cbb
Frequent Contributor (1K+ posts)
Member # 788


posted

---

So, so sorry to hear what Dominic has been dealing with.
I don't have any info about sinusitis, but was wondering if it would help if the dr consulted with Dr Jones, the Lyme Pediatrician.

He's treated over 7,000 children with Lyme, so I'd think he's seen it all.

If you don't have his contact info:
Dr Charles Ray Jones
New Haven, CT
Phone: 203 - 772 - 1123
Fax: 1 - 203 - 772 - 0682

To read his "Children with LD", go to www.wildernetwork.org/LDpediatricfund.html

Will continue to keep both of you in our prayers.

---

Posts: 4638 | From South Carolina | Registered: Mar 2001 | IP: Logged |

Carol in PA
Frequent Contributor (5K+ posts)
Member # 5338


posted

---

Starr,
You might be interested in reading about Serrapeptase.
Scroll down to the part about Sinusitis.
http://smart-nutrition.net/serrapeptase-research.htm

Corrine E. started taking Serrapeptase, and noticed that her sinus problems were improving. I don't know how's she's doing now, though.

Just a thought.
Carol

[This message has been edited by Carol in PA (edited 27 May 2005).]

---

Posts: 6945 | From Lancaster, PA | Registered: Feb 2004 | IP: Logged |

krazykt1
LymeNet Contributor
Member # 3739


posted

---

Hi. my dghter had sinusitis caused by bart.Much better now that she's on bart tx.

---

Posts: 740 | From BC Canada | Registered: Mar 2003 | IP: Logged |

liz28
Unregistered



posted

---

Hi. This is definitely a question for real medical experts, but I do have chronic sinusitis. Some of it was caused by acid reflux, which got worse when I was on long term abx. I take prevacid twice a day for that.

Also, I do have bartonella, which has improved tremendously on rifampin and ketek. I believe Dr. Jones uses rifampin and zith for children with bart, and maybe would consider ketek now that it's building a promising reputation. Biaxin can also sometimes help with stubborn sinus infections.

---

IP: Logged |

Biting Back
LymeNet Contributor
Member # 6018


posted

---

So sorry to hear about Dominic's troubles and hope it resolves soon no matter which route you choose to take.

As a Mom I can only comment on what I think I'd do. Since your LLMD and ENT both verify that he has sinusitis and both are concerned about meningitis, I think I'd go ahead with surgery in the hopes that he'll make a full recovery from lyme. Infections in the sinuses, gums, jaws, ears, etc. can really hold us back when it comes to recovery.

Good luck!

---

Posts: 703 | From Almost Heaven | Registered: Aug 2004 | IP: Logged |

snowboarder
LymeNet Contributor
Member # 6346


posted

---

Hi Starr,

I had chronic sinus problems in 1998 and had a blockage on one side shown on a CT. Struggled with if I should or shouldn't have surgery and decided to go for it...glad I did.

My problems have been few and far between since that time. In 2002 I had 2 sinus infections back to back and started to worry but a few rounds of abx and I was okay. Youre right since he's been on constant abx he shouldn't be having these issues.

Like others said, I'd call Dr. Jones and see what he thinks but since it's growing I'd be concerned. I'm extremely glad I had surgery and it cleared up problems I'd had fron 1989. I'd probable do it again.

Second opinions are good too.

Hope Dominic is feeling better soon!

Take care.

---

Posts: 738 | From Colorado | Registered: Oct 2004 | IP: Logged |

Lyddie
Unregistered



posted

---

My daughter had sinus surgery at the same age as your son is now, and it was really not a big deal- and it helped a lot.

She has since been diagnosed with Lyme and I don't know if her chronic sinus issues were somehow connected to undiagnosed Lyme.

She was on antibiotics for 4-6 weeks at a time, many times, for the sinus stuff anyway. They told us that it is difficult for antibiotics to reach "way up there" and that the surgery would help, and it did.

Since your son has been on anitbiotics, it is possible that he might have a resistant bacteria that is infecting his sinuses. This happened to us when we got strep while on Biaxin, which is supposed to cover strep. So we did another antibiotic for 2 weeks and then went back to the Biaxin. Our LLMD used Ceftin on our daughter when her sinuses acted up during Lyme treatment.

You might also want to ask for a culture for yeast, which can cause or complicate sinusitis, and also threaten the brain. Unlikely for your son though (my daughter has diabetes which makes yeast a bad problem for her).

Anyway, my daughter didn't even have general anesthesia (although that is offered). They just poked holes and did "lavage" with sterile water and let the sinuses drain. No big recovery problem or anything.

After that, her sinuses were just so much better. And her respiratory problems also got better, once her sinuses were dealt with.

p.s. do you have allergy covers for mattresses and pillows? this helped us a lot with allergies...sounds like a nice new house!

[This message has been edited by Lyddie (edited 27 May 2005).]

---

IP: Logged |

notime2work
LymeNet Contributor
Member # 6092


posted

---

Way before I was diagnosed with Lyme, I had constant sinus infections. I was given many 2-week courses of abx, only to have the infection recur a month or 2 later.

Fortunately, I have a great ENT doctor that did a CAT scan of my sinuses and determined that they weren't draining properly. He cut a "window" in the bottom of them to let them drain. He also said that strains of bacteria that get embedded in sinuses/tonsils become resistant to the abx, and/or the abx are unable to reach that area effectively.

The surgery was no problem at all, no pain. The only issue I had was the packing that was put in my nose after the procedure that had to remain there for 24 hours, which made me feel claustrophobic. But it definitely made the sinus infections disappear, and was worth it.

---

Posts: 142 | From Flyover Country | Registered: Aug 2004 | IP: Logged |

beach4so
LymeNet Contributor
Member # 3832


posted

---

Thank all of ya'll for your respones. I am very overwhelmed. Still waiting for the Cat Scan results. It was just did Monday I was just hoping we would have it today.

We don't live in a new house but it sure does feel new, we have had so much changed in the last year. The dr's are saying for the better though. New a/c duck work and units..got rid of old moldy stuff.

We do have the mattress covers for all three kids beds and pillows and i have to wash bedding twice a week. Lots and lots of cleaning...dusting 3 times a week and wiping down window ledges and bathroom's with a special "mixture" for mold. It is all natural with tea tree oil and lemon extract.

I think that is one of the things i love the most about Dr. C and this new Dr. they both belive in all natural products and don't think antibotics are the only option.

It is great to hear how some of ya'll had surgery and would do it again. All i have been hearing are horror stories...but then again isn't that what family is for to scare you more then you already are??? This is the only place i can come and get honestly answers and support.

As soon as we get the results of the CT scan then i will call our ENT for an appt. When I spoke to the ENT he said it looked like we were already in good hands and it didn't do any good to see him until we got the results...so more waiting. Dominic had tubes and his tonscils and antoids removed with he was 2 by this ENT so at least this ENT has a history with him.

I am just getting home from work and wanted to check in and say Thanks. I will re-read everything and check out some of the links tonight.

Hugs and Thanks!
Starr

---

Posts: 698 | From Louisiana | Registered: Apr 2003 | IP: Logged |

Lymetoo
Moderator
Member # 743


posted

---

Hey Starr!! I'm so sorry that Dominic may have to have surgery, but yes, he's in good hands!

I REALLY hope this is the answer! Your other children are doing so well, so now it's Dominic's turn!

I liked what you said, "All i have been hearing are horror stories...but then again isn't that what family is for to scare you more then you already are???" How true!!

I have two inlaws who had this surgery and while it was difficult for a week afterward, they both had good results.

Keep us posted! We'll be praying for you!

------------------
oops!
Lymetutu

---

Posts: 95453 | From Texas | Registered: Feb 2001 | IP: Logged |

zipzip
LymeNet Contributor
Member # 6226


posted

---

if the surgery is warranted it will help alleviate the part of the immune system that is being damaged by the infection and inflammation of the sinus cavities (and away from battling Lyme).

but with having active Lyme the surgery may take a lot out of her as well.

most sinus surgeries are in and out in the same day. you may request an overnight after the surgery which should be followed by an administration of IV antibiotics and IV gammaglobulin.

if you opt out of surgery and see an immunologist IV gammaglobulin (or IVIG) will eradicate the sinus infection over time (yes without the need of recourse to surgery), as well as help in the battle with Lyme.

---

Posts: 795 | From nyc | Registered: Sep 2004 | IP: Logged |

sapphire
LymeNet Contributor
Member # 4599


posted

---

I had sinus surgery just a couple of months ago after the surgery its necessary to flush the sinuses with salt water which actually helped what was left of the infection anyways . it took about amonth to be able to breathe completely and so much freer than i have in years

To do a nasal flush , instead of getting a nasal spray bottle , I got one of those small suction things that is used on infant sinuses , bought in any store that carries baby stuff

take 1 quart warm water, 1 1/2 teaspoons salt and a 1/2 teaspoon baking soda and mix well
when ever i use this I warm it slightly though not much , suck it up into the nasal syringe and squirt it into the sinuses

when the saline water goes into the sinuses it will sometimes go into the throat ,. it doesnt always feel great when doing it but it sure feels wonderful when im done doing it as it breaks up the mucous and breathing is much better

---

Posts: 154 | From NH | Registered: Sep 2003 | IP: Logged |
Contact Us | LymeNet home page | Privacy Statement

Powered by UBB.classic™ 6.7.3

---
The Lyme Disease Network is a non-profit organization funded by individual donations. If you would like to support the Network and the LymeNet system of Web services, please send your donations to:
The Lyme Disease Network of New Jersey
907 Pebble Creek Court, Pennington, NJ 08534 USA
http://www.lymenet.org/
---
Home | Flash Discussion | Support Groups | On-Line Library
Legal Resources | Medical Abstracts | Newsletter | Books
Pictures | Site Search | Links | Help/Questions
About LymeNet | Contact Us
---
© 1993-2020 The Lyme Disease Network of New Jersey, Inc.
All Rights Reserved.
Use of the LymeNet Site is subject to Terms and Conditions.
---