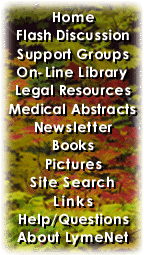 ---
LymeNet on Facebook
LymeNet on Twitter
---
---
The Lyme Disease Network receives a commission from Amazon.com for each purchase originating from this site.
When purchasing from Amazon.com, please
click here first.

Thank you.




Dedicated to the Bachmann Family


LymeNet needs your help:
LymeNet 2020 fund drive

The Lyme Disease Network is a non-profit organization funded by individual donations.

| | |
| --- | --- |
| | |
Author
Topic: LLMD Confidence

rickl
Junior Member
Member # 7777


posted

---

I was referred to this site by a friend of mine that has lyme. I've been diagnosed for years with fibromyalgia and not really getting anywhere with treatments. To rule out the possibility of lyme I went to a llmd. He took a lot of blood and sent me home with urine tests too.

I went back on Monday for the results and he told me that I have mercury toxicity, a thyroid condition as well as an autoimmune response to my thyroid (probably from the mercury), a micoplasm and also lyme.

My friend was concerned about the diagnosis of lyme and I thin maybe not sure about its accuracy or something. She told me to post in here for some other people's opinion. He actually did an IgM Western Blot and a IGG Western Blot. The IgM is the one that came back positive. I asked him if a false positive is possible and he said he supposed it is and if I would be more comfortable we could do another test when I come back in a few weeks.

My medical bills are just getting huge, but I don't know if I should send all of my results to another llmd for another opinion or not. Right now I'm just a little overwhelmed and confused. It is a lot to take in with all of the diagnoses. Does anyone here have any insight or suggestions?


---

Posts: 2 | Registered: Aug 2005 | IP: Logged |

Mathias
Frequent Contributor (1K+ posts)
Member # 5298


posted

---

Whether you have lyme or not all of those other conditions/problems need to be treated/addresed.

Sounds to me like the LLMD did a very thorough job, much better than the doc that dx'ed you with fibro.

I wouldn't bother getting a second opinion, just stick with that LLMD for now and see how treatment goes.

---

Posts: 1242 | From New Jersey | Registered: Feb 2004 | IP: Logged |

tickedntx
LymeNet Contributor
Member # 5660


posted

---

None of the Lyme tests are totally reliable, even the best ones. You can test for Lyme until you are blue in the face, and still the bottom line will be a clinical evaluation by an experienced LLMD who can put your symptoms, medical and personal history, and the test results in context.

I say skip more tests, let this doctor treat you, and you can get tested again after some number of months on treatment if you want to reevaluate then.

The risk of antibiotic treatment in the event that you might not have Lyme is much less than lack of treatment in the event that you do, IMO.

---

Posts: 977 | From Austin, TX, USA | Registered: May 2004 | IP: Logged |

bg
Junior Member
Member # 46416


posted

---

Ricki, here is more reading for you to do. That's our best asset becoming knowledgeable about lyme, etc.

Read the more important stuff to you 1st ... take it in steps.

Welcome to this 24/7 educational & support group board, www.lymenet.org !
Here's TREEPATROL's and TINCUP'S combination newbie links.
http://flash.lymenet.org/ubb/Forum1/HTML/029917.html

Print off the links then check them off as you read as you could spend several months reading all of this. Treepatrol constantly adds new links as they become available from the members here.

print & read Dr. B's (a lyme literate MD) info first; you will come back to this often.

Also, see Cheryl's extensive web sites on: LD DIAGNOSIS, SYMPTOMS, & TREATMENT ... wonderful!
http://www.lymeinfo.net/lymediseasetreatment.html

Some guidelines from Betty/others on using this message board:

* Do NOT use all caps when posting; it's hard on our eyes. But I know one of our members has macular degeneration, and all caps is what she can see & read so exceptions like this are acceptable for good reasons.

* We chronic, late-stage lymies can NOT read long paragraphs. So please limit your paragraphs to 6-8 lines max of text and double space between paragraphs.

* You can EDIT your text comments anytime. You can NOT edit your subject line so please make it as specific as possible instead of ``help, question'' etc. in order to have more readers/replies in trying to assist you. There are between 30-40 NEW/replies to post daily so we can't read all the posts on our limited time here...thanks for understanding.

* If you use the ``quote'' icon, please DELETE [B] bold at the beginning & ending of the quote. This makes it easier on our chronic, late-stage lyme eyes.

* To just reply without quoting, go to the top or bottom of screen in the black & white area to reply or post a new topic. Many of us couldn't see it when we 1st started posting. Thank you for helping us all out!
*
* LYME SYMPTOMS - http://www.lyme.org/otherdis/ld_symptoms.html
Bettyg, Iowa

---

Posts: 1 | From US | Registered: Aug 2015 | IP: Logged |

janet thomas
Frequent Contributor (1K+ posts)
Member # 7122


posted

---

I have mercury toxicity and Lyme. Had Babesia (maybe still do.) I got a break-my thyroid and thyroid autoantibodies were ok.

It is entirely possible to have all that you mentioned -they are all connected.

What came first-the chicken or the egg?

So you chelate the mercury, treat the Lyme with abx (antibiotics) and maybe treat the thyroid, that's up to you and your doctor.

There's a good chance that by treating the Lyme and chelating the mercury your thyroid function may normalize.

Were you tested/evaluated for other tick borne disease(TBD), namely Baqbesia, Ehrlichia, and Bartonella?

It's a lot to absorb all at once. BUT, unlike fibromyalgia it's treatable.

If you want to post you results we'll be glad to go over them with you.

[This message has been edited by janet thomas (edited 19 August 2005).]

---

Posts: 2001 | From NJ | Registered: Mar 2005 | IP: Logged |

DeniseS
LymeNet Contributor
Member # 7276


posted

---

Hi rick,

My (very respected and well known) LLMD recently discussed mercury toxicity with us. He suggested that removing the source of the mercury is primary and that there are questions about the efficacy of chelation. That means don't eat fish and, although he didn't actually say it, having amalgam fillings replace by a dentist who specialized in minimizing the mercury exposure (known as a mercury free dentist. A dentist who doesn't use amalgam is not enough; they must specialize.)

I, too, have an autoimmune response to my thyroid from LD. Thyroxine has helped me tremendously. I have energy again!

In addition, you can see if the lab will do a reverse Western Blot to confirm the results of your first test. They will need to have your original specimen. IGeneX said the urine sample from my son would last 90 days so we had the reverse done on that.

I agree with the opinions below that suggest you stick with your LLMD who was so thorough. The tests are more likely to give false negatives than false positives. LD is a clinical diagnosis. Many people with LD never get a positive test so the fact that you have one is a pretty strong indication.

The good news is that, correctly diagnosed and treated, you are likely to make progress.

My $.02.

---

Posts: 261 | From San Mateo, CA | Registered: May 2005 | IP: Logged |

Michelle M
Frequent Contributor (1K+ posts)
Member # 7200


posted

---

Hi Ricki.

I would take all this as very good news indeed.

Lyme disease is FREQUENTLY misdiagnosed as fibromyalgia. (Not to mention Chronic Fatigue, etc.)

Many people have these diagnoses and spend the rest of their lives disabled -- never finding a cure because they never really got a correct diagnosis.

Think how lucky you are to have a friend with Lyme who got you to go see an LLMD.

I would trust the process if I were you. False positives done by reliable labs are extremely RARE. Post your results here and we will have a look-see; some of the bands are so specific to Lyme bacteria that you simply couldn't have gotten them from any other living organism.

I would look upon this as good news and as news that you will be on the road to recovery from your "fibromyalgia" soon.

:-)

Michelle

---

Posts: 3193 | From Northern California | Registered: Apr 2005 | IP: Logged |

liz28
Unregistered



posted

---

I have to be cautious in responding to your post, as my opinion on this subject is very strong, and goes counter to the opinions of a lot of people on this board who I respect.

My personal experience is that five years ago, I came down with Lyme and two tickborne co-infections, babesia and bartonella, and was on my deathbed within six months. No mainstream doctor would treat me. In desperation, I threw myself at two area LLMDs, one of whom has a reputation as a real hotshot. The only research I did was to check that they took my insurance, and to call and ask their receptionists, "Do you use Dr. Burrascano's protocol?"

Without going into the details of what happened with these doctors, I was almost completely disabled for five years, because I was on a lot of drugs that looked high-powered on paper but didn't actually treat what I had, or because my doctors switched treatments every time I started to get well. I ended up doing the mercury detox and tons of wacky herbs (along with some terrific ones), and nearly every antibiotic described on Lymenet.

I burned through all my savings, and much of my retired parents' money as well (they ended up selling their house). I also had to leave my real job as an editor and work as a graveyard shift secretary at a law firm.

But I also went back to grad school part-time, using Thera-flu to temporarily lower my fever. There, my confidence improved to the point where I began to question all these doctors. Believe me, I was so terrified of dying alone in my tiny apartment, I used to literally beg them not to desert me. They were making well over $400 a visit.

At the beginning of Year 4, I made a point of reading every single Lymenet post going back to 2000, and found out which drugs I was supposed to be on. Soon after I requested them from my doctor at the time, it became necessary to find his replacement right away.

My current doctor is not a member of the Lyme community, but is a friend of a top LLMD. He charges $115-150 per visit. During my first visit, I brought a bag of all the antibiotics bottles I had, to prove I was really a Lyme patient, and lined them up on his table. He wrote a six-month prescription for all of them, and told me he would only be my doctor if I graduated, got a job, and started mild exercise, because he wouldn't put up with someone whose whole life was about illness.

That was five months ago. While I still have a ways to go, and may end up having to take maintenance antibiotics for life, I have gone from being disabled to working seven days a week in my field, jogging, cautiously starting weight lifting, making new friends, and lusting after the local blonde.

On a board like this, it seems appropriate only to make friendly suggestions which you are welcome to take or leave, and to describe what I'd do in your shoes.

First, you should know that two excellent Lyme antibiotics, doxycycline and minocycline, are regularly prescribed by dermatologists for years at a time. Mino is the stronger drug, but it can also have severe side effects in Lymies. Do you have any nice local dirt that you could take a bath in?

Doxycycline is safer, and cheap at about $20 per month out of pocket. The Lyme dosage is 200mg in the morning, and 200mg at night. You have to take the pills about a half hour after eating a large meal, and avoid taking them with dairy products. These drugs usually don't cure Lyme, but they do reduce the symptoms so you aren't completely incapacitated, and take away some of the panic at making the right choice under pressure.

Read every single post here, even the ones that don't seem to have anything to do with you. It could save you thousands of dollars, and years of your life. Like for example, if you have longstanding fibro symptoms, you may want to explore something called celiac disease, which often causes fibro. Here's a great magazine for celiac people:
http://www.livingwithout.com/

I respect the diagnoses of both mercury toxicity and thyroid, and believe mercury can be a lethal problem. However, my personal, non-medical opinion is that these are secondary issues, and that while they can wreck your immune system and make you more susceptible to chronic Lyme, they aren't the cause of it. In other words, they can become a reason to tack on months or years of seeing your doctor.

My one-sided bias is that you address them after you've taken care of Lyme (which can temporarily cause thyroid problems), the co-infections, allergies, and other problems that might require antibiotics or lifestyle changes like a different diet. LOTS of people have mercury toxicity in our smoggy society, but they don't have positive Lyme tests, or collapsed immune systems. And if you are fortunate enough to get rid of the Lyme first (not everyone does), you won't be afraid to go see an expert in thyroid problems or environmental illness, who may cost less than a Lyme doctor.

Also, if you walk into your current doctor's office and request certain antibiotic protocols, the doctor may very well give them to you. The Lyme community is very cutting edge, and no one person has all the answers. Your doctor may be delighted that you are so proactive, or will at least respect you more as a person who knows what's what.

[This message has been edited by liz28 (edited 26 August 2005).]

[This message has been edited by liz28 (edited 26 August 2005).]

---

IP: Logged |

Aniek
Frequent Contributor (1K+ posts)
Member # 5374


posted

---

Rick,

I'd start by saying you are doing the exact right thing. You felt something besides fibro might be going on, so you took action to find another doctor. You have questions, so you are actively looking for answers. So kudos for you.

I was diagnosed with fibro before I was diagnosed with lyme. Two years ago I couldn't hold a newspaper or a fork. I was in constant, severe pain. I would cry myself to sleep most nights, petrified that I would one day wake up in too much pain to move.

After 18 months of Lyme treatment, my pain level has fallen from about 8 most days to 1 or 2. I'm weaning off muscle relaxers I've been on a maximum dose of since early 2004. I still have a couple pain killers left from an October prescription.

I don't believe everyone with fibro has lyme. But there has to be something causing the fibro, and getting to the root of that can be all the difference. I believe it is often more than one cause. For me, I was diagnosed with Lyme, babesia (a tick-borne parasite) and a salmonella-induced reactive arthritis.

So keep learning. Ask your doctor questions. If something concerns you, speak up. But remember that Lyme is a clinical diagnosis. You do not need to have a positive test, although some insurance requires it to pay for treatment.

Best of luck, and welcome to lymenet.

-Aniek


---

Posts: 4711 | From Washington, DC | Registered: Mar 2004 | IP: Logged |

rickl
Junior Member
Member # 7777


posted

---

Thanks for the replys everyone! That is a lot of information for me to chew on. A couple people asked for my test results. The IgM Western Blott is the one that came back positive. Bands 18, 30, 34, 41, 58 were + and band 31 was ++. 23-25, 28, 39, 45, 66, and 93 were IND. 22,37,73, and 83 were -. I've read the explanation several times but it doesn't really mean much to me.

I have an appointment to see a mercury free dentist next Wednesday and I'm sort of looking forward to going. He works localy so it shouldn't mean much traveling. I'm only aware of 10 in the whole state.

I've been missing a lot less work lately just from treating the thyroid. I know it is a temporary fix until we get all the rest taken care of but at least I'm able to function and have a little energy to get around in the mean time.

---

Posts: 2 | Registered: Aug 2005 | IP: Logged |

NP40
Frequent Contributor (1K+ posts)
Member # 6711


posted

---

Rickl, according to those test results, it sure looks like lyme to me.

---

Posts: 1632 | From Northern Wisconsin | Registered: Jan 2005 | IP: Logged |

HopeHelps
Member
Member # 7781


posted

---

what a great post liz28, it helped me a lot too.

---

Posts: 25 | Registered: Aug 2005 | IP: Logged |

mlkeen
Frequent Contributor (1K+ posts)
Member # 1260


posted

---

Long term tetra is working for us. It is less than $10 a month if you by it on line.

He have been treated for co-infections and have addressed our other issues too.

It takes lots of time too get well. Remember you have a chronic bacterial infection. You will need lots of rest and a healthy diet.

Mel

---

Posts: 1572 | From Pa | Registered: Jun 2001 | IP: Logged |

brainless
LymeNet Contributor
Member # 6771


posted

---

The dx of Lyme is clinical and if the LLMD says you have it, then you have it.

I was dxed w/Fibromyalgia before I got my Lyme dx and, subsequently, became Lyme Literate.

Read the newbie links. A whole new world is about to open up to you.

---

Posts: 210 | From lalaland | Registered: Jan 2005 | IP: Logged |

Lyddie
Unregistered



posted

---

Just to echo that Lyme often triggers autoimmune activity that may calm down with treatment. Thryoid trouble is also common.

However, we always try to keep in mind other causes just in case.

It never hurts to get other opinions, as long as they don't cost too much or you have the money. Whatever it takes to feel trust, because lack of trust is stressful.

Tetracycline and minocycline (often combined with biaxin or zithormax plus plaquenil) have helped many, including my family. There are other helpful protocols out there, it is very individual.

Finally, it is not necessary, if you have any health insurance coverage at all, to go through your savings. Get in touch with the Lyme Foundation in Hartford Ct. or ask in the "seeking doctor" site about MD's who take insurance and will work with a primary care doctor near you.

---

IP: Logged |

seibertneurolyme
Frequent Contributor (5K+ posts)
Member # 6416


posted

---

This is just my opinion, but I suggest treating the mercury toxicity issue 1st -- I mean don't wait until after Lyme treatment, but start both treatments now.

After dental amalgams were removed, chelation with DMPS and oral DMSA plus a few other things took care of this problem for my husband in 6 months. Lyme treatment will take a lot longer than that unfortunately.

Hubby had the mercury problem 1st, then Lyme but it seems to me that if you remove that toxin (the mercury) the body can better fight the Lyme infection, plus you will have a better idea just which symptoms are caused by which problem.

Bea Seibert

---

Posts: 7306 | From Martinsville,VA,USA | Registered: Oct 2004 | IP: Logged |
Contact Us | LymeNet home page | Privacy Statement

Powered by UBB.classic™ 6.7.3

---
The Lyme Disease Network is a non-profit organization funded by individual donations. If you would like to support the Network and the LymeNet system of Web services, please send your donations to:
The Lyme Disease Network of New Jersey
907 Pebble Creek Court, Pennington, NJ 08534 USA
http://www.lymenet.org/
---
Home | Flash Discussion | Support Groups | On-Line Library
Legal Resources | Medical Abstracts | Newsletter | Books
Pictures | Site Search | Links | Help/Questions
About LymeNet | Contact Us
---
© 1993-2020 The Lyme Disease Network of New Jersey, Inc.
All Rights Reserved.
Use of the LymeNet Site is subject to Terms and Conditions.
---