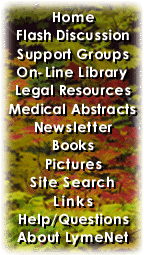 ---
LymeNet on Facebook
LymeNet on Twitter
---
---
The Lyme Disease Network receives a commission from Amazon.com for each purchase originating from this site.
When purchasing from Amazon.com, please
click here first.

Thank you.




Dedicated to the Bachmann Family


LymeNet needs your help:
LymeNet 2020 fund drive

The Lyme Disease Network is a non-profit organization funded by individual donations.

| | |
| --- | --- |
| | |
Author
Topic: stomach pain in 10 yr old. Lyme? Please give me your OPINION!

lymex5&counting
LymeNet Contributor
Member # 7202


posted

---

One of my boys best friends has severe stomach aches. He will be completely doubled over and in horrible pain. This has been going on for about 1 1/2 years. They said he had Mesenteric Lymph nodes in his stomach at first. He was put on about 4 different abx. Then he saw a Ped GI at the Childrens Hosp. He was scoped. All they found was some swelling. Everything else negative. I think he is now on Prilosec but it doesn't help. Now they want him to see a Psychologist because they think it is all in his head. He missed a ton of school last year. And the Dr's suggest that he is trying to get out of going to school. Which couldn't be further from the truth. He loves school. Now they are starting to have problems with the school as I did with my kids in regards to so many absences.

My son thinks that he has Lyme. My son is a very bright little boy and has read the John Bleiweiss paper "When To Suspect Lyme" and said "Madman Syndrome, hey dad has Lyme too."

This little boys Grandmother and Aunt have a ton of Lyme symptoms. I have tried to get them to get tested. They really don't have the means to do this right now. Also the Grandmothers husbands brother has been on his death bed currently with Kidney failure and I just have to wonder if he doesn't also have Lyme.

But anyway back to the little boy. I have not pushed about him getting tested because I know he is on Medicaid and I know IGeneX doesn't accept it. I guess I am just asking because I was thinking of offering to pay for a Western Blot.

Basically I am asking has anyone had a child that only had severe abdominal pain as a symptom?????

Sometimes I tend to think LYME LYME LYME. But I don't want to be a zealot about it. I just want this little boy to feel better. And I know if it is Lyme the Dr's around here will never figure it out.

Also does anyone know about Lyme Aid 4 kids. I didn't think you can qualify if you receive gov assisted ins. but if it won't pay for decent Lyme testing then would you possibly qualify?

With my 4 kids on Zith and a husband that thinks we have ABL, funds are tight.

Thanks so much!

---

Posts: 399 | From Texas | Registered: Apr 2005 | IP: Logged |

lyme_suz
Unregistered



posted

---

Hi,

I have heard of kids with chronic lyme with one symptom obvious.

One girl had leg pain and that was it at first.
Strangely, she is slowly recovering and has has all kinds of symptoms--very sick.

I have also heard of a child with stomach problems only.

My kids and I have lyme and I think with us our symptoms were a slow downward slide til we were not functioning.

This little guy might have some other symptoms that he/they aren't aware of because they have come on gradually or could just be dwarfed by the intensity of the stomach problems.

My daughter has tummy trouble and it is so hard.
I hope your friend can find some answers. I wouldn't doubt lyme.

Did you say 4 kids on zith?? How are they doing?

Susan

---

IP: Logged |

lymex5&counting
LymeNet Contributor
Member # 7202


posted

---

Thanks Susan,

Yes mine are 12, 10, 5, and 2. My kids and I have

Lyme. I got it from my mother and passed it on

to them. They were all doing okay......

Then all of a suddent last week my 2 year old is

covering her

ears and screaming when I vacuum. She has

started stuttering. And I am having trouble

understanding her. Her skin is so itchy and she

is breaking out on her arms and back. And she

has become totally unreasonable and won't

sleep. Her tonsils are always swollen. And her

nose is really itchy inside. I am really

discouraged. Her next appt isn't until 12/21/05

and I am still trying to figure out how I am going

to pull off going to CT then. My husband is in

total denial. We all have ABL ya know.

---

Posts: 399 | From Texas | Registered: Apr 2005 | IP: Logged |

giftoflife
Member
Member # 6748


posted

---

Please try your best to get this little boy tested. My son had abdominal pain and nausea for 5 months before he tested positive for Lyme. The symtom is real. We've been through the "it's in his head", "doesn't want to go to school", thing. Also had endoscopy and put on Prilosec. Many others...to much to mention. Get him tested! He has Lyme!
Good Luck

---

Posts: 30 | From MA | Registered: Jan 2005 | IP: Logged |

Linda LD
Frequent Contributor (1K+ posts)
Member # 6663


posted

---

My little boy was around three and we took him to the emergency room with stomach pain. The doctors told my husband--"we know he is really in pain, but we don't know what is causing it." They ran every test imaginable, except one.

That was a couple of months before the LD was diagnosed.

L

---

Posts: 1171 | From Knoxville, TN US | Registered: Dec 2004 | IP: Logged |

livinlyme
Frequent Contributor (1K+ posts)
Member # 3773


posted

---

Is this Abelson tyrosine kinase.... Abelson stands for ABL?

I would not discount Lyme being the causative factor in this... my youngest also suffered from abdominal pain for many years,,, and he has not had any of that since the Lyme treatment began..

not to mention everyone in our family has been DX with GErd, Reflux, IBS and what ever you want to add to that...

seems the treatemnt for Lyme has kept these symptoms at bay.. where no one could help otherwise..they kept saying things like UNknown origin, unknown cause,,even I was dx-ed with "personality pathology".... to know me would be to know that was a flat out lie...

email me if you like..
[email protected]

--------------------
"Hatred paralyzes life; love releases it. Hatred confuses life; love harmonizes it. Hatred darkens life; love illuminates it."


---

Posts: 1389 | From who knows, who cares, but somewhere over the rainbow | Registered: Mar 2003 | IP: Logged |

lymex5&counting
LymeNet Contributor
Member # 7202


posted

---

ABL = Anything But Lyme.

Thanks so much to everyone that responded. I

actually had gone looking for my Pediatric

Symptom list for someone else's question. There

starring me in the face was the

statement "Abdomianl Pain in about 50%, can

mimic acute appendicitis, mesenteric

adenitis, Crohn's disease, colitis,

irritable bowel syndrome," etc. etc. I am going

to copy this for the grandmother and go from

there. Please Pray she listens. It breaks my

heart to see this little boy in so much pain.

And at his age already being told it is all in

his head. I have also included another article

in which the girl was dx'd with mesenteric

adentis also. Hoping this post might help others.

http://www.lymepa.org/Corson_2004_0424_Slides_Handouts.pdf

http://www.lyme.org/faces/frazier4.html

---

Posts: 399 | From Texas | Registered: Apr 2005 | IP: Logged |

jloisu
LymeNet Contributor
Member # 7538


posted

---

lymex5,

My first symptoms were GI and I wish I would have caught it back then but instead spent over a year chasing GI docs around even up to the Mayo clinic doing every test you can imagine, some twice. It took months before my next symptom, arrythmia started, then 6 more months before my neuro pain started.

They tried to blame it on IBS, but my symptoms didn't match IBS. They tried to say it was in my head, well in the end they were right, the lyme had spread to my brain.

Wish I knew then what I know now...best wishes...

--------------------
jloisu


---

Posts: 197 | From Seeing Lyme Green in Iowa | Registered: Jun 2005 | IP: Logged |

DJP
LymeNet Contributor
Member # 5893


posted

---

My 3 year old seems to have a stomach ache most days. It doesn't sound as painful as the boy's though.

I'm not sure if it is the Lyme or the abx.

The pamphlet "The ABC's of Lyme Disease" has a section about gastrointestinal Lyme. It's on the LDA's web site. Its' on the left hand side under information menu.
http://www.lymediseaseassociation.org/
Here is another link about it -
http://www.lymepa.org/html/dr__ann_f__corson_april_24__20_7.html

Good luck!

We will also be seeing Dr. J on Dec 21. I have Lyme and my two little girls 3 and 1 have Lyme.

---

Posts: 441 | From USA | Registered: Jul 2004 | IP: Logged |

Lymeindunkirk
LymeNet Contributor
Member # 7118


posted

---

My presently 10 year old son has had gastro problems since he was three weeks old. I wish we had know then. They have really come and gone over the years so I wasn't too suspicious. When he was five he began having bowel accidents. I thought he just wasn't paying attention to his body although this is a child that had never once wet the bed. He was having these accidents during the day and not at night. His father would give him a hard time and yet they still wouldn't stop. Went on for a couple of years. I know now it was the lyme. My son began having stomach aches that kept him home from school last year. Yes my son also likes school and I could tell he wasn't faking. It was odd because his temp. always seemed lower than normal when he had these stomach aches. I myself was having horrible GI pain. Went to a gastro doc. Had a colonoscopy and then the almost daily pains mysteriously disappeared. Been gone now for 10 months. Lyme doc said it was the spirochettes in there and that the scope ripped them out. I had started treatment a month after the colonoscopy. Anyhow, my point here is that I first sought treatment for myself then I read the ABC's of Lyme and everything came together for me with my son. Its not in that poor childs head. I had been told my own son was ADD inattentive but he didn't seem to be everyday, just some days. He had stomach aches and a normal temp that was lower than normal. My son's stomach aches have for the most part gone away. He is still being treated however. If at all possible get that poor child tested. Its amazing what children learn when we aren't looking. Your own child is a smart one! Bless you for caring about children that aren't your own.

---

Posts: 547 | From Maryland | Registered: Mar 2005 | IP: Logged |

hwlatin
LymeNet Contributor
Member # 4123


posted

---

I have not looked at this board for awhile, but saw this topic and wanted to post some of my experiences.

Myself and my two sons are infected with Lyme, we have been battling for many years now. Gastro symptoms, have been some of the hardest symptoms we have faced.

The reality is that Neuro Lyme impacts the Vagus nerve. One of the functions of this nerve is to control the movement of food through the disgestive tract.

IBS and Gastroparesis are the direct result of damage to this nerve. God for bid a majority of Gastro doctors take the time to think about this.

About all we can do for this condition is to control diet. Some medicines can help a little bit in pushing this process along.

One major reason to understand all of this is that these conditions effect absorption of meds. This can lead to unpredictable results. That is why when taking orals, especially antibiotics and meds like depakote, it is important to run blood tests to check the levels in the blood.

I find the vast number of gastro doctors to be worthless. A gastric emptying study can be done to identify this problem in the stomach. It is much harder to diagnose the problem in the intestines. A straight xray can show any potential blockage, but it is much more difficult to look at function.

All three of us have neuro lyme and all three of us have gastroparesis with significant IBS. It took me three years before I finally was able to get a doctor to run the appropriate tests.

---

Posts: 533 | From Las Vegas, NV | Registered: Jun 2003 | IP: Logged |

johnlyme1
LymeNet Contributor
Member # 7343


posted

---

My First symptom were stomach and GI. The scope showed swelling with possible gastritus. 1 1/2 year later diagnosed with lyme. after I started treatment it went away after 2 months. Also during that time I was treated for bart. upon the time specifically for bart the stuff stoped - I think it really was bart realated. Befor treatment they put me all sorts of antacid stuf and nothing would touch it. The only one that helped at the time was Prevaccid

---

Posts: 582 | From milwaukee wi | Registered: May 2005 | IP: Logged |

Carol in PA
Frequent Contributor (5K+ posts)
Member # 5338


posted

---

Lymex5:
I am concerned about your two year old. She sounds pretty sick.


Has become totally unreasonable -- when my boys were like this, I knew they were sick.
Children's tylenol might help her crankiness, if she is achey and not feeling well.

Having trouble understanding her -- difficulty expressing herself due to cognitive dysfunction?

Stuttering -- there is a part of the brain that controls this, which might be affected by the Lyme bacteria. Some kids can develop a "tic," or a repeatative behavior, like a sniff, or a motion, or a muscle twitch.

Won't sleep -- insomnia? You could try a child's dose of Benedryl liquid at bedtime, to help her relax and sleep.

Skin is itchy -- Does lotion help this?
Try Carlson's lemon flavored fish oil. (Not cod liver oil, too much Vitamin A.) She should be willing to take a spoonful of this, as it has a pleasant flavor. (This helped my dry skin.)
This will also be good for brain function and mental health.
http://store.yahoo.com/iherb/theveryfish.html

Breaking out on her arms and back -- can you get a picture for future reference? I wonder if it resembles the Bartonella lesions?

Tonsils are always swollen -- is her throat red and sore?
Do her ears bother her?
Does she have a headache?
Is her neck is stiff and creaky?

Covers ears when you vacuum -- sound sensitivity
(I remember having this as a child.)
Also, is she more sensitive to light?
Is her skin more sensitive to touch?

Since she is on antibiotics, it's possible that she could develop an allergy, which might manifest as a rash. Or....she could be having a problem with yeast proliferation.

Inside of nose is itchy -- yeast?
Does she have a white coating on her tongue?
Is her vulva sore and inflamed?

Are your children taking probiotics? You may need to check into this.

It's also possible that your daughter's symptoms are due to a Herxheimer reaction. If her liver can't clear the toxins quickly enough, I wonder if reducing the zith would help?

BTW, check and record her temperature morning and evening for a couple days.


I'm really sorry that your little one is not feeling well.

Wishing you the best,
Carol

-----------
These suggestions are based on my experience, and are not to be taken as medical advice.

---

Posts: 6947 | From Lancaster, PA | Registered: Feb 2004 | IP: Logged |

lyme_suz
Unregistered



posted

---

Lymex5-
I am overwhelmed just reading about your little girl and you have other sick kids.
Do you think that some of her symptoms could be herxing?
Amazing that you are helping this other family.
How are you doing with your lyme?

I am seriously praying for you right now.

Susan

---

IP: Logged |
Contact Us | LymeNet home page | Privacy Statement

Powered by UBB.classic™ 6.7.3

---
The Lyme Disease Network is a non-profit organization funded by individual donations. If you would like to support the Network and the LymeNet system of Web services, please send your donations to:
The Lyme Disease Network of New Jersey
907 Pebble Creek Court, Pennington, NJ 08534 USA
http://www.lymenet.org/
---
Home | Flash Discussion | Support Groups | On-Line Library
Legal Resources | Medical Abstracts | Newsletter | Books
Pictures | Site Search | Links | Help/Questions
About LymeNet | Contact Us
---
© 1993-2020 The Lyme Disease Network of New Jersey, Inc.
All Rights Reserved.
Use of the LymeNet Site is subject to Terms and Conditions.
---