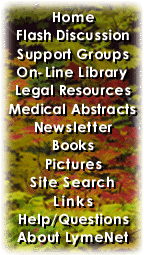 ---
LymeNet on Facebook
LymeNet on Twitter
---
---
The Lyme Disease Network receives a commission from Amazon.com for each purchase originating from this site.
When purchasing from Amazon.com, please
click here first.

Thank you.




Dedicated to the Bachmann Family


LymeNet needs your help:
LymeNet 2020 fund drive

The Lyme Disease Network is a non-profit organization funded by individual donations.

| | |
| --- | --- |
| | |
Author
Topic: Help! Disgruntled and confused...

lymebites
Member
Member # 6709


posted

---

Dear Fellow Lymies:

Help! I've had Lyme disease for 10 years, only (finally) diagnosed last December. I'm starting to suspect that the treatment I've been no has not been the best course of action for chronic Lyme. Here's my abx. history:

1/25 - 3/14/05 - Doxycycline 200 mg.

3/15 - 4/25/05 - Ceftin 1000 mg.

4/26 - 6/1/05 - Zithromax 500 mg.

6/2 - 6/29/05 - Flagyl 500 mg.

6/30 - 9/8/05 - Clindomycine 150 mg. & Quinine 260 mg. rotated every 10 days with Biaxin XL 1000 mg. and Plaquenil 400 mg

9/9-10/12/05 - Rifampin 600 mg.

I've just returned from a visit to my doc in Missouri. When I first met him I accepted his word completely. Now I'm not so sure. Aside from the abx. I've tried hormone replacement therapy, `neurotransmitter therapy' that cost thousands and wound up making me more sick, plus umpteen supplements, some sold exclusively by yours truly, my LD doc. By now I've learned, at least until I'm more sure of things, to stick with abx. and a few good supplements (well, questions on these too - any opinions on Magnesium, Cod Live Oil, Vitamin E, B-12 (pills), Milk Thistle, Niacin, Ioderol, L-Glutamate, Tyrosine, Tryptophan (L-Tryptophan or 5-Hydroxytryptophan??), Phoscol, Acetylcholine for fatigue, Cortisol, Testosterone, Florinef and compounded T3??? It has been recommended that I take these all simultaneously (am taking some already). I should mention that I'm a vegetarian (not vegan but consume very little dairy), for whatever that's worth.

My doc evaluated me last week, called me a ``non-responder'' and even questioned whether or not I really had Lyme disease (never mind my positive IGG & IGM Western Blot with a gazillion antibodies - was never tested for co-infections but he diagnosed clinically that I had them all). He also couldn't fathom why I might want to have the flu or pneumonia shot when I asked his advice about that... (any advice on that from you guys - the experts?)I thought it was a valid question as I am tremendously immunocompromised - low thyroid, hemoglobin 11.5, BP 90/66, sky high levels of toxins, hormones a mess, etc., etc.

My doc sent me home with prescriptions for the following, in the following sequence:
1. Vantin 800 mg. with Tetracycline 1000mg. to target borelia, Rocky Mountain spotted fever, tularemia, ehrlichia and mycoplasma.
2. Then, Augmentin 1750mg. with Amoxicillin 1000mg. for the cell wall of the borreliosis.
3. Then, Erythromycin 500mg. with Malarone 250mg. for the L-form or cell wall deficient form of the borrelia
4. Then, Flagyl 250mg. with Bactrim DS 400mg. for the cyst form of the Borrelia.
All that plus Mepron, to add to the above "at my discretion".

Not much talk of IV abx. which was understandable as I am currently under-insured and waiting (hoping) for SS/D now that I've hired an attorney...

I know these are complicated questions. If anyone has advice and time to answer I would dearly appreciate it. Losing faith in my current doc and not sure where to turn...

Sincerely,
Lymebites

---

Posts: 63 | From Deer Grove, Illinois, United States | Registered: Jan 2005 | IP: Logged |

seibertneurolyme
Frequent Contributor (5K+ posts)
Member # 6416


posted

---

I would be curious to know what your primary symptoms are -- are they mainly neurological or arthritic or what?

When you say you are a non-responder do you mean that the drugs didn't help at all? Did you have any type of herx from the meds?

If you have really had Lyme for 10 years you have probably not been treated nearly long enough to be well. While the drugs you have listed were at fairly low doses these are higher doses than hubby could tolerate for most of the same meds due to either G.I. side effects or increased neurological symptoms (herx?).

All the supplements you have listed look ok. Hubby has taken all these at some point in last 4 1/2 years plus many more. Two critical ones in my opinion that you didn't list are acidophilus and COQ10.

As far as the flu shot, I wouldn't personally recommend it. The primary measure of whether or not you are severely immunocompromised is the WBC (white blood cell) count.

In my opinion the fact that you are a vegetarian is definitely a negative factor to healing. Protein is needed to provide amino acids which are needed to make the neurotransmitters.

Also wondering why you think the neurotransmitter therapy made you sick? What were the symptoms you thought were caused by this? This is a very difficult thing to balance, but I am wondering if your symptoms might have actually been herxes from the antibiotics?

Generally neurotransmitters are primarily related to moods and don't cause too many physical symptoms except for possible tremors from lack of dopamine and sleep disturbances from lack of serotonin.

If the 5HTP/L-tryptophan is agravating neuro symptoms I would suggest adding the supplement Resveratrol (Japanese Knotweed source) -- see the new Healing Lyme book for expalanation of this in detail. This helped hubby tremendously. Just start slow -- with 1 instead of 3 capsules daily and increase from there as needed.

Based on hubby's experience with many doctors I think what you need to do besides continue to treat the tickborne infections is to focus on one thing at a time. Trying to do too many things at once doesn't usually work -- it is too difficult to see what is helping or hurting.

For example, focus on correcting your thyroid hormones or neurotransmitter levels or anemia or some other problem so that you have some positive results to motivate you. It takes time, but you have been sick a long time so it can't all be fixed overnight.

Hubby is in a somewhat similar situation -- oral antibiotics have been very little help for him.

I really don't know much about the new meds you have listed for the future so I can't offer much advice there.

In the last 4 1/2 years there are maybe 5 different treatments that hubby has had really significant positive responses to. Maybe something here will help you.

1st was treatment for intestinal parasites and candida which significantly improved gastritis and G.I. function (before actual Lyme diagnosis). G.I. symptoms still present, but much less severe.

2nd was balancing of neurotransmitter levels with amino acid supplements. Took 2 - 3 years to get off all psychotropic and seizure meds but moods are stable now despite severe physical symptoms. Also hormone related -- low dose Cortef (5 mg daily)plus very low dose Florinef stopped fainting episodes from low adrenal function.

3rd was IV Vitamin C -- 25 grams 6 days per week for about 3 months. Started a couple of weeks prior to IV Rocephin and continued during that med. Significant increase in energy -- also no inflammation during that time frame. Have had much more problems with inflammation since decreasing these IV's to 1 or 2 times weekly for last year and energy levels also dropped way off as well. The vitamin C was probably helping with adrenal function.

4th was IV Rocephin -- 2 grams per day for 2 months. Overall symptoms decreased at least 25 % but symptoms started gradually worsening within a week of discontinuing IV antibiotics. Had not been treated for any coinfections prior to this.

5th was Quinine/Clindamycin protocol. Significant improvement for 1st 2 months of treatment and then started losing ground last 2 months of treatment. Major improvement in tremors/myoclonus and decrease in seizure-like episodes. Movement in general much improved.

Actually even felt better 1st 2 months than when on IV Rocephin. That is what makes it so hard to deal with where he is at today symptom wise.

Per Dr B on Long Island babesia needs to be treated for a minimum of 4 months continuously -- you only treated for 2 months.

Hubby has been off the Quinine and Clindamycin for 4 months now and has tried several things since including Rifampin which he could never tolerate. Unfortunately his neurological symptoms are probably the worst they have ever been since he 1st got sick. We hope to resume IV antibiotics in mid-November.

Although I don't know your symptoms and history my 1st guess is that you still have babesia which I am pretty sure is the case for hubby as well. I think if you could clear up that coinfection you could start moving in the right direction and see significant improvement.

If the low hemoglobin is not from babesia, have you been tested for iron deficiency?

Hope something I have said is of some help. I know how hard it is to stay positive. Frustration and 2nd guessing yourself are a major part of this illness.

I know with hubby I am always trying to figure out what test to do next or what new doctor to go see. It just seems like there is something that has been missed that would turn the corner.

Bea Seibert

---

Posts: 7306 | From Martinsville,VA,USA | Registered: Oct 2004 | IP: Logged |

cgooge
Member
Member # 7922


posted

---

Lymebites,

My wife and I just got back from the same doc in MO. This was our first visit and here is the break down on what he gave us:

1)Doxy 400 a day
2)Ceftin 1000
3)Zith 500
4)Flag 750

We also have a Nystatin prescription to start after the West. Blot comes back positive.

We also went ahead and tested for Amino Acids/Fatty Acids and the infectious panel.

I am trying to decide if the neurotransmitter therapy is right for my wife or not.

We are still in the honeymoon phase of this so we are learning as we go. This is only the 3rd day of ABX so far.....

---

Posts: 82 | From Summerville, SC | Registered: Sep 2005 | IP: Logged |

Lymetoo
Moderator
Member # 743


posted

---

Lymebites....these things take time. Did you say whether or not you've been herxing?? Maybe I missed that part. All I know is that it took at least one yr of meds to notice any improvement at all in my condition.

Flu shot...?? Nope. Not for me.

Here is info from a past discussion...Also read the link I provided within the link below.

http://flash.lymenet.org/ubb/ultimatebb.php?ubb=get_topic;f=1;t=038219#000000



--------------------
--Lymetutu--
Opinions, not medical advice!


---

Posts: 95725 | From Texas | Registered: Feb 2001 | IP: Logged |

welcome
LymeNet Contributor
Member # 7953


posted

---

Magnesium Citrate or Chelated Glycinate. I prefer the Chelated, as this "wraps" the Mg in an amino acid, which "tricks" the cell into transporting what it thinks is an amino inside the cell, then once it's intracellular....surprise, a gift....some readily absorbable magnesium.
It's very important to evenly space the dosage og mg and B throut the day, instead of all at once.
(see also magnesium related articles here, especially by member Marnie.)

Cod Liver Oil/OK

Vit E/OK

B12/....B6 is a little more important. The B's all need each other, so a B complex is probably best.

Milk Thistle/....The more the better. The active ingredient silymarin, among other things enables glutathione to persist in the liver much longer than it would "normally".

Niacin/...should be in the B complex if I'm not mistaken.

Ioderol/?????

L-Glutamate/....Good for the intestines. Add N-Acetylcysteine (NAC). These two in conjuction are the body's major building blocks for glutathione.

Tyrosine, Tryptophan (L-Tryptophan or 5-Hydroxytryptophan??)/.....You're taking these for mood/mental dispostion and energy? A better combo might be 5-HTP + SAM-e + DHEA + NADH for the morning. Melatonin for the evenings.

Phoscol + Acetylcholine/....is more for mental clarity than fatigue, but in any event is a good combo.

Cortisol, Testosterone/...These two I'd stay away from. I'd stick with the precursors.

Florinef/... Do you have high Potassium or heart related symptoms? It's a corticosteroid which is not the best thing to be putting into a Lyme over whelmed system if it can be at all helped. There are other ways to control potassium serum levels.

Compounded T3?....Do you have Thyroid disease or Lyme involvement with this gland? What was your TSH level? How's your weight?

Did you have a full bank hormone tests done?

Vegetarian? Do you do eggs? Do you take any complex of essential/partially essential/non-essential amino acids? If not you're going to need it, post haste! And while you're at it, with all the abx you're taking and little to no dairy products, you absolutely need to get on some high dose (10 billion or higher), multi strain probiotics immediatley. Without the right gut, all the supplemetation in the world ain't goin' to help much. I can not stress this enough.

Also recommended: Fulvic Acid. Aloe Vera Juice. Red Yeast Rice. As much gree tea/green tea extract as you can handle. No sucrose! No Splenda or other artificial sweeteners. Any sweetening should be done with Xylitol. No alcohol! No caffeine! Samento.

My .02¢

I'm not a doctor.............but I did stay at a holiday inn last night.


---

Posts: 294 | From nevada | Registered: Sep 2005 | IP: Logged |

HEATHERKISS
Frequent Contributor (1K+ posts)
Member # 6789


posted

---

Lymetoo is giving good advice. It takes time.

Also sometimes problems or discomferts go away and you don't notice. Becuase you still have other problems and becuase everything seems to change everyday.

If I didn't keep a journal I would not know how far I've come.

When I first started taking antibiotics I was so sick I thought someone was poisoning me slowly. so slow and painful.

When you feel badly about how you feel today reffer back to day one. You really have all the same problems still?

Does your LLMD rx biccillian shots? They are cheap (insurance wise) and are supposedly comprable to I.V.

Also I never hear about relapses after the shots like I hear about relapses for IV.

I hope you feel relief soon,

--------------------
HEATHER




---

Posts: 1974 | From ABERDEEN, NJ 07747 | Registered: Jan 2005 | IP: Logged |

Lymetoo
Moderator
Member # 743


posted

---

Where's Lymebites??

--------------------
--Lymetutu--
Opinions, not medical advice!


---

Posts: 95725 | From Texas | Registered: Feb 2001 | IP: Logged |

map1131
Frequent Contributor (5K+ posts)
Member # 2022


posted

---

Lymebites, don't loose faith in Dr C ability. He's not God, just a honest good doc trying to throw things in your direction to try to help.
I've been at this for 6 yrs myself. On abx within 10 days of flu-like attack and many many more symptoms.

You're not his first non-responder and you won't be his last. He's not doubting lyme as much as thinking there are many other bacterias, viruses, parasites, etc etc getting in the way of getting rid of the lyme.

I was treated by my own PCP for 2 yrs with many combos of abx before going to Dr C. Dr C then started me on the abx I hadn't tried yet. I even tried the heparin, hormones etc. That didn't work for me either. I caught my lyme in the very early stages. Not after 10 yrs like you. After 3 1/2 yrs on abx, I decided abx wasn't going to cure me. I switched to alternative stuff, including a rife machine.

Dr C even agreed that rife had helped many patients fire him. He thought based on what he had seen that after 5 months of using rife I should be seeing improvement, once again I wasn't the typical lyme patient. It wasn't until around 7th month that I turned the corner and started having what everyone talked about, A GOOD DAY.

If I was you, I'd stick it out with the good doc some more. As far as the flu shot thing. My gut feel for me was that the flu shot would be a huge mistake. Sometimes the body just can't handle vaccines. In 6 yrs I've never had a cold or flu illness. Go figure. Many on this site have experienced the same thing.

I haven't fired Dr C yet. I haven't made that 8 hr drive since 6/04. I might need him somewhere down the road. He tried, he cared, he listened and he's a good lyme doc. If you feel abx isn't the route you want to go then start reading about alternative treatments for lyme.

Take care, Pam

--------------------
"Never, never, never, never, never give up" Winston Churchill


---

Posts: 6444 | From Louisville, Ky | Registered: Jan 2002 | IP: Logged |
Contact Us | LymeNet home page | Privacy Statement

Powered by UBB.classic™ 6.7.3

---
The Lyme Disease Network is a non-profit organization funded by individual donations. If you would like to support the Network and the LymeNet system of Web services, please send your donations to:
The Lyme Disease Network of New Jersey
907 Pebble Creek Court, Pennington, NJ 08534 USA
http://www.lymenet.org/
---
Home | Flash Discussion | Support Groups | On-Line Library
Legal Resources | Medical Abstracts | Newsletter | Books
Pictures | Site Search | Links | Help/Questions
About LymeNet | Contact Us
---
© 1993-2020 The Lyme Disease Network of New Jersey, Inc.
All Rights Reserved.
Use of the LymeNet Site is subject to Terms and Conditions.
---