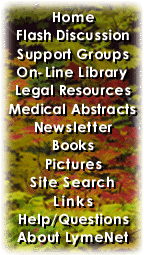 ---
LymeNet on Facebook
LymeNet on Twitter
---
---
The Lyme Disease Network receives a commission from Amazon.com for each purchase originating from this site.
When purchasing from Amazon.com, please
click here first.

Thank you.




Dedicated to the Bachmann Family


LymeNet needs your help:
LymeNet 2020 fund drive

The Lyme Disease Network is a non-profit organization funded by individual donations.

| | |
| --- | --- |
| | |
Author
Topic: How can anyone have a job and be sick at the same time?

amkdiaries
LymeNet Contributor
Member # 7035


posted

---

I have been sick with Lyme now for the last nine years and I have gotten to the point of extreme frustration and depression because after 2 1/2 years of I.V. treatments I am still sick. I would like to get a job for the purpose of taking my mind off my misery and perhaps feeling like I am part of the real world but who would hire someone who is sick like this? With this disease, you don't know what is coming your way any day of the week and what boss tolerates excessive absences? I noticed from various posts that many of you work and I was just wondering how you do it- especially if on I.V. which can really be taxing and take a lot of time.

Ang (mother of amk)

---

Posts: 425 | From NY, United States | Registered: Mar 2005 | IP: Logged |

heckyeah
Frequent Contributor (1K+ posts)
Member # 603


posted

---

Hi Ang,

When you get the answer to this one, let me know. I'm losing my mind too. I've been out of the job market for 9 years now. My family is broke cuz my hubby also has this disease and can't work.

I do have to say that don't despair that after only two years of IV that you're still sick. It doesn't mean you won't continue to get well. I've been treated since 2000. I'm still sick but almost asymptomatic now. I was on IV for two years but aggressive oral treatment the rest of the time.

Recently, I've started treatment with a naturopath to fix the things that traditional medicine just can't. We'll see how that goes. I took a short break from the antibiotics for two months but the symptoms started to worsen so I'm back one until I go back to my LLMD in a couple of weeks. I'm not going to bother taking another break for a long time I think.

So, you might want to add some complementary therpies to your treatment to see how it goes.

Hang in there,
Jen

---

Posts: 1082 | From Upstate New York | Registered: Jan 2001 | IP: Logged |

hurtingramma
LymeNet Contributor
Member # 7770


posted

---

I work part time - 28 hrs. a week. I consider myself very fortunate that I can still do that. I do not have as serious a problem as others on this board.

If you just want to get out of the house, why not try volunteering for a few hours a week? You may not have to set a certain schedule that way, and may be able to do what you can only when you can. Or look for a part time job. I would hire you, as I have an assistant who only works when needed; usually 3 - 4 days a month except during busy time.

--------------------
"Few of us can do great things, but all of us can do small things with great love". Mother Theresa

http://www.facebook.com/profile.php?id=1629665573&ref=name


---

Posts: 938 | From Northeast Kingdom Vermont | Registered: Aug 2005 | IP: Logged |

heckyeah
Frequent Contributor (1K+ posts)
Member # 603


posted

---

quote:

---

Originally posted by hurtingramma:
I work part time - 28 hrs. a week. I consider myself very fortunate that I can still do that. I do not have as serious a problem as others on this board.


---

In my case, I would lose money and be totally unable to pay for my expenses if I worked part time. I would lose over $400 a month not including the loss of my medicaid which pays for my antibiotics. Soon Medicare will have some coverage but I don't think I'm remiss in assuming it will really be pathetic.

So, any part time job I might find would have to pay me BIG BUCKS.

Jen :/

---

Posts: 1082 | From Upstate New York | Registered: Jan 2001 | IP: Logged |

dontlikeliver
Frequent Contributor (1K+ posts)
Member # 4749


posted

---

I have not been able to work a 'regular job' for years now. However, a couple of years ago I decided to try to work for myself as, basically, a freelance Private Secretary (what is called a Personal Assistant in the UK and/or a Virtual Assistant in the US.

This allows me to be 'too busy' (read: sick) when it's inconvenient, yet work a little bit. I am working only 3 mornings a week, which is a major step forward for me.

It's not my dream job, and I wouldn't be doing it if I were well. But, I'm not well (yet), so it suits me for now, and clients don't need to know anything. After all, I look normal!

DLL

---

Posts: 2824 | From The Back of Beyond | Registered: Oct 2003 | IP: Logged |

mlkeen
Frequent Contributor (1K+ posts)
Member # 1260


posted

---

I'm self-employed, family day care and have had a very small group for 4 years. I can take only nappers, so I can get a rest after lunch. Little ones didn't notice if my brain was scrambled!

I'm feeling much better finally, doing diflucan. Suddenly I have 5 new part-timers. The oldest is in kindergarden!

We'll see how I feel in a week!

Mel

---

Posts: 1572 | From Pa | Registered: Jun 2001 | IP: Logged |

CaliforniaLyme
Frequent Contributor (5K+ posts)
Member # 7136


posted

---

For years when I was really sick I couldn't work but then I got almost well and went back to work full-time at one of the most high-stress jobs there is (working as an alcohol and drug counselor with the severely mentally ill including many criminal justice mentally ill clients)- I was TERRIFIED I would go downhill physically- just TERRIFIED!!!!!!!!!!!!!!!!!!!
But I didn't. I kept doing and am doing great.
I am so glad to know I can do it- take care of myself- right now I am home agian with a baby-
but it is so great to know I can take care of myself as I have always been fiercely fiercely independent!!!!!!!!!!!!!!!!!!!!!!!!!! Being sick
and so dependent was so scary -!!!!!!!!!!!

--------------------
There is no wealth but life.
-John Ruskin

All truth goes through 3 stages: first it is ridiculed: then it is violently opposed: finally it is accepted as self evident. - Schopenhauer


---

Posts: 5639 | From Aptos CA USA | Registered: Apr 2005 | IP: Logged |

dontlikeliver
Frequent Contributor (1K+ posts)
Member # 4749


posted

---

That is GREAT CaliforniaLymer,

Like you I am (like to be) independent and I hate feeling like I am not pulling my weight 100%. Of course, I'd like the extra comfort of having a regular/normal income so that I'm not always watching every penny on one income.

What I make right now is pocketmoney, and equally as much for my brain.

DLL

---

Posts: 2824 | From The Back of Beyond | Registered: Oct 2003 | IP: Logged |

Monica
Frequent Contributor (1K+ posts)
Member # 224


posted

---

Let me just say that I have had to (and been able to) work the entire time I've been infected (17 years). I was only on IV for 2 1/2 months.

I have had wonderful employers, but let me add that I have not been absent for more than 2 days at a clip.

My heart breaks for those who just cannot do it. I walk with a walker and the building is not handicapped compliant. I suppose if I was injured I might have a lawsuit.

The days I cannot lift my feet to get into the stall shower are the ones I know I can't put in a day's work. I really need hand controls in my car, but haven't gotten them. My 20 mile drive takes a toll on my legs and by the time I get to work I'm beat already.

A lot of people work from home, but I don't feel that's an option for me. A lot of people make a living doing eBay sales. You might consider that.

---

Posts: 1757 | From Somerset County, NJ | Registered: Oct 2000 | IP: Logged |

Corgilla
LymeNet Contributor
Member # 4066


posted

---

Hi,

I've worked through my illness. There are times when I'd like to take 6 months off and wonder if I did whether I might get well faster.

Pre-diagnosis, working was awful. I had a bit of a breakdown which I figured was burnout. I then became very forgetful and lost credability. Luckily, I was layed-off and had a while to rest before I started my current job (3.5 years ago).

Shortly after starting this job, I was bitten by "something" and had a painful rash on my foot. I couldn't even walk it hurt so bad. I also had fever, chills, headache, and joint pain with the rash. The doctor tested me for Lyme (never even thought of it myself) and I was glaringly positive through Quest.

Through time, I've been able to mention Lyme a lot to the people I work with and they seem to somewhat understand that they are not really dealing with the "real" me all the time.

This place also has had wage freezes going for a long time. The managers seem to understand that with 1 2% raise in all the time I've worked here, I should be given leeway in other ways.

It's not easy. I take a lot of sick days. The sick days rule at work is -- There are no sick days, but if you're sick, don't come in. So far they aren't docking pay.

I would really like to go someplace where there were regular raises but for right now, I'm working at getting well. I found the right place for me right now.

We really ARE only human and the people we work for are human too.

I don't know what your skills are so I can't comment on what you should do or how to go about it.

Good Luck.

Corgilla

--------------------
"I'll never forget good old Whatsisname."


---

Posts: 694 | From PA | Registered: Jun 2003 | IP: Logged |

hiker53
Frequent Contributor (5K+ posts)
Member # 6046


posted

---

I am single and have to work fulltime or I would not have health insurance to pay my medical bills or food to eat. I would love to take a year off and just get well, though.

--------------------
Hiker53

"God is light. In Him there is no
darkness." 1John 1:5


---

Posts: 7566 | From Illinois | Registered: Aug 2004 | IP: Logged |

orrn
LymeNet Contributor
Member # 6672


posted

---

I am a single mom with a 6 year old. We were both diagnosed 3 years ago and are still being treated.

I work 32 hours a week and also take call(I am a nurse and work in surgery at a hospital).

I get $70 a month child support with no health benefits from my child's father.

I carry our health insurance. We do have family support, but I also contribute to the household expenses.

I couldn't do it without my family. Even with my insurance our medications are outrageous(which most of us know already).

My LLMD has suggested getting a PIC line put in as I have not yet tried IV antibiotics, but I could not work in my field if I did.

It is hard. I don't know some days if I will be able to continue to work. I have FMLA(Family Medical Leave Act) at work so I can take off

days when I need to for me or my daughter, but for some of those days I do not get paid. But at least they can't fire me for an attendence problem.

I feel very fortunate that I can work, but have found it increasingly harder to keep up the pace.

It scares me immensely, because I don't know what will happen to me or my daughter if I can't work.

I don't know what the answer is, but I know that some days it actually helps to go to work.

At least it's some normalcy for me. I do work with a great bunch of people which really helps.

I wish you luck! Take care.

orrn

---

Posts: 239 | Registered: Dec 2004 | IP: Logged |

Michelle M
Frequent Contributor (1K+ posts)
Member # 7200


posted

---

Another single mom here with a 13 year old to raise.

No job would mean no food, no little house in the mountains to live in, no health insurance to help pay medical bills for me and my daughter's Lyme treatment and more.

I work a full time high-stress job, many days when it really is not pretty. However, I've been there 13 years. Have a very cool boss and great staff -- more like a team/family, really. I am very lucky.

However, it is VERY hard to keep up. There is no doubt about that. There is guilt when I feel I'm not pulling as much of the load as I should be.

Not working, while it sounds like it would be a giant relief, is just impossible. Therefore, I MUST GET BETTER!!! And WILL!

Michelle

---

Posts: 3193 | From Northern California | Registered: Apr 2005 | IP: Logged |

Aniek
Frequent Contributor (1K+ posts)
Member # 5374


posted

---

Ang,

We all have different reactions to this disease. Healthy people think I'm crazy because I work full time and go to school. But I'm lucky, in that my symptoms were never as severe as many. But I also find it makes me feel better not to have the time to think about the illness.

If you don't need to work financially, have you thought about volunteering? That may be a less stressful way to feel like you are in the world. It would also be more flexible, allowing you to start as slowly as you need.

--------------------
"When there is pain, there are no words." - Toni Morrison


---

Posts: 4711 | From Washington, DC | Registered: Mar 2004 | IP: Logged |

Aligondo Bruce
LymeNet Contributor
Member # 6219


posted

---

I really empathize with this poster.

chronic borelliosis can totally ruin your life.

it ruined mine.

I had a promising career as a scientist, but became very ill in my 20's, and was not diagnosed for many years, rather I was shuttled in and out of mental hospitals with psychiatric diagnoses before my family finally sent me to columbia, where I finally received effective medical treatment including various brain scans, lyme testing, spinal taps, etc., all of which confirmed the existence of a severe encephalopathy caused by Bb infection. and, btw, significant pituitary damage to boot ( I replace 3 hormones)

I am still recovering, and have no idea what to do with my life. at this point, I am able to take one or two classes at a time, but am not able to participate in research or other activities due to relapses and other issues.

basically, I have resigned myself to a life of chronic illness and abject loneliness. even if I continue to get better, and ultimately reach a 90-100% level, I will be in my mid-30's by this time.

people are scared of me. I hardly have any friends, and naturally have little hope of ever getting married or having children. women tend to be leery of someone who is basically unemployable and suffering from a chronic brain disease. and I have too much pride for the sympathy that occasionally drifts my way.

I have not been able to work for several years. my last job was a part time position as a janitor, this taking place before I was properly diagnosed, while I was attempting to support myself, recieving zero support from anyone else after my family had been told I was a schizophrenic. ( and all of my assets were transferred out of my name during psychoses)

allen steere and eugene shapiro aren't responsible for my being bitten by a tick.

but they are responsible for spreading lies and disinformation in the medical community about this illness, the result of which is an unfortunately large number of people who have experienced what we have experienced, ie long periods of time being severely ill with a brain disease before in their confused, clouded state accidentally running across information which spells out the truth about Bb infection in this country.

steere STILL has never - NEVER - cited brian fallon, despite fallon accumulating nearly 15 years of pubs and expertise in neuropsychiatric lyme disease while working at the #1 institution in the WORLD for neurologic and psychiatric disease.

the result of this hideousness on the part of steere has been untold thousands being sent to hell, the encephalopathic hell, and for long periods of time at that.

brian fallon will someday win a nobel prize.

allen steere should be burnt alive at the stake.

---

Posts: 523 | From Stillwater,OK,USA | Registered: Sep 2004 | IP: Logged |

Bothrops
LymeNet Contributor
Member # 7393


posted

---

I dont know how long I have had lyme but I stopped working 2.5 years ago. I have many times thought about going back to work. I worked as an electrician, the work is very hard physically and mentally and the pay sucks. An electrician in the south has little chance of getting any kind of benifits unless they work for a large outfit and that would require lots of travel.

After getting ill my wife took over the work end and I took over the mom part. It only took my wife six months to make more money than I, at about the same time she started getting real close to one of her co-workers. So now I am faced with having to go back to work or just live with it. I really can not imagine doing what I was doing dizzy, spaced, exhausted and in pain.

In a way I guess I am pretty lucky all I have to do is care for my kids and I am taken care of . I also have a mother and a father who would help me if need be. I just cant help but think what if I did not? I have been waiting for disability for the time that I have not worked. I have had a lawyer for six months and still no sign of any benifits. Medicaid has paid for everything but know it may be dropped because my wife is making more than the min. The wife makes just enough to pay the bills. I could not imagine having to deal with this alone. For those of you who replyed that are alone and having to work, I admire you. It truly is a shame that our country forces the sick to work. If it came down to it, I would work if I had to.

I think I am going to try the ebay thing.

---

Posts: 208 | From Greenville SC USA | Registered: May 2005 | IP: Logged |

HEATHERKISS
Frequent Contributor (1K+ posts)
Member # 6789


posted

---

Part time for the past 4 years. I'm lucky my boss will have me whenever I feel good.

--------------------
HEATHER




---

Posts: 1974 | From ABERDEEN, NJ 07747 | Registered: Jan 2005 | IP: Logged |

paige1
Member
Member # 7486


posted

---

Like others here, I'm divorced and have no choice but to work full time to have insurance, put food on the table and have a roof over my head. It's terrifying to think if my health declines further, I can lose everything. I'm lucky I still have a roof over my head, as I've had 8 surgeries, 2 job layoffs, a divorce, an ex-husband diagnosed as bi-polar (who gambled all our savings away), over $60,000 in out of pocket medical expenses (like many of you) and a ruined credit record all since 2002.

I work in a high stress profession (advertising), and have barely missed any days except for the times during my jaw surgeries (I also have jaw osteomyelitis/infection). I'm very sick and basically come home and collapse. Weekends are hard, as I want to get out of the house but am so weak from working the entire week. I also do IV therapy, which does not interfere with my job except for having to get up earlier for the infusion.

I too would feel like I've won the lottery if I had a husband and I could quit work for 6 months to R - E - S - T and get better. I've even gone back to work the day after jaw surgery. In fact, I'm working right now without any top teeth, as my denture is too big due to all the bone that was lost during my jaw surgery (I'm only 38). If you'd asked me a year ago if I'd ever be out in public, much less working full time without teeth, I'd have called you crazy.

Yes most days I can barely get out of bed. And yes, some days I wonder if I'd be healthier if I didn't have to work. But on the other hand, going to a job everyday takes my mind off of being "sick". I think that's very beneficial. I just take it day by day, like we all do. I started my own business doing what I truly love (jewelry design/import), but have had to set that to the side for now due to a lack of $ and lack of energy. Some day I'll get past this and will be able to do what I really love to do, rather than just existing.

---

Posts: 50 | Registered: Jun 2005 | IP: Logged |

amkdiaries
LymeNet Contributor
Member # 7035


posted

---

Thank you all so much for your replies. I think that working at some level is therapeutic and I will try to do what I can. I admire those of you who are alone and working to support yourself. Your strength is an inspiration to me.

---

Posts: 425 | From NY, United States | Registered: Mar 2005 | IP: Logged |

livinlyme
Frequent Contributor (1K+ posts)
Member # 3773


posted

---

I'm struggling with that right now... I was not able to work 2 days in April of 2003 without resting for 5 days to get through the 2 days...
now that everything is going down the tubes fast and we all maybe homeless I find I am forced to reckon once again with returning to work or else....
I dont even know how this will turn out But I am frustrated since the survivor benefits we were told we should be alright for a while or at least until I got my disability claim settled is now being terminated .. I think they change there rules to suit their needs whenever they feel like it..

No one told me to file a DAC on the boys they were SSA determined disabled one since age 5 and the other right before our survivor benefits kicked in in MAy of 2003. I was understanding that they would continue to collect based on that well they now they tell me that they should have had a DAC filed on them like in the past 2 years and if that was approved they would continue... now it turns out that we filed for it but if they are denied then we owe SSA 8,000 ..

if they are approved they will retro back where the payments stopped.. who can live like this never knowing if you will have an income or not.. I would sooner be dead at this point but then my kids will have no one to help them with their battles..

well I can not understand how our systems works.. nor do I want to anymore.. I have been told one thing and lead to believe it and then in mid stream told that was not the truth... what gives?
something maybe rotten in denmark, but it sure stinks inthe USA!

--------------------
"Hatred paralyzes life; love releases it. Hatred confuses life; love harmonizes it. Hatred darkens life; love illuminates it."


---

Posts: 1389 | From who knows, who cares, but somewhere over the rainbow | Registered: Mar 2003 | IP: Logged |

Monica
Frequent Contributor (1K+ posts)
Member # 224


posted

---

If the sick didn't have to work, it sounds as if we wouldn't. If I could take care of myself insead of going to work every day I have no doubt my recovery would be more immediate.

This is my week to "herx." I cannot tell you the pain I am in. My joints hurt so badly as do the muscles in my legs. As hard as it is to walk, it is even worse today.

This morning I entertained the idea of short term disability as I truly don't know how much more of this I can take.

---

Posts: 1757 | From Somerset County, NJ | Registered: Oct 2000 | IP: Logged |

hopeful123
Frequent Contributor (1K+ posts)
Member # 3244


posted

---

Hi all,
I work full-time at a really low key and basically simple (read boring) job. I would not be able to work the way I used to (pre-Lyme) because of cognitive issues and exhaustion.

I am single and need to work to survive, but also feel like I would rather be working and out in the world than staying home, even if I could.

Everyone is different (as mentioned above) when it comes to what we can and cannot do for ourselves. We are the ONLY ones to say what we can do, so try your best not to compare yourself to others, since you probably won't know the whole story, anyway. That would be like comparing your insides to someone's outside. Never gonna work for you.

Best of luck in your search for an answer.

ps i work five minutes from home which helps enormously. Couldn't handle a long commute!! I also collapse a lot when not working. A lot.

hopeful123

--------------------
some days you're the bug, some days you're the windshield


---

Posts: 1160 | From NY | Registered: Oct 2002 | IP: Logged |

vitch
LymeNet Contributor
Member # 8094


posted

---

I worked for years, had very high absenteeism and, when I could barely stand up, I quit. I was very lucky my bosses tolerated my extreme absenteeism as long as they did.

--------------------
[email protected]

www.lymediseaseassociation.org/Conflicts.doc

Worthless tests & labs, a dangerous vaccine, insurance companies refuse to pay, undertreatment the norm, all about money. MO.


---

Posts: 281 | From CT | Registered: Oct 2005 | IP: Logged |

SForsgren
Frequent Contributor (1K+ posts)
Member # 7686


posted

---

I am fortunate to still be working fulltime. It takes my mind off of Lyme and is a good distraction. I still notice all my symptoms, but I figure I will notice them more if I don't have the distraction to keep my mind off of it. I am however very fortunate to be doing well enough to work.

--------------------
Be well,
Scott


---

Posts: 4617 | From San Jose, CA | Registered: Jul 2005 | IP: Logged |

chroniccosmic
LymeNet Contributor
Member # 7789


posted

---

I'm 3 years into staying at home and not working. I also had increasing high absenteeism and my bosses were okay about it. As I continued to decline, my blood pressure was rising and I passed out at work. When they saw the reading of 220/110, they freaked. My doctor sent me home and told me not to go back. I didn't plan for it to be so dramatic but in hindsight it worked. I was a single mom and just kept going until I dropped.

Note to Aligondo Bruce---During all of this or at least the 3 months prior to collapse, a very kind male co-worker kept asking me out. I kept explaining that I had no energy for dating and was sick and was he nuts? He pursued and took care of me and my daughter when my world collapsed. He never gave up on me despite my best efforts to push him away.

There are very kind people out there who aren't scared by this illness! Maybe they are rare and we find them in unlikely places but they are there. And sometimes they are delivered to you just when you need them the most. This wonderful man is now my husband and a wonderful stepfather to my daughter. I will get better and he is a huge part of that.

---

Posts: 460 | From Illinois | Registered: Aug 2005 | IP: Logged |

burnbitter
LymeNet Contributor
Member # 7088


posted

---

sheer detirmination.

I took off 3 years while I had a hysterectomy and regained the ability to walk with out a cane. It was the worst 3 years of my life.

Work really gives me solace. I do fairly involved technical work so I can just crawl up in my head and turn off my body. Which can be bad as I sometimes don't notice I need to eat or sleep or just stop working..

Also I had SS disability awarded but it took the entire 3 years. It's not really enough to live on, and it's absolutely not enough to pay for adequate medical care (medicare is a complete joke what doctor charges 25 dollars?). So if I want to have any hope at all of getting better, working is my only hope. (and thus the insurance companies are forced to cover me, though mostly they refuse to pay for things)

I live alone and don't have family so its been rough. I feel somewhat assured now that I can go back on disability should I have to (for another 2 years), it won't pay my bills here in CA but I could at least pay for rent somewhere else, even if I couldn't get health care that would help. So I won't starve in the street, not that my friends would let that happen.

I also tend to get really depressed sitting at home alone and feeling useless. I really like my co-workers and my boss is great, so it's nice to go to work, have people to talk to, and something to occupy my brain. Otherwise I really focus on the pain.

work is really a better option. that said, many mornings I can barely get out of bed because I'm so tired, many nights I have trouble getting to sleep because it hurts.

---

Posts: 207 | From san francisco, ca | Registered: Mar 2005 | IP: Logged |
Contact Us | LymeNet home page | Privacy Statement

Powered by UBB.classic™ 6.7.3

---
The Lyme Disease Network is a non-profit organization funded by individual donations. If you would like to support the Network and the LymeNet system of Web services, please send your donations to:
The Lyme Disease Network of New Jersey
907 Pebble Creek Court, Pennington, NJ 08534 USA
http://www.lymenet.org/
---
Home | Flash Discussion | Support Groups | On-Line Library
Legal Resources | Medical Abstracts | Newsletter | Books
Pictures | Site Search | Links | Help/Questions
About LymeNet | Contact Us
---
© 1993-2020 The Lyme Disease Network of New Jersey, Inc.
All Rights Reserved.
Use of the LymeNet Site is subject to Terms and Conditions.
---