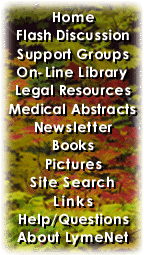 ---
LymeNet on Facebook
LymeNet on Twitter
---
---
The Lyme Disease Network receives a commission from Amazon.com for each purchase originating from this site.
When purchasing from Amazon.com, please
click here first.

Thank you.




Dedicated to the Bachmann Family


LymeNet needs your help:
LymeNet 2020 fund drive

The Lyme Disease Network is a non-profit organization funded by individual donations.

| | |
| --- | --- |
| | |
Author
Topic: After 39 years telling the head duck off

Thomas Parkman
LymeNet Contributor
Member # 3669


posted

---

Dear Members of the List:

I herewith submit a letter written by a nurse friend of mine who is severely ill with lyme disease. She has written the letter to
Dr. Charles Bryan, the leading infectious disease doctor in South Carolina and one of the leading proponents of the conventional approach to lyme disease. Thanks to the likes of him we have an epidemic of untreaed lyme disease in South Carolina. Needless to say there is little love lost for the good Dr. Bryan in the lyme community here. The letter is a long one but will be well worth your reading. I have correctedc a few stylistic and grammatical infelicities, changed names and certain irrelevant facts in the letter to protect the privacy of the individuals involved. Cheers. Thomas Parkman

Dear Dr. Bryan:

I'm writing to you as the contact person for the Center for Bioethics and Medical Humanities at USC. I recently read that website and have a few comments to share with your group.

Actually, you would recognize my face Dr. Bryan since I have been an RN here in Columbia for a number of years working with you and your groups of residents at Richland Memorial in the ICU's. You may remember as well my late boyfriend/ best friend / fiance Tom Jones from Winnsboro who appreciated you and thought highly of you and the care he received throughout his illness.

I,on the other hand, have not been as lucky as Tom with getting adequate healthcare in the state of South Carolina during my lifetime . I have been very ill off and on throughout my 39 years receiving diagnoses of systemic lupus, polymyositis, chronic fatigue, fibromyalgia, etc. I've been critically ill with this illness to the point of a hemoglobin of 2 years two, as well as life threatening electrolyte imbalances and DVT's just to name a few examples. Many of my records are available at Richland on microfilm.

I kinda got put in a " loop" of hemotologists and rheumatologists at an early age. No one ever thought much of the fever I experienced on a daily basis and when I had the thrombosis in my leg everyone was sure I had lupus. I went to Duke, had many tests including an ANA of 1:2565 speckled pattern and still left basically undiagnosed. I can tell you that the only thing I never ever heard was that the disease and its problems were not real. I do however in looking back think some doctors thought I had made up some of my symptoms.

Once a doctor discredits a patient there is little reason for a patient to continue with that physician. The patient will only get inadequate care and very frustrated while the doctor really fares no better. Society as a whole suffers when doctors behave like this. No doctor is God and No doctor knows exactly everything ....all of you are indeed fallible.

With that said, I'd like to tell you how I felt when I got a DNA PCR test that was positive for Borrelia three years ago! The only tick I ever had on me was when I was 10 and my mother pulled it off my neck. I've had problems with my health ever since.I have in fact wondered what relationship my undiagnosed and untreated spirochete had on Tom and his HIV Dr. Bryan. I know alot of AIDS patients that didn't die as quickly as Tim.

Since my diagnosis I have likewise received diagnoses of total endocrine failure, osteonecrosis of the jaw and a clotting disorder. Amazing to me that none of this could be or was diagnosed in Columbia despite seeing a specialist at the USC School of Medicine.I was told there to exercise and loose weight and that would take care of all my problems. This ended up being very far from the truth. Spirochetes need medical attention. The USC School of Medicine certainly trashed the model of care for infectious disease.

So when I read about bioethics and medical humanities maybe its me, but I think we have some very large discrepanies here in South Carolina with regard to infectious disease. I do not understand why no one in South Carolina believes in Borrelia or lyme disease. I don't understand how the medical community missed this disease or either lies about it and or largely ignores it. I find it absolutely incredible to be forced to debate a found spirochete in a DNA PCR with the CDC saying this could be a contaminate. Dr. Bryan, borrelia is listed as a rare disease. Where in the world would the contamination come from? The DNA PCR test is used in courts of law in America to try and convict and execute criminals so if it is not good enough to evaluate a disease why in the world is it allowed for legal reasons?

I find it hard to believe that someone missed most likely the FIRST animal to human and most likely human to human transmission of any agent but that is exactly what borrelia did and is. No one looks , no one cares and no one knows. Every single person in America lucky(?) enough to find out that they are infected with this untreated spirochete feels like the medical community has totally treated us as a group as outcasts just as many tried to do with AIDS early on. With the advent of West Nile, Mad Cow etc, we got sorely left out of the mix with inadequate testing, treatment and care. Most doctors will not even treat us when we know what we have and can prove it with DNA testing. They do not want to be involved in a controversial illness. That leaves patients completely OUT> no care. The one lyme-literate doctor in NC sees over 200 patients from SC alone and many other of us travel to Missouri or New England for care. Would it be as right to require all AIDS patients to leave SC for care? I doubt you feel that way. That is what I think ethics is about Dr. Bryan and part of why I am writing.

First hand I can tell you that until your committee at least acknowldeges this as a HUGE problem in our state, you are functioning ineffectively. You and the committee are doing a tremendous diservice to the general public. It concerns me greatly with this advent of bird flu and the implications of such an epidemic on society that the medical community in South Carolina cannot even diagnose a case of borrelia!! Should we be foolish enough to think the medical community here in South Carolina could really diagnose bird flu ?

When the powers that be, namely insurance and drug companies also government agencies are allowed to dictate policies to practicing physicians a dangerous precedent has been put into place. I have zero faith in the medical community practicing here in Columbia SC after having been ill for almost 30 years without answers. No one ever cared enough to find out what was wrong with me. That is abominable Dr. Bryan. It is malpractice in its most outrageous example. Ignorance and money are not excuses for not acknowledging a disease that ruins lives and actually kills people. And of course don't forget SCDHEC's stand that there is NO lyme disease in SC. Dr. Bryan, do not allow others to think for the medical community. That is a very dangerous practice.

I think back over many undiagnosed medical cases where I was involved as a caregiver and wonder why in the world I have never once seen a physician order a borrelia work up. I have however heard in the community of a very few people being diagnosed here in Columbia , especially when Dr. Postick has been called to the case. Many thanks to him for knowledge and professionalism, despite the general thinking in this state.

Now with the advent of Bird Flu, I am very concerned for my fellow citizens here in South Carolina. The Ethics of the medical community are suspect for covering up borrelia Dr. Bryan. Can anyone assure me that Bird Flu will not likewise be covered up, ignored and people die as a result? It's a real question and a real dilemna. It's not right to ignore science in lieu of money and all I can come up with in my feeble brain is that borrelia was a sacrifice in the medical community for some cost saving measure. Why else would a physician educated enough to know spirochetes are dangerous not look for them? It is absolutely cruel to think how much money I have spent and how many practitioners I had to see to get a diagnosis after many many years of suffering. By the way for the record here, a psychiatrist and a dermatologist actually diagnosed my case, which I feel is a sad commentary on the infectious disease community here in Columbia SC, especially at the USC School of Medicine.

Your committee has much work to do Sir. I'd be happy to share all the information I have about Borrelia with any group of physicans willing to listen and learn. None of the community here has a knowledge base about this devastating disease that has ruined many many lives here in South Carolina. It is time Dr. Bryan to fix this ill will towards a group of not only consumers but neighbors in your community. You would be doing a lot of people, your fellow human beings right?, a tremendous favor by acknowledging and treating lyme disease in this very community. The way I see things, you Dr. Bryan have the power to change things for me and many many other human beings. Will you rise to this challenge?

I would appreciate a response. Few physicians realize what a devastating lifetime illness Borrelia is and how many people are truly affected in our state. That really needs to change Dr. Bryan. Here again, since I understand the power you hold over the infectious disease community here in Columbia and most likely in our state, I ask you to please consider Borrelia an active and underdiagnosed potentially life threatening disease most likely in epidemic proportions. If you could and would do that for the human beings affected and suffering with this disease, you truly will be rewarded immeasurably.

When you never look for something, you will most likely never find it. This statement is as true for disease as it is for seeking help in the medical community in Columbia. I beg you to consider believing in and publicizing this horrendous disease and to make sure physicians in this state are aware of its symptoms, correct methods of diagnosis and some semblance of humane treatment. Thank you Dr. Bryan. I am,

Sincerely,

Prudence Fairfax
3237 Lakewood Avenue
Columbia, SC 29202

--------------------
Thomas Parkman


---

Posts: 341 | From Columbia SC 29206 | Registered: Feb 2003 | IP: Logged |

nan
Frequent Contributor (1K+ posts)
Member # 63


posted

---

Hooray for Prudence! It will be interesting, Thomas, to see if she does receive a reply!
And what will this almighty doctor have to say for himself and his ilk? Hmm?

There is no defense for their actions.

--------------------
nan


---

Posts: 2135 | From Tick Country | Registered: Oct 2000 | IP: Logged |

Lymetoo
Moderator
Member # 743


posted

---

Wow! That's quite a letter! Please let us know if she gets a response. I feel for her, and for the thousands of us who are suffering needlessly. Sometimes it just overwhelms me to think how this could possibly continue to happen, over and over again.

--------------------
--Lymetutu--
Opinions, not medical advice!


---

Posts: 95726 | From Texas | Registered: Feb 2001 | IP: Logged |

Boomerang
Frequent Contributor (1K+ posts)
Member # 7979


posted

---

Good for her! Will be interesting to see if she gets a response.

---

Posts: 1366 | From Southeast | Registered: Sep 2005 | IP: Logged |

cgooge
Member
Member # 7922


posted

---

As a fellow South Carolinian I applaud the letter. Great job...look forward to seeing if a response shows up.

---

Posts: 82 | From Summerville, SC | Registered: Sep 2005 | IP: Logged |

5dana8
Frequent Contributor (1K+ posts)
Member # 7935


posted

---

also as a fellow carolinian I am grateful for your letter.It was really well written and truthful.

I hope Dr.Bryan can put his ego aside and do something positive.

I am so sorry you had to suffer for so many years,My heart goes out to you.

Blessings dana

--------------------
5dana8


---

Posts: 4432 | From some where over the rainbow | Registered: Sep 2005 | IP: Logged |

dontlikeliver
Frequent Contributor (1K+ posts)
Member # 4749


posted

---

Good for her!!!

I watched the movie "And the Band Played On" yesterday. It's from 1993, and about the early days of AIDS when it was attempted to be 'covered up' by various people.......this is what's happening to us in a way (cover up AND also non-deliberate ignorance onbehalf of doctors)................

We've got to make BIG WAVES. What I wonder is how, where, when, who, etc etc etc......It may sound hypocritical of of me, but I want to do something - I'd be there - but I don't have the mental/physical capacity to take on the responsibility of organizing anything.

DLL

---

Posts: 2824 | From The Back of Beyond | Registered: Oct 2003 | IP: Logged |

chroniccosmic
LymeNet Contributor
Member # 7789


posted

---

Thomas,

Please give Prudence a high five from a fellow nurse with Lyme in Illinois. I'm very proud of her and will say a special prayer for her and her partner.

---

Posts: 460 | From Illinois | Registered: Aug 2005 | IP: Logged |

troutscout
Frequent Contributor (5K+ posts)
Member # 3121


posted

---

WOW!!!!!!!!!!!!
Way to go Prudence.

Pnly Thomas would find a peach like this.

Trout

--------------------
Now is the time in your life to find the "tiger" within.
Let the claws be bared,
and Lyme BEWARE!!!
www.iowalymedisease.com
[/URL]


---

Posts: 5262 | From North East Iowa | Registered: Sep 2002 | IP: Logged |

daniella
LymeNet Contributor
Member # 6753


posted

---

Great letter!..............

--------------------
~Things may happen in my life time to change who I am but I refuse to let them reduce me...~


---

Posts: 968 | From private | Registered: Jan 2005 | IP: Logged |

Mary J
LymeNet Contributor
Member # 4234


posted

---

Dear Thomas,
Thought I'd drop a quick line to let you know that you're the only poster that I read without fail. Makes my day every time. Thank you.
Mary
ps. Prudence writes a mean letter. Hope she gets a reply....

---

Posts: 267 | From Abbotsford BC | Registered: Jul 2003 | IP: Logged |

Thomas Parkman
LymeNet Contributor
Member # 3669


posted

---

Dear Members of the List:

Concerns have been raised that the person's address was a real one. Please be assured that the letter was published here with the full permission of the writer. The names, she loved them, are pseudonynms. As for the address, the street in Columbia does exist but the street number does not and she does not live anywhere near that street.

As for Dr. Charles Bryan, he is, alas, all too real. He is the God of the Ducks. They refer to the unwashed rectal orifice all the time with undisguised reverence. Even the noble Prudence respects him highly for his work in the AIDS community. I and a number of other people in the lyme community have been on the receiving end of this infectious disease Dr. Jekyll and and Mr. Hyde and we think he is a world class *** and jerk. The last time that incompetent fool and I had a run end he sat there quoting nonsense about Bell curves and telling me to see a psychiatrist. I was sick as a dog and I left that office in tears I was so upset.

As I have lost all respect for any doctors if that were to happen today I would probably go into a lyme rage and beat the living digested breadfast out of him. In any case your kind comments are appreciated. Cheers. Thomas Parkman

--------------------
Thomas Parkman


---

Posts: 341 | From Columbia SC 29206 | Registered: Feb 2003 | IP: Logged |

lymebites
Member
Member # 6709


posted

---

Thank you Prudence and Thomas Parkman!

Just today I met with our little town's first Infectious Disease specialist - a thoughtful physician from Beirut who trained at Johns Hopkins and Yale and hails from Connecticut.

Because I mentioned Dr. B's Guidelines while discussing Lyme, he basically just passed me off to Dr. B. He does not believe in abx. therapy (not enough studies for it to be ``evidence based'' and thus treatment not supported by the IDSA - Infectious Disease Society of America).

I asked him if he felt censored by the IDSA. He said no but talked about lawsuits, etc. and again his concerns about treating a Lyme disease patient with abx. without enough ``proof'' that abx. therapy works.

I did try to get a real answer out of him when I asked "if you were the only doctor in the world and had to treat me, how would you go about it?" He said that he would treat me with one month (and one month only) of IV Cefuroxime (I think - one of the Cefur......'s).

His parting advice to me, though, was to go off all my abx./meds (because 10 months of abx. treatment had produced no improvement in my symptoms) and, when symptoms return, to treat them symptom by symptom (read: bandaid).

I did point out that I had hard evidence/factual data that I had Bb (showed him my positive IGG and IGM Western Blot). He didn't get too excited - definitely on the defensive. I didn't mention the likelihood of my having co-infections as I was trying to drive home the "evidence-based" point.

He does not believe in "chronic Lyme" and inferred that most ID docs don't either. I suggested other terms then, such as, instead of "chronic Lyme", calling it "stubborn Lyme" or "untreated Lyme" or "advanced Lyme" - just to eliminate the stigma of the term.

He simply had no idea what to do with me - and wanted nothing to do with me.

Point of this post: I would like to amass "evidence-based" studies re: Lyme treatment to gift to him. I've collected several articles from this forum but am wondering if anyone who's been around here a lot longer than I have has a cache of studies they'd be willing to share?

Thanks,
Lymebites

---

Posts: 63 | From Deer Grove, Illinois, United States | Registered: Jan 2005 | IP: Logged |
Contact Us | LymeNet home page | Privacy Statement

Powered by UBB.classic™ 6.7.3

---
The Lyme Disease Network is a non-profit organization funded by individual donations. If you would like to support the Network and the LymeNet system of Web services, please send your donations to:
The Lyme Disease Network of New Jersey
907 Pebble Creek Court, Pennington, NJ 08534 USA
http://www.lymenet.org/
---
Home | Flash Discussion | Support Groups | On-Line Library
Legal Resources | Medical Abstracts | Newsletter | Books
Pictures | Site Search | Links | Help/Questions
About LymeNet | Contact Us
---
© 1993-2020 The Lyme Disease Network of New Jersey, Inc.
All Rights Reserved.
Use of the LymeNet Site is subject to Terms and Conditions.
---