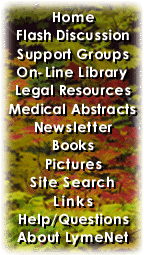 ---
LymeNet on Facebook
LymeNet on Twitter
---
---
The Lyme Disease Network receives a commission from Amazon.com for each purchase originating from this site.
When purchasing from Amazon.com, please
click here first.

Thank you.




Dedicated to the Bachmann Family


LymeNet needs your help:
LymeNet 2020 fund drive

The Lyme Disease Network is a non-profit organization funded by individual donations.

| | |
| --- | --- |
| | |
Author
Topic: Urgent, Need input Regarding Hysterectomy

Biting Back
LymeNet Contributor
Member # 6018


posted

---

Seems like I've been away from lymenet for ages with our move from H-E double hockey sticks.

I still have the blood clot in my subclavian artery and was taking coumadin until Friday when I had a vaginal hemorrhage. I need to have a hysterectomy per my lyme literate PCP.

The surgery was also recommended over a year ago by more than one OB/GYN due to excessive and dysfunctional uterine bleeding.

I also have mini-hemorrhages with each menstrual cycle. It's so heavy that I must use tampons, wear depends and stay in my house for 2-3 days at a time. At 48, I'm far too young to be wearing depends, thank you very much. This is my 3rd hemorrhage and I did have blood transfusions with one of them (possibly two, I can't recall).

The hysterectomy has to be done pretty quickly -- I can't be off the coumadin very long due to the risk of complications with my blood clot.

I was also hoping to donate my own blood prior to surgery, to prevent risk of receiving infected blood should I hemorrhage during the hysterectomy. I just found out I can't donate my own blood because my hemoglobin is too low.

Anyone else have a hysterectomy in the midst of treating lyme? If so, how did you fare lyme-wise?

Did you have your uterus removed vaginally or surgically? My Mother seems to think I should have it removed surgically, but I'm currently leaning in the other direction.

I have already made the decision to keep my ovaries. I am a breast cancer survivor, so that prevents me from being able to take bio-identical replacement hormones.

Any advice, warnings or words of wisdom?

I have the untrained home health care nurse to thank for the blood clot, hospitalizations, ER visits, $$$$ and cascade of medical events that have occurred since she tried shoving my already placed PICC line further into my arm.

My PCP says I have permanent damage to the vein in my subclavian artery due to the clot. My arm is still grossly swollen and doc said he anticipates disfigurement and problems with it for the remainder of my life.

What would you do?

My cup runneth over.



--------------------



---

Posts: 703 | From Almost Heaven | Registered: Aug 2004 | IP: Logged |

newlymepatient
Member
Member # 6461


posted

---

I'm not sure what to recommend, but I just wanted to say that my mom was/is having similar problems. She is having spotting all the time--like her period doesn't end and heavy periods. Additionally, it was very difficult for her to pee all in one sitting. We found out she has a large fibroid/tumor-- hopefully not cancerous that is putting pressure on her organs. She is scheduled to have her hystorectomy Nov. 14th I think. It has to be done surgically in her case because of the large fibroid.

Good luck. Hopefully you'll find out some good information. All that I have regarding having surgeries w/Lyme is that anastesia (sp?) poses a risk--you are more likely to be sensitive to it (stay numb longer, asleep longer)... And my mom has Lyme

---

Posts: 50 | From San Diego, CA, USA | Registered: Nov 2004 | IP: Logged |

WildCondor
Unregistered



posted

---

I just sent you a private message with some info

---

IP: Logged |

Biting Back
LymeNet Contributor
Member # 6018


posted

---

Thanks guys, I really appreciate the info.

--------------------



---

Posts: 703 | From Almost Heaven | Registered: Aug 2004 | IP: Logged |

mikken
LymeNet Contributor
Member # 2276


posted

---

My sister had this surgery year before last. She hadn't been diagnosed then, but I can tell you that yep, she had Lyme.

We had the same questions about blood - I was going to donate so that she could have "clean" (like the driven snow, I am) blood. The surgeon was all against it because apparently, he was so good that no blood would be needed. Surgeons, eh? Good thing he was right, anyway.

My sister also wanted to keep her ovaries, but ended up only keeping one - the other had a tumor (benign, thank goodness) on it the size of an orange!

Her recovery was harder on us than it was on her - get her water, get her the remote, make her soup...sheesh! But we all survived.

And to this day, she does NOT miss "bleeding like a stuck pig" for half the month.

Best of luck to you, BB - you'll do great!

---

Posts: 369 | From Ohio | Registered: Mar 2002 | IP: Logged |

Lymetoo
Moderator
Member # 743


posted

---

ARRRGGHH!! What would I do? Sue home health!

I've had a hysterectomy thanks to lyme....but that was way before I was dxd. Excessive bleeding was one reason, fibroid tumors was another, then there was the extensive endometriosis....Thanks to Lyme, I'm sure!

I had mine done surgically....had to because of the endo. I had a creepy feeling about the vaginal procedure. My surgeon showed me how it's done, and I was thinking

You might want to ask which procedure has the greater risk of excessive bleeding. In my mind, it seems that it would be the vaginal, but I don't know. They basically pull everything out of you! Ok, I'm not going there!

I REALLY hate you are having to deal with one more thing. I will be praying for you beginning right now! If you'll PM your name to me, I'll put you on our church's prayer list too.





--------------------
--Lymetutu--
Opinions, not medical advice!


---

Posts: 95725 | From Texas | Registered: Feb 2001 | IP: Logged |

lr26
Member
Member # 7437


posted

---

Hi,

I have to get a hysterectomy in December. I have a big fibroid. I had heavy bleeding sence June. They are planning to just take my uterus vaginal, lazerscopic.

They told me recovery time is less this way verses surgically.

They will leve my overies if they look good.

I have had llymes sence 1997. I am about a year into treatment for lyme. I just found out I needed surgery last week.

My LLMD wants me to call him when. I haven't yet, I think he is on vaccation.

I don't hav any advice or words of wisdon yet. Except every one I tolk to said it was the best thing they ever did.

No regretts.

As far as Lymes goes, I have to trust that they wouldn't do surgery if my body couldn't take it.

I won't tell them I have Lymes.

I don't feel so alone now.

Lr

---

Posts: 94 | Registered: Jun 2005 | IP: Logged |

nan
Frequent Contributor (1K+ posts)
Member # 63


posted

---

Sounds like Lymetoo had the exact same thing I did....extensive endometriosis,fibroids, uterus 2 1/2 times bigger than it should have been.

In my case surgery was the best route. Once they got in there and saw the endo everywhere, getting rid of those areas adhered to other organs, etc., it was a good thing. Although they promised to leave my ovaries, they could not. I am sure I had lyme at the time...only 42.

It is major surgery, and recovery takes approx. 6 weeks. Hardest part for me was the immediate
menopause. Once I got started on HRT I was okay.

Given your low hemoglobin and history, I'd say the sooner the better! Wish you didn't have these problems....but...trust me, you won't miss that monthly horror show...and you should feel better as a result.

Wish you the best!

--------------------
nan


---

Posts: 2135 | From Tick Country | Registered: Oct 2000 | IP: Logged |

trails
Frequent Contributor (1K+ posts)
Member # 1620


posted

---

I just had 4 hour long laproscopic surgery to remove endo, fibroids, cysts, adhesions etc from my entire abdomen region. One fibroid accidentally went through to the inside of the uterus and they had to "reconstruct" my uterus. They had to open both ovaries (again, Ive had a simialr but not as good surgery in the past) and take out cysts....and they took out my appendix...but none of my female parts were taken out.

My Surgeon is LL and has worked with dr. S in san fran. AWSOME surgeon. OUT OF NETWORK THOUGH!!!! So I am paying OUT THE NOSE for this surgery.

I had to go off all abx for a while before surgery b/c of the risk of resistant bacterial infection. They gave IV ABX during and right after surgery in hospital that made me herx a bit....but who knows, could have been the surgery??

I would let them know you have Lyme....and are treating it...it is IMPORTANT health info. NOT that they will KNOW about what to do...but if something bad comes up, maybe they will listen to your LLMD???

Just my 2 cents and my experience. not exactly what you are going thru though. If you have never had surgery in the pelvis region, they may find you have endometriosis or other complicating factors to the surgery....be sure to ask about what they will do in case of finding ANYTHING in there.

Your body is about to go through a lot. Be gentle with yourself and try your best to take it all slowly. Don't rush back into things or feel like you should by any means!
Best healing to you,
trails


---

Posts: 1950 | From New Mexico | Registered: Sep 2001 | IP: Logged |

pattilynn
LymeNet Contributor
Member # 8065


posted

---

I have not had a hyster but I am a nurse and have taken care of surgical patients for 20 years. In my opinion, the vaginal route has less recovery time and pain, and less risk of complications. Abdominal incisions are very painful. I myself would have the vaginal.

Did you ask your doctor which one he/she thought would be better for you?

---

Posts: 340 | From Ohio | Registered: Oct 2005 | IP: Logged |

hiker53
Frequent Contributor (5K+ posts)
Member # 6046


posted

---

I have no advice to offer, but will offer up prayers to God. You deserve a break! Hang in there. Hiker

--------------------
Hiker53

"God is light. In Him there is no
darkness." 1John 1:5


---

Posts: 7564 | From Illinois | Registered: Aug 2004 | IP: Logged |

BOEJR
LymeNet Contributor
Member # 1734


posted

---

Hi BB,

I have a little experience from both sides now that I worked in the operating room for quite a few years. I also had a hysterectomy in 95...

Here is my advice,

If you are no longer of child baring age and never would consider having children then by all means have the hysterectomy if at all possible do it vaginally, just consider that this is the birth canal and has the capability to adjust to the retracting very easily.

Make sure that your consent forms are clear and concise just the way that you wanted them to be. And if you can, keep your ovaries no matter how small the portion even of only one do so.

Make sure your consent states your desire to keep them as well... Because your body is already being traumatized by the lyme.

Having to adjust to HRT will never compensate 100% of what your body gives you naturally. Not to mention that you would be forced to take HRT which are now being veiwed as potential cancer causing agents.

If you have any questions feel free to email me privately,

Best regards and blessings,

Julia

--------------------
Please consult your LLMD before making any changes to your treatment regimen.


---

Posts: 641 | From NJ, USA | Registered: Oct 2001 | IP: Logged |

Jillybean
LymeNet Contributor
Member # 8071


posted

---

I sent you a private message....
I had a laproscopic-supracervical hysterectomy,
through my belly button and 2 small slits over each ovary. It was a breeze. I kept one ovary. Use advice I gave you in P.M., and you'll have most all your questions answered. Whatever you do, allow yourself the recovery time your body needs afterwards. I know someone who overdid it too soon, and was out another 6 months. Take care and good luck!
Jill

---

Posts: 203 | From Jacksonville, FLorida | Registered: Oct 2005 | IP: Logged |

burnbitter
LymeNet Contributor
Member # 7088


posted

---

"If you are no longer of child baring age and never would consider having children then by all means have the hysterectomy if at all possible do it vaginally, just consider that this is the birth canal and has the capability to adjust to the retracting very easily. "

I agree that a hysterectomy can be really great. I had mine done supercervically as that's the more modern way and has less chance of side effects such as incontinence or vaginal collapse.

Basically if you cut out the cervix you also remove the muscles that hold your gear in place down there. So that's less than optimal generally.
Also if you haven't had kids, it's not going to be stretched down there. And your muscles may already be tight and unhappy from scar tissue.


I had mine done with laproscopic surgery, I have a couple of very tiny scars (which were there before from previous attempts to remove the endo which kept growing back). Also we left behind the one ovary that hadn't been removed in previous surgeries.

I have a friend who had it done vaginally and she is continuing to have extreme pain. I'm not sure exactly what's wrong (nor is she). I personally suspect she may have lyme as well but she doesn't feel it's an issue. So who knows.

I do think that you should examine both options carefully. And if your ovaries aren't awful, it might be good to leave one to give you hormones. Of course there is the potential that it would still need to be removed later.

I was afraid that would be the case for me but then I started adderall which caused me to start sleeping at night again and the ovary healed right up and has been fine since. Sleep does wonders!


The only thing I regret is not having done it sooner. I don't like children though.
As far as lyme goes, I hadn't been diagnosed yet at the time. But I got quite a lot better after the surgery. I also had andenomeosis which is basically endometriosis in the uterine wall, which was rotting there. So it was causing more stress on my immune system than just the lyme by itself.

I had this done toward the end of 2002 and I'm very glad I did. I had marked improvement.

I highly recommend finding a physical therapist who specializes in pelvic floor work. That helped greatly.

---

Posts: 207 | From san francisco, ca | Registered: Mar 2005 | IP: Logged |

CaliLymer
LymeNet Contributor
Member # 6509


posted

---

Hello Everyone,

Just by bad concidence my mother needs this sugery and does not have insurance. Any Idea how much this surgery will cost? Total. She is considering going out of country to have it because of the cost.

CaliLymer

---

Posts: 215 | From CA, USA | Registered: Nov 2004 | IP: Logged |

Biting Back
LymeNet Contributor
Member # 6018


posted

---

I'd just like to say that I truly appreciate your input -- all of you. Sounds like those who have had their baby making parts removed came through the surgery okay. What's more important is that most of you seem to be feeling much better sans uterus and/or ovaries. That's my goal, my hope.

Again, thank you -- you're all priceless!

I've never sued anyone before, but am seriously considering suing home health care. I will be needing them in the future for more IV antibiotic care, so the question is whether or not to put that issue on the back burner for now. Hmmmmm.

--------------------



---

Posts: 703 | From Almost Heaven | Registered: Aug 2004 | IP: Logged |

hopeful123
Frequent Contributor (1K+ posts)
Member # 3244


posted

---

dear biting,

when it rains, it pours. how much are you supposed to be able to tolerate? this is way too much.

saying a prayer for you.

best,
hopeful123

--------------------
some days you're the bug, some days you're the windshield


---

Posts: 1160 | From NY | Registered: Oct 2002 | IP: Logged |

Biting Back
LymeNet Contributor
Member # 6018


posted

---

Thanks hopeful! Yes, when it rains it pours. Keep hoping things will settle down for me, but it's been one thing after another. On the other hand, I do seem to reach a higher plateau of better health after each crisis. Gotta keep the faith that things will continue to get better!

--------------------



---

Posts: 703 | From Almost Heaven | Registered: Aug 2004 | IP: Logged |

timaca
Frequent Contributor (1K+ posts)
Member # 6911


posted

---

I also had very heavy menstrual bleeding and got severely anemic. I had lyme, but didn't know it at the time (didn't know what was causing all my bizarre symptoms). I opted for a uterine ablation instead of a hysterectomy. That was a year ago. My menses are negligible. My iron levels are improving...but I'm still on iron. My iron disorders doctor wants me on iron until my ferritin reaches 100 ng/mL (It was 5 the first time it was measured.)

So...perhaps a uterine ablation would be an option for you too. It is less invasive and less recovery time.....

---

Posts: 2872 | From above 7,000 ft in a pine forest | Registered: Feb 2005 | IP: Logged |

breathwork
Frequent Contributor (1K+ posts)
Member # 567


posted

---

I've had lyme for at least a decade and had a total hysterectomy a year ago this week. Saving an ovary was not an option unfortunately.

I call it the blessed hysterectomy...

The surgical route was via the big incision just above the pubis bone...ie, the open procedure. I was a mess inside...septated cysts, enlarged uterus, bleeding, etc....and they found a fallopian tube that was infected...a subacute infection that the constant antibiotic use masked...So the open procedure was the right way to go for me.

The trick to recovery from this is to have a surgeon who takes lots of time putting in lots of sutures at every layer. A very patent closure makes initial recovery and pain levels much better. AND, doing everything you are supposed to do for the first four to six weeks, meaning, NO lifting, taking it easy, and not pushing your limits.

Pushing your limits can have severe consequences, well beyond just being exhuasted. I know of two women who had to have further surgery to repair damage done by doing too much.

For this surgery your body is put in the trendelenberg position, meaning feet raised and head lowered. It makes the organs hang more accessably in the abdomen.

This is important as many of us lymies have neurally mediated orthostatic hypotension...Trendelenberg can trigger the vagus nerve to drop your BP and heart rate precipitously.

This happened to me in surgery and scared the pants off of my surgeon, a friend and my GYN. Fortuantely the anesthesiologist was a good one. He recognized what was happening and corrected for it. Not all anesthesiologists might catch this.

Tell your surgeon that this can happen with lyme patients so he/she will be aware and it will be easy to correct for. My surgeon still hasn't forgiven me for not telling her and giving her quite a scare. We're friends fortunately!

Next, you'll get IV antibiotics, so why not ask to have Rocephin? My doc did this for me and I got five days of Rocephin paid for without my insurance company grousing! One of the few perks in this situation.

As for pain, DO NOT be brave about pain meds. That's foolish bravery. Take them...take them all...get a morphine pump and push that button for all it's worth. You will not become addicted in a few days, and staying ahead of the pain curve is extremely important. If you fall behind, catching up again is extremely difficult.

Remember, less pain leads to shorter recovery times...Use the drugs. Just remember to leave your cell phone at home so you don't make a buch of dopey calls to everyone in your phone book like I did! My friends and family still remind me of how off the wall I was....

Lastly...welcome to the club, honey. I'm 47...too young to loose my equipment? Naw...I still think of it as the blessed hysterectomy. I have no more abdominal pain, no more periods, no more PMS, no mroe tender breasts, and I lost a few pounds to boot. It was a win win for me overall. I hope it is for you as well!

Carol Ann

---

Posts: 1062 | From CA USA | Registered: Jan 2001 | IP: Logged |

Littlesprout
LymeNet Contributor
Member # 7406


posted

---

I am 46 and had a vaginal hysterectomy when I was 25 (B4 I knew I had lyme,one son) I had a prolasped uterus, no disease. The recovery was fairly easy, I still have my ovaries,but now am postmenopausal.

I have heard about the "pulling everything out" statement, sounds very rough. I have always had bladder problems and have wondered if the bladder got affected with the vaginal surgery. The bladder test/dilation (8yrs ago) show no prolaspe on the bladder, so may just be "lyme bladder" It has been very nice not having the monthly "stuff" all of these yrs
Good Luck

---

Posts: 315 | From USA | Registered: May 2005 | IP: Logged |
Contact Us | LymeNet home page | Privacy Statement

Powered by UBB.classic™ 6.7.3

---
The Lyme Disease Network is a non-profit organization funded by individual donations. If you would like to support the Network and the LymeNet system of Web services, please send your donations to:
The Lyme Disease Network of New Jersey
907 Pebble Creek Court, Pennington, NJ 08534 USA
http://www.lymenet.org/
---
Home | Flash Discussion | Support Groups | On-Line Library
Legal Resources | Medical Abstracts | Newsletter | Books
Pictures | Site Search | Links | Help/Questions
About LymeNet | Contact Us
---
© 1993-2020 The Lyme Disease Network of New Jersey, Inc.
All Rights Reserved.
Use of the LymeNet Site is subject to Terms and Conditions.
---