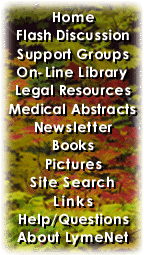 ---
LymeNet on Facebook
LymeNet on Twitter
---
---
The Lyme Disease Network receives a commission from Amazon.com for each purchase originating from this site.
When purchasing from Amazon.com, please
click here first.

Thank you.




Dedicated to the Bachmann Family


LymeNet needs your help:
LymeNet 2020 fund drive

The Lyme Disease Network is a non-profit organization funded by individual donations.

| | |
| --- | --- |
| | |
Author
Topic: Social Security Psychological Exam......... Any ideas?

robi
Frequent Contributor (1K+ posts)
Member # 5547


posted

---

After submitting my initial paperwork, I have been sent notification that I have to show up for a psychological exam with a Dr. chosen by the Dept of Rehab Services.

My claim does talk about psycholgical issues and neurological problems caused by my lyme.

My questions are:
What should I expect?

What type of tests will be performed?

Some days my functionong is better than others? Do I mention this if I am having a good day on the day of my appointment?

Who has access to these records? Can potential future employers and or insurers see these records?

I hope to be able to work one day again ..... just not sure if and when that day will come?

Looking for any advice you can pass on if you know about or have been through these exams .......

Thanks,
robi

--------------------
Now, since I put reality on the back burner, my days are jam-packed and fun-filled. ..........lily tomlin as 'trudy'


---

Posts: 2503 | From here | Registered: Apr 2004 | IP: Logged |

viva
LymeNet Contributor
Member # 8183


posted

---

Robi,

My best guess is that the psychological exam would consist of a "Wechsler Adult Intelligence Scale--Third Edition" (WAIS-III), a so-called IQ test. If this is the case, it would take about an hour, and consist of some tasks that are answered orally (e.g., defining vocabulary words, general information questions), some that involve non-verbal problem-solving (copying designs with blocks, arranging pictures in order to tell a story), a couple of short-term memory tasks (repeating numbers), and a couple of tasks that test your paper-and-pencil clerical speed. There would probably be some kind of brief interview--that would be your chance to talk about how your functioning fluctuates.

Ordinarily, psychological test reports can't be released without your written consent, so if they're following the usual professional/ethical guidelines, they'd have to ask your permission to send the report to a future employer.

Hope this helps!

Aviva

---

Posts: 532 | From southeast US | Registered: Oct 2005 | IP: Logged |

seibertneurolyme
Frequent Contributor (5K+ posts)
Member # 6416


posted

---

Hubby had one of these exams from a psychiatrist in Indianapolis, IN. He was instructed to bring all his meds to the appointment. We had a typewritten list of symptoms and a typewritten medical history summary that we gave the doc -- had used the same info with other docs before.

I was not allowed to sit in on the exam -- waited in the waiting room. I think it only lasted about 40 minutes -- was all oral. Kind of similar to the mini mental status exam that neurologists give.

I remember the notes mentioned that hubby had problems with math -- he is an accountant so that may help if he ever gets his social security hearing -- we have been waiting 18 months now for it to be scheduled.

We later had a much more thorough neuropsychological exam done which lasted about 4 hours -- hubby was having a really good day that day so the results said he did not have any psychological problems, but the doc did say that he felt his physical problems would prevent him from working. I sat in on that interview, but not the actual testing.

The reason we did this neuropsych exam is because we were getting totally fed up with all the neuros saying hubby had pseudoseizures -- a psychiatric diagnosis equivalent to somatization disorder. We were also tired of hearing that all that was wrong is that hubby was anxious and depressed and not physically sick. I don't really have much faith in all this testing, but at least it validated hubby's physical illness to some of the ducks.

This report is in the social security file as well as the other one.

Bea Seibert

---

Posts: 7306 | From Martinsville,VA,USA | Registered: Oct 2004 | IP: Logged |

ConnieMc
Frequent Contributor (1K+ posts)
Member # 191


posted

---

Here's what they are after when they do one of these evaluations.

The "typical" psychological eval ordered through DDS covers things like this. And it is all done orally. However, the examiner could also request specific testing, for example, a WAIS III (for measurement of general intelligence) or Wechsler Memory Scale (if you have reported memory and/or cognitive dysfunction).

Don't prepare for it in any way. Just go and do it. These things normally do not last more than an hour or 2. Nobody can go in with you and witness the exam. Likewise, nobody will have access to it. You should receive a questionaire allowing you to comment on how the exam went, which will also allow you to have this report released to your treating physician. However, this typically gets overlooked. If you have a representative or atty, they will be able to get a copy at the time of a file review should you be denied at this level. I represent claimants, and I always review the file when a case is denied. It gives me a great deal of insight into why DDS denied the claim.

Mental Status Examination
Name: ______________________________________________________
SSN: _______________________________________________________
Please cite relevant positive and negative findings (findings
significant by their presence or absence) in support of any
conclusions you give.
History of mental illness including any pertinent Drug/Alcohol use (specifically
address any current medications and treatment compliance, length of
treatment relationship):
General Appearance, Grooming, Motor Behavior:
Voice and Speech:
Orientation to person, place, time:
Mood and Affect:
Content of Thought:
Thought Process:
Diagnosis or Impression (Please cite pertinent DSM-IV criteria)
Axis I:
Axis II:
Memory: Remote, Recent, Immediate (4 Presidents, 3 objects recall, Digit
span recall):
Attention and Concentration (serial 3's or 7's, counting 20-1, spelling
``WORLD'' backwards, etc.):
Insight and Judgment; Ability to Abstract:
Prognosis, with comments:
Date of most Recent Patient Evaluation: ________________________
In your opinion, is the patient able to manage benefit payments in his/her
own interest?
Yes ____
No ____
___________________________________________ DATE ____________
Signature (M.D., D.O., or Ph.D. Psychologist)
_______________________________________________ DATE _____________
Printed Name (M.D., D.O., or Ph.D. Psychologist)

---

Posts: 2274 | From NC | Registered: Oct 2000 | IP: Logged |

bettyg
Unregistered



posted

---

They did the IQ and memory tests on me then added the Minnesota quasi-____________ of 567 true/false questions. What a joke the Minn. was.

They ask a question and then add "but or or" so you could answer either way. The PHD's report on my answers were NOT even close to the person I was.

I had hubby there too & he said she's not like that. So I had him remove a lot of UNTRUE statements.

These 3 tests cost $1,000! SSDI did NOT even use any of these results.

SSDI used the MFC, mental function capacity, report done by psychiatrist!! That's what got my claim approved after 5 years since they didn't want to deal with lyme, fibro, CFS, etc.

Good luck to you.

---

IP: Logged |

riversinger
Frequent Contributor (1K+ posts)
Member # 4851


posted

---

Mine lasted ten minutes. He asked me things like my name, SS#, to count backwards by three, a few other things. The tame SSDI doc, after this exhaustive examination, claimed that with the use of antidpressants, I was fit to return to work.

However, he wasn't aware that there was a 60 page report from a well known neuropsychologist documenting oragnic brain damage issues, and reports from two other psychologists that had seen me for extended periods, as well as a long string of physicians.

The SSDI doctors testimony was discounted, and my claim was approved on the first submission. This is because I had enough well documented info from enough doctors to show a wide ranging inability to function. They have to look at the whole. If this doc reports something that isn't true, you will have an opportunity to contest it.

A few people I have heard got someone intelligient, and the testimony helped their application.

Good luck!

--------------------
Sonoma County Lyme Support
[email protected]


---

Posts: 2142 | From California | Registered: Nov 2003 | IP: Logged |

Ann-OH
Frequent Contributor (5K+ posts)
Member # 2020


posted

---

I think I would go in tired and hungry with very uncomfortable shoes and show my true self, not a good day.
Ann - OH

--------------------
www.ldbullseye.com


---

Posts: 5705 | From Ohio | Registered: Jan 2002 | IP: Logged |

robi
Frequent Contributor (1K+ posts)
Member # 5547


posted

---

Thnaks for telling me of all your experiences. I called to see how long it would last and they said no more than 50 minutes. SO I guess I will not be getting all the usual tests and this is just something to meet me face to face.

I guess tired and hungry would be a good way to show up. That won't be hard since I am tired most of the time anyway.

I'll let you all know how this turns out.

Stay Warm,
robi

--------------------
Now, since I put reality on the back burner, my days are jam-packed and fun-filled. ..........lily tomlin as 'trudy'


---

Posts: 2503 | From here | Registered: Apr 2004 | IP: Logged |

bettyg
Unregistered



posted

---

Also, they will observe everything about you, and write down EVERYTHING you say.

For example, if it shows somewhere you can't site down for more than _______ minutes, be sure to get up & walk around OR go to the bathroom if that is one of your problems too.

---

IP: Logged |

map1131
Frequent Contributor (5K+ posts)
Member # 2022


posted

---

Robi, I hate to tell you this about my appt with SS psychologist, but....his report was all about my deep depression and I had no clue what he had put in his report until I went to my hearing with the judge. Even after his report on me, SS denied me the second time and then I hired a lawyer.

I figured this doc said I was able to work. Nope, he called me disabled. I remember him talking to me about anti-depressants and telling me there were many different options and that maybe the one I was on wasn't strong enough for me.

I wish I could SCREAM at him now "A pill isn't going to fix this buddy." Final ruling for SSD was lyme disease & depression.

My test was basic count backwards in threes, current events, repeating numbers. That's all I remember. I cried alot as I was telling him things. Which at that period in my life I was crying over everything, because no matter what I did, nothing helped. Everything was a fight, insurance companies, LTD, SS, making ends meet. But things have a way of working out.

Take care, Pam

--------------------
"Never, never, never, never, never give up" Winston Churchill


---

Posts: 6444 | From Louisville, Ky | Registered: Jan 2002 | IP: Logged |

foggedup
LymeNet Contributor
Member # 7415


posted

---

Don't drive to the appointment by yourself. That was the first thing asked..."did you drive yourself?"

M

---

Posts: 106 | From Texas | Registered: Jun 2005 | IP: Logged |

burnbitter
LymeNet Contributor
Member # 7088


posted

---

remember to talk in terms of your worst days not your best ones, you don't want to gloss over the problems like you normally would with a stranger...
Just be honest though, they're looking for malingering which you're not.
Mine was pretty straighforward once I got them to schedule it somewhere I could get to, first they scheduled it on an upper level with no elevator, so then they rescheduled it to another doctor who turned out to be really nice and apparently one of his specialities was dealing with chronic pain patients. We just talked for a while and that was all. Mostly about what I was trying to do to get better and how I felt emotionally about it. (You're chronically ill, no one is gleeful about that...)
I didn't get approval for another year and a half after I hired a lawyer though.

It's a struggle to get it..a very slow process and they won't help you do anything. Basically if you can manage it without a lawyer then you aren't sick enough.
Also when you do get it... medicare will not pay most of your medical bills but if you can't work, it will at least help pay for some of them which is better than nothing.
I went off disability to return to work where I can get insurance and enough money to get treatment... it would be impossible to do this on the SSDI money alone.
Right now I'm wishing I could stay home and not move until the herxing stops but unfortunately that's not an option.

[ 08. December 2005, 11:24 PM: Message edited by: burnbitter ]

---

Posts: 207 | From san francisco, ca | Registered: Mar 2005 | IP: Logged |

Tracy9
Frequent Contributor (1K+ posts)
Member # 7521


posted

---

I just had this done about a month ago. I don't have any results yet on my application, but the exam lasted about two hours. The woman was very cold and impersonal. I had to do things others mentioned, but also had to spell about 30 words, had to do a whole bunch of puzzles with blocks (I couldn't do them, but knew I could have before, and started crying. The tester never even acknowledged that I was crying.) I also had to copy all these puzzles/diagram things, and as they got harder and harder I couldn't do it. She also said about 10 word pairs, and I had to repeat them. She did it three times over, and I kept missing many of them. I mean, she said all 10 at once then I had to say the second word after she said the first one. She never asked many questions at all; just a little basic history. I brought in with me a copy of the Neuropsychological Lyme Disease article from Columbia University's website and told her this article could have been written about me. She said she would include it in her report. I have no idea how her results turned out, even though she said it would only take a few days my primary care doctor has not received a copy of anything. I applied for SSDI about four months ago; no answer yet. I have to go this Friday to see a regular doctor for them, and have a physical I guess. They said that would be the last step, though I don't think all my docs have sent in records. What state are you in? I'm in CT.

--------------------
NO PM; CONTACT: [email protected]

13 years Lyme & Co.; Small Fiber Neuropathy; Myasthenia Gravis, Adrenal Insufficiency. On chemo for 2 1/2 years as experimental treatment for MG.


---

Posts: 4480 | From Northeastern Connecticut | Registered: Jun 2005 | IP: Logged |

chroniccosmic
LymeNet Contributor
Member # 7789


posted

---

Robi,

Had my psych evaluation almost 3 years ago and had no idea what to expect. There are some great suggestions here. I think our tendency as sick people is often to appear better than we feel. I think we are masters at faking it and I kept telling myself to act how badly I felt. It worked. His report said many things about confusion, nightmares, depression. Unfortunately they were all true.

Have someone drive you.

If you feel confused and can't think, say so. Heck I just looked at him dumb when he asked me who the president was. And I completely flunked the part where he had me repeating numbers in a sequence. I left there feeling very dumb but felt that they had a very accurate representation of what my life was.

Good luck and hope you get the help you need.
Many of those issues are resolving themselves with treatment.

---

Posts: 460 | From Illinois | Registered: Aug 2005 | IP: Logged |

ArtistDi
Frequent Contributor (1K+ posts)
Member # 2297


posted

---

I had to have a review by a pyschiatrist for
MassHealth due to memory problems, etc. He asked
me about my background (work) and family. He
asked how my illness came about and the problems
it caused.

Then I had to do some neuropysch testing--memory,
retrieval, language skills. I did not do well
on some portions and he said this would be consistent with the temporal lobe seizures that
I had. This area of the brain controls language,
and so, mine was affected.

In other words, the testing corroborated what
I had indicated on my disability application.

Now, appt. with internist, was another story...
big ole duck.

---

Posts: 1567 | From Hatfield, MA, USA | Registered: Mar 2002 | IP: Logged |
Contact Us | LymeNet home page | Privacy Statement

Powered by UBB.classic™ 6.7.3

---
The Lyme Disease Network is a non-profit organization funded by individual donations. If you would like to support the Network and the LymeNet system of Web services, please send your donations to:
The Lyme Disease Network of New Jersey
907 Pebble Creek Court, Pennington, NJ 08534 USA
http://www.lymenet.org/
---
Home | Flash Discussion | Support Groups | On-Line Library
Legal Resources | Medical Abstracts | Newsletter | Books
Pictures | Site Search | Links | Help/Questions
About LymeNet | Contact Us
---
© 1993-2020 The Lyme Disease Network of New Jersey, Inc.
All Rights Reserved.
Use of the LymeNet Site is subject to Terms and Conditions.
---