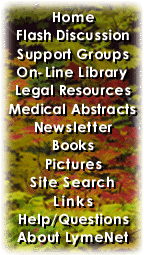 ---
LymeNet on Facebook
LymeNet on Twitter
---
---
The Lyme Disease Network receives a commission from Amazon.com for each purchase originating from this site.
When purchasing from Amazon.com, please
click here first.

Thank you.




Dedicated to the Bachmann Family


LymeNet needs your help:
LymeNet 2020 fund drive

The Lyme Disease Network is a non-profit organization funded by individual donations.

| | |
| --- | --- |
| | |
Author
Topic: Still don't believe in Chemtrails?

mycoplasma1
LymeNet Contributor
Member # 6377


posted

---

Here you go:

http://lookupabove.tripod.com/

and this:

Odd Powder Descends On Cars
Illinois EPA Investigating
POSTED: 8:32 am CST January 6, 2006
UPDATED: 12:14 pm CST January 6, 2006
CHICAGO -- It's not your imagination if you've walked outside and
noticed a rusty colored dust sprinkled all over your car. The strange
rusty powder appeared on cars in the Chicago area this week. Angelo
Mavaraganes, who runs a car repair shop on the Northwest Side, said he
has seen it on at least 30 cars the last few days. "One came from
Crystal Lake, and one was from Mount Prospect, and another one from
Homewood/Flossmor," Mavaraganes said. The Illinois Environmental
Protection Agency sent a field agent to collect evidence of the powder.
"He and myself together, we collected a sample," Mavaraganes said. "We
scraped together some, I was able to amass maybe a teaspoon full in a
cup, and he took it with him."
Cars at the police parking lot at Belmont and Western have the rusty
powder all over them, too.
NBC5's Mary Ann Ahern said a lot of people in Chicago want to know what
the stuff is that has fallen all over their cars.
"Where is this coming from? What effects is it going to have on us?"
Mavaraganes asked.
Some suggested the rusty powder came with the recent rain, dirt from the
southwest part of the U.S. Lab tests will tell more. A spokesman for the
Illinois EPA said the lab results on the mysterious powder should be in
early next week.
Copyright 2006 by _NBC5.com_ (mailto:[email protected]) . All rights
reserved. This material may not be published, broadcast, rewritten or
redistributed.

How about that?

Chris

---

Posts: 216 | From Upstate NY | Registered: Oct 2004 | IP: Logged |

niki
Member
Member # 7720


posted

---

This may very well be true. But the, pictures the link shows are called contrails, condensation trails which are caused by the hot air coming out of a jet engine in which the water molecules condense thus causing the cloud like trails--...hmm

---

Posts: 68 | From USA | Registered: Aug 2005 | IP: Logged |

mycoplasma1
LymeNet Contributor
Member # 6377


posted

---

Niki,

I wish this were true.

I think more research on your part is necessary as I have a pilot license and know what a contrail looks like.

There's plenty of good chemtrail pictures on the web. Also alot of quacks, but indeed they are real.

Still trying to figure out what it is they are up to.

Chris

---

Posts: 216 | From Upstate NY | Registered: Oct 2004 | IP: Logged |

Troup Brazelton
LymeNet Contributor
Member # 6297


posted

---

Try thinking of the dust storms and dry weather in Okla. and Texas. wind currents probably are distributing much of that stuff up you way. I haven't seen any down here yet.

---

Posts: 219 | From Aubur,Al. USA | Registered: Oct 2004 | IP: Logged |

dontlikeliver
Frequent Contributor (1K+ posts)
Member # 4749


posted

---

Is it not possible that contrails dissipate at different rates depending on the weather conditions?

I looked at that link, and what is on there is exactly what I get here at times a zig-zag/chequerboard of trails. However, I literally live by the water going out to the atlantic and I cannot see why, if they are spraying chemtrails, they would do so out at sea and over a few small villages? (a lot of commercial flights pass overhead at high altitude on way to US, etc).

---

Posts: 2824 | From The Back of Beyond | Registered: Oct 2003 | IP: Logged |

mycoplasma1
LymeNet Contributor
Member # 6377


posted

---

Not over water? This is all over the world folks! It's not over specific populations. Ever here of HAARP? Educate yourself.

Here's some very good educational material from well respected sources.

Mycotoxins and Gulf War Illness

by Jonathan B. Tucker, Ph.D.

A tantalizing unsolved mystery of the Persian Gulf War took place on the early morning of January 19, 1991, the third day of the Coalition air campaign against Iraq. Nearly 750 construction specialists (Seabees) with the 24th Naval Mobile Construction Battalion were housed in two camps near the port of Al Jubayl in northern Saudi Arabia. Camp 13, also known as Camp Rohrbach, was situated west of the commercial port, while a smaller Air Detachment was located south of the port, at King Abdul Aziz Naval Air Station.

At about 3:00 AM on the morning of January 19, a brilliant flash of red light appeared in the cloud-covered sky over the port of Al Jubayl. The flash was followed by a loud double-explosion and a shockwave powerful enough to knock over tents at Camp 13 and awaken the sleeping troops. According to one eyewitness, "The concussion was so strong that it knocked me to my knees." [1]

Almost immediately, the general-quarters alarm began to sound. Thomas Harper, communications chief for the Air Detachment, heard a warning message come over the camp radio net: "Alpha 6 Bravo [the unit's call sign], we have a confirmed chemical agent." The radio then broadcast a message to all stations ordering the troops to don their gas masks and chemical-protective suits and proceed to bunkers. There was also a call for chemical decontamination teams. [2]

Near-panic broke out as the Seabees struggled to pull on their masks and rubberized suits. As the troops emerged from their tents and ran to the bunkers, they smelled a sharp, acrid odor and saw a dense yellowish mist floating over the camp. Many individuals did not mask in time or failed to achieve a good seal. They began to choke, and a few had profuse nasal secretions that fouled their masks. Fred Willoughby felt his mouth, lips, and face go numb, a sensation similar to Novocain at a dentist's office. Roy Morrow and Nick Roberts experienced a burning sensation on their exposed skin and a strange metallic taste, "like sucking on a penny." [3]

A half-hour later, the all-clear sounded. The Seabees emerged from the bunkers and ran to the water buffaloes to wash their burning skin, which had become red and inflamed. Although many troops were convinced they had been exposed to a chemical attack, their commanding officers told them the explosion had been the "sonic boom" of a jet fighter passing overhead and ordered them to stop discussing the incident and return to barracks. Radio operators in the command bunkers were later ordered to burn their log pages covering the period of the incident. [4]

When the sun rose later that morning, Nick Roberts observed a thin coating of yellow powder on tents and vehicles. Other Seabees noticed that an area near the entrance to the commercial port of Jubayl had been cordoned off with yellow hazard tape, and that a fenced-in herd of animals nearby had died. Later that day, the battalion's chemical officers collected each soldier's chemical-protective suit and replaced it with a new one, the only time such a gear exchange took place during the war. Because of a shortage of equipment, routine replacement of chemical suits was extremely rare during the Gulf War, if it occurred at all.

Within a few days after the mysterious double-explosion, those Seabees who had experienced burning skin, facial numbness, and choking began to suffer from flu-like symptoms, including fever, sweating, diarrhea, and muscle cramps and spasms. Areas of skin that had been exposed during the incident broke out in rashes, welts, and small blisters, which eventually burst and turned into ulcerating sores that scabbed over and healed but later recurred. The Seabees' joints also began to ache, and the pain became progressively worse. Several developed painfully swollen lymph nodes.

For many of those affected, the symptoms have persisted ever since. According to a telephone survey conducted by The New York Times in September 1996, of 152 veterans of the 24th Naval Mobile Construction Battalion who were contacted, 114 said they were sick with chronic illnesses they attributed to the war. The symptoms they reported were strikingly consistent: chronic diarrhea, joint pain, muscle spasms, mysterious tumors and skin rashes, chronic fatigue, recurrent headaches, and memory loss. Dozens of veterans said they had been hospitalized repeatedly and had been forced to give up their jobs and careers. [5] Nick Roberts has been diagnosed with non-Hodgkin's lymphoma, a cancer of the lymphatic system, and he claims that several other Seabees who served at Al Jubayl have developed lymphatic cancers as well. [6]


PLEASE READ AND RESEARCH.

Open Air Testing with Simulated Biological and Chemical Warfare Agents
By Leonard A. Cole, Ph.D.


About the AuthorMy name is Leonard A. Cole, and I teach science and public policy at Rutgers University in Newark. My research interests include biological and chemical warfare policies, and I have written in particular about testing done in the U.S Army's biological defense program.

I appreciate your invitation, Senator Rockefeller, to testify about experiments involving simulated biological and chemical warfare agents. These agents, which the army calls simulants, are intended to mimic more lethal bacteria and chemicals that might be used in actual warfare.

As described in my book, Clouds of Secrecy, the army began a program in 1949 to assess the nation's vulnerability to attack with biological weapons. During the next 20 years, the army released simulant agents over hundreds of populated areas around the country. Targets included portions of Hawaii and Alaska, San Francisco, St. Louis, Minneapolis, New York City, Washington, D.C., Key West, and many other cities. The purpose was to see how the bacteria spread and survived as people went about their normal activities.

Evidence suggested that the tests may have been causing illness to exposed citizens. Nevertheless, as army spokesmen subsequently testified, the health of the millions of people exposed was never monitored because the army assumed that the bacteria and chemicals were harmless.

Vulnerability testing continues at Dugway Proving Ground, 70 miles from Salt Lake City. Several smaller communities are closer to the base, and Dugway itself is home to hundreds of civilians and military personnel and their families. The stated purpose of the tests is to evaluate biological detector systems and protective gear.

Since tests involve spraying simulants outdoors, it is important to understand how much risk they pose to humans who are exposed. Official statements have not always been dear on this matter. A July 1993 news release by the Dugway Public Affairs Office indicates that "no specific safety controls or protection are required for testing with simulants." The statement implies, erroneously, that the simulants are harmless.

In fact, during 45 years of open air testing, from time to time the army has stopped using certain simulants for reasons of safety. In each instance the army belatedly recognized they could be causing disease and death, although such information had long been available in the medical literature. This was the case in the 1950s when it ceased using the fungus Aspergillus fumigatus as a simulant. The fungus had long been known to cause aspergillosis, a disease that can be fatal. Similarly, in the 1960s the army stopped using zinc cadmium sulfide, a chemical that had been known for years to cause cancer.

In the 1970s, the bacterium Serratia marcescens, a source of infections that can lead to death, was taken out of service as a simulant. And in the 1980s, dimethyl methylphosphonate, a chemical known as DPP, was removed from use as a simulant because of its carcinogenic and other toxic potential. I understand that one of today's witnesses, Earl Davenport, was exposed to DMMP at Dugway in 1984 and may still be suffering health problems as a result.

Indeed, simulants now used at Dugway continue to pose risks. The chemical ethylene oxide, which is present in some of the mixtures used in outdoor spraying, is a known carcinogen. The bacterium Bacillus subtilis, while not generally seen as dangerous, is cited in medical textbooks as able to cause serious infections. In truth any microorganism that seems harmless under some circumstances may cause illness under others.

Exposure to high concentrations of any microorganism can be critically dangerous to people in weakened conditions. The elderly, the very young, people with AIDS and others who have weakened immune systems are more susceptible to life threatening infections. Nevertheless, the army has not monitored the health of citizens who may have been exposed during its tests while maintaining that its bacterial agents cause no harm.

In addition to people who are unwittingly exposed to the army's bacteria and chemicals, human research subjects may not be receiving appropriate information. A test at Dugway in November 1993, for example, raises important questions in this regard. The test was intended to assess the ability of chemical agents to penetrate protective clothing.

Test subjects wore special outer garments and were then sprayed with chemicals in simulated battle conditions. An army Environmental Assessment before the test indicated that some of the chemicals could be toxic. Yet the consent form that the subjects signed in advance of the test said nothing about any of the chemicals.

Subsequently, two of the test subjects said they were asked to sign another consent form sometime after the test had been completed. The second form described the chemicals. But having the subjects sign a consent form after an experiment, rather than before, makes little ethical sense. The procedure renders meaningless the notion of informed consent.

Finally, several physicians at the University of Utah Medical School in Salt Lake City continue to express concern about the tests at Dugway. They do not feel they have information that would enable them optimally to handle infections and complications that might be caused by the tests. Dugway officials have thus far not satisfied their concerns either about field tests involving simulants or indoor tests with highly pathogenic agents.

These are a few of the disconcerting issues associated with testing at Dugway. If such tests must continue, several policy suggestions seem appropriate:

Inform people in the area before each test that they may be exposed to the army's biological and chemical agents.

For a substantial period after each test, monitor the health of the exposed population.

Provide comprehensive information in understandable language to human subjects before they participate in any test.

Fully inform the neighboring medical community about the nature of each test and its possible medical complications.

Above all, strive for safety, candor, and openness.

---

Posts: 216 | From Upstate NY | Registered: Oct 2004 | IP: Logged |

mycoplasma1
LymeNet Contributor
Member # 6377


posted

---

most importantly.............................

http://thomas.loc.gov/cgi-bin/query/r?c107:chemtrails

Space Preservation Act of 2001 (Introduced in House)

SEC. 7. DEFINITIONS

(B) Such terms include exotic weapons systems such as-

(i) electronic, psychotronic, or information weapons;

(ii) chemtrails;

(iii) high altitude ultra low frequency weapons systems;

(iv) plasma, electromagnetic, sonic, or ultrasonic weapons;

(v) laser weapons systems;

(vi) strategic, theater, tactical, or extraterrestrial weapons; and

(vii) chemical, biological, environmental, climate, or tectonic weapons.

(C) The term `exotic weapons systems' includes weapons designed to damage space or natural ecosystems (such as the ionosphere and upper atmosphere) or climate, weather, and tectonic systems with the purpose of inducing damage or destruction upon a target population or region on earth or in space.

Research Paper Presented To Air Force 2025 by Col Tamzy J. House. Lt Col James B. Near, Jr. LTC William B. Shields (USA)

http://oneheartbooks.com/owning_the_weather.pdf

---

Posts: 216 | From Upstate NY | Registered: Oct 2004 | IP: Logged |

dontlikeliver
Frequent Contributor (1K+ posts)
Member # 4749


posted

---

Mycoplasma1,

I really don't wish to re-educate myself about all that, thanks. I looked into it a few years ago (I have a book about HAARP sitting right on my bookshelf) and frankly, it's just too heavy with everything else going on. So, I chose to be not really interested, because I don't want to feel paranoid every time I see a trail or several trails in the sky and also there is zilch I can do about it anyway, even if it were happening........Plus the fact that I can't exactly take a sample and analyze it even if it's there.......therefore it equals a lot of worrying about something that may or may not be happening and that I can't do anything about anyway.

But hey, maybe you can do something about it and not only save us all, but save us the trouble. Most of us already have a big fight on our hands in terms of disease, financial struggles, etc.

Forcefully telling people to 'educate themselves' may not be the best way to get people to take interest either. This is also not a medical issue as far as I can see, but more off topic.

---

Posts: 2824 | From The Back of Beyond | Registered: Oct 2003 | IP: Logged |

mycoplasma1
LymeNet Contributor
Member # 6377


posted

---

Don't like liver,

You forget I am also sick and am dealing with the same problems all of you are.

This, unfortunately is an important issue for all of us as we are all dealing with exposures to toxins, heavy metals etc.. that are weakening our immune systems.

People need to be aware of the problem and hopefully educate others.

Not all of us are infected by "tick bites", as some would love to have us believe.

I am not looking for a fight.

Be well,

Chris

---

Posts: 216 | From Upstate NY | Registered: Oct 2004 | IP: Logged |

Mo
Frequent Contributor (5K+ posts)
Member # 2863


posted

---

Actually, I think this is a medical issue.

tho I agree, DLL..
it is terribly depressing to think about.

I think the only positive thing that could come out of being more aware is to use that knowledge as a catalyst to aggressively persue total lifetime health and detox measures, ect, ect..

that's how I have come to look at all of these things, including Lyme, parasites, chemicals, polution..
and yes, chemtrails.

We will always continue to be exposed to so many things that can burden our systems..
so I feel that means in order for us and our kids to survive and be well, we have to go back to basics and get clean inside and stay that way so we can process microbes and toxins by way of our own immune system and clear eliminative pathways.

Tho - I do think if there is any kind of health threat happening here, people who can should rise and confront it.

Re: these trails..
I've read allot on it..
and I too find it really overwhelming..

however, in simple terms, I am quite certain these trails did not hang and dissipate like this before 1998.

I remember seeing many contrails..
but they always dissapeared rapidly.

I remember what real clouds look like, and lots of days we have very strange looking skies and lots of these trails, which hang and spread for days, resulting in a white haze.
These streaks and lines that come on and are laid by planes systematically on certain days.

I read something about a govt. initiative to thwart global warming (the most 'innocent' sinario)..and they do not have to tell us what they do on the sky if they believe it is for the 'greater good'..
however the incidences of immune disorders have risen sharply since this origional program was initiated..
and the particles used contained metals.
So is it for the greater good of continued oil consumption and profits, or the greater good of us?
I would think turning to alternative fuel like ethanol and controlling fossil fuel emmissions might be a truly greater good.

I am sketchy on the details of the above..
and there is allot more written that raises serious questions.

Simply what I see, coupled with the research of the few (not the wackos) but the few level headed investigative researchers looking at this..
definately has me questioning what is going on.

I have no idea what exactly is going on, but if you look up for a while (many people do not watch the sky too closely)..
you will see there is something awry.

Mo

---

Posts: 8337 | From the other shore | Registered: Jul 2002 | IP: Logged |

dontlikeliver
Frequent Contributor (1K+ posts)
Member # 4749


posted

---

Before the chemtrail thing was brought to my attention a few years back, I can't say I studied contrails much to see how and when they dissipated, and in different weather conditions. So, I really can't say what they looked like pre-1998.

The thing is that there are a lot of things going on in the world which are not for the greater good, some of which we know about, and some of which we only speculate about and some which we most definitely have no clue about.

Some of the things we do know about are things like Triclosan, Aspartame in food and medicine, Flouride in water and baby formula, genetically modified food, bad vaccines etc etc et the list goes on and I'm sure could be viewed or twisted into conspiracy to kill or disable the masses. We are living in such an unpure world that what battles are we goin to fight, especially when we are ill?

My head is spinning with all the possible conspiracies (not really, but it could be), therefore, I have switched off because it all becomes a huge weight and muddle. I just switch it off and try to be a wise consumer as much as I can and not worry about the conspiracy stuff any more, because it is like a huge connect the dots game, and some of the dots lead to some wild and crazy stuff like 'the British Royal family and Bush are Reptilians and all have stakes in HAARP', MK ultra and government sex slaves, remote viewing etc etc etc - and lots of other silly stuff. Some of it is so crazy and far fetched, I would rather not be associated with ANY conspiracy stuff at all....it was interesting for a while, but it is too much like going down the rabbit hole and I'd rather remain 'blissfully' ignorant if I can. However, it has taught me one thing, to read the media more critically than I used to. I used to think if it was in the paper, it must be true.

Depressing stuff is not good for us. It may still go on, but sick people need to remain as positive as possible. No point weighing ourselves down with stuff that may or may not be partially or completely true that is like something from the twilight zone and which is not going to do anything to help us phychologically.

Anyway, that's my outlook on things right now. Although I am not following my own advice (because I responded), I also think it's a bad idea to put this on a medical forum because with the Lyme community already being on the fringe of acceptance by the mainstream, I think talk of this kind of stuff here will only make it more so.

---

Posts: 2824 | From The Back of Beyond | Registered: Oct 2003 | IP: Logged |

Svengali Eyes
LymeNet Contributor
Member # 6118


posted

---

mycoplasma1 said:

quote:

---

Not all of us are infected by "tick bites", as some would love to have us believe.

---

Until you alluded to this I was actually paying attention.

Sven

---

Posts: 120 | Registered: Aug 2004 | IP: Logged |

Svengali Eyes
LymeNet Contributor
Member # 6118


posted

---

mycoplasma1

Answer to your PM

I Know darn well there could be other insect vectors but that was not what you were alluding too...

Sven

---

Posts: 120 | Registered: Aug 2004 | IP: Logged |

Mo
Frequent Contributor (5K+ posts)
Member # 2863


posted

---

Lida Matman found Bb in I believe all the blood specimens she looked at, healthy and unhealthy alike.

There are many points that beg the question as to how many potential means of exposure to Bb, other co-infections, and particularly Mycoplama (m.fermentans is a bacteria isolated in Gulf War Syndrome)..

many things to consider as to how many means of exposure other than insect vectors we could have to many organisms..and as to how many places the insects (or animals) are picking it up from.

Mice are taking all the blame
but there are lots of environmental possibilities.

Mo

---

Posts: 8337 | From the other shore | Registered: Jul 2002 | IP: Logged |

mycoplasma1
LymeNet Contributor
Member # 6377


posted

---

Here's a recent article from a mainstream paper:

By Michael F. Williams
The Tribune
Well, the jig is up. A small group of alert citizens in a remote coastal
California county has pulled the curtain from over our Federal Chemtrail
Program (FCP).
The FCP, which was intended for the good of the country, will now have to be
dismantled. You can't imagine the anguish I and the thousands of other
well-meaning government employees, who had to labor for so long and in such
secrecy, feel over this.
Though our only intent was to fight tooth decay by spreading fluoride into
the atmosphere from our huge fleet of black-painted, high-flying jet
airplanes, and perhaps to run a few, mostly harmless, tests of
chemical-biological warfare agents (once again, for the good of the country)
the FCP cannot continue once the spotlight is thrown upon it by an alert
and alarmed public.
Thanks to readers such as Richard Palmquist and the truthradio.com Web site
he referenced, the public can no longer be fooled into thinking the chemical
trails we left in the sky are almost entirely water vapor.
For so long we had people convinced that the reason the trails, on some rare
occasions, were so numerous, sharply-defined and persistent, was simply due
to unusual circumstances of relative humidity, temperature, dew point and
lack of turbulence at high altitudes.
And the fallout continues; now, thanks to truthradio.com, people are also
being alerted to the facts that the Earth is only 6,000 years old, and that
the origin of any specie is out of the bounds for valid science."
I had told my superiors that we should fly our fleet only on cloudy days,
but would they listen?
"No," they told me, "it would be enough to simply disguise them by having
them fly the same routes taken by commercial airliners."
But that, of course, had its own drawbacks. You can imagine how difficult
and expensive it has been to buy the silence of all of the pilots and crews
of all those aircraft, who, inevitably, became witness to our scheme.
This vital leg of our noble plan to bring about one-world government has
been thwarted, but other programs continue. I cannot, of course, divulge the
details, under threat of death, but the truth is out there.
Michael F. Williams is a Cuesta College student and retired fire captain
with the California Department of Forestry. He lives in Arroyo Grande.
Why so many flights?
I am trying to read between the lines regarding the Jan. 6 letter by Richard
Palmquist regarding the contrails or chemtrails left by jets. He is writing
in conspiracy mode. Why not just state the facts?
These are not from commercial airlines but from military jets. I see them
almost every day and would make the logical assumption they are military
jets because commercial jets don't reverse direction very often.
I am sure these contrails
/chemtrails are not a benefit to our environment. How about if any military
people could try to clear up the reasons for so many flights, and what tests
the military performs to protect the environment?
Bill Headrick
San Luis Obispo

http://www.sanluisobispo.com/mld/sanluisobispo/living/13583252.htm

---

Posts: 216 | From Upstate NY | Registered: Oct 2004 | IP: Logged |

mycoplasma1
LymeNet Contributor
Member # 6377


posted

---

This is a good one from Dr. Jeff Sutherland's website today!

Nanobacteria: More Widespread Than We Thought!

Nanobacteria in clouds could spread disease, scientists claim
Public release date: 6-Apr-2005
Contact: Professor Chandra Wickramasinghe
[email protected]
44-777-838-9243
Cardiff University

Micro-organisms in clouds could play a crucial role in the spread of disease and in the formation of rain drops, scientists have claimed.

The radical theories about nanobacteria micro-organisms considerably smaller than ordinary bacteria - in clouds are published in two recent articles in the Journal of Proteome Research by Dr Andrei P. Sommer of the University of Ulm, Germany, and Professor Chandra Wickramasinghe of Cardiff University, UK.

They say nanobacteria are now accepted as being widely prevalent in the terrestrial environment and that their evidence is compelling for the existence of these nano-organisms, even in the stratosphere. In humans, nanobacteria have now been identified on four continents, they add.

Dr Sommer and Professor Wickramasinghe further suggest that nanobacteria's involvement in several serious diseases such as the formation kidney stones, heart disease, and HIV is also slowly being recognised by the scientific community.

"Experiments have shown that nanobacteria are excreted from the body in urine and their dispersal from the ground into the atmosphere and stratosphere appears to be inevitable," said Dr Sommer.

The scientists argue that their occurrence in clouds could play a crucial role in the global dispersal of infective agents, and might also play a prominent role in the nucleation of cloud drops.

"This happens because nanobacteria, lifted from the ground by winds, could transit between the high humidity region of the clouds and the relatively dry inter-cloud regions, leading to oscillations between a dormant state and one of activation," explained Professor Wickramasinghe. "Remnants of a sticky protein (slime) coating nanobacteria makes them act as extremely efficient cloud condensation nuclei, with a tendency to aggregate to clusters upon contact."

Their work corroborates the findings of Ruprecht Jaenicke, of the Institute for Atmospheric Physics at Mainz University, Germany, on bioaerosols (airborne contaminants) and proteins in the atmosphere reported in New Scientist (31 March) and Science (1 April). The contribution of nanobacteria to pathogenic bioaerosols, in the view of the authors, must overwhelm all other types of biological particles in the atmosphere.
posted by Jeff Sutherland @ 3:14 PM

Chemtrails anyone?

---

Posts: 216 | From Upstate NY | Registered: Oct 2004 | IP: Logged |

Gabriella7
Member
Member # 7862


posted

---

Chemtrails? You betcha! I live in an area where we have a military base as well as an international airport. These are diffinately chemicals released from the military planes and not contrails. The international flights follow a straight pattern away from the city. They do not make cross patterns back and forth across the horizons with their planes all day long.

The sky can be as clear as crystal in the morning and the planes start flying in patterns and during the day the dispersing of the trails will turn the day into a cloudy one. It will last for a few days until we eventually have rain.

Something is causing breathing problems for me at the present time. May be the "chites" dying off or the air I'm breathing....Who knows? I started noticing these planes about a year ago. Our roofs are turning black very quickly and probably our lungs as well. Not to worry?

Personally, I worked for the government and I don't trust what is happening in our skys. I have been going out on my deck to look up at the patterns but I'm going to stop doing that! It reminds me of the "Chicken Little" book....the sky is falling!!!

Gabriella

---

Posts: 58 | From Georgia | Registered: Sep 2005 | IP: Logged |

daystar1952
Frequent Contributor (1K+ posts)
Member # 3255


posted

---

If anyone wants to email me privately I have some bizarre photos of chemtrails. I have called just about every govt institution, ABC, etc to get to the bottom of this. My husband is a jet engine mechanic and he says they are not normal. Condensation trails are supposed to disappear like the wake behind a boat.....not linger for hours and then spread to form total cloud cover. There has to be a chemical in the condensation trail which makes the trail expand. It is also the deliberate manner in which the spraying is done. Let me find the link to an article I wrote a while back. Never mind...here's the whole thing :-)


Are Chemtrails Causing Drought?
By Marjorie Tietjen
[email protected] Director for Lyme Disease Concerns,
Common Cause Medical Research Foundation
3-12-2

Drought is becoming widespread throughout the United States and in other parts of the world. Adverse events of all types are increasing. Evidence leads us to the conclusion that all is not coincidence. It appears that corporations and certain factions of the government are playing a large role in the creation and coverup of many of these adverse events.

This is supposed to be an article on drought and it's possible causes and what we can do to hopefully turn it all around. However, I feel it is important to share with you some brief insights I've gained from others, which are vital in overcoming the current desperate situation of our world.

Citizens understandably want to know why their government and or certain corporations would want to perhaps cause a drought, crash the economy, keep us in a perpetual state of war, take away many of our rights, create diseases in order to profit from treatments (instead of cures) or damage the environment in other ways that would also eventually affect the perpetrators and their own families. These are not easy questions to answer especially for those of us who can not comprehend this destructive, power hungry mindset that seems so alien and nonsensical.

Fear, greed, hate and a hunger for power are some of the motives behind many of these negative actions. We need to understand these basic causes of disharmony in our world and do our best not to feed into it ourselves. We must not react with those same qualities, which will only increase the negativity.

We do need to uncover and expose the evil but then we need to respond with Firmness, Wisdom, Understanding and Love. To some of you this statement may sound whimpy but the reality is that Spiritual Love is the most powerful force in the universe.

I have been observing the chemtrail phenomenon for a couple of years now, here in the northeast. There obviously appears to be more than one purpose for the spraying but we will concentrate on the weather modification aspect.

According to the mainstream media, the drought in the northeast began in the fall of 2001. I have been observing the sky every day since I saw my first chemtrails in 1999 and have begun to notice a basic or general pattern of spraying. The pattern is sometimes altered by several days of cloud cover but usually you can pretty much count on the following. One to two days before a front is scheduled to pass through, heavy spraying will occur.

Total cloud cover is often the obvious goal. When the front arrives , one will many times hear low flying jets above the cloud cover. We end up recieving absolutely no rain (even though predicted) or a very negligable amount. When the clouds break up, the air will usually have a definite opaque white cast to it, unlike the more transparent quality of fog. Many chemtrail investigators have evidence that barium salts make up part of the mixture being emitted from these jets. Barium is a dessicant and absorbs moisture. The barium and probably other chemicals may also be used in conjunction with HAARP, which is a joint U.S Air Force and Navy project, to essentially control the weather.

At this point I would like to include an excerpt from "Chemtrails" Implications Part ll...

"Tommy Farmer, a former engineering technician with Raytheon Missle Systems, has been tracking patterns of jet contrails for more than a year. After repeatedly observing aircraft spraying particulates in front of and into cloud systems, Farmer is fairly certain the contrail phenomena is one part of a military weather modification weapons system. He notes that because the chemical contrails allow much more moisture to form inside the cloud systems, severe localized storms result from the aerial seeding while surrounding areas that have surrendered their moisture to the storm cells, experience drought.

The huge Xs being traced by formations of tanker jets in the sky can be tracked by satellite and coordinated with the crossed beams of ionospheric heaters(HAARP) to heat the upper atmosphere, changing it's temperature and density and enhancing the storm's effects.

Based in Gakon, Alaska, this unclassified joint U.S Air Force and Navy project known as the High Altitude Auroral Research Project (HAARP) has for the past several years been using phased array antennas to steer powerful beams of tightly-focused radio waves "to stimulate" heat and steer sections of the upper atmosphere.

Awarded in 1985 to MIT physicist, Bernard Eastlund, HAARP's commercial patent claims that directed energy beams of more than one billion watts can be used for altering the upper atmosphere wind patterns using plumes of atmospheric particles as a lens or focusing device to disturb the weather thousands of miles away. In an interview with this reporter, Eastlund admitted "I had looked at using this intense beam, which can be angled, to do some experiments in terms of guiding the jet stream, moving it from one spot to another."

-end of excerpt

Storm Enhancement, Storm Modification and Drought Inducement, are listed objectives of an AirForce research study entitled "Weather as a Force Multiplier." The ultimate goal was stated as "owning the weather by the year 2025."

One will almost never see trails being formed the day after the front passes through. As a rule, in our area, one to 2 days of clear skies follow, sometimes 3. Then the whole cycle begins again with a storm predicted to pass through within a couple of days.

Sometimes this pattern is broken by light spraying, especially around the rising and setting sun. On some days the jets play "connect the clouds" , for what purpose is anyone's guess. Our winter of 2001/2002 has been very bizarre, consisitng of unusual severe drought and extremely warm temperatures. I get the general impression from the media that they expect the drought to continue and perhaps cause major problems.

To me, it is reminiscent of the biological warfare media propaganda. My personal gut feeling is that they are making a continued drought sound plausible so that when farmers begin to lose their land, water rationing begins and possible famine ensues, it will seem as though it was all a natural occurrence. I can not prove any of this and I do not want to be an alarmist but I feel we must follow our intuitions and spread the word of this possibility before it is too late. We cannot wait for firm evidence to begin our investigation....and it is OUR investigation. We cannot depend and never should have placed so much dependance on our government to solve all our problems. This is a very dangerous practice.

There is an excellent article by Dr. Vandana Shiva entitled "Monsanto's Expanding Monopolies". I would like to share a couple of excerpts. "Over the past few years, Monsanto, a chemical firm, has positioned itself as an agricultural company through control over seed-the first link in the food chain. Monsanto now wants to control water, the very basis of life."

"Monsanto is seeing a new business opportunity because of the emerging water crisis. As it states in it's strategy paper "first, we believe that discontinuities (either major policy changes or major trendline breaks in resource quality or quantity), are likely, particularly in the area of water and we will be well positioned via these businesses to profit even more significantly when these discontinuities occur." Thus the crisis of pollution and depletion of water resources is viewed by Monsanto as a business opportunity."

Is it possible that the emerging water crisis is being caused artificially? I believe the answer could be yes but we need more investigation into this issue, on a massive scale. I have been trying to determine what would be the best course of action. Many of us have already tried contacting our legislators, government agencies, universities and the mainstream media but with very minimal results. I asked myself who would be the most affected by the drought, be the most concerned, and be the most likely to join together to form coalitions. I came up with the obvious conclusion.....anyone whose livelihood centers around the use of water. Agricultural and livestock growers came to mind first. I'm sure there are many other businesses that you could come up with.

I decided to make packets consisting of chemtrail photos, congressional bills, documents, patents, newspaper articles, etc. and bring them around to several large growers in our area.

I have just begun doing this, so I don't have any results to report on yet except the fact that I was always well recieved and that a couple of orchard owners I talked to, knew immediately what I was referring to when I mentioned the jet trails that don't dissipate....after all many of these people are outside all day long. The managers and owners said they would pass the information on to their partners and wanted to know how they could get in touch with me if needed. They seemed very grateful for the information. In the past I have tried to inform the general public about chemtrails and have had mixed success. I found that I'm getting more consistently good responses when I have specific information on the specific problem, drought/chemtrails and take it all to the appropriate people/businesses that would be affected and do it all with a desire to help.

I'm trying not to appear sensationalistic about the topic and instead I'm trying to remain calm and present the facts. We do have to admit that we don't have all the answers and that we need to work together to solve this. I mention that if perhaps they take the time to observe for themselves and if they then notice a correlation between the spraying and the weather conditions then they may want to contact the other growers in the area, that I have already spoken to, and perhaps form some type of coalition for the purpose of further investigation or legal action.

I tend to be impatient and when the owners weren't available and I tried giving all the information to the workers to pass on to the owners. I was told by several workers that I should wait till the owners are present and if necessary, make an appointment, otherwise the materials will not be taken seriously. This is a very good suggestion. Always speak with the owners/managers otherwise you may be wasting all your materials. Don't be shy about firmly asking to see the owner/manager. If drought appears like it may be an ongoing problem in your area and it's going to affect their bottom line, they will not feel like you are wasting their time. People are beginning to feel that something strange and different is going on and if you approach with the right motive in your heart, people will sense this.

You may want to explain the process involving media disinformation so that when it occurs they will not be swayed and will be able to discern the lies from the truth. When agendas are being uncovered those who are responsible may scurry to come up with alternate explanantions or even partial truths to cover up and confuse the public. Give them a few possible examples pertaining to the drought situation such as the President announcing that chemtrails are solely for the prevention of global warming.

Considering that Gorbachev and others in the One world Government crowd have declared that the environment and the global warming scenerio will be the cornerstone of the "New World Order", those you are informing will be aware and not be decieved when disinformation presents itself.

Another gem I heard recently was that we have much more pollution/particulates lately and these particulates are not allowing the rain to fall from the clouds (partial truth). The trend will be towards making the crisis seem to stem totally from unintentional unregulated pollution that will require global government restrictions.

Gorbachev has formed "Green Cross", an environmental think tank which has The "Earth Charter" as it's magna carta. He hopes the Earth Charter will rival the Ten Commandments and guide us into the new millenium. He speaks of nations losing sovereignty, giving way to international laws that will dictate common beliefs, values, standards and behavior and conform to the consensus of a group of leaders he has elected which he has termed The Council of the Wise or Global Brain Trust. Remember, the environmental crisis, whether real or promulgated, is intended to be the cornerstone or the fear inducing factor that will supposedly have us all begging for the protection offered by world government.

Now is the time to act and inform. We can no longer afford the luxury of worrying what others will think of us. Working together can be a joyful and uplifting experience. When I go to others with the right motive and attitude of thought, most people are very kind and receptive. If any of you have any ideas to share, you are welcome to e-mail me.

Below is a partial list of items I have included in my packet I give out to the businesses.

1. Individual chemtrail photos or an 11x17 collage of your best photos. I found that I can fit 7 or 8 photos, when trimmed, on this size paper and then have it color copied. This color copy machine is at the same printers where I make my article copies.

2. Spotlight Article- http://www.rense.com/general4/chmmm.htm

3.Space Weapons (Chemtrail) Bill- http://thomas.loc.gov/home/c107query.html

4. Teller's Sunscreen - http://www-hoover.stanford.edu/publications/digest/981/teller.html

5. Monsanto article - http://www.vshiva.net/monsanto/water.htm

6. Climate Review - http://www.chooseclimate.org/cleng/part2.html

7.Carnicom Website - http://carnicom.com/contrails.htm Barium articles Particulate photos Visitor List of govt. agencies and corporations that are apparently interested in chemtrails. Any other pertinent articles

8. Powder Contrail Generator patent

9. Welsbach Seeding patent

10. Chemtrails Implications Part ll - http://www.ettracker.com/index-9.html

It costs a little bit of money to put together these packets but you can think of this as your own private charity....and you know where your money is going!

---

Posts: 1172 | Registered: Oct 2002 | IP: Logged |

treepatrol
Honored Contributor (10K+ posts)
Member # 4117


posted

---

Powder Contrail Generation

They hid it but I found it.

--------------------
Do unto others as you would have them do unto you.
Remember Iam not a Doctor Just someone struggling like you with Tick Borne Diseases.

Newbie Links


---

Posts: 10564 | From PA Where the Creeks are Red | Registered: Jun 2003 | IP: Logged |

treepatrol
Honored Contributor (10K+ posts)
Member # 4117


posted

---

Claims what it does

--------------------
Do unto others as you would have them do unto you.
Remember Iam not a Doctor Just someone struggling like you with Tick Borne Diseases.

Newbie Links


---

Posts: 10564 | From PA Where the Creeks are Red | Registered: Jun 2003 | IP: Logged |

groovy2
Frequent Contributor (1K+ posts)
Member # 6304


posted

---

Hi chris

After finding out what or government
has done in the 50s I would not
put it past them doing somthing
like this--but

After considering the info over years
I came up with this--

If a person was to collect
the dust from 1 square foot
of lets say from you car hood
for example--

Then weigh the dust--
Now figure out how much
the weight of the dust would be
to cover 1 hundred square feet--

Then add up the weight of the
dust to cover your whole town-
state ect--

The amount of weight invalved
gets very large quickly--

Releasing dust from 30,000 feet
is not very accurate and the
dust could end up 100s or 1000s
miles from its intended target--

So if the plan is to dust everyone the
weight and volume of the substance
used would be very large indeed--

Also another way to look at it is-

Lets say all the contrail you see
from one airplane is only water-
most likely ice--

Now scence it is visable to us on the
ground it is some what thick --
If we took the trail
and compacted it
to make a cloud of similar
volume the numbers add up quick

The weight of water in even a tiny
cloud is very large--

If the weight of the dust is even
half as much as water --the numbers
are still very large

After thinking about the problem
this way -things were clearer
on the subject to me --

Also I grew up ia town that
had a big air force and army
base (60s to mid 80s)

I have seen many thousands
of contrails--
There apperance can change
due to the conditions at that
alitude- humdity-tempature-
wind direction and even the
airplane making it--

My father was a AF pilot--
He could tell what kind
of airplane made the trail
by how it looked--

I have seen contrails with
many types of apperance--
and they can look vastly
diffrent with just
a differance in altitude
of just a few thousand feet-

Also after seeing how the
government handled the disasters
this summer Im not to worried
about them being sharp enough
to be able to pull
something like this off --

--Jay---

---

Posts: 2999 | From Austin tx USA | Registered: Oct 2004 | IP: Logged |

mycoplasma1
LymeNet Contributor
Member # 6377


posted

---

Jay,

I encourage you to look at the 8th post down. "The Space Preservation Act of 2001" taken from The Library of Congress Website.

Chemtrails are specifically named in the act, meaning they are officially recognized by Congress.

That and Clifford's site, which is very well researched (just look at the list of visitors on his site (major pharmaceuticals, air force, gov't offices, and the list goes on).

That's enough for me.

Chris

---

Posts: 216 | From Upstate NY | Registered: Oct 2004 | IP: Logged |

daystar1952
Frequent Contributor (1K+ posts)
Member # 3255


posted

---

I got this response by someone supposedly named Dr. Carl Berringer after I wrote something on Rense about chemtrails. Sounds like propaganda to me....however, there is some reason that they are making whatever they are spraying visible. If it were to solely sicken the population or only for military communications, etc....it wouldn't have to form clouds or a haze over the sun.If the spraying were only for other purposes besides weather modification ,climate modification or solar sheilding...then they could make it so the materials they were spraying were invisible....then it would be more secret...if that's what they intended

>>>>>>>>>>>>>>>>>>>>>>>>>>>>>>>>>>>>>>>>>>>

Dear Ms. Tietjen,

I know what chemtrails are and their purpose.

Uncovering the terrible secret of chemtrails has led to many sleepless
nights. What the human race faces, quite literally, is a battle for our
future existence -- at the very least a battle to try to retain the
civilization we now enjoy. Terrorism, Iraq, Afghanistan, the potential
threats of Iran and North Korea, nuclear conflagration -- all pale when
compared to the dire threat our world is facing right now. That's right.
Now. This instant -- not some misty time in the far off future.

As best as can be documented, chemtrails first appeared in our skies
during 1997. But the growing awareness among certain scientific and
military circles that something along the lines as chemtrails were needed to
protect the human race began as long ago as the early 1980s.

Many hypotheses exist as to why the world's military forces (initially,
primarily the United States Air Force) embarked upon this massive,
well-coordinated, atmospheric aerosol spraying. Most of the hypotheses
border on fringe science, complete speculation or fantastic conspiracy
theories.

These wide-ranging hypotheses span the spectrum from aerial
applications in conjunction with HAARP technology being experimented with from
installations in Alaska, Colorado, Utah, the United Kingdom, Costa Rica,
Australia, the Antarctic and Japan (most are only familiar with the
Alaskan operations as that has been heavily reported and discussed) -- to
wild assertions that it is some kind of ``dumbing down'' or ``pruning''
operation designed to take control of the greater populace, or de-populate
the Earth to numbers that can be contained by some shadowy elite.
Falling between these two extremes are those that believe that the now
worldwide mission is somehow attempting to limit or forestall so-called
global warming.

Those that are aware of the aerosol spraying (which is a surprisingly
small number) and believe it has to do with the climate are actually the
closest to the truth. But the truth is so shocking, so unnerving, and
so likely to cause huge social and economic upheaval, that it is
understandable why the ``powers that be'' have elected to attempt this planetary
rescue mission while keeping most of the world in the dark. Indeed,
even most of the crews that fly the missions out of air force bases around
the globe in specially re-fitted Lockheed and Boeing jets do not
understand the true nature of their mission. The full scope of the mission is
only revealed on a need-to-know basis. And what initially began as an
American project has now been joined by almost every air force of every
nation on Earth.

The residue of chemtrails have been analyzed by some independent
laboratories and the results have been variable, and to an extent,
conflicting. Barium, aluminum oxide particles and carbon black are the primary
mixture and work together to create the atmospheric barrier.

Stories of samples from chemtrail residue analyzed by a facility in
British Columbia, which is presumably licensed by the U. S. Environmental
Protection Agency, were said to have found (in addition to the jet
fuel) numerous pathogens including: Pseudomonas Aeruginosa, which causes
respiratory infection and attacks the immunization system; Serratia
Marcescens, an antibiotic-resistant bacteria causing pneumonia,
endocarditis and meningitis; as well as Streptomyces and various molds capable
of inducing heart disease, upper respiratory and gastrointestinal
ailments. The problem with any analysis that presumably detects pathogens in
the aerosol mixture, however, is that the samples could easily have
become contaminated as they were not retrieved while airborne, but
harvested from the ground or near the ground.

Some think that the chemtrail mission is directly related to the late
Dr. Edward Teller's infamous white paper advocating aerosol spraying as
a means towards global climate control. Dr. Teller, known throughout
the world as the ``father of the hydrogen bomb,'' did write such a paper
and it is still downloadable from the Internet as a PDF document here:
http://www.rense.com/general18/scatteringEdTellerwithnotes.pdf

The truth is, Dr. Teller's paper was more of a coincidence than a
primary motivator for the aerosol spraying program which had already been
approved in principal by both President George H.W. Bush in 1989 and
President William Clinton in 1991. In 2001, George W. Bush inherited the
program and, working with virtually every government in the world, moved
to institute the program on a planetary basis.

The Earth is in danger. Real danger. No, we are not about to be invaded
by bug-eyed space aliens or gigantic mutant insects erupting from their
atomically contaminated lairs. The danger, however, does sound like a
science fiction scenario. Unfortunately it is real. Actually, to be
exact, the Earth itself is not in imminent danger -- merely every form of
life that currently inhabits this planet.

When did this danger emerge? No one may ever know for certain, but the
signs that something was beginning to go terribly wrong were observed
by a few as far back as the 1940s. The true scope of the danger began to
be realized in the late 1960s. Less than 15 years later the data being
analyzed confirmed that the worst fears were true. At that point the
only questions in many researcher's minds was, ``How much time do we
have?'' and ``Do we have a sufficient level of technology to save ourselves?''

In a way, we are lucky. If this crisis had emerged even 100 years ago
the human race wouldn't have stood a chance. It wouldn't even have known
what was happening to it. Even now we can understand the ultimate
consequences, the effects, yet have very little knowledge of exactly what is
causing the phenomenon.

While the world is heatedly debating issues such as war and rumors of
war, pollution as a cause of global warming, the merits or lack of
merits of certain religions or who will win the U.S. presidential election
in November, the real action is occurring almost daily at 25,000 to
50,000 feet above our heads.

The heroes are anonymous; their are weapons sparkling pinpoints cutting
through the atmosphere at 500 mph. I call them heroes because that's
what they are -- men and women who are literally fighting every day in a
valiant attempt to save all of our lives. No one knows for sure if they
will succeed. If they fail, however, the consequences are almost too
terrible to contemplate. Quite simply, in the worst case scenario, a mass
extinction will occur not experienced on Earth for almost 250 million
years. I do not wish to frighten anyone, nor am I a ''doom and gloomer,''
for I believe that we have a good chance of making this work. Being a
realist, however, I must admit there are no iron clad guarantees.
Putting it bluntly, if we fail, the human race will, for the most part, cease
to exist.

Climate is just one of the changes facing our brave, new world.
Scientists have recently discovered that a new mass extinction is underway.
Insect and animal migrations have begun on a titanic scale. Biological
mutations are erupting spontaneously that have no counterpart
historically and no easy explanation. Most disturbing of all, it has been
confirmed that human male sperm counts are dropping precipitously around the
world -- a trend that began to be noticed and tracked just several
decades ago. Concurrent to this is the little reported fact that this trend
towards infertility is not constrained to humans alone, but cuts across
all mammalian species.

The late film director and producer, George Pal, created many classic
science fiction and fantasy movies from the 1950s through the 1970s. One
of his earliest films was the spectacular, ``When Worlds Collide,'' which
some who speak of renegade planets or cometary bodies rely on heavy for
their ``factual'' source material. Well, rest easy, for it is very
unlikely you or I will ever see the planetary impacts or close flybys (such
as the much discussed ``Planet X'') anytime soon. By anytime soon I mean
during the next several thousand years.

Yet, in a sense, there are worlds colliding right now. These worlds are
in our solar system and include our Earth. The collisions are not of
mass, but energy. Some of the energy is coming from the sun, which has
become more active than at anytime since the last 1200 to 1400 years. But
other activity seems to be extra-solar in nature. Here a secret, but
fierce debate has begun as to whether it is because our entire solar
system has moved into a new area of space rampant with anomalous energy, or
if it is cyclical in nature and energy streams between our system and
another dimension have erupted once again after millions of years.

As I mentioned previously, the debate is interesting, but the effect is
what is most important. Whatever the cause, it has been agreed upon
that the effect is very quickly going to change our climate radically,
displace billions, disrupt food supplies, cause massive outbreaks of
disease, irradiate parts of the Earth, melt the Arctic ice, turn off crucial
ocean currents such as the Gulf Stream that protect northern Europe
from arctic-like conditions. . . and all that is merely the precursor of
the breakdowns to come.

Mars... the ancient god of war, of turmoil, of destruction. The angry
red planet.

Perhaps aptly named, Mars was the first planet that gave us clues that
what was happening to Earth's climate had little, if anything, to do
with fluorocarbon in hair spray or the burning of fossil fuels.

Large, politicized organizations like The Sierra Club and Greenpeace
and politicians like Al Gore may still be beating the ``evil industry is
causing global warming'' drum, but they are ignorant of the facts. The
handwringers over the stalemated Kyoto Protocol don't know or understand
that their rather draconian agreement could have been passed and
enforced to the letter and it would make not one iota of difference to the
massive upcoming climate change ahead of us. It is analogous to
attempting to stop a rampaging flood with a few, feeble sandbags.

Mars is heating up. Mars is undergoing massive climactic change,
exactly as our Earth is warming. The year 2050 is about the time that NASA
predicts the polar ice caps on Mars will be completely eradicated.

Curiously, the United States Navy has embarked on a time schedule to
launch its new arctic fleet by 2050. You see, the year 2050 is when they
project the north pole will be divested of much of its ice and its
waterways will be open to navigation.

Mars and Earth are both losing their ice caps.

So, the Earth is heating up. . . and it's not caused by pollution or
volcanic action. Mars is heating up. . . and it is certainly not being
caused by pollution, nor even volcanic eruptions. Are these the only two
planets exhibiting such anomalous climate changes?

No.

The amazing truth is every planet in our solar system is being
affected, from Mercury all the way out to distant Pluto (mean distance from sun
3.67 billion miles). Astronomers first discovered that Pluto is heating
up during their 2003 routine observations. The data left them
scratching their collective heads. Not only was Pluto heating up, but it was
getting hotter even as its orbit was taking it farther away from the sun!

Other observations of the planets during the past decade have revealed
that Mercury, the closest planet to the sun (its mean distance from the
Sun is cited as 36,000,000 miles) has developed an ice cap. Think about
that: it has formed an icecap. What does that mean in respect to the
extra-solar energy flowing into our system? It is heating up a world like
Pluto while cooling down parts of a planet like Mercury, where the
average temperature has always been measured as hot enough to melt lead.

But there is much more.

The thick atmosphere of Venus is rapidly changing. Its chemical
composition has changed remarkably in the past several years and that change
is accelerating. The giant gas planets (Jupiter, Saturn, Uranus and
Neptune) are heating up. The radiation being emitted from them has
intensified. Remarkably, even their luminosity has increased from 50% to over
300% depending on the planet. And most astounding of all, Io, one of
Jupiter's many moons, has become so hot that if it continues its
temperature rise Io is in danger of melting.

The climate change is not just affecting Earth. It is a solar
systemwide phenomenon.

Less than eight years ago the United States took the lead and
instituted a brilliant and bold project borne out of desperation: creating a
thermal, anti-radiation barrier in a band of our atmosphere beneath
Earth's troposphere. Although the project itself may cause some planetary
climate change, it is calculated to cause far less damage than the events
that have been extrapolated to occur in our near future. It is a
two-edged sword as the aerosol spraying will undeniably affect some
individuals making them sick or otherwise affecting to an extent their immune
systems and respiratory systems. The trade off, however, is long term
survival of our civilization.

The dice are rolling and no one knows if one of the most secret
projects in history can protect our world from the extra-solar (perhaps
extra-dimensional) catastrophes lying in wait ahead of us. It is ironic, that
a project every bit as secretive as the breaking of the Nazi High
Command codes, or the Manhattan atom bomb project, is visible in the skies
above our heads on any given day (and sometimes any given night). It
lends credence to the old intelligence axiom that the best way to keep
something secret is by hiding it in plain sight. Obviously, hundreds of
millions have seen chemtrails in the skies and have ignored them or
dismissed them as simple ice-vapor contrails.

During the past several years some of the media have raised questions
about chemtrails (such as Fox News' reports about them in 2002). But the
news reports mysteriously fade away and mainstream investigative
reporters and science reporters who express an interest are, for the most
part, persuaded to drop their efforts to identify exactly what is going on
in our skies and why.

As long ago as the early 1940s, some physicists and astronomers began
to notice a pattern of change coming over the sun. It did not become
more pronounced until the new millennium arrived. During the past four
years, from 2000 through 2004, the sun's activity has become more
unpredictable and more obvious. Scientists, some working for the military or
the federal government, began to think the unthinkable: the sun and all
the planets were beginning a massive transformation. This transformation
is unstoppable, potentially catastrophic to life and will most
certainly cause the Earth's environment to experience abrupt changes on a
massive scale. Because the sun and all the planets together are reacting to
this outside phenomenon, it is beginning to be suspected that some
trans-dimensional energy in this region of space is interacting with the
normal activity of the sun and the planets.

Richard C. Hoagland, among others, has been advocating such an energy
transference between our universe and (for lack of a better term) a
''sister universe'' for some years now. He has been all too aware of the
significant changes happening with our sun and all the planets in our solar
system. His latest paper discussing this phenomenon, (which he calls
''hyper-dimensional'') is ''Interplanetary Day After Tomorrow?'' available to
read at this URL:
http://www.enterprisemission.com/_articles/05-14-2004/Interplanetary_1.htm

Mr. Hoagland has a brilliant and highly imaginative mind. He is also a
maverick. Because some of his methods are unorthodox and his insight
unsettling, much of the scientific establishment tends to dismiss his
ideas. The irony is, years after they dismiss his observations they often
are found rushing to publish papers in peer publications exactly
echoing what he often first pointed out to them. Such is the history of the
established norm versus the insightful innovators.

Hyper-dimensionalism or trans-dimensional energy transference, call it
what you will,this phenomenon seems to be at the root of the
system-wide disaster unfolding right before our eyes. It is only the beginning,
perhaps the beginning of the end.

H. G. Wells' famous tale, ``The Time Machine,'' was spun about a
Nineteenth century inventor who breaks the boundaries of time and propels
himself more than 800,000 years into the future only to find that the human
race has split into two: the Eloi, who live on the surface of the
world, and the Morlocks who are subterranean dwellers. Over the eons the
Morlocks became monstrous, half-human cannibals that still controlled a
rudimentary technology. The Eloi became simple, Eden-like creatures who
were blissfully unaware that they were the entree of choice on the
Morlock's dinner plates.

The road ahead of us may not produce such a gruesome schism, but the
human race may indeed be forced into a scenario similar to that
envisioned by Mr. Wells' scientific fantasy.

Many who read this are very much aware of the massive underground
complexes that have been built in the United States and other countries
since World War II. Much of the technology was acquired from Nazi
engineering projects and during the last 60 years vastly improved upon using
more advanced technology and materials.

The original purpose of most of the underground complexes (many in
hollowed out mountains or under the wasteland of parched desert terrain)
was for key elements of society and government to survive a nuclear
cataclysm. To an extent that is still one of the purposes. But all have been
modified and more are being constructed around the world at breakneck
speed in the event that the system phenomenon is not constrained by the
aerosol chemical barrier, or the changes of the solar system last much
longer than what is hoped. I say ``hoped'' because although there are
numerous hypotheses, no one really knows how long this change will last or
if, indeed, it may become permanent.

Therefore, millions of people may have to spend the rest of their lives
in underground cities -- and perhaps their children and grandchildren.
Of course, that still leaves billions on the surface of a dying planet.
How long those billions will be able to survive, no one knows. The
future ``Morlocks'' will be tasked with furthering the research so one day
Mankind can safely regain a foothold on the surface, while the ``Eloi''
will have to fend for themselves. Seeing the impact that the extra-solar
changes could bring to this planet if the aerosol spraying program
fails, it seems more likely that the ''Morlocks'' will remain human, while the
``Eloi'' surface survivors (if any) could mutate into the monsters.

I have traveled around the world and lived in many different American
cities. Currently, I reside in the Southwest. I watch the chemplanes fly
in from Edwards Air Force base in California, desperately performing
their mission. Although most of the crews are not aware of it, the
success of their mission holds the fate of the human race in their hands.

Several months ago I met a flight engineer who is a regular crew member
aboard a re-fitted U.S. Air Force Boeing aircraft that is part of the
aerosol mission out of Edwards. I will call him ``Roger Anderson,''
although that is not his real name. He is a friend of a friend of mine who
works in chemical engineering. Anderson was quite frank with me after I
divulged to him all I knew at that point about the history and mission
of chemtrails. We were sitting in the corner of an almost deserted BBQ
restaurant in the city of Simi Valley, California (a restaurant, by the
way, often frequented by men who work at Northrop's Skunkworks on
Project Aurora, if that rings any bells with you).

Anderson confirmed the true mission objectives and protocols and
laughed when I brought up some of the half-baked conspiracy theories out
there. He shook his head and found it fascinating that people could believe
that the government would purposefully try to make people sick on a
worldwide scale. After all, he pointed out, we're all breathing the same
air -- whether you are a farmer in Iowa, a mechanic in Texas or a
politician in Washington, DC.

When I pressed him about the long term health effects from an aerosol
spray that always contains at its base carbon black, ionized aluminum
particles and barium, he admitted it will make some people ill. But he
went on to argue that the alternative is much worse if just left to
follow its own course without at least the attempt of human intervention.
Based on what I have personally learned from my own research and contacts
with government scientists these past few years, I had to agree.

So what comes next? Will we reach the apex of drama as depicted in that
old, British science fiction film, ''The Day the Earth Caught Fire,''
where actor Leo McKern, portraying the editor of a London newspaper, holds
up two possible headlines for the morning edition: ''Earth Saved.
Billions Give Thanks,'' or ''Earth Doomed. People of the World Pray.'' The film
ended with that scene and the viewer was left to their own imagination
as to which scenario ensued.

We are in that same predicament. We don't know exactly the cause of the
phenomenon we are fighting. We don't know how long it will last or the
peak of its intensity. We only know that the Earth, as well as all the
other planets and our sun, has become enveloped in an unknown energy
field that threatens all stability across the solar system and our very
lives.

When you see the chemplanes and the chemtrails in their wakes, look at
them not with fear and trepidation, nor with anger and enmity, but
embrace them and their brave crews. They are truly fighting the odds to
save us and our planet. Look up at the skies and say a prayer for the
heroes who are among us. If they fail, we all fail and our race itself may
fail. But damn it, at least we went down swinging!

# # #

---

Posts: 1172 | Registered: Oct 2002 | IP: Logged |

mycoplasma1
LymeNet Contributor
Member # 6377


posted

---

Hogwash.

Debunkers are paid to write this ****.

Compare the fibers in the uncontaminated samples (that are literally raining down on us) on carnicom.com to the fibers growing out of people's skin on morgellons.com or lymebusters.com (see pictures) and they are exact in texture and color and analysis.

You think those of us with CFS, Lyme, whatever..are suffering, look at morgellons patients!

This is coming from the environment folks!

Chris

---

Posts: 216 | From Upstate NY | Registered: Oct 2004 | IP: Logged |

daystar1952
Frequent Contributor (1K+ posts)
Member # 3255


posted

---

I think they are experimenting at all levels of our atmosphere and there is more than one purpose to this operation....I just don't think the biological one is the main one. There seems to be much cheaper ways to accomplish that....like lyme disease....flouride in the water, aspartame, etc. I don't believe he is telling the whole truth. There may be some partials truths mixed in what he wrote. That's how many disinformants work by using partial truths.

---

Posts: 1172 | Registered: Oct 2002 | IP: Logged |
Contact Us | LymeNet home page | Privacy Statement

© 1993-2020 The Lyme Disease Network of New Jersey, Inc.
All Rights Reserved.
Use of the LymeNet Site is subject to the Terms and Conditions.

Powered by UBB.classic™ 6.7.3

---
The Lyme Disease Network is a non-profit organization funded by individual donations. If you would like to support the Network and the LymeNet system of Web services, please send your donations to:
The Lyme Disease Network of New Jersey
907 Pebble Creek Court, Pennington, NJ 08534 USA
http://www.lymenet.org/
---
Home | Flash Discussion | Support Groups | On-Line Library
Legal Resources | Medical Abstracts | Newsletter | Books
Pictures | Site Search | Links | Help/Questions
About LymeNet | Contact Us
---
© 1993-2020 The Lyme Disease Network of New Jersey, Inc.
All Rights Reserved.
Use of the LymeNet Site is subject to Terms and Conditions.
---