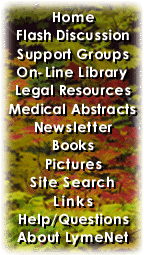 ---
LymeNet on Facebook
LymeNet on Twitter
---
---
The Lyme Disease Network receives a commission from Amazon.com for each purchase originating from this site.
When purchasing from Amazon.com, please
click here first.

Thank you.




Dedicated to the Bachmann Family


LymeNet needs your help:
LymeNet 2020 fund drive

The Lyme Disease Network is a non-profit organization funded by individual donations.

| | |
| --- | --- |
| | |
Author
Topic: Will lyme kill you, or do you need a coinfection along with it

Health
Frequent Contributor (1K+ posts)
Member # 6034


posted

---

Hi everyone,

Since there are so many on here with lyme, I have decided to ask this.

I started lyme treatment about 2 1/2 years ago.
I had or have had lyme for about 17 years, was untreated.

I KNOW that I would die without antibiotics, and want to know if there are others that have this.
I was told that lyme wont kill you, will it?

For myself, I feel the air hunger has been LYME.
Last summer I had gone off antibiotics after being on them for 7 months, and wanted to treat alternatively. I treated the candida while off antibiotics, and used herbs for the lyme.

After 28 days, off antibiotics, I became sick from the sun, and sick from ANY heat. I then started to get the dry eyes and throat, which then moved to the lungs, then the air hunger started. My lungs became so dry I had to
breathe through a humidifier 20 times a day
or more. I had NO idea that this was lyme
returning, I thought it was something else,
turned out it was lyme, or some infection
that got well from lyme antibiotics.
Within 1 week i was back to moisture,
in the lungs and eyes, not 100% but better.
It was like something in me, trying to kill me
and it happened in a matter of ONE month
I was treating alternatively with Collodial Silver and hoping I would get well.

It was when after 75 days I realized, or knew that I would die. I was severely ill after stopping antibiotics for 75 days.

My LLMD thought it did not sound like lyme, the typical lyme, but said it could be, and treated me again, which I then started to get well.

I would have died, had I not had those antibiotics when I did. Has this happened to anyone else?

I have only heard air hunger caused by Babesia, but for me, I had the air hunger better when I treated for lyme, with lyme antibiotics.

I have lots else to say, but cannot handle to talk anymore.

Can lyme lower ones immune system so much so that they react to auto exhaust, chemicals and would die being exposed to them?
Can it make one so weak that they die?

I am now treating babesia, but it is not going as well as I thought, maybe give it more time.
I am doing the clindamycin quinine, and if this helps at all, I most likely will buy, out of my pocket the mepron, if I feel or the LLMD feels that will help.

FOr me, this healing lyme has been an utter death
sentence almost.

Took sick to say more,

Who else was this sick, and got better, and which infection was it for you?
This is mostly to the people that sound like me.


thanks,

Trish

[ 21. January 2006, 02:31 AM: Message edited by: Health ]

---

Posts: 1250 | From Canada | Registered: Aug 2004 | IP: Logged |

david1097
Frequent Contributor (1K+ posts)
Member # 3662


posted

---

Don't quite understand what you mean by "knew you where going to die" but let me relate my past experiences..


During relapse here is what happened to me

2nd degree AV block
VERY SEVERE neurological problems
SEVERE GI problems (these are the absolute worst to deal with)
vertigo/visual disturbances/ balance disturbances
ULTRA SEVERE sweating (wet cloths like taking a shower)
hearing impairment
peripheral neuropathy
LOTS of pain
and a bnch of other stuff....

I have had to endure this 2 times after relapsing those 3 times (or is it 3, I don't remember any more)

Did think I was going to die.... no

Did I feel like I was goig to die.... yes

Did I get better each time.. absolutely

Did I give up..... Almost a couple of times

Am I doing better now.. as long as I stick with the program

Can you do the same?? NOT UNLESS YOU TRY

I hope I am not being to blunt in this case but there ARE things that can be worse than Lyme and giving up is one of them.

PS. how long have I been on AGRESSIVE treatment? 3+ years now, total time on IV (different IV drugs after each relapse on orals) almost 2.

david1097 out.

---

Posts: 1184 | From north america | Registered: Feb 2003 | IP: Logged |

Health
Frequent Contributor (1K+ posts)
Member # 6034


posted

---

Thanks,

I doubt there are worse things then I suffered,
what has happened to me is too much, and I am certain that others that suffered like this, died. I am not wanting sympathy, answers to what I write is what I want.
.

I am still here, and I want to know if others suffered like this to get well.

I am not looking for someone to make me tough, I am tough, and I am about to break, that is why I write this post.


I knew I woudl die, not thought, knew, that is what I am wanting to get across, maybe this is not lyme.

and I do try, too damn much

Trish

---

Posts: 1250 | From Canada | Registered: Aug 2004 | IP: Logged |

david1097
Frequent Contributor (1K+ posts)
Member # 3662


posted

---

What are the symptoms?

---

Posts: 1184 | From north america | Registered: Feb 2003 | IP: Logged |

david1097
Frequent Contributor (1K+ posts)
Member # 3662


posted

---

Also forgot to mention I too have babesia..

During intial babesia treatment it was pretty bad ALSO during babesia flair up it is really bad to. REd urine and like...

While babesia treatmetn has no known reason to create a herxhiemer like reaction, I had found that during initial babesia treatment I definately felt worse.... for a while ... like 4 months. After that it cleared up and I felt not too bad.

Also I have noticed that Lyme also creates bouts of depression in which case one essentially gives up...or worse. I find that extended bed rest helps with this A LOT. It usually happens at the end of the day so it is not "classical" depression.


Further to this. I don't think there is any debate as to the short term efefctivness of quinine but there are 2 known problems with it:

1. MANY people cannot take the drug due it making them sick (maybe this is your problem )

2. MANY relapse after treatment

I have taken both mepron and malarone. Both have been easy to take.

I have also noticed time and again that without artiminisin, it does not work well at all. Same goes for taing antibiotics at the same time. Some seem to result int eh babesia tretment not working and other do.

Can yu find a pathologist who will take a look at a thin smear of your blood. With that , if you have a high degree of parasitemia they will see it very easily an you will know the situation for sure. A hospital lab should easily be able to do this.

Can you die from Lyme.. Yes... there are a number of cases published to that effect. Can Lyme make you super senstive to all sorts of thing... I am sure it can, like a number of other diseases in a severe chronic case.

Please indicate how you know you are going to die... Such descriptions are sometime given by people that have suffered/will be/ or are suffering from certain cardiac problems. Also I have many times awaked due to either sleep apnea or air starvation in a state that was pretty scarry.... may be babesia related....

Asside from this, I have felt SUPER sick in the past, to the point of passing out but have never "known", in fact when I went out, I had no clue what happend... until I woke up.

---

Posts: 1184 | From north america | Registered: Feb 2003 | IP: Logged |

caat
Frequent Contributor (1K+ posts)
Member # 2321


posted

---

I read an article a long time ago that said that most of the people in those horrible infamous Tuskagee studies did not die of their untreated syphilis- they died of co-infections. I think lyme is the same way. I think after a while, yes, you can certainly die of it, but you'd usually just get so worn out that something else would kill you.

Co-infections can be other tick borne stuff, or co-infections can just be common illnesses that take advantage of your tired immune system.

I was so sick at first I was very surprized to have lived through it. Could barely walk because of weakness and pain- had to hold onto things going down the hall. I'm not sure what that was but it could have been erlichia. Or rocky mountain whatever, Not sure... Whatever it was made my blood pressure extremely low. I think it was something in combination with lyme- not just lyme alone. Other than nuero symptoms, I think lyme is usually slow and builds up.

I was in so much pain the first year that day dreaming about holding a pistol to my head and pulling the trigger made me feel better. I wasn't suicidal at all, just in so much pain I'd daydream about death as a releif. I thought I might die anyway but wasn't afraid of that too much at the time... That daydream off and on sustained me for the first 4 months. Felt good.
Then I finally got pain killers...

It's absolutely amazing what we can go through and pull out of.


The thing is- never mind "I think I'm going to die". That thought doesn't help that kind of situation. Better to think "I *might* die, but, OK, I'm not going there right now! Not now." That kind of thought can help pull you through.

You know too, personally, Trish, I'd be very careful with that colliodial silver- some people have had bad experiences with it. After all it is a heavy metal and hard to get rid of once you get it in your body and your brain... And if you are very weak it's hard to tell in the moment exactly what is going on nuerologically. Exactly what the silver is doing...

---

Posts: 1436 | From Humboldt county ca usa | Registered: Mar 2002 | IP: Logged |

Andie333
Frequent Contributor (1K+ posts)
Member # 7370


posted

---

Trish,

I just read this today. I'm not sure if this is what you're talking about, but the article really hit me...
This really illustrates what caat was saying, I think, and maybe you, too, Trish.

I do know this disease has really compromised my immune system and 7 months of treatment haven't changed that.

I also had a time, Trish, when I experienced full body paralysis that I thought I absolutely could die if I didn't get help. It's the only time in my life that thought has ever crossed my mind. It was really scary!

http://www.columbiatribune.com/2006/Jan/20060121News005.asp

Andie

---

Posts: 2548 | From never never land | Registered: May 2005 | IP: Logged |

caat
Frequent Contributor (1K+ posts)
Member # 2321


posted

---

oh. I have to add that treatment has really helped me. I didn't get any treatment for about 8 years or so. I did get better than the initial "am I going to die?" stage without treatment but still very sick.

Then came down with acute nuerological, bone and some heart problems later- and then started self treating because no doctor would treat me at that time. Treatment has helped the nuerological symptoms and the chemical sensitivity quite a bit. I think I got rid of the lyme itself and am now working on the co-infections.

When I came down with meningitis I was that sick again but with an additional scare- I could no longer read much- my reading level went down to like a fourth grade reading level. Thankfully most of it came back with treatment- except my short term memory which is still pretty shot...

Andie, that paralysis has to be the scareiest thing. I've thought about that a lot. I think without treatment I might have started to have that- there was a lamb on the property where I got meningitis that had paralysis etc off and on for 2 weeks or so. They had to almost force feed it. Scared me half to death. The lamb lived and recovered. I was totally amazed that it lived.

---

Posts: 1436 | From Humboldt county ca usa | Registered: Mar 2002 | IP: Logged |

surg
LymeNet Contributor
Member # 6937


posted

---

I have had that dry lung, air hunger, I'm sure I'm going to die symptoms. It came on at my worst. I found out that taking minerals helped as well as the antibiotics. I take e-lyte minerals from emerson ecologics.
After 6 months on mepron and zith it is gone. I hope for good.

---

Posts: 293 | From healdsburg, ca , sonoma | Registered: Feb 2005 | IP: Logged |

mlkeen
Frequent Contributor (1K+ posts)
Member # 1260


posted

---

yes, I understand a person can die from lyme.

co-infection testing is not 100% so you can never rule them out.

I would cetainly be crippled without treatment.

---

Posts: 1572 | From Pa | Registered: Jun 2001 | IP: Logged |

Bill ATL
Member
Member # 7817


posted

---

Trish...

Without a doubt! Most of my issues seem to occur @ night...as I attempt to sleep. (Vibrations) It seems to me that the ABX help a little with them, but they don't seem to go away completely.

I have been on a regimen of 3wks of abx, then 1 week off. I have tried to go for an extra week off, and don't seem to make it very far into that extra week before bad sysmptoms come back. GI/Digestive issues and the vibrations are like a tidal wave over my body.

One night was so bad, I got no sleep, and nearly got up to type my Last Will and Testament. I immediately started on my last regimen/abx that seems to work best for me (Mepron/Zith) I think that if I didn't have the abx at this point, I would die...and very quickly, judging from how fast and severely it returns.

Given the above, I often wonder if it is truely Lyme or something more insidious, like a super-bug, or some wierd neurological agent that I some how ingested/contracted (I'm not military or the like).

I started Lyme treatment in April of '05.

On the abx, all is fine...I hardly have any issues (except the vibrations). Off the abx, I seem to be in the last stages of a terminal disease.

So YES, there is someone else that is thinking like you...and its me!

--------------------
Bill

**Question everything...it may save your life!!!**


---

Posts: 80 | From ATLantic Seaboard | Registered: Aug 2005 | IP: Logged |

painted turtle
LymeNet Contributor
Member # 7801


posted

---

Hi Trish. So funny you have posted just now like this about this as I have recently felt maybe something similar to you. I have not read the posts that returned to your post. But what you ask, resonates with me very strongly.

I have had lyme since I was around 8 and now I am 40 and I only got diagnosed over this past summer and now under treatment for going into 5 months with bicillin injections plus ketek.

Over the last week, I have fels so weak and very close to death. Not like a thought, but sort of like a knowing, a feeling. Also with the time stuff, whatever that is....I feel like I will not return. Over the months I have tried to find progress in myself, have I gotten better? It seemed I was and of course I want to say I am. And I have. Yet, the setbacks are extreme now. And the feeling of being close to death is a very personal one between you and yourself and if you believe in God. It is something you just know.

I think also that there is somethign to that about giving up. Often there are external factors in a person's life that make the healing more difficult if not impossible. I do not knwowhat thost may be in your life and may have an idea in mine, but as we all know who suffer from late stage neuro lyme...it gets very strange.

I think ther is a blessing in it really. I have over this last week made a great peace with myself about my life and I think that is important. Rather than beat up on myself about the learning disability cognitiion part and how that makes me look and how others perceive me from it. What a tough calling. Of course you are tough. Of course you are. Any of us and all of us dealing with lyme to no matter what degree, are tough. Because we have to deal with how we are feeling in the illness and then on top of that, the ignorance in the medical community then the necsity fo somehow find a way to support self when can barely get out of bed, if that.

Anyway, I do not know about co infectins I may have at this point yet but intend here to share with you that I am resonating to how you feel about being close to death for the weakness it brings. I wonder if the weakness in my heart so that I cannot lift my hands....is worse due to the antibiotics.

BUT - the MAIN point is that question ... of DO NOT GIVE UP. At the same time, be at peace and love yourself for who you are.

Hi Trish!!!

--------------------
www.lymefire.blogspot.com


---

Posts: 855 | From United States of Mind | Registered: Aug 2005 | IP: Logged |

groovy2
Frequent Contributor (1K+ posts)
Member # 6304


posted

---

Hi Trish

Can lyme and co infections kill you--
Sure--why not--this is serious stuff--

When I got sick it not only knocked
me to my Knees it knocked me to
the Floor--

Before I got sick I was in super
good shape-raced motorcycles-
lifed weights --I could ride
my bicycle 75 miles no problem--

After many years of being sick
some times I had to save up energy
just to get up to take a leek--
Much less do any thing else--

Now after a little over a year
of correct treatment I am
Much Better--

Teri I will send you PM --Jay--

---

Posts: 2999 | From Austin tx USA | Registered: Oct 2004 | IP: Logged |

daniella
LymeNet Contributor
Member # 6753


posted

---

Trish and painted turtle...I too felt this and it does pass...as long as your improving...pm me if you want.


Take care,
daniella

--------------------
~Things may happen in my life time to change who I am but I refuse to let them reduce me...~


---

Posts: 968 | From private | Registered: Jan 2005 | IP: Logged |

humanbeing
LymeNet Contributor
Member # 8572


posted

---

Before I knew I had lyme, I certainly felt like this. Especially at night during attacks of neruopathic pains that would shoot through me like I was in the electric chair.

I cried in pain to my husband that I would need to get my things in order since at 42, I would be dying soon from this terrible affliction.

It was the most excrucating (sp)horrible feeling I could imaging - almost not of this world. If I had a gun during these times I would have used it.

With education about lyme I can better understand what is happening to me and know that if I can hang on just a little while, the pain WILL PASS.

I have great respect for lyme bugs and the victims who suffer with it. We need to stick together and fight against ignorance and improve research for a cure.
Best

--------------------
We are spiritual beings on a human journey...

www.ruggierogallery.com


---

Posts: 906 | From CT | Registered: Jan 2006 | IP: Logged |

Bugmenot
Member
Member # 7878


posted

---

I was just at the crossroads myself.

After 10 solid months of different oral ABX, plus Cats Claw for last month, I decided to go off ABX.

Neuro symptoms returned after about a week so the Cats Claw alone was not working for me at keeping inflamation in check (not even at 2x amount).

I started ABX alone and head symptoms went away in 24 hours.

A few days later I had a slight headache so I took one dose of Cats Claw which normally helps this within an hour.

Bad idea, my bacteria load was to high and the Cats Claw started a major herx.

Half hour later I could not move, talk or get help.

I was not in pain as I know it, but the shock to my brain was like being hit in the head with a large hammer.

While I did not pass out, my lungs, body were shutting down to the point I could not keep my jaw closed any more or see.

When your in this kind of state, I think one can choose to die at that time.

For me, I was mentally flipping a coin on the issue, but couldn't remember if it was heads or tails that wins or if winning the toss was actually loosing the prize.

Anyway, I know I was just that close, and ready to leave this tired old body for better places.

I managed to keep breathing long enough and pulled thru it all 24 hours later.

I don't believe it was a CVA and a week later I could function as well as anyone who has to take ABX continuously.

I have already accepted probable early death from Bb & company, medications, and my age.

I know that my death will be the end of my suffering and that I will welcome it at some point.

I've been trying to get my affairs in order for half my life, but I seriously doubt now that I'll be well enough to get that done in time.

It does however, keep me going.

And to get back to the point of the thread (sorry), yes, I believe the effects Lyme has on your body will kill you by destroying your health over time.

Continuous use of ABX have negative effects by themselves that will destroy your health also.

Will the examination of your cadaver, determine that the cause of death was Lyme or Lyme alone?

Probably not, but if you live in Oregon there is no Lyme Disease, and we all know how smart our doctors are don't we?

[ 27. January 2006, 03:05 PM: Message edited by: Bugmenot ]

---

Posts: 33 | From Oregon | Registered: Sep 2005 | IP: Logged |
Contact Us | LymeNet home page | Privacy Statement

Powered by UBB.classic™ 6.7.3

---
The Lyme Disease Network is a non-profit organization funded by individual donations. If you would like to support the Network and the LymeNet system of Web services, please send your donations to:
The Lyme Disease Network of New Jersey
907 Pebble Creek Court, Pennington, NJ 08534 USA
http://www.lymenet.org/
---
Home | Flash Discussion | Support Groups | On-Line Library
Legal Resources | Medical Abstracts | Newsletter | Books
Pictures | Site Search | Links | Help/Questions
About LymeNet | Contact Us
---
© 1993-2020 The Lyme Disease Network of New Jersey, Inc.
All Rights Reserved.
Use of the LymeNet Site is subject to Terms and Conditions.
---