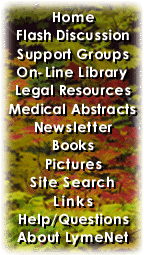 ---
LymeNet on Facebook
LymeNet on Twitter
---
---
The Lyme Disease Network receives a commission from Amazon.com for each purchase originating from this site.
When purchasing from Amazon.com, please
click here first.

Thank you.




Dedicated to the Bachmann Family


LymeNet needs your help:
LymeNet 2020 fund drive

The Lyme Disease Network is a non-profit organization funded by individual donations.

| | |
| --- | --- |
| | |
Author
Topic: Primaquine for relapsing babesia--good news and warning

liz28
Unregistered



posted

---

This is an update about a drug, primaquine, I recently tried as an Official Lymenet Guinea Pig. The drug is taken simultaneously with other babesia drugs like mepron, malarone, and artemisinin. It treats the dormant relapsing form of malaria, which hides in the liver and is immune to other medications, including artemisinin. The trial run was to see if it might hit babesia as well.

The great news is, it made a definite difference for the better in relapsing symptoms. However, it's important to say I never officially tested positive for this illness, despite having all its symptoms and responding to other babs abx, so there is not a guarantee this works for babs. It's just another tool in the toolbox.

The warning is to please ask anyone who might try this to PLEASE not take it in the regular two-week, one 15mg base tablet per day course. I'm not sure whether the dosage described on various malaria websites (including the CDC site) is too strong, or whether people who already have serious health problems can't take the full dosage. But around Day Eight, the side effects became overwhelming, and forced a temporary halt.

While some minor babesia symptoms returned upon stopping the drug, it ended a two-month relapse of constant fever that mepron had lost the ability to control. I also recently started jogging again after a two-month hiatus, and will complete the primaquine on an eight-week regimen. This trial run was initiated after completing a five-month rifampin treatment for bartonella.

On Day Three, there was a massive, paralyzing Lyme herx. It happened very fast, and lasted five hours. The only other antibiotics that have produced a comparable herx are flagyl, IV rocephin and minocycline.

During this treatment, I stopped taking omnicef and ketek for Lyme, and switched to doxycycline, mepron and artemisinin supplements.

The primaquine works just as well if you take three 15mg base tablets a week for eight weeks, or two 15mg base tablets a week for thirty weeks. I think you space them out on this regimen, so you never pile them all at once, like taking all three of your weekly pills on Saturday.

These are the bad side effects, and alas, you can't tough them out. It's necessary to stop taking the primaquine immediately if you experience these symptoms, as they are signs of hemolytic anemia. They are very different from a herx--you feel like you've been flattened by a cement truck:

Tingling, cold hands and feet
Dizzyness
Headache
Exhaustion/oversleeping
Fever
Confusion
Paleness

You can reverse these by taking B vitamins, especially folic acid, protein-rich foods like red meat or soy, and flaxseed oil.

Further disclaimer: anyone who takes primaquine is supposed to take a G6PD deficiency test, says the CDC. They are normal, you can get one at Quest for cheap.

[ 23. January 2006, 09:48 AM: Message edited by: liz28 ]

---

IP: Logged |

lymster
LymeNet Contributor
Member # 5964


posted

---

Liz28:

Thank you so much for posting this info, I have been on mepron/artemesia combo for 15 months along with some other diferent abx. My LLMD took me off mepron on month number 10 and put me on malarone but I relapsed in less than a month. So he got me back on the lovely mepron.

When I am on mepron my babs symptoms diminish significantly, but they had never disapear completely.

During my last LLMD consult, I asked what am I going to do when the adorable mepron doesn't work anymore? Are we out of options here?
No more secret/magical weapons on the horizon?; he said we may want to try primaquine next. We will see......

I did tested positive for the babs, the WA kind.... I don't remember the exact name of the test but it was something like fish WA bla, bla, bla and I do remember that my numbers were extremly high on the test, even the LLMD seemed surprised.

I will keep you posted if I get the privilege of taking primaquine and then we should start the link "primaquine buddies only for the unsatisfied mepron customers"........

Thanks again,
Lymster in WA

---

Posts: 303 | From WA | Registered: Jul 2004 | IP: Logged |

pq
Frequent Contributor (1K+ posts)
Member # 6886


posted

---

does bactrim, either alone, or in combination with other abx work against babesia?

[ 24. January 2006, 01:17 AM: Message edited by: pq ]

---

Posts: 2708 | Registered: Feb 2005 | IP: Logged |

lou
Frequent Contributor (5K+ posts)
Member # 81


posted

---

Apparently it does, I posted two treatments suggested by a lyme doc for recalcitrant babesia. I tried both (with modifications). Can do a search for my previous post on this subject, if interested.

---

Posts: 8430 | From Not available | Registered: Oct 2000 | IP: Logged |

5dana8
Frequent Contributor (1K+ posts)
Member # 7935


posted

---

Thanks for posting this liz28.

I tryed to pm you but your box has been full.
If I ever try this I don't think I would
recognize the warning signs as they are almost all of herx's I experience on a bad herx cycle.

But thanks for all the information and the warnings.
Take care

--------------------
5dana8


---

Posts: 4432 | From some where over the rainbow | Registered: Sep 2005 | IP: Logged |

lou
Frequent Contributor (5K+ posts)
Member # 81


posted

---

Glad you raised this question. Went back and looked at my medication log, a jumble if there ever was one, and am no longer sure that I did either of these two protocols exactly as written. So, I edited my original post to reflect this.

My treatment has been hit or miss, with me fiddling around because of docs not willing to prescribe more adequate doses. So, I have been on both double strength and single strength bactrim. Cannot be sure which one I took at this point. Also, since it has to be taken on empty stomach, doubtful that I managed to fit that in four times a day. The upshot is that I might very well have taken less than the "brutal" regime.

And cannot say for sure which if any of these protocols have quelled babs, or even if it is gone for good. I don't currently have any symptoms that I associate with babs. Could also have been that a total of 8 months of various babs treatments did it, just the extended treatment itself.

Sorry to be so wishy washy on this. If I were doing it now and had access to riamet or coartem, I would want to try that instead. Or maybe primaquine, per Liz.

However, bactrim/septra does work on lyme too. I had a definite herx when I started mino +septra. Definite herxes have not been common in my case.

---

Posts: 8430 | From Not available | Registered: Oct 2000 | IP: Logged |

5dana8
Frequent Contributor (1K+ posts)
Member # 7935


posted

---

The combination of septra,doxy 400mg,palquinl, and tindamax
has,in the past given me the worst herxes and the most progress with my lyme.

I am leary of doing the babs regime.I just started biaxin,doxy,plaqinil,artinisinin,mepron,and tindamax.The herx's are brutal and I can hardly take the suffering.(And I have a high tolerance for suffering.).

Not sure how motivated I am to tourture myself on this regime because of the high relaspe rate of babs.

It is enough to make me consider the primaquine,if I could even find a LLD to prescribe.

The sides effects although something to be worried about at this point I would be willing to chance it.

Thanks and take care

--------------------
5dana8


---

Posts: 4432 | From some where over the rainbow | Registered: Sep 2005 | IP: Logged |

liz28
Unregistered



posted

---

Hey, Dana, was just cruising by quickly and caught your post. Your abx regimen looks terrifying. There's gotta be some other way. Really, it seems like an odd combination.

I only started the primaquine after finishing bartonella treatment, and being close to symptom-free with Lyme. I was in remission when the mepron suddenly stopped working, and had gotten a lot of strength back--and even then, the primaquine has been really strong. If you do try it, you might want to stick with just doxy, not all this other stuff. And also, every other babesia drug had failed: zithromax, biaxin, plaquenil, malarone, doxycycline. When I found out I had babesia a year ago, flagyl and omnicef were the only drugs that still had any effect. This primaquine shebang is the result of hours and hours of desperate online reading and experimenting with other abx, and knowing there just isn't much left.

Okay, gotta go to the gym now

---

IP: Logged |

minoucat
Frequent Contributor (1K+ posts)
Member # 5175


posted

---

Here's our update:

The hubby just finished 13 days of Primaquine, 15 mg/day, for refractory babesia. In the past he's tried Mepron/zith/art (10 mo tx, 2 mo babs free, relapse), then Riamet 1 course (no luck) Malarone at standard dose 2 months(no effect at all). He's 160 lb. Has had and treated for pretty much all the standard coinfections, just seems to be left with babs, bb, and we wonder about bart.

The first week of primaquine was rough -- no dramatic herxes, but a lot of muscle pain, tremendous headaches, exhaustion, some sweats and fevers.

Second week has seen a steady and significant improvement, particularly in cognitive function and level of activity. His muscle and joint pain has travelled around from mostly being in his legs to now mostly in his arms and shoulders. Because Primaquine is a quinolone we've wondered if he's also treating bart because he's had some very bartlike sx -- bang sounds, bright light flashes, and shin pain.

He's doing bloodwork weekly. Everything is normal except for liver enzymes, which are just barely elevated -- they've been much higher on other txs.

The dosage guidance on primaquine is very confusing -- everything from 15 mg daily to 30 mg daily (I can't imagine what that would be like) to higher doses once a week only for 8 weks and 30 weeks. PCP (a form of pneumonia) tx dosage is 15 mg for 3 weeks.

He's also taking mepron and ketek for the blood form of babs. Primaquine is used for the tissue form in malaria.

Liz is so right -- this is an extremely toxic drug and needs to be taken with extreme caution. Also, genetic factors appear to play a very big role in how your body handles it. If you do this tx you MUST DO YOUR BLOODWORK, frequently. And read up on it carefully, there's a lot of dos and don'ts with it, and the docs are not at all familiar with it (yet). I'm not at my home computer so I don't have the links here, but if someone needs the info I found I can post it after I get home.

The hubby has been taking B12/folic acid shots and has a high protein, low carb diet. Don't know if it's that, dumb luck, or jst genetic predisposition that has gotten him through the tx with no anemia etc. so far. He's doing lots of liver support too.

--------------------
*********************

RECIDITE, PLEBES! Gero rem imperialem!
(Stand aside plebians! I am on imperial business.)




---

Posts: 2331 | From WA | Registered: Jan 2004 | IP: Logged |

lou
Frequent Contributor (5K+ posts)
Member # 81


posted

---

Very interesting. Someone was just asking about this exact thing. Hope they notice this post.

Primaquine is a quinine type of drug. Think that is different from quinolones like cipro etc. But I doubt if anyone really knows the exact mechanisms of drugs and what they might or might not work against, since not everything has been tried.

All of the quinines are tricky drugs, got to be careful.

---

Posts: 8430 | From Not available | Registered: Oct 2000 | IP: Logged |

James H
LymeNet Contributor
Member # 6380


posted

---

This is really interesting! I think you are on the right track.

I'm also not so sure that some of the 'Babesia' in this country might not actually be Malaria anyway.

The WHO has a map of the Malaria endemic areas of the US in the first half of the last century. It is a broad area stretching from Texas to the Carolinas, and farther north than you would think.

50 years ago they had it effectively wiped out by diagnosing and treating everyone who caught it. They did not wipe out the Anopholes quad. mosquito, a very efficient carrier. They just declared it conquered and closed their eyes to the possibility it could reestablish itself if vigilence was relaxed.

Now, 50 some years later it is thought impossible to catch Malaria in America, because Malaria is a filthy tropical disease of poor people, and surely it knows not to infect an American!

We still have the carrier mosquitos visiting our backyard barbecues. We have a steady stream of people from infected area coming accross our southern borders... many no doubt infected and in a perpetual carrier state, through no fault of theirs. Others from Africa, with different strains. It is a mobile society.

The achy, flu-like, feverish symptoms of these less dangerous strains are not recognized by doctors, who are mostly totally ignorant about the disease. 'If your white blood count is not elevated you couldn't possibly have it.' They don't know that WBC is normal or very slightly low with Malaria. It is only elevated in fatal cases.

How can it not be back?

---

Posts: 714 | From San Antonio TX | Registered: Oct 2004 | IP: Logged |

minoucat
Frequent Contributor (1K+ posts)
Member # 5175


posted

---

Lou -- yeah, no one does seem to know how primaquine really works.

Primaquine is an 8-amino-quinoline, and quinolones and quinolines are closely related, making me think there may (possibly? I have no data on this) be some activity against bartonella.

quin·o·lone (kwn-ln)
n. Any of a class of synthetic broad-spectrum antibacterial drugs derived from quinoline compounds.

--------------------
*********************

RECIDITE, PLEBES! Gero rem imperialem!
(Stand aside plebians! I am on imperial business.)




---

Posts: 2331 | From WA | Registered: Jan 2004 | IP: Logged |
Contact Us | LymeNet home page | Privacy Statement

Powered by UBB.classic™ 6.7.3

---
The Lyme Disease Network is a non-profit organization funded by individual donations. If you would like to support the Network and the LymeNet system of Web services, please send your donations to:
The Lyme Disease Network of New Jersey
907 Pebble Creek Court, Pennington, NJ 08534 USA
http://www.lymenet.org/
---
Home | Flash Discussion | Support Groups | On-Line Library
Legal Resources | Medical Abstracts | Newsletter | Books
Pictures | Site Search | Links | Help/Questions
About LymeNet | Contact Us
---
© 1993-2020 The Lyme Disease Network of New Jersey, Inc.
All Rights Reserved.
Use of the LymeNet Site is subject to Terms and Conditions.
---