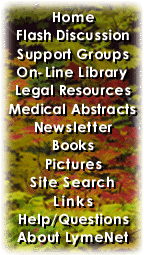 ---
LymeNet on Facebook
LymeNet on Twitter
---
---
The Lyme Disease Network receives a commission from Amazon.com for each purchase originating from this site.
When purchasing from Amazon.com, please
click here first.

Thank you.




Dedicated to the Bachmann Family


LymeNet needs your help:
LymeNet 2020 fund drive

The Lyme Disease Network is a non-profit organization funded by individual donations.

| | |
| --- | --- |
| | |
Author
Topic: Sauerkraut - how to make it - the healthy way

GiGi
Frequent Contributor (5K+ posts)
Member # 259


posted

---

S a u e r k r a u t -

how to make it. In honor of my longtime friend Flora who babysat our boys years ago. She came from Persia originally - her Dad just passed away going great to the last hour - at the age of 102. Flora learned it from him and her Mom.

You will need: 1 head of cabbage, medium size, about 2 lbs. 1 tablespoon of salt. l bayleaf. one-half gallon glass jar. Keep one outer leaf of the cabbage - do not shred.


P l e a s e do not use plastic

Important: Save one whole cabbage leaf for covering

Chop, slice or shred cabbage, not too fine. Sort of like cole slaw. Press cabbage into into jar, about half of it, add the bay leaf and the rest of the cabbage. Stamp it down to create a little of juice/moisture coming out of cabbage. Add the salt. The cabbage will take up the salt. Taste it after a few minutes to see if it is salty enough.

Pressing it down, you will see a bit of juice. Put the whole (saved) cabbage leaf on top of the shredded cabbage. Take a small jar big enough so it fits inside the cabbage jar. Fill the small jar with water for weight and set it into the opening of the 1/2 gallon jar to weigh the cabbage down. You could also use a clean rock. Do n o t seal the l/2 gallon jar with a lid.

Take the 1/2 gallon jar filled with the cabbage and salt, etc. and set it onto some container (not p l a s t i c) so that you can catch the liquid that may overflow as the cabbage is fermenting. Put the jar in the garage or cooler room, patio, etc.
If you ferment it inside the house, you will get Sauerkraut odor. Take a look next day - if it looks too dry, add the liquid that overflowed and pour it back into the jar - keeping the Kraut moist.

You probably can sample it in 2-3 days. In about one week, you will have Sauerkraut.

It's probably a good idea to start with a small amount of cabbage, the 2 lbs., to see how easy it is.

You do n o t seal it off as it is fermenting! No lid, except the whole cabbage leaf and the rock or glass with water fitting inside the opening of the big jar. It has to have air to ferment.

In about a week, you taste it and see if it is sour enough for you. If so, take it in the kitchen, put a lid on it, and store it in the fridge. Or put it into smaller glass jars with lid and keep it in refrigerator. Start with a small amount as above. You can make it in a gallon glass jar later once you get the hang of it!

This is a sauerkraut without vinegar and preservatives as they are found in most grocery stores - We do not need distilled vinegar nor any preservatives.

You can eat it as is, by the spoonful, put some olive oil on it, or cook it as I do often with an onion, apple, and juniper berries, etc. A salad with onions, oil, etc.

It's a great way to bring in the good bacteria needed for a healthy gut.

Take care.

---

Posts: 9834 | From Washington State | Registered: Oct 2000 | IP: Logged |

Mo
Frequent Contributor (5K+ posts)
Member # 2863


posted

---

Wow!

A thousand thanks for sharing this probiotic gem of a recipe!!!

I will be making some asap!

Mo

---

Posts: 8337 | From the other shore | Registered: Jul 2002 | IP: Logged |

Lynn_B
Member
Member # 8656


posted

---

GiGi,

Thanks for this recipe! I looked in vain for one for my New Year's Day dinner. I was lucky enough to find some organic sauerkraut in a glass jar and had it with beef ribs. It was a family tradition to have it with pork ribs, but I am anemic, so can't eat pork.

I've only been reading here a few days as I waited on my Western Blot test results. I had been diagnosed with MS for several years. Well, my Western Blot result came back negative, today. So, I guess it really is MS,afterall. Nevertheless, I will continue reading here--especially your posts. I always learn something from them.

I am having a wisdom tooth extracted tomorrow after just having been diagnosed with a bad case of Bell's Palsy. Am hoping it will not make it worse. Hoping it will make it better as the infection is probably causing it. Will be having it done with Vit C IV, O-zone Therapy, and Neural stimulation, too. Just thought I'd mention it, as I have noticed your posts regarding dental issues.

Again, thanks for the wonderful recipe--I've already added it to my recipe files!

---

Posts: 16 | From USA | Registered: Jan 2006 | IP: Logged |

lymemomtooo
Frequent Contributor (1K+ posts)
Member # 5396


posted

---

Gigi,
Thanks so much for this recipe..lymemomtooo

---

Posts: 2360 | From SE PA | Registered: Mar 2004 | IP: Logged |

dontlikeliver
Frequent Contributor (1K+ posts)
Member # 4749


posted

---

I read somewhere that someone was taking saukerkraut (eating it) and also pickles as probiotics..........I find this a little confusing.

Are we to eat or NOT to eat pickled stuff when we are on antibiotics (yeast)? I LOVE pickles so I would be happy if I could eat lots of them.

DLL

---

Posts: 2824 | From The Back of Beyond | Registered: Oct 2003 | IP: Logged |

dontlikeliver
Frequent Contributor (1K+ posts)
Member # 4749


posted

---

Lynn B,

Negative test results do not (always) mean no Lyme.

DLL

---

Posts: 2824 | From The Back of Beyond | Registered: Oct 2003 | IP: Logged |

GiGi
Frequent Contributor (5K+ posts)
Member # 259


posted

---

Health Benefits of Fermented foods

Lactic acid-fermented vegetables are not only tasty, but they also exert stimulating and healing effects on our various body functions.

Unpasturized sauerkraut eliminates disease-causing "bad" bacteria, and reintroduces friendly "good" bacteria such as Lactobacillus acidophilus, which are necessary for healthy digestion and proper elimination of waste products.

Lactic acid-fermented vegetables are highly nutritious and low in calories. They contain high amounts of vitamins, minerals and enzymes.

Lactic acid-fermented vegetables have been used for their healing benefits as far back as 50AD, and a volume of new research is continually discovering new benefits. Medical research shows that sauerkraut and other lactic acid-fermented vegetables lower the level of fat in the blood, strengthen the heart, improve circulation, and help lower blood

Research also shows that lactic acid-fermented foods encourage pancreatic function which is of benefit to diabetics. They stimulate digestive secretions, and detoxify and activate the intestines to prevent constipation. They support the body's immune system. All this and they are delicious besides!

Take care.

Avoid the store bought Sauerkraut. Most of them have vinegar (worse yet - distilled vinegar) and preservatives in them.

Well made Sauerkraut is only made with salt; contains some of the bacteria that you pay an arm and a leg for in form of probiotics in the health food store. Any cancer patient that I have met in Germany under alternative treatment includes these soured vegetables in their diet. There are volumes written about it by German medical doctors.

---

Posts: 9834 | From Washington State | Registered: Oct 2000 | IP: Logged |

Digby
LymeNet Contributor
Member # 3888


posted

---

Thanks Gigi. I have just started using cultured vegetables and I have seen some improvement in my irritable bowel problem already. I use a combination of cabbage, daikon radish and garlic. I have been using a starter that contains probiotics but it adds some cost to the process so I am very happy to try your simple method.

Do I understand correctly that you add the salt on top, after compressing the cabbage into the jar? I would have thought it would be mixed throughout.

---

Posts: 531 | From NW Arkansas | Registered: May 2003 | IP: Logged |

dontlikeliver
Frequent Contributor (1K+ posts)
Member # 4749


posted

---

Gigi,

I don't like saukerkraut, I would truly have to force myself to eat it. But, I like pickles, can you make 'healthy pickled cucumbers'?

DLL

---

Posts: 2824 | From The Back of Beyond | Registered: Oct 2003 | IP: Logged |

just don
Frequent Contributor (1K+ posts)
Member # 1129


posted

---

Gigi,
Surely not argueing with you but just 'wondered' what is wrong with distilled vinegar? Distiiled water and distilled alcohol has been around for ages, whats with vinegar?--d--

--------------------
just don


---

Posts: 4548 | From Middle of midwest | Registered: May 2001 | IP: Logged |

GiGi
Frequent Contributor (5K+ posts)
Member # 259


posted

---

Don'tlikeliver, I will post my recipe for for lactic acid veggies later on.

Just Don, distilled vinegar is good for a thousand things, but not for human consumption.

Distilled white vinegar is not a healthy choice for table use because harsh chemicals and solvents are used during distillation to make the vinegar clear. Sometimes called ``dead'' vinegar, due to intense heat involved in the process, the life-giving ``mother'' is destroyed along with beneficial enzymes, minerals, and other nutrients like malic and tartaric acids, noted for flushing impurities from the body.

Even though it is not recommended for consumption, distilled white vinegar is environmentally friendly and easy on the budget, making it an excellent alternative to chemical cleaning solutions for ridding germs and unpleasant odors around the house.

I use it a lot almost exclusively for cleaning all and everything, except living beings. It never goes into any food I prepare. If isopropyl alcohol is distilled alcohol - it is never used in my doctor's office for cleansing. He uses plain old vodka instead.Isopropyl alcohol and isopropanol is twice as toxic as ethanol and is absorbed through the skin. Used widely in cosmetics and antifreeze - but not in our house.

Ethyl alcohol, ethanol, etc. before it can be used in cosmetis it must be denatured (made unfit to drink) which requires the use of toxic solvents.

Stick with organic apple cider vinegar, Don.

Take care.

---

Posts: 9834 | From Washington State | Registered: Oct 2000 | IP: Logged |

charlie
Frequent Contributor (1K+ posts)
Member # 25


posted

---

Digby....you're making kimchee which is an excellent source of vitamins in itself.

A couple of us old timers like the taste of the stuff...most don't but it'll guarantee a solo seat on the plane.

DLL, why you don't like sauerkraut?? It goes real good with haggis.

Charlie

---

Posts: 2804 | From Texas | Registered: Oct 2000 | IP: Logged |

Nal
Frequent Contributor (1K+ posts)
Member # 6801


posted

---

My homeopathic dr says that distilled vinegar is fine. In fact, dont some people on here recommend taking it or is that just apple cidar vinegar?

My dr also says eating unpastuerized saur kraut is fine when store bought. Isnt there a brand in the store you can buy?

Also, I would LOVE to know what other fermented veggies you can have! This has been asked on here already, but are pickles ok??

Nancy

--------------------
Life is 10% what happens to you, 90% how you respond to it!

-Chuck Swindoll


---

Posts: 1594 | From Colorado | Registered: Jan 2005 | IP: Logged |

GiGi
Frequent Contributor (5K+ posts)
Member # 259


posted

---

Okay, Charlie, I am still battling with your Salsa from a year ago or longer.

What is Kimchee?

What is Haggis?

If you are addressing me, Cave, eating pasteurized sauerkraut is killing it first, then eating it. The value in the Sauerkraut is for
the variety of good bacteria that raw sauerkraut contains. Every cancer patient eats it! One serving a day from Unpasteurized sauerkraut: or unpasteurized miso; picked vegetables' yoghurt, buttermilk or kefir, if dairy is being consumed.
The Bubbies' sounds allright. Cabbage and salt. That is all that is needed.

I have seen Sauerkraut in cans, just cabbage and salt. But cans are lined with a plastic layer - I do not want to eat plastic
Take care.

[ 25. January 2006, 01:32 AM: Message edited by: GiGi ]

---

Posts: 9834 | From Washington State | Registered: Oct 2000 | IP: Logged |

Mo
Frequent Contributor (5K+ posts)
Member # 2863


posted

---

Charlie said:
...it'll guarantee a solo seat on the plane..




I was coming back for a serious reply but I just can't..
have to pick myself up off the floor first....

Mo

[ 25. January 2006, 02:02 AM: Message edited by: Mo ]

---

Posts: 8337 | From the other shore | Registered: Jul 2002 | IP: Logged |

charlie
Frequent Contributor (1K+ posts)
Member # 25


posted

---

Gigi....kimchee is just the asian version of sauerkraut or pickles. It tends to contain besides cabbage, daikon radish and is heavily flavored with garlic and cayenne. Cave and I are the devotees of kimchee on this list. It's not exactly in the breath mint category...I've actually been ordered to eat it outside.

You can get it at any asian market...it's considered Korean but all the asian countries have a version. Vietnamese markets which are common all over the country usually stock it. Of course if you don't have access to a Vietnamese market you're in a no Nguyen situation...

I was just teasing DLL about haggis because of her user name and she's in the UK where the stuff is a standing joke. It's just all the parts of a sheep you wouldn't consider food (lungs, spleen, ect) stuffed in the animals own stomach, roasted and inexplicably, eaten.

To make matters worse this sac of tissue is ceremoniously preceded into the dining room by a guy making squawkidy noises on bag pipes.

I 'spect if I was confronted with such a culinary atrocity I'd be inclined to toss the haggis and eat the bag pipes, solving two problems at once.

Charlie

---

Posts: 2804 | From Texas | Registered: Oct 2000 | IP: Logged |

dontlikeliver
Frequent Contributor (1K+ posts)
Member # 4749


posted

---

Maybe I should change my name to dontlikehaggis

Actually, not being a bona fide Brit (or Scottish for that matter - haggis is Scottish), I've never tried haggis.

DLL

---

Posts: 2824 | From The Back of Beyond | Registered: Oct 2003 | IP: Logged |

Mo
Frequent Contributor (5K+ posts)
Member # 2863


posted

---

Nal,

Distilled vinegar is, at best, 'dead', like GiGi says...but IMO is also bad for you to injest.

Real apple cider vinegar (you also can make and keep your own at home easily in the right temp and a glass wide mouthed container covered with breathable cloth sealed with rubber band to let it breathe and keep fruit flies out)

It has a mother culture ( basically a 'good bacteria blob' ) that lives and breaths and ferments the cider into vinegar that is loaded with live probiotics.
If you buy good organic apple cider vinegar, therein lies a blob too.

Good even to take a Tbsp of this before meals.

I too, use distilled vinegar for allot of cleaning (it's really great for that) ..
but I don't eat it.


Mo

---

Posts: 8337 | From the other shore | Registered: Jul 2002 | IP: Logged |

sofy
LymeNet Contributor
Member # 5721


posted

---

For the lazy you can buy this same kind of kraut at healthfood stores. Just read the label carefully. Ive tried a couple different brands and its good.

I like the small local brand the best. Sorry cant remember the name. It was made in Mass. and I live in Ct. but had someone who would buy it for me up there.

---

Posts: 561 | From connecticut | Registered: May 2004 | IP: Logged |

hardynaka
Frequent Contributor (1K+ posts)
Member # 8099


posted

---

I don't know if all miso you can buy in Japanese shops are good or not, but I think it's not too complicated to do by yourself as some of my relatives often do it (I'm of Japanese origin).

It's easy to do either a miso-soup with it or to eat it 'raw' as it is: we just add some soya sauce on top and eat cucumbers with it, we like it. And it's usually not too expensive, as one pack will last a long time.

So for the lazy guys, miso-soup recipy:
- buy the miso (to do misoshiro) which is usually sold in Japanese or Asian shops.
- put water in a pan, and ANYTHING you enjoy eating: I usually do with onion, sea weed, mushroom, pumpkin, shrimps, rice cakes, anything.
You will cook only in plain water, so you have to add stuff according to their 'cooking time' (carrots take longer to cook than Zuchini, for example).
When you feel it's good (it takes no longer than a minute boiling only most of the times), turn the fire off and add the miso. You have to dissolve it well. One teaspoon for each small bowl of soup. The less you cook, the more vitamins you'll have.

Never cook the miso, or it will taste terribly and you'll probably kill everything good there.

It's a basic soup in Japan, and almost everybody eats it at least twice a day.

Selma

---

Posts: 1086 | From Switzerland | Registered: Oct 2005 | IP: Logged |

Mo
Frequent Contributor (5K+ posts)
Member # 2863


posted

---

Thanks Selma!! This is another keeper!

My kids love this, I would like to make it at home..
any tips on what to look for in terms of quality?

I also just found a wonderful article:


Working Alchemy: The Miracle of Miso

by Anna Bond


Miso belongs to the highest class of medicines, those which prevent disease and strengthen the body through continued usage.

-- Dr. Shinichiro Akizuki,
Director, St. Francis Hospital, Nagasaki

As the collective consciousness in the United States grows ever more agitated and fearful, we scurry to find magic bullets for bioterrorism: anthrax, smallpox and the black plague. Based on current statistics, the odds of being exposed to and dying from anthrax in the U.S. are one in 35 million. Before anthrax hit the headlines, we listened to the international threat of mad cow disease (bovine spongiform encephalopathy, or BSE, in cattle and Creutzfeldt-Jakob disease, or CJD, in humans).

The threat of chemical, bacteriological and radiological (CBR) warfare forms a constant undercurrent to our national hysteria--conscious and subconscious. After all, we have been preparing CBR weapons at Ft. Detrick ever since World War II.

Clearly, we face daunting challenges to our quality of life and indeed, to life itself. Today's threat calls for a miracle of transformative scope. We look up to the government and to pharmaceutical companies for a fix, knowing full well that their bag of tricks is limited to petrochemical drugs and antibiotics. We're in need of some alchemy capable of transmuting sickness into health, fear into wisdom, hysteria into harmony.

In our search for such an alchemical remedy, I'd like to shine a light inward toward our own biological terrain, and downward to the nurturing black earth. Seeing ourselves as co-creators of our terrain--that is, of our daily biological condition--and then understanding that terrain as the single most significant factor in whether we succumb or not, empowers us mightily.

Pondering which daily food grounds me most deeply and most thoroughly enlivens my terrain, I know the answer immediately. An earthy, aged, fermented food dating back at least 2500 years to ancient China, miso (chiang in Chinese) originated from a culture whose world view revered food as medicine. Despite its Oriental origin, miso is now widely available in much of the world. It is a relatively inexpensive condiment--a food that gently and effectively restores dynamic digestion and assimilation. A morning bowl of miso soup--mild, gentle, unassuming--stimulates your appetite for the day's adventures and strengthens you from the inside.

Food for the Ages

Scientists now believe humanity's first cultivated plants were not grains and vegetables, but rather the microorganisms that cause food to ferment. They discovered--undoubtedly by accident at first--that adding the right amount of salt to food--cultivated friendly bacteria and enzymes not only prevented spoiling and deadly toxins, but also transformed the food's molecular structure, making it more healthful, digestible and delicious.

Fermentation, they realized, acted like an external digestive system that preserved the food and qualitatively transformed it. Compare sulfurous cabbage with sparkling sauerkraut, mild milk with tangy yogurt, bland soybeans with the deep, earthy flavor of miso.

Miso fermentation is alchemy working its miracle with microscopic bacteria, yeasts, molds and enzymes on our daily food: grains, beans and salt. It is very similar to the miracle that transpires within our intestines where, with the help of friendly intestinal flora, we transmute food into blood via the hair--like villi on our intestinal walls. And it is like the miracle that springs up from the earth where, thanks to myriad microorganisms and the warming sun, germinating seeds burst into green shoots.

Our life blood begins in our small intestine (called the cauldron by the Chinese), where we cook/transmute food into blood. The intestines are, in fact, our ancient brain; they actually make neurotransmitters just as our brain's neocortex does. Virtually all cases of learning disabilities and attention deficit challenges involve intestinal imbalances and inappropriate food choices. Miso's alchemical gift nourishes this ancient brain and cauldron of our life.

Alchemy (from the Arabic, meaning black earth) draws the parallel between the miracles of gardening, fermenting and digestion/assimilation, our own internal fermentation. Alchemy suggests that fermentation is actually a further cultivation of a food beyond what it draws from the garden soil. Miso epitomizes the brilliant diversity possible with that fermentation. Japanese mythology extols miso as a gift from the gods for health, happiness and longevity.

As a food, miso can be thought of as an all-purpose and delicious seasoning for flavoring soups and vegetable dishes, or for making salad dressings, sauces and spreads. It is used in many of the same ways that we in the West would use salt. It is a condiment in the sense that only a few spoonfuls are used per person on a daily basis due to its high salt content (4-12% by weight). At the same time, miso is such a concentrated source of high-quality protein and other nutrients that only a small amount enhances and dresses up grain, bean and vegetable dishes.

As the high level medicine that Dr. Akizuki refers to, miso creates a truly resilient terrain in those who consume small amounts of it daily in soups, sauces, condiments and salad dressings. There has been no specific work done with miso and anthrax that I know of, and my thrust here is to offer way-of-life foods that strengthen the body and mind rather than heroic remedies that fit into the this-for-that pharmaceutical approach. That said, one researcher introduced some miso into a petri dish containing a culture of the disease bacteria Streptococcus. The good bacteria in the miso overcame and completely destroyed the Streptococcus!

Cultures throughout the world developed fermented foods that enhanced the foods they consumed. Most of these fermented foods and drinks rely on the action of lacto-bacilli. Miso making originated among grain-eating farmers and gardeners, people whose lives and livelihood were rooted in the earth and whose diet centered around grains, beans and vegetables. Among nomadic people whose lifestyle did not permit staying in one place for years at a time, yogurt became a digestive aid. And among animal-herding, meat-eating cultures, people cultured grapes into wine. Wine helps break down the toxins in animal foods, whether it is used to marinade the meat or is drunk with the meat. Ancient people, more in tune with Nature and with their own nature, were sensitive to the energetics of the foods they ate. They were aware of the warming or cooling, drying or dampening, acid or alkaline qualities they experienced as they ate particular foods. They knew how to influence a food's energetic qualities by cooking with fire and through fermentation (cooking without fire).

Like modern food scientists, these ancient people recognized the great value of the soybean as a complement to grains. However, unlike modern food scientists, the ancients recognized how extremely difficult to digest, and how over-cooling raw and unfermented soybeans were to the body. Ingeniously, they devised--in concert with natural micro-organisms in their environment--an intricate fermentation process that transformed the problematic soybean into a rich, hearty, alchemical substance of high order.

An aged, fermented soybean paste with living enzymes and friendly bacteria, miso is made by mixing cooked legumes (usually soybeans, though chickpeas, black soybeans, aduki beans, even peanuts make delectable misos) with sea salt and a cultured grain called koji (usually rice or barley). This fermenting mixture is then aged in wooden vats, sometimes for as long as three years.

Like a fine wine, each miso has its own unique color, flavor and aroma. Miso colors range from rich chocolate browns to loamy blacks, from russets to deep ambers, clarets and cinnamon reds, from warm yellows to light tans. Flavors range from hearty and savory to sweet and delicate.

In selecting a miso, you would usually choose darker, longer-fermented misos for colder seasons; lighter, shorter-fermented ones for warmer seasons and climates; and red, moderately fermented ones year round. To balance your internal condition, you look also at the internal climate of your terrain. To strengthen a weak, deficient, over-acid cold condition, you would go to a dark, longer-fermented variety. And to balance an over-heating, excessive condition, a lighter, sweeter, less salty miso is preferred.

An excellent source of digestive enzymes, friendly bacteria, essential amino acids, vitamins (including vitamin B-12), easily assimilated protein (twice as much as meat or fish and 11 times more than milk) and minerals, miso is low in calories and fat. It breaks down and discharges cholesterol, neutralizes the effects of smoking and environmental pollution, alkalinizes the blood and prevents radiation sickness. Miso has been used to treat certain types of heart disease and cancer. It helps with bed wetting, tobacco poisoning, hangovers, burns and wounds. A fine food for traveling (dry it by roasting over a low flame in skillet), miso gives warmth and life and the wisdom of age to those who consume it daily.

Studies in Japan's Tohoku University have isolated chemicals from miso that cancel out the effects of some carcinogens. We are all inevitably exposed to carcinogens in our foods and our environment. We are also exposed to non-ionizing radiation (ELFs and EMFs).. given off by power lines, transformers, electrical stations, computers, hair dryers, microwave ovens and air conditioners.

Miso and Radiation Sickness

Thanks to nuclear accidents and leakage worldwide, we may be exposed to ionizing radiation as well. In the decades since the first atomic bombings, scientists have confirmed that miso (as well as sea vegetables) help protect the body from radiation by binding and discharging radioactive elements. Two weeks after the Chernobyl nuclear accident, all miso and seaweed disappeared from European store shelves.

At the time of the world's first plutonium atomic bombing, on August 9, 1945, two hospitals were literally in the shadow of the blast, about one mile from the epicenter in Nagasaki. American scientists declared the area totally uninhabitable for 75 years. At University Hospital 3000 patients suffered greatly from leukemia and disfiguring radiation burns. This hospital served its patients a modern fare of sugar, white rice, and refined white flour products. Another hospital was St. Francis Hospital, under the direction of Shinichiro Akizuki, M.D. Although this hospital was located even closer to the blast's epicenter than the first, none of the workers or patients suffered from radiation sickness. Dr. Akizuki had been feeding his patients and workers brown rice, miso soup, vegetables and seaweed every day. The Roman Catholic Church--and the residents of Nagasaki--called this a modern day miracle. Meanwhile, Dr. Akizuki and his co-workers disregarded the American warning and continued going around the city of Nagasaki in straw sandals visiting the sick in their homes.

Since the 1950s, Soviet weapons factories had been dumping wastes into Karachar Lake in Chelyabinsk, an industrial city 900 miles east of Moscow. Many local residents began to suffer from radiation symptoms and cancer. In 1985, Lidia Yamchuk and Hanif Sharimardanov, medical doctors in Chelyabinsk, changed their approach with patients suffering from leukemia, lymphoma and other disorders associated with exposure to nuclear radiation. They began incorporating miso soup into their diet. They wrote: "Miso is helping some of our patients with terminal cancer to survive. Their blood improved as soon as they began to use miso daily."

Over a 25-year period, the Japanese Cancer Institute tested and tracked 260,000 subjects, dividing them into three groups. Group one ate miso soup daily, group two consumed miso two or three times a week, while group three ate no miso at all. The results were stark: those who had not eaten any miso showed a 50% higher incidence of cancer than those who had eaten miso.

Twelve years ago, Dr. Evelyn Waselus, a California surgeon suffering from breast cancer, underwent a double radical mastectomy. Reading how Dr. Akizuki had used miso as an external plaster to treat people with radiation burns, she applied a miso plaster on her own wounded breasts, and for the first time in months was relieved of the gnawing, burning pain she, like so many cancer patients, had been experiencing.

Later Dr. Waselus opened Universal Life Center in Weed, California, where she works with cancer and AIDS patients. Many of these people cannot maintain sufficient body weight because they have lost their natural powers of digestion and assimilation. Dr. Waselus premixes their food with three-year old barley miso, then allows it to sit for several hours. The miso predigests the food so patients can more easily assimilate nutrients needed to maintain body weight. Dr. Waselus prescribes miso soup, again with three-year barley miso, to her outpatients undergoing chemotherapy and/or radiation treatments at local hospitals. For such people, restoration of the beneficial microorganisms of the intestines is crucial. Her patients do not generally lose their hair, as usually happens with chemotherapy, Dr. Waselus reports. (There is a direct correlation between the intestinal villi and the hair on our heads.) For patients receiving radiation treatment, Dr. Waselus administers an external plaster of miso mixed with aloe vera extract on the area being irradiated, with excellent results.

Spiritual fulfillment and biological resilience in these troubled times comes, I believe, by looking inward and downward. What we find there is something as humble as miso, a simple, whole food alchemically transformed by the power of microorganisms, giving us the inner resources and intestinal force to transmute even the most terrible threats to our own health, happiness and longevity, as well as that of the earth.

---

Posts: 8337 | From the other shore | Registered: Jul 2002 | IP: Logged |

Digby
LymeNet Contributor
Member # 3888


posted

---

Charlie you're a scream. It's good to know that it is Kimchee. I didn't connect the dots on that.

I am getting a vegetable starter from:
http://www.earthincommon.com/bbody-ecology-culture-starterb-p-43.html

They seem to have the best price and lowest shipping (I have no financial interest) but I am still not sure if I need it or not.

It seems to me that the probiotics in the starter would be different than the probiotics that form when a vegetable is cultured with only salt.

There may be different benefits to each. It would be interesting to know what bacilli are found in the salt only preparation. Anyone know?

The starter contains (from the website):

Lactobacillus plantarum
Lactococcus lactis
Lauconostoc cremoris
Lactococcus cremoris

I've been using probiotics for years but this is different. It seems to be healing my gut from 2+ years of abx.

---

Posts: 531 | From NW Arkansas | Registered: May 2003 | IP: Logged |

5dana8
Frequent Contributor (1K+ posts)
Member # 7935


posted

---

Thanks for this information.

For those of us,like myself are to tired as yet to home make this recipe.Can I do the same thing with super market sourcrout I found in a bag in the cold section?(Ingredients-salt,cabbage,water)

I am in the boonies here and don't have a health food store close.I was wondering with out the "Blob" would it still be good?

And where could I find the "blob" on line to add to the soucrout mix..Could I just open a multi strain pro-biotics capsule?

I think heating it would kill alot of the good organisms?

I am beginning to realize some food can be healing.

Sorry for so many questions that may have been answered but I just didn't figure out yet.Am a little slow this week

Thanks and take care

--------------------
5dana8


---

Posts: 4432 | From some where over the rainbow | Registered: Sep 2005 | IP: Logged |

sofy
LymeNet Contributor
Member # 5721


posted

---

CAVE , costs
I measure everything in how much it costs and weigh its value. If I shower I have nothing left to go to the store for food. I use to do a thing called laundry but gave it up cuz its too expensive.

If I try and make sauerkraut I cant shower or go to the store.

My friend found a small co-op where it was a good price and when your only eating a forkfull at a time a 3-4$ bottle will last a long time and for me the cost is cheap compared to the alternative.

---

Posts: 561 | From connecticut | Registered: May 2004 | IP: Logged |

GiGi
Frequent Contributor (5K+ posts)
Member # 259


posted

---

Living in the cosmopolitan city of Seattle. I pay 29 cents for a head of cabbage at a huge place owned by Asian people, and less than a nickel for a tablespoon of good salt. If you want organic, it costs a few pennies more. You can find a 2 quart glass jar somewhere, I am sure.

My favorite place for a lot of stuff is Goodwill and Salvation Army. I have found literal treasures there, such as a brandnew yoghurt maker even though it is so easy to make yoghurt without and takes minutes to make -- then just the waiting time overnight for it to set. Start out with the best store-bought yoghurt you can find
to get the best live bacteria possible. Wholefoods Market have a great Yoghurt out of Canada (starts with Bio.....something; not made in the US). It is expensive, but realize that you need that little jar only once and then you keep going from there; you can make many batches of yoghurt from thereon out.

It's possible to try out whether the capsule of priobiotics you buy at your healthfood store is still live and kicking - try to make yoghurt out of one and see what happens. I have not tried it, but I will some day. If you do everything else right and it does not set, maybe the capsule bacteria is dead to start with. (bring the milk close to a slight simmer, let it cool down until - if you stick your clean finger into it- it does not burn; then you add the culture and let it set covered in a warm, draft-free place. I put my container under a tea cozy or I stick it under a pile of pillows in a corner of the couch - with a big sign "Sumi (our dog) - don't sit here!!!"

My mom used to have a stool in the kitchen, looked like a box that you could sit on. The whole box/chair/stool was lined inside with straw/wood shavings covered with a thin cotton:
Into it would go all - the rice, the potatoes - the souring milk - to finish cooking, etc. Lid on it. That's how she saved electricity. It was referred to (in many households in Germany) as the "cooking box" (Kochkiste). I don't have one - I use my couch in the living room while everybody assembles in the family room.

I do it a lot, especially when company comes and I want to cook the mashed potatoes and get it out of the way. It goes finished in the pot under pillows on the couch, and hope and pray that none of the kids or the dog sits on it. They all know by now --- Danger! I have only one oven and it works great.

Now you have it - from Sauerkraut to Kochkiste!

Take care.

---

Posts: 9834 | From Washington State | Registered: Oct 2000 | IP: Logged |

GiGi
Frequent Contributor (5K+ posts)
Member # 259


posted

---

To Cave -

"Gigi--- what I was asking was--- if the ingredients do not state vinegar, there's no mention of pastueurization on the label, it's kept in the cold case and it packaged in glass----then would Bubbie's be considered a *good* (from your standpoint) sauerkraut?"

As long as the Sauerkraut contains only cabbage and salt and is in the refrigerated section of the store, it is good. If it is kept in warmer temperature (not in a can, etc.) it keeps fermenting and it gets too sour and eventually too mushy. That's why after a week or so, I put my Sauerkraut into the icebox (that is the refrigerator as Emeril says).

Whenever I buy Sauerkraut in the store, made with only cabbage and salt, and by chance it is too sour, I rinse it off for a couple of minutes until I like the taste.

Take care.

Pasteurization kills many good bacteria as well as some of the bad.

---

Posts: 9834 | From Washington State | Registered: Oct 2000 | IP: Logged |

hardynaka
Frequent Contributor (1K+ posts)
Member # 8099


posted

---

Hi Mo, great info about miso, I didn't know about it all. I eat it because I like its taste. My husband who's Belgian, he LOVES miso soup, and asks me to do it often.

So it may please other people too. It's really the BASIC stuff in Japan, they even take it in breakfast!

If you all have doubts, just ask for it in a Japanese restaurant to give it a try before buying the miso.

We do buy different types of miso, because they all taste different, but I thought all of them were made only of soya. I'm gonna try to read the labels next time. Great advice concerning color and seasons!

Sometimes I got packages that stay literally years inside my refrigerator, I never got sick eating them. I asked some Japanese people, they didn't look as I was crazy, some told me they did the same as their parents were doing loads of it at once and storing it for long.

There's NOTHING easier to do than miso soup. It takes only the time to cut vegetables, take shrimps out of the freezer, and boil them for very short. In the end, just add a teaspoon for each small bowl, that's ready. It takes me never more than 10 minutes to get 3-4 bowls of soup done. You can even put Brussels' sprouts (is that the name?), and mushrooms, and some soya sprouts (right name?) so that you don't have to cut them, if you have no time.

Lovers of kimuchee may enjoy miso soup too!

Just another different 'Asian' question: is there lyme in Korea?? I mean, South Koreans eat fresh garlic in cloves as snack, I wonder if borrelia can survive that! Anywhere you go there, you smell garlic.

Selma

---

Posts: 1086 | From Switzerland | Registered: Oct 2005 | IP: Logged |

GiGi
Frequent Contributor (5K+ posts)
Member # 259


posted

---

There is hardly any wheat to be found in the Asian diet. At least it used to be. It's rice. I rememmber Dr. K. telling me that he met with a group of doctors in Korea. He was lecturing there. He wanted to know about their dental health. All willingly opened their mouth for him to count. He counted a total of two crowns and 4 fillings in their mouths. All 20 of them together had not more than that.

Diet???????????????????????? and lifestyle.

Take care.

---

Posts: 9834 | From Washington State | Registered: Oct 2000 | IP: Logged |

Mo
Frequent Contributor (5K+ posts)
Member # 2863


posted

---

I think I should add the kefir website here..

- this man has studied everything there is to know on kefir and packed it into one great site.
He is an active enthusiast.

There is allot of info - from basic to complex.

We have enjoyed many benefits (with REAL grains, you can get from anyone culturing it at home)

..benefits including my son's insomnia dissapearing (and allot more, more than I can isolate).

Another age old pro-biotic gem..

and mighty tasty, too

http://users.chariot.net.au/~dna/kefirpage.html

---

Posts: 8337 | From the other shore | Registered: Jul 2002 | IP: Logged |
Contact Us | LymeNet home page | Privacy Statement

Powered by UBB.classic™ 6.7.3

---
The Lyme Disease Network is a non-profit organization funded by individual donations. If you would like to support the Network and the LymeNet system of Web services, please send your donations to:
The Lyme Disease Network of New Jersey
907 Pebble Creek Court, Pennington, NJ 08534 USA
http://www.lymenet.org/
---
Home | Flash Discussion | Support Groups | On-Line Library
Legal Resources | Medical Abstracts | Newsletter | Books
Pictures | Site Search | Links | Help/Questions
About LymeNet | Contact Us
---
© 1993-2020 The Lyme Disease Network of New Jersey, Inc.
All Rights Reserved.
Use of the LymeNet Site is subject to Terms and Conditions.
---