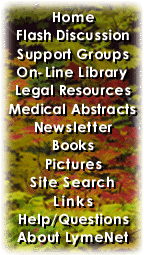 ---
LymeNet on Facebook
LymeNet on Twitter
---
---
The Lyme Disease Network receives a commission from Amazon.com for each purchase originating from this site.
When purchasing from Amazon.com, please
click here first.

Thank you.




Dedicated to the Bachmann Family


LymeNet needs your help:
LymeNet 2020 fund drive

The Lyme Disease Network is a non-profit organization funded by individual donations.

| | |
| --- | --- |
| | |
Author
Topic: flea and tick collars for ankles

dguy
LymeNet Contributor
Member # 8979


posted

---

When I'm healthy enough again to get out and about, I'd like to resume hiking. More than once I've carried home ticks after they climbed onto my pants legs or socks during a hike. It's possibly the way I contracted lyme.

Today I saw advertisements for flea and tick collars for pets, and thought, hey, if I wore a tick repellant one on each ankle during a hike, would that offer any protection? Anyone ever heard of such a thing being tried? Are those products suitable for human use?

---

Posts: 727 | From USA | Registered: Mar 2006 | IP: Logged |

cantgiveupyet
Frequent Contributor (1K+ posts)
Member # 8165


posted

---

if i remember right, i think they tell you to wash your hands after touching the flea collars. I think they maybe toxic.

That would be a great invention though....one made for humans to wear. i would do anything to protect myself.

--------------------
"Say it straight simple and with a smile."

"Thus the task is, not so much to see what no one has seen yet,
But to think what nobody has thought yet, About what everybody sees."

-Schopenhauer

pos babs, bart, igenex WB igm/igg


---

Posts: 3156 | From Lyme limbo | Registered: Oct 2005 | IP: Logged |

Carol in PA
Frequent Contributor (5K+ posts)
Member # 5338


posted

---

Hey, what a great idea!

Wear them over socks or pants, not on bare skin.

Now, just don't sit on any stone walls or fallen logs. Or lean against trees...

I got a tick on the back of my leg many years ago, after sitting at a picnic table, located right at the edge of the woods.

Carol

---

Posts: 6947 | From Lancaster, PA | Registered: Feb 2004 | IP: Logged |

WildCondor
Unregistered



posted

---

I have done this before! I wrap them around my ankles/socks, I am talking about herbal ones, not chemicals. I also wear the bug shirt and REPEL clothes. I put essential oils of peppermint, lavender, and citronella on my legs too. Deet on the boots (not skin) and wear the Bug Shirt gaiters in the light color! Permethrin works well on clothes too.

Its a must for hikers like us!

The Bug Shirt

[ 28. March 2006, 04:05 PM: Message edited by: WildCondor ]

---

IP: Logged |

Linda LD
Frequent Contributor (1K+ posts)
Member # 6663


posted

---

There is a product you can buy at Wal*Mart in the hunting section. It is a spray that you spray on your clothing and shoes.

If a tick attempts to climb were your clothing has been sprayed they die--right there sitting on your socks!

The spray lasts for two weeks--even through washings!

I can't remember the name but it is a blue and orange spray can.

God bless,
Linda

---

Posts: 1171 | From Knoxville, TN US | Registered: Dec 2004 | IP: Logged |

LymeLaura
LymeNet Contributor
Member # 6624


posted

---

I attended a lecture held by an epidemiologist for Aberdeen Proving Grounds who strongly discouraged the use of tick collars for people. (Seems some of the soldiers in IRAQ were using them and got sick).

She recommends a spray (in any sporting goods store.) You can now also buy clothing treated with permethrin (which is what I spray my yard with). It lasts for 25 washings.

I also understand the military soaks clothing in permethrin which is good for 5 to 10 washings.

---

Posts: 132 | From Kentucky | Registered: Dec 2004 | IP: Logged |

lpkayak
Honored Contributor (10K+ posts)
Member # 5230


posted

---



[ 06. April 2006, 10:48 PM: Message edited by: lpkayak ]

--------------------
Lyme? Its complicated. Educate yourself.


---

Posts: 13712 | From new england | Registered: Feb 2004 | IP: Logged |

GiGi
Frequent Contributor (5K+ posts)
Member # 259


posted

---

Many a pet has died prematurely because of the toxins. We absorb through skin, fumes penetrates clothing, breathing. Permethrin is toxic. Learn about all the neurotoxins that can make us sick.

Permethrin Insect Repellent
bitesandstingsonline.com Permethrin is a non-toxic, safe-to-humans clothing treatment that repels and kills mosquitoes, ticks and many other insects.
Permethrin: Compare Prices
www.bizrate.com Find Bargains on Permethrin at thousands of trusted online stores.
WEB RESULTS
N (PDF)
... purposely fed high enough doses to cause toxic. effects. From these tests, scientists judge how ... C Permethrin is highly toxic to bees in laboratory ...npic.orst.edu/factsheets/permethrin.pdf - 17k - View as html - More from this site - Save
PERMETHRIN - Insecticide Fact Sheet.. Read before using this poison
The U.S. Environmental Protection Agency has classified permethrin as a carcinogen because it causes lung tumors . It causes chromosome aberrations in human cells. ... Permethrin is toxic to honey bees and other beneficial insects, fish, aquatic ... high doses, these neuro-toxic symptoms of permethrin include tremors, incoordination, hyperactivity ...safe2use.com/.../pesticides/permethrin/cox-report/cox.htm - 30k - Cached - More from this site - Save
Letter to the editor, December 1998 (PDF)
... ABVT, Dipl. ABT. Permethrin spot-on products can be toxic in cats. Over-the-counter permethrin spot-on products for flea control have become increasingly popular ...www.aspca.org/site/DocServer/toxbrief_1298.pdf?docID=128 - 9k - View as html - More from this site - Save
EXTOXNET PIP - PERMETHRIN
E X T O X N E T. Extension Toxicology Network. Pesticide Information Profilesextoxnet.orst.edu/pips/permethr.htm - 12k - Cached - More from this site - Save
Permethrin - toxicity, ecologicial toxicity and regulatory information
Data on 6,500 pesticides, insecticides and herbicides including toxicity, water pollution, ecological toxicity, uses and regulatory status. ... 10 , Permanone 40 , Permasect , Permethrin , Permethrin, mixed cis,trans , Permethrin, mixed cis,trans ... Seizures may occur and are more common with more toxic cyano-pyrethroids ...www.pesticideinfo.org/Detail_Chemical.jsp?Rec_Id=PC35397 - 56k - Cached - More from this site - Save
Permethrin
E X T O X N E T. Extension Toxicology Network ... Permethrin is toxic to fish and should be kept out of all bodies of water (1). It was ... Effects on Other Animals (Nontarget species) Permethrin is extremely toxic to bees ...pmep.cce.cornell.edu/profiles/extoxnet/.../permethrin-ext.html - 23k - Cached - More from this site - Save
Toxic Control of Lice - Warnings/Cautions
... Toxic Control Cautions and Warnings ... least-toxic, over-the-counter pesticide poison shampoos or lotions containing pyrethroids (e.g, permethrin) or ...www.safe2use.com/pests/lice/most-toxic.htm - 14k - Cached - More from this site - Save
Permethrin (PDS)
... DATA SHEET ON PESTICIDES No. 51 PERMETHRIN CLASSIFICATION: Primary use: Insecticide Secondary use ... 2.3.4 Others - Permethrin is toxic to some groups of aquatic invertebrates ...www.inchem.org/documents/pds/pds/pest51_e.htm - 52k - Cached - More from this site - Save
Insect Protection - Permethrin
... What is Permethrin? Permethrin is a man-made insecticide, structurally similar to a naturally-occurring chemical ... since the chemical is toxic to fish. Permethrin has not been shown ...www.travmed.com/trip_prep/insect_permethrin.htm - 20k - Cached - More from this site - Save
Permethrin/Planeta.com
Safe Adventuring in Central America's Backcountry: Permethrin: A Low Toxicity Alternative to DEET Repellent For Jungle Trekkers ... toxicity alternative to the toxic insect repellent DEET. Permethrin -- the synthetic version of ... to enter your sleeping chamber. Permethrin, a nerve cell membrane agent highly ...www.planeta.com/planeta/00/0007derek.html - 8k - Cached - More from this site - Save
SPONSOR RESULTS
Permethrin at Shopping.com
www.shopping.com Find, compare and buy products in categories ranging from pets to garden.
Guaranteed-Scabies-Cure.com - Permethrin
www.guaranteed-scabies-cure.com Used by doctors for safe and fast treatment of scabies.

---

Posts: 9834 | From Washington State | Registered: Oct 2000 | IP: Logged |

mlkeen
Frequent Contributor (1K+ posts)
Member # 1260


posted

---

My first batch of pets had flea collars only, but not in the winter. They lived to be 19, 16 and 13 years.

The new batch has had flea collars then drops and now back to collars because the drops weren't getting the fleas for more than two weeks per application. They are 11.5, 11.5 and 2.5 years.

I don't go in the woods anymore, and take garlic softgels daily, 1000mg, from May 1st thru the first frost. I don't get bit by anything.

Mel

---

Posts: 1572 | From Pa | Registered: Jun 2001 | IP: Logged |

minoucat
Frequent Contributor (1K+ posts)
Member # 5175


posted

---

I think its a great idea, but I'm not crazy about pharmaceutical tick repellants -- very toxic. Also, many are NOT repellants, but only kill ticks after long (at least 24 hour) contact.

I've been researching natural alternatives for tick repellents, for my pets and myself. Rose geranium seems to be the best for ticks (and citronella one of the poorest for all bugs), but I haven't found really good studies published on it (but I put some recipies below). Anyway, I'm trying it, although I'm backing it up with frontline plus on the dog.

And here's a link to a product that at least one person I trust swears by -- its for people and pets. Haven't tried it myself, but I plan to as we come into tick season: http://kingcart.com/Behappy/product=Bugrepel

Would love to hear, from those who tried it, how this works.

Essential-oil repellents:

Tick Repellent

From Holistic Aromatherapy for Animals written by Kristen Leigh Bell:
Her recipe for Tick repellent:
1/2 oz. base oil
2 drops Geranium, Pelargonium graveolens essential oil
2 drops Rosewood, Aniba roseadora
3 drops Lavender
2 drops Myrrh, Commiphora myrrha
2 drops Opoponax, Commiphora erythraea
1 drop Bay Leaf, Pimento racemosa

Apply 2-4 drops topically to the neck, chest, legs and tail base of the dog. You can also add the drops to a bandanna or cotton collar.

-----

Rose Geranium oil truly does repel ticks and other bugs if mixed with lavender and clove oils.

Tick Repellant
More Pest Control Solutions
by Annie Berthold-Bond, Care2.com Producer, Green Living Channels
I dug deep in my herbal formula books for this recipe out of desperation, given that I live in the epicenter of the tick-generated Lyme disease epidemic. I tested the essential oil that is recommended for ticks, Rose Geranium, by putting a few drops--no more!-- on our dogs' collars, to see if it would repel ticks. Lo and behold, we went from 20 ticks a day on each dog, to none. The second best essential oil for repelling ticks is American Pennyroyal (also called tickweed).
Simple Solution:
printer friendly version

* 2 tablespoons vegetable or nut oil (almond oil contains sulfur, a repellent in its own right)
* 10 to 25 drops Rose Geranium essential oil
Combine the ingredients in a glass jar; shake to blend.
Makes: 2 tablespoons
Shelf Life: 6 months
Dab a few drops on your skin or clothing, making sure to avoid eyes.

_____________________________
How effective are repellents that don't contain DEET? Other products do work to repel bugs; just not as long. In a July 2002 New England Journal of Medicine study, researchers placed their repellent-covered arms into a cage of mosquitoes. A DEET product with 23.8% concentration (Deep Woods Off!) kept mosquitoes away the longest -- 301.5 minutes.

But non-DEET products made a respectable showing. Oil of eucalyptus at 30% concentration staved a bite off for 120.1 minutes, while Bite Blocker, with 2% soybean oil, kept bites away for 94.6 minutes. Citronella, a commonly used alternative to DEET performed poorly, keeping bugs away for less than 20 minutes.

The American Academy of Pediatrics says DEET products shouldn't be used on infants younger than two months, but it's safe to use concentrations up to 30% on kids.

--------------------
*********************

RECIDITE, PLEBES! Gero rem imperialem!
(Stand aside plebians! I am on imperial business.)




---

Posts: 2331 | From WA | Registered: Jan 2004 | IP: Logged |
Contact Us | LymeNet home page | Privacy Statement

Powered by UBB.classic™ 6.7.3

---
The Lyme Disease Network is a non-profit organization funded by individual donations. If you would like to support the Network and the LymeNet system of Web services, please send your donations to:
The Lyme Disease Network of New Jersey
907 Pebble Creek Court, Pennington, NJ 08534 USA
http://www.lymenet.org/
---
Home | Flash Discussion | Support Groups | On-Line Library
Legal Resources | Medical Abstracts | Newsletter | Books
Pictures | Site Search | Links | Help/Questions
About LymeNet | Contact Us
---
© 1993-2020 The Lyme Disease Network of New Jersey, Inc.
All Rights Reserved.
Use of the LymeNet Site is subject to Terms and Conditions.
---