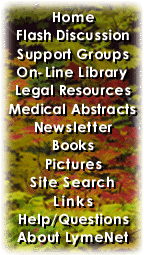 ---
LymeNet on Facebook
LymeNet on Twitter
---
---
The Lyme Disease Network receives a commission from Amazon.com for each purchase originating from this site.
When purchasing from Amazon.com, please
click here first.

Thank you.




Dedicated to the Bachmann Family


LymeNet needs your help:
LymeNet 2020 fund drive

The Lyme Disease Network is a non-profit organization funded by individual donations.

| | |
| --- | --- |
| | |
Author
Topic: Are You In A Healthy Relationship Now?

BostonLyme2005
Unregistered



posted

---

Hi,

How has your relationship/s with your partner/s, suffered or triumphed due to Lyme Disease?

Did you need meds to help you through the dark days of loniness?

Do you feel your partner hates to hear you speak of Lyme, that they get sick of hearing you complain?

Thanks,

---

IP: Logged |

TheCrimeOfLyme
Frequent Contributor (1K+ posts)
Member # 4019


posted

---

I can only answer this by saying that i was with a guy from 2001-2005. I got sick in 2002. He was abusive, ignorant, on drugs, you name it, the guy did it to me. I was so stressed out from him it was ridiculous. He never worked, and when he did, he was doing drugs even more. I was so sick that it actually took me over a year to realize the nutjob was on drugs!

He lived with me, used me and basically watched me die and rot. I kicked his arse out in August 2005.
I am now with an incredible man that treats me VERY well. He understands lyme, researches lyme, looks up treatment protocols, and even does alternative stuff before I do just so he can "know what it feels like".

I don't think, however, that he realizes I am ALOT sicker than I really am and it strains me, not so much him. So, while he loves me, cares for me, takes care OF me, and would give his left foot for me....

he doesnt FULLY understand what I go through. I'm just greatful he causes me absolutely no stress, and nothing but love. once in a while, my lyme moods swing in and we end up fighting BAD but we get over it.

--------------------
You want your life back? Take it.


---

Posts: 3169 | From Greensburg, Pennsylvania | Registered: Jun 2003 | IP: Logged |

dmc
Frequent Contributor (1K+ posts)
Member # 5102


posted

---

I'm blessed. My husband married me despite me being "crippled" We were together before I fell apart.

He's got it tough when I turned pscho when I used to be taken off abxs (lyme rage) but it's rare now.

I do make him look good though...the young women sigh when they see this handsome hunk helping me. That cracks me up, and he relishes it.

---

Posts: 2675 | From ct, usa | Registered: Jan 2004 | IP: Logged |

Lymetoo
Moderator
Member # 743


posted

---

Been married 33 yrs to a man who has put up with alot. I'm blessed.

Rob....You REALLY need to put this stuff in General.

--------------------
--Lymetutu--
Opinions, not medical advice!


---

Posts: 95877 | From Texas | Registered: Feb 2001 | IP: Logged |

Areneli
Frequent Contributor (1K+ posts)
Member # 6740


posted

---

I was with with a kind and beautiful women before sickness. This woman has turn into a witch once I have become sick.

Still with her - has darn good health insurance.

---

Posts: 1538 | From Planet Earth | Registered: Jan 2005 | IP: Logged |

Christine202
LymeNet Contributor
Member # 6158


posted

---

I have been with my husband 12 years...married almost 4.....

He is one of the most supportive people in my life when it comes to my illness...

He goes to all my appts, and encourages me in whatever I try to do... I feel blessed for this b/c I sometimes wonder if the tables were turned would I be able to do it??????

---

Posts: 437 | Registered: Sep 2004 | IP: Logged |

[email protected]


Member
Member # 8111


posted

---

I've been married 11 years - Lyme sick 2 1/2. He's been great. He has seen me totally non-functional and as I'm trying to recuperate. Sooo understanding when I had to quit working. And when our love life went to h***.

He's actually looking for a different job (which means relocating) so we won't crash and burn if (when) my insurance company succeeds in cutting off my disability.

He cooks most of our meals - but isn't so great on cleaning up. but what can I say. Love him.

--------------------
Pam
Live well. Laugh often. Love much.


---

Posts: 53 | From Ohio - south/southeast | Registered: Oct 2005 | IP: Logged |

mountainmoma
LymeNet Contributor
Member # 6503


posted

---

My partner left soon after I became sick and didnt get well. I am dating someone now, it hasnt been long. And, I dont think he has any idea how sick I am, and Im sure he's found out nothing about Lyme, although he interent searches interests of his own rutinely.

On the other hand, when he's around (he lives far away) he is very patient and helpful. Isnt happy unless he fixes a thing or two while here. He would like to see it more organized around here, but does not question me about why it is this way, he picks something and helps make it better. Brings in firewood, cooks dinner.

Of course, all this activity drains me, but having it fixed lifts my mood, so its a draw.

It is also pretty nice to think someone still finds me attractive.

---

Posts: 222 | From Santa Cruz Mountains, CA USA | Registered: Nov 2004 | IP: Logged |

Nancy-FL
LymeNet Contributor
Member # 7986


posted

---

Hi Rob -

I have been reading several of your posts recently, and am aware that you are going through some very hard times. I am really sorry for that, but I'd like to suggest something to you.

For what it is worth, and I am not a doctor, I think that you are putting yourself, and therefore possibly your relationships, through a lot of stress due to your being hesitant to take antidepressants. I understand this, as my husband, who is the Lymie in our house, has been hesitant to take any medications over the years, even over-the-counter stuff, like asprin.

To give you more background, he was a sales trainer and motivational speaker. Went to conventions and spoke to thousands telling them how to think positively. He was the most positive person I have ever known.

Well, then along came Lyme, and he was depressed, cried uncontrolably, was suicidal at times, was hallucinating, and was very much aware that all this was going on, but he had no control over any of it.

Fortunately, he also realized that he needed help, as what was happening was chemical. He talked to his LLMD, got one medication that helped, Wellbutrin, but then still needed more help, so Lexapro was added. These two drugs have made a world of difference in his outlook on his condition, our relationship, and his attitude about life in general. And, as I am sure many of you can understand, he hates taking pills more now than ever before, but taking the antidepressants is better than suffering the mental affects of Lyme without them.

I figure that there is no need to put yourself and those around you through conditions that can be improved, if you are open to accepting that help.

Here's to good health........
Nancy

---

Posts: 119 | From Southwest Florida | Registered: Sep 2005 | IP: Logged |

trails
Frequent Contributor (1K+ posts)
Member # 1620


posted

---

I dont know how this happened, but I AM in a healthy and loving relationship now for almost 8 years.

I was well when we met, I thought lyme was a thing of the past---I had it 7 years before we met.

Then 2 years into the relationship I had my first reinfection or relapse.

The best thing about my life is my partner and our relationship. It is a lot of work for both of us and there were times I didnt think we'd make it. But we have such strength because of all the things we have been through.

One thing I never get over is the fact that she NEVER doubts me or thinks I am faking it or any of the things that so many friends and doctors have thought. She believes me and the severity of my illness even when she cant see it.

I am so lucky and I never take it for granted.

---

Posts: 1950 | From New Mexico | Registered: Sep 2001 | IP: Logged |

BostonLyme2005
Unregistered



posted

---

Hi,

I have some pains with Lyme yes, thats for sure...
But I go through each day without meds and thats the way I want and need it to be....

My family never hears too much from me....

I spare them most of the time....

I will be well!

---

IP: Logged |

kissis
LymeNet Contributor
Member # 4165


posted

---

Well I was diagnosed with M.S. 15 years ago and until a few years ago didnt know I had lyme or the connection.

My divorce was final last August,he had a girlfried on the side and even though I needed his phisical help and his income and his inshurance,In a heated lyme rage I told the jerk of 22 years to get the .... out !

So now im poor, raising 2 kids on my own and luckily I have medicare'from winning disability. But atlast my insides are not in a constant knot like before and I think im much happyer now.

I havent started to date yet,and I'm not sure how.I dont think thers going to be many willing to go out with a wheelchair somtimes and walker the rest dates out there .

But I look Damn good' If I could just feel and walk as well Id have it made'

But for several years now I've been treating the lyme and responding' but as most all of you know, not in a favorable way.

But I guess im hopefull, today anyway.Terri

---

Posts: 203 | From tipp city oh.45371 | Registered: Jul 2003 | IP: Logged |

duramater
LymeNet Contributor
Member # 6480


posted

---

Rob --

sorry to hear of more of your troubles. but why oh why won't you post things to general that belong there? you are posting tons of medical stuff AND general all to medical -- give other folks a chance, eh?

---

Posts: 689 | From western MA (we say buttER and pizzA) | Registered: Nov 2004 | IP: Logged |

BostonLyme2005
Unregistered



posted

---

Hi Dura,

I am doing well enough, thank you...No need to feel sorry for me...Thanks!

I am dating a lot, no steady relationships here, but having fun.....

Sorry if I have offended you and others....

---

IP: Logged |

Gretchen P
Member
Member # 8403


posted

---

Hey Rob,
Are you taking abx?

My lyme was hidden by me basically by ignorance thinking I had arthritis....although I am not sure how arthritis causes dizziness and ringing in the ears but those rheumies make ya belive just about anything.

So I know realize by me being silent for the past few years it has hurt me, hubby thinks I was making up that I had all the symptoms I found on the internet and still to this day does not trust my almost positive on all bands Igenex WB.

I am not sure why he does not see that I am functioning at 90-95% versus the 30-40% I was functioning at. I think his biggest fear is the effects of the longterm antibiotics,although I can find NO WHERE stated exactly what the side effects are.

It has gone so far in our house that he does not accept that our 13 yr old daughter who is also extremely positive via Igenex WB has to be on long term abx also.

Lyme rage DOES NOT help this area of conflict, although I am learning to deal with accepting that he will NEVER get it,even though physically we have symptoms.

I thank the Lord every day that my daughter's and my treatments have gone so well so him and I do not need to discuss lyme much anymore, it was a heller in our house for awhile.

So you can have healthy relationships, find someone who is compassionate that wants to learn about your disease, not someone who wants you to teach them about it...there is info out there for those who want it>>> My hubby does not, but hey he is wonderful in other areas...so for now I'll keep him. Good luck in healing and dating, there is someone out there for all of us! Peace!

--------------------
I'm gonna get that lyme !!!


---

Posts: 61 | From Erie, PA | Registered: Dec 2005 | IP: Logged |

bubbear
LymeNet Contributor
Member # 8976


posted

---

Hi Rob
I'm in a healthy relationship 1 year the 15 of next month...I have went on Wellbutrin to help with the mood swings....and I am sure my partner and family get sick of hearing about Lyme but they never speak it...They are great support....one more thing I do not understand the complaining of where and how people post...If I don't want to read it I don't....and I do not understand how it blocks people from haveing thier chance.....anyhoo...hope things get better for you

--------------------
Hugz, Tugz and Health to you!
Greg/bubbear
http://centralfloridaresearch.com
Treasure the love you receive above all. It will survive long after your good health has vanished.Og Mandino


---

Posts: 109 | From Central Florida | Registered: Mar 2006 | IP: Logged |

WildCondor
Unregistered



posted

---

I'm in a wonderful relationship now, happy as can be! Before the love of my life, I was in relationships with basically cowards. None of them could handle the illness, and decided to abandon me in my most desperate time of need instead. This is what distiguishes men from boys. Men stay and support you with love, patience and unconditional understanding, boys...they run away! Sad but true, a serious illness like Lyme disease tests who our true friends are.

---

IP: Logged |

geniveve
Unregistered



posted

---

i've been married ro almost 25 years to a vietnam vet who has a disability. when i got sick, so did our marriage.

he feels that because he suffered that no one else's pain can compare so they had better shut up.

we've almost split a couple of times over his abusive behavior about my health. heavens, the comments he's made including that he wished i would get a terminal illness and just die......

it has placed a tremendous strain on everything. i have to go to all appointments alone, and scheduling anything like a procedure where i have to be sedated, is a real nightmare. i go through hell.........

sometimes life is not worth it......

---

IP: Logged |

BostonLyme2005
Unregistered



posted

---

Hello, Wild, Bub, Gen & Others!

Yes, I think if we want to read something, we do, if not, go do something else!

Look at the responses to this post. What a wonderful medicine, to be able to share another part of our Lyme life with others in a different area.

I feel sorry for those who have no one to hold them, walk with them, hug and kiss them daily, stay by thier side, escort them to the Dr. or where ever.

It is also very wonderful to have a loving and supportive partner/family. This is the best medicine of all.

Wild,

Love is this, simply put............When the chips are down, and all around you is caving in, your hours of dispair are upon you, you need help to walk, dress, bathe, eat, etc., everything awful is around you......

If you have one (1) person in your life who is always by your side regardless of the list above, who is there for you 24/7/365, without complaint, that is love!

---

IP: Logged |

WildCondor
Unregistered



posted

---

Well said!
that IS love!
Love is the best medicine, and there is more than enough to go around once you open your heart.We are, each of us angels with only one wing; and we can only fly by embracing one another.

---

IP: Logged |

Lymetoo
Moderator
Member # 743


posted

---

quote:

---

Originally posted by bubbear:
.one more thing I do not understand the complaining of where and how people post[/QB]

---

We have several topics that STAY at the top of the page. They take up space already. Then people come along and post stuff that should be in General...or should be in Off Topic.

That further clutters up MEDICAL where people come for MEDICAL questions to be answered. We want to make sure newbies get their questions answered.

Newbies usually don't realize that their question could get pushed back to page 2 or page 3 within a day's time and THEY HAVE NO CLUE WHAT HAPPENED TO IT!!

Off Topic and General and Seeking are there for a REASON.

I'm not a hard-nosed type of person, but this gets to be ridiculous sometimes. I LOVE Rob's questions, but they need to go where they're supposed to go.

Keep smilin'!

--------------------
--Lymetutu--
Opinions, not medical advice!


---

Posts: 95877 | From Texas | Registered: Feb 2001 | IP: Logged |

hatsnscarfs
LymeNet Contributor
Member # 6562


posted

---

I agree. Rob you've been an asset to the medical questions board and we need you over in general too.

I find there are so many posts in Medical including many that belong elsewhere, that my questions are on page 2 in no time. I haven't even bothered to start my own posts about starting Plaquenil & Biaxin because there are already so many everyday.

I've tried to answer your private messages many times but every single time your box is full because you ask so many questions of so many people everyday. Are you taking time to absorb the answers, study the suggestions & implement some of them?

Rob I'm going to start checking General everyday and expect to see approx. half your questions over there, OK. I'll wait til tomorrow to check so you'll have time to learn your way over there. Starting tomorrow I will only reply to your messages that are posted in the right place.
hats

---

Posts: 956 | From MA | Registered: Nov 2004 | IP: Logged |

WildCondor
Unregistered



posted

---

Love is all! Flowing deep inside of me..drowning in my soul! Yep, should be in gen. support but why single just this topic out? The whole thing is a mess, why not just put everything in one big forum, since the other categories arent even looked at!!!!!!!! Look at the top of this board, none of those alerts are medical questions...but this thread is helping so many. Whatever!

Such a mess ya! Ok, moved original post to comp. questions in all fairness.
Love is all......

[ 27. April 2006, 03:32 AM: Message edited by: WildCondor ]

---

IP: Logged |

HEATHERKISS
Frequent Contributor (1K+ posts)
Member # 6789


posted

---

Yes wonderful relationship. I would be lost without him. My rock. My champion.

BILL

--------------------
HEATHER




---

Posts: 1974 | From ABERDEEN, NJ 07747 | Registered: Jan 2005 | IP: Logged |

alexander
Unregistered



posted

---

interesting, important topic. being in love and having a understanding partner could definitely be part of a successful combination therapy.

i was on my own when i became sick and im not sure any relationship would have passed this incredible test. but half a year after i got slowly better i fell all of a sudden in love with a girl, we had a great 2-year-relationship. we split up, not because of lyme, but in retrospect i'm sure that love helped a lot in my recovery over the next years. you realise that even with those bugs in you you can reach the stars. the only things we had discussions about was that

a) I generelly refused to sit in the grass (e.g. in a park) or enter a forest again. she though it was paranoid and although she was right I simply couldnt do it.
b) she thought i was mad taking for years high doses of antibiotics. maybe i would have thought the same if I hadnt experienced lyme.
c) I didnt want her to tell everybody how sick I am. Cos in general i only talk about lyme with very close friends and relatives cos I dont want to be the always-sick-man who only talk about his disease. So when I date these days I never tell a girl I am sick. Of course I would if it would become serious.

PS: I wouldnt have found this great discussion if it hadnt been under medical questions.

---

IP: Logged |

just don
Frequent Contributor (1K+ posts)
Member # 1129


posted

---

Relationships???
Well I guess thats what you call it when you have 200 girlfriends running around your home stead, living with you.

And soon to be 300 when they all get done having their babies, oops maybe I should say 'our' babies.

They dont like to share them with me tho. But I do get visitation rights once a day at meal time,

Now I guess I am really more like "Cool Cave 76" here. Just call me alone and lonely.

Course I can still remeber the last affair I had with my 'wife'. Couldnt have that long ago, back in '98 I guess!!!

My life just seems to spiral down, never up any more!!!

here are all of you--
and here is ME
notice the difference

Have a NICE day, y'all from --just don--

--------------------
just don


---

Posts: 4548 | From Middle of midwest | Registered: May 2001 | IP: Logged |
Contact Us | LymeNet home page | Privacy Statement

Powered by UBB.classic™ 6.7.3

---
The Lyme Disease Network is a non-profit organization funded by individual donations. If you would like to support the Network and the LymeNet system of Web services, please send your donations to:
The Lyme Disease Network of New Jersey
907 Pebble Creek Court, Pennington, NJ 08534 USA
http://www.lymenet.org/
---
Home | Flash Discussion | Support Groups | On-Line Library
Legal Resources | Medical Abstracts | Newsletter | Books
Pictures | Site Search | Links | Help/Questions
About LymeNet | Contact Us
---
© 1993-2020 The Lyme Disease Network of New Jersey, Inc.
All Rights Reserved.
Use of the LymeNet Site is subject to Terms and Conditions.
---