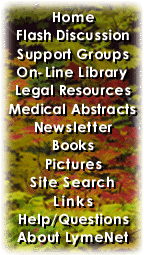 ---
LymeNet on Facebook
LymeNet on Twitter
---
---
The Lyme Disease Network receives a commission from Amazon.com for each purchase originating from this site.
When purchasing from Amazon.com, please
click here first.

Thank you.




Dedicated to the Bachmann Family


LymeNet needs your help:
LymeNet 2020 fund drive

The Lyme Disease Network is a non-profit organization funded by individual donations.

| | |
| --- | --- |
| | |
Author
Topic: Anyone else have joint arthritis as their main symptom?

luvs2ride
Frequent Contributor (1K+ posts)
Member # 8090


posted

---

This is my only symptom and sometimes when reading everyone else's posts, I feel I am the only one dealing in this situation. I was patient with my treatment protocol until January when I was diagnosed with RA.

Since then I feel I am in a race against time as RA will damage your joints more and more. Also, it damages your internal organs too. The rheumy wants to put me on methotrexate which is an immune suppressant. I begged him to let me try an antibiotic protocol first which uses low dose minocycline pulsed MWF. He angrily agreed to try it for 6 mths and prescribed 100mg MWF and made a follow up appt for after the 6 mths.

From what I read, this protocol needs to be monitored and levels adjusted as necessary. Clearly, I'm not getting that kind of care.

In addition, I am working with another doctor on Leaky Gut, Systemic Yeast, parasites and stressed liver.

I do think I am seeing improvement, but it is so slow and subtle with the usual 1 step forward and 2 steps back kind of progress that I am not really sure if I am improving or just cycling.

sigh...... I would just love to have someone else going through this same ordeal to talk to.

At the moment, I am not even addressing Lyme, although I do intend to once the yeast/parasite thing is cleared up.

--------------------
When the Power of Love overcomes the Love of Power, there will be Peace.


---

Posts: 3038 | From america | Registered: Oct 2005 | IP: Logged |

bettyg
Unregistered



posted

---

yes, degenerative arthrtis in left thighare maes my walkingey pain. Pain doesn't go away; I use moistioned heating paid/and frozen ice packs.

---

IP: Logged |

bettyg
Unregistered



posted

---

This posted twice, so go into your 2nd post using PENCIL icon. t the top is a box you can mark showing you wishes this thread deletd; check it, and it's gone completely.

Bettyg

---

IP: Logged |

luvs2ride
Frequent Contributor (1K+ posts)
Member # 8090


posted

---

Thanks Betty.

I didn't know how to do that.

It's taken care of now.

--------------------
When the Power of Love overcomes the Love of Power, there will be Peace.


---

Posts: 3038 | From america | Registered: Oct 2005 | IP: Logged |

JimBoB
Unregistered



posted

---

luvstoride:
IF that is all you have to address, is RA, consider yourself VERY fortunate.

My Lyme started out as that, and I still have THAT as one of the MAIN symptoms, but as it progressed over the 5 years I wasn't being treated, it went neuro and my head was unbeliveable. The pain, the fog, NO memory, VERY bad vision, etc., etc..

NOW since the herbal protocol, the vision is great MOST of the time. NO pain in the head. SOME memory loss yet. Neck pain is gone now, 99% of the time. SOME days the arthritis is okay, others not so okay. BUT definitely MUCH better than before I started the herbs.

WHEN I was taking the abx, my symptoms were not real good, especially compared to when i was on the herbs only, BEFORE I started the abx. After quitting abx, and back on herbs only, my symptoms are much better again, but NOT as good as BEFORE I went on the abx.

MY conclusion, "I wish I had never taken the abx".

What I canNOT understand is "WHY do you people KEEP ON taking abx and don't even give a GOOD herbal protocol a try, WITHOUT abx?"

Yet you suffer and suffer. It makes NO sense to me at all. Can you all explain that?

My stomach was nearly destroyed during abx treatment. But since getting on C-Salts and herbs only, it is feeling great these days.

What gives folks?

Jim

---

IP: Logged |

Andie333
Frequent Contributor (1K+ posts)
Member # 7370


posted

---

luvs,

Severe arthritis of my right knee was a very bad problem for me. I had excruciating pain at times, and it became very difficult for me to walk.

I had gone to several doctors about this and, as a result, my knee had been drained and shot wtih cortisone twice. I didn't know any better, and, as you can imagine, this made the arthritis much worse, rather than better.

When I was first dx with Lyme and started seeing my LLMD last June, she said she imagined nearly completely improvement for me. Her only hesitation was regarding my knee.

Since then, I've been taking my abx and supplements, having weekly acupuncture and using foot detox ads on points correlative to that area.

It honestly took 3 months of steady treatment before I could even fully straighten out that leg. It would take another two months before I could cross it, even bear the slightest touch or walk without limping.

Now, after 11 months of those same treatments, Luvs, I'm actually starting to feel hopeful. On Sunday, I went to a street fair on cobblestoned streets. I guess I must have walked a mile, and while the swelling did increase some in my knee, it wasn't nearly as bad as I'd hoped.

By the way, as Jimbob said, I also added a lot of neuro symptoms to my list, once I started treatment. They seemed to come out of nowhere.

But after treating them for 3 months with rifampin (for Bartonella) they're vastly improved too.

I do hope you're able to find some relief.

Andie

---

Posts: 2549 | From never never land | Registered: May 2005 | IP: Logged |

luvs2ride
Frequent Contributor (1K+ posts)
Member # 8090


posted

---

Thanks for your responses.

JimBob, you must be forgetting. I have done all my treatment alternatively first with homeopathic remedies and now with herbs and enzymes.

I am not opposed to abx, but I am working with intergrative LLMDs who simply do not believe abx are the answer. So, so far, I have not taken any exept 6 doses of Flagyl which caused an allergic reaction where my throat closed up.

I did have the neuro symptoms bad when my symptoms first began, but they were the first to go. My arthritis actually increased significantly with treatment which the doctors are calling herx from die-off. It is generally agreed, I do not release the toxins well and tests have proven I have mercury toxicity so I am scheduled to remove amalgams as well as 3 root canals and one cavitation.

The dental work has not occurred yet due to systemic yeast and parasites found in my blood. Literally, any treatment I am given for lyme produces unbearable joint pain.

I do take exception to your casual opinion of RA. Please read up on it. It is quite deadly as well as severely crippling and disfiguring. I also have black yeast which if it goes to my brain will kill me instantly. I begin IV treatments in an effort to eliminate the black yeast next week. From what little I can find on the internet about black yeast, it is extremely hard to kill.

My doctor refuses to allow the mercury removal until he clears up the yeast and parasites as he says the toxins that would be released might be too much for me to handle at this point.

It is reassuring to hear from other Lymies who have arthritic symptoms. Even though I am told Lyme can cause RA and when the lyme is gone, the RA will be too, it is still so frightening when the joints swell and bulge.

Today I am having a good day. I do seem to have some increased anxiety which the doctor says is coming from the detoxing.

Changing my diet has been the most effective with my swelling. Enzymes seem to be removing the pain, but progress is so gradual, I am scared to call it progress at this point.

--------------------
When the Power of Love overcomes the Love of Power, there will be Peace.


---

Posts: 3038 | From america | Registered: Oct 2005 | IP: Logged |

groovy2
Frequent Contributor (1K+ posts)
Member # 6304


posted

---

Hi Luv

My worst symptom was joint pain-
extreame - every joint in my body--
crackie -also muscle and tendon pain--
24X7- Ouch-

Regular doctors thought I had RA -
but I do not--

I feel it mostly came from the
coinfection Babs -

Also Gluecosimine Sulfate Will
repair damage to your joints--
Its almost like majic --

The dose of doxi you are taking
is Very Low-
so think about upping it-

Make Sure to Fallow the instructions
about mixing doxi with vitiamns-minerals-
and Dairy-Very Important--

Also cut out All Citrus and Cranberries
from you diet--they can cause a
Photo Toxic reaction with the doxi-

Hope this helps--Jay--

---

Posts: 2999 | From Austin tx USA | Registered: Oct 2004 | IP: Logged |

luvs2ride
Frequent Contributor (1K+ posts)
Member # 8090


posted

---

Jay,

Thank you. That is all very helpful. I will start the condroiton (sp?). I'm not on citrus fruit right now because of the yeast. I did not know that about the cranberries. I will avoid them too.

Thanks!

--------------------
When the Power of Love overcomes the Love of Power, there will be Peace.


---

Posts: 3038 | From america | Registered: Oct 2005 | IP: Logged |

bettyg
Unregistered



posted

---

luvs,

" will start the condroiton (sp?)."

Actually my LLMD/holistic MD and rheumatologist have stated do NOT buy the condroitin, but only GLUCOSAMINE AND MSM together . You are paying for the other name; studies have proven it does NOT help arthritic joints.

Jay, I was just going to buy blueberries for this new ELIMINATION diet I'm to start. It's so hard to start since majority of foods I EAT ARE on the "FORBIDDEN" LIST!

"they can cause a Photo Toxic reaction with the doxi"; Jay where did you find out that info please? thanks...

---

IP: Logged |

just don
Frequent Contributor (1K+ posts)
Member # 1129


posted

---

My arthritis is severe also. BUT I have NO RA only OA type. In other words NO swelling and redness or heat. Just flat out pain along with muscles and tendons.

All the cartilage is gone out of my hand joints, writting a check the bones just snap over one another EVERY time the pen changes direction for every little portion of every single letter.

Plus bone spurs and cysts where the cartilage should be.

Docs always said OA doesnt spread(started in the hands)dont worry about it. They couldnt explain the bilateral part of it either.

Then they called it early onset OA which according to them, some peoplef just come down with at an early age.

Even an "Arthritis specialty clinic" didnt know what it was, just dont worry, the spreading thing is all in your head.

Why do some of us have 'RA' and others have 'OA' and I am guessing, there are some of us with both???

i am wondring because i am --just don--

--------------------
just don


---

Posts: 4548 | From Middle of midwest | Registered: May 2001 | IP: Logged |

Banks
Member
Member # 8894


posted

---

luvs2, very well done to convince your doctor to try ABx first, you dont want to keep your bacteria low with herbs, you want to get rid of them totally with ABx. If you have lyme the autonuclear tests can result positiv suddenly, but it doesnt means you now got rheumatism!! i bet you will be successful with the minocycline.
my main symptom has been bad arthritis in almost all joints and after 4 months of ABx i feel very well now!!!

---

Posts: 21 | From Detroit | Registered: Mar 2006 | IP: Logged |

luvs2ride
Frequent Contributor (1K+ posts)
Member # 8090


posted

---

Justdon,

Wow! That is not good news about your hands. I am taking joint supplements in hopes of reducing some of the damage that can occur. Even still, I have some enlarged joints in my thumb and fingers.

Of course, I believe Lyme or another bacteria is the culprit behind most arthritis.

The only good news about OA is that is doesn't usually spread and doesn't adversely affect the organs. From what I am told, it is just as painful and debiliting. My rheumy said "Looks like you have OA, and RA. Things are not being nice to you."

Ya' think?! My question is why would both suddenly hit me out of nowhere? I had no history of joint problems at all.

What I like about integrative doctors is that they don't just treat symptoms, they try to find causes. I'm all about finding the cause.


Banks,

Thanks for the vote of confidence on the minocycline approach. (JimBob, I'm sorry I forgot about the mino I am taking. It is such low dose as to be completely safe, even from yeast. There is a 50 year study on this approach to controlling RA)

I do feel comforted to be hitting this thing from both allopathic and complimentary angles. BTW, I just this week added fresh garlic (1 clove daily) to my regimin. I did this as another antibiotic and antifungal approach. Garlic is supposed to be so great for your health anyway. I chop it and gulp it down with water, no chewing. I then chew a couple sprigs fresh parsley for the smell factor - all organic. So far, (1 week) hubby says I do not smell like garlic. I am having less pain in my hands, but don't know if I should credit anything or just going through a cycle.

Yesterday, I received my heavy metals test. (urine) No surprise to be high in Mercury, but I was completely shocked to see that I am "highly elevated" in lead. 3 x the allowable limit. The report from Doctor's Data Lab says I should be exhibiting numerous symptoms, but I didn't seem to have any of the ones listed. They did not mention arthritis from the lead but did mention it from the Mercury. On the Internet, I found a source that said lead can cause arthralgias. Anyone have any knowledge about this?

Maybe clearing heavy metals from my body will be my magic bullet!!

Please pray for me.

--------------------
When the Power of Love overcomes the Love of Power, there will be Peace.


---

Posts: 3038 | From america | Registered: Oct 2005 | IP: Logged |

JimBoB
Unregistered



posted

---

BANKS:

I am wondering WHERE you are coming from as far as WHAT herbs actually do in Lyme Disease?

You obviously either know NOTHING about herbs, and/or antibiotics. OR you are speaking from a limited personal experience or being treated for Lyme in the first few weeks, (NOT months or years), of being bitten.

It IS the herbs that will eradicate the Spirochetes when the abx no longer are effective OR never were effective in many people with LymeD.

There is a reason, WHY people with Lyme for years, STILL have Lyme. They are on the SAME abx treatments, month after month, after month. It becomes useless after awhile.

I do agree that many can be cured with abx, but a huge percentage of people can NOT. For them, it is herbs, and I am NOT talking a dab here and there, but a GOOD STRONG Protocol for an extended period of time. Like at least 8 months to a year, maybe much more for those who have had Lyme and it's coinfections for many years.

There MAY be a few people who have gone too far, carrying the Lyme Spirochetes, that they can't even be "cured" of this malady. So all they can hope for is to bring it down to a livable level with HERBS, so they don't have to suffer ALL the side effects of the antibiotics that so many of you complain about.

But, yes, as GiGi has reported SO many times, it is imperative to get rid of ANY and ALL mercury in our mouth, AND systems. I am working at that now. Only four more teeth to go. And only one more root canal tooth to remove.

Jim

---

IP: Logged |

JimBoB
Unregistered



posted

---

Hi Luvs:

Yes, I DID forget you were on the homeopathy and probably most things. Please forgive this Lyme Brained person for that.

But I have read SO MANY, many posts all over this group, from people that keep suffering from taking abx, and appear to be clueless that there ARE better or at least OTHER regimens out there that DO the job without all the suffering associated with LONG term abx. And YOU were mainly talking about abx.

I have mainly LYME arthritis, however, I also have OTHER arthritis that is genetic. But I think THAT is what you all call OA, I guess, because there isn't the swelling with it. BUT I DO have SOME swelling from the Lyme, and also swelling in my legs, (muscles, I believe), and very bad tendons, especially left leg and right heel tendons and achilles?

Course I am almost 65 and at 65, usually, most people on my mother's side are either in a walker or wheelchair from arthritis, so I am expecting it. I was getting arthritis long before I even had Lyme.

I am WONDERING, just HOW MUCH of the herbs and WHICH ones DO YOU TAKE?

I haven't looked into the homeopathy all that much, as I understand THEY use a very much diluted protocol from what Buhner recommends?!?!?!

I am taking 83 to 85 pills a day, (in the 0 size), plus tinctures and C-Salts. While THAT is NOT as extreme as it could be IF I followed Buhner's protocols for ALL the herbs he recommends, it is still a lot, and about all I feel my system can take, comfortably!

I am doing some other herbs, that he doesn't recommend, or should I say discuss, also. I got into them by reading other books.

Again, sorry, if I seemed inconsiderate of YOUR needs, but it is hard to get everything across in ONE post on these boards. IF we did, they would ALL be a book in themselves.

Jim

---

IP: Logged |

spiral
Member
Member # 9217


posted

---

every time i hear people talk about herbal remedies, i am not sure what exactly they are referring to and how you measure the dose? seems like a lot of guessing. Help?

--------------------
spiral


---

Posts: 20 | From hvny | Registered: May 2006 | IP: Logged |

luvs2ride
Frequent Contributor (1K+ posts)
Member # 8090


posted

---

Hi Spiral,
Hi JimBob,

I will try to answer both your questions about the herbs.

Years ago, I learned the power of herbs when I was suffering so badly from allergies (we had moved to a new home with hidden water damage and the molds were taking me down). I developed mild asthma and could no longer do any strenous exercise due to lack of breath. I was a runner until this happened.

The allergist had me on prednizone, allegra d and inhalers, none of which helped much at all. There was a very nice herbal shop in town that was very popular and I went there with some friends just to look around.

The owner and his wife were both certified herbalists (5 years education). He gave me an herbal product (capsule form) called ALJ by Nature's Sunshine which he said should help my asthma as it is supportive of the bronchial tubes.

Within 3 days, I could breathe again. It was like concrete had been lifted from my chest. I checked with my regular doctor before taking the herbs as I knew nothing about herbs and he agreed this combination was safe. I took that herb for 2 years straight because I did not want to get in that shape again. I threw out the meds from the allergist and to this day, I have never had that kind of breathing problem again.

It took a couple of years, but I finally reached a point of trust in this couple that I went to them before I went to the doctor. Even my husband finally sought their help when abx were not clearing a bad sinus problem he had.

So I am a big believer in the healing power of herbs. I do believe you need a very well-trained person administering them as they know the dose to take and what interacts with what.

When I was diagnosed with Lyme in 8/05 it was a doctor in Rockville, MD who practices integrative care. He uses homeopathy and is a certified homeopath. He said he does not use herbs because they are not FDA regulated and he has no way of being sure they have in them what they claim to have in them. He has a good point.

The remedies he prescribed for me were prescription strength and did have FDA approval stamped on them. I really liked the homeopathy and it quickly cleared up so many issues I had like migraines, and brain fog. However, it brought on arthritic herxing that after 5 mths became RA and I felt I had to move on.

The Minocycline I take now for RA is prescribed by my Rheumy at my request. The rest of my treatment which is mostly herbal is being administered by a medical doctor who also practices integrative care. He has me on DHEA as blood test showed I was low in this. A pharmacy had to compound this for me.

He also has me on the following:

1-"Intestinal Support" herbs which consist of black walnut and wormwood (Artemisia absinthium), clove and chines wormwood (Artemisia annua) to kill parasites and bacteria.

2-Platinum Plus Essential Amino Acids (Protein Digestion Enzyme)

3-Quercetin 300 - for allergies

4-Similase (Plant Enzymes)

5-Vitalzym (Extra Strength Systemic Enzymes)

6-MultiThera 1 Multi Vitamin/Mineral/Trace Element

7-Permeability Factors (with Glutamine, NAG and Phosphatidylcholine)

This regimin is for leaky gut and systemic parasites. It is not for lyme. I begin IV treatment next week for the systemic white and black yeast.

I do not yet know how he will chelate me for the mercury and lead, but I'm sure I have to get the amalgams out first.

Spiral, herbs are not as powerful as abx but they are the next strongest thing out here. Lots of abx were derived from the active ingredient found in herbs.

They can do a VERY GOOD job of healing you completely. They just require more time and more volume. Lots more volume!

Do not mess with them without knowledgeable guidance from a doctor or at least Stephen Buhner's book. They can interact with each other and with abx in a deadly way if the wrong combination is taken.

Having said that, they are generally safer than abx because the whole plant is used, not just the active ingredient. That way the plant balances itself out.

Homeopathy, which I also highly recommend, is completely safe and does not interact with any drug. Absolutely no negative side effects with homeopathy.

I believe if I could have detoxed better when on the homeopathy, I would have been well long ago. After all, all of my lyme symptoms left except the arthritis. I think the arthritis increased because the heavy metals in my body were preventing me from expelling the die off of the Lyme.

I am currently receiving colonics and am seeing improvement in my pain level. It may be too soon though to know if this will be longterm or just another cycle.

--------------------
When the Power of Love overcomes the Love of Power, there will be Peace.


---

Posts: 3038 | From america | Registered: Oct 2005 | IP: Logged |

JimBoB
Unregistered



posted

---

Spiral:

I agree 100% with Luvs, you do NOT want to be guessing on taking herbs, or ANY medicine for that matter.

Stephen Harrod Buhner's book, "Healing Lyme", Naturally, is an excellent work for educating you in WHAT is needed and what the various herbs discussed, will do for you.

AND there is NO guessing as to HOW MUCH of what herbs to take for what.

You do have the choice of different herbs, for different symptoms. He has a MAIN protocol, plus the expanded protocols, plus specific herbs, to aleviate specific symptoms.

THEY worked MUCH better for me, so far, than antibiotics did. As a matter of fact, I had setbacks with the abx.

I have other problems, not Lyme related, that neither of you probably have, that make it more difficult to take many medicines, including SOME herbs. But for the most part, the herbs recommended by Buhner have worked very well for me.

I am also taking Garlic, Olive Leaf, and Oregeno Leaf, whole herbs, in low dosages. Because of the many attributes I have read about them in a couple of other books. But am sticking to Buhner's recommendations for the most part. Including his recommendation of 1000 to 3000mg of vitamin C a day in the form of C-salts from nutri-com.

The C-Salts have been very important in the healing of my severe stomach pain and nausea that I had even before taking any abx, but got worse with the abx.

Jim

---

IP: Logged |

lr26
Member
Member # 7437


posted

---

Hi,

I have RA I believe is caused by Lyme. Started Nov. 1997. I went to my reg. Doc, he said I had RA and there will be less & less I will be able to do; Accept it.

I told him NEVER. I believed I had Lyme from day 1!! I went from Dr. to Dr., Mayo, Marshfield. All said RA.

Mayo said if I didn't take Metrotrexate and Prednezone he would see me in a wheel chair within a year.

My wrists and my right ebow are the worst. Mayo called it moderate to sever damage. It has been 5 years sence Mayo & I am very active, work full time, take care 6 horses & ride 5 days a week, NO Wheel chair.

I wasn't computer literate then. I couldn't find a Dr. that would treat me for lyme. So, I found a holistic Dr. and books on natural healing. Problbly what saved me from more damage.

But "For Me" holistic and herbs and drops and detoxing heavy metals wasn't enough to get rid of the bugs.

I was very slowly sinking. The year before I found Lyme Net and a LLMD, the nero stuff started.

I'd get lost in restaurants; go to the restroom and have a hard time finding my table again, I'd go to the store and leave stuff in my cart or my purse in the store. It got so bad I would bring one of my kids with me to make sure I came home with everything. Scary Stuff!!

I've been on different combos of ABX sence Nov. 2004. Its been a long road. I'm healing now. got over the hump Feb 2006.

I am feeling better & better. I even had a whole week of feeling "normal". Then Flaygl and Zithromax (sp) hexing weekly, last hex only lasted 24 hours. Came on real hard and left as quick.

Doc said my wrist would get better when the Lyme was gone. I didn't really believe him cause x- rays told the story. GUESS WHAT! The pain in my wrist is leaving. I can even bend them a little now.

I haven't gotten lost in over a year. My sinuses are bad,(they are better than they were before abx) but Doc says they might clear when this disease is gone.

I can't wait to be off ABX so I can go back to my holistic Dr. and clean up the toxins and metals left from die off.

I am grateful for Lyme Net and gratefull for my LLMD.

Just trying to share my experience strengh and hope.

Lori

---

Posts: 94 | Registered: Jun 2005 | IP: Logged |

luvs2ride
Frequent Contributor (1K+ posts)
Member # 8090


posted

---



YEA!!

Lori,

Glad to hear from you. Guess what I like to ride? I have 3 but can't ride every day. Only the days my hands will close tight enough to hold the reins.

I am heading down the path you have been on. I am hoping to clear up the RA, but will definitely resort to abx if needed after these other issues are cleared out. So far, no one has me on abx for lyme.

Which abx are you taking? Please PM me as to who your doctor is and where he is located. (I wouldn't mind a pic or two of your horses either)

Yea! Yea! Yea! If I could find an icon to do backflips, I would post it here too.

THANKS!!!!!!!!!!!!!

--------------------
When the Power of Love overcomes the Love of Power, there will be Peace.


---

Posts: 3038 | From america | Registered: Oct 2005 | IP: Logged |

JimBoB
Unregistered



posted

---

Lori: What is wrong with detoxing NOW. Don't let it get so bad.

Keep taking Sarsaparilla, Red Root, Milk Thistle, and Acidophilus. Then you will feel even better. Or should the moment you can get off the abx.

Jim

---

IP: Logged |

charlie
Frequent Contributor (1K+ posts)
Member # 25


posted

---

sore,swollen joints and muscle pain were always my main symptoms except for a period of peripheral neuropathy(burning feet; itching) that was bad enough to eclipse everything else.

So I guess I got the classical 'lyme arthritis' contracted in wilton ct.

I ought to post a pic of my knees and one elbow....you'd swear I couldn't even use the joints....but the only flare occasionally(like right now when i got my foot bit by a bunch of fire ants)

These TBDs present differently in practically everybody, I guess I'd rather limp than have brain fog though....

---

Posts: 2804 | From Texas | Registered: Oct 2000 | IP: Logged |

lymie tony z
Frequent Contributor (1K+ posts)
Member # 5130


posted

---

Hey there Jimbob...

Stop making comments about those out here who don't use herbs to heal themselves...

You're insulting us...don't like it one bit!

While I'm glad for you or anyone else that has gotten relief from their protocols...it's no reason to bad mouth others...

I tried herbs in between abx's...while I found some to be efficatious...none for me were effective enough to stop a lot of my symptoms like abx.

We're not all alike...
Most of us could never afford the 80 or so pills you take....even if it did work.

Lay off.......zman

--------------------
I am not a doctor...opinions expressed are from personal experiences only and should never be viewed as coming from a healthcare provider. zman


---

Posts: 2527 | From safety harbor florida(origin Cleve., Ohio | Registered: Jan 2004 | IP: Logged |
Contact Us | LymeNet home page | Privacy Statement

Powered by UBB.classic™ 6.7.3

---
The Lyme Disease Network is a non-profit organization funded by individual donations. If you would like to support the Network and the LymeNet system of Web services, please send your donations to:
The Lyme Disease Network of New Jersey
907 Pebble Creek Court, Pennington, NJ 08534 USA
http://www.lymenet.org/
---
Home | Flash Discussion | Support Groups | On-Line Library
Legal Resources | Medical Abstracts | Newsletter | Books
Pictures | Site Search | Links | Help/Questions
About LymeNet | Contact Us
---
© 1993-2020 The Lyme Disease Network of New Jersey, Inc.
All Rights Reserved.
Use of the LymeNet Site is subject to Terms and Conditions.
---