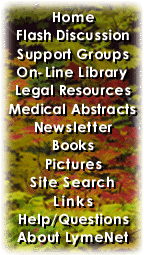 ---
LymeNet on Facebook
LymeNet on Twitter
---
---
The Lyme Disease Network receives a commission from Amazon.com for each purchase originating from this site.
When purchasing from Amazon.com, please
click here first.

Thank you.




Dedicated to the Bachmann Family


LymeNet needs your help:
LymeNet 2020 fund drive

The Lyme Disease Network is a non-profit organization funded by individual donations.

| | |
| --- | --- |
| | |
Author
Topic: Does 3 Weeks of Doxy Work?

Trina
Member
Member # 9270


posted

---

Hello Everyone,
I would like to ask anyone here if they supposedly caught this thing early on? Only to find out it was not.I Went morel mushroom hunting and sure enough missed a couple of the really tiny tics.A couple of them were on for more than 48 hours, later one left a bulls eye.My sister is a P.A. and said sure it is lyme and presribed 3 weeks of doxy 100 mg.Twice a day.I still have the EM I am only on day four of the antibiotics.I am just wondering if maybe I should have a blood test in a month or two to be sure the spirocetes are gone.She is just sure this will kill it and I have nothing to worry about but I am the one who is so achey I can hardly walk... I believe it was bartonella as my lymph gland in my neckhurt first and i had chills ect... and a odd rash also on my arm.The tic bite is on my back.I also have strange sensations on the top of my head after washing my hair and my arms are numb when I wake up.I either got the tic bite the last of april or the very first day or two of may. Thank you all...
Trina

--------------------
Trina


---

Posts: 64 | From Mo. | Registered: May 2006 | IP: Logged |

luke339
LymeNet Contributor
Member # 8580


posted

---

Not enough. I would take Doxy for 6 weeks at very least.

---

Posts: 167 | From Los Angeles | Registered: Jan 2006 | IP: Logged |

elle
LymeNet Contributor
Member # 7721


posted

---

The dose is too small.

At least 400 mg for 3 weeks might, might . . . but with swollen glands and the onset of co-infection symptoms, probably not.

I'm not a doc nor a healthcare prof. If you do nothing else have the co-infection tests and start treating those first. The WB IgG & IgM will respond based on your immune system, lyme load & whether you are ASO +/-.

Document your tick bites . . where were you, where (on your body) written with picture backups, your bullseye, dates, etc. start journaling symptoms, meds, dates. Document. Make sure you get copies of all labs, blood work and keep copies of all doc visits.

The lyme journey is a long one and you don't want to rely on your memory and your descriptions in the future of past events.

Elle

--------------------
When I feel blue . . . . . . its time to take another breath


---

Posts: 296 | From East Coast | Registered: Aug 2005 | IP: Logged |

robi
Frequent Contributor (1K+ posts)
Member # 5547


posted

---

Your sister is well meaning.... she is helping you as she was taught. Unfortunately, knowledge in the area of lyme is limited. You need to see a Lyme Literate Physcian. Not a typical Infectious disease doc. They think 2 weeks of doxy cures lyme. I WISH!

Post in seeking a doc. GO TO A DOCTOR RECOMMENDED FROM THIS BOAD.
In the mean time, ask your sister to read this http://www.lymenet.org/drbguide200509.pdf
see the bottom of page 17 for doxy dosage.
Maybe she will Rx more meds in the mean time. It can take a while to get an appointment with a Lyme Liteate Physcian so call as soon as you get a few names recommended.

Your sister needs to read the entire Guidelines Document, not just the dosing. With any luck she will become our next Lyme Literate Practitioner.

Many Lyme Literate Practitioners have had lyme or had a famly member with it. They see first hand the effects and then they believe what it can do.

robi

--------------------
Now, since I put reality on the back burner, my days are jam-packed and fun-filled. ..........lily tomlin as 'trudy'


---

Posts: 2503 | From here | Registered: Apr 2004 | IP: Logged |

Trina
Member
Member # 9270


posted

---

Hello Again,
I got so many tic bites it was unblievable.I did use repellent even.I must have 30 bites.Will the blood test show up even though I am on the doxy now? I really do appreciate this.Thank you all.I am going to email her this info.As my other sis, brother, nephew ect... all mushroom hunt ect on our land so there must be more infected tics in that erea.Also in that county my dads friend, my friends mom and my brothers friend have had lyme disease. What is worse they had it for a long time and then only got one course of antibiotics.My husband had a tic about 10 years ago that I pulled off that left a huge bulls eye.He would not go to the dr..When he went later on and finally mentioned it the dr said well it is to late now for any medicine and gave him nothing.Now I now why he has had trouble swallowing, is tired, hearing loss, vision loss ect... he is getting tested next week.I am just outraged....
Trina

--------------------
Trina


---

Posts: 64 | From Mo. | Registered: May 2006 | IP: Logged |

robi
Frequent Contributor (1K+ posts)
Member # 5547


posted

---

I see you are from Misourui ........ talk to LymeToo she can fill you in on a great doc there. Dr. C.

Tests not a Quest and Labcorp are like flushing our money down the toilet ......... sorry but it is true.

Have a western blot done at www.igenex.com

o to tthe site and get the blood draw info and the kit. zcall them they will explain. Your sister can draw it and you can send it in. I would ask tem about being on Antibiotics for the blood draw.


robi

--------------------
Now, since I put reality on the back burner, my days are jam-packed and fun-filled. ..........lily tomlin as 'trudy'


---

Posts: 2503 | From here | Registered: Apr 2004 | IP: Logged |

Mathias
Frequent Contributor (1K+ posts)
Member # 5298


posted

---

3 months of Doxy as a minimum if you have an EM and only stop then if you have no symptoms.

It is better to be safe than sorry.

--------------------
Mathias


---

Posts: 1242 | From New Jersey | Registered: Feb 2004 | IP: Logged |

docjen
LymeNet Contributor
Member # 7510


posted

---

I think a whole LOT of us here on this board would like to be able to go back and have a chance to have our infections treated acutely rather than waiting years and years for symptoms to become unbearable.

Find a good doc who will treat aggressively. Better safe than sorry at this point! Good luck!!

---

Posts: 393 | From Washington, DC | Registered: Jun 2005 | IP: Logged |

hatsnscarfs
LymeNet Contributor
Member # 6562


posted

---

Hi Trina,

Sorry you've had to join us here but you're in the right place. We are here to help. We too have numb arms and tingling things crawling over our heads... We know plenty about Lyme.

3 weeks of doxy only works if it is right after the bite. Ideally within a few days. Several friends of mine were bit last summer, took 3 weeks of doxy within starting right after the bite and are fine.

I was already having a lot of symptoms 2 weeks after I was bit. I doubt 3 weeks of anything weeks could have cured me at that point.

Since you are already having lots of symptoms you need stronger long term treatment. The sooner you get started the better. You are fortunate to live in a state that has a top LLMD.

I started doxy 3 1/2 weeks after my bite. I took it for 4 weeks and then stopped (thinking I was cured!) Within days all my symptoms returned and intensified and I was in excruciating pain. I resumed doxy (for 3 more months) while going from Clueless Dr. to Clueless Dr (at famous hospitals). I finally found my LLMD 4 months after the bite.

He switched me to stronger drugs and within days my brain fog started to clear and I started to feel better and have hope of recovering. Knowing what I know now I would have not followed the advice of my PCP and waited months to see specialists. They were totally useless. I should have searched for a LLMD right away regardless of what my PCP thought. After all, she was the one who refused treatment after my bite, told me to wait a month and have a test since Lyme is rare & easily treated. WRONG!!! She now knows better having learned from my case.

Getting better takes a long time especially if you wait to start it. However, treatment is a lot easier than having untreated Lyme which for me was excruciating. The 2 days I was off doxy were so bad that I haven't missed a singe dose of antibiotics in 19 months. For a while that was about the only thing I could remember to do!

From my experience I suggest: don't stop the doxy even for one day. Make an appointment ASAP with a LLMD. Post on Seeking a Dr., Start the anti yeast diet (www.wholeapproach.com), read as much as you can here on LymeNet. If you are able to read and comprehend do as much as you can right away. Without stronger treatment it is likely it will get harder for you to comprehend & remember things so use your brain while it is still working and take action. Every minute counts.

There is no test to tell you if Lyme is gone. You had a bullseye rash and now have lots of Lyme Symptoms. You don't need a test to tell you if you have Lyme, it is clear you do. When you get to your LLMD he can order the appropriate tests.

So spring into action (well maybe hobble into action)as fast as you can. The Lyme is multiplying and you need to start killing it big time.

hatsnscarfs

---

Posts: 956 | From MA | Registered: Nov 2004 | IP: Logged |

mlkeen
Frequent Contributor (1K+ posts)
Member # 1260


posted

---

Your sister got you started, but it is important to get the correct dose and much longer time on abx to rid yourself of lyme.

My son had a rash and a month of abx and was proclaimed well. He started with other symptoms 6 months later. 5 years later he is nearly well, we think.

---

Posts: 1572 | From Pa | Registered: Jun 2001 | IP: Logged |

Sparky
Unregistered



posted

---

I had EM rash/lyme diagnosis 10 days after tick bite 6/14/02 Santa Rosa, CA.

Prescribed 3-weeks of doxy. After 5 days, woke up and hands/forearms were numb--scared they were going paralyzed.

ER doc said that was allergic reacion to doxy (or was it a herxheimer reaction showing the doxy was working?), switched me to amox for 16 days.

Still symptomatic a month or two later. I then followed Br. Burrascano recommendation of 2X standard dose of cefuroxime (Ceftin) for 30 days. That only made me feel fluish.

Still symptomatic almost 4 years later. Developed vertigo, seizures, blurry vision, dizziness, double vision, parasthesias, muscle spasms, and increasing weakness in legs. I suppose it's meningo-encephalomyelitis (sp.?). Slowly getting worse, concerned that a wheelchair will be needed in future.

I use to be very healthy, long distance hiker.

I have no idea if 3-weeks of doxy would work. Popular information on Lyme Disease indicates yes, but ILADS states noone has ever been cured of Lyme Disease with less than 30 days of antibiotics.

Still wondering what the truth is in all this.

---

IP: Logged |

Trina
Member
Member # 9270


posted

---

Hello Sparky,
What is ILADS? I called my sister at her office yesterday and she more or less said if I did not like her diagnosis to go to another doctor.Talk about getting my feelings hurt,I wonder if she would feel the same way if she she were bit, left with an EM and then read what problems a lot of you have because you were not left on antibiotics long enough.So anyhow all I wanted her to do was up the doxy to 200 milligrams and to take it for a little bit longer.I did not argue or anything, as she had read in her book that what she had given me was the right dosage... meanwhile this morning my daughte had to go to the doctor for a sinus infection and I asked her about it and she said the dosage was right but I should come in as soon as I am off the antibiotics and have a blood test to be sure I am clear.I am going to ask for a test to make sure I have no co-infections also.I am fortunate that we have free blood test included with our insurance.I want to thank you all so much for making me feel welcome on this board.I will let you know how the blood test come out in a couple of weeks.Thanks again,

--------------------
Trina


---

Posts: 64 | From Mo. | Registered: May 2006 | IP: Logged |

WildCondor
Unregistered



posted

---

200 mg per day is too small a dose to do anything good. Should be double that and for longer!

---

IP: Logged |

Sparky
Unregistered



posted

---

ILADS...International Lyme and Associated Diseases Society

Under 'Basic Information':

12. There has never been a study demonstrating that 30 days of antibiotic treatment cures chronic Lyme disease. However there is a plethora of documentation in the US and European medical literature demonstrating by histology and culture techniques that short courses of antibiotic treatment fail to eradicate the Lyme spirochete. Short treatment courses have resulted in upwards of a 40% relapse rate, especially if treatment is delayed.

http://www.ilads.org/basic2.html


Again, I don't know what the truth is in all this, just passing on info gleaned around here....

---

IP: Logged |

Trina
Member
Member # 9270


posted

---

Hello,
Well I read on the national Lyme association web site that a person needs to be off of antibiotics 6 weeks for blood test to read right.This is just great, my sis does not want to give me a longer dosage and even my daughters doc wants me to wait untill after the 3 weeks of antibiotic treatment for blood test.Meanwhile all I can think of are those spiroketes multiplying !Even the pharmacist today told me that when she had a EM rash her doctor told her there was no lyme disease in missouri.I told her that if my blood test come back postive she can send a copy to him. Sorry you all, this is so flustrating,it's like everyone thinks this is such a rare disease and it is not at all.I am thinking about calling up the local boy scouts and girl scouts to see if they talk to them about tics before they start camping for the summer.If not I think I am going to take it up on myself to hand out info and talk to the kids.

--------------------
Trina


---

Posts: 64 | From Mo. | Registered: May 2006 | IP: Logged |

hatsnscarfs
LymeNet Contributor
Member # 6562


posted

---

Trina,

Are you working on getting a LLMD appointment? Read my post above. It can get very ugly if you stop antibiotics too soon. It is hard to find Drs. who "get it". I remember reading that the average # of Drs people see before getting a correct diagnosis/treatment is 14. You only have a few weeks.

You might want to print some facts from the ILADS site to show to your sister & other Doc so they might at least refill your prescrition. That is how I got my PCP to refill my doxy. I showed her ILADS info and told her if she didn't give me a refill I would get it elsewhere but there was no way I was going off the drugs again.

Make sure you help yourself right away. Once you are on the road to recovery you can help us educate others. Talking to the Scouts is a great idea. Unfortunately there are almost no LLMDs treating children so prevention is all we've got, other than sending money to Dr. Jones Legal Fund.

hatsnscarfs

---

Posts: 956 | From MA | Registered: Nov 2004 | IP: Logged |

spiral
Member
Member # 9217


posted

---

have to agree with all other comments. Stick with the abx and don't worry about blood test right now. the co-infections can be an issue and you want to check for those. is there a refill on your Rx -- maybe you can use it, and do whatever you think is right.

as for Girl Scouts -- Girl Scouts of Westchester-Putnam in NY have a "Tick-Buster" council patch to teach kids about tick prevention and disease. It's a little outdated but a good start, and the patch is cool! contact them at www.girlscoutswp.org

i taught it too a whole load of girls last weekend... then came home from the camping weekend to find a tick embedded in my 10 yr old's belly. she was Elisa Positive for LD last yr. so i immediately gave her 200mg prophylactic doxycycline, and we will be off the the Inf. Dis guy again next week for new blood work. With another daughter chronically ill from LD, i will never delay treatment. We did not delay hers, but almost 10 yrs ago with a rash present -- 2 wks of doxy or amox at 200 mg in a child was standard. no one listened when i said she continued to have symptoms.... later
blood tests were called "questionable" for reasons too much to explain here. Even in a Lyme endemic area like where we live, people are being misdiagnosed, under diagnosed, and when diagnosed, under treated.

go for it and get well!

--------------------
spiral


---

Posts: 20 | From hvny | Registered: May 2006 | IP: Logged |

Michelle M
Frequent Contributor (1K+ posts)
Member # 7200


posted

---

Hi Trina.

You've been given some great advice.

I know you're in a delicate position and don't want to hurt your sister's feelings. She's only trying to help, of course, with what she's been taught.

But testing is something REALLY important to know about.

You MUST be aware of testing problems with Lyme, because otherwise you will rely on the wrong ones, to your everlasting regret.

Here's an interesting study regarding lyme testing in the recent Lyme Times:

"In two blinded studies that tested labs for accuracy, most labs failed miserably. Lorie Bakken, MS, MPH showed in her studies that there was not only inaccuracy and inconsistency between competing labs, but also between identical triple samples sent to the same labs. In other words, identical samples often resulted in different results! In the first study, forty-five labs correctly identified the positive sample only 55% of the time."

"In the latest study by the College of American Pathologists, 516 labs were tested. The overall results were terrible. There were almost equal numbers of false positives as false negatives. Overall, the labs were 55% inaccurate. The labs could not give a correct result 45% of the time. As a patient, you would be better off to flip a coin than to submit to one of their ELISA tests."

And this, sorry to say, is just the ELISA. Other labs' results on western blotting are just as pathetic, considering they do not report on all the bands, particularly the bands that are specific to the bacteria you're looking for. Ahem, let's just leave out those key bands. Those might tell us something!!!

Insist that any doctors use IGeneX, or don't bother with bloodwork at all.

Keep in mind that an EM rash is diagnostic all by itself, and bloodwork at that point should just be for purposes of co-infection testing.

Good luck in your journey and welcome to LymeNet! Stand your ground and be your own best advocate!



Michelle

---

Posts: 3193 | From Northern California | Registered: Apr 2005 | IP: Logged |

Trina
Member
Member # 9270


posted

---

Hello All,
Well my sister called and casually mentioned that she guessed it would not hurt if I wanted to be on the antibiotics longer and by the way how do I feel? I am grateful for the phone call and I will take her up on the longer antibioics.She must have done some reserch on the net.I will do the blood test for the co infections after I am finished.Meanwhile my other sister and I were talking and she has been telling me her husband has been seeing halos a couple of times and saying " odd things"" depressed ect... come to find out he had been bitten my a tic a couple of years ago and had the bulls eye rash also.Of course he never went to the doctor either.Mind you, they hunt and we all morel hunt the same land.I will have to keep you informed.... Gee, this just keeps gettin better and better.But the upside is maybe we will all have medication before to much damage is done. Thanks again,

--------------------
Trina


---

Posts: 64 | From Mo. | Registered: May 2006 | IP: Logged |

JimBoB
Unregistered



posted

---

Three weeks of doxy may work IF you catch it within two weeks of being bit. BUT it sounds like YOU did not do that. MOre like four or five weeks. That is too long for short term antibiotics to CURE you.

I got bit in 1999 and waited 5 MONTHS before I went into doctor and he gave me CIPRO because it is much stronger than Doxycycline, and it did work for about 8 to 10 months. But then the symptoms slowly came back and much worse. Till I felt like near death last fall.

Now, neither Doxy nor Tetracyline will do the job.

I added herbs and now am on all herbs according to Stephen Buhner's book Healing Lyme. They are helping tremendously. Though it will take months, not weeks, to get cured.

Jim

---

IP: Logged |
Contact Us | LymeNet home page | Privacy Statement

Powered by UBB.classic™ 6.7.3

---
The Lyme Disease Network is a non-profit organization funded by individual donations. If you would like to support the Network and the LymeNet system of Web services, please send your donations to:
The Lyme Disease Network of New Jersey
907 Pebble Creek Court, Pennington, NJ 08534 USA
http://www.lymenet.org/
---
Home | Flash Discussion | Support Groups | On-Line Library
Legal Resources | Medical Abstracts | Newsletter | Books
Pictures | Site Search | Links | Help/Questions
About LymeNet | Contact Us
---
© 1993-2020 The Lyme Disease Network of New Jersey, Inc.
All Rights Reserved.
Use of the LymeNet Site is subject to Terms and Conditions.
---