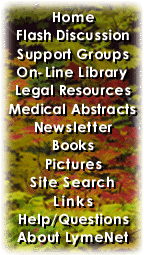 ---
LymeNet on Facebook
LymeNet on Twitter
---
---
The Lyme Disease Network receives a commission from Amazon.com for each purchase originating from this site.
When purchasing from Amazon.com, please
click here first.

Thank you.




Dedicated to the Bachmann Family


LymeNet needs your help:
LymeNet 2020 fund drive

The Lyme Disease Network is a non-profit organization funded by individual donations.

| | |
| --- | --- |
| | |
Author
Topic: Anyone else fighting chronic kidney infection?

MizMo
LymeNet Contributor
Member # 8389


posted

---

It's so frustrating that I can't beat this - I've been fighting the kidney infection for almost three years now. We thought we had it beat and had reduced the cipro to one a day...then it resurfaced two weeks ago just before the holiday weekend.

I can't help but fret - how long can the kidney's keep getting re-infected before there's some kind of permanent damage or problem.

Has anyone else dealt with this and if so, did anything help?

I'm on ketek for the lyme, plus vits/supps
Cipro for the kidney infection and Ditropan for the accompanying chronic cystitis.

*whimper*
~Miz Mo

--------------------
http://scottsbt.com/maureen/mo2.htm


---

Posts: 145 | From Mystic Island, NJ 08087 | Registered: Dec 2005 | IP: Logged |

TheCrimeOfLyme
Frequent Contributor (1K+ posts)
Member # 4019


posted

---

What kind of kidney testing have they done on you? Have they done a sensitivity for the bacteria found? Have you been on Cipro the entire time? ( it may not be the right abx)

My daughter has kidney disease- 8 years now, chronic kidney infections and UTI's is why I ask. Shes been through the gamut of everything.

--------------------
You want your life back? Take it.


---

Posts: 3169 | From Greensburg, Pennsylvania | Registered: Jun 2003 | IP: Logged |

MizMo
LymeNet Contributor
Member # 8389


posted

---

I spent a year on Doxycycline before the switch to Cipro. And like I said, we thought we had it beaten until it resurfaced

I'm due to see the urologist on the 19th - at that point I want him to run some more tests. We haven't done anything in that regard for a year and a half now. Overdue, in my opinion, even though he said it could take this long to beat the thing.

I'm just getting scared about the kidney disease potential at this point.

--------------------
http://scottsbt.com/maureen/mo2.htm


---

Posts: 145 | From Mystic Island, NJ 08087 | Registered: Dec 2005 | IP: Logged |

TheCrimeOfLyme
Frequent Contributor (1K+ posts)
Member # 4019


posted

---

Your urologist told you it could take "this long" as in a year and a half to fight a kidney infection?

If so, GET A NEW UROLOGIST! If not, I have lyme... I read things wrong alot

I would get further testing, like you said, its overdue. At this point, you might not even HAVE a kidney infection, just pain in the kidney area..?

My daughter has scarring , reflux, implants, etc from a birth defect , and then chronic UTI's and Kidney infections. Her right kidney was hit the hardest and it ALWAYS hurts her, even though

she doesn't have an infection. It swells too, which is interesting, because they still can't detect an infection...

except lyme.

Sounds like you need more testing imo

--------------------
You want your life back? Take it.


---

Posts: 3169 | From Greensburg, Pennsylvania | Registered: Jun 2003 | IP: Logged |

Marnie
Frequent Contributor (5K+ posts)
Member # 773


posted

---

Research vitamin C and kidney infections.

Into a search engine, "vitamin C kidney infections"

Then, keep in mind, this is a water soluable vitamin...meaning it only stays in the system about 2 hours.

The kidneys maintain the body's pH balance. Their OWN cells are esp. vulnerable to TOO MANY acids.

This is why the ORIGINAL Atkins diet caused some very serious kidney problems. The system was way too acidic. That diet focused on proteins and fats...no carbs. Not a good idea. We have to have some carbs...complex ones.

Keeping the kidneys "flushed" with good, healthy, mineral -filled water should help too.

This is the balance...(-) and (+). Acids (vitamins) and alkaline minerals. This is the kidneys maintaining the body's pH balance.

Learn to track your pH level using litmus paper. Saliva and urine checks daily (easy to do) and adjust accordingly. Too acidic...up your alkaline foods/beverages. Too alkaline, eat something acidic, like a protein.

The beneficial bacteria MAKE many B vitamins (acidic) for us. Are you taking enough probiotics?

---

Posts: 9404 | From Sunshine State | Registered: Mar 2001 | IP: Logged |

Trina
Member
Member # 9270


posted

---

Hello,
My mother has been thru this for years.They finally did a culture and let it grow and put her on an antibiotic for 30 days.

She also had to have a procedure done where they make your urethra a little larger.It took about an hour.

She still has problems sometimes but is better as long as She drinks no coffee, pop or tea and has been told to take 2 cranberry pills a day and drink lots of water..

This is not medical advice.. but sounds like finding a new doctor might help.

--------------------
Trina


---

Posts: 64 | From Mo. | Registered: May 2006 | IP: Logged |

Jill E.
Frequent Contributor (1K+ posts)
Member # 9121


posted

---

Hi,

I have not had this issue so my input is probably not all that relevant. But I just wanted to mention that a few antibiotics are detoxified/metabolised more through the kidney than through the liver.

I always check the Physician's Desk Reference to see how any new antibiotic is processed by the body, because of previous liver damage from one antibiotic.

I can't recall which antibiotics are harder on the kidneys and easier on the liver, but hopefully your Lyme doctor will be chosing antibiotics so as not to put any more added stress on your kidneys.

I've been on Ditropan. I can relate to that part of it. I wish you the very best.

Take care,
Jill

--------------------
If laughter is the best medicine, why hasn't stand-up comedy cured me?


---

Posts: 1773 | From San Diego | Registered: Apr 2006 | IP: Logged |

GiGi
Frequent Contributor (5K+ posts)
Member # 259


posted

---

D-Mannose for Bladder and Kidney Infections

A little girl's parents are told she'll likely need a kidney transplant since her chronic kidney infections aren't yielding to antibiotics anymore.....

Another little girl with a genetic disorder has been on continuous antibiotics for nearly two years because of kidney and bladder infections....

An adult woman gets a bladder infection every time she has sex... And literally millions of women and girls (and a very few boys and men) each year have at least one episode of acute bladder infection ("cystitis"). Routine treatment of bladder and kidney infections involves antibiotics and antimicrobials. As the first three cases (described later) will illustrate, in over 90% of bladder and kidney infections, antibiotics are actually an inferior treatment choice. The treatment of choice for initial treatment of most urinary tract infections is D-mannose.

D-mannose is a naturally occurring simple sugar, closely related (in chemical terms, a "stereoisomer") to glucose. Small amounts of D-mannose are metabolized by our bodies; more than small amounts are excreted promptly into the urine. But how can even large quantities of a simple natural sugar do anything at all to cure over 90% of all bladder and urinary tract infections?

The answer is found in the interaction between D-mannose and the bacterium found in over 90% of all bladder infections, Escherichia coli ("E. coli"). [No, that's not the infamous E. coli mutant associated with unsanitary food processing that's hospitalized and killed people. It's the normal E. coli found as part of the "normal microflora" in every intestinal tract.] But even normal E. coli don't belong in the bladder and urinary tract; in these areas it multiplies and becomes an undesirable infection.

But why doesn't the normal downflow of urine from the kidneys through the ureters into the bladder and thence beyond simply carry the E. coli right along with it? What allows the E. coli to "stick" to the inner walls of the bladder and even work their way upward (like "Spiderman") in some cases reaching as far as the kidneys?

The "cell walls" of each E. coli are covered with tiny fingerlike projections. The very tips of these projections are an amino acid-sugar complex, a "glycoprotein" also called a "lectin". E. coli "lectins" have the unfortunate (for us) capability of "sticking" the bacteria to the inside walls of our bladders and urinary tracts, so they can't be rinsed out by urination.

Unfortunately for the E. coli, D-mannose "sticks" to E. coli lectins even better than E. coli lectins "stick" to human cells. When we take a large quantity of D-mannose, almost all of it spills into the urine through our kidneys, literally "coating" any E.coli present so they can no longer "stick" to the inside walls of the bladder and urinary tract. The E. coli are literally rinsed away with normal urination!

Why is "rinsing away" E. coli with D-mannose superior to killing them with antibiotics and anti-microbials? When an antibiotic is taken, it kills unwanted micro-organisms, but it also kills many "friendly" micro-organisms. Every woman is familiar with "yeast infections" that follow antibiotic use, as the "friendly bacteria" are killed off along with the "bad bacteria", leaving the antibiotic-insensitive yeast to grow "out of control". Long-term or often-repeated antibiotic use can lead to major disruptions in normal body microflora, and sometimes to major disruptions in health, especially immune system function. [It's suspected that the "killer" E. coli of recent years are "mutants" caused by persistent antibiotic feeding to animals.]

By contrast, D-mannose doesn't kill bacteria, "friendly" or "unfriendly". D-mannose simply helps to relocate misplaced E.coli from inside of our urinary tracts to outside. (Since D-mannose is absorbed in the upper gastrointestinal tract, it doesn't relocate the "friendly" E. coli normally present in the colon.) D-mannose treatment of E. coli bladder and urinary tract infections is ecologically sound treatment. (The very small amounts of D-mannose metabolized by our bodies and not excreted into the urine are harmless.) As an extra bonus, D-mannose tastes good!

Three Cases, Briefly

Our first case is relatively well-known in the Seattle-King County area as this child's mother provided testimony about her case to the County Council when it was considering the establishment of a natural medicine clinic within the taxpayer-funded county public health system.

This mother brought her daughter to Tahoma Clinic in the 1980s. She also brought with her a very detailed set of notebooks in which she'd recorded descriptions of her daughter's numerous hospitalizations and extensive tests for nearly continuous urinary tract infections. By actual count, her daughter (not yet five years old) had been seen by 72 different physicians, and had been on antibiotics the majority of her life. Mother and father had been told the doctors were "running out of effective antibiotics", and that their daughter would likely need a kidney transplant during the next few years, as her kidneys were beginning to fail from the chronic infection. Extensive tests showed "normal kidneys, ureters, and bladder", with no discoverable reason for all the infection.

Fortunately, Mom also had records of many urine cultures. They were always the same: E.coli. At the end of our consultation, I advised her to give her daughter 1/4 to 1/2 teaspoon (approximately 1 to 2 1/2 grams) of D-mannose powder stirred into water every three to four hours while awake. Despite being a bit dubious that a simple sugar prescribed by a natural medicine doctor (remember, this was the 1980s) would do anything, mother tried it. Within 48 hours, the infection was gone. Her daughter remained infection free for over two years until the D-mannose was temporarily forgotten; resumption cleared the infection once more. She's had no urinary tract infection since, and has of course retained her own kidneys.

The County Council was impressed by the simple natural solution to a serious health problem. They were equally impressed with the difference in cost between D-mannose treatment (even long-term) and the cost of several hospitalizations, extensive testing, and nearly continuous antibiotics, as well as the potential cost of the predicted kidney transplant.

Our second case is that of a another little girl with galactosemia (a genetic disease) who when first seen in 1996 was on antibiotics because of chronic recurrent E. coli urinary tract infections. She'd been on antibiotics for most of the prior two years. As part of her overall treatment, I advised her parents to switch her from antibiotics to D-mannose (at the quantities noted above). The switch was made uneventfully; no further urinary tract infections occurred. When they last saw their daughter's urologist in 1998, her parents were told to "check back in the year 2000".

Our last case is that of a married woman who was avoiding sex because "I get a bladder infection every time". Needless to say, this caused some degree of marital discord. As cultures had shown E. coli, she started taking 1/2 teaspoon of D-mannose one hour prior to and just after intercourse, and had no further infections.

There also have been many women who've been advised to take D-mannose 1/2 teaspoon every two to three hours to treat single episodes of bladder infection. Nearly every time, the treatment has been successful. However, since a small proportion of bladder infections are not caused by E. coli but by some other micro-organism, women are also advised to call back for a "regular" antibiotic prescription if their infections are not substantially better or completely gone in 24 hours.

Try D-Mannose First

D-mannose is very safe, even for long term use, although most women (or the very occasional man) with single episodes of bladder or urinary tract infection will only need it for a few days at most. Although D-mannose is a simple sugar, very little of it is metabolized. It doesn't interfere with blood sugar regulation, even for diabetics. It creates no disruption or imbalance in normal body microflora. It's safe even for pregnant women and very small children. In the less than 10% of cases where the infection is a bacteria other than E. coli, antibiotics can be started in plenty of time. (Many physicians will likely advise collecting a urine specimen for culture, if possible just before starting D-mannose, so that the bacteria can be identified as rapidly as possible in the few cases when D-mannose doesn't work.)

Since D-mannose is naturally occurring, many of you may have guessed that cranberry juice (as well as pineapple juice) contain more D-mannose than most other foods. However, the amounts found in these juices are substantially less than in the 1/2 teaspoon (approximately 1 gram) adult dose, and are substantially less effective.

So Where's the D-Mannose?

If D-mannose is so safe and effective, why isn't it in your natural food store? Your editor has been frustrated by it's absence also, particularly as he has spent several years trying to convince one or another supplement company to put D-mannose into wider distribution. D-mannose may be obtained from the Tahoma Clinic Dispensary (425-264-0051) with which your editor is of course connected.


Read More About Our Clinic Services,
or Phone (425) 264-0059

This article by Jonathan Wright, MD, Tahoma Clinic


D-Mannose is available in any good health food store. And it tastes good.

Take care.

---

Posts: 9834 | From Washington State | Registered: Oct 2000 | IP: Logged |

Lymeblue
LymeNet Contributor
Member # 6897


posted

---

UTI'S means a big issue for me since I got Lyme 6 years a go...once on treatment I'wil have 2 or three episodes every year...

Klebsiella, E coli, enterococcus faecalis, and other bacteria that I just don't remember...

Well to make the story short lately like for more than a year besides treating my regular UTI's I would always get rid of the acute symptoms caused by the bacteria with the abx's prescribed according to the sensitivities.....
but sometimes my urine still was cloudy, even thoguht my urine culture didn't show any growth afterwards.

My latest UTI was diagnosed in jan-Feb and again after treatment the acute symptoms dissapeared but the light cloudy urine will come and go...this time with urethritis and kidney pain and fatigue.

It was candida believe it or not!....after just 3 days in a row with 200 diflucan all the symptoms are 100% gone and I feel so energetic like never before. Off course you need many more days worth of diflucan and diet to minimize it.

Been negative twice for candida strains throught MDL march 2005 and Dec 2005.

Have heard it is common bacterial infections with candidas.....

MY LLMD "best phrases":

Listen to your body and
Things (symptoms) happen for a reason.


My 2 cents!

---

Posts: 983 | From The sky | Registered: Feb 2005 | IP: Logged |

pq
Frequent Contributor (1K+ posts)
Member # 6886


posted

---

for the kidney, bromelain is supposed to have some protective properties.

try googling "bromelain + kidney,renal, glomerular nephritis, pyelonephritis, and other anatomica kidney parts"

this helped me quell severe kidney pain by 90%, due to effects of ceftin tablets.

---

Posts: 2708 | Registered: Feb 2005 | IP: Logged |

suki444
Unregistered



posted

---

You need to know what bacteria you are dealing with and it's drug sensitivities..United Medical Lab in Virginia can do a culture for enterococcus if your regular lab cannot get positive results.

DMannose is proven to help Ecoli but not other infections which could be mycoplasma/ureaplasma, enterococcus,pseudamona etc to name but a few.

Quercetin can help inflammation but does not treat the infection itself.

I get cystisis caused by enterococcus but it does not affect my kidneys, get bladder pain and urethral bleeding. I recommend Angela Kilmartins book on Cystisis, you can buy it on amazon.

I got reinfected with enterococcus again so am struggling with this now...cipro and antibiotic eye ointment down below are the treatment my urologist uses.

BW
Emma

---

IP: Logged |

MizMo
LymeNet Contributor
Member # 8389


posted

---

Been a busy couple of days - dad is back in the hospital as of Thurs. with gastropaerisis (sp) and severe dehydration because of it. On the same day, my son was ambushed by the schoolbus bullies before the bus came and beaten with metal pipes. He's ok!! Thank god nothing beyond some bad brusing and a small puncture wound (got tetanus booster). He's doing better than the grownups are in dealing with it emotionally as well. I'm so proud of him.

Anyway........


I can see that I have alot of researching to do to go in "armed" with info on Monday for my appt.

The kidney pain had stopped and my urine had finally tested clear - that was why we thought it was finally beaten.

Now it's back, kidney ache and all and the cystitis seems to be flaring up with it...darned uncomfortable and painful to say the least!

I will have to discuss with Dr. E. and my urologist about the possibility of candida being a culprit in the mix.

I'm taking acidopholis and N-Acetyl Cysteine - I don't know too much about probiotics yet and not sure what to add on,if anything.

Thank you all so much for your help!! This is getting scary

MizMo

--------------------
http://scottsbt.com/maureen/mo2.htm


---

Posts: 145 | From Mystic Island, NJ 08087 | Registered: Dec 2005 | IP: Logged |
Contact Us | LymeNet home page | Privacy Statement

Powered by UBB.classic™ 6.7.3

---
The Lyme Disease Network is a non-profit organization funded by individual donations. If you would like to support the Network and the LymeNet system of Web services, please send your donations to:
The Lyme Disease Network of New Jersey
907 Pebble Creek Court, Pennington, NJ 08534 USA
http://www.lymenet.org/
---
Home | Flash Discussion | Support Groups | On-Line Library
Legal Resources | Medical Abstracts | Newsletter | Books
Pictures | Site Search | Links | Help/Questions
About LymeNet | Contact Us
---
© 1993-2020 The Lyme Disease Network of New Jersey, Inc.
All Rights Reserved.
Use of the LymeNet Site is subject to Terms and Conditions.
---