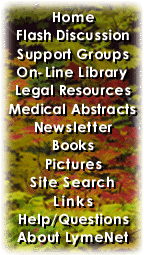 ---
LymeNet on Facebook
LymeNet on Twitter
---
---
The Lyme Disease Network receives a commission from Amazon.com for each purchase originating from this site.
When purchasing from Amazon.com, please
click here first.

Thank you.




Dedicated to the Bachmann Family


LymeNet needs your help:
LymeNet 2020 fund drive

The Lyme Disease Network is a non-profit organization funded by individual donations.

| | |
| --- | --- |
| | |
Author
Topic: Help - went to ER and doc wants GB out now

vachick
LymeNet Contributor
Member # 8353


posted

---

Hi,
To those of you with GB probs, I hope you can help me. Two nights ago, I went to the ER with abdominal pain and vomiting. Mind you, I haven't vomited since I was 10 years old (32 years ago) so this is a significant event for my body. It means something is definitely not right.

I have had a slightly abnormal HIDA scan result a few years ago which showed my GB has some dysmotility (not producing/emitting as much bile as a normal GB). However, my visits to surgeons in the past have resulted in one saying she would not take it out because she wasn't sure it was the problem, and another giving me a 50/50 chance of feeling better.

The ultrasounds at the ER did not show stones or any other abnormalities, except it did show I had fluid retention and distension in my stomach even though I had not eaten in 14 hours. That was a bit strange.

they wanted to take a CT scan of my kidney to rule out a kidney stone (a had a little blood in my urine) and of my abdomen. However, I have had three abdominal CT scans before and I don't want more radiation. My internist wants me to get my GB taken out ASAP.

I still can't eat much and my right upper abdomen is distended and hurts as well as my back. It hurts all the time. Does this sound like GB problems to you? I thought GB pain only occurred when you ate something fatty?? This pain is constant burning.

Please help. I need to make a decision about surgery in the few days. ugh. Thank you!!

---

Posts: 331 | From virginia | Registered: Nov 2005 | IP: Logged |

char
Frequent Contributor (1K+ posts)
Member # 8315


posted

---

Hi Vachick,

Sorry to hear so much pain and runaround.

My daughter had GB removed last year. She had a lot of pain and fatty foods seemed to help.

Dr. F in No.VA has seen a lot of bad GB. She found extreme tenderness upon 1st exam.

Her opinion is that GB as closed organ gets lyme in and can't get it out.

My daughter had gallstones. She did 6wks of rocephin before we discovered gallstones. However, she was miserable before the rocephin and I believe she had the stones before but we had not scanned for this yet.

We had to insist on having daughter stay overnight at least. Drs and surgeon did not get seriousness of compromised health going in. They did let her stay. We had an excellant experience with post op care. I can pm the hospital name if you wish.

Surgeon and ID dr. said it was worst GB they ever saw in a kid. Test for lyme can up negative, but I don't trust that- could have been unreliable or a co-infection.

I do not know ANYONE lyme or not who has regretted getting rid of GB. Only issue as I see it is harder recovery with lyme and co. Our LLMD, dr.F insisted on my daughter continuing abx during and after surgery.

Someone did GB removed poll in last yr. Search should turn it up.

Did you get married?

Char

---

Posts: 1230 | From US | Registered: Nov 2005 | IP: Logged |

Marnie
Frequent Contributor (5K+ posts)
Member # 773


posted

---

Go here:

http://flash.lymenet.org/scripts/ultimatebb.cgi?ubb=get_topic;f=1;t=043906

And also above...under "Post a Reply" see the word, "search"? Click on it and in the search window, type in the word "gallbladder". You will get 300 posts related to this organ.

Arm yourself with knowledge in order to make the best decision for yourself.

The gallbladder merely STORES bile which is MADE in the liver. The liver IS impacted in this disease...primarily due to low choline and not enough Vitamin E (helps reduce ethanol...from sugar fermentation).

---

Posts: 9404 | From Sunshine State | Registered: Mar 2001 | IP: Logged |

vachick
LymeNet Contributor
Member # 8353


posted

---

Thank you so much for your replies.

Char, I did get married on May 20th and it was perfect. I felt better that day than I had in a long time. Thank goodness this problem did not strike me down until after the wedding and honeymoon!! Thank you for asking.

---

Posts: 331 | From virginia | Registered: Nov 2005 | IP: Logged |

5dana8
Frequent Contributor (1K+ posts)
Member # 7935


posted

---

hi Vachick

I am sorry you are having so much trouble lately

I am also in a similar situation. I have nausea without stones or much pain.had the HIDA scan and it showed 25% rate.

I have a copy of the test. On it it says normal is 35%> I have spoken to 3 doctors and all seem to have different opinions on the matter of GB surgury.

My LLMD says it's sick and to have it taken out considering my hisory of lyme and treatments. And that lyme loves the GB but I think what organ doesn't it like!

Another doctor - a surgon consider's normal at 40-80% and thinks it should come out. But he is a surgon and may just want the money.

GB removel is the # one surgury in the US > And provides alot of cash cow to surgons.

My GI duck who just did a scope said it is an inflamation problem.I also sent off a biopsy to MDL labs for lyme and co-infections. This may be a crap shoot though.

My GI duck said there are many reasons for nausea
and that most doctors won't take it out with just nausea and bloating symptoms. BTW my bloating is greatly relieved with improving my moving in the constapation department.

I have researched and lyme and co's can cause nausea too.

Now the diemma. Who to believe. I have ordered some natural supps to try to unslugg my GB. I have not chosen the surgury route yet. I believe this to be the last resort for me.

I am on prilosec agian in hopes to calm the inflamation and am going to try everything first before I consider surgury ofmy GB. Becuase I strongly believe my last back surgury contributed to my last major relaspe.

This is just my personal story and opinions and to be taken as medical advice.

If you can - can you have a endoscope before you do GB surgury? Have your pancreas checked too?

Hope you can feel better soon and find the right answers .
PM me any time
dana

--------------------
5dana8


---

Posts: 4432 | From some where over the rainbow | Registered: Sep 2005 | IP: Logged |

trails
Frequent Contributor (1K+ posts)
Member # 1620


posted

---

BG pain can occur all the time as you describe and not just with fatty food consumption. Especially if you just had an attack or had a large stone move thru the bile duct.

I have URQ pain as you describe without the intensity you have or the vomiting. I have chosen to do the actigall route again. I did it in 2001 and it helped with the pain. It is not being as helpful now.

I know one person who does regret havingtheir GB out because they are unable to eat fatty foods coz their body cant process them correctly without the big squirt of bile to digest it right. Otherwise everyone else doesnt look back.

However, GB surgery is the #1 surgery in the US and a big money maker for docs. For this reason I have been leary of letting them take my cute little guy out. I would do as marnie says and become very educated about your upcoming decision.

GOOD LUCK!

---

Posts: 1950 | From New Mexico | Registered: Sep 2001 | IP: Logged |

char
Frequent Contributor (1K+ posts)
Member # 8315


posted

---

I am so happy for you that you had your wedding and it went well. You were one determined bride with all that was going on. Your new husband is a lucky man! Best Wishes!

Char

---

Posts: 1230 | From US | Registered: Nov 2005 | IP: Logged |

GiGi
Frequent Contributor (5K+ posts)
Member # 259


posted

---

Did the doctors check your appendix?... something they often forget or ignore. My husband had a similar problem and only because I shouted and screamed and was not budging - did they finally look: yes, it had already ruptured! He was saved by the skin of his teeth. My neighbor was not so lucky, he died from an unrecognized infected appendix.

Take care.

---

Posts: 9834 | From Washington State | Registered: Oct 2000 | IP: Logged |

GiGi
Frequent Contributor (5K+ posts)
Member # 259


posted

---

Gall Bladder Flushes and Cleanses

How Your Gall Bladder Works

The gall bladder is a hollow inactive organ supplying bile to the digestive tract that is mainly used to emulsify fats and oils. According to some natural health experts, the gall bladder can be damaged by

Excessive amounts of fat and oil;

Large amounts of spice;

Very cold liquids;

Cold dairy products

Drafts

Planning and thinking ahead all the time

Stress.
These same writers say the gall bladder can be protected by:

Pickles

Good quality vinegar.
According to these writers, gall bladder problems are often found in people who are

Constantly planning

Hypersensitive to drafts

Hypersensitive to noises

Hypersensitive to strong smells.
When the liver is constantly stagnant, sediment often settles out of the bile and forms accumulations that resemble stones, sand or mud in the gall bladder.
Symptoms of sediment in the gall bladder:

Indigestion

Flatulence

Periodic pain below the right side of the rib cage

Tension in the back of the shoulder near the neck

Bitter taste in the mouth

Chest pain.
Gradual Gall Bladder Cleanse

This cleanse takes 21 days and is slower and gentler on the body. This is the one often recommended for those unsure of how much sediment or stones they may have. Cleansing two or three times a year ensures a healthy gall bladder.

During the cleanse, avoid all foods high in fat, meats, dairy, eggs. Eat unrefined grains, vegetables, fruits and legumes to help clear the gallbladder.

These foods hasten gallstone removal:

Pears

Parsnips

Seaweed

Lemons

Limes

Turmeric
Radish also remove stones, so, for the entire 21 days eat 1-2 radishes a day between meals and drink three cups of cleavers tea or five cups of chamomile tea a day.

For every 160 pounds of body weight use five teaspoons of cold-pressed flax seed oil. Pour the flax oil over your food during one meal of the day or divide into half and use on two meals. Take the flax oil six days a week for two months.

Chet Day January 29, 2002


--------------------------------------------------------------------------------

Dr. Mercola's Comment:

I addressed this issue in a previous posting several years ago, but thought it was worth reposting as so many people have unnecessary surgery to have their gallbladder removed. In my experience, more than half the time the gallbladder is taken out, the patient's pain that prompted the surgery still remains.

This is because the surgeon never fixed the problem. They only treated the symptom. This makes about as much sense as putting a piece of tape over the idiot light that would come on in your dashboard if your engine oil pressure is low. This would clearly solve the problem, the light would not bother you anymore, but you would be looking at expensive engine repairs if you failed to treat the cause of the light being on.

If you have abdominal pain that is immediately below your last rib on your right side and lined up with your right nipple, especially if your press down in that spot, there is a good chance that you have a gallbladder problem.

The first step is to immediately follow the eating plan. Regular exercise has been consistently associated with a decrease in gallbladder problems.

If the pain persists the article above provides a far simpler less expensive option prior to surgery.

I believe it is nearly criminal what traditional medicine is doing to the public when it comes to managing this problem. It is RARELY ever necessary to remove someone's gallbladder. If one ignores warning symptoms and does not address the reasons why their gallbladder is not functioning properly, than the disease can progress to the point where the pancreas is inflamed or the gallbladder is seriously infected and may have to be removed to save a person's life.

However, it is important to have a proper perspective here. Nearly ONE MILLION gallbladders are removed every year in this country and it is my estimate that only several thousand need to come out.

So, not only are surgeons removing these organs unnecessarily, but also in their nutritional ignorance they are telling patients that their gallbladders do not serve any purpose and they can live perfectly well without them.

This is a lie.

The gallbladder serves an important digestive function. It is required to emulsify fats. What is emulsification? One can easily understand this concept when washing greasy dishes. It is nearly impossible to properly clean greasy dishes without soap as the soap emulsifies the fat so it can be removed.

Similarly, the gallbladder stores bile and bile acids, which emulsify the fat one eats so it can be properly transported through the intestine into the blood stream.

Anyone who has had their gallbladder removed will need to take some form of bile salts with every meal for the rest of their life (I use and recommend Beta Plus from Biotics Research), if they wish to prevent a good percentage of the good fats they eat from being flushed down the toilet.

If one does not have enough fats in the diet, their entire physiology will be disrupted, especially the ability to make hormones and prostaglandins.

Related Articles:

Gallbladder Surgery Alternative

Regular Exercise May Prevent Gallstone Surgery

Vitamin C and Alcohol Fight Gallstones

Gallstone Treatment

--------------------------------------------------------------------------------


--------------------------------------------------------------------------------

Return to Table of Contents #298
(from mercola.com)

---

Posts: 9834 | From Washington State | Registered: Oct 2000 | IP: Logged |

Mo
Frequent Contributor (5K+ posts)
Member # 2863


posted

---

If you are sure it is not your appendix ---

Your organs, GB, can be healed. Don't let anyone tell you otherwise.

Hulda Clark's liver flush is very effective, but cannot be done without first cleansing the colon WELL before --- and cleansing the kidneys before the flush, and cleansing kidneys and colon well following the flush...
or you will have a big problem with toxic overload.

Fast way to cleanse the colon is with a colonic, or salt water flushes, things like that --
you would need to feel comfortable working this way, or to find an alternative practitioner to help you in the distress you are in.

A 'quick flush' with colon and kidney prep could bring relief enough to keep on a programme, but you would have to get informed and comfortable with it and devote some time.

The longer term therapies help as well, but all still applies. You have many more options than your MD is knowledgable about.

Yes, the GB is enclosed - (so is the liver, the brain, spleen, pancreas and the joints)

-- this doesn't mean removing it is at all necesary or will solve the problem.

You're body is speaking to you.

Mo

---

Posts: 8337 | From the other shore | Registered: Jul 2002 | IP: Logged |

vachick
LymeNet Contributor
Member # 8353


posted

---

Thank you for your replies.

How can I be sure whether it is my appendix or not? My pain was in the right upper quadrant near my rib cage and some into the center in between my rib cage near the stomach.

Now I have a constant full feeling and nausea that will not go away. I have eaten practically nothing for the past three days, yet my stomach feels full.

This might gross people out so if you get queasy easily do not read further, but it may be an important clue. When I vomited, it was like my food hadn't digested. I had eaten nine hours earlier but the food coming up was like undigested. The ultrasound tech thought I had drank or eaten something in the ER because I still had a lot of fluid in my stomach so the ultrasound said, "Note fluid-filled, distended stomach." I find that weird since I hadn't eaten or drank in many hours.

Maybe something is causing my food not to digest or go through my system and that is why I am having problems?? Thoughts?? I am still feeling terrible. I don't think this is a stomach flu, do you? No fever.

---

Posts: 331 | From virginia | Registered: Nov 2005 | IP: Logged |

vachick
LymeNet Contributor
Member # 8353


posted

---

I would love to do the GB/liver flush, but I feel way too sick to do it. I am worried that I am not going to get back to normal to even try those things! I have felt sick for three days straight and no signs of getting better.

---

Posts: 331 | From virginia | Registered: Nov 2005 | IP: Logged |

hopeful4
LymeNet Contributor
Member # 8486


posted

---

Before I knew I had lyme I had a traumatic series of excrutiatingly painful episodes with my gall bladder. I've given birth to two children naturally, no meds, and this was far worse.

My stomach was on fire like I've never ever had before, miserable pain, I won't go into all the details. I couldn't eat at all, even drinking water set off terrible pain and diarrhea.

I'm not one to just get rid of a body part without a fight. I tried lots of things from my ND and from a GI Dr. After 3 trips to the ER, a loss of 20 lbs. in a month, and several doctors later, I had it removed.

I had had all the testing. It was a problem with the "ejection fraction" not being up to speed. No stones.

The surgery went fine, and I was told it would be about 3 weeks and I would be back to my normal activities. I guess they didn't count on me getting a "sudden onset" of post-surgical CFIDS, which in hind-sight turned out to be lyme disease.

On the positive side, I've never, ever had to deal with that unbearable pain again. For that alone, the surgery was a good thing.

Good luck. Hope you feel better soon.
Hopeful4

---

Posts: 873 | From WA | Registered: Dec 2005 | IP: Logged |

Mo
Frequent Contributor (5K+ posts)
Member # 2863


posted

---

If you have Castor oil - or can get it --

a castor oil pack is often used with great effect to relieve GB and liver pain and inflammation, maybe to the point where you can focus on what to do.

Definitely don't eat any fatty or heavy food right now.

Do you have beets in the house, or can you get them? They thin the bile. A harsh cleanse isn't a good idea when you have the pain and nausea going on.


Beet Recipe

Treatment for Gallbladder Pain

1 large organic beet washed and finely grated
lemon juice of 1/2 lemon 2 Tbsps flax oil

Take one teaspoon of mixture every hour throughout the day.
On day two and three make a fresh batch using 1/4 of a beet.
Take one teaspoon of mixture 3 to 4 times a day or more.

Make this mixture to add to your salads frequently or eat alone as above 2 or 3 times a week. This will keep the bile thin and moving. Note: If you cannot get organic beets, be sure to peel them. Otherwise, use the peel as well.

Beets in any form are an excellent food for both the liver and the gallbladder.

Eat your regular meals throughout this period, striving to eat lots of fresh vegetables, good fats and to avoid refined sugars and processed foods.

I have to find Castor oil pack info -
you basically need allot of castor oil and some flannel cloth for the pack.

---

Posts: 8337 | From the other shore | Registered: Jul 2002 | IP: Logged |

Lymetoo
Moderator
Member # 743


posted

---

I vote for getting rid of it unless you get better very soon....enough so you could do a flush. I was too afraid of doing a flush with mine, because I had many stones and didn't want one to get stuck ... which would have ended in emergency surgery.

I don't miss mine either.

But DO ask for abx during surgery and plenty to follow up with.

My heart goes out to you! I'll be praying for you!!

--------------------
--Lymetutu--
Opinions, not medical advice!


---

Posts: 95723 | From Texas | Registered: Feb 2001 | IP: Logged |

Mo
Frequent Contributor (5K+ posts)
Member # 2863


posted

---

Definately would not do a flush when you are in distress. The beet recipe thins the bile and can relieve some pressure safely --

you can also take a TBSP of Epsom salts mixed with grapefruit to loosen and open the bile ducts - but don't flush the GB with oil at this time.
(Epsom is used in the liver flush so stones do not get 'stuck' -- or to clear a stuck stone)

A concerted effort with diet can have the same results as a liver flush with more comfort.

This can help allot too, you can do it for longer or more frequently than an hour a day:


CASTOR OIL PACKS

This is an old folk remedy that has been used very successfully for both gallbladder problems and liver problems. I use it as a mild version or alternative to the gallbladder flush. It can be used for all sorts of stomach complaints as well as constipation. It is also an alternative menstrual cramp treatment and a uterine fibroid treatment. Regular treatments give better results. For gall stone treatment, consistency is imperative.

You will need:

Cold Pressed Castor Oil
Wool Flannel
Heating Pad
Plastic Wrap or a large plastic bag
Two Old Towels
Old Clothing such as pyjamas or sweat suit
Baking soda

Much of the above is for protection from the castor which is sticky, messy and stains. I keep an old set of clothing that I use just for castor oil packs. The first two ingredients you will find at a health food store. The brand of castor oil I use is from "Home Health." They also make wool flannel. Cotton flannel will do if that's what you have.

Directions for Castor Oil Packs

1. Prepare your bed or couch by placing an old towel where you are going to lie. If you are going to use an electric heating pad vs a hot water bottle, you will need to situate yourself near an electrical outlet.

2. Saturate the wool flannel in castor oil. It may be heated first if you like.

3. Place the flannel over your liver and gallbladder area. Do not be skimpy on the area covered. It is better to cover more than less. I tend to go as large as my heating pad is.

4. Place a piece of plastic over this sticky flannel.

5. Put an old cloth or towel over the flannel.

6. Place the heating pad over top of this and keep it as warm as is comfortable for you.

7. Keep it all on for an hour and try to do it at the same time each day (don't skip it if you can't, though). Do this for 7 days in a row.

8. Wash the area thoroughly with baking soda and water.

The traditional version of this has you taking "small doses" of olive oil two or three times a day. I would suggest 1/2 teaspoon to 1 teaspoon at the most. After the 3rd or 4th day you should observe some stones in your stools.

My own addition to this protocol is to drink organic, unfiltered apple juice 1/2 hour at least before breakfast and just before retiring at night. Add the beet recipe to your diet at 1/2 beet daily. Avoid fried foods especially, but other fatty foods as well.

---

Posts: 8337 | From the other shore | Registered: Jul 2002 | IP: Logged |

seibertneurolyme
Frequent Contributor (5K+ posts)
Member # 6416


posted

---

Did you get a copy of the bloodwork from the ER? If not, get yourself a copy. Could give clues as to how serious the problem is.

Post what your liver enzymes were and the bilirubin -- also WBC.

Hubby has had major nausea problems for last 5 years during his illness. Liver enzymes are almost always normal -- Bilirubin usually elevated slightly -- the higher his Bilirubin is the more nausea he has. He also has problems with dry heaves, although actual vomiting is less frequent -- maybe once every couple of weeks.

For him the Bilirubin levels decrease to normal when he treats for Babesia -- Bilirubin is produced from the breakdown of red blood cells.

Read the recent article "Bell's Palsy of the Gut" -- you could have an issue with peristalsis (how fast food moves thru the G.I.) that might be as big a problem as the gallbladder.

Castor oil packs do help hubby if he has pain in the liver area.

http://www.thehumansideoflyme.net

Article link in lower right corner of web page.

Bea Seibert

---

Posts: 7306 | From Martinsville,VA,USA | Registered: Oct 2004 | IP: Logged |

vachick
LymeNet Contributor
Member # 8353


posted

---

Wow...what great suggestions. I really want to do some of the flushing, but don't think my system can take it right now. But I am writing them all down for when I feel better.

I don't have stones that show up on ultrasound, but don't know if that means I don't have them. My problem is apparently dysmotility. Something is making the muscles of my esophagus, intestines, GB, etc. not work properly. Maybe it is the Bell's Palsy thing!

I am worried because I can't even take my Omnicef because I am so bloated and have such an upset stomach that I can't eat or drink much. If I am not better by tomorrow, I will call my LLMD and have him help me get to a gastro doc ASAP. I don't want to go to the ER again, that was horrible.

This nauseous, full stomach feeling is weird. I don't understand what is causing it. It is almost like my food isn't leaving my stomach. I had a gastric emptying scan three years ago and it was fine.

---

Posts: 331 | From virginia | Registered: Nov 2005 | IP: Logged |

5dana8
Frequent Contributor (1K+ posts)
Member # 7935


posted

---

Thanks Mo & GiGi for

posting the cleanse and pack information.

One question: do the beets have to be cooked or do you eat them raw?

Thanks

--------------------
5dana8


---

Posts: 4432 | From some where over the rainbow | Registered: Sep 2005 | IP: Logged |

AP
LymeNet Contributor
Member # 8430


posted

---

I had my gallbladder taken out a week ago and it was the best decision of my life. With all the anti-Lyme drugs, I had a gallstone the size of one of those rubber balls you get out of the quarter machines at the grocery store (no joke). They did it laproscopically, and the only real pain was from when they inflate your belly with CO2 through your belly button.

My gallstone was so big it affected my life. I couldn't swallow, and breathing was difficult. I was diagnosed with GERD, only because the enormity of the stone wasn't every fully-calculated, and no one ever really believed it had the capability of crushing my esophagus like it did.

I was in and out of the day surgery center within 4 or 5 hours, and up and walking around that night. It took a long time for the anesthesia to wear off, but once it did, I was good as new. I still have half a bottle of pain pills in the medicine cabinit.

I am a strong advocate of getting that sucker taken out at the first sign of trouble, only because of my experience.

--------------------
Sometimes when I say "Oh, I'm fine" I want someone to look me in the eyes & say "tell the truth"

Myspace: http://tinyurl.com/5p64ed


---

Posts: 644 | From WA | Registered: Dec 2005 | IP: Logged |

Andie333
Frequent Contributor (1K+ posts)
Member # 7370


posted

---

About two years before my Lyme disease was diagnosed, I started having excruciating pains and had to be rushed to the ER. They ruled that it was gastritis.

About 10 days later, the pain recurred. This time, they weren't about to let me know, because by the time we reached the ER, I had turned bright yellow.

I also had laproscopic surgery. The surgery itself was pretty easy, but the anesthesia almost did me in. This was the first hospital stay of my life.

It's now been about 4 years since I had the surgery, and I really don't regret it. I tend to keep my diet pretty clean, but there have been a few times I ended up eating very rich foods and then regretting it. One was an amazing seafood alfredo; that wasn't a good thing.

But usually, I don't think about it. The recovery time was pretty short, too. The only thing I wish now is that I'd known at the time I had Lyme; it would have interesting to have them see the Lyme bacteria in that organ.

Good luck with whatever you decide.

Andie

---

Posts: 2549 | From never never land | Registered: May 2005 | IP: Logged |

duramater
LymeNet Contributor
Member # 6480


posted

---

Did they rule out small bowel obstruction? That can present with abdominal pain, vomiting of undigested food, fluid filled stomach, abdominal distention, etc. I think it is quite unfortunate that you refused the CT scan. And as others have asked, were there abnormalities in your bloodwork? Did they take a plain x-ray of your abdomen??

---

Posts: 689 | From western MA (we say buttER and pizzA) | Registered: Nov 2004 | IP: Logged |

vachick
LymeNet Contributor
Member # 8353


posted

---

My blood work showed the following slight abnormalities:

Blood
RBC 4.12 L (range 4.2-5.4)
Hematocrit 36.6 L (range (37-47)
Glucose 123HT (range 70-100)
BUN 21H (range 8-20)
Amylase 96H (range 5-90)

Urine
Moderate squamous epithelial
Moderate blood

They did not mention a small bowel obstruction, although it did occur to me. I am now wondering if I have some tumor growing inside of me that is pressing on my intestines.

Maybe ovarian cancer???

I refused the CT scan because I have had three in the past three years which found nothing (except a liver cyst that eventually went away) and they deliver an enormous amount of radiation. If I don't already have cancer, another CT scan certainly could cause it.

Thoughts? I am still in pain five days later. I want to rule out other possibilities before they rip into me and yank out my GB.

I know a CT scan could help but if you were me and had already had so many, what would you do? Lyme already robbed me of my immune system to fight free radicals like radiation!

---

Posts: 331 | From virginia | Registered: Nov 2005 | IP: Logged |

bugabooboo
LymeNet Contributor
Member # 7383


posted

---

A year ago, I was out of state on vacation.

I started having RUQ pain with diarrhea. Wasn't too out of the norm for me since contracting LD.

I started getting sicker and sicker.

My WBC's which had gotten as low as 2.2 jumped to > 10 in 72 hours. It was still within normal limits, so Dr.'s thought I was hunky dory!!!

I went to the ER 3 times before they did a CT with contrast of my abdomen and saw what they believed was a burst appendix. They rushed me into surgery where they found an appendix filled with infection to the size of a small fist. It was adhered to my ascending colon so they took that while they were in there. The appendix had not burst.

Who knows how long that thing was there. It was probably masked by many antibiotics and an inefficient immune system.

I have had URQ pain for several years but ultrasounds revealed nothing.

Since having the appendix removed, I don't seem to have GB attacks anymore.

I am keeping my bowels moving better and do liver clensing.

Your case is individual and you must proceed and ultimately make the decision. It is good to seek much counsel.

I concur with the above. In any case...The appendix must be considered. Constipation must be fixed. The liver must be clensed.

I pray for the right decision for you.

Bug

Proverbs 15:22
Plans fail for lack of counsel, but with many advisers they succeed.

--------------------
Every experience God gives us, every person He puts in our lives, is the perfect preparation for a future only He can see....Corrie Ten Boom


---

Posts: 343 | From Northcentral Iowa | Registered: May 2005 | IP: Logged |

5dana8
Frequent Contributor (1K+ posts)
Member # 7935


posted

---

Hey vachick

I have been doing some research on GB slugging
and I came across a supplument that I am going to start when my nuasea lets up.

It's curcumin. One everyother day . 4-5 days a week for 6 weeks.

Do not take if you have stones.

Hope you feel better soon. Have you tryed taking prilosec. I am on my 4th day and feel its working with the nuasea.

Take care and feel better soon

--------------------
5dana8


---

Posts: 4432 | From some where over the rainbow | Registered: Sep 2005 | IP: Logged |

Lymetoo
Moderator
Member # 743


posted

---

Speaking of that, have you tried Actigall? It's a prescription.

--------------------
--Lymetutu--
Opinions, not medical advice!


---

Posts: 95723 | From Texas | Registered: Feb 2001 | IP: Logged |

vachick
LymeNet Contributor
Member # 8353


posted

---

Thanks everyone. I will definitely mention the appendix to my gastro doc on Monday - he is seeing me at the request of my LLMD. That scenario is not unlikely based on what you guys are telling me.

I believe Prilosec is the only med I haven't taken for my stomach. I have taken all others with no result. Tests showed no high acidity level in my stomach, yet I have reflux.

The new doc prescribed Actigall for me and I am starting it today. I have taken it before with some success actually.

I appreciate your thoughts so much.

To be honest, I am pretty scared about this. I just got married three weeks ago and I am afraid I am already going to make my new husband a widow!!

---

Posts: 331 | From virginia | Registered: Nov 2005 | IP: Logged |

Mo
Frequent Contributor (5K+ posts)
Member # 2863


posted

---

If it's your appendix that's an immediate emergency situation.

Have you ruled that out? Did you get a WBC reading? How does it compare to your 'normal' WBC count?
Do you have fever?

Are you on abx? (they can dampen the WBC and fever response in appendix)

This happened with my son. WBC was high for him, but low for the 'standard'.

Low grade fever, rather than the high they typically see.

Cat scan for 'equivocal' as far as appendix inflammation..
yet it turned out he had once close to rupture.

One way all the ER folks and Docs finally began to determine this was to check for "rebound pain".

-- have your hubby determine where your appendix is, exactly, and if you lie down,

have him use two hands, with the tips of his fingers push in, hard on the appendix, and then pull back fast.

If you feel sharp pain on the 'rebound' -- meaning as he RELEASES the pressure from his hands -- that would be a clear sign of appendix trouble and I would go back to the ER and push to have a surgeon evaluate you for that asap... not just the ER Doc.

Also, bowel obstruction is very serious, if you think it may be that IMO you should be getting scanned asap.

Perhaps ultra sound can be done your that if you are concerned about a cat scan.

My advise above was related to GB or liver --
there are things you can do at home to relieve that --

but it sounds like you cannot be sure that's what it is.

You might need medical attention.

Mo

---

Posts: 8337 | From the other shore | Registered: Jul 2002 | IP: Logged |

levity101
LymeNet Contributor
Member # 1528


posted

---

Vachick,
Boy, you've had a lot of advice... but since I've been having similar sx as you for several months..I'll chime in! I understand your frustration.

I have had a CT scan which was normal, HIDA scan - which showed only a 2% ejection fraction on that day, two ultrasounds which showed no stones - but that the GB wasn't emptying. My GI doc did an upper endoscopy which showed only slight inflammation in the stomach. Lastly, I had a MRCP, a sort of MRI of the the abdomen, which was normal - but is apparently the best way to see small stones if they exist.

My surgeon left it up to me and wasn't really keen on taking out the GB, because in cases of dyskinesia with no stones - the problems are often not resolved by surgery. In the case of a GB being infected with Lyme, maybe it's best to get it out as someone said, but I want to rule out everything else first.

I think Dr. Scherr's article may shed light on what is happening - with TBD or some other infection in the GI tract. In my case, I'm beginning to think that the GB issues are just a sx of a more systemic problem.

I've read that liver and GB flushes are to be avoided in the cases of dyskinesia, because the GB may physically not be able to expel the flush - I think you are wise to wait on that. Many people who responded here have stones which require different treatment. I thought that Actigall was for dissolving stones (?).

Since you asked for opinions...I would have the CT scan if I were you (I don't like the idea of radiation either but after having breast cancer I feel better when things are totally checked out- there are risks with just about everything), it can give a lot of information and could rule out kidney involvement as well. Seems like the appendix needs ruling out, too.

I've been doing castor oil packs, phosphatidylcholine(PhosChol), alpha lipoic acid and milk thistle to try to help the liver/GB digestive tract. Will talk to my LLMD soon about the next step.

Hope the GI doc is able to help you figure out what's going on and that you get out of pain.

Nancy

---

Posts: 688 | From Florida | Registered: Aug 2001 | IP: Logged |

nan
Frequent Contributor (1K+ posts)
Member # 63


posted

---

Before my lyme diagnosis, I went to the ER with pain in my upper right abdomen. Scan did not show any abnormalities in gall bladder. My white count was off the charts.

A surgeon arrived to say that he felt I should have a laparoscopic inspection and removal of my GB. Knowing I had had a myriad of other symptoms and I knowing there was something systemically wrong with me....I refused.

They released me...and the surgeon called me again at home a couple of days later. He really wanted my gallbadder. Glad I stuck to my guns.
Tweleve years later I still have my gallbladder and if works just fine, thank you.

I share my experience with you, but hope you will consider all the advice here. White count was normal a week later...as I understand it, pain can cause an elevated white count.

--------------------
nan


---

Posts: 2135 | From Tick Country | Registered: Oct 2000 | IP: Logged |
Contact Us | LymeNet home page | Privacy Statement

Powered by UBB.classic™ 6.7.3

---
The Lyme Disease Network is a non-profit organization funded by individual donations. If you would like to support the Network and the LymeNet system of Web services, please send your donations to:
The Lyme Disease Network of New Jersey
907 Pebble Creek Court, Pennington, NJ 08534 USA
http://www.lymenet.org/
---
Home | Flash Discussion | Support Groups | On-Line Library
Legal Resources | Medical Abstracts | Newsletter | Books
Pictures | Site Search | Links | Help/Questions
About LymeNet | Contact Us
---
© 1993-2020 The Lyme Disease Network of New Jersey, Inc.
All Rights Reserved.
Use of the LymeNet Site is subject to Terms and Conditions.
---