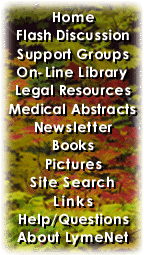 ---
LymeNet on Facebook
LymeNet on Twitter
---
---
The Lyme Disease Network receives a commission from Amazon.com for each purchase originating from this site.
When purchasing from Amazon.com, please
click here first.

Thank you.




Dedicated to the Bachmann Family


LymeNet needs your help:
LymeNet 2020 fund drive

The Lyme Disease Network is a non-profit organization funded by individual donations.

| | |
| --- | --- |
| | |
Author
Topic: Vitamin D/Sun

LZOChicago
LymeNet Contributor
Member # 8641


posted

---

Could someone please explain what Lyme does to the Vitamin D levels? I saw another post that said to check out the Marshall Protocol, but I didn't find much information. What I want to know, is is it okay to go in the sun? I just got off Doxy, and am so excited to be able to go in the sun again! Please tell me this is not taken away too! Thanks!

---

Posts: 117 | From Chicago, IL | Registered: Jan 2006 | IP: Logged |

Lesley
LymeNet Contributor
Member # 8678


posted

---

as long as you have been off the doxy for 2 or 3 days its safe to go play in the sun.....i have no problem with heat or the sun...Enjoy!!!

Lesley

---

Posts: 120 | From NB Canada | Registered: Jan 2006 | IP: Logged |

LZOChicago
LymeNet Contributor
Member # 8641


posted

---

thanks - i had gone to the marshall protocol site before, and was confused about discussion of lyme and vit d and 1,25 vit d.

can someone give me a basic explanation of how lyme interacts with vitamin d and if being in the sun makes it worse by changing your levels?

i feel fine in the sun by the way, if that indicates anything

thanks!

---

Posts: 117 | From Chicago, IL | Registered: Jan 2006 | IP: Logged |

5dana8
Frequent Contributor (1K+ posts)
Member # 7935


posted

---

There is quite a debate as to the helpfulness of the MP> At the recent lyme convention some of LLMD's didn't seem taken with it.

But I have heard people getting better on it so I don't want to sway you .

My own personal experience is that if I get 10 minuets of sun-without sunscreen I feel btter overall.

I couldn't do this as much while on doxy because I would burn easily.

Take care

--------------------
5dana8


---

Posts: 4432 | From some where over the rainbow | Registered: Sep 2005 | IP: Logged |

LZOChicago
LymeNet Contributor
Member # 8641


posted

---

So are the people who follow MP the only ones who are opposed to getting sun?

---

Posts: 117 | From Chicago, IL | Registered: Jan 2006 | IP: Logged |

hatsnscarfs
LymeNet Contributor
Member # 6562


posted

---

I am off doxy but the sun still makes me sick.

As soon as sunlight hits my skin I feel sicker. I get a vibrating or shaky feeling, and brain fog & fatigue increase. My eyes are very sensitive to light and have trouble focusing in the sun.

Thats why I always wear a hat & scarf (and gloves & socks...

For me, avoiding sun is the key to remaining functional. The sun zaps my energy and seems to activate the Lyme critters.
hats

---

Posts: 956 | From MA | Registered: Nov 2004 | IP: Logged |

Ticked Off
Junior Member
Member # 8033


posted

---

The marshall protocol is based on the belief that certain people have trouble converting vitamin D (which we get from sun exposure and certain foods) to vitamin d hormone that effects many important systems in our body.
The excessive converting creates too much inflammation. so for these people it's very important to stay out of the sun until the body is healed.

You can be checked by testing your vitamin d 25 and vitamin d 1,25 hormone. It's a tricky test and is rarely done. You can send me a pm if you have questions.

Also, people who have this problem often feel better in the sun because the bacteria in the body is nestled under the inflammation and is safe there. Rather, when it is dark, they have less places to hide and are more exposed to whatever abx you are on...thus herxing.

---

Posts: 1 | From New Jersey | Registered: Oct 2005 | IP: Logged |

DolphinLady
LymeNet Contributor
Member # 6275


posted

---

I've read some lymies get flare ups/herxes/or something bad when exposed to the sun. This is independent of abx. Hatsnscarfs is an example of this from the earlier description.

Lyme can cause vitamin D dysregulation I think. Hopefully folks will come along and shed more light on this.

At my worst, being in the sun made me feel bad. I suffer from neurally mediated hypotension (low blood pressure) and the heat made it worse.

Today I am much better and have had no problems being in the sun. Knock on wood. In fact it feels really good on my skin and I get happy and energized on a deep level.

I'm still in treatment. If/when I take abx that cause photosensitivity I will avoid the sun of course. Like Lesley said, wait until a few days after a drug like doxy before going into the sun.

Happy Summer, may we all continue to make progress.

DL

---

Posts: 925 | From California | Registered: Sep 2004 | IP: Logged |

bettyg
Unregistered



posted

---

I'm like HATS!

I'll copy/paste my newbie links here and in there I discuss my EXTREME SENSITIITY TO LIGHTS, GLARE, & REFLECTION...
Welcome to this 24/7 LYME support group board!

Before I forget about it, all PM, private messages go to YOUR HOME email address.. If you want to keep info, file it in your HOME FILE FOLDERS. Lymenet PM allows 60 notes only & they add up fast; so delete them promptly from lymenet folder.

Make sure on ``MY PROFILE'' you edit it to show you ALLOW PMs so folks can send you a private email vs. On public board. Also change the viewing notes to VIEW ALL NOTES vs. 30-60 days only. Very helpful when you do searches on specific topics.

Here's TREEPATROL's and Tincup's combination newbie links.

http://flash.lymenet.org/ubb/Forum1/HTML/029917.html

Print off the links then check them off as you read as you could spend several months reading all of this.

print & read Dr. Burrascono's 2005 info first; you will come back to this often.

Extensive info in Treepatrol''s newbie links about the meaning of WESTERN BLOT IGM/IGG test results from Igenex! Be sure to read or print this info IF Igenex tested you ok!


Also, see Cheryl''s extensive web sites on: LD DIAGNOSIS, SYMPTOMS, & TREATMENT ... wonderful! Read the area on CO-INFECTIONS! You could have from 1-10 other illnesses that tick is carrying...lyme, malaria, etc.

http://www.lymeinfo.net/lymediseasetreatment.html

If you are showing symptoms of co-infections, I would like to suggest being tested for co-infections when you have LYME western blots done. It isn''t cheap!! But if you are positive, you can treat the co-infections first, and then work on LYME symptoms.


EYE SENSITIVIES & NOIR, no infrared sunglasses info., 2-28-06 updated YES, I have what you have! Are you on doxy too? That made my extreme eyes

200% MORE sensitive than they we were earlier.
I learned a lot about eye sensitivity/lighting on
www.marshallprotocol.com board.

Look for AUSSIE BARB'S EAST FINDER and then eyes/sunglasses, etc. Wealth of info there.

I ordered the NOIR sunglasses.
http://www.noir-medical.com/noir_amber.htm
You will need 2% amber and 10% amber ... Style no. 901 and 910.
1-800-521-9746 TOLL- FREE

mention you have lyme and marshall protocol, they will give you 20% off!
I'm NOT on MProtocol, but mention it anyway. I was on their new board almost 12 months!

Also they have been kind enough to replace the SCRATCHED LENSES & BROKEN BOWS! How's that for service?

I don't drive often at night, but I can wear NOIR's 901 lenses at night while driving; it creates soft candle lights coming at me...tolerable. NOT to wear in town with all the action of people crossing where they shouldn't be, etc.

from LOU to Betty on LONG web links and Thank You Lou!:
"If you hit the return key in the middle of a link, I don't think it will be clickable anymore. An alternative that maybe Betty should be telling people about is the tiny url website. I have it on my tool bar at the top of the page and use it for
those incredablylongwebsiteaddresses.

All you have to do is ask tiny url to produce a short version, which it will do with a unique address, which you then use instead in your post. Works just the same when clicked! Here is the website, spread the word!
http://tinyurl.com/

3-1-06, fyi, I tried dragging tinyurl to my toolbar without success, so that''s why I currently have LONG addresses vs. short tiny ones! I''ll keep trying.

UNDERSTANDING HERXING REACTIONS
http://flash.lymenet.org/ubb/ultimatebb.php?ubb=get_topic;f=1;t=041517


Site of photos of ticks from Iowa State University Entomology Dept.
http://www.ent.iastate.edu/imagegal/ticks/defaulttn.html


RASH ITCHES -- use ``rubbing alcohol`` on it especially the corners good. Hubby suggested; worked great for me; rash cleared up in 2 days vs. weeks/month

Tincup''s explaination of Camp A and B, Steere vs. Burrascano, on short term antibiotics vs. long-term CHRONIC abx.
http://flash.lymenet.org/scripts/ultimatebb.cgi?ubb=get_topic;f=1;t=021395

Lymetoo/TUTU's links: yeast & candida:
Candida diet and elimination:http://flash.lymenet.org/ubb/Forum1/HTML/021412.html
http://www.wholeapproach.com/diet/
Lyme symptoms list compared with yeast symptoms
http://flash.lymenet.org/ubb/Forum1/HTML/021412.html

Tincup posted March 8, 2005, 2218

Lyme Disease Survey Responses

February 27, 2005 - March 9, 2005

1. How many doctors did you have to see before being properly diagnosed? 112 responses
Average number of doctors consulted before being diagnosed - 14
Answers ranged from 1- 120 different doctors

2. Have you had problems getting insurance to pay for doctors or treatment?
87 responses? Yes- 63 No- 24

3. Have you lost income because of Lyme disease? 106 responses
Yes- 99 No- 7

4. How much does it cost you (average) per month for Lyme related expenses? 61 responded
Average cost per month per patient- $4,472.49
Low- $500.00 High- $21,492.00

5. How many different medications do you take per day? 77 responded
Average - 14 different medications per day
Low- 3 High- 25

---

IP: Logged |

dguy
LymeNet Contributor
Member # 8979


posted

---

After studying the science, here's my understanding.

Our bodies normally regulate and keep in balance the various forms of vitamin D, such as 25D and 1,25D. A few other things can also change our vitamin D levels, such as infection with Lyme or the bacteria that cause sarcoidosis, and light exposure.

Both Lyme and sarcoidosis bacteria convert 25D to 1,25D. Light exposure converts cholesterol to 25D, and also 25D to 1,25D.

The 1,25D is the biologically active form, that is, it's the form that our body does things with. Lyme is busy consuming our 25D and turning it into 1,25D, lots of it in fact, so much that we accumulate too much 1,25D.

A standard vitamin D blood test only measures 25D. Many Lyme patients have low 25D levels because the bacteria are consuming it to make 1,25D. Adding more via diet or supplementation only gives the bacteria more "fuel".

A proper blood test for us is both 25D and 1,25D. A finding of low 25D and high 1,25D is an indication of infection.

Excessively high levels of 1,25D produce a range of symptoms... symptoms that are often found in Lyme patients, here's a list http://sarcinfo.com/phorum/read.php?f=1&i=4365&t=4365

Consequently, anything that leads to more 1,25D may be unwise for us. This includes dietary vitamin D and light exposure. Whether or not light makes your symptoms worse may depend on how severe your infection is.

---

Posts: 727 | From USA | Registered: Mar 2006 | IP: Logged |

trueblue
Frequent Contributor (1K+ posts)
Member # 7348


posted

---

dguy,
What's your opinion if someone tested exceptionally low in D 25 but normal D 1,25?


From a logical stand point it sounds like the deficiency should be corrected. I'm not saying there's actually anything logical about any of this, btw.


I guess I'll find out next time levels are run. I don't feel worse for taking the D 3 as far as I can tell.

--------------------
more light, more love
more truth and more innovation


---

Posts: 3783 | From somewhere other than here | Registered: May 2005 | IP: Logged |

dguy
LymeNet Contributor
Member # 8979


posted

---

The 1,25D to 25D ratio is considered the yardstick by which the extent of infection is measured. The higher the ratio, the greater chances the result is indeed indicating infection, and the greater the severity of that infection.

In normal, healthy people the ratio is about 1:1. By the time the value reaches 2:1, it's indicative of infection. A ratio of 3:1 is generally found in people with a severe infection.

Very few people exceed my extreme ratio, about 3.5:1, a value that helps explain how ill I feel.

It was by supplementing with vitamin D3 that I discovered the cause of my illness. Taking 1000 IU on day 1 (but not subsequent days) would make me feel slighly better later that day, but then worse by days 2/3, worse than if I had not supplemented at all. That finding led to a blood test that showed my D values were way off.

---

Posts: 727 | From USA | Registered: Mar 2006 | IP: Logged |

LZOChicago
LymeNet Contributor
Member # 8641


posted

---

Thank you all so much - I understand the Vit D a lot better now. Curious though, if your levels are off, can they ever be normalized once the Lyme is under control? I just looked at labs from March and my Vit D 25-Hydroxy was 31. The normal range is 20-100 for that lab. What does this mean? I feel so good in the sun - this seems to mean I should stay out of it...

---

Posts: 117 | From Chicago, IL | Registered: Jan 2006 | IP: Logged |

mjo
LymeNet Contributor
Member # 7876


posted

---

Adding this in case anyone looks back at this post.

I wanted to add vitamin A after reading a long research article on hearing loss/vitamin A because that's my main Lyme+ ?? symptom. I grabbed some A not realizing it had D added.

After about a month I started to have such joint pain, foot pain, stiffness, aches everywhere, I was nearly crippled! Felt 100 years old!It would take me an hour to get out of bed in the am!

This was way strange because this kind of pain has never been a real player in my Lyme symptomology. I am on Tindimax so I thought it was pulling things out of my joints? WRONG!

A smart friend asked what vitamins I was taking and I said A and it has D too! "NO!" She freaked! "NO D!!" I stopped the A/D that day and today, a week later, I can say the pain is all gone! (Still on Tini). Hope this helps someone else be smarter than I was!

Also, my little finger is now permanently deformed--bent at a crazy angle--which it wasn't before my major act of stupidity!

---

Posts: 416 | From Luck home | Registered: Sep 2005 | IP: Logged |

Jill E.
Frequent Contributor (1K+ posts)
Member # 9121


posted

---

Can regular medical labs run the 1,25 test or is this another one that requires us to seek out a specialty lab?

Thanks,
Jill

--------------------
If laughter is the best medicine, why hasn't stand-up comedy cured me?


---

Posts: 1773 | From San Diego | Registered: Apr 2006 | IP: Logged |

Marnie
Frequent Contributor (5K+ posts)
Member # 773


posted

---

Vitamin D rises for PROTECTIVE reasons. It helps prevent cancer for starters.

In lyme...the body needs a LOT of anti-oxidant help. Melatonin is a very powerful anti-oxidant. How it protects us...fills a book.

Melatonin comes from serotonin (which comes from 5HTP...which comes from 5 key nutrients).In other words:

Nutrients -> 5HTP -> serotonin + 2 enzymes -> melatonin.

We make melatonin later in the day as the sun goes down.

We convert melatonin back to serotonin by sun exposure. If no sun exposure = SAD (seasonal affective disorder). Not enough serotonin.

Your body wants/needs you to keep the level of melatonin up. It wants you to stay out of the sun for protective reasons.

But, NO sunlight = increased cancer risk. All life would cease without sunlight.

We need a little exposure to the small amt. of blue light (highest frequency, shortest wavelength) to...it looks like...absorb nitrogen. Perhaps (thru our skin). Our eyes contain leutin which is a natural "blue blocker" since this wavelength is really damaging to our retinas.

Now...melatonin has in its structure...an indole...this is merely H=N. Hydrogen double bonded to nitrogen.

Researchers believe this is the "healing" part of melatonin...the indole.

Now...so we need nitrogen. Our air has lots (70-some percent), but we can't utilize it...we exhale it in it's pure form. We depend on plants and animals to get that nitrogen for us and then we eat the plants and animals to get it. Follow?

Okay, perhaps this will explain:

Biochem Pharmacol. 1994 Jan 20;47(2):359-64.

Hypocholesterolemic properties of plant indoles.

Inhibition of acyl-CoA:cholesterol acyltransferase activity

and

reduction of serum LDL/VLDL cholesterol levels by glucobrassicin derivatives.

So...the indoles inactivate an enzyme abbreviated ACAT (which Bb needs)

and

Lower the bad cholesterol.

Bb has a cholesterol outer cell wall.

Do you see where this is leading?

The indoles...the H=N...help keep us healthy and at the same time, can help us fight cholesterol loving pathogens.

Melatonin (containing an indole)causes the release of bicarbonates from the intestine.

Bicarbonates help us to retain nitrogen.

Bicarbonates make us alkaline.

The body is looking for another pathway to eliminate this infection, by trying to keep the melatonin level up...keep you in the "dark". Provide more nitrogen.

Take your time reading this...read it over and over until it "clicks" and you see how the body is responding to save you via multiple pathways.

It is. Amazing.

Other than melatonin...if bicarbonates help...bicarbonates attached to what? How much, how often.

Bb survives by preventing the cells pre-programmed death (old cells are destroyed, new cells made all the time...at various times..some daily, some live for many months).

Bb looks to use an enzyme called NFkB to do this...to prevent the cell it's hiding in from being destroyed.

It looks like nitrogen, or nitric oxide can INactivate this enzyme (NFkB). It looks like a certain amino acid can work too.

The body has multiple pathways to help out.

Another example is yeast. Too few good guys = yeast go up. Yeast LOWER CHOLESTEROL.

Back up route...not exactly a good one, but one all the same.

Normally our beneficial bacteria help us to absorb nutrients...including nitrogen.

Think about that.

Healing...all healing starts in the gut. We have to be able to absorb and make nutrients there.

This is where we start the fight. Get your good guys up...recruit some more soldiers...to capture that nitrogen.

P.S.

"Vitamin D persuades the renin-controlling gene to become less active, and the whole process slows down.

The end result is

*less angiotensin II*

and lower blood pressure."

http://www.folkstone.ca/main/Health/Disease/Hypertension.html

Mg and statin drugs/arbs OR magnesium LOWER CHOLESTEROL by *inhibiting* HMG CoA reductase.

HMG CoA reductase stimulates angiotensin II -> cholesterol production.

Vitamin D up...your body is trying hard to stop cholesterol production, it would appear.

Too much of anything isn't healthy. It's about balance. Watch vitamin A intake...that can be really harmful in excess!!!

A final tidbit...genetic researchers are working with plants (esp. with soybeans) to try to modify them to absorb more nitrogen...to keep us healthy. Starting with our food chain.

Pesticides...downside...reduce mineral content of foods. We have higher yields to feed the masses, but the quality suffers.

This is why organic produce is "taking off" (sales). It is healthier, but costs a whole lot more.

Too many acids...too many acids...

---

Posts: 9401 | From Sunshine State | Registered: Mar 2001 | IP: Logged |

jarjar
LymeNet Contributor
Member # 8847


posted

---

Jill and all,

Quest Labs are fine for running the D tests.

Jay

---

Posts: 805 | From Utopia | Registered: Feb 2006 | IP: Logged |

mycoplasma1
LymeNet Contributor
Member # 6377


posted

---

There is a good test for this:

Sunbathe for a few days and see how you feel.

I feel LOUSY after several days in the sun (beach, swimming). Spacy, brain fogged, weak, etc..

You will usually feel it the next day or so.

I am not on antibiotics at this time.

Be well.

Chris

---

Posts: 216 | From Upstate NY | Registered: Oct 2004 | IP: Logged |

Areneli
Frequent Contributor (1K+ posts)
Member # 6740


posted

---

I feel much better after spending time in the sun.

This MP seems to be helpful to a very small amount of people. I put my chances somewhere else.

---

Posts: 1538 | From Planet Earth | Registered: Jan 2005 | IP: Logged |

Bluetick
Member
Member # 8467


posted

---

Quest labs can run the 1,25 D test but the sample needs to be sent frozen because it is so unstable.

My D25 level is 12 and my D1,25 level is 35. Oy.

---

Posts: 98 | From MA | Registered: Dec 2005 | IP: Logged |
Contact Us | LymeNet home page | Privacy Statement

© 1993-2020 The Lyme Disease Network of New Jersey, Inc.
All Rights Reserved.
Use of the LymeNet Site is subject to the Terms and Conditions.

Powered by UBB.classic™ 6.7.3

---
The Lyme Disease Network is a non-profit organization funded by individual donations. If you would like to support the Network and the LymeNet system of Web services, please send your donations to:
The Lyme Disease Network of New Jersey
907 Pebble Creek Court, Pennington, NJ 08534 USA
http://www.lymenet.org/
---
Home | Flash Discussion | Support Groups | On-Line Library
Legal Resources | Medical Abstracts | Newsletter | Books
Pictures | Site Search | Links | Help/Questions
About LymeNet | Contact Us
---
© 1993-2020 The Lyme Disease Network of New Jersey, Inc.
All Rights Reserved.
Use of the LymeNet Site is subject to Terms and Conditions.
---