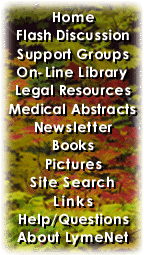 ---
LymeNet on Facebook
LymeNet on Twitter
---
---
The Lyme Disease Network receives a commission from Amazon.com for each purchase originating from this site.
When purchasing from Amazon.com, please
click here first.

Thank you.




Dedicated to the Bachmann Family


LymeNet needs your help:
LymeNet 2020 fund drive

The Lyme Disease Network is a non-profit organization funded by individual donations.

| | |
| --- | --- |
| | |
Author
Topic: What is happening to me, any ideas? Not doing well.

dontlikeliver
Frequent Contributor (1K+ posts)
Member # 4749


posted

---

The week before last, i was feeling more tired than usual, but I have also not been sleeping well, so I didn't think that was too strange.

Last Saturday, I was so tired by 11am, I went back to bed and my heart felt weird. My pulse was something like 50, which for me is SLOW.

I fell asleep. When I woke 2 hours later, if felt very weak and weird in bed and needed the bathroom. I got up to pee and as I was sitting on the toilet, I suddenly felt very weird and weak and like vomiting. I stood up, but decided I wasn't going to vomit and headed back to bed.

As I approached my bed (about 10 paces away) I felt a GREAT weakness coming on, nausea and like the world closing in. I felt I was in trouble. Grabbed my pants and headed to get hubby.

I only made it to top of stairs where I slumped, suddently got SO thirsty I thought I would die, BAD nausea and like about to vomit but too weak to get up, SWEATING from neck and head, cold sweat.

Hubby called ambulance. When they got here, I was able to walk back to bed but was WHITE. Was very weak and shaky and weird feeling.

They said I could go to ER and get checked but that my blood pressure was normal, heart rate, glucose, etc.

Got to ER. They did blood. Not anemic, FBC normal, liver normal, ekg normal, urine no infection, etc.

Went home.

This feeling of weakness, like an adrenaline rush in abdomen or an adrenaline DRAIN comes on several times a day with or without faint feeling and nausea. Heart sometimes feels slow and is sometimes about 58-60 which is slow for me. But other times higher about 70-80.

Do I have another disease too? Is it a new twist to the Lyme as have had 3 months no abx due to stomach problems?

These symptoms are I think new, or I MAY have started out with similar 23 years ago.

I also have a burning/stabbing feeling on and off during this same last week, which feels like it is the base of my bladder or top of urethra..but urine showed no infectin. IF I had a urininary tract infection or bladder infection that is not causing fever, etc, could that be the cause of the faint episodes and like adrenalin rush or adrenaline 'drain'?

Any ideas?

[ 16. July 2006, 06:20 AM: Message edited by: dontlikeliver ]

---

Posts: 2824 | From The Back of Beyond | Registered: Oct 2003 | IP: Logged |

Melanie Reber
Frequent Contributor (5K+ posts)
Member # 3707


posted

---

Good morning Liver-lips,

My, I am so sorry that you are having this added difficulty! It sounds like it would be very frightening, and also very perplexing.

The only thing I can do unfortunately is to offer a similar experience...

Way back when (1983), before I was diagnosed of course. I had something happen that was pretty close to what you are describing.

I went to bed early with a real weak feeling...and so unusually tired.

In the middle of the night, I awoke with a horrible headach and nausea. I tried to get up to head for the restroom...and just barely made it through the door, when I collapsed.

I had never fainted before so this sort of scared me. So, I then tried to make it back to bed, and again collapsed halfway back.

At this point, I knew something was obviously wrong, so I decided to make my way upstairs to my friend's room for help.

I drug myslef up the stairs and made it to his door and knocked...and just as he was opening it, I collapsed for the third time.

He picked me up and rushed me to the ER.
When I arrived there, my head was just pounding, I was extremely nauseous, weak, shakey, LOW pulse and pressure, etc.

The ER had no clue what was wrong or what to do. But after a few minutes there, I vomited. After about an hour and with some pain meds, my headache finally subsided. BP and temp went back to normal low, so they sent me home.

The diagnosis was low blood pressure.

Now...

I have no idea if that was the only problem at the time, because by then I was just beginning to get a few strange "other" symptoms...but never put any of them together to make a total picture until 2003.

And, this has never happened to me since.

So, was it some TBD doing its thing...I will never know. But I do tend to run on the low side with my pulse and pressure still, and for me, this alone I think causes much of my weakness and dizziness.

Sorry if this didnt help at all...just wanted you to know that I am thinking of you, and sure hope that whatever this is will pass soon for you!

Much love,
M

---

Posts: 7006 | From Colorado | Registered: Mar 2003 | IP: Logged |

5dana8
Frequent Contributor (1K+ posts)
Member # 7935


posted

---

Sorry DDL this had to happend, it sounds scary.

It does sound like it could be a lyme thing. Are you herxing?

And also have you ever had fasting glucose sugar test done?

You might want to pm cantgiveup if she is still on the board because I remember she described almost the same thing happen to her.

Hope you can find out why this happened and feel better soon

--------------------
5dana8


---

Posts: 4432 | From some where over the rainbow | Registered: Sep 2005 | IP: Logged |

Sue vG
Frequent Contributor (1K+ posts)
Member # 3143


posted

---

DLL,

I have no medical advice, just wanted to send you warm wishes for speedy wellness. Please keep us posted when you feel up to it.

Sue

---

Posts: 1307 | From TX | Registered: Sep 2002 | IP: Logged |

mycoplasma1
LymeNet Contributor
Member # 6377


posted

---

I would frequently go to the ER for this and would always feel better after they gave me a saline IV (never found anything).

The autonomic nervous system will often do this. Lyme really screws with the auto system and creates alot of these symptoms and the Dr's think you are crazy because they never find anything. I always thought I was having a heart attack or heart failure! REALLY SCARY.

Anyway, a tilt table test will usually show it. But I would recommend just continuing to treat the Lyme and drink electrolytes to keep you hydrated and lots of sea salt on food.

Be well,

Chris

---

Posts: 216 | From Upstate NY | Registered: Oct 2004 | IP: Logged |

Aniek
Frequent Contributor (1K+ posts)
Member # 5374


posted

---

My non-Lymie cousin had a similar experience while shopping. The ER said it was a non-headache migraine.

I believe I had my first migraine a month ago. Besides the headache, I was rally nauseous, weak and tired. A lot of similar symptoms to you.

Mine was caused by getting a spray tan. Yes, I should have known better. But went with a friend who was testing it to see if she wanted one for her wedding.

--------------------
"When there is pain, there are no words." - Toni Morrison


---

Posts: 4711 | From Washington, DC | Registered: Mar 2004 | IP: Logged |

Michelle M
Frequent Contributor (1K+ posts)
Member # 7200


posted

---

Really scary, Don't Like!

Yikes.

I agree with Mycoplasma.

Are you eating often and well?

The autonomic nervous system can go really screwy with lyme.

The sensation you describe is definitely a passing out sensation - I've rarely heard it described so well -- "The world closing in" -- perfect.

That's basically when all the blood (or most of it) leaves your head.

NOT fun.

The tilt table would be a good diagnostic tool. Ditto a full blood sugar workup.

What about adrenal exhaustion? What's your thyroid status?

PLEASE take care..

Michelle

---

Posts: 3193 | From Northern California | Registered: Apr 2005 | IP: Logged |

dontlikeliver
Frequent Contributor (1K+ posts)
Member # 4749


posted

---

Thanks for replying, everyone.

I don't think herxing is possible as not on any tx for last 3 months almost due to stomach problems, which were intolerable on last try on abx. And, even when I'm not on abx I have trouble now with stomach. I am awaiting results from great smokies to find if culprit can be found.

I had my blood glucose spot-checked when this whole thing happened and it was normal also. I have had GTT's in the past also (to the person who asked me that).

I have relapsed, I am sure of that. Not sure if this 'fainting' is due to that or separate.

Or if I do have a UTI, if that is the cause of the weak/faint/nausea spells, etc.

No doubt time will answer all. But, I do appreciate your experiences and thoughts.

Strangely, for most of today I have been "OK" (not faint). Going to GP tomorrow to see what he says (I never hold out much hope of help there though). Wish I was closer to my LLMD.

DLL

---

Posts: 2824 | From The Back of Beyond | Registered: Oct 2003 | IP: Logged |

bettyg
Unregistered



posted

---

DLL, I'm sorry to read about your scary episodes!
Happy to read Great Smokies/Genova lab is involved in trying to find the culprit causing you this strange/sudden illness. My thoughts & prayers go to you for their finding the cause SOON. Bettyg

---

IP: Logged |

micul
LymeNet Contributor
Member # 6314


posted

---

I'm sorry to say that it sounds like a relapse to me. Something was missing in your Tx. Perhaps your Dr didn't Tx the cyst form long enough? And there's always the possiblity of another reinfection. Hope you find the answer soon.

--------------------
You're only a failure when you stop trying.


---

Posts: 945 | From U.S | Registered: Oct 2004 | IP: Logged |

suki444
Unregistered



posted

---

Hi DLL

A UTI can cause severe symptoms as we know, but it usually gets worse and makes itself apparent over time...abdominal pain, urethral burning or twinging, pain on passing water etc. It is not unusual for NHS cultures to be clear - they are not sensitive.

But unless the symptoms progress to suggest infection then it maybe isn't that after all. You can get test done to screen for infection...white blood cells in the urine etc. which in my experience are more accurate.

I myself had temp increases (not 'high' temp tho by docs standard), heart palps, nausea, bloating, abdominal pain from an enterococcus UTI.

But it's maybe a TBD thing after all due to the fainting and no distinct urinary symptoms. All you can do is monitor symptoms and ring your LLMD.

take care
Emma

---

IP: Logged |

surg
LymeNet Contributor
Member # 6937


posted

---

In May I had a weird experience a little similar. Suddenly over an hour I went white, got nauseous, did not vomit but came close, dizzy, chills, fever, sweats, and almost passed out.

I did not go to the ER but I probably should have. It later turned into the stomach flu for weeks. It was a really bad flu.

The LLMD thought it was a babesia relapse. I'm sure it was the stomach flu with maybe a babesia relapse.
So, see if this evolves into something else.
There is a really bad flu going around California.

I see why you thought it was the heart. At first it sounded like a heartattack, the way it presents in a women-shortness of breath, weakness, unusual fatigue, cold sweat, and dizziness. However, your EKG was normal. That is a big relief.

---

Posts: 293 | From healdsburg, ca , sonoma | Registered: Feb 2005 | IP: Logged |

kelmo
Frequent Contributor (1K+ posts)
Member # 8797


posted

---

This is SO typical of this disease...I don't know how many times I have taken my daughter to the ER only to find out she is "normal".

I'm sorry for the scary incident...wish we had an answer. If you find out...PLEASE let us know!

---

Posts: 2903 | From AZ | Registered: Feb 2006 | IP: Logged |

cantgiveupyet
Frequent Contributor (1K+ posts)
Member # 8165


posted

---

Hey,

I came here to read today and saw this post.

Im going to post a link to what happend to me back in Dec. one of the scariest days of my life.

http://flash.lymenet.org/scripts/ultimatebb.cgi?ubb=get_topic;f=1;t=040059


I went to the ER a few days later and had high nitrates in my urine, yet no bacteria was grown. a few weeks later i found out I had bacterial vaginosis(not sure if you are female)


I had a few of these episodes.... and never found out what was causing them. The one in Dec was like it was too much strain on my body to pee...i got head pressure, and light headed....i was peeing a lot back then too.

Thinking back i think yeast had something to do with a bit of it......that and the abx i was on whiped out all the good bacteria in my body....

i havent been the same since that day- especially bladder wise.


I would suggest keeping a log of everything, food you eat, how many times you urinate etc.

--------------------
"Say it straight simple and with a smile."

"Thus the task is, not so much to see what no one has seen yet,
But to think what nobody has thought yet, About what everybody sees."

-Schopenhauer

pos babs, bart, igenex WB igm/igg


---

Posts: 3156 | From Lyme limbo | Registered: Oct 2005 | IP: Logged |

dontlikeliver
Frequent Contributor (1K+ posts)
Member # 4749


posted

---

Thanks again for all the replies.

I am intending to get back on abx asap but have to wait for stool test results to get back first, then will be communicating with my LLMD.

---

Posts: 2824 | From The Back of Beyond | Registered: Oct 2003 | IP: Logged |
Contact Us | LymeNet home page | Privacy Statement

© 1993-2020 The Lyme Disease Network of New Jersey, Inc.
All Rights Reserved.
Use of the LymeNet Site is subject to the Terms and Conditions.

Powered by UBB.classic™ 6.7.3

---
The Lyme Disease Network is a non-profit organization funded by individual donations. If you would like to support the Network and the LymeNet system of Web services, please send your donations to:
The Lyme Disease Network of New Jersey
907 Pebble Creek Court, Pennington, NJ 08534 USA
http://www.lymenet.org/
---
Home | Flash Discussion | Support Groups | On-Line Library
Legal Resources | Medical Abstracts | Newsletter | Books
Pictures | Site Search | Links | Help/Questions
About LymeNet | Contact Us
---
© 1993-2020 The Lyme Disease Network of New Jersey, Inc.
All Rights Reserved.
Use of the LymeNet Site is subject to Terms and Conditions.
---