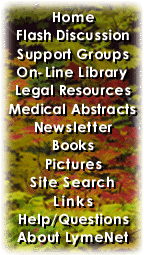 ---
LymeNet on Facebook
LymeNet on Twitter
---
---
The Lyme Disease Network receives a commission from Amazon.com for each purchase originating from this site.
When purchasing from Amazon.com, please
click here first.

Thank you.




Dedicated to the Bachmann Family


LymeNet needs your help:
LymeNet 2020 fund drive

The Lyme Disease Network is a non-profit organization funded by individual donations.

| | |
| --- | --- |
| | |
Author
Topic: Lyme? Bartonella? Yeast? Evil spirits?

nomoremuscles
LymeNet Contributor
Member # 9560


posted

---

Hello all,

I am a new member (my second post) but a longtime reader and lurker.


I am not quite sure where to begin, but will try jumping in with a (not so) short bit of history.


I have been infected 10-12 years, though my diagnosing doc at the time thought I was probaly sick for at least two years prior. And, looking back, I am sure he was right. So it was at least two years of intense, acute sxy before any trx.


Over the years, I have been diagnosed with Lyme, babesia, possible bartonella, and mycoplasma (I forget which one).

My initial syx were pure neuro. My brain started going a trillion miles an hour, a constant white noise of static, that was like an agitation, or a CD of screeching anxiety (as opposed to those soothing, meditation CDs), that played without let up.

Most of the common neuro syx. have been present at one time or another: numbness, fatigue, brain stupidness, weird electrical jolts, burning cinders on the bottoms of my feet, half the body going paralyzed for periods of time, jerking awake in terror, the list goes on ...

I've been on various meds, orals only, but likely did not stay on any of them long enough, as after a short break of diminished syx, my syx would soon creep back.

Meds have included all of the usual suspects, including, but not limited to, several rounds of mepron and zith, malarone, plaq-biaxin, ceftin, cipro, all the -cyclines, both alone and in concert, including 1 1/2 years of straight doxy combined first with malarone, then with tini., etc.

It was during a round of zith and flagyl, a seven month round that had me feeling poisoned every minute of every day, and caused my worst herxes, that the neuro stuff began to let up. However, it was then that the first pangs of belly pain arrived.

It was the same as with everybody else. If I ate well, no junk, nothing white, loads of fibery vegetables, my gut would be fine, but if not the pain would return.

Soon the neuro syx returned, too.

That was when I started that long round of doxy --mentioned earlier -- adding in tini at the 10 month point, and remaining on the two for an additional 7 months. During this combo my belly started going off.

It woulod bloat, hurt, and freeze up, losing all motility when certain foods were consumed. Little by little that list of foods has grown, and the list that I can tolerate has shrunk. If I said how many foods I can eat, and what they were, no one would believe it, and everyone who knows me would immediately be able to identify who I am.

I have been to two LLMDs, two GI docs, an ID doc, a yeast-holistic-book-writing specialist (who is likely the only doc that charges more than a LLMD -- a joke, people).

Initially I thought it was yeast, as did most others, but two years of no abx coupled with a strict diet, plenty of probiotics, and periods of anti-yeast meds, saw me get progressively worse.

Smokey Labs stool tests were not very helpful,sither, though there was one potentially pathogenic bacteria -- Klebella, I think -- in very low levels; and all yeast tests have been neg. As well, a colonoscopy showed a healthy pink intestine, that, sadly, did not seem to move or contract much at all.

Okay. The smoky test said the potentially-pathogenic bacteria was sensitive to levequin. Bango! The first relief I had in years. But, at the time I was seeing an infectious disease doc, rec. by my LLMD, who asked me to stop taking it as it would mess up my testing (a gaint waste of time). So I was on levequin, then off, then back on, then off, and soon it did not work.

The same story can be said for numerous abx. combos. They would work for a short time, then gradually I would get worse.

My current LLMD thinks it's the Lyme. The NY-yeast guy does, too. To counteract this seeming quick-acting drug resistance, he -- NY-yeast guy -- put me on 10 day rotations of abx and diflucan (2 abx plus diflucan, then switch to two different abx, then switch again, then repeat). This too helped a bit for a time, then I fell backwards.

Four months ago my LLMD said we should try bicillin. This too seemed as though it might help, but after a couple of weeks I went downhill.

So this is where I am.

Even if I stick to my specific foods, my belly is still bad. Bloating, unmoving, painful. Once belly starts on a roll, neuro-brain things hop onto the wagon. I suffer brutal fatigue. Insomnia. Sun intolerace. Exercise intolerance that knocks me out for days, from as little as a few too many stairs, or too long on my feet. My muscles are so weak I had to stop using a peppermill, and get the preground stuff (I CAN eat salt and pepper!)

There is much more, but I have gone on forever already. I am very sorry for the length of this post, and for the way I am introducing myself, and for all of the typos and misspellings that I'm sure you must have plowed through to get to here. But, I'd like to thank you for reading.

And ask....


So. People, what do you think?


PS -- I cannot tolerate herbs (all the ones I've tried, anyway), probiotics, vitamins, or most supps. Mag. esp. kills me, and I there are 9-10 different ones I've tried.


PPS -- Like many of you, I was a workingout fanatic before all of this, and for many years I was able to at least do something.

---

Posts: 842 | From Eastern USA | Registered: Jul 2006 | IP: Logged |

Aniek
Frequent Contributor (1K+ posts)
Member # 5374


posted

---

Just a thought that it could be autonomic neuropathy. I'm complete new to autonomic neuropathy, just got diagnosed on Monday.

But the doctor who diagnosed it believes it is causing my pain, movement disorders, food intolerances and other GI symptoms.

I had Lyme undiagnosed for 17 years. He said my body is in constant stress mode because it's been fighting this off for so long. So it doesn't take care of the day to day necessities.

http://flash.lymenet.org/ubb/ultimatebb.php?ubb=get_topic;f=1;t=045854#000000

--------------------
"When there is pain, there are no words." - Toni Morrison


---

Posts: 4711 | From Washington, DC | Registered: Mar 2004 | IP: Logged |

northstar
Frequent Contributor (1K+ posts)
Member # 7911


posted

---

Have you looked into rife?
N.

---

Posts: 1331 | From hither and yonder | Registered: Sep 2005 | IP: Logged |

mycoplasma1
LymeNet Contributor
Member # 6377


posted

---

I would stick to low dose Minocin (even has anti yeast properties) (200mg MWF) and then pulse in Zith on alternate days when the herxing from the Minocin dies down. You need to stick to one thing for a while. Just pulse low dose. These are slow growing organisms and you do not need to over do it.

Do road back protocol as I stated above or the Marshall protocol (you do not need to avoid light anymore). Works for alot of patients who have tried EVERYTHING else. I know, I talk to them daily and they are living their lives and doing fine. But you must understand, the first six months will be rough.

Stick with it.

Chris.

---

Posts: 216 | From Upstate NY | Registered: Oct 2004 | IP: Logged |

seibertneurolyme
Frequent Contributor (5K+ posts)
Member # 6416


posted

---

If you have been lurking you may have read some of my posts about hubby. His symptoms started out and continue to be G.I. and neuro -- going on 5 1/2 years now -- in treatment for about 3 years.

Since you mentioned that the Levaquin helped, have you tried Rifampin? Just a suggestion in case the Bartonella has gone to the brain.

Hubby has kind of reached the desperation point and plans to do an endoscopy next week. Don't really expect anything to show except gastritis -- had 3 prior endoscopies early in illness with that diagnosis. Do plan to send biopsy samples to MDL to test for lyme, babesia and ehrlichia -- a long shot I know.

We had a phone appointment with an LLMD gastro and that is about all he could suggest other than to retest for intestinal parasites -- think I will just try some herbal treatment for that again (black walnut, cloves and artemesia). Great Smokies has been a good lab for hubby, except that I don't have much confidence in their parasite tests.

What about the leaky gut test? -- not very expensive. That could be what is triggering the food intolerances.

Have you read the "Bell's Palsy of the Gut" article? Unfortunately it doesn't give any real treatment solutions.

If motility is an issue -- have you tried lecithin or phosphatidylcholine? Peristalsis is controlled by the cholinergic system. Things like Benadryl, Ditropan and Artane (anticholinergics) slow down peristalsis. Reglan (not sure if it was taken off the market? due to heart side effects) is a cholinergic drug which speeds up peristalsis.

Most antidepressants and psychotropic drugs have mild anticholinergic effects as well.

Another suggestion would be an extensive nutritional workup -- many things are available by IV or shots. Something like the ION profile from MetaMetrix -- there was a recent thread on this. Nutrition is vitally important to repair the G.I. tract -- especially need the B vitamins and folic acid.

You did not mention nausea or dry heaves or vomiting. Those were hubby's main symptoms until recently he started getting stomach pain.

Have you tried digestive enzymes or bile supplements?

Maybe you need to do something like a liquid meal replacement for at least one meal to help balance your nutritional needs.

At least I have given you some things to think about. Some of these have helped hubby from time to time, but his real problem seems to be babesia related (elevated bilirubin which exacerbates the nausea and dry heaves), but the babesia meds have probably caused gastritis so we are kind of between a rock and a hard place right now.

Good luck.

Bea Seibert

---

Posts: 7306 | From Martinsville,VA,USA | Registered: Oct 2004 | IP: Logged |

Lymetoo
Moderator
Member # 743


posted

---

I'd be willing to bet on the motility as the main problem. I think I have it too. I just found out I'm celiac, so that's a possibility you may want to check into.

I thought all celiacs had diarrhea, but NOT so!



We're glad you decided to join us instead being a peeping Tom!!

--------------------
--Lymetutu--
Opinions, not medical advice!


---

Posts: 94473 | From Texas | Registered: Feb 2001 | IP: Logged |

Lymetoo
Moderator
Member # 743


posted

---

Hey, how's your gallbladder??

--------------------
--Lymetutu--
Opinions, not medical advice!


---

Posts: 94473 | From Texas | Registered: Feb 2001 | IP: Logged |

liz28
Unregistered



posted

---

Hi, it's hard to concentrate on this at 2 a.m., but a couple of things come to mind.

First, the stomach stuff could be celiac disease. One of the best resources for learning about it is www.livingwithout.com. The symptoms often come up when a person has some other immune suppressant at work.

Also, the bloating and pain could be symptomatic of liver problems, which would be no surprise considering what you've been on. My emergency liver support, which always works but is pricey, is Dr. Zhang's Hepa Formula 2 (www.hepapro.com). Or you can take handfuls of milk thistle, N-acetyl cysteine, and schizandra, and see if these make any difference.

Regarding abx protocols, you have not been on all the usual suspects. You might want to go through the Lymenet archives and see what the latest killer combos are. Malarone and doxy is a little like racing grampa's buggy down Main Street--great fun, gets you no where.

Flagyl is notorious for killing off all your gut flora in a matter of days. It may be that your probiotics just aren't strong enough. You want to aim for 20 billion organisms per capsule.

The sun intolerance can be dealt with by using a mexoryl sunscreen. You can get two of them off www.canadapharmacy.com. Look for either Ombrelle or Anthelios, with at least mexoryl 3% as an ingredient. Ombrelle SPF 60 gives almost total sunblock protection.

Some of your symptoms sound like active bartonella and babesia. If you haven't tried this yet, bart responds well to a combination of rifampin and ketek, with lots of probiotics and liver support thrown in. It takes about five months of this combination to get rid of the bart, but it usually doesn't come back.

As for the babesia, that could account for you exercise intolerance. Just to irk you, you should know that I recently recovered from babesia, and instantly dropped over ten pounds and started running distance again. With that in mind, you may feel motivated to order Nutricology artemisinin from www.vitacost.com. Just try two pills, three times a day, for a week, and see if there is any reaction. If there is, you've still got a babesia problem. You aren't alone--newcomers often don't realize this until they read through the archives, but mepron and malarone don't actually cure most babesia patients, they just suppress symptoms.

---

IP: Logged |

David95928
Frequent Contributor (1K+ posts)
Member # 3521


posted

---

How long did you stay on Bicillin? In my case. Two weeks was just about long enough to cause herxing. It didn't help me feel better AT ALL for at least three months and then only in flashes? I don't think that time frame is unusual.

--------------------
Dave


---

Posts: 2034 | From CA | Registered: Jan 2003 | IP: Logged |

suki444
Unregistered



posted

---

I have quickly read yur case history and could see a lot of similarities with myself...I have Bart, Babs, Lyme, maybe erlichia (had urinary pathogen in gut like Kleb. - Morganella).

I had the tv static sensation in my head when very ill - low grade meninigitis I think but mine has improved with treatment. I also had Bells palsy of the gut, v.v.painful - dr said it completely 'shut down' at one stage BUT again mine improved with treatment.

Incidentally if you had Kleb. - and you killed it, did you get your counts of Lactobacillus/Bifidus back up? usually with these bugs they are non existant.

To heal my gut I also used L-glutamine, aloe vera,
Diflucan, a specialist enzyme preparation from a naturopath, 8 probiotics a day (concentrated).

Also avoiding gluten and/or milk is essential if you are intolerant - we have research here that proved that Lymies usually produce toxic I.A.G on consumption of one or both of these. Consuming these if you produce IAG diminishes NK cell funciton.

Do you do all dr b's suggested supplements? I do but found I improved greatly when I took NTfactor Energy by Researched Nutritionals - he uses it for mitochondrial dysfunction.I'd recommend trying it especially if you nutrition has been limited due to gut issues.

I'd particularly advise against the MP...I was on it for 7 months and it made me MUCH worse.

I do not think you have tried Questran for neurotoxins - that could be a significant issue also.

Bart and Babs love the GI tract...is it possible you may still have one of these causing gut issues?

And finally are you taking enought Magnesium...if i try anything but mag tabs I get deficient. Have you had Methyl B12 shots..could you be deficient in this - both of these help neuro symptoms a lot.

These are all just suggestions, to see if any of it seems applicable..I hope you can find some relief,

BW
Emma

---

IP: Logged |

David95928
Frequent Contributor (1K+ posts)
Member # 3521


posted

---

Is it oral magnesium you can't tolerate? If so, you could consider talking with your LLMD about taking magnesium sulfate IM or IV. It's part of Dr. B's protocol so most LLMDs will prescribe it and it might help quite a bit with some of the annoying neuro stuff. I take one gram (2 ml.) IM about every five days and it keeps the fluttering sensations, twitches, and muscle cramps at bay.
If you do take it IM, be sure to use a needle long enough to get it into the muscle.

--------------------
Dave


---

Posts: 2034 | From CA | Registered: Jan 2003 | IP: Logged |

mycoplasma1
LymeNet Contributor
Member # 6377


posted

---

Emma,

The Marshall Protocol made you much worse because you were herxing all the way through. People just don't get that they herx all the way through until the pathogen load is greatly reduced. Those who make it past the 1-2 yr point are GREATLY improved and alot of them (I talk to them often) who have done IV's and LOADS of ABX are finally seeing recovery.

Bombarding these bugs with high dose abx is NOT the answer. I think if you have been on this board long enough you will clearly find that's the case.

You can still do low dose pulsed abx without the benicar and go into remission. Many on the roadback site do.

Chris

---

Posts: 216 | From Upstate NY | Registered: Oct 2004 | IP: Logged |

elley0531
LymeNet Contributor
Member # 9434


posted

---

basically what everyone else said but also...

you may need to go on a strict diet. I know you say you are already on one, but this is what has been working for me, and I've been having the same issue...Palsy of the gut (where it feels like it just hangs out there and doesn't move much)...also chronic gastritis:

4 days of soup only diet, the recipe I will post later. This is the easiest soup to digest, your gi tract literally has to do damn near nothing. Eat it morning, noon, and night. The ingredients are important.

Afterwards you should feel a bit better down there. At that point I replaced two soup meals a day with the following:

morning: goat yogurt (must be goat...no casein), coconut milk (organic), and stevia (NO SUGAR stevia only). Eat some soup if still hungry.

dinner: well well well cooked veggies and baked salmon.

lunch is still soup.

Eventually I was able to add other things.

I have completely dropped cow products of all kinds, corn, soy, and gluten. I def. notice a huge difference, and my celiac and allergy tests came back negative...remember, tests are just tests, its how it makes you feel thats important.

also, really good probiotics are needed, not chewable acedophilus. Like what was said, I aim to get close to 20 billion in me a day, my last dose right before bed so it can repopulate my gut. Don't take probiotics wthin 2 hours of antibiotics.

Digestive enzymes: huge huge huge help. I take two about 10 miuntes before each meal...Garden of Life makes good ones, sold at health food stores.

Also, be patient it takes a long time for the gut to start to feel better. What also helps me is organic unsweetened applesauce.

---

Posts: 594 | From NJ/NY | Registered: Jun 2006 | IP: Logged |

surg
LymeNet Contributor
Member # 6937


posted

---

All my symptoms have been neuro and GI. I am about 75% better from bicillin. Two weeks ain't nothing. I felt terrible on it for months. Now after 8 months of bicillin and 2 months of zith I had an almost normal weekend.
I also treated babesia for 6 months with art, mepron, and zith.
With so many neuro symptoms what about heavy metals? I take chlorella and modifilan.

---

Posts: 293 | From healdsburg, ca , sonoma | Registered: Feb 2005 | IP: Logged |

nomoremuscles
LymeNet Contributor
Member # 9560


posted

---

Wow!

Thanks everyone.

That was some great load of responses. There were many good ideas that I'd not thought of.

I will try to address some of the points that were brought up, and possibly clarify some points of my original post that were misunderstood likely due to my poor wording).

I have been on the bicillin now for 4 months, not 2 weeks. It was AFTER 2 weeks that I started going downhill on it, and have not yet improved. I don't know if it is a herx, or that my body is bad at removing the toxins at this point, but whatever it is I have gotten steadily worse.

Nutrition. Someone suggested a poor diet might be the problem, and someone else suggested celiac. I may not have been too clear on that, either.

The number of foods I can eat you could count on one hand and have plenty of fingers left over for hitchhiking, obscene gestures, and other business. And they are real foods that I eat -- I have nothing from a box or a package in years. Other than converting to breathaterianism, which may not be far off, I coundn't be any stricter.

Celiac. Yes, I have tested positive for celiac, but I think, as does LLMD, that it has to be a red herring, since I have not had any sugar, flour, dairy, grain -- certainly no gluten -- or much of anything really, for 3-4 years.

IV nutrition. This is probably a great idea. I must be deficient in a load of stuff by now. Oddly, LLMD does not seem too concerned about this. I used to go occasionally to a doc who offered this service, but it cost $150 and I simply can not afford that very often. I have tried b-12 injections in the past, but noticed nothing. I had a mag IV once, years ago, when still relatively strong and fit, but beset by the twitching and tremors of early Lyme, and it seemed to help a little bit, but not too much. The meds seemed to eventually clear up most of the twithcy stuff over time. (Says the guy whose right eyelid and quad were twitching all last week.)


Magnesium. At this point it makes me sick. It kills my belly and joints and brings on a week of exhaustion and despair. This from one pill. I have a big bunch of bottles of different kinds, citrate, malate, SR, etc, each with one or two tablets missing. maybe I could have a garage sale! When still able to tolerate it, I tried taking mag with B6 and selenium several times throughout the day, as per the rec. of another member (this was roughly 3 years ago), but this did nothing for me either, and after 6-8 months I stopped.


Glutamine. I have not taken this in a while. I have been thinking about it. But when my belly wasstill good, and when it first started going bad, I was taking many grams a day. This did not seem to prevent any problems.

Liver and GB. The ideas of liver and gallbladder I have not considered. I haven't taken any milk thistle, or any liver support stuff for several years. That is something I will try. Would liver problems cause this? Or would they be a result of this? My liver enzymes are usually in range, except when flaring or herxing. Does that mean anything? What should I look for?

Probiotics. It is not that they don't work. It is that they make me sick. I was always a tight eater, but when my belly first started going off I became fanatical, eating only meats, vegetables, fruits, nuts, and herbs, as well as tons -- and I mean tons -- of probiotics. Also, with each meal, I was eating 1 cup of cultured vegetables which I made myself. Over time the cultured veggies started giving me problems. Then it was the probiotics. Now if I have any probiotics, I go into an extended flare that could last anywhere from 4 days to 2 weeks.

Bartonella. I think this may be the problem, too. Or maybe part of it. I have not taken any extended course of bartonella meds in combination, though I have taken most of them alone. What are some of the best combos? Rifampin has made me herx in my brain like crazy, with dreams that explode in color and weirdness and violence.

Babesia. I knew bartonella liked the gut, but did not know that babesia liked the gut, too. I hadn't thought the babesia was still be a player, as the sweats and maleria-like stuff are long gone, but I will look into this and discuss it with doc. I knew fatigue was linked to babesia, but didn't know that the exercise intolerance was, too. Unfortunately my LLMD is not big on treating the co-infections; he thinks when the lyme is beaten, the immune system will take care of the rest. But at this point he is willing to try anything.

Motility. I did not know of many of those suggested supps that help in that dept. I will put them on my reading list, then try them one at a time. I have tried the med. reglin (I think that's the name) but it gave me awful side effects. Curently I'm taking zelnorn 2mg. twice a day, and though it helps, I would love to get off as I can't imagine it's doing me any longterm good. I have been prescribed a med called domperidone, but have not yet tried it. Also, I will add phosphatidylcholine to the list (haven't I read somewhere a danger with this stuff for some chronic patients?)

Nausea. Yes. I forgot. I have had many periods of very bad nausea -- when belly is backed up or when in a flare or herx. Also, I have had periods where my swallow mechanism would not operate, and I would start to choke . (Life is grand!)

Autonomic. This is one of the things that LLMD thinks is going on. I do too. But nobody seems to be able to explain why an abx can clear my gut and get it to work for a short time, then, just as quickly, it stops working. When I took a 10 day course of Xifaxin (sp?) a nonabsorbable form of rifampin (that, like nystatin, exerts its influence on the inside of the gut), my gut operated normally for 3-4 days, then stopped. Resistance? Competing factions? Insurgents?

Toxins. Chlorella has been on my list to try, and now I will get some. I am afraid though, because most herbs are bad news for me. Modifilan? What is this? Questran I've also been afraid of, as I seem to remember people getting awfully bound up??

Low dose. I tried mino 100 every other day, self medicating; I did this right after my 2 year ABX layoff (when I was trying to get belly to repair naturally). And when I added a single dose of zith to the mino I had a herx that was a killer, it lasted 10 days. So something was definitely happening. But then I signed on with my current LLMD and he thought an ILADs approach would be better. I may try low-dose again later.

MP. As far as the MP goes, I think the benicar might help me as I get definite flares after sun exposure (was a sun-worshiping-beach lover in my last life). I have been following this MP stuff since Scott and Penny were chased off this board and started the other one. And, still, I am not sure what to make of it. Some people seem to do well, very well, when nothing else works, but just as many seem to live in agony. TM originally was saying 12-18 months to a full cure, now its 3-4 years. When that Australian moderator gets out of bed and dances on Christmas, which had been predicted for last year, I will sign up. I had a doc willing to prescribe it back when TM spoke at a Lyme conference, but he changed his mind after reading the papers. Personally, I think the guy is on to something, maybe something big, but not a cure for every disease known to man as he seems to believe. But, still, those people who do well do really well....

Bicillin. Many of you have said to stay the course with the bicillin. How long would you wait until you know if it is working or not? Next month will be five months; will that be long enough?

Diflucan. I was thinking of trying 50 days of diflucan immediately afterwards. I was on diflucan -- along with various ABX -- for most of last year and it didn't seem to do much of anything. But I never took it alone, following penicillin, as per Schardt's protocol. Good idea? Or would it be better to remail on the bicillin, and add in ketek or biaxin or something?

Again, thanks to everyone who took the time to write. I appreciate it very much.

---

Posts: 842 | From Eastern USA | Registered: Jul 2006 | IP: Logged |

nomoremuscles
LymeNet Contributor
Member # 9560


posted

---

Also.

As if that last post wasn't long enough.

Would it be better to:

1) ... stay with the bicillin, and add something?

2) ... try Schardt's protocol?

3) ... switch to bart or bab trx?


I know no one is a doc, and I am not looking for medical advice. Just some ideas from patients who have improved.

Again, thanks.

---

Posts: 842 | From Eastern USA | Registered: Jul 2006 | IP: Logged |

David95928
Frequent Contributor (1K+ posts)
Member # 3521


posted

---

Nomoremuscles,

Bicillin is known for causing prolonged herxes. Dr. B specifically comments on that. By chance, do you get a symptom flare around 24 hours after you take it(that would be a herx)? How much/often are you taking it? It seems that most people take 1.2 MU X3 per week.

I've been on the stuff, along with Biaxin, for three years and despite some symptomatic days have done real well and have taken no other antibiotics. I was pretty sick with about 26 of the 36 symptoms on the list. It seemed that I was admitted to hospital about one a year. I couldn't walk uphill more than a few feet, was diagnosed with chronic asthma/copd, had an enlarged prostate, constant tendon pain to the point that turning a doorknob was excruciating..... At this point I am finishing up a house that I designed and mostly built myself. To me this is an incredible improvement.

I remember clearly, one day about three months into Bicillin/Biaxin, realizing that at that moment nothing hurt. That was the ray of hope I needed to keep at it. Amazingly, even in the last year I've had noticeable improvement in cognitive function.

I'd say give the Bicillin six months, possibly add a macrolide, and look for fleeting improvement as a gauge of whether it is beginning to work.

A member here suggested to me that Detox Tea (not peach detox tea) made by Yogi Tea Company helps with herxing/symptoms and I have found that to definitely be the case. It's a low cost, low risk thing to try for symptomatic relief. I still get the twitchies and sudden muscle cramps but IM magnesium will make them go away for about five days.

Good luck to you. I'd suggest not taking too many things at once because then you can't tell what is which having specific effects.

--------------------
Dave


---

Posts: 2034 | From CA | Registered: Jan 2003 | IP: Logged |

nomoremuscles
LymeNet Contributor
Member # 9560


posted

---

Hi David,


Thanks very much for the reply.

I am currently taknig 1.2 MU once per week. My doc has offered to increase it to twice, but he said that if this was a herx, which he is not sure of, then I would sink further. So I have stayed at once a week for now.

I am not sure if I am having a symptom flare at 24 hrs. Initially I thought I was. But since I have so many triggers, it could simply be that a few minutes of sunshine on my skin, or a bit too much exertion has caused my flare. There have been a few times I slipped too far for it to seem like one of these triggers, but I really just don't know.

I like the idea of not adding many things at once, as it is so hard for me to figure what is causing what as it is. So maybe if another month or two sees an improvement, I will ask him to add a second med. Or maybe first start by upping the dosage.

If you don't mind my asking:

-- How long were you sick before you hit on this combo?

-- And did you ever have GI problems?

Your improvement is amazing. In fact, it was after reading some of your posts, many months back, that I became hopeful for the bicillin. The idea of being able to do heavy physical work again, or even gym workouts, is so far away from my current place, that when I read of you building your house I became inspired.

Unfortunately, I cannot tolerate any tea anymore. At this point: It's water or nothing!


Thanks again for responding.

---

Posts: 842 | From Eastern USA | Registered: Jul 2006 | IP: Logged |

luvdogs
LymeNet Contributor
Member # 9507


posted

---

Hi Nomoremuscles,

Did you read Tincup's Bell's Palsy of the gut section?

I think that the idea of the IV nutrition sounds like a good way for you to start. Somebody made a very good point about the gut needing the right nutrition to operate effectively. For example, if it is neurological, and you can only eat 3 foods or so (that's the impression that I got from your post), then your body is most likely not getting the nutrition for the nervous system to operate properly. Especially the B Vits (even though I know some doc recommend against B vit supps but I hardly think your case would apply to that rule).

It does sound like a lot could be bart and maybe you should go after that with a gusto. except that your LLMD isn't too into bart? Or IV nutrition for that matter.

How about a Schart (sp) type approach? The bicillin and then diflucan... Like David said, it can take a long time for the bicillin to produce results. After that, you can go after the yeast with the diflucan?

How many bicillin shots are you doing per week? That is another thing to consider. I know some people do only one, while others do 2 or 3. Maybe a higher dose (if you're only doing once or twice per week) would help?

Or maybe get another LLMD's opinion. I think if you proposed it to your LLMD, he would be open to it, because he probably feels that he needs new eyes besides his own to help figure things out.

In my acu clinic I have had a few Lyme px with bad GI problems, but probably the equivalent to what yours were many years ago. They are doing very well (after seeing LLMD and commencing tx), so I feel there is hope, even if their cases are much earlier stage than yours.

I personally have never had serious GI stuff except when I am off the no sugar / low carb diet.

I know I am not helping much nor giving any really new ideas, but I read your post and just wanted to give a little input if it can help at all.

Good luck. Don't give up!

---

Posts: 584 | From Rhode Island | Registered: Jun 2006 | IP: Logged |

nomoremuscles
LymeNet Contributor
Member # 9560


posted

---

Hi Doggies,

Thanks for your note.

Yes. I did read the Bell's palsy of the gut article. There have been so many good ideas that I probably forgot to mention it, or to thank her for reposting it. (Thanks Tincup.)

And, Yes. I agree. IV nutrition does sound like a very good idea. I am not sure where to begin with that though. If I could get my doc to prescribe it I wonder if insurance would pay it?

I really like my LLMD, and would hate to hurt his feelings by going somewhere else. I liked my old LLMD too, very much, and felt awful when I switched. But then it was a matter of availability -- I was having a very bad episode and could not get in to see him (my old LLMD).

I would like to write more, but my forearms are burning, and getting very sore from typing.

Thank you for responding.

And thanks to everyone who has responded. If I have not addressed anyone's points it was because of weakness or stupidness on my part, not because I did not appreciate them.

Good night.

---

Posts: 842 | From Eastern USA | Registered: Jul 2006 | IP: Logged |

David95928
Frequent Contributor (1K+ posts)
Member # 3521


posted

---

Nomoremuscles,

I was infected at least twelve years before I began treatment. I started with Zithromax for a month. Then the dose was doubled for a month. Then we added bicillin.

We followed a protocol that Dr. B's PA put in Lymetimes (I think). Anyway it was one shot of 1.2 MU once a week for four doses. Then every six days for four doses. Then every five days for four doses. This way I worked up to three times a week. At some point in here we changed from Zithromax to Biaxin. I go to a Lyme friendly doctor who has been great to work with. He had not used Bicillin before but with characteristic humility said: "There aren't any Lyme experts. It's all too new and anything you can provide a rationale for, I'l probably go along with." I had read about the effectiveness of Bicillin on Lymenet so it was my idea.

Anyway, he says that I have had the strongest and most sustained recovery of all the people he has treated. Interestingly, he has proposed it to others but, as of our last visit, had no takers. Amazingly, it seems that some people would rather be disbled than jabbed!

I have had a second chance at life. Today I went to the gym and was bench pressing 135# without a spotter. Bear in mind, I only weigh 150 and am 56. I write these things because I think Bicilin is one of the more effective treatments and, because it's a pharmaceutical antique, it's effects are well known. An LLMD in this area thinks it is the antibiotic that is "kindest" to the body, except for the butt!

I don't think that once week is going to do it for you. I have not read of that. You might consider the protocol I followed. PM if you want more details of how I keep this old body up and running.

--------------------
Dave


---

Posts: 2034 | From CA | Registered: Jan 2003 | IP: Logged |
Contact Us | LymeNet home page | Privacy Statement

© 1993-2020 The Lyme Disease Network of New Jersey, Inc.
All Rights Reserved.
Use of the LymeNet Site is subject to the Terms and Conditions.

Powered by UBB.classic™ 6.7.3

---
The Lyme Disease Network is a non-profit organization funded by individual donations. If you would like to support the Network and the LymeNet system of Web services, please send your donations to:
The Lyme Disease Network of New Jersey
907 Pebble Creek Court, Pennington, NJ 08534 USA
http://www.lymenet.org/
---
Home | Flash Discussion | Support Groups | On-Line Library
Legal Resources | Medical Abstracts | Newsletter | Books
Pictures | Site Search | Links | Help/Questions
About LymeNet | Contact Us
---
© 1993-2020 The Lyme Disease Network of New Jersey, Inc.
All Rights Reserved.
Use of the LymeNet Site is subject to Terms and Conditions.
---