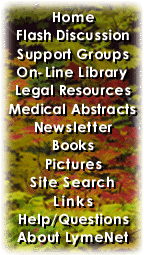 ---
LymeNet on Facebook
LymeNet on Twitter
---
---
The Lyme Disease Network receives a commission from Amazon.com for each purchase originating from this site.
When purchasing from Amazon.com, please
click here first.

Thank you.




Dedicated to the Bachmann Family


LymeNet needs your help:
LymeNet 2020 fund drive

The Lyme Disease Network is a non-profit organization funded by individual donations.

| | |
| --- | --- |
| | |
Author
Topic: Depression/ADHD in teens w/lyme

Barrie
Member
Member # 1796


posted

---

I haven't been on this site for many months.Everytime I think we are done with lyme,something else happens.I have a 16 yr old daugter w/lyme.Treated by Dr. J in Ct for four years. She is off all meds and doing well. Except for when she has her period,all her joint issues resurface,just for a day,then fade away. She was recently dx w/depression (on Lexapro) and was vomiting as a form of self mutilation. She is in therapy and on the antidepressant medication now. I believe it all has goes back to the lyme. She missed five months of school,lost all her friends and was still sick for several years. Just recently returned to a "normal" life. I feel as if her peers continued to mature but, she stopped at age 13-14. Her psychologist brought this to my attention, though, I have thought this for years. She also now is having major ADHD symptoms, mostly innattentive type, issues. My son has ADHD (me too!) but, my daughter never had any attention issues until she got very sick with lyme. I feel the depression/immaturity/adhd issues are all the result of dealing with/having lyme disease. Just wondering, are there any other teens having these problems of adjusting? Perhaps I should have posted in General support, but, these are both medical issues that she will end up taking medication for and sorry,I don't know how to change this to another area. Does it ever end, even when they are free from lyme???? or are they ever really free from lyme and all the issues that come with it? I feel like we are doing our best with our daughter but, it is so frustrating.
On a happy note, my sister who was treated for three years for lyme and posted occassionally, just had beautiful healthy twin girls on 7/13/06.
And due to my duaghter's illness with lyme, a friend who knows everything we went through, took her daughter to the dr w/complaints of joint pain and fatigue, that was it,no other sympmtoms. The dr treated with three weeks of doxy and she was feeling better in three days without waiting for blood work or looking for a rash. So, maybe slowly things will change. Thanks for listening and your help. Barrie

---

Posts: 70 | Registered: Nov 2001 | IP: Logged |

fatigued15
LymeNet Contributor
Member # 6437


posted

---

So sorry about your daughter. I have a 17 year old daughter with Lyme.

Is Dr. J. aware of the symptoms flare with your daughter's periods? The problems she is having would make me concerned that it is the lyme. I would call Dr. J's office.

---

Posts: 488 | From NY | Registered: Oct 2004 | IP: Logged |

ssmillik
Member
Member # 9635


posted

---

Hi, I have to tell you, my son has ADHD so I know very well what having ADHD can be. I never had ADD (my ex-husband has it), but since I've had Lyme, I feel like I do. I don't have the short-term memory I used to have. I don't have the ability to organize and remember things like I used to. I call it LAADD (Lyme-associated ADD). I do believe it's the Lyme, especially if she never had it before.

---

Posts: 39 | From Massachusetts | Registered: Jul 2006 | IP: Logged |

Barrie
Member
Member # 1796


posted

---

We are a bit confused about these "flares". If it were an ongoing infection, wouldn't the joint problems continue and not resolve in a day or so? When she was really sick, nothing resolved,she just kept getting worse. We stopped medication once before per Dr.J. She got sick with a virus and all her lyme symptoms started to come back. Just like when she was really sick, each day it was something else and it progressed. Dr. J then started her abx again. She was doing well so, once again, with Dr. J's blessings, we stopped the abx. When she has these "flares" now with her period,they only last a day or so and usually involves her joints and a headache. Then they go away and she is back to "normal".
I would think if it were an ongoing infection, more symptoms would arise and she would continue to get sick, not better. But, what do I know? Any input is welcomed. Thanks

---

Posts: 70 | Registered: Nov 2001 | IP: Logged |

jblral
LymeNet Contributor
Member # 8836


posted

---

My 14 y.o. daughter has been treated for lyme since last November. Still having a rough time. I know what you mean about how friends seem to keep maturing...while she's kind of stuck at the younger level. Healthy teens of that age are testing their wings and trying on independence for size---because she's so ill, she's more dependent than she's been for years. My daughter has never had ADHD symptoms in the past, and I don't know if she truly has them now--but it seems like her attention span is mighty short, and she has trouble focusing on one thing. And depression is certainly part of the picture. It's very discouraging for all of us. However, she is seeing an excellent therapist who has been willing to learn about lyme, and who I feel is helping her a lot. And we like our LLMD. I have to believe that we will turn this around---and that our beautiful daughter will ultimately rise above these negative experiences and go on to make a good life for herself. Sometimes that belief is the only thing that gets me through the day...D.

---

Posts: 991 | From California | Registered: Feb 2006 | IP: Logged |

lymemomtooo
Frequent Contributor (1K+ posts)
Member # 5396


posted

---

Oh my, you don't know how this topic upsets me..I have tried to avoid coming but knew I had to..

Please get the kids as well as possible before the magic 18 hits.. If they are too sick for college, you may have an insurance nightmare. And if they become oppositional, they may refuse meds and llmds etc..

The story of our teens is such a hard one..

I must also stress that if the psych issues get worse, look for signs of cutting or self mutilation and if things get worse, secretly remove all sharp objects from their rooms and all sharp knives from the kitchen..

Also make sure all appliance in the bathroom have ground fault plugs or the outlet must have a ground fault..

keep all meds downstairs and in your control and be especially cautious of tylenol..Much worse than all others.

I have more but this is enough to give you a heads up. Sorry..Been there 15 times and one cutting almost turned deadly..

I also think MOST teens that commit suicide have an undiagnosed tick borne disease..

Be careful..Hugs..And take care of you...lymemomtooo

---

Posts: 2360 | From SE PA | Registered: Mar 2004 | IP: Logged |

char
Frequent Contributor (1K+ posts)
Member # 8315


posted

---

I have teens with lyme and my heart goes out to you.

I am not a dr, of course...

But the thing that strikes me in your description is the fact that the AD/HD
and depressive symptoms, not to mention
joint pain sound like lyme symptoms.

Has she been treated for Bartonella and the
other co-infections? My understanding (and
experience so far) is that the co-infections
are big offenders in the mood and cognition
departments.

We are 2 yrs into treatment. I have been learning about all this for about a year and I keep hearing that you have to treat until ALL the symptoms are gone. Could it be that since things are better than before, you are no longer a squeeky wheel at DR's?

Also, self-mutilation can be side effect of
depression/anxiety meds...if you fall into that small percentage of kids with adverse reactions.
We had one with Cymbalta. A different med is now
helping.

Best Wishes,

Char

---

Posts: 1230 | From US | Registered: Nov 2005 | IP: Logged |

Barrie
Member
Member # 1796


posted

---

Thank you everyone,it does help to know that you are not alone. She was treated for four years plus and had three co infections, bart,mycoplasma and babs. She has been treated appropriately by Dr. J years ago for those. She has had blood work repeatedly since that time. Really,her lyme symptoms are so much better. She was ready to stop the antibiotics, per Dr. J's instructions and is nothing like how she was when she was sick with lyme. I think we are now dealing with the after affects of lyme. My friend said it is like Post Traumatic Stress due to lyme disease. And I do believe that. Once an A-B student, she now struggles to pass. We have not allowed her to start driving until there are no more "D"s on her report card. And she is so immature. I felt that and never said a thing but, her therapist spoke to me in private and really feels as if she is dealing with things at a 13-14 year age instead of 16. We found out she is sexually active with her fourteen year old boyfriend (I feel like crying writing this) and when his parents found out and he was grounded she responded by taking 12 Ibuprofen, this all a few days ago. She had been losing weight due to vomiting. I thought it was an eating disorder,but, both our family dr, and the psychologist feel she is depressed and the vomiting is more of a self mutilation, like cutting. Her moods are much more stable since being on the antidepressant. She thinks she is well because she isn't crying and as irritable. But, she makes terrible decisions and as soon as she is upset, hurts herself. We are getting her help but, I just so want her to be a happy, healthy kid. She never appeared depressed or really affected while she was sick,even when she lost all her friends. She just kept on going and made new ones.I always wondered how that wouldn't take a toll on someone, but, I guess it has. I keep telling her that we spent the last five years doing everything to get her physically healthy again, now, we have to get her mentally healthy again. I am in tears writing this. I now realize I have to hide all the medicines. Her therapist is on vacation for two more weeks, boy, I need someone to tell me what to do. My daughter had sex in our basement when I was sitting up the stairs in the kitchen with the basement door open and going up and down to do laundry, two weeks ago. I wanted to make sure they knew I was here. Such an impulsive, immature thing to do. Yes, I caught them. Maybe I should be on antidepressants too. Thanks again for all of your input. Is there a support group for parents of teens??? After writing this, I need a glass of wine. Thanks again

---

Posts: 70 | Registered: Nov 2001 | IP: Logged |

lymemomtooo
Frequent Contributor (1K+ posts)
Member # 5396


posted

---

Barrie, I so wish I had answers..I would have my daughter normal again if I did..

We used to go to Dr. V. S who tried everything possible and still we did not have a well child.

The sky was the limit regarding my daughters future and abilities pre-lyme..She was a gifted scholar, in student council, travel sports, Pres. Fitness Award winner..Also had school phys ed records that went unbeaten for 3 years..

Wrote orgininal stories and illustrations for two children's books and won county grand champion awards..Shadowed a Vet, into music..

She was more mature at 12 than she is at 19 and it makes my heart bleed over the way her life is now..She has few friends. She became very gothic and then cutting and suicidal and most of her long time friends hit the highway.

Her life is rarely fun..She does have a boyfriend and I have also had to deal with some of those issues.

WE have addressed some of the co's..

And she has had enough abx to kill anything but she was never able to tolerate the killer doses due to stomach issues.. She had a picc for months and showed some improvement during that time, but since I have discovered she mainlined bleach and other things using her insulin syringe..

It was an effort to commit suicide. NOt that she understands the finality of it but she only sees despair and so many drs have promised she would be better or well and it has not happened..

Soooooooo I know all of your pain..AND I am sure like you we mourn for the loss to our child and want them well..

I pray daily for a cure for lyme disease..

The only thing that made her stop trying to kill herself is the time in the ICU where they had her wired up and with a catheter..She detested it..So thank you catheter..I will take any deterent that I can find..

I wish there were hospital programs where she could visit to see some really bad suicide attempts gone wrong..Or some diabetic patients that need dialysis. Well, it she would go..

It has damaged our family, including our extended family..Her OCD is so bad that she will not be in the same room with her father or in the car with him..

YOU must make sure you take care of you..I have a couple of die hard friends that are with me for the long haul, but they have told me that they would not believe our story had they not lived thru it with us.

My husband and I do not have the relationship we once had. It is difficult to be 2 places at once when you are fighting for your child's life.

You are not alone, but it is not fun and it is a lonely trip..But someday we will win!!

---

Posts: 2360 | From SE PA | Registered: Mar 2004 | IP: Logged |

Barrie
Member
Member # 1796


posted

---

Thank you Lymemomtoo, I am crying after reading what you wrote. If you met my daughter,you would never guess she/we are dealing with what we are right now. She is a beautiful,friendly,nice girl. I guess we all hide it. When I think of what I wrote,I never would have guessed this would be her/our life. If I heard my daughter's story, I might think that those parents didn't care or weren't watching their child. I feel like so much of our life has been our daughter the last five or so years. There were times, my son (who is now 13) was on auto pilot because we were so consumed with her. We are not bad parents. I am a school nurse,my husband has his Phd in psychology and does cancer research for a living. We found her the best Lyme dr in the world when no one would treat her local. We are smart, good parents,and I have spent the day wondering what I could have done differently to prevent this? I still feel like I am fighting for her. I spoke with my daughter's boyfriend's mother today. Luckily, their son, who is almost 15, is a very responsible boy.He is in a private school on a scholarship and he has to keep his grades good to keep his scholarship. I felt he was a good influence in her life, until the sex thing. His parents are as upset as we are. Luckily, he lives in Baltimore city, about 45 min from us, so, they communicate mostly on the internet and phone. I refuse to put my daughter on birth control because I said it will not happen again, until she is mature enough to handle it. The boy is grounded so, he will not be around. When they do get together,they will be supervised at all times. I refuse to put my daughter on birth control, she won't remember to take it and I will be d----d if I will remind my immature 16 yr old daughter to take her B.C. pill. Am I being naive? His mother told me that when she found out her daughter had sex at 15, she put her on the pill "because she would rather remind her to take a pill, then be a grandmother". I don't want either. I made it clear to her and my daughter,if it happens again,it is over. I told her all that my daughter is going through and it is not the right time for this decision. My daughter is too immature and just not healthy enough to be making any decision this important. I just don't know the right thing to do. I feel if I put her on B.C. but, say "don't do it", I am still saying it is okay by putting her on the pill. I am confused. I should probably move this over to general support but, don't know how. I am exhausted from helping my sister with her newborn twins but, I can't sleep, my mind won't shut down. I am so thankful, I can write this here. And your replys have helped more then you know. I don't feel comfortable just saying this stuff to just anyone. Not everyone would understand. I think they will judge us and my daughter. I wish I had gotten her psychological help while she was sick, maybe she would have come through this a stronger person with a better self concept. I really do appreciate every reply. I think it helps to know that what she is doing isn't so unusual. I hope maybe someone who has a child or teen who has just gotten sick, will pay attention. I was so tied up in her physical health, I don't think I gave as much attention to her mental health as I should have. Maybe someone else new to all of this will. Feeling a bit down this evening. It has been a rough few weeks. thanks again and I am going to try to shut my brain down for a few hours.

---

Posts: 70 | Registered: Nov 2001 | IP: Logged |

Carol in PA
Frequent Contributor (5K+ posts)
Member # 5338


posted

---

Barrie,
Since your daughter has mental health issues, you may want to rethink your "no birth control" stance.

Every teen rebells. Even the good ones.
It's very possible that she thinks, "It'll serve her right if I get pregnant."

Just because the boyfriend is in Baltimore doesn't mean that she can't find a willing partner if she is so inclined.
It can become a contest to see what she can "get away with."

There are other forms of birth control besides the Pill, that do not involve a daily medication.
You can call Planned Parenthood for information, or search online.

Wishing you the best,
Carol

---

Posts: 6947 | From Lancaster, PA | Registered: Feb 2004 | IP: Logged |

jblral
LymeNet Contributor
Member # 8836


posted

---

In response to something said earlier in this exchange, I heartily endorse psychological counseling as every bit as important as the antibiotics in trying to lick this awful disease--especially for teenagers. And just like MDs, most therapists don't have a clue about lyme. Early on, our LLMD gave me the name of a counselor on the east coast who specializes in adolescents with lyme disease. (We're in California.) I remember thinking, "what good is a referral to someone on the east coast?" Actually, it's been a godsend. She has been consulting by phone with my daughter's local therapist,and has really helped our therapist help my daughter. Though we are by no means done, we do feel like we have support on the journey.

---

Posts: 991 | From California | Registered: Feb 2006 | IP: Logged |

lymemomtooo
Frequent Contributor (1K+ posts)
Member # 5396


posted

---

Barrie, I do not think anyone has a good answer for kids as sick as ours.

We have tried almost all psych drugs, including most from the do not give to kids under 18 list, when she was under 18. A couple of times she had 2 at the same time.

I have never seen great hope with any of them..She was either a zombie, or angrier or always asleep. Some messed with her juvenile diabetes. I then read a couple of books on prozac and became very afraid of using them.

She was treated for years by a DO that thought it was all depression and kept upping the dose of prozac..I was stupid then and someday the good DR and I will have a talk. DUCK with nasty descriptors that I can not print are what I think of him currently.

I do not know if my daughter is sexually active..I suspect it even though she says not. She has been on birth control for years..NOT because I was afraid a pregnancy, but because the psych and I started checking her suicide attempts and most were pre-menstral.

The psych was very specific on what she would allow me to do..I had to call Johns Hopkins and talk to the staff and only take her to one of their best reproductive endocrinologists that had experience with teens and that they would recommend.

WE found a great Dr. and she has been an asset to us..She has our daughter on a low dose pill and no placebos.. And while not a lyme expert, she has worked out very well.

So because of this, I hope if they are sexually active that this will cover any pregnancy.

It is a crap shoot for moms..You do not want to give a license but you do not want an early grandchild that could further complicate your daughter's life. NOt to mention the worry of a lyme patient carrying the pregnancy..I am happy your sister made out ok but I know it is dangerous.

My daughter is now taking lexapro but refuses to go back to the psych.

I think Marnie and Mo have both had some success with diet/supplements in regards to their children.

A couple of mom's that used to post about lyme and juvenile diabetes, finally gave up and left..There were some arguments and they could not handle it all.

I know that just lyme, or psych manifestations, or diabetes alone are hell..This triple whammie is impossible..

And I understand how you feel about this..Few people can know your pain, but I do..I often wonder what I am doing wrong as a mother..I love my kids dearly and both of them are ill at the moment.

And I think if I can spend more time researching that I will stumble onto something so I am on my rear end at the computer and my house is taking care of itself, well doing a poor job..But I keep looking and hoping. And I am mostly a worn out wreck..

I latch on to every new gimmick or herb, etc and try to think thru the potential..I would do ozone sauna or rife if I could afford it because I think they both have potential..

But then I know we have tried so much..It was thought that she was having mini seizures and it was disrupting elec and chemisty of the brain..So we agreed to try ect's..It was a scary proceedure in my book and my daughter freaked after 3 times. I do not think her memory has yet returned to normal.

There was an elderly man on the floor that functioned on a toddler level. My daughter was convinced he had been given one too many ect treatments.

Then her psych and the ect psych wanted us to try the vagus nerve implant..I balked..There has to be something safer and not $60,000.

Oh and Hopkins are ok for the ob/gyn but do not consider them for any evaluation that might include lyme disease.. We had a psych one with questions about lyme disease and they really did not want to hear ld and wanted to quadruple the psych meds and have her inhouse for a few weeks...But sorry your insurance will not cover that..

Well, our insurance only covered about $100 or the $700 which had been pre approved for the one evaluation.

I will continue to fight when I can and pray daily for this disease to be cured..Good luck Barrie..It is Hell..I am sorry that I got so wound up and that anyone else has to know this pain..lmt

---

Posts: 2360 | From SE PA | Registered: Mar 2004 | IP: Logged |

jblral
LymeNet Contributor
Member # 8836


posted

---

Up--would love to hear from more parents of teens with these issues.

---

Posts: 991 | From California | Registered: Feb 2006 | IP: Logged |

char
Frequent Contributor (1K+ posts)
Member # 8315


posted

---

Oh Barrie,

I am so sorry that your family is going thru this.

My daughter is 15 and has had problems with anxiety, depression, and some impulse control (mild) with lyme and co.

My respectful advice is that you are on the right track with increased supervision.

The counseling suggestions sound right on. You guys are awesome, I am sure with your husband's background; but as you know they hear advice better from anyone else at this age!
Sounds to me like more than once a week is indicated. My experience is that this can get some positive momentum going.

What are your plans for school in the fall?
My kids are going to attend "home-schooler" classes where they attend with about 10 other homeschooled kids. We got into this because of the extreme fatigue, but it has protected them from dangerous mistakes. Also, the kids are educated by teachers an supported by peers on best choices regarding sex, drugs, and other teen issues.

Some believe that if you limit teens activities too much they will act out as soon as they move out of house. I do not believe this is true if you are open to give them more freedom as they prove responsible.

I have read that the human brain is not fully developed until the age of 22-23 yrs. And that is healthy young people!

So I am an advocate to protect strongly until they mature and get some sense in their heads.

I would encourage you to consider a Christian school or homeschooling for a while until your daughter settles down. The kids are generally much better behaved, and better supervised at home and at school. There are some non-religously oriented support groups also for home-schooling families. A change in atmosphere and extremely vigilant supervision will make the sexual stuff virtually impossible. Also, teens amazingly seem to become interested in constructive pursuits that they formerly considered baby-ish when dangerous paths are blocked. Really you would be surprised how much pure fun they can have jewelry making, scrapbooking, working out at gym etc.(with you present) I am soo amazed at the change in my kids as the pressure to be cool has been lessened.

This is of course, a big committment financially, energy-wise and emotionally. In my opinion much better choice than risking consequences of risky, foolish behaviour.

Your daughter would kick and scream or do worse, I would think. And thank you when she is on the other side of this.

Have you heard the story of the teen who died heroically in the Colombine shootings? Her parents wrote a book. Their daughter got in with a fast crowd at school. Her behavior became dangerous. They pulled her out of that school and placed her in a Christian school. She hated them for it and resisted for months. Then she turned around and her character and maturity was strengthend to the point they allowed her to return to Colombine. She is the girl who bravely and unselfishly appealed the the killers to consider their actions, and shared her faith with them. They killed her because she would not deny her faith. She has inspired many with her actions and is a testament to parents taking complete control when indicated. Not that martrydom is the goal here, of course. Just an example of a parent imposing extreme restrictions for a time.

Well, I have become perhaps too intense here. Yet I have more...conversely

I know of a teen with lyme that recently told her parents that she was raped. Then said it wasn't raped. They still aren't sure what happened and I wonder if the poor thing knows herself with her immaturity level at 16.
She is a girl who has been allowed to have young men visit at home and see out of the house.
They will get the deed done with a modicum of opportunity, I am telling you. My best friend in high school got pregnant in her own house at 14 with parents present, but not in the room. I was into risky behaviour as a teen and therefore NEVER assume the best, with all respect. Even tho I do trust my daughter...

You are not obligated to allow young men in your house and I encourage you to consider this as a temporary solution. Phone and computers are a privilage, not a right for our kids.

I would learn how to search and follow exactly what sites your daughter is visiting, who she is communicating with and what they are saying. Many kids are introduced and encouraged in inappropriate behavior via the internet and all. Losing the computer for a day is like a year in the Bastille for my kids. It is effective and not taxing for me to physically remove it to deny acsess.

This got very long, and you can see it is an issue that is close to my heart as none of us are immune to having these problems with our children. Could be me tomorrow.

I imagine some will percieve my advice as old-fashioned and out-of-style; but I feel compelled to share.

Respectfully,

Char

---

Posts: 1230 | From US | Registered: Nov 2005 | IP: Logged |

pigwit
LymeNet Contributor
Member # 9059


posted

---

Reading about the effects of Lyme on teens is distressing to me. It seems that Lyme causes physiological dysregulation similar to that experienced in youth diagnosed with reactive attachment disorder (RAD).

I consider trauma and attachment problems to be central to most mental disorders. How can a therapist tell the difference between the physiological dysregulation caused by trauma or poor maternal attachment and the dysregulation caused by Lyme and associated diseases?

Individual therapy may not help. The child or adolesent is likely to distrust the therapist and try to control the situation. I think family therapy is more likely to get to the bottom of the problem.

Maybe what we are searching for is balance. We need a way to resolve emotional stress and resolve medical problems which all affect the immune system.

I think we have to keep forging ahead. If something does not work, try something a little different.

I believe everyone in a family should know what each of the other family members feel. Each family member should get their needs met. Are we really looking for attunement with relationships and attunement within our own body as a healing process?

---

Posts: 158 | From Ecuador | Registered: Apr 2006 | IP: Logged |

david1097
Frequent Contributor (1K+ posts)
Member # 3662


posted

---

Given the complexity brought about by the co-infectins, here are a few things to watch out for to determine if the joint issues are residual or are a sign of active re-emergence fo the disease/co-infections.

Veterinarians are taught that intracellular infections like Bart and perhaps Lyme (and others) can lay dormant INSIDE of cells for years. While inside the cells, they are for the most part protected and cause no symptoms. Once something happens, stress, injury other illness etc, the bacteria re-emerge and again become active, some attribute this to an increase in cortisol levels.


So how does this factor into the current picture? There are a of of reports that the lyme falre ups are sometimes syncronized with period in women, this makes it difficult to determine what exactly is happening. For now lets assue it is Lyme that has become syncronized. There is a joint problem as you have said, Are there any other things that occur, besides headache, things like sores in the mouth, infections like pimples that come and then go, appearance of boil type lesions on the face, emotional variability etc, ALL ON A 4 week Cycle. If there are, when do they occur relative to the jopint/headache flareup, before, after, during etc.

I read the other post, and I think that there is also a potential second usage for birth control pills, that is to cause the lyme and period cycles to decouple byt delaying the menstral cycle. If the period is stoppped and the joints still flare up then you are more likely looking a lyme re-activation. What I have seen personally is that my joints are only sore for a day or so on each flare (2 weeks apart) but the MAJOR NEUROLOGICAL SYMPTOMS APPEAR AFTER THE JOINT PAIN IS GONE. This I presume are the intracellular co-infections taking advantage of the situation of having the decreased immune capabilities brought about the the short term activation of the lyme.

I can tell that the immunue function is reduced because any encapsulated infections that I have (sub cutaneous absesses etc.) become worse immediatly after the lyme symptoms come and go. Sometime the lyme symptoms only appear for a day then disappear.

I know that the co-infections are the cause of the neurological stuff for me in that if I stop the meds, things quickly get worse (not even a week) and quickly get better when I restart (usually 2 days). The Lyme takes a much longer time to get worse if the meds are stopped.

Also on another subject, the sex thing is not unique to your daughter, Many teens have been in a similar situation where bad judgement is used. While it is upsetting, I don't think that it relates to the lyme related problem. Similalry, even without the lyme factor, many girls go through a time where similar behaviour/problems occur. Most seem to get over it at some point. The big issue is to ensure that no life altering decisions are may during this time.


good luck

---

Posts: 1184 | From north america | Registered: Feb 2003 | IP: Logged |
Contact Us | LymeNet home page | Privacy Statement

Powered by UBB.classic™ 6.7.3

---
The Lyme Disease Network is a non-profit organization funded by individual donations. If you would like to support the Network and the LymeNet system of Web services, please send your donations to:
The Lyme Disease Network of New Jersey
907 Pebble Creek Court, Pennington, NJ 08534 USA
http://www.lymenet.org/
---
Home | Flash Discussion | Support Groups | On-Line Library
Legal Resources | Medical Abstracts | Newsletter | Books
Pictures | Site Search | Links | Help/Questions
About LymeNet | Contact Us
---
© 1993-2020 The Lyme Disease Network of New Jersey, Inc.
All Rights Reserved.
Use of the LymeNet Site is subject to Terms and Conditions.
---