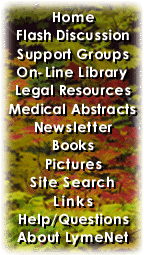 ---
LymeNet on Facebook
LymeNet on Twitter
---
---
The Lyme Disease Network receives a commission from Amazon.com for each purchase originating from this site.
When purchasing from Amazon.com, please
click here first.

Thank you.




Dedicated to the Bachmann Family


LymeNet needs your help:
LymeNet 2020 fund drive

The Lyme Disease Network is a non-profit organization funded by individual donations.

| | |
| --- | --- |
| | |
Author
Topic: Incredible Pain after a few Hours of Relief

gailsy
Member
Member # 10536


posted

---

If there are any people out there who have experienced this I really need some support because last night I felt like ending it all.

On Antibiotics for 9 days but doctor said my toxin levels too high and had to stop. Started again two days ago at half the amount of meds. Yesterday had a few good hours then all night long feel like knives sticking in all of my muscles. Happens every night. Is this normal? I dread the night and the pain that comes with it. I know supposed to get worse after meds but is it supposed to be good for a few hours and then horror for hours after? Haven't slept for weeks.

Anyone have any advice for when this incredible pain happens. Any meds you have found to help with the pain. Taking 3 advil at a time. Not working. Diagnosed three weeks ago as positive IGeneX IGM after a couple of months of symptoms. I can understand why there is a suicide hotline number listed.

Thank you all for any words you have.

---

Posts: 31 | From Bloomfield, New Jersey | Registered: Nov 2006 | IP: Logged |

treepatrol
Honored Contributor (10K+ posts)
Member # 4117


posted

---

Your lucky your herxing.Not fun but its a good sign your getting at the spirochetes.
Also if you havent been told you should get some suppliments starting with, acidophilis,bcomplex,magnesium,and a one a dya vitamin. and dont take these at the same time . You should take them at least 2 hrs after or before abx's .

Ps I forgot about the pain you need to take ibuprophen to keep inflamation down and for pain I use to use vicodin or its generic form .

--------------------
Do unto others as you would have them do unto you.
Remember Iam not a Doctor Just someone struggling like you with Tick Borne Diseases.

Newbie Links


---

Posts: 10564 | From PA Where the Creeks are Red | Registered: Jun 2003 | IP: Logged |

lymie tony z
Frequent Contributor (1K+ posts)
Member # 5130


posted

---

Unfortunately a lot of pain medications don't work too well against this nerve like pain.

Some have used morphine or the like but find it adds constipation to the mix...
methadone may help and not cause the constipation...

Also flexeril or valium may have some success with the pains.

The pain will eventually subside but it is hell before that happens.
Take some solace in the fact that a lot of us have had the same symptoms and have come thru it.

zman

--------------------
I am not a doctor...opinions expressed are from personal experiences only and should never be viewed as coming from a healthcare provider. zman


---

Posts: 2527 | From safety harbor florida(origin Cleve., Ohio | Registered: Jan 2004 | IP: Logged |

humanbeing
LymeNet Contributor
Member # 8572


posted

---

This is the most painful disease. The neuropathy is a burning, stabbing, aching pain that radiates throughout the body and makes you feel like you are dying.

The only good news is that it wont last too long. Tell your llmd, maybe a reduced dose or stopping for a few days till the herx dies down.

You are not alone, I have wanted to end it a few times too. But then I get better and am glad I hung in there.

PM me if you need to chat cause you need validation and support right now...you will find it on lymenet...



--------------------
We are spiritual beings on a human journey...

www.ruggierogallery.com


---

Posts: 906 | From CT | Registered: Jan 2006 | IP: Logged |

trails
Frequent Contributor (1K+ posts)
Member # 1620


posted

---

i second the use of valium for pain and throwing all NSAIDS out the window---they do NOTHING for this. It is nerve pain and it friggin hurts. valium helps mine to SOME degree without causing constipation. even low dose elavil cause constipation for me.

I am dealing with a return of these symptoms to a very high degree right now---I can sympathize and be yer buddy.


---

Posts: 1950 | From New Mexico | Registered: Sep 2001 | IP: Logged |

tdtid
Frequent Contributor (1K+ posts)
Member # 10276


posted

---

Gailsy,

I am on only my eighth day of abx and sadly, I can relate to you more than I want to admit.

My question is, how do the doctors decide if we are "too toxic"?

Seriously, after the first week, I'm wondering how I'm going to be strong enough to do this.

I can tell you that you aren't alone in this. This is one horrid illness.

Cathy

--------------------
"To Dream The Impossible Dream" Man of La Mancha


---

Posts: 2638 | From New Hampshire | Registered: Oct 2006 | IP: Logged |

AZURE WISH
Frequent Contributor (1K+ posts)
Member # 804


posted

---

I had severe sharp pain in my joints, bones, and muscles.

I used to desribe it as swords run through my joints and bones and muslces feeling like they were being sliced open.

Alot of people dont realize the severeity of the symptoms (including pain ) lyme can cause.

the antiinflamitorys were useless for me as well. I tried just about every major one. I mine as well been taking pez.

I had to find a pain dr. I was on some pretty heavy pain meds. But I needed to be able to function somewhat so I took them despite the digestive tract problems.

Ultracet is not supposed to be addicative. And more recently I have used that. Ultram is simular but didnt work as well for me.

I am on no pain medicine now and My pain is very low now so hang in there ...it does get better.

Best wishes

--------------------
multiple chemical sensitvity group:
http://www.lymefriends.com/group/multiplechemicalsensitivities

Group for artists. All media welcome:
http://www.lymefriends.com/group/creativecorner


http://groups.yahoo.com/group/Lyme_Artist


---

Posts: 3860 | From nj,usa | Registered: Mar 2001 | IP: Logged |

kelly06
Member
Member # 10417


posted

---

Gailsy,

I've also been on antibiotics now for about 9 days and thought I was going to pass out from the

intense pain. My muscles, knees, ribs, elbows. I truly believe the birth of my 9.3 lb daughter

was easier than this !! I saw my primary doctor yesterday because I just couldn't take it one

more minute. He started me on Lyrica (for the nerve pain) and Ultram. I got some relief about

30 minutes after taking the Ultram. I was taking 800 mg Motrin alternating with Tylenol and it wasn't cutting it at all. You are not alone with this. Better days are ahead.
Kelly

---

Posts: 64 | From Maryland | Registered: Oct 2006 | IP: Logged |

Aniek
Frequent Contributor (1K+ posts)
Member # 5374


posted

---

Flexeril really helped me for 2+ years. It took a while to work though, because I had to get up to a high dose of 30mg a day. And I started at 5mg.

I eventually had to stop because I could no longer wake up in the mornings. I would press snooze for 2 hours some days. But that was after more than 2 years on it.

I also take Vicodin which really helps cut the pain incredibly well. You shouldn't be worried about addiction if you are really in pain.

--------------------
"When there is pain, there are no words." - Toni Morrison


---

Posts: 4711 | From Washington, DC | Registered: Mar 2004 | IP: Logged |

gailsy
Member
Member # 10536


posted

---

Thank you all so much for your responses. You can't even imagine how wonderful your support is. Don't want to hear that others are suffering but at least I can understand that this is what is supposed to be.

Yesterday Lyme doctor gave me darvaset and it actually allowed me to have some relief at night. First night in weeks I didn't wish I could die.

The doctor did have me stop the doxi for three days because he said too many toxins were being released and now on one dose a day. But today seeing a pain management doctor because I am so afraid that I won't be able to go on when that pain hits again. But I will keep in my mind all of your letters here and know that I am not alone.

Thank all of you and thank this website for being here.

---

Posts: 31 | From Bloomfield, New Jersey | Registered: Nov 2006 | IP: Logged |

kumba
LymeNet Contributor
Member # 7733


posted

---

Gailsy, I am so sorry you are feeling badly...you have found the right support here on the forums. People here can relate to how your feeling, emotionally and physically. with all the widespread sx we have, people who aren't familiar with Lyme disease think we are nuts! I'm so glad I've found this discussion board.

---

Posts: 145 | From NorthEast US | Registered: Aug 2005 | IP: Logged |

lymebytes
Frequent Contributor (1K+ posts)
Member # 11830


posted

---

Please listen to what people have said to you here and other posts regarding PMR and if you are still treating with cortisteroids, stop ASAP! I know mainstream Md's have you believing this is something other than Lyme.

I have lived this...please read on.

Your other post re: PMR is a misdiagnosis for Lyme. Your Igenex test proves that.

It is imperative NOT to continue on Prednisone as this has hazardous effects and causes suicidal pain, I know I am a corticosteroid Lyme survivor (so far!) It is unbearable, I know.

Doxy is not enough, you need proper treatment through a LLMD with combinations of abx. After being on pred I am so sorry to say this will be more prolonged and painful.

A combination you might be able to handle start with Amoxicillin after a couple of months add Biaxin. This simply was the only abx's I could tolerate.

After treatment with corticosteroids this disease is utterly unbearable - I am worried about you.

PMR is a symptom for you - you have Lyme and need to get proper care ASAP.

Please keep me updated - DO click on the link below and read my story and what happened to me when I treated with corticosteroid's before I knew I had Lyme.

This is common - people who have shut down their immune system with corticosteroid's who have LD have unimaginable pain. It isn't well controlled with much. There also is a VERY likely possibility you have reactivated dormant viruses with the cortisteroids, (like me) making the pain even worse.

I am so sorry you hurt like this, you need to let your LLMD know that you have treated with cortisteroids and viral co-infections are now a possibility. If you don't have a good LLMD, if you need help finding one, please contact me through my email at the site below.

--------------------
www.truthaboutlymedisease.com


---

Posts: 2003 | From endemic area | Registered: May 2007 | IP: Logged |

Ellie K
LymeNet Contributor
Member # 12056


posted

---

So sorry to hear about your awful symptoms. I also have nerve pain and I know, it's the absolute worst. I've had nights where death has seemed an attractive option.

I've learned to be aggressive with my LLMD's about getting the pain meds I need.

It's true that most pain meds don't work too well with nerve pain. But that doesn't mean you shouldn't try hard to find something that can at least HELP.

I take high doses of Norco (like Vicodin). No, it doesn't take all my pain away (AT ALL) but it can make things slightly tolerable.

Don't let anyone make you feel like addressing your pain with narcotics or opiates is some kind of a moral failing. (I'm so tired of dealing with this.) It's easy to make judgments like that when you're not the one sufffering!

I would also talk to your LLMD about sleep aids. I've tried quite a few and found low-doses of Seroquel to be the best. It really knocks me out. I sleep 12+ hours a day because truthfully, sleep is my only respite from the pain.

I also take Ativan (an anti-anxiety drug) when things are really bad. It helps my muscles (and me) relax.

You may also want to try some form of heat therapy or even acupuncture. I do acupuncture twice weekly and though it helps only minimally, I will loyally do whatever helps in the slightest.

For heat therapy, I heat buckwheat-filled pillows in the microwave and put them on my spine and legs, wherever the nerve pain travels the most. You can search for my prior post on the "Bucky" pillow for more info.

Good luck. I hope you can find some relief somewhere-- don't give up!

---

Posts: 390 | From Oakland, CA | Registered: May 2007 | IP: Logged |

Ellie K
LymeNet Contributor
Member # 12056


posted

---

P.S. I've also tried low-dose Elvail, which I know is popular among some LLMD's for nerve pain. I've heard a few people comment that it's helped them a bit. For me, though, I didn't notice any difference. It's marketed as an antidepressant so I don't really understand why it's used by LLMD's as a pain med.

---

Posts: 390 | From Oakland, CA | Registered: May 2007 | IP: Logged |

dguy
LymeNet Contributor
Member # 8979


posted

---

It didn't help me, but some people report pain decrease from neurontin. Lyrica gets mentioned here a bunch, tho I've not tried it. Ultram helps me with pain some.

You did not mention abx dose. If you are herxing that much it says to me your dose is too high. For example, some people here report taking 300 mg or even 600 mg doses of abx that I could only handle 20 mg of initially. Talk with your doctor about trying VERY tiny doses to start.

---

Posts: 727 | From USA | Registered: Mar 2006 | IP: Logged |

tailz
Unregistered



posted

---

My pain increases predictably and exponentially at night - especially weekends, holidays. It's not quite as predictable in the summer - meaning I can have pain increases other times as well in the summer, and not just at night. Early mornings can be tough for me, too.

Like you, when on antibiotics, my pain just increases and increases with no end in sight - and yeah - about a year ago suicide did cross my mind more than once, but I was almost certain I would die in my sleep before I had the energy and focus to take my own life.

Luckily, I did not! - because I discovered I'm electrosensitive, and I suspect you are, too.

http://www.electrosensitivity.org/symptoms.htm

American docs laugh it off, but do some research about the health hazards of electromagnetic and microwave/radiowave fields and see for yourself how much they know about the dangers - and more importantly, how much they conceal from the public. It makes chronic Lyme look like candy.

Electromagnetic fields cause yeast to grow extra fast and our immune systems can't keep up - which would explain why my symptoms seem to be worse the more the heat runs, too.

If you don't believe it, measure it with a gaussmeter/RF meter yourself. I did, and I plan to get a more sensitive one, too.

I notice several things occur simultaneously when I feel pain:

1) My digestion stops completely - no intestinal noises whatsoever, and I often get a funny taste in my mouth.

2) My blood pressure is often higher than normal, though still okay, causing all my pores to open up so that I perspire excessively.

3) I feel myself clenching my teeth - like my jaw is locked. In fact, I have sawed my bottom teeth down considerably, and I notice cracks in some of my upper teeth, too. I had beautiful teeth at one time. Can't say that anymore. (Thank you to all my great docs!)

I find it interesting that it seems something similar is happening to our little constipated, yeast-laden honeybees friends:

http://tinyurl.com/ypkr3q

---

IP: Logged |
Contact Us | LymeNet home page | Privacy Statement

Powered by UBB.classic™ 6.7.3

---
The Lyme Disease Network is a non-profit organization funded by individual donations. If you would like to support the Network and the LymeNet system of Web services, please send your donations to:
The Lyme Disease Network of New Jersey
907 Pebble Creek Court, Pennington, NJ 08534 USA
http://www.lymenet.org/
---
Home | Flash Discussion | Support Groups | On-Line Library
Legal Resources | Medical Abstracts | Newsletter | Books
Pictures | Site Search | Links | Help/Questions
About LymeNet | Contact Us
---
© 1993-2020 The Lyme Disease Network of New Jersey, Inc.
All Rights Reserved.
Use of the LymeNet Site is subject to Terms and Conditions.
---