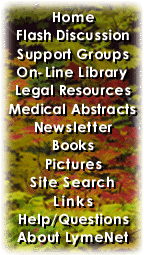 ---
LymeNet on Facebook
LymeNet on Twitter
---
---
The Lyme Disease Network receives a commission from Amazon.com for each purchase originating from this site.
When purchasing from Amazon.com, please
click here first.

Thank you.




Dedicated to the Bachmann Family


LymeNet needs your help:
LymeNet 2020 fund drive

The Lyme Disease Network is a non-profit organization funded by individual donations.

| | |
| --- | --- |
| | |
Author
Topic: anyone cured?

lyme4
Member
Member # 10723


posted

---

I am a mother of two children.

I have lyme, my two children have lyme, and my husband has lyme.

Can anyone tell me if they have been cured? I feel so frustrated and lost. I am trying to take care of everyone but some days I feel will anyone of us get better.

I quess all those wonderful camping and hiking trips with the family really bonded us together!

My daughter is one an IV. She has had it for 11 years. My son is on orals; he has had it for 3 years before starting oral abx.

My husband and I are on oral abx. We find it hard to work and wonder what our future holds.

Feeling lost in RI

---

Posts: 60 | From RI | Registered: Dec 2006 | IP: Logged |

tennisplayercc
Member
Member # 10295


posted

---

Hi:

I am in RI, too (in NK). Feel free to send me a PM if you need to talk. My doctor says lyme is epidemic this year. I feel for you and your family.

I was undiagnosed with lyme for a year and half, but (I guess fortunately) got bit and showed a rash this summer and finally got on abx. I have been on ceftin(because allergic to biaxin and the other med was too expensive) and diocycline for 3 mos. Dr just increased my dosage of diocycline and although I am feeling worse at nite, I know its because the little buggers are dying.

So,I do feel like I am slowly getting better. It is frustrating because it takes so long. I keep a medical journal, so on the crappy days I can look back and see how bad it was and know that I am progressing in the right direction.

Try to rest as much as you can. This is soooo hard, but this is the only way that this rotten disease can be effectively battled. I did not start feeling any improvement until I realized that I had to cut back and give my body a chance to fight.

All good thoughts and prayers to you and your family.

---

Posts: 15 | From Rhode Island | Registered: Oct 2006 | IP: Logged |

humanbeing
LymeNet Contributor
Member # 8572


posted

---

I know a family who was all infected with lyme...after less than two years of treatment, they are all off abx.

They had a really good llmd in RI...Dr. L.

Slow and steady wins the race...Maybe this is an opportunity for you family to get closer and stronger as you fight together.

Sometimes I wish my family could understand me better but I wouldn't want them to be sick like me...

Gd Bless, hand in there.
Kim

--------------------
We are spiritual beings on a human journey...

www.ruggierogallery.com


---

Posts: 906 | From CT | Registered: Jan 2006 | IP: Logged |

bettyg
Unregistered



posted

---

Welcome 4 !! I'm so sorry to read all 4 of you have lyme! My heart goes out to each of you!

I'll be sending you a private message, PM, 2 people standing together icon, with 21 pages of newbie links/advise

In it, read the link on SUCCESS STORIES, and also TREEPATROLS' NEWBIE LINKS OF ARCHIVES GALORE is shown in there.

Each of you can come here for support any time you want; someone is always on for 22 of 24 hrs!

Praying that God will bring each of you recovery in the near future where each of you can have a NORMAL life again!

---

IP: Logged |

efsd25
LymeNet Contributor
Member # 2272


posted

---

Hi Lyme4,
Is there a real cure? Not to my knowledge unless you catch the infection right away.

Can we co-exist with the infection and live a "normal" life? Definitely YES!!!

Example: I have been infected since 87, didn't start treatment till 2001 due to ducks without a clue. I was on oral abx for +2 yrs and when I went off them, the symptoms came back. My son on abx for 3-4 years now, same situation. My wife, off abx right now, but is rifing and so am I.

For the last few years have been rifing and leading a very normal life except for a weekly rife session. I work full time in a stressful job, ski, hike in the mountains and enjoy life.

So don't despair, and be very thankful your family has a diagnosis so you can get on with treatment and get better. There are many paths to recovery. Most folks go the abx route. It's been my experience that this gets you back on your feet, but doesn't always wipe out the infection, many folks see a relapse (it may take a while). Obviously the sooner you catch the infection, the better chance of eradicating it.

If you can't get rid of it with abx, there are some great alternative ways of coexisting with Lyme while you are progressively getting better.

Rifing with supplements(stop abx),is one of them. You may be able to do it with supplements only, but I wouldn't bet the farm on them. Rife seems to be really good at killing the bacteria. There is a good site at http://health.groups.yahoo.com/group/Lyme-and-rife/ that covers rifing and Lyme disease.
Bryan R. has a great file section for info. He has also written a book you may file useful.

Hope this helps!
Ernie

---

Posts: 546 | From Cascadia subduction zone | Registered: Mar 2002 | IP: Logged |

lyme4
Member
Member # 10723


posted

---

Thanks, tennisplayercc

I just joined this blog and have no idea how this works. You asked about repling to you on private email but I do not know how this works yethow this works yet. Life is crazy right now. I will try to learn soon.

I, too, live in NK. What a surprise. This state is small.

Thanks for your reply. I try to rest but it is hard. My children come first and I so worry about them. I have had a life without lyme and know what life is like but for them I want them to have a normal life. It scares me so.

My son is doing better. He was so sick and all the doctors did not know what was wrong until someone told me about a lyme doctor. These doctors have saved our lives. In treating my son, we all found out what was wrong with all of us.

I try to get rest like you said but it is hard. I just wish I could know if we will get better with all the abx we are taking. My son is definitely better with all his terrible symptoms; headachne, chills, fever, stiff neck soar throat, fatique. He was such an athelete, now he cannot play team sports. Somedays he is great and the next day he is so tired. He still seems to herx once a month. He gets so tired that he can't move and just watches tv all day. It only lasts about 1 day per month, unlike when he was at his worst. Sometimes it exactly 4 weeks to the day. I use a calendar to record. But when will that go away and be completely free. So he is now on zithromax with mepron.

Thanks for your support. I am happy I joined this blog. I feel already connected to people I do not even know.

Lyme4

---

Posts: 60 | From RI | Registered: Dec 2006 | IP: Logged |

lyme4
Member
Member # 10723


posted

---

Thanks, BettyG for all your wonderful information. WOW!

When I have so free time, that will keep me busy.

Its crazy right now with the holidays but I will look at the info.

Thanks for your support.

Lyme4

---

Posts: 60 | From RI | Registered: Dec 2006 | IP: Logged |

lyme4
Member
Member # 10723


posted

---

Hi Ernie,

Your family too has lyme!

What do you mean rifing? I am sorry I don't know that term. Is it good? Thats what scares me when you go off abx, you can relapse. So how long can our bodies take the abx?

I have been on abx for 4 months. All my body aches are gone!! I had many; I could bearly walk.

However, my mind, my fatique, and my brain fog is still with me. Some days I don't know if I can do it all. I am so extremely fatiqued I can bearly walk. But I do because I have a whole family to take care of. So it does worry me about the symptoms that are still with me. I am so greatful we found out what was wrong with us but I worry about the brain fog and tiredness. I heard Dr. Fallon speak about his studies and it worries me about the brain fog and tiredness.

Thanks for your support also. This is my first time to join this and all that replied made me smile. I felt I have new friends that know what we are going thru.

Lyme4

---

Posts: 60 | From RI | Registered: Dec 2006 | IP: Logged |

lyme4
Member
Member # 10723


posted

---

Thanks, humanbeing!!

Yes, I know the doctor in RI but I could not get into her.

We have wonderful doctors in CT. But it is so far away!!

Thanks for your support. It made me smile to hear what you wrote.

Yes, we are bonding together has a family with this horrible disease. But somedays it is just too much. I feel people think we are not telling the truth, that this is not true. Some days I can't believe this happened to us and I feel like I can't do it anymore but I am strong and continue the battle by researching every day. I try to feed us properly, take the vitamins, etc but life is crazy with school. School is so demanding for kids who are sick. They have no idea what these kids with lyme feel like and all the work they have to do.

Thats when we bond, we all know that somedays one or more of us is bearly surviving the day and the other helps out.

Lyme4

---

Posts: 60 | From RI | Registered: Dec 2006 | IP: Logged |

efsd25
LymeNet Contributor
Member # 2272


posted

---

Lyme4,
Be thankful also you are in little Rhody. Close to some great LLMD's!! Our family is in Seattle, and we have to fly to get medical help. For example, my son flys from Seattle to New Haven CT, to see the fantstic Dr. J. My wife flys from Seattle to California to see Dr H. and before I started rifing was flying to the east coast and California to see LLMD's.

Just wanted to share and give another perspective. I wish I could drive to see an LLMD

Your family will be fine, it just takes time. Our son was in special ed and couldn't run around atrack one. Now he's in college with A's and on the swim team. The hard part is getting the diagnosis, and that's all behind you.

Good Luck!

Ernie

---

Posts: 546 | From Cascadia subduction zone | Registered: Mar 2002 | IP: Logged |

Tracy9
Frequent Contributor (1K+ posts)
Member # 7521


posted

---

I am almost afraid to say it; but I do feel like I am close to being cured. I have been on antibiotics now for 2 years and 3 months, and the last 3 months have been increasingly better. This past month, I only had 3 or 4 days with any symptoms to speak of, and they weren't severe. There is a real progression of late that I can track; and I can't believe I am almost back. I still want to believe we can get rid of it altogether, and feel I am close to that. The Lymelog (www.lymelog.com) has been an irreplaceable tool for me; that is how I can see my progress. Otherwise I dont' think I would believe it!

--------------------
NO PM; CONTACT: [email protected]

13 years Lyme & Co.; Small Fiber Neuropathy; Myasthenia Gravis, Adrenal Insufficiency. On chemo for 2 1/2 years as experimental treatment for MG.


---

Posts: 4480 | From Northeastern Connecticut | Registered: Jun 2005 | IP: Logged |

jmill2977
Member
Member # 10513


posted

---

Lyme4,

It's a very small world. I live in Mass now, but lived in NK in 1993 and 1994. I am also amazed at how many families are dealing with this - there are many in our area where the whole family is sick. When we visited Dr. J with one of our children, he said he believes that for every person diagnosed there may be up to 100 around them that are infected that do not know it. This is clearly an epidemic and I can only hope that over time more money will be devoted to research and the like to truly cure this terrible disease!

Our family is all infected as well - my wife, my 2 daughters, and myself. My wife has been, by far, the sickest. She and one of my daughters spent 3 month on intravenous antibiotics this summer and both got significantly better. Unfortunately, my wife needed to get off the intravenous a little earlier than she would have liked because it was doing a job on her gall bladder.

She is now taking a number of different herbs and supplements. She is seing a naturopath in Providence and it seems to be helping. She was regressing pretty quickly but after about a month on the supplements and herbs she is getting better.

My daughter, who was a junior in high school last year, had a very tough year academically and saw her grades drop significantly. This year, she has gotten her grades back to where they were in the past and she has just started her final high school basketball season.

Based on all the good stuff posted here and all that I have read, with some good treatment and a little bit of luck, you and your family will get better. It may take a few different approaches because I do not think there is a single answer/remedy that works for everyone. Hang in there - and if you would like send me a private message and I will be happy to provide you with the contact info for the naturopath in Providence.

Finally, I am fairly new to this board as well and I can tell you that it is an invaluable resource. There are great people who truly understand what you are going through and are more than gererous with sharing their thoughts and experiences.

---

Posts: 19 | From massachusetts | Registered: Nov 2006 | IP: Logged |

GiGi
Frequent Contributor (5K+ posts)
Member # 259


posted

---

Yes, you can be cured. I am - I will be 75 years old this week. I was in a wheelchair, in pain, and in a terrible brain fog. It is all gone. I did a few months of abx, then changed to alternative methods. It took five years, a great
doctor here in Seattle, and a lot of patience by everyone involved.

You will make it and your life will be different when it is all behind you. Mine is. Life is joy.
Look forward.

Take care.

---

Posts: 9834 | From Washington State | Registered: Oct 2000 | IP: Logged |

mag
LymeNet Contributor
Member # 8920


posted

---

hi l 4

i am much better than last year
it is slow but I keep going

took approx 10 months to get diagnosed - hard to find an llmd in CA

was on disability. Tested positive for Babesia
the (New England version) and Lyme with Dr H in CA
Started herbs because I had no insurance but have it now - It helped to follow up with the MRIs for the brain lesions

Keep on goin - read as much as you can
there are so many people on the board that have helped me

wishes and prayer for you and your family
mags

---

Posts: 259 | From California | Registered: Mar 2006 | IP: Logged |

Andie333
Frequent Contributor (1K+ posts)
Member # 7370


posted

---

Lyme4,
My heart really goes out to parents in whole families dealing with Lyme. I know it can be discouraging, but in the time I've been on this board, I've read about a number of people who seem to be off all antibiotics and are now leading full, productive lives.

I was undiagnosed 9 years before I finally tested positive. When I started antibiotics, I could barely walk and my functioning was minimal at best.

After about 16 months on oral antibiotics, supplements and herbs, I'm working as a consultant, socializing and have my life pretty much back.

For me, that quality of life has been more important than actually getting off the antibiotics. I've started trying to wean down, but it's been with mixed results. So I'll be more patient, and content myself with all the progress I have made (which is significant).

The whole thing can seem depressing (especially when you add that relentless exhaustion), but my LLMD told me early-on that attitude, in her opinion, plays a significant role in healing.

That (plus an anti-depressant) has helped!

Andie

---

Posts: 2549 | From never never land | Registered: May 2005 | IP: Logged |

ByronSBell 2007
Unregistered



posted

---

Yes, people do get well.

The determined one's get well.

---

IP: Logged |
Contact Us | LymeNet home page | Privacy Statement

Powered by UBB.classic™ 6.7.3

---
The Lyme Disease Network is a non-profit organization funded by individual donations. If you would like to support the Network and the LymeNet system of Web services, please send your donations to:
The Lyme Disease Network of New Jersey
907 Pebble Creek Court, Pennington, NJ 08534 USA
http://www.lymenet.org/
---
Home | Flash Discussion | Support Groups | On-Line Library
Legal Resources | Medical Abstracts | Newsletter | Books
Pictures | Site Search | Links | Help/Questions
About LymeNet | Contact Us
---
© 1993-2020 The Lyme Disease Network of New Jersey, Inc.
All Rights Reserved.
Use of the LymeNet Site is subject to Terms and Conditions.
---