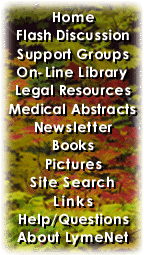 ---
LymeNet on Facebook
LymeNet on Twitter
---
---
The Lyme Disease Network receives a commission from Amazon.com for each purchase originating from this site.
When purchasing from Amazon.com, please
click here first.

Thank you.




Dedicated to the Bachmann Family


LymeNet needs your help:
LymeNet 2020 fund drive

The Lyme Disease Network is a non-profit organization funded by individual donations.

| | |
| --- | --- |
| | |
Author
Topic: ABLE TO WORK WITH LYME?

i want help
LymeNet Contributor
Member # 9786


posted

---

i tried to do a search on this but didn't come up with anything..

how many out there are unable to work? im in third month of treatment and cannot return yet. I am so isolated I hate it. I have no parameters of when to expect to return either. MY flareups are so unpredictable its not like i can schedule around them plus the fatigue is coming on strong.

any advice/input on this???? this is MUCH harder than i thought it would be and no one understands/supports me family or friends. It is incredibly disheartening. I am just trying to keep on walking through this to the other side but its a lonely walk....

kristin

---

Posts: 225 | From home | Registered: Aug 2006 | IP: Logged |

Leonard
Member
Member # 10531


posted

---

I was off for 5 weeks, tried to go back for half days, 3 weeks of that and my boss told me to stay home till I got better (I was endangering myself and other employees because of dizzyness etc.), dr doubled my doxy., stayed home 4 more weeks, last week I started back half time and am getting a lot stronger. Will go back to full time next week.

I was diagnosed early so that may make a difference.

Hope all goes well.

Have a Blessed Christmas

Leonard

---

Posts: 43 | From Pella, Iowa | Registered: Nov 2006 | IP: Logged |

i want help
LymeNet Contributor
Member # 9786


posted

---

I don't know how long I have had it. I think at LEAST a few years.
Thank you for the good wishes,glad you are going back to work soon
you have a blessed christmas
as well
kristin

---

Posts: 225 | From home | Registered: Aug 2006 | IP: Logged |

lymednva
Frequent Contributor (1K+ posts)
Member # 9098


posted

---

Kristin,

If you have been ill for years, then it's probably going to be a while before you can go back to work.

Here are some tools I have learned that helped me get through the first few months at home. I went without a correct dx for over 40 years, so I've been off work for five years already.

Before that I was working, but my skills were steadily declining and I was having to cover for my errors regularly.

I think the most important thing you can learn is to listen to your body. As you are learning our health and abilities are totally unpredictable.

I thought I herxed last week, but I figured out today that I must have just still been recovering from the protest rally because the fatigue hit me over the head today!

So I slept until after noon and then slept again for three hours this afternoon. I was so soundly asleep that I slept through my dogs barking (in the same room) while a real estate agent showed the main level of my home before deciding maybe she shouldn't go upstairs. Thank goodness!

Next, keep a log of your health and how you feel every day. Keep it as simple as you want. You can simply use a calendar and jot notes, or you can make a complicated form. Just do what is easiest for you. Include things like new meds and supps started and stopped, as well as symptoms.

This log will be helpful should you need to apply for SSDI or LTD or anything else related to your health. Yow will have a great record right in front of you.

It's also handy for making notes for your LLMD visits, keeping track of herxes, and noting patterns in your health.

If fatigue is a problem for you be sure that when you rest you are getting a real rest. That means with the TV and radio off, your eyes closed, in a quiet place.

If background noise is a problem you may want to use a noise machine with "white noise" to drown out the sounds of a noisy TV, kids running through the house, etc. I turn off the ringer on the phone in my bedroom when I am sleeping (which is why I missed the real estate agent's call).

I used to have to remind my family that when my door was closed it meant do not disturb me unless it was an emergency. Then I had to define an emergency. For me it meant there was a fire or someone was dying!

You will probably have to decide how much socializing you are able to do. It will likely be less than you could do before. This usually results in changes in some friendships.

Perhaps you will be able to have people over one at a time, or even that may be too much. It's the type of thing you feel your way with until you find what works for you.

These are just a few ideas. I hope you find them helpful.

--------------------
Lymednva


---

Posts: 2407 | From over the river and through the woods | Registered: Apr 2006 | IP: Logged |

minimonkey
LymeNet Contributor
Member # 8693


posted

---

So far (knock wood loudly!) I have been able to continue working. There are days when I wonder if it is at all a good idea, but I still manage somehow. I do have a ridiculous amount of pain almost all the time right now, but I can still function well.

I believe I was born with Lyme (mom is CDC positive, I have symptoms dating to early childhood.) I've *certainly* had it since 1988, when I contracted babs as well -- I had a bullseye following a tickbite at that time, and that is also when the babs stuff started. I got much, much sicker after that.

I wasn't diagnosed until early this year, so this infection went untreated for a long, long time.

--------------------
"Looks like freedom but it feels like death..
It's something in between, I guess"

Leonard Cohen, from the song "Closing Time"


---

Posts: 822 | From California | Registered: Jan 2006 | IP: Logged |

TNJanet
LymeNet Contributor
Member # 10031


posted

---

Kristin,
I have been unable to work and on SSD since 1995. I had been getting more and more ill up until that time but was holding on because I loved my work so much and I had spent so much

time, money and effort getting my degrees. When I could no longer hold my hands up to my steering wheel while driving to work, I knew I had to quit.

It is a roller coaster ride. The most important thing I have learned is to know what my limits are and be responsible for my own health care.

I rest a LOT and if I don't I pay later. I lost my large circle of friends because I could no longer do social things. Family members did not understand and I eventually lost my marriage.

I have had to remind myself of some of the blessings I have been given and that is often difficult, but I now say "no" when I mean it and

don't set myself up to fail by expecting too much of myself. I do try to set realistic goals for myself every day. I call it my "one big thing."

There is a lot of loss with Lyme disease, especially untreated, chronic Lyme. But, oddly enough, except for times when I want to whine,

I feel grateful for small things which others probably take for granted. And I have learned to "be" with myself. There is nowhere to run to escape some of the effects of Lyme and coinfections and you have to be with you even

you are tired of your ole sick self.

I'm sorry if this isn't what you were hoping to hear, but honesty is also something I insist upon now....with everyone.

A huge blessing is this site and the wonderfully helpful, friendly and supportive people who are equally struggling with Lyme. You will not find another place so full of courage and fortitude.

I wish you blessings in your journey,
Janet

--------------------
DISCLAIMER:
No information presented above should be considered medical advice or take the place of advice given by a medical professional. Links to other sites are provided merely for ease of research.


---

Posts: 287 | From Tennessee | Registered: Sep 2006 | IP: Logged |

HaplyCarlessdave
Frequent Contributor (1K+ posts)
Member # 413


posted

---

quote:

---

Originally posted by i want help:
....expect to return either. MY flareups are so unpredictable its not like i can schedule around them plus the fatigue is coming on strong.

any advice/input on this???? this is MUCH harder than i thought it would be and no one understands/supports me family or friends. It is incredibly disheartening. I am just trying to keep on walking through this to the other side but its a lonely walk....
kristin

---

Wow- you waxed eloquent on that, sister! It's so, so, true-- there are multiple phenomena that simultaneously contribute to one's difficulties in
'rejoining the world", which arise after a horrible illness or injury has interrupted "life as usual". Yes, we have to keep walking, but sometimes one feels more like a football player trying to carry the ball through a "mean defensive line", than anything you could really describe as a "walk"!
I would still classify myself as down for the count, though "the play has ended", as it were.
(i.e., I seem to have nailed the lyme etc. but there are so masny left over issues... I just take it one day at a time with a "fighting spirit" (though eveyone would probably classify me as a most peace-loving individual... , as they say...))

Best wishes in your "fight"!
DaveS

---

Posts: 4567 | From ithaca, NY, usa | Registered: Nov 2000 | IP: Logged |

TheCrimeOfLyme
Frequent Contributor (1K+ posts)
Member # 4019


posted

---

I was off for four months when I first started lyme treatment.I went back after that but was devastatingly ill. I dont know how I did it cause for two years after that, I was still EXTREMELY sick. Im now in remission for the most part ( after a long 4 year battle) and have been pretty ok at work for a while now.

--------------------
You want your life back? Take it.


---

Posts: 3169 | From Greensburg, Pennsylvania | Registered: Jun 2003 | IP: Logged |

monkeyshines
LymeNet Contributor
Member # 6406


posted

---

I've kept working. BUT, I've been at my job for many years and have a lot of support and a fair amount of flexibility there (at least, it exists in theory, it's just not always practical to take advantage).

Lately, because my sleep issues have become even worse than they have been (I haven't gotten more than 7 hours sleep for many, many months, and often get around 4) I'm having more and more trouble concentrating and being productive.

So far, like minimonkey, I've been able to function in spite of unrelenting pain, but getting so little sleep increases how tired all the pain meds I take make me. I could pretty much fall asleep any time, if I could.

This is a very tough issue. Personally, I reevaluate my decision to work just about daily.

Good luck, and please take whatever support you can from here if those around you just don't get it.

monkeyshines

---

Posts: 343 | From Northern VA | Registered: Oct 2004 | IP: Logged |

i want help
LymeNet Contributor
Member # 9786


posted

---

thanks for all your answers and support --it's all i have for now...
i hope i dont have to go on disability... maybe pressuring my LLMD for iv will speed things up so I can "rejoin the world"
which is an appropriate way to put it.
thanks again i really appreciate it
kristin

---

Posts: 225 | From home | Registered: Aug 2006 | IP: Logged |

Travlr1
Member
Member # 9681


posted

---

TNJanet,

I am terribly sorry to hear that you lost you marriage to this hideous disease.Just remember(and I realize at the personal level there is no comparison) that you gained thousands of us who care deeply about you and your health.

Take care and may all your herxes be minimal.

Travlr1

---

Posts: 66 | From West Coast | Registered: Jul 2006 | IP: Logged |

Life inLymbo
Member
Member # 8388


posted

---

I work. I'm fortunate that I've never been out of work for any extended periods although perhaps I should have!

One of my fears is that one day I won't be able to work.

There's many days I'm just present but not really there. I've been at my job a long time like Monkeyshines so I get a lot done on the days I feel good to make up for the days I don't.

It's crazy, If you're too sick to work then how do you afford to get better. LLMD's, prescriptions, supplements... they are all so expensive. There's something wrong with that picture.

Hope you are feeling better soon

---

Posts: 58 | From NY | Registered: Dec 2005 | IP: Logged |

tickedntx
LymeNet Contributor
Member # 5660


posted

---

Becoming active in the Lyme community where you will meet people to whom you have to explain nothing, as well as feeling like you are making a difference, can go far in alleviating the isolation.

You don't say where you are, but if you email me at [email protected], perhaps I can help you get connected to a local or even national organization where you can contribute to the extent you are able.

--------------------
Suzanne Shaps
STAND UP FOR LYME Texas (www.standupforlyme.org)
(Please email all correspondence related to protecting Texas LLMDs to [email protected] with copy to [email protected])


---

Posts: 977 | From Austin, TX, USA | Registered: May 2004 | IP: Logged |

Anneke
LymeNet Contributor
Member # 7939


posted

---

Hello there,

I was diagnosed four years ago, and have not been able to work for the last three years. It is perhaps the biggest challenge for me personally - there is a terrible loss that happens when one is not able to continue working - loss on mnay, many different levels.

Though I have made lots of progress, and know that I will return to work, at least part-time, the main issue re: holding a typical job is the unpredictability of how I feel day to day - even hour to hour some days. I can go from feeling great the first half of the day, and totally crashing the second half - and it is out of my control many times.

I have revamped my goals, and am looking towards a career that will offer lots of flexibility.

Hope this helps,

Theresa

---

Posts: 364 | From California | Registered: Sep 2005 | IP: Logged |

smiles132002
LymeNet Contributor
Member # 7949


posted

---

I am 22 years old and I have been working since I was 10. I know it sounds crazy, but even as a little kid, I was some how inspired to make money. We had lemonade stands, sold cookies, put on shows-really just did anything to earn enough to go to amusement parks.

At 12 I started babysitting and then at 16 I started working at GAP and became a manager by the time I was 18, while in private school and then college.

Silly, I know but I wanted to contribute-despite growing up with A LOT of oppertunies and financially stable, I was so motivated to work.

When I became too sick to go to school, too sick to work, too sick to function it was aparent to me that SOMETHING was wrong.

I've been in treatment for almost 2 years now. I dropped out of college two years ago this past fall and was diagnoised with lyme the following June.

I have tried to go back to school locally, I have tried to work, but it's SOOOO hard. I used to be this super over-achiever. I was interning at the national league of woman voters, working on my campus for financial aid, on the executive board of my sorority, and going to school full time.

I am so exhausted all the time. My herxes and co-infections make me non-functionable for weeks at a time, but I've learned that you just need to roll with the punches.

I am so lucky to have a mother who can help support me, but I am still SEVERLY in debt from all this. I always feel better when I am working, because I feel like I am making a difference, even if it's only one person.

For me this whole process has been hardest financially. Although I grew up with a very privelaged, my parents divorced, they made some bad business and finance choices and we're not in that same stable place.

When I don't work, not only do I feel like I am not contributing but I get stressed out about the financial aspects. It's definately the most difficult part of fighting this disease.

If your looking for things to do because you can't work (when you're not on the phone with insurance companies, fighting with doctors, or explaining that you need an extention for the bill you just recieved that's due IMMEDIATELY)-I do the following..

I try to create some sort of routine, which helps me feel like I have a purpose, a goal, etc. I try and walk in the morning for 2 hours. It's hard, sometimes unbarable, but I TRY and go for as long as possible.

I know it sounds lame but I watch the foodnet work and try to make a new meal for dinner. Take a year off of school or work and learn how to become a foodnetwork cook-haha

If you have a local downtown, take a trip down there-perhaps you'll run into a local friend.

Make playdates! Give yourself something to look forward too.

Take a drive to the beach or lake and remember what a breath taking place we live in. Wake up early and watch the sun rise-

Look into joining a gym and look at "group" exercise. Yoga (it can be hard if your balence is off) try it and remember you did gain your flexibility over night and your not going to get it back over night either. Try swimming or low-impact classes.

Pick up a hobby like cross stitching or knitting and make gifts for people.

Make it a point to keep in touch with family. That great aunt who you barely know, get to know her.

Look at community events and see if they seem appealing, if they don't-consider putting out an idea that would and find someone to make it happen.

Make a book club. Start it yourself, find the people, then put someone else in charge.

In order to be happy you must persue happiness. It's doesn't just come, you must work for it, and keep working at it. People today don't realize that life takes work, happiness occurs from gradification.

Be HAPPY with what you have or get or do. Don't feel badly that you're sick, feel happy that you have medicine. Feel happy that you have this rare time to make a difference in other people's lives. Feel happy that you accomplished even ONE goal on your list.

Your body hears everything you say. The happier the more positive the better you may become.

It's hard, the hardest thing you'll ever have to do-but it's why people want to be happy. What do you want to be when you grow up?

My answer as a child, adolesent, and young adult-has always been "happy." I have realized that happiness must be achieved, you must work for it, and remember not to take things too seriously. Life is short so love it, love every moment because it makes you appreciate your life, and that will make you happy!

Our lives are not determined by what happens to us but by how we react to what happens, not by what life brings to us, but by the attitude we bring to life. A positive attitude causes a chain reaction of positive thoughts, events, and outcomes. It is a catalyst, a spark that creates extraordinary results. -Anon.


There are so many things you can do and still feel connected!

I hope this helps!

Lindsay

---

Posts: 484 | From Burlingame, Ca | Registered: Sep 2005 | IP: Logged |

KP
LymeNet Contributor
Member # 9488


posted

---

Lindsay, you are wise beyond your years! That was an awesome list of ideas! You have obviously learned alot about life in your 22 years that many of us had to life twice as long to learn. Kudos to you!

I also am no longer able to work. I left my job in May I was only working part time and do not have disability. I really love to work so it's disappointing to me to not have that to look forward to each day.

I hate watching TV (though I watch the food network like Lindsay!!) so I have to plan something to do each day to keep from being bored.

Years ago when I was housebound with a newborn, my 2 year old used to ask "can we go see people today?" It didn't matter if we went to the grocery store or grandma's, she was tired of the same 4 walls. I also need to "go see people" and plan at least one place a day, even if it's to buy soup for lunch! It gets me out of the house and feeling like part of the world again!

I look forward to getting better and finding another part time job.

Karen

---

Posts: 154 | From Medford, NJ | Registered: Jun 2006 | IP: Logged |

Robin123
Moderator
Member # 9197


posted

---

Everyone varies around the work issue. Some can't work and are on disability. Some can't work for awhile and return when feeling better from treatment. Some do work but I understand almost everyone modifies their work in some way to accommodate the illness. Some do part-time work.

It's something you have to decide for yourself, how much you can handle, also what kind of work -- the kind of work you end up doing could be different due to the need to accommodate this disease.

---

Posts: 13049 | From San Francisco | Registered: May 2006 | IP: Logged |

i want help
LymeNet Contributor
Member # 9786


posted

---

Lindsay thank you so much! It is sooo hard to be isolated when I am soooo social I love to talk and I am trying to get myself into something (work hopefully soon even if part time!!!) I did the walking thing and that worked GREAT except during herxing which throws me off my routine big time. I am currently off my routine but plan to walk tomorrow and resume my schedule, for me its hard to impart a new routine so once I fall out of it the harder it is to get back into it.... ugh!! I find even getting to the grocery store DOES help I HATE staying home in bed its AWFUL AWFUL AWFUL especially during the holidays when everything is supposed to be PICTURE PERFECT!!
this year i have sadly, tried to let go of the perfect holiday crap and just view it as another day...sad to let go of that holiday "sparkle" but I would just end up depressed. Formerly they were very important to me, and loved to get involved in them heavily, this whole year I have missed the holidays,,, so I just have to deal and do the best I can. I am also considering volunteering if I cannot get back to part time work..... maybe that will have flex time???
any how, thanks to all of you who responded and have blessed holidays,
love
kristin
hope we all feel better soon.............

---

Posts: 225 | From home | Registered: Aug 2006 | IP: Logged |

Marz
Frequent Contributor (1K+ posts)
Member # 3446


posted

---

I've been fortunate that I've been able to work, but then use the weekend to recoup. I do next to nothing on the weekend and then I start it all over again on Monday.

I finally saw a LLMD this summer and kept improving on doxy, then flagyl and zith. At the end of that time I was feeling like my old self and enjoying weekends again.

Now, after 5 weeks on ceftin, I'm going downhill again. I had a ticket to fly out of town today for Christmas with family over the weekend---but had to cancel and am sooooo depressed about that!

This board will be my comfort this special weekend, knowing there are others probably going through the same thing.

No one else seems to understand why I would WANT to be alone on Christmas!

But it's not a choice...

---

Posts: 1284 | From USA | Registered: Dec 2002 | IP: Logged |

smiles132002
LymeNet Contributor
Member # 7949


posted

---

WOW-thank you all for those thoughtful words of appreciation!

I think we all have this idea of perfection-the perfect gift, the perfect tree, the perfect night, the perfect therapy. Society gives us, shows us, and lives by these "perfect" standards. Life's not like that and we need to remember that those people we see in magazines are computer generated, no one's family is perfect, and sometimes the most horrible dates make the best memories and happiest couples.

Life is short-so if you have the option or privledge to not have to work-DON'T- be selfish, think of yourself and do something you always wanted to do but never had time for-like sending people cards-just to say hi...

I totally know what you mean about staying on "track." It's so hard to go back to a routine when you stop.

I just started working full-time (which is SOOO hard) and I wish I didn't have too. I am too tired to walk. I come home, eat, take my meds and go to bed. I feel like I've had the longest day of my life everyday-and I wish I could just quit!

But unforchunetly, I have never ending bills...so I must work-My friends get disapointed that I won't come out to play-and since I work on the weekends too, it's really hard to spend any time with them...

Sometimes I just want to give up-turn over my meds, pull out my port, take a shower like a normal person and play all day! haha but perhaps one day that dream will come true...until then, I just gotta keep on truckin..

Good luck everyone, and thanks so much for your kind words!!!!

Lindsay

---

Posts: 484 | From Burlingame, Ca | Registered: Sep 2005 | IP: Logged |

mag
LymeNet Contributor
Member # 8920


posted

---

hi
i was on disability for 2 months
and went back to work - but a vegetable on legs!!


i would wake up - go to work - get home and sleep - lost more weight - it was an aweful feeling physically and emotional havoc- there was no time or energy to socialize - or go out1

i am really thanking God that i live in nor cal
- nice and slow - few are in a rush.

last april i dropped my time to 3 days a week
so that i could get more rest.

i am not able to return to complex work but am doing what i can

need my brain cells back

take care

mags

---

Posts: 259 | From California | Registered: Mar 2006 | IP: Logged |

groovy2
Frequent Contributor (1K+ posts)
Member # 6304


posted

---

Hi Kristin

I was able to work up until 1 year ago --
I was sick for 20 yrs--
I quit my job because the stress level
was to high and it was making me sicker-

Quiting my job was one of the Best things
I have done to help in my recovery--

I have been getting Good treatment for
18 months-

I now feel perty good-most of the time

Im going to start a new bussness from my
home so that I still have some control
over my hours and can take a break when
I need to--

Do what you need to do to get better-Jay--

---

Posts: 2999 | From Austin tx USA | Registered: Oct 2004 | IP: Logged |
Contact Us | LymeNet home page | Privacy Statement

Powered by UBB.classic™ 6.7.3

---
The Lyme Disease Network is a non-profit organization funded by individual donations. If you would like to support the Network and the LymeNet system of Web services, please send your donations to:
The Lyme Disease Network of New Jersey
907 Pebble Creek Court, Pennington, NJ 08534 USA
http://www.lymenet.org/
---
Home | Flash Discussion | Support Groups | On-Line Library
Legal Resources | Medical Abstracts | Newsletter | Books
Pictures | Site Search | Links | Help/Questions
About LymeNet | Contact Us
---
© 1993-2020 The Lyme Disease Network of New Jersey, Inc.
All Rights Reserved.
Use of the LymeNet Site is subject to Terms and Conditions.
---