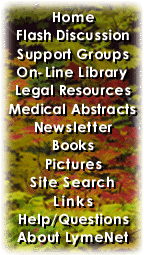 ---
LymeNet on Facebook
LymeNet on Twitter
---
---
The Lyme Disease Network receives a commission from Amazon.com for each purchase originating from this site.
When purchasing from Amazon.com, please
click here first.

Thank you.




Dedicated to the Bachmann Family


LymeNet needs your help:
LymeNet 2020 fund drive

The Lyme Disease Network is a non-profit organization funded by individual donations.

| | |
| --- | --- |
| | |
Author
Topic: going back to college with TN and Lyme

Hope4Better
Member
Member # 10075


posted

---

hello all,

i just posted about Trigeminal Neuraglia and Lyme..

im going back to college this week after having to quit mid semester last sem. because of a hard core relapse/reinfection in aug-nov/dec.

im really nervous about school because my concentration is not what it use to be and majority of my issues are neurological. except the recent TN and TMJ.

im going to see my PCP tomorrow and i was wondering if anyone had any advice on what i should dicuss with her about school and if there is anything (besides anti-depressents) that would

work well for me for concentration/ADD in college..

i take a million and one supplements, but it just isnt doing it..and im still awaiting an MRI to see what damage has been done..

is there anything that you guys could recommend??

im 22 and already on clozapam and tergretol and amitriptiline for TN/TMJ ( which really is doing squat) the only thing that helps is the clozapam and percocet( which will run out tomorrow)

im really nervous...any suggestions??

i have to take 12 credit hours(4 classes) to get finacial aid..

please, any advice will be much appreciated..

Lyme(mostly neuro), TN, and TMJ..and college..yikes!!

--------------------
If Your Going Through Hell, Keep Going...


---

Posts: 99 | From Shepherdstown, WV | Registered: Sep 2006 | IP: Logged |

humanbeing
LymeNet Contributor
Member # 8572


posted

---

If it is critical to keep going to school, maybe you need a tutor from the start to help you stay focused (if you can afford one)

Or let your professors know you may need some schedule adjustments as your symptoms wax and wane.

This is a tough situation. On one hand you need to reduce the stress in your life so you can heal. Stress is bad bad.

On the other hand you need to try and stay in your life so you don't feel like life is passing you by (the way most of us live).

So yea, I would try to sit down with my professors and let them know you are battling a neurologic infection that cycles and causes cognitive difficulties. You need LOTS of flexiblity in your schedule...

... so sad to hear such a young person in so much pain and on all those nasty meds. Wishing you a swift recovery...

Blessing,
Kim
Kim

--------------------
We are spiritual beings on a human journey...

www.ruggierogallery.com


---

Posts: 906 | From CT | Registered: Jan 2006 | IP: Logged |

Blackstone
LymeNet Contributor
Member # 9453


posted

---

I spent the better part of three years in college trying to keep a full schedule, then a part time schedule, and wondering what was wrong with me, as I was then diagnosed with Chronic Fatigue Syndrome.

I've been out of college for a year and a half, undergoing treatment. I still don't think I can make it back and that pains me more than being sick. I really hope that this isn't the same for you but...

If you try and realize you can't keep up with the coursework, save yourself lots of aggravation and just withdraw from classes. Don't withdraw from the university! I wasted a lot of money on foolish pride and thinking it will be better next semester. Go home, get the medical treatment you need. Maybe take a class or two online. With a letter from you doc they should defer any scholarships you have. I know it sucks. I know it feels like you're failing, but I wish I would have done it earlier. All I got was sicker and poorer.

---

Posts: 685 | From East coast, USA | Registered: Jun 2006 | IP: Logged |

Hope4Better
Member
Member # 10075


posted

---

thank you..
i really appreciate it.

does anyone here take anything for concentration?

ADD like symptoms..or is that bad for lymes?

xoxo,
Lonna

--------------------
If Your Going Through Hell, Keep Going...


---

Posts: 99 | From Shepherdstown, WV | Registered: Sep 2006 | IP: Logged |

Aniek
Frequent Contributor (1K+ posts)
Member # 5374


posted

---

Lonna,

Is there a Disability Ombudsman or a dean that works with students with disabilities?

If so, I would talk to them and see if they would make an accommodation to the finanical aid policy because of your disability. Accommodation is the legal word used under the Americans with Disabilities Act.

Also find out what accommodations they are willing to make in the case that your illness interferes with your ability to take exams or hand in assignments on time.

I am in law school, and they are very good about working around my illness if I need extra time on an exam to take breaks, or to delay an exam because I started a new medication that causes side effects.

Sorry, but I don't have an answer on concentration. Although I would recommend staying away from sugars if you aren't already. The ups and downs they cause in blood sugar impact the ability to concentrate.

--------------------
"When there is pain, there are no words." - Toni Morrison


---

Posts: 4711 | From Washington, DC | Registered: Mar 2004 | IP: Logged |

valymemom
Frequent Contributor (1K+ posts)
Member # 7076


posted

---

At George Mason where my sons attend if you have a doctor's letter you can get disability. On disability 9 credits is full-time. The office will direct you to notify profs and state the accomadations you need. (It is up to you whether you state your disability or not.)

My sons also get to schedule classes first so they are able to choose afternoon classes instead of morning classes.

I met last month with a disability advisor there and he also said that legally this can not be on your transcript and all disability records get shredded when you graduate.

He also told me that students are on disability for allergies, stomach problems......so many different conditions that we would not think of.

My one son had to drop out of college Junior year due to brain fog......he managed with the pain, fatigue and insomnia but the cognitive problems did him in. Now he takes 2 courses a
semester here at our local college.

Contact your disability office. You will find helpful counselors, I am sure.

---

Posts: 1240 | From Centreville,VA | Registered: Mar 2005 | IP: Logged |

pamyla
Member
Member # 8575


posted

---

I also got through school by getting help from the disability office. I took a note to a disability counselor from my doctor detailing my health condition. Then with the counselor I talked about what accommodations I needed. I asked for things like - being able to extend deadlines on assignments, or take tests at a later date, being able to give presentations while seated, etc. Then, on the first day of class I simply handed a sheet to my professors to sign that detailed my accomodations - the nature of my health remained confidential.

As far as concentration, could you get yourself a voice recorder and record your classes? That way if you're unable to focus on a lecture you can listen to it later when you're feeling better.

Good luck with school. I know it's hard to go back
Pam

---

Posts: 60 | From Northern Va | Registered: Jan 2006 | IP: Logged |

TerryK
Frequent Contributor (5K+ posts)
Member # 8552


posted

---

You may have to try a number of things before you get a level of improvement. Your best bet might be to find someone who does muscle testing so that they can determine exactly what will help YOU.

A naturopathic doctor is another option. You may need some sort of detox to help your brain function or it may be some other problem. Also, you may want to check the Buhner book, I think he has some recommendations. Do a search here as well.

I have been doing some research on brain and memory supplements. This is just a partial list along with some research that is not completed. This list also includes items that can cause brain function difficulties if one is deficient.

I'm not a doctor and I would recommend that you check with yours before you try something.

7-Keto DHEA
DHEA is naturally produced by the adrenal glands and circulates in the blood stream where it is converted into testosterone and estrogen. 7-KETO is a clinically studied, safe form of DHEA that has been shown to enhance memory. 7-KETO is not converted to estrogens or androgens, a point of concern for many people.

Animal research indicates that 7-Keto™, a natural metabolite of DHEA, is a more active inducer of thermogenic enzymes than DHEA. Research on humans has shown that supplementation with 7-Keto is well tolerated.

Other benefits:
Strengthens the immune system.
May improve lean body mass and fat metabolism. It may decrease body fat and weight.

Acetyl L-Carnitine
Carnitine is a vitamin like substance related to the B vitamins. Many studies have shown that acetyl L-Carnitine improves memory and learning and has a countering affect on some of the negative aspects of some diseases.5

It slows deterioration of memory and reduces the production of free radicals. It may also enhance brain metabolism..1

In one double-blind study of 236 elderly subjects with mild mental deterioration, the group that received 1500 mg of L-Acetylcarnitine daily, demonstrated significant improvement in mental function, particularly in memory and constructional thinking.6

For more about carnitine see:
Information about L-acetylcarnitine, Acetyl-L-carnitine and L-Carnitine

Boron
Boron is a trace element that improves brain and memory function and promotes alertness. It is needed for the metabolism of calcium, phosphorus and magnesium and helps the body use energy from fats and sugars. 1

According to the U.S. Dept. Of Agriculture, they conducted five studies that assessed brain electrical activity in both animals and humans. They found that Boron deprivation results in decreased brain electrical activity similar to that observed in nonspecific malnutrition. Also, boron deprivation results in poorer performance on tasks of motor speed and dexterity, attention, and short-term memory.3

According to the U.S. Dept. Of Agriculture, establishing a dietary reference intake for boron is justified. "An analysis of both human and animal data suggests that an acceptable safe range of population mean intakes of boron for adults could well be 1-13 mg/d." They state that recent findings indicate that a significant number of people do not consistently consume more than 1 mg B/d; this suggests that boron could be a practical nutritional or clinical concern.4

Other Benefits
Immune function
Energy utilization
Motor speed and dexterity
Lipid Metabolism
Bone support
Necessary for absorption of calcium, phosphorus and magnesium.

Caution:
According to "Prescription for Nutritional Healing" 1, do not take more than 6 milligrams unless prescribed.

Choline
Choline raises acetylcholine which is a very important nuerotransmitter. It maximizes mental ability and prevents memory loss in adults.1

Co-Q 10

Creatine Monohydrate
Creatine is produced in the body from the amino acids methionine, glycine and arginine. Some studies have found that creatine can protect the brain from neurotoxic agents.7 Several studies have found that neurons exposed to either glutamate or beta-amyloid (both highly toxic to neurons and involved in various neurological diseases) were protected when exposed to creatine.


DL-Phenylalanine


DMAE
Aids in learning and memory.1

Note: Not intended for everyday use. It is best reserved for days when you need to be more focused and alert.1

DMG (Dimethylglycine)
Dimethylglycine is a derivative of glycine, an amino acid. It is a building block for many substances like methionine, choline, numerous hormones, neurotransmitters, and DNA.

Other benefits:
Helps maintain normal cholesterol levels
Energy
Athletic endurance
Autism Therapy
Antioxidant
Immune system support

Docosahexaenoic Acid (DHA)
DHA is an omega-3 fatty acid and the active component in fish. It is found in fish (about 12%) and some microalgae's. It is needed by infants for brain development. It is required for normal brain function in adults and children.

Deficiencies are associated with learning difficulties as well as fetal alcohol syndrome, attention deficit hyperactivity disorder, cystic fibrosis, phenylketonuria, unipolar depression, aggressive hostility, and adrenoleukodystrophy. Decreases in DHA in the brain are associated with cognitive decline during aging and with onset of sporadic Alzheimer disease.2.


Warning:
Fish oil increases LDL (the bad form of cholesterol) in some people. After taking fish oil for awhile, have your doctor check to see if it has increased your LDL. Elevations in blood sugar levels may occur.

You may need to take vitamin E to protect the oil from oxidative damage to your body. 13

Possible Side Effects
Fish oil reduces blood clotting so you may notice nose bleeds. Some who supplement with several grams per day will have gastrointestinal upset and/or may burp up a "fishy" smell.

Other benefits - may be helpful for:
Angina
Bi-Polar disorder
Chronic obstructive pulmonary disease (COPD)
Depression
Diabetes
Dysmenorrhea (painful menstruation)
Epilepsy (given in combination with EPA)
High blood pressure
High triglycerides (see Cholesterol)
IgA nephropathy
Inflammatory bowel disease (ulcerative colitis and Crohn's disease)
Lupus
Migraine headaches
Menstrual cramps
Osteoarthritis
Osteoporosis
Peroxisomal disorders
Psoriasis
Rheumatoid Arthritis
Schizophrenia

Preliminary evidence suggests fish oil may be helpful for:
Attention Deficit Disorder (ADD)
Borderline Personality Disorder
Dyslexia
Cognitive Impairment
Asthma
Raynaud's phenomenon (abnormal sensitivity of hands and feet to cold)
Chronic Fatigue Syndrome
Cystic fibrosis
Reducing the risk of prostate cancer
preventing weight loss during cancer chemotherapy
DHA is important for normal development and functioning of the brain and retina in the fetus and in infants and may also reduce the risk of premature delivery in pregnant women.

Research: Omega Oils Influence Mood, Impulsivity and Personality


GABA

Garlic

Garum Armoricum (Stabillum)

Huperzine A
Huperzine A is a cholinesterase inhibitor. It is an alkaloid that is derived from the Chinese herb Huperzia serrata. Huperzine A is an over the counter supplement however there are several cholinesterase inhibitor prescription drugs that are approved by the FDA for use in the treatment of Alzheimer's disease.

Cholinesterase inhibitors are designed to increase levels of acetylcholine, a chemical messenger involved in memory, judgment and other thought processes. A cholinesterase inhibitor slows the breakdown of acetylcholine which in turn helps to maintain acetylcholine levels. This allows the brain to work better.

There have been several studies on animals and humans that have shown that huperzine A significantly improves cognitive ability. Phase IV clinical trials in China have demonstrated significant memory improvement in elderly people with age related decline in memory, Alzheimer disease and vascular dementia, with minimal peripheral cholinergic side effects and no unexpected toxicity.8

Huperzine A also possesses the ability to protect cells against hydrogen peroxide, beta-amyloid protein (an amyloid that circulates in human blood and in cerebrospinal fluid and is deposited into plaques found in the brains of patients with Alzheimer's disease), glutamate, ischemia (shortage of blood supply to an organ) and staurosporine-induced cytotoxicity and apoptosis (programmed cell death ).8

The National Institute on Aging (NIA) is currently planning to do a clinical trial of Huperzine A for alzheimers disease.
Clinical Trial: Huperzine A in Alzheimer's Disease

Animal and clinical safety tests have shown that Huperzine A had no unexpected toxicity.8


Lecithin
see Phosphatidyl Choline


L-Aspartic Acid


L-Carnitine
Carnitine is an amino acid. It is a vitamin like substance related to the B vitamins. It is usually considered to be an amino acid because it has a chemical structure similar to that of an amino acid. Canitine is considered to be a lipotropic agent (a nutritional compound that promotes the flow of fat to and from the liver).


L-Glutamine


L-Phenylalanine


L-Tyrosine
L-Tyrosine is an amino acid that is essential to metabolism. It is a pre-curser of adrenaline and the neurotransmitters norepinephrine and dopamine.

Manganese

Melatonin

MSM

NADH

Octacosanol

Omega 3 Fatty Acid Complex
Low levels have been associated with impaired brain function.

Phosphatidyl Choline (PC)
Phosphatidyl choline (PC) is one of the primary elements of lecithin. Supplements labeled as lecithin usually contain 10-20% PC. When medical researchers refer to lecithin, they are talking about phosphatidyl Choline.

Lecithin is a fat emulsifier, it breaks down fats and allows them to be digested better. It helps cholesterol and triglycerides remain fluid and less likely to build up along artery walls. It has been shown to improve the ratio between the LDL (bad cholesterol) and HDL (good cholesterol) and to lower the LDL.

There is no scientific agreement on the use of phoshphatidyl choline for Alzhiemers Disease. Several studies have not proven it to be helpful but there is controversy about the way the studies were conducted. According to Dr. Atkins, memory enhancement is more obvious in people without alzhiemers disease. He mentions one study in which considerable short term memory improvement was seen in healthy adults when given 10 grams of choline chloride.10,11

Other uses:
For more information, see the article on Phosphatidyl Choline
High homocysteine
Cholesterol/Triglycerides
Liver disorders
Tardive dyskinesia
Alzheimer's disease
Bipolar disorder
Gallbladder attacks
Hepatitis
Heart Support


Phosphatidyl Serine
Several double-blind studies suggest that phosphatidylserine can help maintain cognitive function in older individuals and may be able to improve memory and learning skill in some.

An animal study showed that supplementation with phosphatidyl serine improved both the spatial memory and the passive avoidance retention in older rats.9


Why It's Important To Remember Phosphatidyl Serine

PDR Health Phosphatidylserine

Policosanol


Pregnenolone


Superoxide Dismutase (SOD)


Thiamine (Vitamin B-1)

Vinpocetine

Vitalaxin

Vitamin B Complex


References
1. Phyllis A. Balch, CNC, "Prescription for Nutritional Healing, A practical A-To-Z Reference to Drug-Free Remedies Using Vitamins Minerals, Herbs and Food Supplements"


2. Horrocks LA, Yeo YK.,"Health benefits of docosahexaenoic acid (DHA)". Pharmacol Res. 1999 Sep;40(3):211-25
Entrez PubMed

3. Penland JG., "The importance of boron nutrition for brain and psychological function." Biol Trace Elem Res. 1998 Winter;66(1-3):299-317.
Entrez PubMed

4. Nielsen FH., "The justification for providing dietary guidance for the nutritional intake of boron.", Biol Trace Elem Res. 1998 Winter;66(1-3):319-30.
Entrez PubMed

5. Virmani A, Binienda Z. "Role of carnitine esters in brain neuropathology", Mol Aspects Med. 2004 Oct-Dec;25(5-6):533-49.
Entrez PubMed

6. C. Cipolli and G. Chiari "Effects of L-Acetylcarnitine on Mental Deterioration in the Aged: Initial results." Clin Ter 132 (1990): 479-510

7. Malcon C, Kaddurah-Daouk R, Beal MF., "Neuroprotective effects of creatine administration against NMDA and malonate toxicity.", Brain Res. 2000 Mar 31;860(1-2):195-8.
Entrez PubMed

8. Wang R, Yan H, Tang XC., "Progress in studies of huperzine A, a natural cholinesterase inhibitor from Chinese herbal medicine.", Acta Pharmacol Sin. 2006 Jan;27(1):1-26
Entrez PubMed

9. Zanotti A, Valzelli L, Toffano G., "Chronic phosphatidylserine treatment improves spatial memory and passive avoidance in aged rats.", Psychopharmacology (Berl). 1989;99(3):316-21.
Entrez PubMed

10. Robert C. Atkins, "Dr. Atkins' Vita-Nutrient Solution : Nature's Answer to Drugs"

11. Sitaram N, Weingartner H, Gillin JC, "Human serial learning: enhancement with arecholine and choline impairment with scopolamine.", Science. 1978 Jul 21;201(4352):274-6.
Entrez PubMed

---

Posts: 6282 | From Oregon | Registered: Jan 2006 | IP: Logged |

Sonja
Member
Member # 10871


posted

---

Hi there,

I also have TN problems, mainly my right eye and ear. I would like to tear it out sometimes - you know the feeling.

I'm currently taking Tegretol and Dilantin. That keeps the pain mostly under control. If I get bad attacks, I still need Vicodin, Xanax and a lot of TLC from my husband to get through the pain. Icepacks help me. There was a post a few days ago about nervepain, with a lot of suggestions.

Have you tried Rescue Remedy? It helps me live through the day. You get it at every health food store. An Ultrasonic Face massager might be beneficial and Buhner's Book, of course.

I mainly get really bad attacks during my period. If that's case for you, your hormones are out of whack.

If there is anything I can do to help, send me a PM and I'll try my best!

Take care,

Sonja

---

Posts: 35 | From Arizona | Registered: Dec 2006 | IP: Logged |

Travlr1
Member
Member # 9681


posted

---

Hope4better,

Carry a small pocket size bottle of germ-x lotion and use it frequently and get a N95 mask to wear if you are in class near a hacker(cough) and while going down the halls.The N95 is the only mask short of a respirator that is good at keeping out the small pathogens. Who cares what other people think about the mask

You don't need to be being infected with other bugs while battling Lyme.


Take care,

Travlr1

---

Posts: 66 | From West Coast | Registered: Jul 2006 | IP: Logged |
Contact Us | LymeNet home page | Privacy Statement

Powered by UBB.classic™ 6.7.3

---
The Lyme Disease Network is a non-profit organization funded by individual donations. If you would like to support the Network and the LymeNet system of Web services, please send your donations to:
The Lyme Disease Network of New Jersey
907 Pebble Creek Court, Pennington, NJ 08534 USA
http://www.lymenet.org/
---
Home | Flash Discussion | Support Groups | On-Line Library
Legal Resources | Medical Abstracts | Newsletter | Books
Pictures | Site Search | Links | Help/Questions
About LymeNet | Contact Us
---
© 1993-2020 The Lyme Disease Network of New Jersey, Inc.
All Rights Reserved.
Use of the LymeNet Site is subject to Terms and Conditions.
---