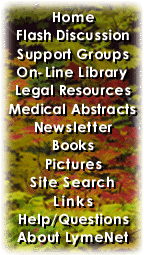 ---
LymeNet on Facebook
LymeNet on Twitter
---
---
The Lyme Disease Network receives a commission from Amazon.com for each purchase originating from this site.
When purchasing from Amazon.com, please
click here first.

Thank you.




Dedicated to the Bachmann Family


LymeNet needs your help:
LymeNet 2020 fund drive

The Lyme Disease Network is a non-profit organization funded by individual donations.

| | |
| --- | --- |
| | |
Author
Topic: How to deal with stress

missextreme
LymeNet Contributor
Member # 3610


posted

---

I am a 20 year old female with Lyme Disease and boyfriend issues at the same time. My wonderful boyfriend is creating lots of stress. Issues come up and my stress level rises.

Help!

What can I take for suppliments to help with stress?

Are there any ways to relax my brain?

I am recovering slowly thanks to rifing, but I am not 100% yet. How in the world am I supposed to deal with the stresses of life? Should I hibernate and not have any boyfriend?

Boyfriend stresses are hard enough for regular girls to deal with. I just don't know what to do... please help me. I need all the advice I can get.

---

Posts: 204 | From Wyoming | Registered: Feb 2003 | IP: Logged |

thall1981
Junior Member
Member # 10963


posted

---

I don't know of any medication that will help your stress, but sit him down and talk to him about what he is doing to stress you out so much and then he can help you get better!

Also I always think it is best to (if you can) to get outside and enjoy some fresh air! That is the best stress manager of all.

good luck and feel better

---

Posts: 3 | From madison nj | Registered: Jan 2007 | IP: Logged |

Dave6002
Frequent Contributor (1K+ posts)
Member # 9064


posted

---

If I can deal with Lyme and beat it, what else I cannot face with?

I often told me when I had stress.

---

Posts: 1078 | From Fairland | Registered: Apr 2006 | IP: Logged |

Beverly
Frequent Contributor (5K+ posts)
Member # 1271


posted

---

Hi missextreme,

So sorry to hear of the stress. I don't have any great advise, the suggestion above to sit down and talk with him may help.
You sound like a strong resourceful person, if you are recovering from lyme things will get better for you. Just like David said... what can we not face.

This disease sure has made me a very strong person.

Good luck all..

---

Posts: 6626 | From Michigan | Registered: Jun 2001 | IP: Logged |

trails
Frequent Contributor (1K+ posts)
Member # 1620


posted

---

You could try relaxation and meditaion techniques. Hot baths help me relax. Soft music and candles. Sometimes incense and some tea.

just remembering the little things and deep breathing helps sometimes. A few deep breathes makes a lot of difference.

there are some good podcasts and downloads of meditation stuff if you have Itunes.

best,
trails

---

Posts: 1950 | From New Mexico | Registered: Sep 2001 | IP: Logged |

clairenotes
Frequent Contributor (1K+ posts)
Member # 10392


posted

---

I started using Farah's essential oil a couple of months ago and really feel that it has helped reduce general anxiety, etc. This was an unexpected side-effect. There is a thread called 'essential oils' that you can do a search on, if interested.

Acupuncture is also really nice for feeling more calm, in general, among other things. But a bit more expensive.

I remember those relationship anxiety issues when I was in my early 20's. It can wear on our health, especially if ill.

Best wishes,

Claire

---

Posts: 1111 | From Colorado | Registered: Oct 2006 | IP: Logged |

Geneal
Frequent Contributor (5K+ posts)
Member # 10375


posted

---

I wish I had a cure for stress (I sure could use one). I have always found that walking helps alleviate some of that pent up negative energy. So does prayer.

Laughter always helps.

Since I have been sick I have found my tolerance level for stress to be less.

I strive for patience especially with people I am close to.

Every once in a while, when I get the chance I do something nice for myself.

That also helps relieve some of the stress.

I try to block out all of the negative ( I am better at this some days than others).

I tell myself that negative energy is wasted energy. Energy that my body could use to get better.

Hang in there.

Geneal

---

Posts: 6250 | From Louisiana | Registered: Oct 2006 | IP: Logged |

missextreme
LymeNet Contributor
Member # 3610


posted

---

Thanks for the de-stress ideas.

I wish I could slow down my thoughts and my brain. Any ideas for keeping myself peaceful on the inside? Should I take Melatonin at bedtime? I get so anxious, even though I do take Neurotransmitters perscribed by Dr. C. I wish my anxiety would get better.

I go from being stressed from Lyme to being stressed from other stuff!

---

Posts: 204 | From Wyoming | Registered: Feb 2003 | IP: Logged |

Aniek
Frequent Contributor (1K+ posts)
Member # 5374


posted

---

Unless you have unusual anxiety, then the best stress relief is something you learn to do. Some form of relaxation.

It's different if you have heightened anxiety from the Lyme, then some supplements or medications might help. But I don't have the answers as to the right ones.

I have really learned to control my stress over the past year. One thing that is very helpful to me is yoga. You can do a very simple, beginners class if you have difficulty exercising. Maybe even a therapeutic yoga class.

But because you work on stretching, breathing, and focusing, it is very relaxing.

The other bit was all mental. I realized how much sicker I got when I became stressed. I had a realization one day that I just can't let myself get stressed like that. So I let work and school stress just kind of slide off of me.

It's amazing, but it actually works. I forgot to hand in a take home final on time last semester, which means I get a D in the class. I probably would have gotten an A/A- on the exam. I cried for 10 minutes and then I was able to laugh about it.

--------------------
"When there is pain, there are no words." - Toni Morrison


---

Posts: 4711 | From Washington, DC | Registered: Mar 2004 | IP: Logged |

map1131
Frequent Contributor (5K+ posts)
Member # 2022


posted

---

Missextreme, you might be having some obsessive symptoms. Also known as OCD (obsessive compusive disorder). This is common in lyme disease.

It takes everything your body has to fight this illness so when you put more stress on the body and mind it makes it worse. I've always said stress is my #1 enemy. The complete opposite of who I used to be prior to this illness. Adrenal fatigue, also common in lyme disease.

Life is sometimes stressful, that's life. We can't avoid everything or everyone. Talk to your doctor about your sx's including not being able to fall asleep. Good sleep is a big key to feeling better. Touble falling asleep, staying asleep, early wake-ups are a common sx of lyme disease.

I find warm soaking baths relax me at night. Reading a good book, taking a walk, something to distract your mind. Sometimes we have to get rid of things/people that are a negative/stress in our life too.

Pam

--------------------
"Never, never, never, never, never give up" Winston Churchill


---

Posts: 6444 | From Louisville, Ky | Registered: Jan 2002 | IP: Logged |

treepatrol
Honored Contributor (10K+ posts)
Member # 4117


posted

---

quote:

---

Originally posted by missextreme:
Thanks for the de-stress ideas.

Any ideas for keeping myself peaceful on the inside? Should I take Melatonin at bedtime?
I go from being stressed from Lyme to being stressed from other stuff!

---

Take the melatonin but check with LLMD it dosent just help you sleep it is also a superantioxident I felt quite terrible the first week on melatonin.

Then I felt much better after it did its superantioxident stuff felt like a herx.That lasted a few days but it was well worth it!!

Its helped me a great deal also taking complexb vitamins everyday and 500mg magnesium.

I wouldnt go without any of them now none of them including acidophilis.

--------------------
Do unto others as you would have them do unto you.
Remember Iam not a Doctor Just someone struggling like you with Tick Borne Diseases.

Newbie Links


---

Posts: 10564 | From PA Where the Creeks are Red | Registered: Jun 2003 | IP: Logged |

lymeinhell
Frequent Contributor (1K+ posts)
Member # 4622


posted

---

Rhodiola - twice a day on an empty stomach. Really really works!!!

Here's a good link:

http://www.bodybuilding.com/store/rhodiola.html

Rhodiola rosea root extract has a wide range of adaptogenic functions. An adaptogen is a substance (typically an herb) that helps a body to adapt to stressful situations. That is, it produces a normalizing action on the body, increasing resistance to adverse influences. The adaptogenic effects of Rhodiola have been demonstrated in numerous studies, resulting in increased resistance to the effects of stress, and improvements in associated anxiety and moodiness.


[ Top 5 Sellers ]
1. Gaspari Nutrition SuperPump250
2. MAN Scorch
3. ThermoLife E-BOL
4. German American Technologies Jetfuel
5. Xyience Xelerate


One way that Rhodiola performs these remarkable functions is by improving the neurological

mechanisms of dealing with stress. This includes stimulating the release of the mood-modulating

neurotransmitters norepinephrine, dopamine and serotonin. Rhodiola has also been shown to

support modest increases in beta-endorphins that supports pain reduction and improves mood.

Supplementation with Rhodiola may be expected to promote positive support for mild mood changes,

and provide relief from everyday stress and anxiety. Furthermore, the synergistic balance of

all eight essential Rhodiola biomers will provide maximum benefits.

--------------------
Julie
_ _ ___ _ _
lymeinhell

Blessed are those who expect nothing, for they shall not be disappointed.


---

Posts: 2257 | From a better place than I was 11 yrs ago | Registered: Sep 2003 | IP: Logged |

break the chains
LymeNet Contributor
Member # 5668


posted

---

EFT - Emotional Freedom Techniques

there is a free manual at emofree.com

ive seen so much done with this kind of work.

even the cdc is getting behind it now:


http://www.prweb.com/releases/2006/10/prweb448647.htm

Unique Acupressure Technique Alleviates Symptoms of Chronic Fatigue Syndrome and Chemical Sensitivities


Chronic Fatigue Syndrome (CFS) is a complex illness for which there is no cure, or specific prescription drugs. Conventional medicine may be stymied by CFS because it fails to address the unresolved emotional issues that are at its root. An increasing number of people with serious illnesses are turning to Emotional Freedom Techniques (EFT) to gain emotional and physical relief from their symptoms. EFT is a do-it-yourself acupressure technique with an 80% success rate.

San Francisco, CA (PRWEB) October 22, 2006 -- According to the Center for Disease Control (CDC), people with Chronic Fatigue Syndrome (CFS) must constantly monitor their condition in an effort to cope with ``the severe, changing and unpredictable symptoms of varying severity.'' However, an increasing number of patients are turning to Emotional Freedom Techniques (EFT) and getting remarkable results.

Conventional treatment for CFS is a complex combination of drug and non-drug therapies. EFT simply involves fingertip tapping on select acupressure points while focusing on the physical or emotional symptom in question. EFT claims an 80% success rate in calming symptoms associated with serious diseases like CFS and cancer. It can be learned without cost by downloading the free EFT Manual at http://www.emofree.com/downloadeftmanual.asp

EFT works because it addresses the unresolved negative emotions that may be contributing to the illness. When anger, guilt, shame and fear are repressed and unchecked, the stress of these issues weakens the immune system, thus making way for illnesses like CFS to develop. When EFT is used to collapse the negative issues, the body's immune system is able to do its repair work. Symptoms typically subside, sometimes immediately and often permanently.

The Center for Disease Control maintains, ``Unresolved emotions and stress can make symptoms (of CFS) worse, interfere with pharmacological therapies and make recovery harder.'' But EFT theory goes one more step to say that the unresolved emotions and stress are the root cause of the symptoms.

Dr. Eric Robins, who uses EFT in his daily medical practice, agrees with this theory. He says, ``At least 85% of medical problems are physical manifestations of how stress, anxiety, and past traumas are held in and processed by the body. I recommend that patients ask themselves questions like: a) what unresolved issues exist in my life that may be contributing to this disease and b) what kinds of things am I stressing myself out over. The best technique to address these issues and to clear them out of the body is EFT.''

Chronic Fatigue Syndrome symptoms may include severe sleep problems marked by complete exhaustion but an inability to sleep well. CFS sufferers may also have physical aches and pains, cognitive dysfunction as well as depression and allergies. A recent study indicated that 14 months of Cognitive Behavioral Therapy reduced fatigue severity in CFS patients.

However, after just over two hours of on-camera EFT to treat her CFS, Annie Fisher reported, ``I felt fantastic ... there was no pain, no heaviness and my energy was very high.'' Two weeks after the treatment she claimed she was ``a different person;'' she slept like a baby every night; sometimes for ten hours. She no longer had allergic reactions to household cleaners and her persistently aching legs had cleared up.

EFT founder, Gary Craig recently released 40 hours of live seminars throughout which he demonstrates how this simple acupressure procedure alleviates symptoms associated with most serious diseases. To witness Annie's on-camera EFT sessions, the combined set of DVD's, which contains 40 hours of instruction and demonstrations, costs only $72 at https://www.emofree.com/Store/store.aspx.

The Chronic Fatigue Association of America (CFIDS) is ``dedicated to conquering chronic fatigue syndrome.'' Craig says, ``We have spent a decade chronicling cases where people use this simple procedure to gain complete relief from the symptoms of serious diseases such as CFS, MS, diabetes, arthritis and cancer. It is time for the associations representing people with these diseases to explore ways that EFT can be used to benefit their membership.''

More than 350,000 people have downloaded Craig's free training manual and another 10,000 download it each month. Known as The EFT Manual, it has been translated by volunteer practitioners into nine languages. The EFT website is the fifth most actively visited natural health site in the world.

The EFT Manual gives anyone all the basics so they can apply it right away. It can be freely downloaded at:
http://www.emofree.com/downloadeftmanual.asp


http://www.prwebdirect.com/releases/2006/1/prweb330404.htm


Effective Pain Relief Without Medications: Stanford Engineer Introduces Impressive New ``Acupuncture Without Needles''


Gary Craig (Stanford '62) has discovered a clear link between our bodily pains and our negative emotions. Used properly, EFT (Emotional Freedom Techniques) simultaneously removes or reduces emotional and physical pains in about 80% of the cases. The basics are available free on his website.

San Francisco, CA (PRWEB via PRWebDirect) January 9, 2006 -- A growing number of physicians are ``tossing the meds'' for some of their pain-ridden clients. Because of the dangers of many medications, a new ``Acupuncture Without Needles'' procedure is being substituted, often with astonishing results.
PRWeb Press Release Newswire v4

EFT (Emotional Freedom Techniques) is a dual-purpose method introduced by Stanford Engineer Gary Craig. After thousands of clinical uses it has proven effective 80% of the time and simultaneously removes or reduces both emotional and physical pain. The process involves stimulating established acupuncture meridian points by tapping on them with the fingertips. No needles are necessary.

As Eric Robins, MD states, "Someday the medical profession will wake up and realize that unresolved emotional issues are the main cause of 85% of all illnesses. When they do, EFT will be one of their primary healing tools...as it is for me."

EFT makes clear the link between our physical pains and our negative emotions. Once anger, stress, anxiety and fear abate with EFT, the corresponding pains usually subside. Sometimes the results are astonishing. Examples: Migraine headaches vanish on the spot, never to appear again. Frozen shoulders loosen and regain normal mobility. A gout sufferer goes dancing without pain.

As EFT user Bill Edens states, ``We are very excited about this EFT program. My wife got rid of her back pain and too frequent headaches she has had for years. I no longer have acid reflux and no longer have to take a prescription drug for it.''

Hundreds more cases fill the EFT website. The basics can be learned and applied by anyone and are available free in the downloadable 79 page EFT Manual. See http://www.emofree.com/downloadeftmanual.htm . The finer points of EFT are available on low cost DVD sets and purchasers are encouraged to make up to 100 copies to give (not sell) to others.

For additional information, or for a complete press kit, contact:

Gary Craig
Emotional Freedom Techniques
707-785-2848
http://www.emofree.com

---

Posts: 245 | From connecticut, the lyme state | Registered: May 2004 | IP: Logged |
Contact Us | LymeNet home page | Privacy Statement

Powered by UBB.classic™ 6.7.3

---
The Lyme Disease Network is a non-profit organization funded by individual donations. If you would like to support the Network and the LymeNet system of Web services, please send your donations to:
The Lyme Disease Network of New Jersey
907 Pebble Creek Court, Pennington, NJ 08534 USA
http://www.lymenet.org/
---
Home | Flash Discussion | Support Groups | On-Line Library
Legal Resources | Medical Abstracts | Newsletter | Books
Pictures | Site Search | Links | Help/Questions
About LymeNet | Contact Us
---
© 1993-2020 The Lyme Disease Network of New Jersey, Inc.
All Rights Reserved.
Use of the LymeNet Site is subject to Terms and Conditions.
---