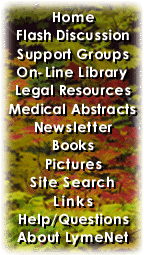 ---
LymeNet on Facebook
LymeNet on Twitter
---
---
The Lyme Disease Network receives a commission from Amazon.com for each purchase originating from this site.
When purchasing from Amazon.com, please
click here first.

Thank you.




Dedicated to the Bachmann Family


LymeNet needs your help:
LymeNet 2020 fund drive

The Lyme Disease Network is a non-profit organization funded by individual donations.

| | |
| --- | --- |
| | |
Author
Topic: Interesting Article about saponins ( Marnie or anyone else )

Annxyz
LymeNet Contributor
Member # 9097


posted

---

I just read an article titled " Saponins : Surprising Benefits of Desert Plants " by Peter R Cheek, from the Linus Pauling Institute .

It can be found via google " saponins " " Linus Pauling " .

This article mentions that plants like yucca, are found to be effective against bacteria like giardia because of the way they utilize the
cholesterol of the bacteria.

Would someone else read this and take a guess if yucca and plant saponins could be useful in
lyme?

One of our members just posted a message about
feeling better overall after taking horsechestnut extract ( common in Europe ) . I looked it up , and the key chemicals are
saponins .

This may have no relationship to lyme bacteria ,
but it is interesting . I would love to know if anyone with knowledge of science ( ask me about
literature or Amer history not math or science )
would offer their feedback.

I would copy the article , but do not know how to do it . ( Need to call John Scherer for that CD and the ten dollars ) .

Thanks , jennifer

--------------------
ANNXYZ


---

Posts: 744 | From Mineola | Registered: Apr 2006 | IP: Logged |

Dave6002
Frequent Contributor (1K+ posts)
Member # 9064


posted

---

J Med Food. 2004 Spring;7(1):67-78.

Saponins from edible legumes: chemistry, processing, and health benefits.

Shi J, Arunasalam K, Yeung D, Kakuda Y, Mittal G, Jiang Y.

Guelph Food Research Center, Agriculture and Agri-Food Canada, Guelph, Ontario,
Canada. [email protected]

Demand for bean products is growing because of the presence of several
health-promoting components in edible bean products such as saponins. Saponins
are naturally occurring compounds that are widely distributed in all cells of
legume plants. Saponins, which derive their name from their ability to form
stable, soaplike foams in aqueous solutions, constitute a complex and chemically
diverse group of compounds. In chemical terms, saponins contain a carbohydrate
moiety attached to a triterpenoid or steroids. Saponins are attracting
considerable interest as a result of their diverse properties, both deleterious
and beneficial. Clinical studies have suggested that these health-promoting
components, saponins, affect the immune system in ways that help to protect the
human body against cancers, and also lower cholesterol levels. Saponins decrease
blood lipids, lower cancer risks, and lower blood glucose response. A high
saponin diet can be used in the inhibition of dental caries and platelet
aggregation, in the treatment of hypercalciuria in humans, and as an antidote
against acute lead poisoning. In epidemiological studies, saponins have been
shown to have an inverse relationship with the incidence of renal stones.
Thermal processing such as canning is the typical method to process beans. This
study reviews the effect of thermal processing on the characteristics and
stability of saponins in canned bean products. Saponins are thermal sensitive.
During soaking and blanching, portions of saponins are dissolved in water and
lost in the soaking, washing, and blanching liquors. An optimum thermal process
can increase the stability and maintain the saponins in canned bean products,
which is useful for assisting the food industry to improve thermal processing
technology and enhance bean product quality.

---

Posts: 1078 | From Fairland | Registered: Apr 2006 | IP: Logged |

treepatrol
Honored Contributor (10K+ posts)
Member # 4117


posted

---

Cambridge Biotech Corp., Worcester, MA 01605.

Canine antibody responses to Lyme disease subunit vaccines and to natural borrelial infection were investigated. Vaccines were formulated with QS21 and outer surface proteins A (OspA) and B (OspB) derived from Borrelia burgdorferi B31. Vaccines containing QS21 and the lipoproteins gave 4-fold higher IgG1 and 8-fold higher IgG2 antibody responses than without QS21. Antisera to lipidated OspA or OspB vaccines containing QS21 had high antiborrelial activity against isolates B31 and CA-2-87, similar to those with a vaccine containing both OspA and OspB. Only the combination vaccine induced antiborrelial activity against heterologous isolates 24008 Fr and Borrelia garinii G25. Nonlipidated OspA- and OspB-based vaccines with QS21 elicited lower antibody and antiborrelial activity than did lipidated OspA and OspB vaccines; 49% of naturally exposed dogs had low titers to OspA or OspB. Thus, vaccines using lipidated OspA, OspB, and QS21 could induce higher antiborrelial activity than did natural exposure.
PMID: 7706819 [PubMed - indexed for MEDLINE]


Iscoms Containing Purified Quillaja Saponins Upregulate both Th1-like and Th2-like Immune Responses
Authors: Sjolander A.1; van 't Land B.2; Bengtsson K.L.2

Source: Cellular Immunology, Volume 177, Number 1, April 1997, pp. 69-76(8)

Publisher: Academic Press

Abstract:

The immune stimulating complex (iscom) is built up by antigen, cholesterol, phospholipids, and adjuvant active Quillaja saponins. Previous studies have shown that iscoms containing Quil A (a semipurified preparation of saponins) efficiently induce antibody and cell-mediated immune responses. In this study, we demonstrate that iscoms containing a mixture of two purified low toxicity Quillaja saponin fractions (ISCOPREP 703) are able to upregulate both Th1-like and Th2-like immune responses. Thus, ovalbumin (OVA) iscoms induced higher levels of antigen-specific IgG1 and IgG2a antibodies and increased the production of both IFN-gamma and IL-4 compared with OVA administered without adjuvant. In contrast, OVA formulated in Al(OH) 3 elicited IgG1 and IgE antibodies and primed spleen cells producing IL-4 and IL-10, suggesting the activation of primarily Th2-like cells. These findings underline that adjuvants are able to alter the character of immune responses and may be used to generate responses with desired properties.


1: Pharm Res. 1995 Dec;12(12):1917-23. Links
A semisynthetic Quillaja saponin as a drug delivery agent for aminoglycoside antibiotics.Recchia J, Lurantos MH, Amsden JA, Storey J, Kensil CR.
Cambridge Biotech Corporation, Worcester, Massachusetts 01605-2376, USA.

PURPOSE: The purpose of this study was to investigate the utility of a purified, semisynthetic saponin, DS-1, prepared by deacylation of a naturally occurring saponin from the bark of the Quillaja saponaria Molina tree, as a permeation enhancer for mucosal delivery of the aminoglycosides, gentamicin and tobramycin. METHODS: Gentamicin or tobramycin formulations, with and without DS-1, were administered to rats nasally, ocularly, and rectally. Serum aminoglycoside levels following mucosal application were compared with those administered intramuscularly. Gentamicin formulations, with and without DS-1, were administered intranasally to mice 60 minutes after a lethal bacterial challenge. To ascertain nasal irritation potential, DS-1 nosedrops were administered to rats twice daily for 7 days in the right nostril only. Comparison of the left (internal control) and right nostril was made with a control group that received only buffer. RESULTS: Significant transport across mucous membranes was only observed in formulations containing DS-1. This effect on drug delivery was transient. Administration of an intranasal gentamicin/DS-1 formulation reversed the lethal bacterial challenge in mice, demonstrating that biological activity was retained after absorption. Nasal irritation was not observed in groups receiving DS-1 nosedrops, which were identical to control groups. CONCLUSIONS: DS-1 has potential as a transmucosal delivery agent for the aminoglycoside antibiotics.


Antimicrobial activity of saponins from Medicago sp.: structure-activity relationship.

Avato P, Bucci R, Tava A, Vitali C, Rosato A, Bialy Z, Jurzysta M.

Dipartimento Farmaco-Chimico, Via Orabona 4, Universita, I-70125 Bari, Italy. [email protected]

The antimicrobial activity of saponins from Medicago sativa, M. arborea and M. arabica against a selection of medically important yeasts, Gram-positive and -negative bacteria was investigated. Structure-activity growth inhibitory effects of related prosapogenins and sapogenins are also described. Increasing antibiotic activity was observed going from the saponin extracts to the sapogenin samples, suggesting that the sugar moiety is not important for the antimicrobial efficacy. Activity was especially high against Gram-positive bacteria (Bacillus cereus, B. subtilis, Staphylococcus aureus and Enterococcus faecalis) with M. arabica being the species showing a broader spectrum of action. Discrete antifungal activity was also observed, mainly against Saccharomyces cerevisiae. The observed antimicrobial properties of M. sativa and M. arborea were related to the content of medicagenic acid, while hederagenin seems to contribute to the bioactivity of M. arabica total sapogenins.


Antimicrobial activity of saponins from Acacia auriculiformis.

Mandal P, Sinha Babu SP, Mandal NC.

Centre for Biotechnology, Visva-Bharati University, Santiniketan-731235, West Bengal, India.

Acaciaside A and B, two acylated bisglycoside saponins originally isolated from the funicles of Acacia auriculiformis, are known to have antihelminthic activity. Their antifungal and antibacterial activities were investigated. Complete inhibition of conidial germination of Aspergillus ochraceous and Curvularia lunata was recorded at 300 microg/ml or less whereas to inhibit the growth of Bacillus megaterium, Salmonella typhimurium and Pseudomonas aeruginosa 700 microg/ml or higher concentrations of the mixture was required. Two catabolic enzymes, phosphofructokinase and isocitrate dehydrogenase, responded differentially in fungi and bacteria against sublethal concentrations of the compound when assayed from their cell free extracts. An increased specific activity of the enzymes in bacteria and a decrease activity in fungi indicate a possible different mechanism of inhibition of saponins on the organisms tested.

PMID: 15951137 [PubMed - indexed for MEDLINE]


Lett Appl Microbiol. 1998 Jul;27(1):35-8. Related Articles, Links


Effect of Quillaja saponaria saponins and Yucca schidigera plant extract on growth of Escherichia coli.

Sen S, Makkar HP, Muetzel S, Becker K.

Institute for Animal Production in the Tropics and Subtropics, University of Hohenheim, Stuttgart, Germany.

Escherichia coli K-12 was exposed to Quillaja saponaria saponins from various commercial firms (Sigma, Roth and Nor-feed) and to an extract of Yucca schidigera plant powder (DK Sarsaponin 30) at different concentrations (0.05-1.0% w/v). A concentration-dependent response was observed. Quillaja saponaria saponins from Sigma increased growth up to 0.1% (w/v) level, whereas Nor-feed and Roth saponins produced maximum growth at a much higher level (0.5 and 0.75%, w/v, respectively). These results suggest that quillaja saponins from various sources differ in their biological activity, although all three saponins had the same content of vanillin-sulphuric acid reactive moieties. The lyophilized water extract from the DK Sarsaponin powder showed maximum growth at 0.1% (w/v) level. The levels at which maximum growth was observed did not change on subjecting the quillaja or yucca saponins to heat treatment in an autoclave (121 degrees C for 30 min). All the saponins and the plant extract increased growth of Escherichia coli up to a certain concentration and thereafter decreased growth. In spite of the decreased growth at higher levels of saponins, it was higher compared to the control (without saponin) up to levels of 1% (w/v) for all saponins except Quillaja saponins from Sigma, for which the growth was lower at levels of 0.25% (w/v) and higher. Saponins have the potential to modulate microbial growth in natural and artificial fermenters.

PMID: 9722995 [PubMed - indexed for MEDLINE

--------------------
Do unto others as you would have them do unto you.
Remember Iam not a Doctor Just someone struggling like you with Tick Borne Diseases.

Newbie Links


---

Posts: 10564 | From PA Where the Creeks are Red | Registered: Jun 2003 | IP: Logged |

Annxyz
LymeNet Contributor
Member # 9097


posted

---

Dave and Tree ,

It DOES sound like saponins ( mentioned in yucca herb) is an effective antimicrobial.

It also sounds like they MAY POSSIBLY inhibit the replication of some forms of bacteria .
I wonder if the lady who tried horsechestnut and began to feel better IN GENERAL ( overall well being ) was experiencing the benefit of the horse chestnut blocking the replication of LYME?

Maybe I will try some yucca or horsechestnut
extract .

Thank you VERY MUCH for adding these articles for all of us to read !

I would appreciate any input on this idea from other members .

Maybe Jim Bob will see it and try adding it to his herbal regimen.

--------------------
ANNXYZ


---

Posts: 744 | From Mineola | Registered: Apr 2006 | IP: Logged |

Annxyz
LymeNet Contributor
Member # 9097


posted

---

bump for further replies

--------------------
ANNXYZ


---

Posts: 744 | From Mineola | Registered: Apr 2006 | IP: Logged |

MarsyNY
LymeNet Contributor
Member # 7766


posted

---

Jennifer, I find this interesting. Sarsasparilla which is very high in Saponins (& steroids) was used by the Chinese successfully for syphilis. The numbers are quite impressive. Are the saponins in the Sarsasparilla anti-spirochetal?

---

Posts: 465 | From New York, NY | Registered: Aug 2005 | IP: Logged |

Ruth Ruth
LymeNet Contributor
Member # 11059


posted

---

RainTree Nutrition's Sarsaparilla Database Entry says (among other things):

~

Sarsaparilla has long been used in the treatment of syphilis. Clinical observations in China demonstrated that sarsaparilla was effective (according to blood tests) in about 90% of acute and 50% of chronic cases. In the 1950s the antibiotic properties of sarsaparilla were documented; other studies documented its antifungal and antimycobacterial activities. Its anti-inflammatory activity has been demonstrated in several in vitro and in vivo studies, using different laboratory-induced models of arthritis and inflammation. One of these studies attributes the beneficial effect for arthritis to sarsaparilla's immune modulatory action. Sarsaparilla also has demonstrated liver protective effects in rats, with researchers concluding that it is able to prevent immune-mediated liver injury.

~

Sarsaparilla's main plant chemicals include: acetyl-parigenin, astilbin, beta-sitosterol, caffeoyl-shikimic acids, dihydroquercetin, diosgenin, engeletin, essential oils, epsilon-sitosterol, eucryphin, eurryphin, ferulic acid, glucopyranosides, isoastilbin, isoengetitin, kaempferol, parigenin, parillin, pollinastanol, resveratrol, rhamnose, saponin, sarasaponin, sarsaparilloside, sarsaponin, sarsasapogenin, shikimic acid, sitosterol-d-glucoside, smilagenin, smilasaponin, smilax saponins A-C, smiglaside A-E, smitilbin, stigmasterol, taxifolin, and titogenin.

~

Main Actions
detoxifies organs
cleanses blood
aids absorption
kills bacteria
stimulates digestion
increases urination
protects liver
promotes perspiration

Other Actions
relieves pain
kills fungi
reduces inflammation
kills germs
reduces fever
immunomodulator
fights free radicals
relieves rheumatism

--------------------
When I lost my grip on Faith in the maze of illness,
Hope gently clasped my hand and led on.

RuthRuth


---

Posts: 478 | From California | Registered: Jan 2007 | IP: Logged |

Annxyz
LymeNet Contributor
Member # 9097


posted

---

Thank you for sharing the other saponin articles.

I think the saponins mentioned here , which appear to interrupt the bacterias replication, are quillaja and Yucca plant extract .

I am not sure about the quillaja saponin,
as I have never heard of it , but there are other articles about yucca and bacteria. It makes me wonder about the possibility of later adding it to Buhner's protocol as an antibiotic.

Personally , I do believe the sarsaparilla is an anti bacterial compound . Though it is supposed to help with herxing ( not with me ! ) it appears to do the opposite for me. I sense it is killing off bacteria . Within an hour of taking it , I feel my immune system fire up , and the FLUEY feeling starts .

It is probably helpful in conjunction with andrographis and knotweed, but I see no sign ( at all!) of it ameliorating the herx. Quite the opposite .


I hope others will read the article by Cheek on the website and offer their feedback .

Maybe we will have found another tool to add to our antilyme/ bacteria arsenal !

Thanks to each of you for adding your thoughts . I appreciate your ideas .

--------------------
ANNXYZ


---

Posts: 744 | From Mineola | Registered: Apr 2006 | IP: Logged |

Annxyz
LymeNet Contributor
Member # 9097


posted

---

The author of the article indicates ( if i am understanding him ) that yucca extract ruptures the cell wall of protozoa organisms , and cites giardia, and other bacteria.

I am questioning the possibility of the yucca being able to rupture the lyme cells , preventing replication. If this were conceivable, then it could be quite a significant help in getting rid of lyme.

Maybe I should just buy some yucca extract and
do an experiment . It will also lower my high cholesterol .

Plants are amazing to me .

--------------------
ANNXYZ


---

Posts: 744 | From Mineola | Registered: Apr 2006 | IP: Logged |

hiker53
Frequent Contributor (5K+ posts)
Member # 6046


posted

---

Ann,

Thanks for posting this. Please be our guinea pig and report back.

--------------------
Hiker53

"God is light. In Him there is no
darkness." 1John 1:5


---

Posts: 7049 | From Illinois | Registered: Aug 2004 | IP: Logged |

canefan17
Frequent Contributor (5K+ posts)
Member # 22149


posted

---

Annxyz,

Same for me. Sarsaparilla creates die-off... doesn't seem to help with it too much.

It is anti-spirochetal... so I'm sure it's hitting something : )

Plus it goes after parasites.

---

Posts: 5394 | From Houston, Tx | Registered: Aug 2009 | IP: Logged |
Contact Us | LymeNet home page | Privacy Statement

Powered by UBB.classic™ 6.7.3

---
The Lyme Disease Network is a non-profit organization funded by individual donations. If you would like to support the Network and the LymeNet system of Web services, please send your donations to:
The Lyme Disease Network of New Jersey
907 Pebble Creek Court, Pennington, NJ 08534 USA
http://www.lymenet.org/
---
Home | Flash Discussion | Support Groups | On-Line Library
Legal Resources | Medical Abstracts | Newsletter | Books
Pictures | Site Search | Links | Help/Questions
About LymeNet | Contact Us
---
© 1993-2020 The Lyme Disease Network of New Jersey, Inc.
All Rights Reserved.
Use of the LymeNet Site is subject to Terms and Conditions.
---