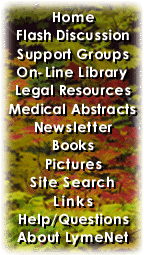 ---
LymeNet on Facebook
LymeNet on Twitter
---
---
The Lyme Disease Network receives a commission from Amazon.com for each purchase originating from this site.
When purchasing from Amazon.com, please
click here first.

Thank you.




Dedicated to the Bachmann Family


LymeNet needs your help:
LymeNet 2020 fund drive

The Lyme Disease Network is a non-profit organization funded by individual donations.

| | |
| --- | --- |
| | |
Author
Topic: JWF: Your Herbal Protocol Please

Annxyz
LymeNet Contributor
Member # 9097


posted

---

Hello JWF,
I have read your posts with interest and would like to know how you devised the herbal protocol you are on.
What did you start with ?

What form ( brand and DOSAGE ) of artimisinin
do you take ?

It sounds like you have made a lot of headway .
Were you ill very long before starting the herbs? Did you take ABX before starting herbs?

How long did you take the herbs before you began to feel better ? Did you herx severely in the beginning ?

I am sorry to bombard you with questions, but
your experience with getting better using herbs couls be valuable to many of us . There are always people asking about alternatives and whether they really work.

Thank you for sharing with fellow strugglers,
Ann

--------------------
ANNXYZ


---

Posts: 744 | From Mineola | Registered: Apr 2006 | IP: Logged |

JimBoB
Unregistered



posted

---

Annxyz:

John, has been on herbs for more than two years. He HAS given his protocols here in this group. Maybe if you search you will find them.

If I remember right, he stated that he and his wife did it ALL on herbs only. It took them two years and two or three months IF I remember right.

Hopefully he will see this and answer more for you.

Jim.

---

IP: Logged |

JimBoB
Unregistered



posted

---

I need to add, that John (JWF) has actually been on herbs much longer than two years. It has been the little over two years for the Lyme herbal protocol he and his wife were on. But other herbs for many years before that.

Jim

---

IP: Logged |

jwf
LymeNet Contributor
Member # 6292


posted

---

Hi Ann and Jim,

We had Lyme disease from August '02
until March '04, before we had a clue that
the nymph dog ticks in Virginia gave us the
infection in '02.

The way we found out was very strange.
Unbelievable itching and strange fibers
along with brain fog and some arthritic
symptoms alerted me to the syndrome called
Morgellons. Yes, we had it for real.
If anyone tells you it's DOP, they're nuts.

We found out that as many as 90% of those
with Morgellons have Lyme disease. That is
a genuine curiosity. After testing positive
for Lyme, we took 30 days of Doxy (200 mg.)/
day. Surprise, no change in symptoms.

Then we started Cat's Claw after reading
about Dr. Lee Cowden's research. The other
herbs like Artemisinin, Teasel, the two 7-
Forest formulas, etc., were gradually added
to combat Lyme and Morgellons. Some of Dr.
Cowden's more recent findings, ie., the use
of Cumanda, have been especially helpful to
the Morgellons community.

The herbs that we finally settled on
through trial and error, muscle testing,
intuition, and a little knowledge, worked
for both Morgellons and Lyme. Brain fog is
long gone, along with arthritis, sleep dis-
turbance, stutter, polyneuropathy, rashes,
and the peculiar Morgellons symptoms.

Here is part of a post on Artemesia/
Artemisinin on LymeBusters where I post as
jwf:

Artemesia (also Artemisia) and the extract
Artemisinin are of the plant Artemesia Annua or
Sweet Wormwood. This is not the bitter wormwood
known of old that also is used as a vermifuge and
from which absinthe is derived- illegal in most
countries now. We don't want to be cutting our
ears off like Van Gogh.

Artemesia and the concentrated extract Artemisinin
are used to combat malaria, babesia, worms, and
Lyme. Spec recently mentioned that Artemesia/Artemisinin
combat Lyme on the same principle as Diflucan.
That's convenient for us.

A good vendor for both (this is probably the best
quality you will find in the states) is:

http://www.organic-pharmacy.com/ARG.Artemisinin.htm
http://www.organic-pharmacy.com/ARG.Artemesia.htm

Also check the Nutricology prices:

http://organicpharmacy.org/manufacturer/Nutricology&prodSort=A

We always find that the amount of each
herb or supplement that works for someone
is highly variable. With Lyme and Morgellons
you have a feedback loop or 'herxing'. So
we followed Dr. Jemsek's reasoning and
tried to get the maximum herx that was
tolerable. That's not an easy approach, but
it worked.

Today we continue just a few of the herbs,
mainly Cat's Claw, Sarsaparilla, Grape Seed
Extract, Olive Leaf Extract, and of course
Garlic. We're now trying the new Allimax
Garlic- always looking for a new herx. The
Enzymes International supplement called
Mycocide is truly potent, so if you have any
Candida robbing your health, you may want to
give it a try.

Thanks to Robi for pulling up some of the
old posts- hopefully some will benefit.

Blue Skies.........John

---

Posts: 134 | From North Carolina | Registered: Sep 2004 | IP: Logged |

Annxyz
LymeNet Contributor
Member # 9097


posted

---

This is great for all to read . I am saving the info . Thanks for the details!!!

--------------------
ANNXYZ


---

Posts: 744 | From Mineola | Registered: Apr 2006 | IP: Logged |

Annxyz
LymeNet Contributor
Member # 9097


posted

---

Bump again for those looking into alternatives
for treatment .

--------------------
ANNXYZ


---

Posts: 744 | From Mineola | Registered: Apr 2006 | IP: Logged |

Annxyz
LymeNet Contributor
Member # 9097


posted

---

I searched JWF's old posts and found the herbal combo was the Seven Forest Formula(s) for lyme
SPECIFICALLY # 6 and # 18 .

It is amazing he recovered from morgellons/ lyme with mostly herbs.

--------------------
ANNXYZ


---

Posts: 744 | From Mineola | Registered: Apr 2006 | IP: Logged |

Keebler
Honored Contributor (25K+ posts)
Member # 12673


posted

---

=

I'm not JWF - but perhaps this will help - get yourself a nice cup of tea. It may take a while - I try to be complete but the concept of being concise escapes me in my exhaustion. I can never quite remember what I've said, so pardon repetition.


-----------------------

Seven Forests usually codes in this manner:

They have the name of the primary ingredient and the number that follows is the number of ingredients in the formula.

There are many Seven Forests formulas that I've used over many years and they are of top quality.

A different brand of this group are formulas from the White Tiger label. I've taken Myrolea-B as my main helper for a long time.

I rotate and combine as guided by my Lyme Friendly ND. I've never had a LLMD as none exist in my state. While I am far from well, I am better in some ways - still very bad in others - but there are many variables in my situation.

I was dx with lyme, babesia, ehrlichia in '97 and Cpn and HHV-6 in April '08.


I have heard of a few people for whom Myrolea-B - after being taken for over a year - helped. It depends upon the total mix of infections, etc.

For sure, I find it a fabulous help in the anti-fungal department.

And - another wonderful helper: Seven Forests' Fu-Shen 16 is one of my favorite calming formulas.


When I could afford a few months here and there I did the protocol of Dr. Zhang (which is an excellent protocol). But it's important to be able to stick with it.

I have just begun taking andrographis (from another source) and am very pleased so far - but I have a long way to go.

Back to the question about Seven Forests:

Most naturopathic doctors and acupuncturists in the country - and even worldwide - are familiar with this brand and many use some of the formulas.


Their home site is www.itmonline.org

The book is the Bag of Pearls -

It is difficult to figure out what formulas unless one is guided by a ND or L.Ac. however as the concepts of wind, heat, phlegm, stagnant . . . all come into play.

The ITM site is fabulous for having articles to teach and one quickly sees how much goes into selection of a formula.

--

While NOT at alll about lyme, another great book that is helpful is The One Earth Herbal Sourcebook (Tillotson).

http://oneearthherbs.squarespace.com

[Actually, it was a conversation with the author of this book that lead me to the Myrolea-B formula.]


---


The only Seven Forest formula recommended to be of direct help with lyme is from the same company but from a branch called White Tiger - Myrolea-B, an Olive Leaf Extract formula.

Other formulas that can accompany it are:

(All Seven Forests) Forsythia 18; Bidens 6; Isatis 6 ; Paris 7 ; or Patrina 7; etc.

There is an endless number of formulas to help balance or address individual symptoms, depending upon the ND or L.Ac.'s diagnosis and a patient's constitution. Their Coptis/Evodia Tablets have saved my stomach on more than one occasion.

---


Myrolea-B (White Tiger).


http://chineseherbs.net/article_info-articles_id-2.html


and


www.itmonline.org/arts/flu.htm


Myrolea-B (White Tiger) is a simple formulation of highly concentrated extracts from four Chinese herbs and one Western herb.


The Chinese herbs include forsythia and lonicera, two of the key ingredients of Ilex 15 (and the main antiviral ingredients of Yin Qiao Jie Du Pian), thus boosting the dosage of these essential ingredients.


Myrolea-B also contains the antiviral agents scute (huangqin) and terminalia (hezi). The Western herb in this formulation is olive leaf, which is one of the primary anti-viral herbs derived from the European tradition.


--------------------------------

Historical background of the formula:


www.itmonline.org/arts/shuang.htm

SHUANGHUANGLIAN: Potent Anti-Infection Combination of Lonicera, Forsythia, and Scute

-by Subhuti Dharmananda, Ph.D., Director, Institute for Traditional Medicine - 2003


Shuanghuanglian (SHL for short) is a modern formula that was devised in the 1960s to treat a variety of infections. It is comprised of the alcohol-water extracts of three herbs: lonicera (shuanghua, often called jinyinhua), scute (huangqin), and forsythia (lianqiao). . . .


. . . One of the early preparations of the SHL was a tablet made of equal proportions of the extracts of each herb. This was used to treat leptospirosis, a disorder caused by a spirochete bacteria, related to the organism that causes Lyme disease.


Leptospirosis causes initial symptoms of fever and chills, headache, and muscle ache (especially in the shoulders); these are consistent with "flu-like" symptoms described for the onset of many acute infections.


In a 1971 report, the formula was described as being made in 500 mg tablets derived from 3.7 grams of the crude herbs, and being administered in doses of 10-15 tablets (thus, equivalent to the extract of 37-55 grams of herbs) every 6 hours (1), a very high dosage.


. . . Recently, Shuanghuanglian has been applied successfully to treatment of Coxsackie B3,


. . . The general indications for SHL . . . are "relieving the exterior syndrome, clearing away heat and toxic material," and its indications are "treatment of fever, cough, and sore throat that arise from wind-heat syndrome."


It is said to have "a good action in treating upper respiratory tract infection, tonsillitis, laryngopharyngitis, pneumonia, acute enteritis, viral dysentery, etc., when caused by virus or bacterial infection."

- full article at link above.


=====

[ 09. September 2008, 11:54 PM: Message edited by: Keebler ]

---

Posts: 48021 | From Tree House | Registered: Jul 2007 | IP: Logged |

Keebler
Honored Contributor (25K+ posts)
Member # 12673


posted

---

-

Ann,

While I think you were trying to track down one successful poster, it appears that you also are looking for various alternatives.

This is just a partial list of some sources - I'm not sure if you've seen these books or not - so I'll list several and make it so that anyone can just begin with this if they've fallen down this rabbit hole.

I am not a doctor and in no way an expert. This is just a compilation of my research - in my quest to get better. I have no advice (other than to hope everyone has access to an excellent LL doctor of their choosing) . . . I'm just passing along what I have found of interest.

Rife and the Bionic 880 are also avenues that some may wish to pursue.


---------------------

www.ilads.org ILADS Treatment Guidelines can be downloaded here.

It's the best place to begin. Any other plans can be examined, then, to be sure all phases and aspects are considered.


----------------------

This book, by an ILADS member LLMD, hold great information about pharmaceutical and complementary treatments:


http://tinyurl.com/6lq3pb (through Amazon)

THE LYME DISEASE SOLUTION (2008)

- by Kenneth B. Singleton , MD; James A. Duke. Ph.D. (Foreword)

You can read more about it here and see customer reviews.


=================================


http://tinyurl.com/5vnsjg

Healing Lyme: Natural Healing And Prevention of Lyme Borreliosis And Its Coinfections - by Stephen Harrod Buhner

www.gaianstudies.org/lyme-updates.htm


==================================


http://tinyurl.com/5drx94

Lyme Disease and Modern Chinese Medicine - by Dr. QingCai Zhang, MD & Yale Zhang

you can access his web site through www.hepapro.com or try www.sinomedresearch.org and use "clinic" and then "clinic" for the passwords or call Hepapro.


==========================

SPIRO Extract

www.rain-tree.com/spiro-extract.htm


A synergistic formula of 6 rainforest botanicals which are traditionally used in South America for syphilis (a type of spirochete bacteria) and other bacterial conditions.* This product was featured in an article by the Health Sciences Institute (see page 4).

Third-Party Published Research* - links to research articles


================


www.lymeinfo.net/alt.html

LYME DISEASE ALTERNATIVE THERAPIES


================================


poster's note: while few get well without attention to nutrition and supporting the liver and adrenals with specific supplements, anyone considering complementary approaches should be sure to have first read the abx protocol for a better grasp of the task at hand.

Excellent diagnostics by a seasoned LLMD would be of great benefit. From there, various avenues can be explored.

Basic, supportive herbs to "get the body stronger" are NEVER enough to get over lyme or coinfections. Very specific attention must be paid to the nature, life-span and forms of each tick-borne disease (TBD).

Each infection is treated differently and it is no minor undertaking. It is best to seek guidance with skilled professionals who are truly lyme and TBD literate. They will know, specifically, how to proceed.

There are some NDs who are members of ILADS. And many LLMDs incorporate complementary medicine.


-

[ 10. September 2008, 12:58 AM: Message edited by: Keebler ]

---

Posts: 48021 | From Tree House | Registered: Jul 2007 | IP: Logged |
Contact Us | LymeNet home page | Privacy Statement

Powered by UBB.classic™ 6.7.3

---
The Lyme Disease Network is a non-profit organization funded by individual donations. If you would like to support the Network and the LymeNet system of Web services, please send your donations to:
The Lyme Disease Network of New Jersey
907 Pebble Creek Court, Pennington, NJ 08534 USA
http://www.lymenet.org/
---
Home | Flash Discussion | Support Groups | On-Line Library
Legal Resources | Medical Abstracts | Newsletter | Books
Pictures | Site Search | Links | Help/Questions
About LymeNet | Contact Us
---
© 1993-2020 The Lyme Disease Network of New Jersey, Inc.
All Rights Reserved.
Use of the LymeNet Site is subject to Terms and Conditions.
---