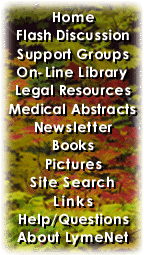 ---
LymeNet on Facebook
LymeNet on Twitter
---
---
The Lyme Disease Network receives a commission from Amazon.com for each purchase originating from this site.
When purchasing from Amazon.com, please
click here first.

Thank you.




Dedicated to the Bachmann Family


LymeNet needs your help:
LymeNet 2020 fund drive

The Lyme Disease Network is a non-profit organization funded by individual donations.

| | |
| --- | --- |
| | |
Author
Topic: What gynecological problems can L.D. cause?

MysteryGirl44
LymeNet Contributor
Member # 10201


posted

---

Hey!

I'd like to know which gynecological problems that Lyme Disease can cause if any. I know that Lyme can cause worsened P.M.S. symotoms but I think my problems are probably beyond just the Lyme.

My problems are:

Excruciating pain in my low stomach that I notice happens especially when I am ovulating and mensturating. The pain makes it hurt to walk, my legs get all shakey and weak and my lower back hurts. I also get this feeling of electircity in my left side. It's like I'm getting electricuted and then the pain quickly travels to my low back. When I get the pain my uterus blows up really big and if you look at my stomach, you can actually see where it is!

I also get this pain in my bottom like a knot, and nothing can touch it while that is happening. I get yellow, blue, black, and clear discharge. But I've only gotten the blue discharge a few times. I get really really itchy down there-- on the skin and on the inside. It also burns/stings after I go to the bathroom sometimes. I took bladder infection pills which didn't do anything. I tried this stuff that you put inside you for yeast infections and that didn't do anything either.

I have bladder issues, too. Sometimes I get really strong, sudden urges to go to the bathroom but nothing would come out sometimes and that would leave me crying because of that awful feeling. Other times, like now, I have urges and stuff comes out.

I went to my pediatrician today and she put me on Diflucan (just one pill of it) and I'm still itchy. She also wants me to have a pelvic ultrasound to check everything out, but she said spacifically worried about cysts and fibroids. Now I'm freaked out because both can become cancer!!!!!!!! AHHH!!

Can Lyme Disease cause any gynecological diseases or other problems that could explain those symptoms?

--------------------
"Life doesn't have to be perfect to be wonderful."

www.myspace.com/lymediseaseawareness


---

Posts: 514 | From New Jersey | Registered: Sep 2006 | IP: Logged |

cantgiveupyet
Frequent Contributor (1K+ posts)
Member # 8165


posted

---

Ive had mostly all gynecological symptoms. My lyme didnt start that way but that is where it ended up.

Some of your symptoms could be lyme but it is really important to get an ultra sound done to rule things out. (just a heads up, you have to hold 32oz of water, so if you think you cant drive and hold it, go ahead to the test site and drink it there) Ive had 4 done so far.

The burning after urination, i get this too.

I have intercestial cystitis(which basically means nerve inflamation in the bladder)

there is a site www.ic-network.com you can check it out to see if your symptoms are similar. A few of us on here have that, most were helped with lyme treatment.

It sounds like you have some urine retention going on, have you talked this over with your dr there are meds that you can take to help with this as you treat the lyme to make you more comfortable.

Also, one pill of difflucan rarely will help a yeast infection, you usually need more then that....I would ask for more. Also did you get a culture to confirm it is indeed yeast? Bacterial infections often have similar symptoms.

Im sure others will be posting as you arent alone with these symptoms.

--------------------
"Say it straight simple and with a smile."

"Thus the task is, not so much to see what no one has seen yet,
But to think what nobody has thought yet, About what everybody sees."

-Schopenhauer

pos babs, bart, igenex WB igm/igg


---

Posts: 3156 | From Lyme limbo | Registered: Oct 2005 | IP: Logged |

bettyg
Unregistered



posted

---

i've had all of the above, etc.

fibroids cause extreme pain during intercourse; mine were removed when they did a hysterectomy but that didn't help at all!

burning sounds like an urinary tract infection. i was just dx 1s time with that after my pre-surgery physical!

i've boughten OTC creams for yeast infections; help pretty well. good luck.

---

IP: Logged |

humanbeing
LymeNet Contributor
Member # 8572


posted

---

My pelvic area is a train wreck since I started treatment.

Everything you describe, I have on and off.

Sometimes the pain is so bad I cry and consider going to the ER...I did discover bacteria in my bladder and it is very stubborn to go away...been on macrobid for months.

After sex, I am in pain for several days. From what I know, Bb loves to live in the bladder and pelvic areas. Like TTPH, My lyme didn't begin with any of this but it went here after treatment.

I think the buggies are hiding down there.

I also get very distended in the abdomen when the electrocution starts...it is alien pain and I really want to die sometimes...The advil does take the edge off sometimes but for me, time and rest is what makes it pass.

Hang in there and get tested to rule out other things but know that I feel your pain.

Hugs,
Kim

--------------------
We are spiritual beings on a human journey...

www.ruggierogallery.com


---

Posts: 906 | From CT | Registered: Jan 2006 | IP: Logged |

Lioness
LymeNet Contributor
Member # 10655


posted

---

I have a lot of the same issues and have since I was about 11 yrs old. (around the time I got Lyme)

I agree that you should be tested to rule out bacteria. It is VERY similar to yeast symptoms. I have always been plagued with both!

Also, there is meds you can be given to help with the frequent urination.

I have bad ovaries and tubes w/ cysts and endometriosis.

Have you tried Uristat to help with the pressure and burning? You can get it at CVS. It is the purple pill that makes you pee bright orange. I used to get it in prescription.

I take it when my bladder acts up and when I have yeast or bacterial infections. It helps me.

I take Nystatin and Diflucan. I absolutely agree that one Diflucan is not enough. I usually need two or three.

I can't use Monistat internally. But, I do use the external cream to help with the itching sometimes.

There is no way to know for sure if it is from the Lyme or not, since I have had the issues for so long. But, I believe it is.

I hope you are feeling better soon!

---

Posts: 240 | From MA | Registered: Nov 2006 | IP: Logged |

jif
LymeNet Contributor
Member # 9215


posted

---

have these problesm too, on and off!

great advice for mysterygirl!

---

Posts: 208 | From Santa Fe | Registered: May 2006 | IP: Logged |

klutzo
Frequent Contributor (1K+ posts)
Member # 5701


posted

---

Vulvodynia (vulvar pain) and vulvar vestibulitis (deep tissue infection of the vestibules at the bottom of the vulva) are very common in LD, probably due to diminished immune capacity and increased pain sensitivity.

The burning pain it causes can be unbearable and make sex impossible. VV can be dx'd with a deep tissue scraping looked at under a microscope to find the causative organism. In my case, it was mutated yeasts. A no sugar diet and regular use of boric acid suppositories has it under control, but not cured.

I also have the pelvic muscle pain, which turned out to be caused by piriformus/soas syndrome, another common condition in LD patients. This can be treated to some extent with exercises that a Chiropractor can teach you how to do. Not treated, IME, it gets worse. I had sometimes limped for weeks at a time before starting the exercises.

Your symptoms sound like you do need to get the testing done soon to rule out any other problems. I hope it turns out well for you.

Best wishes,
Klutzo

---

Posts: 1267 | From Clearwater, Florida, USA | Registered: May 2004 | IP: Logged |

CJ
LymeNet Contributor
Member # 169


posted

---

Glad to hear you are getting ultrasound done.

Yes, LD can cause gyn problems.

Have they checked you for endometriosis? It can cause severe back pain as you have described, as well as the pain in side. And especially when you are menstruating or ovulating.

Endometriosis feeds off the hormones. The first thing my OB/GYN did was give me shots to stop my periods. We did this for three months. He said if stopping my periods helped ease/get rid of the pain, then most likely I had endometriosis.

And he was right. So he did a hysterectomy. Eleven months later I went back with same problems and he took one ovary. The Endo (for short) had not only attached to the ovary but had also attached to the bladder.

That was all before lyme, however, some of your symptoms remind me of the symptoms I had with the Endo.

The remaining ovary lasted six years. I began having problems with it after lyme dx. The ultrasound showed a cyst the size of a walnut on my ovary. Surgery was scheduled for two weeks later. When he did the surgery, the cyst had already grown to the size of a lemon!

Cysts can occur and sometimes you don't know they are there because they burst on their own. This can cause some discomfort and most women just think it is cramps. However, it is when they don't burst and begin to grow that they cause a lot of pain.

I asked my LLMD if the cyst could be from the lyme and he said yes, very possible.

It was benign.

I just asked him a couple weeks ago if my cancer or Degenerative Disc Disease could be related to the lyme and he said it's possible. There really is no way to be 100% sure, however, LD does damage organs.

Hope this helps. Again, I'm glad to hear you are having the ultrasound done. And most definitely heed that advice about drinking the fluids. It's hard to imagine having that much fluid in you! And even harder to sit and hold while you wait! So definitely do not drink that much if you have far to drive. Maybe start drinking while driving (that sounds strange!), depending on how far you have to go.

I have found that with any ultrasound I have ever had, they made me sit even longer once I got there. And if they take you in and can't get a good picture, they will have you drink more water!

Good luck. I hope you get some relief soon.

CJ

--------------------
here's hoping today is better than yesterday and tomorrow is even better!


---

Posts: 239 | From Evansville, IN | Registered: Oct 2000 | IP: Logged |

caat
Frequent Contributor (1K+ posts)
Member # 2321


posted

---

>>>I also get this pain in my bottom like a knot, and nothing can touch it while that is happening. I get yellow, blue, black, and clear discharge. But I've only gotten the blue discharge a few times. I get really really itchy down there-- on the skin and on the inside.

Hon, that is not from lyme disease.

Sounds like a bacterial or yeast infection. Any chance you might have uhmmm forgotten something up there? It does happen. If not you need to see a GOOD doc ASAP. You might have a pelvic infection which is serious.

If you are anywhere near a large urban area I would suggest going to a free drop in STD clinic. You generally don't have to prove income. I am NOT suggesting you have an STD, but the free STD clinics in urban areas have seen it all- they have a LOT of experience. If they do treat you be sure to get a follow up appt. ESPECIALLY for a pelvic infection. From experience I think they tend to undertreat pelvic infections.

---

Posts: 1436 | From Humboldt county ca usa | Registered: Mar 2002 | IP: Logged |

caat
Frequent Contributor (1K+ posts)
Member # 2321


posted

---

>>Other times, like now, I have urges and stuff comes out.

If that stuff is coming out of your urethra and not your vagina then you need to go to the ER... You could have a kidney infection. Also very serious.

---

Posts: 1436 | From Humboldt county ca usa | Registered: Mar 2002 | IP: Logged |
Contact Us | LymeNet home page | Privacy Statement

Powered by UBB.classic™ 6.7.3

---
The Lyme Disease Network is a non-profit organization funded by individual donations. If you would like to support the Network and the LymeNet system of Web services, please send your donations to:
The Lyme Disease Network of New Jersey
907 Pebble Creek Court, Pennington, NJ 08534 USA
http://www.lymenet.org/
---
Home | Flash Discussion | Support Groups | On-Line Library
Legal Resources | Medical Abstracts | Newsletter | Books
Pictures | Site Search | Links | Help/Questions
About LymeNet | Contact Us
---
© 1993-2020 The Lyme Disease Network of New Jersey, Inc.
All Rights Reserved.
Use of the LymeNet Site is subject to Terms and Conditions.
---