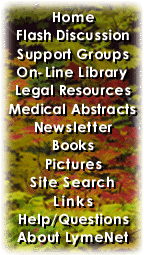 ---
LymeNet on Facebook
LymeNet on Twitter
---
---
The Lyme Disease Network receives a commission from Amazon.com for each purchase originating from this site.
When purchasing from Amazon.com, please
click here first.

Thank you.




Dedicated to the Bachmann Family


LymeNet needs your help:
LymeNet 2020 fund drive

The Lyme Disease Network is a non-profit organization funded by individual donations.

| | |
| --- | --- |
| | |
Author
Topic: One humdinger of an article

Thomas Parkman
LymeNet Contributor
Member # 3669


posted

---

Dear Members of the List:

Of late we in the Lyme disease community have been being turned into toast by the journalistic establishment. I present herewith an article written by a local reporter in which yours truly is widely quoted and the whole issue presented with a degree of unbiased objectivity that is amazing in this day and time.

Kindly click onto www.columbiacitypaper.com and scroll down to the article entitled "the Human Feast" by Todd Morehead and read. It is long but the effort in reading it will be well rewarded. You will even get to read me quoted in all my horrible glory. Do ignore the April Fool's Joke at the start of the paper. LD people are not the only ones who are crazy. Cheers.

--------------------
Thomas Parkman


---

Posts: 341 | From Columbia SC 29206 | Registered: Feb 2003 | IP: Logged |

bpeck
Frequent Contributor (1K+ posts)
Member # 3235


posted

---

Excellent article.
B.

---

Posts: 1873 | From VT | Registered: Oct 2002 | IP: Logged |

treepatrol
Honored Contributor (10K+ posts)
Member # 4117


posted

---

Geez A real Reporter!!!

--------------------
Do unto others as you would have them do unto you.
Remember Iam not a Doctor Just someone struggling like you with Tick Borne Diseases.

Newbie Links


---

Posts: 10564 | From PA Where the Creeks are Red | Registered: Jun 2003 | IP: Logged |

map1131
Frequent Contributor (5K+ posts)
Member # 2022


posted

---

Great article. I don't recall seeing the '05 John Hopkins study with CDC tests being 75% wrong. WOW Will need to read up on that. Doesn't mean that I'd necessarily remember it. ?????

You didn't sound too crazy Thomas.

Pam

--------------------
"Never, never, never, never, never give up" Winston Churchill


---

Posts: 6405 | From Louisville, Ky | Registered: Jan 2002 | IP: Logged |

valymemom
Frequent Contributor (1K+ posts)
Member # 7076


posted

---

Thanks for alerting me to the article. It was definitely more balanced and informative.

What is its circulation? Is it the daily Columbia paper? Could other local papers print it?

---

Posts: 1240 | From Centreville,VA | Registered: Mar 2005 | IP: Logged |

CaliforniaLyme
Frequent Contributor (5K+ posts)
Member # 7136


posted

---

Thomas, GREAT job!*)*)! Read this on a Lyme list this a.m.- wrote the reporter a letter*)!*)*!)!

You did good!*)!)*!*

--------------------
There is no wealth but life.
-John Ruskin

All truth goes through 3 stages: first it is ridiculed: then it is violently opposed: finally it is accepted as self evident. - Schopenhauer


---

Posts: 5639 | From Aptos CA USA | Registered: Apr 2005 | IP: Logged |

lou
Frequent Contributor (5K+ posts)
Member # 81


posted

---

Thanks Thomas. Excellent work by you and the reporter. I am posting the entire article in this thread because it may disappear in time from the newspaper website.

[ 03. April 2007, 07:02 PM: Message edited by: lou ]

---

Posts: 8430 | From Not available | Registered: Oct 2000 | IP: Logged |

Geneal
Frequent Contributor (5K+ posts)
Member # 10375


posted

---

Dear Thomas,

Great article!!!!!

Keep up the GREAT work!

Hugs,

Geneal

---

Posts: 6250 | From Louisiana | Registered: Oct 2006 | IP: Logged |

lou
Frequent Contributor (5K+ posts)
Member # 81


posted

---

March 28 10:50 AM
A Human Feast

Published in Cover Story

By Todd Morehead

A couple of years ago Tallahassee, Florida police responded to reports of a disoriented man wandering half naked in front of an apartment complex who was clambering atop parked cars and menacing traffic. When they arrived on the scene they found the man, Wyatt Sexton, star quarterback at Florida State University, talking aloud to himself and doing push ups on the sidewalk. As officers approached Sexton he reportedly seemed dazed, declaring, ``I am God,'' before he became violent and ultimately had to be subdued with pepper spray. In the weeks that followed it was discovered that drugs, alcohol or a preexisting mental condition didn't cause Sexton's incident. He was suffering--unbeknownst to himself or his regular physician--the effects of late-stage Lyme disease.

According the Centers for Disease Control (CDC) the number of reported cases of Lyme disease, also called Lyme borreliosis, doubles in South Carolina every decade. The disease is often difficult to diagnose, symptoms vary wildly among patients and the medical community is split on effective means of treatment despite the rigid treatment protocols set forth by the CDC. As the number of cases continues to rise so too do the number of published scientific research reports about the nature of the disease and specifically the seemingly indestructible bacterium behind it all. Yet, these reports are largely left to languish in obscure medical research journals and seem, to many in the medical field, to be brushed aside by the CDC. Meanwhile, patient advocates say, thousands of people continue to suffer ineffective treatment while thousands more may be suffering from the disease without having been properly diagnosed.

tick

Borrelia burgdorferi, the bacterium responsible for Lyme disease, is a nasty little corkscrew-shaped microorganism called a spirochete, which is transferred to humans primarily through tick bites. Many believe that the bacterium is transferred through other insects as well though so far the CDC has been hesitant to conclude that for certain. Like its cousin, Treponema pallidum, which is spread through sexual contact and causes syphilis, B. burgdorferi uses a twisting motion, like a screw, to bore through viscous tissue and attack virtually any part of the human body.

In 2001, according to The Journal of Clinical Microbiology, professors from Georgia Southern University, the University of North Florida, and researchers from the U.S. Army isolated 56 different strains of B. burgdorferi in the southern United States. They concluded that B. burgdorferi is actually part of a complex genospecies of similar spirochetes that can interbreed. According to the report, seven different strains were cultured from ticks, cotton mice, cotton rats and wood rats in South Carolina and Florida alone. A strain similar to the B. bissettii genospecies found in South Carolina has been isolated from ill patients in Europe.

For starters, Lyme borreliosis can attack the brain, nervous system, joints, the heart, the G.I. system, or the urinary tract and the strain on the immune system can cause other sicknesses to manifest more easily. It can entrench itself deeply within tissue, often beyond the reach of antibiotics, can migrate with impunity and cause multi-system illness that is often baffling to physicians. As a result, many sufferers of Lyme disease are often misdiagnosed with other diseases such as multiple sclerosis, lupus, rheumatoid arthritis, or psychiatric disorders.

According to some doctors, if it's not caught early, it can be almost impossible to eradicate. According to others in the medical field, a simple round of antibiotics will clear it right up. But more on that debate later.

Regardless of the debate over the chronicity of the disease and its methods of treatment, recent data shows that the number of Americans infected by B. burgdorferi is on the rise.

Thomas Parkman, president of the Lyme Disease Network of South Carolina, worries that many in South Carolina's medical establishment may be unwittingly downplaying the severity of what many would consider a Lyme disease epidemic in South Carolina due to inefficiencies in reporting cases of the disease, tracking the spread of disease vectors such as black-legged ticks and policies of following what he believes to be outdated scientific data.

``We have a systematic policy of denying its existence in the state,'' says Parkman. ``We have people dying in this state from Lyme disease and the whole thing is being ignored.''

The CDC Web site states that, ``a county in which Lyme disease is endemic is one in which at least two confirmed cases have been previously acquired or in which established populations of a known tick vector are infected with B. burgdorferi.''

According to the CDC, there were 130 cases of Lyme disease reported in South Carolina between 2000 and 2006, more than the number of cases reported in the 1980s and 1990s combined. And the number of reported cases appears to be doubling each decade, the key phrase being reported cases.

``Surveillance for LD [Lyme disease] is subject to several limitations,'' stated a recent CDC study. ``Studies from the early 1990s suggested that LD cases were underreported by six to 12-fold in some areas where LD is endemic.''

If the cases in South Carolina are underreported 12-fold, as suggested by the CDC, then the total number of actual infections could be closer 1,560.

Public misconceptions about the transfer of Lyme disease

As borreliosis infections continue to rise in the state, many public misconceptions about the disease still linger. For instance, deer are often associated with the disease because the main B. burgdorferi vector, the black-legged tick, is commonly called the ``deer tick.'' It is still labeled ``deer tick'' on the S.C. Department of Health and Environmental Control's Lyme disease fact sheet. Yet, deer are rarely infected with the Lyme spirochete. The only role they play is in the transportation of the tick.

In 1991, the Southeastern Cooperative Wildlife Disease Study (SCWDS) at the University of Georgia attempted to infect five whitetail deer with B. burgdorferi by injecting them with a dose of ``approximately 20 million'' spirochetes per animal. While only one of the deer showed a minor infection of the bacterium in its ear, they easily recovered the spirochete from various tissues in the hamsters they used as a control group.

``The possibility that deer are important in passing infection to feeding ticks appears unlikely,'' a transcript of the study states.

A SCWDS study from 1993 states, ``Research has shown that deer are only indirectly important in Lyme disease by serving as hosts for adult ticks ... Many wild mammals, birds, and even reptiles also are involved in the tick's life cycle, and wild mammals other than deer, especially rodents, are vertebrate reservoirs of B. burgdorferi.''

The ratio of Lyme borreliosis infection in relation to deer population in South Carolina quantifies the SCWDS findings. In stark contrast to the increase in reported cases of Lyme disease, the S.C. Department of Natural Resources (DNR) reports a decline in the deer population in recent years.

``The deer population maxed out in the 1990s,'' says Charles Ruth with the SC DNR Deer and Turkey Project. ``Since that time there has been a 20 to 25 percent decline in deer numbers statewide.''

With birds and most other mammals considered primary hosts for the black-legged tick and with urban sprawl placing more people into newly developed rural habitats, many are misinformed by the notion that Lyme disease primarily afflicts hunters and outdoorsmen.

The hotly contested Lyme disease treatment guidelines from the Infectious Diseases Society of America (IDSA) so far only implicate ticks as transmitters of the disease, though some researchers in the field now disagree that ticks are the sole vectors.

Data now exists that implicates other possible carriers like fleas and mites. In 1998 a study in the Czech Republic claims to have isolated a genospecies of the burgdorferi spirochete, B. afzelii, from a mosquito. B. afzelii, like other burgdorferi offshoots, is a human pathogen and also causes the infamous bulls eye rash typically associated with Lyme disease.

A few researchers believe that B. burgdorferi may also be both congenitally and sexually transmitted. Tessa D. Gardner, M.D., of Washington University School of Medicine conducted extensive research and found evidence that B. burgdorferi was transmitted from mother to fetus. Neonates often showed symptoms of Lyme disease, though she found that cases of congenital borreliosis transfer are relatively rare, estimated at around 40 cases per year in the United States.

The Lyme spirochete has also been found in human sperm, though no viable research has yet been done to prove that Lyme disease is sexually transmitted. However, there has also been no viable research to prove that it is not.

The CDC disregards congenital, gestational, or sexual transfer cases.

Are they sick or crazy? What the new science indicates

Two camps have formed in the medical community over Lyme disease. On one side are the self-proclaimed ``Lyme literate'' doctors, who disagree with the IDSA treatment guidelines and believe that long-term treatment is needed to fight the disease. On the other side are those who follow the prescribed methods put forth by the IDSA and the American Medical Association, who disbelieve in the existence of a long-term, chronic form of Lyme borreliosis.

Yale University professor, Stephen Malawista, M.D., and research fellow Allen C. Steere, M.D., identified the disease in 1975 after mothers in Lyme, Connecticut, insisting that an infectious agent was responsible for the arthritic swelling of their children's joints, spurred their research. Yale maintains that Dr. Malawista proved a brief dose of antibiotics will almost always cure the disease in its early stages and are usually effective in later stages as well.

Six years later, in 1981, Dr. Willy Burgdorfer discovered the spirochete associated with the disease. But, the scientific community's treatment guidelines remained the same.

Many sufferers of the disease, like Thomas Parkman, worry that a few in the medical industry have managed to dictate policy to the majority of health care organizations through a closed process that rejects dissenting views and theories. As a result, say sufferers, the majority of the medical industry follows the lead of the seemingly one-sided process, often at the cost of their patients.

``Here you have an explanation of Lyme that came out in 1975 that is completely erroneous,'' Parkman says. ``There is a whole body of research which refutes it and these people have ignored it.''

Mainstream doctors, on the other hand, are concerned that a few ``quacks'' are misleading the general public.

In 2000, the Journal of the American Medical Association published the results of a study of the long-term outcomes of patients with Lyme disease, which was conducted by a group of researchers from the Yale University School of Medicine. Studying 678 patients from a random sample of reported cases in Connecticut between 1984 and 1991 against 212 age-matched persons without the disease, the researchers claim to have found that even though the Lyme patients reported increased symptoms (fatigue, arthritis, etc) years after diagnosis, the frequencies of these reports ``were similar to the frequencies of such reports among age-matched controls without Lyme disease.''

Could some people who believe they are suffering the prolonged effects of Lyme disease actually be suffering from other more common ailments? Leonard Sigal, a researcher in the Lyme Disease Center at Robert Wood Johnson Medical School, chalked up chronic Lyme disease symptoms to simple hysteria and media hype in a 2002 issue of Environmental Health Perspectives.

``Because of confusion over conflicting reports, anxiety related to vulnerability to disease, and sensationalized and inaccurate lay media coverage, a new syndrome, `chronic Lyme disease,' has become established,'' Sigal writes. ``Chronic Lyme disease is the most recent in a continuing series of `medically unexplained symptoms' syndromes. These syndromes... meet the need for a societally and morally acceptable explanation for ill-defined symptoms in the absence of objective physical and laboratory findings.''

Another research team from the Long Island Jewish Medical Center took it one step further by claiming those who believe they suffer prolonged Lyme disease symptoms must instead be suffering from a mental disorder. ``...[T]raumatic psychological experiences predating onset of Lyme disease symptoms may play an important etiologic role in the chronicity of these symptoms,'' they concluded. But not all scientific researchers believe that people who claim to suffer chronic Lyme disease have a preexisting mental disorder or have fallen victim to media hype.

In 2002, researchers from the Department of Parasitology at Tulane University found that the spirochete B. burgdorferi uses an immune system evasion mechanism. After they inoculated Lyme-infected lab rats, an antibody developed to attack the spirochetes' OspC transcript (the outer-surface protein C gene). In response, some of the spirochetes simply ``turned off'' the OspC gene and thus became invisible to the antibodies. When those spirochetes were isolated and injected back into healthy non-inoculated rats, the OspC genes reappeared. They postulate that what they witnessed is ``an immune evasion mechanism that contributes to spirochetal persistence.''

In effect, antibiotics might not be curing the disease after all.

There are other evasion mechanisms, as well. In response to penicillin researchers have documented B. burgdorferi spirochetes coiling themselves into balls, coating themselves with an outer mucous membrane, and forming cyst-like encasement structures that were impenetrable by the antibiotics. Once the threat passed, the spirochetes reconverted to their spiral forms. Some have been observed making the transformation from spirochete to cyst in as little as 15 fifteen minutes.

B. burgdorferi can also break itself apart into separate spore-like ``granules'' in adverse conditions. When conditions improve for the spirochete, the granules, like individual beads on a necklace, reattach themselves to reform the full spirochete.

The highly esteemed medical journal, The Lancet, published a report that stated, ``...the immune evasion strategy used by B. burgdorferi is similar to strategies used by the mycobacterial agents that cause chronic infections such as tuberculosis or leprosy.''

In fact the Lyme spirochete is so vexing and seemingly indestructible, the U.S. government considers it a possible bioterrorism agent.

According to the CBS News affiliate, KWTX, in Waco, Texas, the University of Texas at San Antonio recently opened a new research lab for bioterrorism.

``There,'' according to the report, ``researchers will study such diseases as anthrax, tularemia, cholera, Lyme disease, desert valley fever and other parasitic and fungal diseases. The U.S. Centers for Disease Control and Prevention identified these diseases as potential bioterrorism agents.''

Though the U.S. Centers for Disease Control possibly consider the Lyme spirochete a potential bioterrorism agent, the CDC Web site states, ``Most cases of Lyme disease can be treated successfully with a few weeks of antibiotics.''

Questionable diagnosis and treatment

It should be clarified that a clinical diagnosis is made for the purpose of treating an individual patient and attending doctors consider the many details associated with that particular patient's illness. By contrast, surveillance case definitions are created for the purpose of standardization, not patient care; they exist so that health officials can reasonably compare the number and distribution of cases over space and time.

Paul Mead, an epidemiologist with the CDC, addressing the Connecticut Department of Public Health and the Connecticut Attorney General's Office in January 2004 warned, ``no surveillance case definition is 100 percent accurate. There will always be some patients with Lyme disease whose illness does not meet the national surveillance case definition ... Given other compelling evidence, a physician may choose to treat a patient for Lyme disease when their condition does not meet the case definition.''

The CDC case definition for Lyme disease also warns, ``This surveillance case definition was developed for national reporting of Lyme disease; it is not intended to be used in clinical diagnosis.''

Many Lyme literate supporters are baffled that with one hand the CDC urges physicians to use their own clinical judgment when diagnosing potential Lyme cases, yet on the other it gives specific, some say ``dogmatic,'' directions on how to treat it.

So far, according to the CDC, the most reliable way to isolate B. borgdorferi, is to perform an Enzyme-Linked Immuno Sorbent Assay (ELISA), which is also often used to isolate HIV, followed by a Western Blot test.

In May 2001, the FDA approved an updated ELISA test called C6, which uses a synthetic hybrid molecule derived from the surface of the Lyme spirochete. A positive C6 test appears to correlate well with acute cases of Lyme disease, they say, and it does not appear to cross-react with a related tick-borne pathogen.

Yet in 2005, researchers from Johns Hopkins University released findings from a 2-year study which showed that the CDC's two-tiered testing method misses up to 75 percent of Lyme cases.

The Journal of Clinical Microbiology and The Lancet have published reports indicating that as the Lyme spirochete traffics between tick and mammalian hosts it expresses proteins differently and changes its outer surface proteins in order to adapt to the drastic biological differences in the two environments. According to the reports, it also appears to express proteins differently in living tissue than it does in lab cultures. In theory, the same strain of spirochete cultivated in a petri dish--which is used to provide the antigen base for the Western Blot test--may express proteins differently in the living patient and thus may not even appear on the test though the patient is actually positive for the disease.

As a result of such conflicting science, many who suspect they have Lyme disease often pay out of pocket for second opinion tests at Lyme literate labs that usually don't or can't take health insurance as their tests aren't sanctioned by the CDC and state medical boards.

In 2005, the CDC and FDA issued a warning about ``commercial laboratories that conduct testing for Lyme disease... whose accuracy and clinical usefulness have not been adequately established.''

Indeed Lyme suffers should use caution when investigating alternative testing and especially treatment. A new breed of snake oil salesman has emerged to prey on sufferers of ill-defined symptoms, often misdiagnosing them with Lyme disease and subjecting them to all manner of alternative treatment techniques.

In 2005, James Shortt, a South Carolina doctor specializing in alternative therapy for Lyme disease (in the form of hydrogen peroxide fed intravenously) was initially charged with homicide after the widow of a man who died of prostate cancer filed suit following his death. According to the negligence and reckless conduct suit that followed, Shortt misdiagnosed Michael Bate with Lyme disease, began intravenous hydrogen peroxide therapy--a practice that has never been approved by the FDA or any credible science--and also prescribed testosterone, which caused Bates' cancer to rapidly advance, resulting in his death about six weeks later.

As the disease and its Internet exposure continues to spread, some in the medical industry are concerned that what they consider disinformation about chronic Lyme disease will attract scores more desperate patients to unqualified for-profit physicians each year.

According to some research journals, the Internet has become a powerful mechanism for organizing patients and presenting poorly documented information to the public. The owner of one private Lyme diagnostic lab recently told Forbes, ``Patients, because of the Internet, have become my best salesmen.''

Because of the varying standards of care and conflicting science surrounding the Lyme disease issue it remains unclear if the standard 28 days of antibiotics actually eradicate the disease. And the effectiveness of many popular alternative treatments is spotty at best.

One popular alternative treatment method is the use of high-pressure (hyperbaric) oxygen (HBO) chambers. HBO therapy is legitimately used to treat deep-sea divers suffering from decompression sickness (``the bends'') and smoke inhalation. According to Dr. Joseph Jemsek, a NC based Lyme literate doctor, one scientific study of HBO therapy, conducted by William Fife, Ph.D. at Texas A&M Hyperbaric Laboratory, indicates that Lyme bacteria are debilitated in high oxygen environments. Despite the fact that HBO therapy has not been proven to effectively cure Lyme symptoms in humans, patients across the U.S. continue to pay up to $4,000 for each 90-minute session.

Another controversial alternative treatment method, outpatient intravenous therapy, is a multi-billion dollar per year business. Many Lyme sufferers claim to experience positive results from the treatment, though the practice still remains largely unregulated and subject to malpractice and fraud.

During the 1990s, the CDC documented 25 cases of antibiotic-associated biliary complications among persons with suspected Lyme disease who had undergone the treatment. In 2000, physicians reported the death of a 30-year-old woman who died from an infected intravenous set-up that had been left in place for more than two years. She was being treated for a case of ``chronic Lyme disease,'' which could not unsubstantiated.

Yet, malpractice charges are filed every year in a number of medical fields.

Parkman readily concedes that there are quacks out there who are hurting the already beleaguered Lyme literate cause and giving legitimate scientists a bad name. As president of the Lyme Disease Network of South Carolina, he believes that the primary goal of Lyme literate support groups like his should be to warn and educate patients and to provide accurate information and documented research so they can make informed decisions.

``We don't tell people what to do and we don't diagnose,'' he says.

The state of California, recognizing the apparent benefit of long term antibiotic treatment, recently amended sections of its Health and Safety Code to formally recognize the treatment: ``Recent cogent scientific and clinical experience reviews of Lyme disease have documented that long-term antibiotic therapy, varied by clinical symptoms has, in general, substantially improved patient health and that discontinuation of such therapy while clinical symptoms remain commonly results in relapse and further disability.''

As research universities and state governments are beginning to explore alternate approaches to the diagnosis and treatment of Lyme borreliosis, Parkman hopes that the medical insurance industry will follow suit. So far, insurance companies have placed their economic clout behind the less expensive, short- term treatment protocols. Parkman believes that insurance should also cover credible alternative treatments like long-term antibiotics if those treatments appear to work for the patient.

``Over the long term, I believe it's far more costly not to treat people with Lyme disease,'' Parkman says. ``Because these people are sick, they're not inventing things. They're not imagining things. But they're going to the doctors, the hospitals, the emergency rooms, they're not working, are on disability. It seems that it would be more cost effective from the bottom line point of view to properly diagnose the disease and treat it.''

``These insurance companies are being very short-sighted,'' he says. ``In addition to the enormous amount of human suffering, there's an enormous economic cost as well.''

In the meantime, the medical battle rages on. In November 2006, Connecticut Attorney General, Richard Blumenthal filed a Civil Investigative Demand (CID) to look into possible anti-trust violations by the IDSA during the drafting of the treatment guidelines concerning Lyme disease. A few weeks later, Congressional Representative Chris Smith (R-NJ) wrote a letter to the CDC questioning their support of the IDSA guidelines and suggesting that they show support for alternative guidelines developed by other research.

So far, the CDC has declined to do so.

---

Posts: 8430 | From Not available | Registered: Oct 2000 | IP: Logged |

Anneke
LymeNet Contributor
Member # 7939


posted

---

Wow Tom! What a great article! It's so comprehensive - touches on everything - amazing! I cringed though, when i read that longer term abx. treatment was considered "alternative". I guess this is correct in terms of comparing it to IDSA guidelines, but when one compares it to treating syphilis with long-term abx., it's not alternative at all.

You must feel great about this article! I'm so thrilled for all of us and our country at large in terms of getting a fair article with all the facts.

well done!

Anneke

---

Posts: 364 | From California | Registered: Sep 2005 | IP: Logged |

Tincup
Honored Contributor (10K+ posts)
Member # 5829


posted

---

Well.. there you are!

FantasTIC work!!! The article is super.. and it has done a good job explaining some complex issues... with YOUR help no doubt!!!

Three cheers for South Carolina! And for TP too! Fine work! Real fine! It's going to open a lot of eyes!

Keep up the good work!!



--------------------
www.TreatTheBite.com
www.DrJonesKids.org
www.MarylandLyme.org
www.LymeDoc.org


---

Posts: 20332 | From The Moon | Registered: Jun 2004 | IP: Logged |

TNJanet
LymeNet Contributor
Member # 10031


posted

---

THANK YOU! THANK YOU! THANK YOU!

Just Wonderful!

--------------------
DISCLAIMER:
No information presented above should be considered medical advice or take the place of advice given by a medical professional. Links to other sites are provided merely for ease of research.


---

Posts: 287 | From Tennessee | Registered: Sep 2006 | IP: Logged |

Thomas Parkman
LymeNet Contributor
Member # 3669


posted

---

Thank you good people for your kind words. Of course the amazing thing about it is I took a ton and I mean a ton of my research, not to mention that sublime masterpiece, My Memorandum, HA!!!!!! over to him and it seems he read the stuff, all of it. While, yes, there are things there I do not particularly care for the overall effect is positive. Put this up against the Forbes kaka and you will see.

The question is how to we get the widest possible use of it. Any suggestions.

Also there is one fact of which I was not aware and am frankly skeptical of, could someone please tell me or give me the research where it proves that deer, while hostes of the deer tick, are not actual vectors of the disease. If so this would be just lovely for one rather mean purpose I have in mind. I have still a few tricks up my sleeve. Cheers.

--------------------
Thomas Parkman


---

Posts: 341 | From Columbia SC 29206 | Registered: Feb 2003 | IP: Logged |

brentb
LymeNet Contributor
Member # 6899


posted

---

Great article! Concerning your question Thomas I share your sketicism.

In 1991, the Southeastern Cooperative Wildlife Disease Study (SCWDS) at the University of Georgia attempted to infect five whitetail deer with B. burgdorferi by injecting them with a dose of ``approximately 20 million'' spirochetes per animal. While only one of the deer showed a minor infection of the bacterium in its ear, they easily recovered the spirochete from various tissues in the hamsters they used as a control group.

Horrible paragraph imo. What strains were the deer injected with? Did the hamsters show any indication of infection? Were they injected with the same strain(s)? Where spirochetes easily recovered from the deer? I'd be interested if anyone could answer any of this.

---

Posts: 731 | From Humble,TX | Registered: Feb 2005 | IP: Logged |

Truthfinder
Frequent Contributor (1K+ posts)
Member # 8512


posted

---

Geez, I thought that the last I checked, the CDC was actually acknowledging the possible transplacental transmission of Lyme to an unborn fetus.

Was I dreaming?

The CDC Lyme pages seem to have changed, once again, so maybe this was something ELSE they decided to delete from the former pages. (?)

I know Steere has acknowledged transplacental transmission, and maybe that's where I got the idea that the CDC recognized this, too. (?)

Tracy

--------------------
Tracy
.... Prayers for the Lyme Community - every day at 6 p.m. Pacific Time and 9 p.m. Eastern Time – just take a few moments to say a prayer wherever you are….


---

Posts: 2966 | From Colorado | Registered: Dec 2005 | IP: Logged |

Ann-OH
Frequent Contributor (5K+ posts)
Member # 2020


posted

---

Wonderful article! I sent it out to my "LD E-list" yesterday.

Thomas asked:
"Also there is one fact of which I was not aware and am frankly skeptical of, could someone please tell me or give me the research where it proves that deer, while hostes of the deer tick, are not actual vectors of the disease. If so this would be just lovely for one rather mean purpose I have in mind. I have still a few tricks up my sleeve. Cheers."

A "vector" transmits the disease directly to the victim. Deer could only be a " direct vector" if it had a way of passing the disease on to you, but I don't think they find people tasty.

Mice and other rodents and birds are the reservoirs for spirochetes, are not vectors, but are the first meal for larval ticks (hatched in the leaf litter and only able to travel a 4 inch radius by themselves).

The nymph stage, develops from that first meal and carries along the spirochetes all the way to the adult stage (which is strong enough to climb up grasses and brush and hitch a ride on a deer.

The deer do not have Lyme disease effects. The spirochete can be in deer blood and one can contract Lyme disease if dressing deer and having a blood-to-blood transmission of the spirochetes -say through a scrape or cut in the deer butcher's skin.

Deer are transporters of ticks to new areas,

they are the final blood meal for lots of ticks,

and they are the honey-moon-hotel on hooves for adult ticks as they provide a good place for males and females to meet and mate and start the whole cycle all over again with 3 to 5 thousand eggs per female.

Hope that is helpful.
Ann - OH

--------------------
www.ldbullseye.com


---

Posts: 5705 | From Ohio | Registered: Jan 2002 | IP: Logged |
Contact Us | LymeNet home page | Privacy Statement

Powered by UBB.classic™ 6.7.3

---
The Lyme Disease Network is a non-profit organization funded by individual donations. If you would like to support the Network and the LymeNet system of Web services, please send your donations to:
The Lyme Disease Network of New Jersey
907 Pebble Creek Court, Pennington, NJ 08534 USA
http://www.lymenet.org/
---
Home | Flash Discussion | Support Groups | On-Line Library
Legal Resources | Medical Abstracts | Newsletter | Books
Pictures | Site Search | Links | Help/Questions
About LymeNet | Contact Us
---
© 1993-2020 The Lyme Disease Network of New Jersey, Inc.
All Rights Reserved.
Use of the LymeNet Site is subject to Terms and Conditions.
---