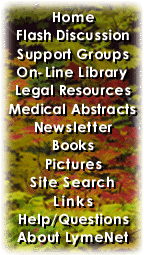 ---
LymeNet on Facebook
LymeNet on Twitter
---
---
The Lyme Disease Network receives a commission from Amazon.com for each purchase originating from this site.
When purchasing from Amazon.com, please
click here first.

Thank you.




Dedicated to the Bachmann Family


LymeNet needs your help:
LymeNet 2020 fund drive

The Lyme Disease Network is a non-profit organization funded by individual donations.

| | |
| --- | --- |
| | |
Author
Topic: Stopping Cancer Good News tetracycline minocycline and doxycycline Borrelia burgdorf

treepatrol
Honored Contributor (10K+ posts)
Member # 4117


posted

---

I thought everyone should Know about this.
Stopping Cancer Good News tetracycline minocycline and doxycycline
And you thought nothing good could come out of me having Lyme & Coinfections through searches for my problem I found this.
------------------------------------------------------------------------------------------------------------------------------------------------------------------------------------ ----------------------------------


Scientists find way to 'turn off' cancer -
Antibiotic halts aggressive tumours in mice !!!!!

Tim Radford, Science Editor,

Monday October 11, 2004, The Guardian

Scientists in California have found a way to "turn off" a gene that makes cancerous cells lethal.

They eliminated aggressive, incurable liver tumours in laboratory mice in four weeks, they report in an advance paper in Nature today. The study, based on a gene called Myc, could lead to new ways of treating cancer.

Cancer Research UK scientists in Glasgow, working with colleagues in Seattle, last year worked out the details of how Myc cranks up the rate of growth of dividing cancer cells by sending one of the cell's factories into overdrive. In cancer, cells divide uncontrollably.

The California team based their studies on mice with genetically modified liver cells. The type of cell that becomes cancerous is called an epithelial cell, and these form cancers in breast, colon and prostate.

So the same approach might work in all of them. Liver cancer is common and difficult to treat.
"This is a terrible cancer. Anything that is encouraging in liver cancer may be important," said Dean Felsher of Stanford University, who led the research. "The exciting thing is that you can turn cancer cells into something that appears to be normal."

The mice under study had a mutated Myc gene that was constantly on. It produced a Myc protein that served as a kind of conductor, sending a signal to cells to divide. Cancer cells produce too much Myc protein all the time, and are constantly dividing.

Dr Felsher and his colleagues fed the mice an antibiotic called doxycycline, which turned the gene off, and stopped the protein flow.

As long as the mice had the antibiotic diet, they remained healthy. Once the antibiotic was withheld, they developed aggressive liver cancer in 12 weeks.

When they were put back on the diet, all of them showed rapid regression: the liver cancer was eliminated, and liver cells seemed to behave normally.

In effect, the scientists turned the Myc gene on and off like a tap, and turned cancer on and off at the same time.

They also found that some of the apparently normal cells retained the ability to become cancerous, which could explain why cancers often recur after chemotherapy.

Cancer hits one person in three, and kills one in five. In recent years, researchers have concentrated on a number of new approaches. They have tried to cut off the blood supply to tumours, to halt their growth.

They have tested search-and-destroy toxins, designed to make for and eliminate only cancerous cells. They have experimented with scalpels made of ultrasound, and they have tried to "burn" cancerous cells with infrared radiation.

But cancer is, above all, a disease of the DNA, and British researchers have launched a cancer genome project to collect all the genetic mutations involved in the making of a cancer. There are more than 100.

But the Myc protein seems to play a role in many cases of the disease.

The Glasgow study immediately suggested that it would be a good target. If researchers could find a drug that blocked the action of Myc, they could study its effect on cancer cases. The Stanford study shows that they were right.
But what works in mice may not work so well in humans.

The next step is to hunt for a drug that would be safe for human patients, and yet have the same impact.

xxxxxxxxxxxxxxxxxxxxxxxxxxxxxxxxxxxxxxxxxxxxxxxxxxxxxxxxxxxxxxxxxxxxx


Int J Cancer. 2004 Jun 20;110(3):336-42.

Reversible lymphomagenesis in conditionally c-MYC expressing mice.

Marinkovic D, Marinkovic T, Mahr B, Hess J, Wirth T.

Department of Physiological Chemistry, Ulm University, Ulm, Germany.

It is well documented that deregulation of MYC leads to tumor development, yet many aspects of this process are only partially understood. We have established a transgenic mouse model in which c-MYC is conditionally expressed in lymphoid cells using the tetracycline-regulated system of gene regulation.

Mice with continuously expressed transgenic c-MYC died of invasive T- or B-cell lymphomas within 4 months. Lymphomas developing in transgenic mice were c-MYC dependent since doxycycline treatment led to tumor regression. Using transplantation of established tumor cell lines labeled with GFP, we followed the fate of neoplastic cells in recipients upon MYC inactivation.

This approach allowed us to elucidate both apoptosis and differentiation as mechanisms of tumor elimination. Comparative genomic hybridization (CGH) and FISH analyses were performed in order to analyze possible chromosomal aberrations induced by c-MYC. We observed that overexpression of c-MYC is sufficient to induce recurrent patterns of genomic instability.

The main observation was a gain of genomic material that corresponded to chromosome 15 in several T-cell tumors, which could be identified as trisomy. Copyright 2004 Wiley-Liss, Inc.

PMID: 15095297 [PubMed - indexed for MEDLINE]

xxxxxxxxxxxxxxxxxxxxxxxxxxxxxxxxxxxxxxxxxxxxxxxxxxxxxxxxxxxxxxxxxxxxxx

Virology. 1999 Jan 20;253(2):193-207.

Conditional cell transformation by doxycycline-controlled expression of the MC29 v-myc allele.

Oberst C, Hartl M, Weiskirchen R, Bister K.

Institute of Biochemistry, University of Innsbruck, Peter-Mayr-Str. 1a, Innsbruck, A-6020, Austria.

To investigate the molecular basis of oncogenesis induced by the v-myc oncogene of avian myelocytomatosis virus MC29, we developed a conditional cell transformation system in which expression of the MC29 v-myc allele is dependent on a doxycycline-sensitive transactivator (tTA).

Clonal lines of quail embryo fibroblasts transformed by doxycycline-controlled v-myc revert to the normal phenotype and lose their ability to grow in soft agar after the addition of doxycycline.

Repression of v-myc causes the cells to withdraw from the cell cycle, and long-term survival in culture requires reexpression of v-myc. Although complete repression of v-myc mRNA and v-Myc protein in these cells occurs within 14 h after the addition of doxycycline, the first morphological alterations are observed after 24 h, and after 3 days, the morphology changed entirely from small rounded cells showing a typical myc-transformed phenotype to large flat cells resembling normal fibroblasts.

Cells exposed to doxycycline for 3 days reexpressed v-myc within 24 h after withdrawal of the drug from the culture medium, partial retransformation occurred after 2 days, and complete morphological transformation was reestablished after 6 days.

Analogous results were obtained with a cell line in which expression of the v-myc allele is dependent on a reverse transactivator (rtTA) that is activated by doxycycline. The striking differential expression of known transformation-sensitive genes and of new candidate v-myc target genes revealed the tightness of the doxycycline-controlled v-myc expression system.

The data also indicate that expression of v-myc in these cells is indispensable for enhanced proliferation, transformation, and immortalization. Copyright 1999 Academic Press.

PMID: 9918878 [PubMed - indexed for MEDLINE]




------------------------------------------------------------------------------------------------------------------------------------------------------------------------------------ ------------------------------------------------------------------------------------------------------------------------------------------------------------------------------------ ------------------------------------------



Canadian Breast Cancer Research .... Comparisons between tetracycline, minocycline and doxycycline


Doxycycline and other tetracyclines in the treatment of bone metastasis.

MINIREVIEW PAPER

Anti-Cancer Drugs. 14(10):773-778, November 2003.
Saikali, Zeina a; Singh, Gurmit a b
Abstract:
The tetracycline family includes tetracycline, doxycycline and minocycline, all of which have been used as antibiotics effectively for decades. New uses emerged for these compounds after their effect on mitochondrial function was discovered. Cytostatic and cytotoxic activity of these compounds was shown against cell lines of various tumor origins. In addition, tetracyclines and chemically modified tetracyclines inhibit the activity of several matrix metalloproteinases (MMPs). Given the importance of these enzymes in tumor cell invasion and metastatic ability, the potential use of tetracyclines in cancer therapy needed to be investigated. Col-3, a chemically modified tetracycline, is now the subject of clinical trials in cancer patients. However, the potential of tetracyclines in cancer therapy takes on an added dimension in the bone. MMPs have been shown to be important mediators of metastasis formation in the bone, contributing largely to the morbidity of breast cancer and prostate cancer patients. The natural osteotropism of tetracyclines would allow them to be highly effective in the inhibition of MMPs produced by osteoclasts or tumor cells in the bone. This hypothesis has now been confirmed by experimental evidence showing that doxycycline reduces tumor burden in a mouse model of breast cancer-derived osteolytic bone metastasis. This effect is likely due to a combination of multiple roles of doxycycline, including MMP inhibition and a negative effect on osteoclast differentiation and survival. These encouraging results have now paved the way for an ongoing trial of doxycycline in early combination therapy for breast cancer and prostate cancer patients.

(C) 2003 Lippincott Williams & Wilkins, Inc.



------------------------------------------------------------------------------------------------------------------------------------------------------------------------------------ ------------------------------------------------

S. Gilbertson-Beadling1, E. A. Powers1, M. Stamp-Cole1, P. S. Scott1, T. L. Wallace1, J. Copeland1, G. Petzold1, M. Mitchell2, S. Ledbetter1, R. Poorman1, J. W. Wilks1 and C. Fisher1

(1) Cancer and Infectious Diseases Research, Upjohn Laboratories, The Upjohn Company, 7252-267-412, 49001 Kalamazoo, MI, USA
(2) Medional Chemistry Research, Upjohn Laboratories, The Upjohn Company, 7252-267-412, 49001 Kalamazoo, MI, USA


Received: 3 August 1994 Accepted: 20 November 1994

Abstract The tetracycline analogs minocycline and doxycycline are inhibitors of metalloproteinases (MMPs) and have been shown to inhibit angiogenesis in vivo. To further study the mechanism of action of these compounds we tested them in an in vitro model of angiogenesis: aortic sprouting in fibrin gels. Angiogenesis was quantitated in this system by a unique application of planar morphometry. Both compounds were found to potently inhibit angiogenesis in this model. To further characterize the activity of these compounds against MMPs, we determined the IC50s of both compounds against representatives of three classes of metalloproteinases: fibroblast collagenase, stromelysin, and gelatinase A. Doxycycline was found to inhibit collagenase, gelatinase A and stromelysin with IC50s of 452 M, 56 M and 32 M, respectively. Minocycline was found to inhibit only stromelysin in the micromolar range with an IC50 of 290 M. Since these results suggest that these compounds may not have been inhibiting in vitro angiogenesis by an MMP-dependent mechanism, we decided to test the effects of the potent MMP inhibitor BB-94. This compound failed to inhibit aortic sprouting in fibrin gels, thus strongly suggesting that both doxycycline and minocycline act by an MMP-independent mechanism. These results have implications for the mechanism of action of tetracycline analogs, particularly where they are being considered for the treatment of disorders of extracellular matrix degradation including periodontal disease, arthritis, and tumor angiogenesis.


--------------------------------------------------------------------------------------------------------------------------------------------------------

Many More:

Bruins NA, Oswald JE, Morreau H, Kievit J, Pavel S, Smelt AH.
Papillary thyroid carcinoma in a patient with sarcoidosis treated with
minocycline.
Neth J Med. 2007 May;65(5):185-7.
PMID: 17519514 [PubMed - in process



Hanna H, Benjamin R, Chatzinikolaou I, Alakech B, Richardson D, Mansfield
P, Dvorak T, Munsell MF, Darouiche R, Kantarjian H, Raad I.
Long-term silicone central venous catheters impregnated with minocycline and
rifampin decrease rates of catheter-related bloodstream infection in cancer
patients: a prospective randomized clinical trial.
J Clin Oncol. 2004 Aug 1;22(15):3163-71. Erratum in: J Clin Oncol. 2005 May
20;23(15):3652.
PMID: 15284269 [PubMed - indexed for MEDLINE]



Yajima M, Ohnishi Y, Fujimoto N, Komatsu T, Tajima S.
Minocycline hydrochloride injection therapy for ganglion and mucous cyst: a
preliminary study.
Dermatology. 2004;209(3):241-2. No abstract available.
PMID: 15459543 [PubMed - indexed for MEDLINE]



Liu FS, Hung MJ, Hwang SF, Lu CH, Ke YM, Ho ES.
Management of pelvic lymphocysts by ultrasound-guided aspiration and
minocycline sclerotherapy.
Gynecol Obstet Invest. 2005;59(3):130-3. Epub 2004 Dec 22.
PMID: 15627779 [PubMed - indexed for MEDLINE]



Ishimori S, Okada S, Yamagata S, Satoh S.
[Intrathoracic infusion with a combination of low-dose minocycline, OK-432 and
cisplatin for malignant pleural effusion]
Gan To Kagaku Ryoho. 2005 Mar;32(3):345-9. Japanese.
PMID: 15791817 [PubMed - indexed for MEDLINE



She M, Jim Yeung SC.
Combining a matrix metalloproteinase inhibitor, a farnesyltransferase
inhibitor, and a taxane improves survival in an anaplastic thyroid cancer model.
Cancer Lett. 2006 Jul 18;238(2):197-201. Epub 2005 Sep 8.
PMID: 16154259 [PubMed - indexed for MEDLINE]



Young SD, Whissell M, Noble JC, Cano PO, Lopez PG, Germond CJ.
Phase II clinical trial results involving treatment with low-dose daily oral
cyclophosphamide, weekly vinblastine, and rofecoxib in patients with advanced
solid tumors.
Clin Cancer Res. 2006 May 15;12(10):3092-8.
PMID: 16707607 [PubMed - indexed for MEDLINE]



Lowenstein M, Metzler G, Rocken M, Schaller M.
[Confluent and reticulated papillomatosis Gougerot-Carteaud successfully
treated with minocycline]
J Dtsch Dermatol Ges. 2006 Jul;4(7):556-8. German.
PMID: 16827913 [PubMed - indexed for MEDLINE]



1: Oncol Rep. 2005 Dec;14(6):1599-603. Links

Artesunate in the treatment of metastatic uveal melanoma--first experiences.

Berger TG, Dieckmann D, Efferth T, Schultz ES, Funk JO, Baur A, Schuler G.
Department of Dermatology, University Hospital of Erlangen, Erlangen, Germany. [email protected]

Artesunate (ART) is a derivative of artemisinin, the active principle of the Chinese herb Artemisia annua L. Artesunate is approved for the treatment of multidrug-resistant malaria and has an excellent safety profile.


It has been shown that Artesunate, apart from its anti-malarial activity, has cytotoxic effects on a number of human cancer cell lines, including leukemia, colon cancer and melanoma.

We report on the first long-term treatment of two cancer patients with ART in combination with standard chemotherapy.

These patients with metastatic uveal melanoma were treated on a compassionate-use basis, after standard chemotherapy alone was ineffective in stopping tumor growth.

The therapy-regimen was well tolerated with no additional side effects other than those caused by standard chemotherapy alone.

One patient experienced a temporary response after the addition of ART to Fotemustine while the disease was progressing under therapy with Fotemustine alone.


The second patient first experienced a stabilization of the disease after the addition of ART to Dacarbazine, followed by objective regressions of splenic and lung metastases. This patient is still alive 47 months after first diagnosis of stage IV uveal melanoma, a situation with a median survival of 2-5 months.


Despite the small number of treated patients, ART might be a promising adjuvant drug for the treatment of melanoma and possibly other tumors in combination with standard chemotherapy.

Its good tolerability and lack of serious side effects will facilitate prospective randomized trials in the near future.

PMID: 16273263

--------------------------------------------------------------------------------------------------------------------------------------------------------





Anti Cancer-****Cycline Links

http://aac.asm.org/cgi/content/abstract/45/11/3202

http://jnci.oxfordjournals.org/cgi/content/abstract/93/3/178

http://www.jco.org/cgi/content/abstract/19/2/584

http://www.anti-cancerdrugs.com/pt/re/anticd/fulltext.00001813-200311000-00001.htm

http://doi.wiley.com/10.1002/ijc.10168.abs

http://adr.iadrjournals.org/cgi/content/abstract/12/2/12

http://cancerres.aacrjournals.org/cgi/content/abstract/62/6/1588

http://www.springerlink.com/index/6MMJ4NV9J967V50Y.pdf

http://www.springerlink.com/index/BVFRG9E3NUYDD94Y.pdf

http://adr.iadrjournals.org/cgi/content/abstract/12/2/136

http://www.patentstorm.us/patents/5837696.html

Now the reason I searched for anti cancer links because its quite common for people with lyme=Borrelia burgdorferi or coinfections to get one type or another of cancer.

Histopathology. 2000 Dec;37(6):501-8.

Histopathology. 2001 Jan;38(1):73-7.

Borrelia burgdorferi-associated cutaneous marginal zone lymphoma: a clinicopathological study of two cases illustrating the temporal progression of B. burgdorferi-associated B-cell proliferation in the skin.

Goodlad JR, Davidson MM, Hollowood K, Batstone P, Ho-Yen DO.

Department of Pathology, Raigmore Hospital, Inverness, UK. [email protected]

AIMS: A relationship between Borrelia burgdorferi and primary cutaneous B-cell lymphoma (PCBCL) has recently been confirmed following demonstration of the organism in lesional skin of patients with PCBCL.

We report herein two cases of B. burgdorferi-associated PCBCL which strengthen this association by demonstrating the organism in cutaneous B-cell infiltrates present at sites in which PCBCL subsequently developed.

METHODS AND RESULTS: All studies were performed on formalin-fixed paraffin-embedded tissues. These were examined by routine light microscopy and immunohistochemically by a standard streptavidin-biotin-complex technique.

Genotypic studies were also undertaken using semi-nested polymerase chain reaction (PCR) for immunoglobulin heavy chain gene rearrangement, and nested PCR for B. burgdorferi flagellin gene.

Both patients presented with erythematous skin lesions, biopsy of which showed dense perivascular infiltrates comprising small T-lymphocytes and collections of B-blasts.

Primary cutaneous marginal zone lymphoma (MZL) developed subsequently in both cases at the same site. PCR for B. burgdorferi flagellin gene was positive in the perivascular lymphocytic infiltrates and the succeeding lymphomas in both patients.

CONCLUSIONS: These results show that, at least in some instances, PCBCL arises from chronically stimulated lymphoid tissue acquired in the skin in response to B. burgdorferi infection. This may have significant therapeutic implications and warrant further studies on the extent of this association.

PMID: 11122431 [PubMed - indexed for MEDLINE]

xxxxxxxxxxxxxxxxxxxxxxxxxxxxxxxxxxxxxxxxxxxxxxx

Am J Surg Pathol. 2000 Sep;24(9):1279-85.

Primary cutaneous B-cell lymphoma and Borrelia burgdorferi infection in patients from the Highlands of Scotland.

Goodlad JR, Davidson MM, Hollowood K, Ling C, MacKenzie C, Christie I, Batstone PJ, Ho-Yen DO.
Department of Pathology, Raigmore Hospital, Inverness, Scotland, UK.

[email protected]

Although a link between primary cutaneous B-cell lymphoma (PCBCL) and Borrelia burgdorferi infection has long been suspected, previous studies have not demonstrated a significant association.

The authors looked for evidence of B. burgdorferi in 20 cases of PCBCL from the Scottish Highlands, an area with endemic Lyme disease, and compared their findings with those in 40 control patients (20 undergoing wide reexcision at sites of malignant melanoma and 20 biopsies of inflammatory dermatoses).

All studies were performed on formalin-fixed, paraffin-embedded tissues. The cases of PCBCL were classified according to criteria described by the European Organization for Research and Treatment of Cancer Cutaneous Lymphoma Project Group using a combination of morphology, immunohistochemistry, and seminested polymerase chain reaction (PCR) for immunoglobulin heavy chain gene rearrangement.

A nested PCR was performed on deoxyribonucleic acid (DNA) extracts from the lymphoma and control cases using primers to a unique conserved region of the B. burgdorferi flagellin gene.

B. burgdorferi-specific DNA was detected in seven of 20 lymphoma cases (five of 12 marginal zone lymphomas, one of five primary cutaneous follicle center cell lymphomas, one of three diffuse, large B-cell lymphomas of the leg) and in one melanoma reexcision patient of 40 control subjects.

The relationship between B. burgdorferi and PCBCL was significant when compared with the control groups separately (p 0.05) or in combination (p 0.01). These results provide strong evidence to support the concept of B. burgdorferi-driven lymphomagenesis in the skin.

PMID: 10976703 [PubMed - indexed for MEDLINE]

xxxxxxxxxxxxxxxxxxxxxxxxxxxxxxxxxxxxxxxxxxxxxxxx

Rev Neurol (Paris). 1998 Feb;154(2):170-2.

[Nervous system borreliosis with pseudo-lymphoma cells in cerebrospinal fluid]
[Article in French]


Kaminsky P, Grignon Y, Deibener J, Maurer P, Duc M.

Service de Médecine Interne, Centre Hospitalier Universitaire de Nancy, Hôpitaux de Brabois, Vandoeuvre.

We report the case of a 44-year-old woman, who experienced acute back pains, leg paraesthesia, and diplopia. Analysis of the cerebrospinal fluid revealed, in addition to increased protein and decreased glucose levels, an elevated number of large atypical cells, resembling lymphoma cells.

Magnetic resonance imaging of the brain and spine was normal. High levels of antibodies against Borrelia burgdorferi were found in both serum and cerebrospinal fluid. The patient completely recovered with ceftriaxone therapy.

PMID: 9773040 [PubMed - indexed for MEDLINE]

xxxxxxxxxxxxxxxxxxxxxxxxxxxxxxxxxxxxxxxxxxxxxx


Hum Pathol. 2000 Feb;31(2):263-8.

Eradication of Borrelia burgdorferi infection in primary marginal zone B-cell lymphoma of the skin.

Roggero E, Zucca E, Mainetti C, Bertoni F, Valsangiacomo C, Pedrinis E, Borisch B, Piffaretti JC, Cavalli F, Isaacson PG.
Istituto Oncologico Svizzera Italiana, Department of Medical Oncology, Ospedale San Giovanni, Bellinzona, Switzerland.

Primary cutaneous B-cell lymphomas have been associated with Borrelia burgdorferi, the spirochete responsible for Lyme disease. Recently, cutaneous marginal zone B-cell lymphoma has been proposed as a distinct clinical-pathological entity.

We report a case of primary cutaneous marginal zone lymphoma, associated with B burgdorferi infection. Polymerase chain reaction (PCR) amplification of the third complementarity determining region (CDR3) of the immunoglobulin heavy chain gene showed the presence of a monoclonal lymphoproliferation, therefore strengthening the histological diagnosis of a malignant process.

B burgdorfer-specific hbb gene sequences were detected by PCR in the lymphoma tissue at diagnosis but not after antibiotic treatment.

A nearly complete clinical and histological regression was observed after B burgdorferi eradication, with immunohistochemistry studies showing disappearance of plasma cell differentiation and a marked decline in the number of CD3+ T cells and Ki-67+ cells.

Our case confirms the link between B burgdorferi and some cutaneous lymphomas. The disappearance of the microorganism accompanied by the unequivocal decrease of most indicators of active T- and B-cell immune response strongly supported a pathogenetic role for B burgdorferi in sustaining an antigen-driven development and growth of this cutaneous marginal zone lymphoma.

Antibiotic therapy (analogous to Helicobacter pylori infection in gastric MALT lymphoma) might be helpful with the aim of averting or at least deferring the indication for more aggressive treatment.

PMID: 10685647 [PubMed - indexed for MEDLINE]

xxxxxxxxxxxxxxxxxxxxxxxxxxxxxxxxxxxxxxxxxxxxxx

Hematol Oncol. 1999 Sep;17(3):107-16.

Positive serology for Lyme disease borrelias in primary cutaneous B-cell lymphoma: a study in 22 patients; is it a fortuitous finding?

Jelić S, Filipović-Ljesković I.

Institut za Onkologiju i Radiologiju Srbije, Belgrade, Yugoslavia.

BACKGROUND: The historical association of acrodermatitis chronica atrophicans (ACA), now known to be a late manifestation of Lyme disease caused by Borrelia afzelii, with cutaneous lymphoma, and several small series of PCBCL with positive Lyme disease borrelial serology initiated a study of this association.

Material and methods

In the last 9 years, 30 patients with PCBCL have been observed and followed, 22 of them were tested for borrelial serology.

The control group consisted of 85 patients with NHL (10 cutaneous T-cell, 25 extranodal B-cell non-PCBCL, 50 nodal B-cell), 30 patients with breast cancer and 60 blood donors.

The screening tests were two different ELISA tests for B. burgdorferi sensu lato and sensu stricto, and reactive sera were further tested with the ELISA test for B. garinii, a Western blot (WB) test for Swiss Borrelia strains and a WB test for Bavarian Borrelia strains, since an immunoblot made with local strains was not available.

Studies with a differential WB test for B. burgdorferi sensu stricto, B. garinii and B. afzelii was performed afterwards, as well as serological studies ruling out cross-reactions with Leptospiras and Treponema.

RESULTS: Fifteen of 22 patients with PCBCL were positive on the screening tests, three of them falsely. Thus, the incidence of positive borrelial serology was 12/22 (55 per cent) in the PCBCL group.

No positives were detected in the cutaneous T-cell lymphoma group; 2/25 patients (8 per cent) were positive in the extranodal B-cell NHL group (the localizations being vestibulum nasi and oral cavity), 2/50 (4 per cent) were positive in the nodal B-cell NHL group, 2/30 (7 per cent) in the breast cancer group and 2/60 (3 per cent) in the blood donor group. The cumulative incidence in the control groups was 8/175 (4,6 per cent).

The incidence was significantly higher in PCBCL patients as compared to each of the control groups, p value ranging from 0.004 to 0.0001. Two positive patients had ACA, one arthritis.

Borrelia afzelii was most often implied for positive serology in the differential WB. No cross-reactions with Treponema and the Leptospiras were documented.

CONCLUSION: In conclusion there appears to be a clustering of positive serology for Lyme disease Borrelias in PCBCL patients possibly related to an ethiopathogenic relationship. Mechanisms of Borrelia escape from immunosurveillance mechanisms, persistence of both their mitogenic and antigenic stimuli for B-cells, and SALT formation may be involved in the pathogenesis of a subset of PCBCL.

Copyright 1999 John Wiley & Sons, Ltd.

PMID: 10641031 [PubMed - indexed for MEDLINE]

xxxxxxxxxxxxxxxxxxxxxxxxxxxxxxxxxxxxxxxxxxxxxx

Med Hypotheses. 2007;69(1):117-9. Epub 2007 Jan 2.

Lyme borreliosis and multiple sclerosis are associated with primary effusion lymphoma.
Batinac T, Petranovic D, Zamolo G, Petranovic D, Ruzic A.

Department of Dermatovenerology, Rijeka University Hospital, Kresimirova 42, 51000 Rijeka, Croatia.

Multiple sclerosis (MS) is a chronic disease of the central nervous system characterized by chronic inflammation and demyelination. Studies suggested that the viral, especially Epstein-Barr virus infection, and bacterial infections, especially [Lyme] Borrelia burgodorferi infection, play a role in etiology of MS.

MS prevalence parallels the distribution of the Lyme disease pathogen B. burgdorferi.

Criteria used for diagnosis of MS can also be fulfilled in other conditions such as Lyme disease, a multisystem disorder resulting from infection by the tick-borne spirochete, B. burgdorferi.

In the late period of Lyme disease demyelinating involvement of central nervous system can develop and MS can be erroneously diagnosed.

A Lyme borreliosis can mimick central nervous system lymphoma. Also, B. burgdorferi has been implicated not only in etiology of MS, but also in etiology of lymphoma.

Studies suggested that there is an increased risk of non-Hodgkin lymphoma in patients, who had a history of autoimmune diseases such as MS and that both non-Hodgkin's lymphomas and Hodgkin's disease were associated with Epstein-Barr virus infection.

A small group of lymphomas called primary effusion lymphomas (PEL) is a recently individualized form of non-Hodgkin's lymphoma (WHO classification) that exhibit exclusive or dominant involvement of serous cavities, without a detectable solid tumor mass.

These lymphomas have also been linked to Epstein-Barr virus and human herpes virus type 8 infections but virus negative cases have been described.

Therefore, we propose that MS and neuroborreliosis are linked to central nervous system primary effusion lymphomas.

As a first step in confirming or refuting our hypotheses, we suggest a thorough study of CSF in the patients suspected for the diagnosis of MS and Lyme borreliosis.

PMID: 17197115 [PubMed - in process]


xxxxxxxxxxxxxxxxxxxxxxxxxxxxxxxxxxxxxxxxxxxxxxx

Dermatology. 2001;203(2):168-70.

Multilesional primary cutaneous diffuse large B-cell lymphoma responsive to antibiotic treatment.
Hofbauer GF, Kessler B, Kempf W, Nestle FO, Burg G, Dummer R.

Department of Dermatology, University Hospital, Zürich, Switzerland.

Borrelia burgdorferi infection has been implicated in cutaneous B-cell lymphoma. We report a case of multilesional primary cutaneous large B-cell lymphoma without extracutaneous spread in a patient with elevated B. burgdorferi titers.

After antibiotic therapy, clinical remission and a subsequent drop in B. burgdorferi antibody titers were obtained. Copyright 2001 S. Karger AG, Basel

PMID: 11586019 [PubMed - indexed for MEDLINE]

xxxxxxxxxxxxxxxxxxxxxxxxxxxxxxxxxxxxxxxxxxxx


Histopathology. 2001 Jan;38(1):73-7.

Comment on
Histopathology. 2000 Dec;37(6):501-8.

Borrelia burgdorferi-associated primary cutaneous B-cell lymphoma.
Slater DN.

Department of Histopathology, Royal Hallamshire Hospital, Sheffield, UK.

PMID: 11135050 [PubMed - indexed for MEDLINE]

xxxxxxxxxxxxxxxxxxxxxxxxxxxxxxxxxxxxxxxxxxxxxx

Ann Hematol. 2001 Apr;80(4):232-5.


Paraneoplastic polyneuropathy preceding the diagnosis of Hodgkin's disease and non-small cell lung cancer in a patient with concomitant Borrelia burgdorferi infection.

Behringer D, Spyridonidis A, Fetscher S, Schmitt-Gräff A, Högerle S, Kaiser R.

Department of Hematology/Oncology, University of Freiburg, Germany. [email protected]

A patient with painful peripheral neuropathy is presented, whose symptoms were thought to result from an infection with Borrelia burgdorferi sensu lato.

Investigations of the cerebrospinal fluid for signs of inflammation and borrelial antibodies were negative, and the patient did not benefit from repeated antibiotic treatment.

Electrophysiologic studies and sural nerve biopsy showed axonal neuropathy consistent with a paraneoplastic syndrome. Further workup revealed mediastinal Hodgkin's disease (HD; nodular sclerosing subtype) Ann Arbor stage II and non-small cell cancer of the lung (stage T1N0M0).

Surgical resection of the lung cancer and combined chemo- and radiotherapy for HD resulted in complete remission of both malignancies. While the preexisting neurologic symptoms persisted during treatment, neurography showed some improvement of the distal nerves.

During radiation therapy the patient developed transient left-sided brachial plexopathy. This case illustrates that the diagnosis of borreliosis in patients with isolated painful peripheral neuritis cannot be based solely upon positive IgG titers and supports the requirement for a thorough workup for an underlying--potentially curable--disease.

In addition, singular pulmonary lesions in the setting of HD should be suspected to have a separate cause.

PMID: 11401090 [PubMed - indexed for MEDLINE]

xxxxxxxxxxxxxxxxxxxxxxxxxxxxxxxxxxxxxxxxxxxxxx

Rinsho Ketsueki. 2000 Dec;41(12):1273-6.

[Occurrence of angioimmunoblastic T-cell lymphoma six months after onset of Lyme disease]
[Article in Japanese]


Hatanaka K, Miyagishima T, Kamata T, Nakagawa M, Miura Y, Arai S, Kishimoto A, Kamishima Y, Shibata M, Choi GH, Kudo M, Okabe M, Tsukamoto T, Miyamoto K.

Department of International Medicine, Kushiro Rousai Hospital.

A 68-year-old man, who had suffered a tick bite one week previously, consulted his home doctor because of fever and an erythematous rash around the bite scar.

He underwent a skin biopsy, and Borrelia garinii was detected, from which Lyme disease was diagnosed. He received amoxicillin for two weeks and his symptoms disappeared.

After 6 months he noticed swelling of his cervical, axillary and inguinal lymph nodes. A biopsy sample was taken from a left cervical lymph node, and this revealed angioimmunoblastic T-cell lymphoma.

The patient achieved a complete remission after chemotherapy. The relationship between Lyme disease and lymphoma is discussed.

PMID: 11201153 [PubMed - indexed for MEDLINE]

xxxxxxxxxxxxxxxxxxxxxxxxxxxxxxxxxxxxxxxxxxxxxx


Brain Dev. 2000 Sep;22(6):403-6.


Lyme borreliosis mimicking central nervous system malignancy: the diagnostic pitfall of cerebrospinal fluid cytology.

Kieslich M, Fiedler A, Driever PH, Weis R, Schwabe D, Jacobi G.

Department of Pediatric Neurology, Johann Wolfgang Goethe University, Frankfurt/Main, Germany. [email protected]

We report two children with acute loss of neurological functions and signs of an increased intracranial pressure.

Imaging techniques ruled out space occupying lesions, whereas CSF cytology indicated CNS involvement of a non-Hodgkin lymphoma in the form of abnormal lymphocytic pleocytosis with malignancy criteria fulfilling lymphoid cells.

CSF protein electrophoresis and Borrelia burgdorferi serology revealed neuroborreliosis which was successfully treated with antibiotic therapy.

The malignancy mimicking cytology is based on a blastoid transformation of B- and T-lymphocytes due to the antigenic stimulus of B. burgdorferi infection.

Lymphoid cells in the CSF of a patient with acute or chronic neurological symptoms raise the differential diagnosis of inflammatory etiology versus CNS lymphoma.

Monomorphism and higher quantity of the lymphoid cells point to CNS lymphoma. A lower quantity and polyclonal pattern of lymphoid cells associated with an elevated protein fraction caused by intrathecal immunoglobulin synthesis suggest an inflammatory etiology.

PMID: 11185583 [PubMed - indexed for MEDLINE]


xxxxxxxxxxxxxxxxxxxxxxxxxxxxxxxxxxxxxxxxxxxxxxxx

Dermatology. 2000;201(4):353-5.

Comment on:
Dermatology. 2000;201(4):351-2.

Exploring the causes of cutaneous B-cell lymphoma: we should learn from the Lyme disease experience.

Naldi L, Minelli C.

Epidemiological studies rely on the uneven distribution of disease within and between populations and represent a simple but efficient way of studying disease causation.

The incidence of non-Hodgkin's lymphomas (NHLs) has increased dramatically over the past few decades and the epidemic calls for epidemiological studies.

The study of Munksgaard and colleagues, in this issue of Dermatology, is a good example of an epidemiological study based on the so-called ecological correlation.

It focuses on cutaneous B-cell lymphoma (CBCL) and fails to document a correlation between CBCL incidence and Lyme disease as a surrogate indicator for the exposure to tick bites.

Although ecological studies neither inform about the time relationship between exposure and disease nor usually allow control for confounding variables, they can provide important information that would guide the direction of further research.

There is a number of analytical studies focusing on risk factors for NHLs. One drawback of these studies is that they consider NHLs as a single category. One merit of the paper of Munksgaard et al. is that it focused on a rather specific disease, i.e. CBCL. Copyright 2000 S. Karger AG, Basel

PMID: 11146350 [PubMed - indexed for MEDLINE]

xxxxxxxxxxxxxxxxxxxxxxxxxxxxxxxxxxxxxxxxxxxxxx


Dermatology. 2000;201(4):351-2.


Comment in:
Dermatology. 2000;201(4):353-5.

Incidence patterns of lyme disease and cutaneous B-cell non-Hodgkin's lymphoma in the United States.

Munksgaard L, Frisch M, Melbye M, Hjalgrim H.
Department of Epidemiology Research, Danish Epidemiology Science Center, Statens Serum Institut, Copenhagen, Denmark. [email protected]

BACKGROUND: Several reports have suggested a link between infection with Borrelia burgdorferi (the spirochete causing Lyme disease) and development of cutaneous B-cell non-Hodgkin's lymphoma (CBCL).

METHODS: We did a correlation analysis of CBCL and Lyme disease using data from the Surveillance, Epidemiology and End Results program and from the Centers for Disease Control and Prevention.

RESULTS: We could not demonstrate a geographic correlation between incidence rates of Lyme disease and CBCL.

CONCLUSION: This observation suggests that infection with B. burgdorferi is not a major risk factor for CBCL in the USA. Copyright 2000 S. Karger AG, Basel

PMID: 11146349 [PubMed - indexed for MEDLINE]


xxxxxxxxxxxxxxxxxxxxxxxxxxxxxxxxxxxxxxxxxxxxxxxx


J Am Acad Dermatol. 2005 Sep;53(3):479-84.

Primary cutaneous B-cell lymphoma.

Bogle MA, Riddle CC, Triana EM, Jones D, Duvic M.
Department of Dermatology, University of Texas and M. D. Anderson Cancer Center, Houston, Texas 77030, USA. [email protected]

Primary cutaneous B-cell lymphomas include extranodal marginal zone B-cell lymphoma, follicular lymphoma, large B-cell lymphoma, and, rarely, mantle cell lymphoma.

Our purpose in conducting this review was to determine the clinical and behavioral characteristics of primary cutaneous B-cell lymphomas, their relationship to infectious triggers, and therapeutic response.

We conducted a retrospective chart review of 23 adult patients presenting to the dermatology clinic at M. D. Anderson Cancer Center with primary cutaneous B-cell lymphoma between January 1999 and May 2003.

Primary cutaneous B-cell lymphomas generally present on the head and neck, with the trunk and extremities afflicted to a lesser extent. Patients were found to have serologic evidence of prior infection with Borrelia burgdorferi (n = 10), Helicobacter pylori (n = 5), and Epstein-Barr virus (n = 6).

Overall, treatment of primary cutaneous B-cell lymphoma should involve multiple modalities; however, specific treatment aimed at concurrent or suspected infection, particularly B burgdorferi, is a helpful adjunct and may achieve complete remission in a small subset of patients.

PMID: 16112357 [PubMed - indexed for MEDLINE]

xxxxxxxxxxxxxxxxxxxxxxxxxxxxxxxxxxxxxxxxxxxxx


Leuk Lymphoma. 2004 Aug;45(8):1721-3.

Demonstration of B. burgdorferi-DNA in two cases of nodal lymphoma.

Munksgaard L, Obitz ER, Goodlad JR, Davidson MM, Ho-Yen DO, Hamilton-Dutoit S, Hjalgrim H.
PMID: 15370236 [PubMed - indexed for MEDLINE]

xxxxxxxxxxxxxxxxxxxxxxxxxxxxxxxxxxxxxxxxxxx

Eur Neurol. 2004;51(1):43-5. Epub 2003 Nov 21.

Lyme neuroborreliosis mimicking primary CNS lymphoma.

Walther EU, Seelos K, Bise K, Mayer M, Straube A.
Department of Neurology, Klinikum Grosshadern, Munich, Germany.

PMID: 14639029 [PubMed - indexed for MEDLINE]

xxxxxxxxxxxxxxxxxxxxxxxxxxxxxxxxxxxxxxxxxxxxxx

Folia Biol (Praha). 2003;49(1):40-8.

Interaction of Borrelia burgdorferi sensu lato with Epstein-Barr virus in lymphoblastoid cells.
Hulínská D, Roubalová K, Schramlová J.

National Reference Laboratory on Borreliosis, Electron Microscopy, National Institute of Public Health, Prague, Czech Republic.

Since the possibility of interruption of latent EBV infection has been suggested by the induction of the lytic virus cycle with chemical substances, other viruses, and by immunosuppression, we hypothesized that the same effect might happen in B. burgdorferi sensu lato infection as happens in Lyme disease patients with positive serology for both agents.

We have observed EBV replication in lymphoblastoid cells after superinfection with B. garinii and B. afzelii strains after 1 and 4 h of their interaction.

We found that viral and borrelial antigens persisted in the lymphoblasts for 3 and 4 days. Morphological and functional transformation of both agents facilitate their transfer to daughter cells.

Association with lymphoblasts and internalization of B. garinii by tube phagocytosis increased replication of viruses more successfully than B. afzelii and chemical inductors.

Demonstration of such findings must be interpreted cautiously, but may prove a mixed borrelial and viral cause of severe neurological disease.

PMID: 12630667 [PubMed - indexed for MEDLINE]

Improving the specificity of 16S rDNA-based polymerase chain reaction for detecting Borrelia burgdorferi sensu lato-causative agents of human Lyme disease. [J Appl Microbiol. 2005]

Use of CFSE staining of borreliae in studies on the interaction between borreliae and human neutrophils. [BMC Microbiol. 2006]

Early stage of Epstein-Barr virus lytic infection leading to the "starry sky" pattern formation in endemic Burkitt lymphoma. [Arch Pathol Lab Med. 2004]

[Prevalence of Borrelia burgdorferi sensu lato species among patients in the Czech Republic; direct sequencing analysis and real-time polymerase chain reaction] [Epidemiol Mikrobiol Imunol. 2004]

Substantial rise in the prevalence of Lyme borreliosis spirochetes in a region of western Germany over a 10-year period. [Appl Environ Microbiol. 2004]

xxxxxxxxxxxxxxxxxxxxxxxxxxxxxxxxxxxxxxxxxxxxxxxx

Ugeskr Laeger. 2002 Dec 9;164(50):5927-32.

[Infectious causes of non-Hodgkin lymphomas]
[Article in Danish]


Munksgaard L, Hjalgrim H, Melbye M.
Afdeling for Epidemiologisk Forskning, Statens Serum Institut, Artillerivej 5, DK-2300 København S. [email protected]

The etiology to non-Hodgkin's lymphoma remains incompletely understood.

Chronic infection with certain viruses and bacteria has attracted interest in recent years because of the association with lymphoma development.

In this article we present an overview of the current evidence of infectious causes to non-Hodgkin's lymphomas.

PMID: 12553112 [PubMed - indexed for MEDLINE]

xxxxxxxxxxxxxxxxxxxxxxxxxxxxxxxxxxxxxxxxxxxxxxxxx


Srp Arh Celok Lek. 2001 Nov-Dec;129(11-12):340-5.

[Primary B-cell cutaneous lymphoma: a model for study of lymphogenesis associated with a specific infectious agents]
[Article in ]


Jelić S.
Institut za onkologiju i radiologiju Srbije 11 000 Beograd, Pasterova 14. [email protected]

PMID: 11928622 [PubMed - indexed for MEDLINE]

xxxxxxxxxxxxxxxxxxxxxxxxxxxxxxxxxxxxxxxxxxxxxxxxx

The European strains of Lyme (once thought to not be in the USA) are present in North America. This study used only one strain found in the USA, however, it linked lymphomas to the other strains which we now recognise in the USA and other areas.

1: J Cutan Pathol. 2001 Nov;28(10):502-7.

Absence of Borrelia burgdorferi DNA in cutaneous B-cell lymphomas from the United States.

Wood GS, Kamath NV, Guitart J, Heald P, Kohler S, Smoller BR, Cerroni L.

Department of Medicine (Dermatology), University of Wisconsin and the Middleton Veterans Affairs Medical Center, Madison, Wisconsin 53705, USA.

[email protected]

BACKGROUND: An association between Borrelia burgdorferi and cutaneous B-cell lymphoma (CBCL) has been made in several European countries.

The evidence in favor of such an association has recently been based on more definitive tests for the pathogenetic role of B. burgdorferi in CBCL, including positive cultures or polymerase chain reaction (PCR) amplification of borrelial DNA from lesional skin.

However, there is only one report of B. burgdorferi in four North American cases of B-cell lymphoma.

METHODS: We retrieved 38 cases of primary and secondary CBCL from different geographic regions of the United States. Two separate techniques were used to detect borrelial DNA by PCR, a nested PCR method to amplify a B. burgdorferi-specific gene as well as a borrelial chromosomal Ly-1 clone amplification method.

Southern blot hybridization was used for confirmation of the PCR results. RESULTS: No B. burgdorferi-specific DNA was detected in any of the 38 CBCL cases, whereas detectable PCR products were obtained with our positive controls.

CONCLUSIONS: Our findings, in light of previous studies, suggest that B. burgdorferi plays a minimal role in the development or pathogenesis of CBCL in the United States.

The findings also suggest that the geographic variations in the clinical manifestations of B. burgdorferi are indeed real and may be secondary to the genetic and phenotypic differences between B. burgdorferi strains present in Europe and North America.

PMID: 11737518 [PubMed - indexed for MEDLINE]

xxxxxxxxxxxxxxxxxxxxxxxxxxxxxxxxxxxxxxxxxxxxxxxx

--------------------
Do unto others as you would have them do unto you.
Remember Iam not a Doctor Just someone struggling like you with Tick Borne Diseases.

Newbie Links


---

Posts: 10564 | From PA Where the Creeks are Red | Registered: Jun 2003 | IP: Logged |

Beverly
Frequent Contributor (5K+ posts)
Member # 1271


posted

---

Wow...

---

Posts: 6626 | From Michigan | Registered: Jun 2001 | IP: Logged |

viva
LymeNet Contributor
Member # 8183


posted

---

Thanks for posting this, Treepatrol.

Aviva

---

Posts: 532 | From southeast US | Registered: Oct 2005 | IP: Logged |

treepatrol
Honored Contributor (10K+ posts)
Member # 4117


posted

---

Up for everyone

--------------------
Do unto others as you would have them do unto you.
Remember Iam not a Doctor Just someone struggling like you with Tick Borne Diseases.

Newbie Links


---

Posts: 10564 | From PA Where the Creeks are Red | Registered: Jun 2003 | IP: Logged |

Marnie
Frequent Contributor (5K+ posts)
Member # 773


posted

---

If you don't want to read all of this...just skip to the bottom and follow the steps.

I personally KNOW a lyme patient who a few months ago developed pancreatic cancer.

She was on Doxy...would not stop. She also went on a weight loss diet.

Might not have been a good idea...too much too fast.

As we diet, we first "burn" fat.

Which releases hormones stored in fat (estrogen, gals) and glycogen and fatty acids.

Exactly what Bb needs to make its lipoprotein cell walls.

Up goes the count.

Up goes harmful and beneficial (double edge sword) TNF alpha and IL1 B which do a "number" on the pancreatic cells. Too much inflammation harms HEALTHY cells too.

But...hang in there...

I think we've found another clue.

DHEA levels...in both breast and prostate cancers.

Are low.

Bb uses the building block of the omega 3 and omega 6 = Linolenic acid (omega 3) and linoleic acid (Omega 6). We KNOW this...fact.

The odd thing about the above is that they almost look identical except for one thing...where on their "chain" happens to be a double carbon bond.

Linolenic acid is a building block for DHA and EPA.

Another form is conjugated LA = CLA...which happens to be what the lactobacillus that are in the new vaccine uses. This bacteria conjugates LA! It joins 2 chains of LA. This is healthy for us...NOT FOR Bb! It wants/needs sole LA.

But...abx. destroy the "good guys". Always keep that in mind too! Nobody left around to conjugate LA and thus Bb has access to lone LA to incorporate in its cell wall...which we oxidize via our free radicals.

If Bb is using linoleic and/or linolenic acid in its cell walls (which is what our free radicals "burn" i.e., oxidize), then that would mean our levels of DHA and EPA dive because LA is our building block for DHA and EPA and Bb is using this up.

Oddly...there is a similarity - spelling wise...

Do DHA and EPA help us to make the adrenal hormone, DHEA?

Why do levels dive?

Because Bb is using the building block.

And hypothyroid ALSO causes low levels of DHEA.

Why would the body do this?

Because of insulin. Insulin ACTIVATES PFK...which Bb is dependent upon and is depleting.

But...there are several critical facts about DHEA.

"Dehydroepiandrosterone (DHEA) is an adrenal steroid and nutritional supplement that may improve insulin sensitivity."

"Under similar conditions, insulin- or DHEA-stimulated phosphorylation of Akt - Ser473 and endothelial nitric oxide synthase - eNOS-Ser1179."

Do you see Ser? That is serine...and DHEA looks to help transfer phosphate groups to serine = HPA axis restored.

It also looks to open K channels. EXTRACELLULAR potassium goes INTO the cells. Hypokalemia happens because it leaves the blood and once again goes into the cells where it is SUPPOSED TO BE.

(So increasing K intake might be called for.)

Bb does NOT like KCl. FACT.

Bb is using a cellular pump...Na in, Ca out.

But there are many other cellular pumps too...including a Na-K pump.

Bb uses Na-ATPase (final step in CO2 fixation) to do this:

ATP -> ADP...loss of a phosphate.

To add it back on, to make its own ATP, it is likely using Mn. Bb exclusively uses Mn in all enzymes. Wereas WE use Mg.

Bb actually causes the loss of 2 (not merely one) phosphates (PPi = delta = bisphosphate = pyrophosphate = triangle shape)

So what is actually left over is cAMP.

cAMP -> ADP -> ATP...adenosine monophosphate + 2 more phosphates.

Bb has a PKCD *inhibitor*. This is protein kinase C, delta.

Kinases transfer phosphates.

Bb inhibits this transfer in the defensive cells in which it is hiding out.

Instead, it USES/"steals" those 2 phosphates to do the following:

glucose -> fructose. And to do that, it uses PFK...phosphofructokinase.

This bugger is a fructose lover.

If phosphate is not "available" to be added to serine...kiss the HPA axis goodbye.

And ultimately the HPT axis too.

H= hypothalamus
P= pituitary
A = adrenal
T = thyroid

These send signals to one another.

Bb needs epinephrine and norepinephrine. Fact.

One of the worse things about the adrenal steroids (adrenaline, noradrenaline = epinephrine and norepinephrine) is that they raise glucose levels (besides downregulating our own immune system).

But we might have a "counter":

It comes from another area of the adrenal glands and it is:

DHEA.

Not unlike our pancreatic cells...beta cells release insulin, alpha cells release glucagon to counter insulin...to keep our blood sugar level "just right". Sugar high -> insulin -> glucagon. Very simply stated.

Now about DHEA...it appears we store DHEA as DHEAS. But the real active form of DHEA is just that...DHEA...without sulfate added.

But...Sulfates...specifically SO2...can Bb deal with it?

I don't think so.

"Anaerobic bacteria are capable of using a wide variety of compounds, other than oxygen, as terminal electron acceptors in respiration:

nitrogenous compounds (such as nitrates and nitrites), sulfur compounds (such as sulfates, sulfites, sulfur dioxide, and elemental sulfur),

carbon dioxide, iron compounds, manganese compounds, cobalt compounds, and uranium compounds.

We know Bb is using NO ( one of Bb's proteins binds to ferricytochrome C + NO). We know Bb uses Mn (to a huge degree). We know Bb follows CO2 fixation,

but once again... does it/can it use sulfur dioxide?

How to increase SO2? And to increase DHEA...and the storage form, DHEAS?

Campden tablets. NOT ORALLY, but it appears these might be able to be dissolved in water and we can soak our feet in that water.

We DO absorb things thru our skin. But we might not need this (?) as it appears to already be in another supp. below:

Now...about DHEA.

We know *MSM*, vitamin C and 1,3 beta glucans raise DHEA levels.

1,3 beta glucans are in "mushrooms" i.e., a product called Host Defense.

Re: MSM:

"Methylsulfonylmethane (MSM, or dimethylsulfone) is an organosulfur compound with the formula (CH3)2SO2.

MSM is promoted as a natural source of sulfur by the supplement and health food industry, suggesting that people are deficient in sulfur intake. However, protein in the diet is an abundant source of sulfur, which is contained in the amino acids methionine and cysteine."

But guess who is lowering methionine and cysteine because it needs it?

Yup...Bb.

"MSM is the primary metabolite of DMSO in humans."

How do we use DMSO in experiments?

"DMSO is used in the PCR reaction to inhibit secondary structures in the DNA template or the DNA primers.

It is added to the PCR mix before reacting, where it interferes with the self-complementarity of the DNA, allowing otherwise troublesome reactions to occur.

In cryobiology DMSO has been used as a cryoprotectant and is still an important constituent of cryoprotectant vitrification mixtures used to preserve organs, tissues, and cell suspensions.

Without it, up to 90 percent of frozen cells will become inactive.

It is particularly important in the freezing and long-term storage of embryonic stem cells and hematopoietic stem cells, which are often frozen in a mixture of 10% DMSO and 90% fetal calf serum.

As part of an autologous bone marrow transplant the DMSO is re-infused along with the patient's own hematopoietic stem cells."

In the medical field DMSO is predominantly used as a topical analgesic, a vehicle for topical application of pharmaceuticals, as an anti-inflammatory and an antioxidant - citation needed. It has been examined for the treatment of numerous conditions and ailments.

The Food and Drug Administration has approved DMSO usage only for the palliative treatment of interstitial cystitis.

Also, DMSO is commonly used in the veterinary field as a liniment for horses.

Because DMSO increases the rate of absorption of some compounds through organic tissues including skin, it can be used as a drug delivery system.

Dimethyl sulfoxide dissolves a variety of organic substances, including carbohydrates, polymers, peptides, as well as many inorganic salts and gases.

In 1978, the FDA approved DMSO for treating interstitial cystis.

In 1980, Congress held hearings on claims that the FDA was slow in approving DMSO for other medical uses.

In 2007, the FDA granted "fast track" designation on clinical studies of DMSO's use in reducing brain tissue swelling following traumatic brain injury."

Sounds good, right?

Sit tight:

"DMSO can cause chronic damage to the eyes."

Since MSM is a metabolite (breakdown product) of DMSO, it maybe safer simply to use MSM (and Vit C and Host Defense) to increase DHEA levels.

BTW...abx. decrease Ca levels, but to maintain the body's level of Ca, it WILL take Ca out of the bones.

Find this:

The role of calcium in cell division.

Great...the cancer cells no longer divide, but remain infected (IMO).

Prostate cancer cells contain NO PKCD.

Duh..Bb has a PKCD INHIBITOR.

FIRST, before doing ANYTHING:

1. Get your level of DHEA checked.

2. Get a PSA (if guy) and a mammogram (if gal) done...do NOT supp. DHEA if you have cancer.

3. Talk to your doctor about this.

---

Posts: 9403 | From Sunshine State | Registered: Mar 2001 | IP: Logged |

treepatrol
Honored Contributor (10K+ posts)
Member # 4117


posted

---

up
TC link

Cancer and Lyme

--------------------
Do unto others as you would have them do unto you.
Remember Iam not a Doctor Just someone struggling like you with Tick Borne Diseases.

Newbie Links


---

Posts: 10564 | From PA Where the Creeks are Red | Registered: Jun 2003 | IP: Logged |

sammy
Frequent Contributor (5K+ posts)
Member # 13952


posted

---

Thank you Tree and Marnie

---

Posts: 5237 | From here | Registered: Nov 2007 | IP: Logged |
Contact Us | LymeNet home page | Privacy Statement

Powered by UBB.classic™ 6.7.3

---
The Lyme Disease Network is a non-profit organization funded by individual donations. If you would like to support the Network and the LymeNet system of Web services, please send your donations to:
The Lyme Disease Network of New Jersey
907 Pebble Creek Court, Pennington, NJ 08534 USA
http://www.lymenet.org/
---
Home | Flash Discussion | Support Groups | On-Line Library
Legal Resources | Medical Abstracts | Newsletter | Books
Pictures | Site Search | Links | Help/Questions
About LymeNet | Contact Us
---
© 1993-2020 The Lyme Disease Network of New Jersey, Inc.
All Rights Reserved.
Use of the LymeNet Site is subject to Terms and Conditions.
---