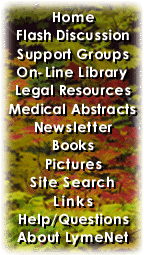 ---
LymeNet on Facebook
LymeNet on Twitter
---
---
The Lyme Disease Network receives a commission from Amazon.com for each purchase originating from this site.
When purchasing from Amazon.com, please
click here first.

Thank you.




Dedicated to the Bachmann Family


LymeNet needs your help:
LymeNet 2020 fund drive

The Lyme Disease Network is a non-profit organization funded by individual donations.

| | |
| --- | --- |
| | |
Author
Topic: Trigger Point Therapy

ByronSBell 2007
Unregistered



posted

---

I was wondering if anyone on here has done trigger point therapy with injections into the trigger point...

I have been offered this option and the guys that would do if are actually my friends on a personal level, one is a PT and the other is a Pain Managment/anesthesiologist...

I just wanted your opinions/story/help or whatever input you can give me on this...

---

IP: Logged |

trueblue
Frequent Contributor (1K+ posts)
Member # 7348


posted

---

I have had trigger point injections by a pain management dentist. (It was quite a while ago.) The ones I had were mostly into upper body (shoulder area) and back of head.

It worked well for me to get rid of those giant knots in muscles. I found it pretty amazing.


For me, the shots were not bad. The next day the spot was very sore but the knots the size of my fist were gone and didn't come back.

If I knew someone here that did them I would do it again in a heart beat. Think about it, you can always try one and see how it goes. Your friends are both trained professinals... why not?


ha, and are they driving distance from me?

--------------------
more light, more love
more truth and more innovation


---

Posts: 3783 | From somewhere other than here | Registered: May 2005 | IP: Logged |

ByronSBell 2007
Unregistered



posted

---

Glad to here your report... were the shots painful since they are going deep into a VERY soar spot? I would be getting these trigger point injections in the Traps, back straps, and neck... yes, they are the size of lemons!

Do you think they would help my headache???

at the end of your post I might have misunderstood, did they come back? or was it a fix all?

---

IP: Logged |

lymeinhell
Frequent Contributor (1K+ posts)
Member # 4622


posted

---

Oh yes, many many times. And yes, they do work. However, it is a treatment that does need be repeated several times. I've had as many as 9 shots at one time in various places on my head and shoulders.

It was HEAVEN to get rid of the pain. The shots containe Lidocaine, so the area gets numb. It's not really painful, especially in the skull area. When the Lidocaine wears off, the area will be a little sore, but just a tiny area and only short-lived.

My money is on yes, it will relieve your head pain. It did mine. I would get one spot on the back of my skull, but wouldn't really notice that area was in pain. Rather, I would feel it wrap around my skull, into my eye. Also radiate down to my ear and jaw.

Do it, do it, do it. You won't believe you ever waited so long to do it.

And btw - I was quite surprised my insurance covered this, and extremely grateful.

--------------------
Julie
_ _ ___ _ _
lymeinhell

Blessed are those who expect nothing, for they shall not be disappointed.


---

Posts: 2258 | From a better place than I was 11 yrs ago | Registered: Sep 2003 | IP: Logged |

johnlyme1
LymeNet Contributor
Member # 7343


posted

---

Another word for it is prolotherapy - I found it very important to also have body work done along with this, like cranial sacral work. the shots work on getting the nerve function flowing again and then the body work helps get all the toxins moving out along with restoring nerve funtion.

---

Posts: 582 | From milwaukee wi | Registered: May 2005 | IP: Logged |

dlp252
Member
Member # 10711


posted

---

I have just finished a series of prolotherapy injections for my neck and shoulders. I'm seeing an internist for the injections, but she works in conjunction with physical therapy and chiropractic...so I get my injections then have a PT session (which is massage in my case) and an adjustment.

I'd say it has helped a great deal. The overall pain level in my neck has been reduced a bit, but I have greater range of motion from side to side without pain than I did before the injections.

I think prolotherapy differs just slightly from trigger point, at least the way my doctor described it. With prolotherapy, they inject at the insertion point down to the bone. The solution is a solution (which can vary slightly) of sugar water, a little lidocaine and a little B12.

---

Posts: 83 | From us | Registered: Nov 2006 | IP: Logged |

randibear
Honored Contributor (10K+ posts)
Member # 11290


posted

---

i went to one pain management doctor and he wanted to do the lidicaine with a steroid or something. don't quote me, but i remember asking what it was and he said, yes, part was steroid, so i said no.

i'm afraid of injections too.

--------------------
do not look back when the only course is forward


---

Posts: 12262 | From texas | Registered: Mar 2007 | IP: Logged |

lymebytes
Frequent Contributor (1K+ posts)
Member # 11830


posted

---

Hi,
With LD NEVER use any cortisteroid treatments oral or otherwise and especially trigger point injections, lidocaine alone is ok and they work just as well. The purpose of these treatments is to break the pain cycle. Cortisone shots can make you much worse.

(You were wise Randi to reject the injections!)

Cortisone is an immunosuppresant and at no time should it be used with a bacterial infection. It is responsible for disseminating my LD to every cel in my body, releasing dormant viral infections -nearly killing me and the pain unimaginable.

For more info on cortisteroid treatments and their detrimental/dangerous effects on LD patients, read Burrascano's Treatment Guidelines
Take care.

--------------------
www.truthaboutlymedisease.com


---

Posts: 2003 | From endemic area | Registered: May 2007 | IP: Logged |

ByronSBell 2007
Unregistered



posted

---

but would just a small amount of cortisone hurt? I take cortisol everyday...

---

IP: Logged |

improver
LymeNet Contributor
Member # 8380


posted

---

I would say that any steroid is a potential for the bacteria to gain momentum. I took what is thought to be low dose cortisol and alot of my lyme symptoms came back . I stopped after a few days thanks to some on this site who have been in this fight for a long time and have almost recovered completely, they told me NO Steriods at all....However I have been researching trigger point therapy today and feel ok about non-steroidal injections.

I am amazed at how trigger point inflammation can cause refferd pain patterns and various other symptoms, Lymeinhell is right on the money in my opinion.....

As always this is just my opinion and I am by no means a Dr or even close, just my experience...

---

Posts: 413 | From nj | Registered: Nov 2005 | IP: Logged |

improver
LymeNet Contributor
Member # 8380


posted

---

Please be aware that we cannot hope to put all the information from ours and several other books for patients on these disorders. Please get additional information from one of these sources. We have listed some in the bibliography.


Trigger Points (TrPs)
Trigger Points (TrPs) are found as extremely sore points occurring in ropy bands throughout the body. They can also be felt as painful lumps of hardened fascia. The bands are often easier to feel along the arms and legs.


If you stretch your muscle about 2/3 of the way out, you might be able to feel them. Sometimes the muscles get so tight that you can't feel the lumps, or even the tight bands. Your muscle feels like "hardened concrete".


TrPs can occur in the myofascia, skin, ligaments, bone lining, and other tissues. They can be caused by a surgical incision, as is often the case with abdominal surgery. You have probably never heard of TrPs, yet they are quite common. Each specific TrP on the body has a referred pain or other symptom pattern that is carefully documented in Travell and Simons' medical texts, "Myofascial Pain and Dysfunction: The Trigger Point Manuals Vol. I and II".


Myofascial TrPs can entrap the nerves, blood, and lymph vessels, causing a variety of symptoms that confuse doctors and patients alike. Often nerve damage is erroneously suspected, and many expensive, unnecessary (and often painful) tests are ordered.

TrPs are formed of multiple microscopic areas called active loci (pronounced low-sigh). These loci cause the segments of the muscle fibers, called sarcomeres, to become distorted. Eventually, a contraction knot forms, as well as a taut band. When you have TrPs, your muscle strength becomes unreliable. You may also notice that when one part of your body is supported by another part while you are sleeping, the part being compressed goes numb.

Some other symptoms of TrPs include the following:

Stiffness
muscle tightness and weakness
localized sweating
eye tearing
copious salivation
poor balance
dizziness
nausea
tinnitus
goose bumps
runny nose
buckling knees
weak ankles
illegible handwriting
staggering gait
headaches
muscle cramps


Most specific pains called fibromyalgia are actually caused by TrPs. TrPs seem to form throughout life as a response to the many things that happen to our bodies. They can be caused by a variety of events ranging from a surgical incision, overuse, repetitive motion trauma, bruises, strains, joint problems, and so forth. Many of the aches and pains attributed to "old age" may actually be due to TrPs, and may be reversible.


Dizziness, ringing of the ears, loss of balance, and other symptoms can all be caused by TrPs in the side of the neck, in the muscle group called the sternocleidomastoid (SCM) complex. This muscle group performs many functions, one of which is to hold up the head.


Receptors in the SCM complex transmit nerve impulses to inform the brain of the position of the head and body in the surrounding space. When there are TrPs present, the receptors lie. What they tell the brain is not what the eyes tell the brain. When head movement changes the SCM message (when you turn around or look up or down) you get dizzy.

This, coupled with poor balance, can make it seem as if the walls are tilting. When people with SCM TrPs drive, we get the impression that we "bank" our turns at a steep angle, as if we were driving a motorcycle. Also, TrPs associated with the SCM muscle group can cause patterns of light and dark, such as tree shadows on a road, to create an almost seizure-like phenomenon. Looking at certain printed fabrics, such as plaids, stripes, and polka dots, can make us dizzy.

TrPs often form as a result of other medical conditions. For example, a case of arthritis might be otherwise well managed, but the accompanying TrPs might be completely overlooked. That patient's pain load could be substantially lessened if the secondary TrPs were treated successfully.

Diagnosis really becomes challenging when body wide TrPs develop with overlapping referral zones. This "spread" of TrPs gives the impression that the condition is progressive, but it isn't. It may be getting steadily worse, but with proper attention to perpetuating factors and appropriate treatment, the "progression" can be reversed.

Sometimes the TrP is inside the pain pattern, and sometimes the pain pattern occurs elsewhere. Each specific TrP on the body has a referred pain or other symptom pattern that has been carefully observed and documented in many patients. This pain pattern is similar from patient to patient.

Active TrPs often produce other symptoms, also usually in their referred pain zones. Such a TrP hurts whenever you use the muscle involved. When the point becomes very active, pain and other symptoms result, even when the muscle is at rest. A latent TrP doesn't hurt at all unless it is pressed. It restricts movement, and weakens and prevents full lengthening of the affected muscle. If you press on a latent TrP, it will refer pain in its characteristic pattern. A latent TrP may be activated by overstretching, overuse, or chilling the muscle.

If TrPs are treated immediately and vigorously, and perpetuating factors (conditions that aggravate and perpetuate the TrPs) are avoided or remedied, the TrPs can be eliminated. If the muscle is pushed to work in spite of the pain, especially if perpetuating factors exist, active TrPs may develop secondary and satellite TrPs.

---

Posts: 413 | From nj | Registered: Nov 2005 | IP: Logged |

shelly05
Member
Member # 12151


posted

---

I just had five shots in my shoulder of lidocaine and depo-medrol with no relief. I didn't even feel the shots go in. The doctor did mention that my shoulder was "tighter than a drum" maybe that's why I didn't feel the shots.

---

Posts: 10 | From AZ | Registered: Jun 2007 | IP: Logged |

improver
LymeNet Contributor
Member # 8380


posted

---

I'm thinking that they have to find these inflamed trigger points and inject directly into them in order to release the tight muscle. The trigger points are very small and if the muscle is too tight they might not be able to feel them.

This is only what I've read on the sites I found so far.

---

Posts: 413 | From nj | Registered: Nov 2005 | IP: Logged |

Beverly
Frequent Contributor (5K+ posts)
Member # 1271


posted

---

Wow this thread is very interesting. I did trigger point massage therapy for about 7 years to help with pain, but I never did any kind of injection.

---

Posts: 6626 | From Michigan | Registered: Jun 2001 | IP: Logged |

Getting Better
LymeNet Contributor
Member # 8919


posted

---

I've had both the massage and the injections, when my diagnosis was "fibromyalgia" rather than the actualy diagnosis, Lyme. Both of those treatments made the symptoms worse.

--------------------
Jeff


---

Posts: 533 | From CA | Registered: Mar 2006 | IP: Logged |

pab
Frequent Contributor (1K+ posts)
Member # 904


posted

---

My son and I have had TPI and prolotherapy. The TPI helps the pain for awhile. Prolotherapy should help long-term by fixing the problem.

Prolotherapy uses a dextrose (sugar water) solution, which is injected into the ligament or tendon where it attaches to the bone. This causes a localized inflammation in these weak areas which then increases the blood supply and flow of nutrients and stimulates the tissue to repair itself.

My doctor uses a corn based solution. I've had 6 treatments so far. My pain is greatly reduced and I've had the pain for 20+ years.

My son has had 2 treatments and he is doing a lot better. Kids to respond faster than adults.

I usually have about 60 injections at a time. My son had about 90 injections last time. Some injections are painful and some aren't.

Our insurance doesn't cover prolotherapy. I'm working on an appeal right now.

--------------------
Peggy

~ ~ Hope is a powerful medicine. ~ ~


---

Posts: 2775 | From MN | Registered: Apr 2001 | IP: Logged |

bettyg
Unregistered



posted

---

improver, OUTSTANDING trigger point info you posted; learned a lot!

during pain clinic, i had 2 separate back injections about 9 yrs. coming up dec. 07; can't remember if cortisone or not. did NO good; painful.

didn't know i had lyme then; dx 3 yrs. ago correctly.

also had heel cortison? injection; hurt like hell! NO GOOD; just misery.

---

IP: Logged |
Contact Us | LymeNet home page | Privacy Statement

Powered by UBB.classic™ 6.7.3

---
The Lyme Disease Network is a non-profit organization funded by individual donations. If you would like to support the Network and the LymeNet system of Web services, please send your donations to:
The Lyme Disease Network of New Jersey
907 Pebble Creek Court, Pennington, NJ 08534 USA
http://www.lymenet.org/
---
Home | Flash Discussion | Support Groups | On-Line Library
Legal Resources | Medical Abstracts | Newsletter | Books
Pictures | Site Search | Links | Help/Questions
About LymeNet | Contact Us
---
© 1993-2020 The Lyme Disease Network of New Jersey, Inc.
All Rights Reserved.
Use of the LymeNet Site is subject to Terms and Conditions.
---