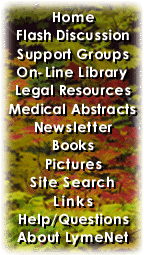 ---
LymeNet on Facebook
LymeNet on Twitter
---
---
The Lyme Disease Network receives a commission from Amazon.com for each purchase originating from this site.
When purchasing from Amazon.com, please
click here first.

Thank you.




Dedicated to the Bachmann Family


LymeNet needs your help:
LymeNet 2020 fund drive

The Lyme Disease Network is a non-profit organization funded by individual donations.

| | |
| --- | --- |
| | |
Author
Topic: New symptom-severe leg pain

AmandaPI
Member
Member # 5587


posted

---

I was diagnosed with LD four years ago after many years of misdiagnosis including depression, CFIDS and fybromyalgia, etc.

I've been on many oral abx and two rounds of IV abx with much improvement but also some major setbacks.

Three months ago, I discontinued IV abx and was feeling better than ever. I had just bought a new home, was able to work in the yard, became much more active and got married.

I decided to go back to work full time two months ago and things started going downhill. I still have significant pain problems in my neck and upper back and it seems that dealing of the stress of the nature of my work was making it worse. I would hate to quit but may need to.

About a month ago, I had a sudden onset of pain in my ankles. Not really joint pain but a different type of pain than I ever had, even when I did have some FM type pain years ago.

This has continued intermittently and over the last two weeks has become severe to the point of having difficulty walking at times and on a couple of occasions driving (when pushing on the brake it feels like my leg may give out). I've become an emotional wreck which also seems to feed into the whole thing.

Although it starting in the ankle region, it as now moved more into my calves, behind the knee and lower quads. It feels somewhat like a leg cramp at times but mostly just plain hurts. Also, I do not have restless leg syndrome.

I have left a msg for my pain doc with no response as of yet. I do have a doctor in another city nearby that has some experience with LD and I will try to get in with him ASAP.

I'm wondering if anyone has experienced this with LD and if there is any possible explanation. I have tried heat and ice with some relief as well as topical creams.

Does anyone have any other suggestions for temporary relief? I feel like I am driving my husband nuts right now with the limitations I have on housework, yardwork, social activities etc. and just wanting to lay in bed as soon I I get home every night. He is very supportive in general but also feels very helpless and confused.

Any advice would be greatly appreciated!

Amanda

---

Posts: 80 | From Salt Lake City, Utah USA | Registered: Apr 2004 | IP: Logged |

Aniek
Frequent Contributor (1K+ posts)
Member # 5374


posted

---

Amanda,

I get ankle pain that is very hard to describe. It's inside, but not really joint pain. Mine usually comes along with pain in the bottom of my feet.

I found that it helps to wear elastic ankle supports when I have the pain. I'm not sure if it's the constriction or if it's providing arch support, but it really reduces the pain.

Although this isn't the most intense pain I get, it may be the most bothersome. It's the one pain that will keep me from sleeping. The supports help a lot.

You can buy them at any pharmacy. I just get the kind you slip over your foot. I find you want it to be tight enough to give pressure, but not so tight that it will restrict circulation. You may need to try a couple sizes to find the perfect size for you, but the boxes give memberships.

--------------------
"When there is pain, there are no words." - Toni Morrison


---

Posts: 4711 | From Washington, DC | Registered: Mar 2004 | IP: Logged |

DolphinLady
LymeNet Contributor
Member # 6275


posted

---

Sounds like you took on too much too soon and are now set back with new symptoms.

I've seen it many times with folks recovering from lyme complex (coinfections etc) and have experienced it myself.

Some folks end up in even worse conditions if they don't listen to their body's signals - very scary!

Don't lose hope, just have more patience and ramp up more slowly and carefully while listening to your body. Not easy I know!

---

Posts: 925 | From California | Registered: Sep 2004 | IP: Logged |

Skyler
LymeNet Contributor
Member # 11549


posted

---

Amanda, I am so sorry you are experiencing such bad pain. I too have lived with undescribable pain in my ankles, knees and hips most of my life. I know how it can destroy any enjoyment you have in your life. I also have weakness where my legs give out randomly

For me, showers have always helped, along with heat. Mainly because it is a different sensation that can distract from the pain.
My pain gets so bad that i actually hit with my hands the places that hurt, because again, it is a different sensation that can distract from the pain. I dont recomend that last one!

I have heard there are some herbs/vitamins that can help with your pain tollerance. I do not remember what they are, i use to take them, but i did not notice any effect with my pain. Perhaps if you look online for pain manamgment supliments you might be able to find something.

I really hope you start feeling better soon. I know what it is like to have to lay in bed all day because the pain has limited your life to that point. Hang in there, make sure you contact an LLMD. They might want to start you on treatment again. Don't push yourself too hard!

Hang in there babe! my heart goes out to you!

--------------------
I'm probably sleeping...


---

Posts: 419 | From Florida | Registered: Apr 2007 | IP: Logged |

kelmo
Frequent Contributor (1K+ posts)
Member # 8797


posted

---

Just a thought, but do you have brain swelling with this pain?

I felt like my brain was too big for my skull and I had pain running down my right leg. Typical sciatic nerve pain.

So, a thought could be that the pain is swelling in your brain and spinal cord and pinching a nerve going down your leg.

Not a doctor, but if the brain swelling goes down and the leg pain goes away, you'll know what caused it.

Kelmo

---

Posts: 2903 | From AZ | Registered: Feb 2006 | IP: Logged |

lymebytes
Frequent Contributor (1K+ posts)
Member # 11830


posted

---

Hi Amanda,
I have severe leg pain of all kinds, from muscle to joint, nerve and tendon pain. My legs go through phases I feel like I will need a wheel chair. Then it will subside for awhile. Lyme can really attack the legs for some reason.

Pain is due to inflammation as you may know, we with LD usually have high inflammation found in our blood tests (C4 test) because we are fighting a bacteria that is everywhere and inflammation is the bodies way of responding, but it creates pain.

Things that have helped my leg pain some, ibuprofen, even xanax helps them somewhat. Warmth - never cold. It is recommended with Lyme to try not to lower body temp by using cold. A warm heating blanket or bath and even a heating pad on low all have helped to some degree.

Of course nothing is going to get rid of our pain entirely - until the bacteria is under control. Are you back on antibiotics?

I am glad you have a pain management Md, I hope he can help you further.

In the meantime, rest your legs.

Hope you feel better soon.

--------------------
www.truthaboutlymedisease.com


---

Posts: 2003 | From endemic area | Registered: May 2007 | IP: Logged |

dmc
Frequent Contributor (1K+ posts)
Member # 5102


posted

---

my nerve pain in feet & legs has become unbearable,
nothing was working, regular vicoden wasn't touching it anymore.
my llmd prescribed neurotin. said either love it or hate it. only to take it at night, glad he said that...totally loopy from it.

Pain doc said to try new formula of vicoden...lower mg but higher concentration of the hydrocodone. whoa...getting sick on it...even vommitted. I'm allowed to take 5 of these a day. Can't even manage 1/2 tab.

so after struggling for a week and no pain relief with new vicoden, just took a neurotin 300mg. Already pain in legs/feet/ankles is "relaxing".

I rather be little loopy when I get up to urinate a 2am than feeling nausaus all day with 1/2 tab of the new vicoden.

Hope you find releif soon.

---

Posts: 2675 | From ct, usa | Registered: Jan 2004 | IP: Logged |

AmandaPI
Member
Member # 5587


posted

---

Thanks so much to everyone for the great suggestions and support! I will definately try all of these things that have been helpful.

Also, does anyone know what the recommended dosage for Magnesium is? I have taken in the past but was not sure on the amount.

Thanks again,

Amanda

---

Posts: 80 | From Salt Lake City, Utah USA | Registered: Apr 2004 | IP: Logged |

GiGi
Frequent Contributor (5K+ posts)
Member # 259


posted

---

Try high doses of Magnesium Malate and be sure to not take too much calcium. It will pull magnesium out of the body in order to assimilate.
(too much calcium: gallstones, kidney stones, calcium deposits in joints which is misinterpreted as arthritis. We take NutraMedix Malate - not all Mag malate are clean - and avoid artificial coloring as in some Mag. It's also in a veggie cap.

Magneisum relaxes the muscle - calcium tenses the muscle. I think the jury on the ratio between the two is still out. I take more Mag Malate than Calcium Citrate and that works well for me.
If too much Mag - loose stool. Cut back.

Take care.

---

Posts: 9834 | From Washington State | Registered: Oct 2000 | IP: Logged |

yourtroubl
LymeNet Contributor
Member # 11087


posted

---

You know sometimes hurt so bad I think I must have bone cancer. I know most of my pain is joint and muscular but sometimes my upper legs hurt so that I think it has to be more.....

I think, as my doctors say, we have to realize how serious Lyme really is.

---

Posts: 347 | From WV | Registered: Jan 2007 | IP: Logged |

AmandaPI
Member
Member # 5587


posted

---

It makes me so sad to know that so many people are suffering because of this horrible illness but it also let's me know that I am not alone.

At times I feel crazy with all of the wierd symptoms that I have had over the years that seem so unrelated. I do believe that Lyme moves all around the body and I am interested in learning more about the Chronic LD vs. Post Lyme Syndrome theories.

I definately believe that I have taken on too much too soon. I haven't worked full time in over six years(?)as well as the other life changes. It can be easy to do when feeling really good and having been not able to do things for so long.

A few comments to questions...

I have continued on abx but may need to change. I will stop until I can get into my LLMD as some of my prior herxes have been so severe that I felt like I was dying.

As far as brain swelling, that may be happening too. I have been having severe migraines the past couple of weeks as well as worsening insomnia.

Thanks again and I hope that you all are able to find some comfort with your symptoms as your bodies heal.

---

Posts: 80 | From Salt Lake City, Utah USA | Registered: Apr 2004 | IP: Logged |

Allison Smith
Member
Member # 11631


posted

---

I have bad bone pain also, and I take Magnesium, and I can definately say this has taken some of the pain away.

Someone else had mentioned Sciatic nerve problems. I have that also, and it is very debilitating. Not much you can do about that one.

The pain behind the knee that your having bothers me. People with lyme tend to have thicken blood that leads to clots. A pain behind the knee is one of the signs of a blood clot.

I'm not a doctor and can't diagnose you, but I would definately have that checked out. I have experienced blood clots myself, 5 of which went to my lungs and I'm lucky to be alive. So just have those things checked out.

Much LUCK!

---

Posts: 94 | From Greenville, Tx | Registered: Apr 2007 | IP: Logged |

Cathy DeVoe
Member
Member # 11271


posted

---

Hi Amanda,

Infrared Sauna helped me with the horrible leg, ankle pain.

I quit doing it and am worse than ever so look forward to doing that treatment again.

Try it 2-3x's weekly and it took about 1 month.

Good Luck, Skooch

---

Posts: 88 | From Carnation | Registered: Feb 2007 | IP: Logged |

salydega
Member
Member # 7309


posted

---

Amanda: I agree with DMC about the Neurontin!! I also have severe pain in my feet,ankles and legs. I posted here about a month ago with your same question about leg pain. A couple people had suggested Neurontin.

I was taking vicodin at the time and it was not even touching this pain.

I asked my PCP for Neurontin and that has helped alot.

When I over do though, like I did tonight even that doesnt help much. I am actually laying in bed with my heating pad wrapped around my feet now!!

My PCP said it sounded like nerve pain to him and that is what that med helps with is nerve pain.

I understand how you feel and it hurt like heck. The heat also brings some relief.

My hubby rubs/messages my feet every night. I also am a newlywed and I can relate to you about feeling bad for them. Having to deal with our sickness. But... this too shall pass and we will conquer this disease and once again live active lifes.

In the meantime I hope you can find some relief, everyone has given you great suggestions to try.

Take care and God bless.

Sandra

---

Posts: 73 | From phoenix, az | Registered: May 2005 | IP: Logged |
Contact Us | LymeNet home page | Privacy Statement

Powered by UBB.classic™ 6.7.3

---
The Lyme Disease Network is a non-profit organization funded by individual donations. If you would like to support the Network and the LymeNet system of Web services, please send your donations to:
The Lyme Disease Network of New Jersey
907 Pebble Creek Court, Pennington, NJ 08534 USA
http://www.lymenet.org/
---
Home | Flash Discussion | Support Groups | On-Line Library
Legal Resources | Medical Abstracts | Newsletter | Books
Pictures | Site Search | Links | Help/Questions
About LymeNet | Contact Us
---
© 1993-2020 The Lyme Disease Network of New Jersey, Inc.
All Rights Reserved.
Use of the LymeNet Site is subject to Terms and Conditions.
---