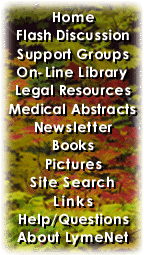 ---
LymeNet on Facebook
LymeNet on Twitter
---
---
The Lyme Disease Network receives a commission from Amazon.com for each purchase originating from this site.
When purchasing from Amazon.com, please
click here first.

Thank you.




Dedicated to the Bachmann Family


LymeNet needs your help:
LymeNet 2020 fund drive

The Lyme Disease Network is a non-profit organization funded by individual donations.

| | |
| --- | --- |
| | |
Author
Topic: Fibromyalgia treatment?

kelmo
Frequent Contributor (1K+ posts)
Member # 8797


posted

---

Looks like the makers of Lyrica are getting a boost from this announcement.

---

Posts: 2903 | From AZ | Registered: Feb 2006 | IP: Logged |

Skyler
LymeNet Contributor
Member # 11549


posted

---

well thats just great. Now people are going to just accept they have pain and never find out why.

--------------------
I'm probably sleeping...


---

Posts: 419 | From Florida | Registered: Apr 2007 | IP: Logged |

cantgiveupyet
Frequent Contributor (1K+ posts)
Member # 8165


posted

---

Lyrica didnt help me at all. I dont meet the fibro diagnosis, but i do have some of the symptoms of it, but these symptoms were the last to arrive.

I take neurontin(similar to lyrica) and it has helped with the bladder nerve pain, but has done nothing for my stiff pelvis and tight muscles.

If emotional stress is a trigger for fibro, then why dont more have it?

--------------------
"Say it straight simple and with a smile."

"Thus the task is, not so much to see what no one has seen yet,
But to think what nobody has thought yet, About what everybody sees."

-Schopenhauer

pos babs, bart, igenex WB igm/igg


---

Posts: 3156 | From Lyme limbo | Registered: Oct 2005 | IP: Logged |

TerryK
Frequent Contributor (5K+ posts)
Member # 8552


posted

---

Looks like an ad for lyrica.

Interesting how they mention virus but no mention of lyme even though it is known, even by many ducks, that the symptoms are identical.

Terry

---

Posts: 6282 | From Oregon | Registered: Jan 2006 | IP: Logged |

Lymetoo
Moderator
Member # 743


posted

---

Sheesh. I'll bet there will be plenty of people disappointed in the Lyrica!

--------------------
--Lymetutu--
Opinions, not medical advice!


---

Posts: 95723 | From Texas | Registered: Feb 2001 | IP: Logged |

cgooge
Member
Member # 7922


posted

---

Lyrica did not help my wife either....

---

Posts: 82 | From Summerville, SC | Registered: Sep 2005 | IP: Logged |

butchieboo
Unregistered



posted

---

I took one look at the possible side effects of lyrica and that was enough for me.

So how the heck can they declare fibro as a disease?
They lumped it in with CIDS and CFS I believe.

Not too sure but...some organization has linked these three symptoms together and called it some other kind of "disease"...

If I remember where to look I'll get back to you!

And yes when I heard of this I wrote to one of the support group guys and told them I thought they were making a huge mistake.

I asked him what was going to happen after they find out that the reason for those three symptoms...now called diseases....just happens to be borelia....

He had no comment.
BB

BB

---

IP: Logged |

fancykat
Member
Member # 7857


posted

---

I'm very wary of new medications and was really apprehensive about trying Lyrica.

But. I've been on it for almost two years. And I have to say, it's been a miracle for me. I had some unpleasant side effects at first, but I stuck it out. My pain is significantly reduced and I'm sleeping better at night.

---

Posts: 38 | From behind the definitions | Registered: Sep 2005 | IP: Logged |

CaliforniaLyme
Frequent Contributor (5K+ posts)
Member # 7136


posted

---

JUST saw an ad on TV for National Fibro Assocition or something endorsing some fibro drug!!

I got fibromyalgia within 2 months of tickbite and IT WENT AWY WITH IV ROCPEHIN!!!!!!!!!!!!!!!!!

It sucked!!!

--------------------
There is no wealth but life.
-John Ruskin

All truth goes through 3 stages: first it is ridiculed: then it is violently opposed: finally it is accepted as self evident. - Schopenhauer


---

Posts: 5639 | From Aptos CA USA | Registered: Apr 2005 | IP: Logged |

Robin123
Moderator
Member # 9197


posted

---

I was told early on that what I had was fibromyalgia. This, within a short time after being bitten by the tick, but not knowing anything about the meaning of a tickbite.

So when I tested positive for Lyme last year, and went on clindamycin 150 mg 4x/day, because it was in my drawer, the fibromyalgia went down to zero in one week. And it still works that way.

Welcome to the truth about fibro.

---

Posts: 13069 | From San Francisco | Registered: May 2006 | IP: Logged |

butchieboo
Unregistered



posted

---

All the ducks I've ever had the misfortune of having for a duck have never ever understood that whenever I have had pain and taken ABX's of one sort or another, my pain went away.

They don't get it,or don't want to get the fact that the inflammation, which then presses on a nerve in like a joint area of my body, which happens to be why there is pain, is caused by my persistant, resistant BB infection.

When I take the ABX's, the inflammation goes down thus relieving the pressure on the nerves around the joint, which in turn lowers or eliminates my pain.

A lot of my transient pains are relieved as well, and I get some energy back for awhile.

The ducks all tell me that that's "impossible" or "they're not supposed to work like that".

Of course, when I tell them WHY it works like that, they just give me that condescending look of incredulity, that I should know more than they do about how my body works.

They think I get some sort of "high" off of the antibiotics. So now I'm an "antibiotic seeker" because I have some "psychosomatic" need to take antibiotics.

Man they are just thinking Wayyyy too hard here and missing the point.

I have pain, I won't need you're pain killers for long,because, after you give me some antibiotics, all,or a great deal, of my pain goes away.

I feel better, over all, and one could say, "yes, I'm feeling kinda "high"(but really,just relieved and very happy) because my pain and fatigue have gone away.

I mean they could and often do take it to the extreme that I have a psychological addiction to antibiotics.

I maintain that it's a bunch of baloney. It's way more simple than that and they are overthinking the situation.

I have pain and fatigue and swelling. I take the antibiotics and the swelling goes down, relieving my pain. Then I'm not so depressed or fatigued either. So, hey duck, you can keep your REAL painkillers and just give me ABX's when I need them.

Also, mr duck. Don't tell me I have fibro or parkinsons or MS or CFS or lupus or ALS....when I've been tested for all of them, that can be

tested for, and I'm not positive for any of those disease or syndromes. And if you MUST make a clinical decision as to what I'm suffering

from. Please make it what I've at least had one positive blood test for. Lyme disease. Then go back to school and learn how best to help me with this disease.

Oh by the way...it was'nt CID's that was one of the syndromes linked together...it was I think,CFIDS....I think...but I'm still looking for that press release that links them all together cuz it gives them some other name.

I kinda got off track here....sorry....BB

---

IP: Logged |

pattilynn
LymeNet Contributor
Member # 8065


posted

---

I agree. It's an advertisement for Lyrica. There's no way I will ever accept this as a plausible diagnosis. I do accept fibro as group of symptoms related to something much bigger. Sadly, approving this as a "disease" will harm so many people. Even now, once someone gets a fibro diagnosis they stop looking for other causes.

Patti

---

Posts: 340 | From Ohio | Registered: Oct 2005 | IP: Logged |

klutzo
Frequent Contributor (1K+ posts)
Member # 5701


posted

---

Butchieboo,
I am not sure, but I think what you are referring to may have been the big pow-wow of world-wide docs who are experts in CFS that met recently to discuss changing the name to something less patronizing, and also so that the illness would be known by the same name the world over.

They pointed out that this set of symptoms goes by the following names:
CFS aka Chronic Fatigue Syndrome
CFIDS aka Chronic Fatigue Immune Deficiency Syndrome
ME = Myalgic Encephalomyelitis
FMS = Fibromyalgia Syndrome

They proposed changing the name to Myalgic Encephalopathy.

Some still feel FMS should be separate from the others. All of them felt the others were all the same illness, which they believe is primarily viral in nature.

Is this what you were referring to, or am I way off base? I read about this conference in the ProHealth Newsletter. ProHealth is run by Rich Carson, who had CFS....was that the person you wrote to?

If so, the support boards on his site recently added a Lyme forum, but they still have separate forums for CFS and FMS which are much larger and more active (www.immunesupport.com).

This IS progress, however. They are by far the largest and most active CFS/FMS support site on the Internet, and they used to ban people immediately if they even mentioned that CFS/FMS is Lyme! I know because I left in protest when they did this to several very good people.

Klutzo

---

Posts: 1267 | From Clearwater, Florida, USA | Registered: May 2004 | IP: Logged |

farah
LymeNet Contributor
Member # 8496


posted

---

Butchiboo,

Kudos to you for understanding what is going on in your body enough to ignore the idiot ducks! I had the same experience.

The only thing that reduces pain permanently is something that kills off the bacteria.

It is sad that we get ostracized and ridiculed and mistreated and denied care, when we are logically deducing what is going on in our bodies when everyone else in the system we turn to has been brainwashed to see us as crazy.

Farah

---

Posts: 208 | From New Mexico | Registered: Dec 2005 | IP: Logged |

Aniek
Frequent Contributor (1K+ posts)
Member # 5374


posted

---

For some people, Lyrica will make a huge difference in their quality of life.

We don't know what fibromyalgia is. It sure seems like many with Lyme have fibromyalgia symptoms. But nowhere is there proof that fibromyalgia is always Lyme.

For those people who will never find the cause of their fibro symptoms, I hope Lyrica brings some of them relief. For those who won't find the cause for 20 years, or who find a cause that has no cure, I hope Lyrica brings some of them relief.

--------------------
"When there is pain, there are no words." - Toni Morrison


---

Posts: 4711 | From Washington, DC | Registered: Mar 2004 | IP: Logged |

wilsongal22
LymeNet Contributor
Member # 11210


posted

---

Touchy subject in my opinion. To me it is open water.

I have been doing a lot of research on this because I have yet to be diagnosed and I am tired of being passed from doctor to doctor so...

I would have to think that maybe fibro is a syndrome in itself, BUT I think in some cases it is something more. 1/2 1/2

Because, maybe fibro is a just a bunch of symptoms with a name. But, maybe it is something more like Lyme.

My neighbor was diagnosed with fibro a long time ago and has been on meds(not sure if she still is), but we talked about it and she says she is better now. She has good and bad days, but her bad days are better than they used to be.

I am going to talk to her more about it. I am on a QUEST to diagnose myself since the doctors are all idiots. BUT a few of you are saying it is bad that it is a known disease because people will stop searching for a diagnoses higher than that.

Well, luckily I have been educated by the BEST(you guys here) and I know better. If I am diagnosed with fibro I know NOT to stop there!

I could have fibro just as easily as I could have Lyme. So, I won't give up or settle until I am sure.

That is just my opinion. I am not sure though. I am kind of out of it right so if I said something that doesn't make sense forgive me! Correct me if you'd like! Thanks!

--------------------
Jesus sweated blood over the task that lay before Him.He could have escaped his brutal execution at anytime,but he didn't he stayed there for you.

God bless,Christi


---

Posts: 306 | From Alabama | Registered: Feb 2007 | IP: Logged |

stella marie
LymeNet Contributor
Member # 7216


posted

---

As for myself a small dose of Lyrica helped me tremendously w/nerve pain.

The only side effect I've had was sleepiness the first few days.

I've been on it for 8 months.

--------------------
Stella Marie


---

Posts: 694 | From US | Registered: Apr 2005 | IP: Logged |

jaime1978
LymeNet Contributor
Member # 11786


posted

---

not so funny story here. I was dx with fibro and MCTD (autoimmune-even though the blood work wasn't conclusive)....4 years ago now.... I always knew there was more to it, so I always pursued options, and came across lyme by chance.... I have over 60 symptoms of lyme...so it's a no brainer. I went to the doc who dx me with the fibro and mctd, and he laughed of course. But ran the elisa to humor me...it was negative, big surprise huh...end of discussion.

I do like my doctor, but have decieded to go behind his back to seek lyme treatment. started abx 3 weeks ago, and feel like DEATH,....so again, no doubt this is lyme. ... I just wish the doctors would just not be so darn ignorant about all this. I admit, I take pain meds. I have to or I can't function, and I have two toddlers, I want to be a mom to them. But I also refuse to be sentanced to a life of having to take them forever.

so that's why I found llmd. I don't like my llmd, but he takes my ins. and it's all I can afford right now. it's a starting point. I had been on fibro sites before, and boy oh boy, they jump on you when you mention lyme as a possibility! they just accept a simple answer and a prison of being on meds forever.... it's sad.

---

Posts: 151 | From ohio | Registered: May 2007 | IP: Logged |

docjen
LymeNet Contributor
Member # 7510


posted

---

Aniek-I totally agree with you. Not everyone with fibro has lyme. We don't know what it is or what causes it. As for me, I am glad that the diagnosis of fibromyalgia is being more widely recognized, because you know what the alternative diagnosis usually is for women? Psychosomatic illness. They tell you to go home. Get some rest. Deal with stress better. Get a man. Drink some wine. You'll feel fine.

The alternative for most women is NOT the realization by docs that fibromyalgia is not a cause in itself, so let's doc and patient work together to figure out what this is and get you healed. It's a scrip for Xanax and a pat on the head.

If Lyrica works for a percentage of people...I am glad.

---

Posts: 393 | From Washington, DC | Registered: Jun 2005 | IP: Logged |
Contact Us | LymeNet home page | Privacy Statement

Powered by UBB.classic™ 6.7.3

---
The Lyme Disease Network is a non-profit organization funded by individual donations. If you would like to support the Network and the LymeNet system of Web services, please send your donations to:
The Lyme Disease Network of New Jersey
907 Pebble Creek Court, Pennington, NJ 08534 USA
http://www.lymenet.org/
---
Home | Flash Discussion | Support Groups | On-Line Library
Legal Resources | Medical Abstracts | Newsletter | Books
Pictures | Site Search | Links | Help/Questions
About LymeNet | Contact Us
---
© 1993-2020 The Lyme Disease Network of New Jersey, Inc.
All Rights Reserved.
Use of the LymeNet Site is subject to Terms and Conditions.
---