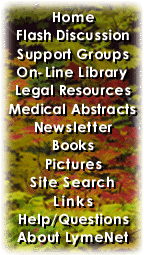 ---
LymeNet on Facebook
LymeNet on Twitter
---
---
The Lyme Disease Network receives a commission from Amazon.com for each purchase originating from this site.
When purchasing from Amazon.com, please
click here first.

Thank you.




Dedicated to the Bachmann Family


LymeNet needs your help:
LymeNet 2020 fund drive

The Lyme Disease Network is a non-profit organization funded by individual donations.

| | |
| --- | --- |
| | |
Author
Topic: Coping with treatment - how do you do it?

listenswithcare
LymeNet Contributor
Member # 10719


posted

---

I'm on my second time of treatment after relapse. This time - 2 months Biaxin/Malarone followed by IV Rocephin/Zith/Flagyl for 17 weeks so far. I have definitely had symptom improvals, but my energy levels feel like they are dropping.

I work full time and have been trying to do some exercise, but it just seems like I can't do as much lately. I think I was doing too much in the beginning, and I have backed off, but it just seems like everything is difficult or something.

I tend to trivialize this whole IV Rocephin thing and the management of it all. When really, it takes alot of energy to keep track of my meds and IV supplies and nurse visits and Supply needs and deliveries and I have had some trouble with my blood work getting to my doctor, etc., etc., etc.

So, I am wondering, how do people do this? What kind of activity level have you been able to maintain while on such a treatment? Did you work full time? I know everyone is different, but I guess I want to hear other people's experience. I am past all the "bad" herxing, but still struggling.

Perhaps it is co-infection and one of mine is Bartonella, but Zith is supposed to hit that, too. Maybe it is just going to take me longer. The buzzing is better, concentration is better, I can think analytically again (not great, but okay), heart palps are better, generalized pain is better, headaches are better (except from the Actigal).

I just wish I could get that energy boost!

Okay - thanks for your input.

Robin

---

Posts: 276 | From Maryland | Registered: Dec 2006 | IP: Logged |

Lymetoo
Moderator
Member # 743


posted

---

I was already disabled when I began Lyme treatment. Good news, bad news. At least I didn't have to get up and go to work.

My hat's off to you and anyone else who can continue to hold down a job while going thru treatment!

Just take it one day at a time. That is for sure!!

--------------------
--Lymetutu--
Opinions, not medical advice!


---

Posts: 96203 | From Texas | Registered: Feb 2001 | IP: Logged |

ESG
LymeNet Contributor
Member # 4816


posted

---

Hard to relate because I could never cope with being able to go to/maintain a job, so you are way ahead of me right there!

ESG

---

Posts: 424 | From Connecticut, USA | Registered: Nov 2003 | IP: Logged |

listenswithcare
LymeNet Contributor
Member # 10719


posted

---

Hmmm. I really need some more input here, because it is so difficult to maintain what I am doing. I need a barometer. My friend with RA thinks I already qualify for disability. I don't want to do that.

At least I get to work at home 1 day per week and have great flex time. Otherwise, I would not be able to work.

I'm taking next week off and just staying home, so I am hoping that will help.

Robin

---

Posts: 276 | From Maryland | Registered: Dec 2006 | IP: Logged |

ByronSBell 2007
Unregistered



posted

---

yea, a job and having lyme is def. no fun!

Had to finish 6 months of hard school while sick and it was absolute hell!

If you were in remision and then relapsed then you can't be too bad (as in you should be able to push them back to remission in a short amount of time)

Atleast you had a remission I'm still trying to get there and a long ways

---

IP: Logged |

listenswithcare
LymeNet Contributor
Member # 10719


posted

---

Unfortunately, I wasn't ever in a full "remission". I was better, but still cycling. We had stopped the ABX then because I was dropping weight and carrying constant low grade fever and feeling poorly. I felt a bit better stopping ABX, but I felt symptoms returning within 6 -8 weeks.

---

Posts: 276 | From Maryland | Registered: Dec 2006 | IP: Logged |

bettyg
Unregistered



posted

---

hats off to you for working ft!!

i couldn't do it! i left/quit work 9 years ago and it was 6 more yrs. before i had chronic lyme of 37.5 years!

see about cutting down hours but where you insurance is still paid 100%. good luck to you.

if you decide to go disability route, there are 25 pages of info in my newbie package to look thru to help you be approved 1st time, 1st step!

---

IP: Logged |

monkeyshines
LymeNet Contributor
Member # 6406


posted

---

Robin,

I've worked through 5 years of treatment, including two rounds of IV rocephin. I've needed to take a lot of serious pain meds to do it.

For the second round of IV, I was on double the original dose, i.e., 2 g. twice daily, 7 days a week. That was really tough and made me (finally) talk to my employer and arrange for some flexibility, which I needed to use.

I ended up developing c. diff colitis and being hospitalized, which made me need to stop treatment. Now I'm back to square one and back to working full-time.

I have a pretty demanding job, so it ends up consuming almost all of my energy and time. Other than doing the minimum I need to do to take care of my pets and house, get groceries and keep my clothes clean, I don't have much of a 'life'. Managing 14 meds, as many supplements, the ridiculous number of medical bills and other paperwork I get each week, and all the doctor's appts. and tests is a part-time job itself.

I question every day whether I'm hurting or helping myself by continuing to work. I wonder if I went on disability if I could focus on getting better in a way that I don't now.

It's a tough question that I think many of us struggle with. For me, trying to maintain the trappings of a regular person's life, including my job, are really important. I feel like if I give anything up (my job or my house, which would happen eventually if I went on disability -- I'd need to live in a lower cost area) I'll never get them back again. But at what cost, I'm not sure.

I wish I had some answers for you rather than just my own experience. Best to you.

monkeyshines

---

Posts: 343 | From Northern VA | Registered: Oct 2004 | IP: Logged |

Allie
LymeNet Contributor
Member # 10778


posted

---

Hi Robin --
I work full-time and have two kids (5 and 7 yrs). I've probably had lyme since 1992 and have bad neuro symptoms, but have very little pain. Neuro includes chronic fatigue.

This is what I do:
1. I sleep a lot. I take a clonazepam 0.5 before bed and I sleep like a log. On weekends I sleep about 11 hrs and on week days I get at least 9. When I herx I sleep more and I don't fight it, I just come home and go to bed. My husband is a great support with the kids.

2. I buy mostly prepared foods. I am kinda a macrobiotic/health food nut, so I try to get good stuff, but it's expensive. I've had my groceries delivered a time or two when I just can't make it to the store.

3. I've lowered my expectations for my work productivity. I think I'm better than nothing and am open with my bosses and co-workers about my illness. With the IV dangling from my arm for 3 months lots of people asked me how I do it. It is what it is and I am what I am. When I herx sometimes I cry all day. Sometimes I leave early.

4. I've started light exercise in the last 3 months or so since I've gained a bit of energy. I only exercise when I feel up to it. I have a yoga video that I do at home about 3x a week. It makes me feel good but doesn't really exhaust me.

OK. I tried to frame my experience as advice

I'm better at giving support than advice, but there you go!

I wish you all things good!

Allie

---

Posts: 300 | From Northeast | Registered: Dec 2006 | IP: Logged |

Vermont_Lymie
Frequent Contributor (1K+ posts)
Member # 9780


posted

---

Well, with difficulty. This has included lowering my expectations for what I will get done;

appreciating the fine solidarity here on lymenet, because it is really difficult for many to understand the impact of recovering from lyme; and taking it slower with treatment than I would like to, in order to minimize herxing.

And, if I did not have a husband who pitched in with household chores, it would be much more difficult to cope! Try to remain optimistic and fight like hell to get better.

---

Posts: 2557 | From home | Registered: Aug 2006 | IP: Logged |

listenswithcare
LymeNet Contributor
Member # 10719


posted

---

Thanks everyone for your input. This is really helping me. I know there is no cut and dry answer. I have made alot of adjustments to my thinking and activities over time and I know I could make more that would help me.

Lowering expectations of myself has been hard for me because I have traditionally been hard on myself in general. Not so much anymore. This disease has taught me many good things, but I am still "kicking and screaming" at bit at the changes even when they are really for the better.

Monkeyshines - I can really relate to your post. Sounds very similar to me. Don't want to lower my level of living because of this disease. Want to keep that house, pets, etc. And I wonder how much that is really hurting me or not (to keep working to keep what I have). Where I live, everything is so expensive to live, that I would be a fool to move now.

I wonder if people who no longer work feel that it made a significant difference in their ability to heal.

Allie - the sleep part has been difficult for me. Sometimes I sleep well and others not. Perhaps I should ask about some other help for that. Only exercising when I feel up to it is good advice. I tend to push myself. Usually after I exercise (or during) I feel better, but sometimes I pay the next day.

Haven't exercised in 1 week now and I don't like not being able to exercise. Just bought a rebounder, though, and hope to start using it regularly when it arrives!

Wish I had someone to help me at home, but the cats don't know how to cook!

Thanks for all of you here at Lymenet. It really is a safe haven for me...

Robin

---

Posts: 276 | From Maryland | Registered: Dec 2006 | IP: Logged |

davidx
LymeNet Contributor
Member # 8326


posted

---

Being organized is the key for me.

I commute from CT into manhattan every day and it takes about 1 hr and 15 minutes door to door total time. I try to relax on the train ride by either reading or sleeping.

Keeping a calendar is a good idea. I use the yahoo calendar to keep track of everything. It's free and can be accessed anywhere you have access to the internet. I can put down my doctor appointments, ultrasound appts, etc. and I can easily keep track of days I take off from work.

Regarding the supplies for IV, what I do is that I have them shipped to my work (they usually come Tues or Wed). I then take the rocephin balls and put them in these tupperware containers I have and stick them in the fridge here at work. I take them home when I leave.

As for nurse visits, they come to my house on Saturdays but I try to call every Friday to confirm that I am on the schedule because once my name mysteriously erased from the schedule!

Although weekends can sometimes be busy, I try to have some time where I have nothing going on.

Handling lyme, co-infections, doctors appts, medicines, etc. is not easy. Add work on top of that and it takes enormous effort sometimes. I get tired a lot (more than I used to for some reason) but I try my hardest to be as "normal" as possible!

I know there is debate about work vs. taking time to heal. I personally like what I do very much and it is such a great distraction for me for the hours I am there. It is not always easy but it is so great to be with a group of professional people most of whom have no idea I am dealing with lyme. I do sometimes wonder though if the stress of work inhibits my ability to heal.

I wish I had all the right answers for this!

--------------------
Same nightmare, different day!


---

Posts: 401 | From East Coast | Registered: Nov 2005 | IP: Logged |

beachcomber
Frequent Contributor (1K+ posts)
Member # 5320


posted

---

lwc: It isn't easy but, you can manage to do more than you think or even want to. I was knocked flat by Lyme for about a year. I worked as many hours a day as I could because I like my profession. Though, some days I simply could not put one foot in front of the other. Those days I worked from a computer. I think I would have lost my mind if I had not stayed in touch with my clients and the world. Do what you can and take breaks any time you can or need to. Hire people to help you. I have someone drive me to appointments. Personally, I could not afford to not work.

Allie: Do you practice macrobiotics? It is so not Lyme friendly. But, I have found I need the whole grains in my mostly macro diet for energy. Would love to know if you think it has helped you.

david: I am impressed that you commute into the City every day. You are a trooper. Hello from a fellow CTite.

---

Posts: 1452 | Registered: Feb 2004 | IP: Logged |
Contact Us | LymeNet home page | Privacy Statement

Powered by UBB.classic™ 6.7.3

---
The Lyme Disease Network is a non-profit organization funded by individual donations. If you would like to support the Network and the LymeNet system of Web services, please send your donations to:
The Lyme Disease Network of New Jersey
907 Pebble Creek Court, Pennington, NJ 08534 USA
http://www.lymenet.org/
---
Home | Flash Discussion | Support Groups | On-Line Library
Legal Resources | Medical Abstracts | Newsletter | Books
Pictures | Site Search | Links | Help/Questions
About LymeNet | Contact Us
---
© 1993-2020 The Lyme Disease Network of New Jersey, Inc.
All Rights Reserved.
Use of the LymeNet Site is subject to Terms and Conditions.
---