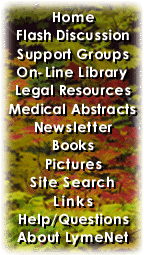 ---
LymeNet on Facebook
LymeNet on Twitter
---
---
The Lyme Disease Network receives a commission from Amazon.com for each purchase originating from this site.
When purchasing from Amazon.com, please
click here first.

Thank you.




Dedicated to the Bachmann Family


LymeNet needs your help:
LymeNet 2020 fund drive

The Lyme Disease Network is a non-profit organization funded by individual donations.

| | |
| --- | --- |
| | |
Author
Topic: For those of you with electromagnetic sensitivity - trimeter results.

tailz
Unregistered



posted

---

I know everybody on here thinks I'm nuts, but I have finally been able to prove SCIENTIFICALLY that I am indeed getting sick from electromagnetic fields.

I talked my ex-husband into getting a Trimeter which measures three types of fields - electric, magnetic, and microwave/radio. I don't know much about the differences between these fields - all I have been claiming is that I can feel them and they make me ill.

I have been telling people that, although I feel sick in my home, I feel sicker when I leave my home to run errands, or even when I step outside onto my deck.

I also have been saying that I feel especially sick in my neighbor's kitchen. In fact, over the winter my neighbor saw me almost collapse soon after walking into her house and standing just outside her kitchen in her dining room.

Here are some preliminary results.

Keep in mind that anything UNDER 3 milligauss is considered 'safe' (magnetically) - though we never really proved ANY amount of artificial electromagnetic fields were indeed 'safe', only that 3 milligauss frequencies and above have been linked to childhood leukemia, various cancers, birth defects, and miscarriages. We don't really know, for instance, what effect, if any, a field of 1.5 milligauss has on humans. Most are magnetic fields unless otherwise indicated.

MY HOME (away from any appliance):

1.5 to 2 milligauss - higher as I near the side of my house closest to my neighbor, and consequently, transformers and electrical distribution wiring that run along the road.

MY NEIGHBOR'S HOME (away from any appliance):

The lowest reading was 4 milligauss, anywhere in her house. The highest readings were about 10 milligauss - her dining room (just outside the kitchen) being a 10 milligauss area - most areas in her home being somewhere between a 6 and an 8 - all higher than both the 'safe' level of under 3 milligauss - and all higher than any field in my own home (away from any appliances and so forth).

She had a heart attack last November, too.

MY CAR:

Outside my car, readings were about 1.5 milligauss. Inside my car they dropped to 0.6 milligauss UNTIL I had started the engine, at which point the needle jumped to just over 3 milligauss - with fields as high as 10-15 milligauss closer to the dash.

MY VDT (COMPUTER):

Electrically my computer is OFF THE SCALE where I sit. If I put my hand over the keyboard in spots and hold the meter over the keyboard, the needle drops to anywhere from about 30 volts/meter to about 350 volts/meter. (Note 30 volts/meter is where these electric fields become 'unsafe' - if there even is such a thing - according to this device anyway, if I am understanding it correctly.)

Magnetically, where I sit in front of the computer, the meter reads about about 3 to 5 milligauss.

I have been complaining, too, that whenever my computer reads "waiting for" or "searching for" in the bottom left corner of my screen, I feel especially ill. The needle jerks all over the place, magnetically, whenever I am searching or waiting for a website - as in OFF SCALE jerking.

I tested my neighbor's cell phone. Whether her cell phone was off or on, there wasn't a whole lot going on magnetically far away from it. When I had her pick up the cell phone and leave me a message, the trimeter sensed ENORMOUS magnetic and microwave/radio fields. I don't remember if it did anything when I checked it electrically - I don't think it did.

I tested some sort of wireless weather station device in her ex-husband's bedroom that is supposed to sense thunderstorms, and the needle went offscale not too far away from the device - though, unfortunately, I forget which fields were off because it zapped my brain evidently looking for the nearest thunderstorm.

I found out when I tested my microwave oven that I need to stand about 8 feet away from it to zero out the meter or to bring it to whole-house 'normal' levels.

My answering machine and regular phone (not cordless) were surprising sources of EMFs, too - especially considering you hold the phone to your head. I got rid of my cordless phone a while back.

My ex-husband said that his long-tube fluorescent lights were a problem in his home, which would explain why I feel sick in most stores and businesses.

I have yet to see what sorts of EMFs I find while driving past cell phone towers. I'm not sure if the car itself (in motion) would increase the field exposure or not.

Just thought I would let those of you with concerns over the dangers of EMFs to know what results to expect with a trimeter.

Oh - I got some enormous readings from my trimeter when I turned on my Rife Machine. Just wondering how can researchers draw the conclusion that a Rife Machine works by vibrating pathogens at a frequency unique to them, yet deny that the frequencies coming from power lines and cell phone towers and so forth have any effect on anything whatsoever - human, plant, or animal?

After my experiment, I can pretty much guarantee that, whatever the field of vibration - be it 1 milligauss or 100 milligauss - be it 1 volt/meter or 1000 volts/meter - and, of course, microwave/radio waves, too - but whatever the frequency involved, it is likely affecting SOME cell or SOMETHING SOMEWHERE - be it the chromosomes that make up the outer membrane of my nerve cells or the cells that make up the bark of a tree or the cells that make up the tail of the spirochete.

Why can't scientists seem to make that leap of logic, too?

No matter what any of you say, I really don't think I'm all that far 'out there'.

---

IP: Logged |

Virginia of Yore
LymeNet Contributor
Member # 3269


posted

---

Where did you find a Trimeter, and what do they cost?

---

Posts: 193 | From Virginia | Registered: Oct 2002 | IP: Logged |

Kayda
LymeNet Contributor
Member # 10565


posted

---

Thanks for sharing! I was just this week wondering about all the electomagnetic fields in my home: the electric stove, microwave, cd player, the computer, and outlets that seem to be everywhere.

One other thing that came to mind. Most homes have been upgraded to 100 amps of service (or more) instead of the 60 which most of us grew up in years ago.

I don't know why I'm always so tired and feel sick despite trying many things to get better. My dh has a voit meter and I want to measure some things, too.

Kayda

---

Posts: 582 | From midwest | Registered: Nov 2006 | IP: Logged |

tailz
Unregistered



posted

---

I got mine off of Amazon, but there are cheaper models. If I had to pay for it, I would have probably gotten the cheaper model since I don't own a cell phone or anything wireless. I wanted to be able to measure all three types of fields though, and I'm not sure if all of the gaussmeters on Amazon do this. This one does, and this is the one I have.

http://tinyurl.com/35lnpk

Kayda - I was surprised at how readily I could predict a heightened magnetic field. Just stepping out onto my porch triggered the teeth-clenching tension in my jaw, along with no-reason anxiety. It's almost like I can feel my adrenal glands operating.

I noticed I am more likely to react to these fields, too, even the lower ones, when it is humid and when my hair is wet. But when my hair and the air are dry, I am pretty accurate at sensing a 'rise'. You can always rent me if you can't afford a meter. lol

I noticed, too, that I get a much lower reading (away from appliances anyway) when I hold the trimeter a few inches from the floor. Anybody know why this happens? It's pretty scary thinking that, with the next technological invention, I might have to crawl along the floor to survive the fields!

But definitely test your house! Keep in mind that wiring along the streets outside play into your readings, too, not only the appliance you are testing.

My ex said his alarm clock was also a culprit. Most of my problems center around this computer and the fields surrounding this house, and of course, other people's cell phones IN USE. I really am curious to see what the meter reads when I run some errands. I also did not yet check to see how the fields in this house change when the heater or AC is running.

I wasn't thinking when I held the trimeter to my head and the electrical needle shot off scale. I finally realized that it is probably a good thing that my head gives off measurable fields, huh?

---

IP: Logged |

oxygenbabe
Frequent Contributor (1K+ posts)
Member # 5831


posted

---

Thanks...I'm afraid to test because I'm in an apartment building. I switched to corded phones but my neighbors above below and next door probably have cordless. If I am affected by wiring not in my home not much I can do except worry. So better to move perhaps!

---

Posts: 2276 | From united states | Registered: Jun 2004 | IP: Logged |

artraveler
Member
Member # 12764


posted

---

Hi Tailz,
I have asked this question to several outside this forum and they thought I was a little 'out there' too. My biggest trigger for many years was an electric blanket, of all things! Now I'm experiencing a lot more triggers, though. Thanks for posting this information, now I don't feel like I'm the only one!!

--------------------
May we all find peace one day and may peace prevail on earth ~ Traveler


---

Posts: 66 | From traveling the U.S. | Registered: Aug 2007 | IP: Logged |

Truthfinder
Frequent Contributor (1K+ posts)
Member # 8512


posted

---

Very, very interesting, Tailz. Thanks for taking the initiative to do some of this research on your own and for sharing it with us.

No, I don't think this concern about EMFs is `out there'; just because you can feel the negative effects of these waves and fields and most other people can't doesn't mean that we all aren't being affected to some degree.

I do hope you will post more about your experiments when you go out doing errands. Boy, that presents a lot of scenarios to be tested so you should be busy for awhile.

Tracy

--------------------
Tracy
.... Prayers for the Lyme Community - every day at 6 p.m. Pacific Time and 9 p.m. Eastern Time – just take a few moments to say a prayer wherever you are….


---

Posts: 2966 | From Colorado | Registered: Dec 2005 | IP: Logged |

tailz
Unregistered



posted

---

Thanks everybody!

I would NOT use an electric blanket. In fact, my neighbor who had the heart attack had been using one of those in her bedroom, along with a space heater. I think I've convinced her NOT to use the electric blanket at least. Even if the field strengths were relatively low, the fact that it is just inches from your body makes it lethal.

Also, one thing mentioned in "Currents of Death" by Paul Brodeur is that there seems to be a 'window' of danger. In other words, hypothetically let's say 0-2.9 is safe, but 3-99.9 is unsafe, but then 100-1000 is safe once again. Since we have no clue what safe is and is not, we're playing with fire.

I will let you all know what I find when I run errands later. I hope they don't arrest me for measuring fields.

---

IP: Logged |

map1131
Frequent Contributor (5K+ posts)
Member # 2022


posted

---

Tailz, for your sake I'm glad you found areas and things to avoid. The real world is hard to avoid sometimes as you pointed out, like neighbors, shopping etc.

I used one of those machines in my home about a year ago and found some things too. I too during my illest period was reacting to things in my home. Whenever you are highly toxic/ill it makes the body more sensitive to your everyday surroundings.

I had long flourscent lights in my washer/dryer room and the ceilings were low in that room. I would buzz away whenever I was in there folding clothes. My neuro system would go nuts. Finally I had my husband replace the light fixture with a normal light bulb fixture. No more buzzzzing doing laundry.

These new lights bulbs that are so effecient and long lasting are flourscent. The gov is promoting these new bulbs and I'm worried to save money we are adding more toxic things. Any ideas, anyone?

I very rarely use my microwave because it also made me ill. I use to stand beside it while using and learned to leave the room and go to another part of the house when operating it.


After I used that little machine to measure currents it explained why I would become even more ill at my computer. The computer room has a wall to the garage where all power to the home comes into the electric box. So at my computer I was sitting in between two powerful things that put my body on high alert.

Once the body becomes stronger and your toxic load is lessened then these things don't overwhelm you as much. That's been my case anyway.

No matter how good of a day I'm having still going out into large stores shopping will do me in within 30 minutes.

Pam

--------------------
"Never, never, never, never, never give up" Winston Churchill


---

Posts: 6444 | From Louisville, Ky | Registered: Jan 2002 | IP: Logged |

tailz
Unregistered



posted

---

I'm like you, Pam, in that I can't be away from home too long before I start feeling ill - this happens even on a 'good' day.

I know it usually takes me longer to feel ill if I'm shopping at a store like Wegman's - where the ceilings are super high, as opposed to a store like Giant. In fact, once at Giant I parked my cart at the end of an aisle and had to stoop down - otherwise, I would have fallen down.

One exception to this is Walmart - they have higher ceilings but a higher concentration of fluorescent lighting, along with those magnetic theft prevention thingers.

My ex-husband said that the regular fluorescent lights in his home were not problematic, according to the trimeter, unless he held the meter close to them - only the long-tube fluorescents - but I'd have to measure myself to believe him - especially since I removed all the fluorescent lightbulbs in my home a couple of years ago, simply because the color of fluorescent lights bother me to begin with.

I think articial manmade electromagnetic fields are activating the fight-or-flight response. I think that maybe my body struggles to adapt somewhat to the currents in my own home, but when I suddenly start driving down the road into a different group of frequencies, my adrenals kick in all over again, and my body doesn't know how to respond.

I think every one of us is affected by these fields - just some of us are more aware. I'm hoping that, in the very near future, so many people are aware of these fields that they finally turn these fields off. I seriously cannot hold a job outside of my home.

---

IP: Logged |

tailz
Unregistered



posted

---

Just an update - the readings on one side of my house went up today. They are now just under 3 milligauss.

My symptoms all started flaring this afternoon, and I noticed my one cat, who has bad kidneys, tends to sleep in my bedroom where my trimeter levels are usually lower, when he isn't feeling well. He did this today. I notice his symptoms usually flare along with mine, too.

I often feel even worse on weekends. I wonder if my neighbors are making more cell phone calls or otherwise changing the electromagnetic environment?

---

IP: Logged |

susan2health
LymeNet Contributor
Member # 10446


posted

---

Thanks for info on how to investigate this. It's all a part of the toxins our bodies are trying to fight.

---

Posts: 233 | From United States | Registered: Oct 2006 | IP: Logged |

tailz
Unregistered



posted

---

I have some more results today. I don't know what to do. I had readings inside my home today and outside my home that were much higher, and I don't know what caused this.

Today, for example, readings in my yard were anywhere from 4 milligauss to 6 milligauss - which is HIGH. I don't know if someone in the neighborhood was doing something, or if this was just from the power lines along the road. Do they fluctuate that much?

Then I went to Wegman's today. The drive there was interesting - most readings were about 1.5 - 2 milligauss in my car (away from the dash though - a lot of my problem seems to come from the car's field alone, since my legs aren't long enough to slide the seat further from the dash).

But I had occasional peaks of 3-4 milligauss or more, though I really couldn't tell if the power lines, transformers, or the cell phone towers were to blame.

I did notice they tended to peak under traffic lights and wherever there were power lines along the road that were not buried - like near my home. Also, there were peaks near industrial parks, though there could have been hidden cell phone towers or antennas in the area, too.

Wegman's though, overall, is safer than my home. Levels were often less than 1 milligauss, except when I walked into the refrigerated section and could hear the fans going.

If I stayed in the center between the coolers, readings were 1.5 milligauss. If I took a step to either side though, readings quickly jumped to 12-15 milligauss. One fridge was even higher yet at 25 milligauss.

Walking through one side of the dairy area, I got a low 1 milligauss surprisingly. I noticed the needle fly up to a 7 or an 8 though, only to notice a customer talking on her cell phone nearby.

The only other dangerous area was the checkout area - this disappointed me because I thought maybe I could eventually work safely here - but at the conveyer belt, I clocked 20-25 milligauss easily. So there goes my job, I guess. I have no idea what I'm going to do.

Later this week I plan on taking readings close to a cell phone tower. I know where one is located, where I can stop and approach it.

I wish I had taken the Trimeter into the Goodwill store which has lots of fluorescent lights and much lower ceilings than Wegman's does. I was too stressed out though after proving to myself what I already knew - this electromagnetic pollution is the reason I am sick.

---

IP: Logged |

tailz
Unregistered



posted

---

So far I've checked out several stores, my house, my neighbor's house, my daughter's apartment. My ex-husband also tested his current home.

In all of the places mentioned INSIDE, electromagnetic fields AWAY from appliances and so forth were generally 0.5 to 1 milligauss TOPS - EXCEPT for my home and my neighbor's home.

My home runs at least 1.5 to 3 milligauss INSIDE and seems to fluctuate. My yard runs higher still. My neighbor's house runs about 4 to 10 milligauss, sometimes higher - and she suffered a heart attack.

I drove by some high tension wires today, too - several, matter of fact - as expected, the needle went high, along with my symptoms.

With cell phone towers, I noticed a different pattern, however. What I found was the needle did not always fly up when you could practically touch the tower from the road. More often than not, the needle flew up about a half mile or so from the tower.

I did quite a few experiments along the way, too - turning the Trimeter on when I felt okay (well, not currently being zapped 'okay') - just to see if I was causing my own symptoms.

What I found was that, until I got zapped enough times that my adrenal glands were already maxed out, I was pretty accurate predicting when the needle would fly up.

After so many zaps, however, I couldn't really tell the difference between feeling like a Mack truck had just hit me and feeling like a plane had just hit me. I just know my head is still throbbing right now.

I really have to wonder if, given the fact that the closest cell phone tower to my home is .75 miles away, the angle of the tower's beam lines up perfectly with my home and that of my neighbor's home?

I guess it's still possible the electrical distribution lines are involved, and perhaps living in a mobile home on top of steel beams is involved somehow, too. I don't know for sure.

All I know is that the needle on my Trimeter is 1.5 milligauss or higher everywhere in this home - always - which is a much higher daily reading than anywhere else I've tested so far.

Now this is interesting - one of the heaviest electromagnetic field areas while driving were situated in a few interesting spots:

1) Right in front of my ex-husband's old apartment complex. He just had a brain tumor removed this past year. He checked his current home, and it is okay.

2) Within a couple of miles of Dr. S's office. Keep in mind that I would frequently lose my temper in his office - I did today again, matter of fact, but that's another story.

3) About a half mile or so down the road from my daughter's apartment where there are high-tension power lines to go along with the cell phone towers. I mention this because my daughter has been plagued with a roach infestation since moving there. She moved across the hall where there are fewer roaches.

Now my neighbor just found out that what she had thought was a wireless weather station in her ex-husband's room is actually some sort of device that gives off frequencies to keep bugs out. Do you see where I'm going here?

---

IP: Logged |

tailz
Unregistered



posted

---

Now wait - I wasn't thinking. My head hurts. The power went out several times over the last couple of weeks. I checked the needle, and I think it went down during the outage. It's the transformer.

When I first moved in here, the power had gone out several times a week - 8 hours at a time. They eventually put a new transformer in. It's the transformer. Cell phone towers are just nuking an already nuked brain.

I don't have energy to move.

---

IP: Logged |

tailz
Unregistered



posted

---

I wanted to update this post for those of you who are interested.

I think the magnetic fields are coming from the power lines, and the diagonal cables that go from the utility pole to the ground. I think the current is then running along a drain in the ground in my neighbor's yard, perhaps then traveling into my plumbing.

On my deck it measures 3 mG. As I walked to the property line towards Barbara's (the neighbor who had the heart attack) it went up to 4 mG at the property line. As I walked further towards her driveway, it went up to 6 or 7 mG.

I walked a little further past her house (still very much in her yard though) and stopped before I reached a drain they had just installed with a pipe that runs parallel to Barb's house - it was 14-20 mG before the drain.

Two to four feet after the drain though it dropped to 8 mG, dropping even further as I walked to the street to 7 mG - walked a little further crossing the street and it dropped to 6 mG. It was 5 mG across the street and even 5 mG under the transformer.

I measured at the cables that run from the pole to the ground (there were 3 of them), which happen to be secured at the end of a drain that they just added to recently, and it measures 15-20 mG near the three cables. I followed the cables to the pole, and there was a thick black cable attached to the length of the pole - 30-50mG + was coming from that.

If you live near any of the things I just described, this could be why you can't recover.

---

IP: Logged |

LymeMECFSMCS
LymeNet Contributor
Member # 13573


posted

---

I don't think this is at all crazy. I became incredibly EMF sensitive for a period of time, to the point that I would be incredibly short of breath from a very brief phone call, and then just totally zapped with my heart racing.

I have a trifield meter and was measuring everything in my house, trying to shield things that were harming me, etc. The only thing that helped me is a QLink pendant -- this thing that seems totally hokey but has actually helped me PERSONALLY.

I'm not making recommendations. It's not the kind of thing I would normally try but I was desperate.

EMFs are real and serious. I think the cause and effect is somewhat confusing though. A well-known MCS doctor told me people with severe EMF sensitivity have often been pesticide poisoned. I didn't expect this: I thought he would say people with EMF sensitivity have been poisoned by cell phone towers. I'm sure it goes both ways though.

---

Posts: 927 | From Massachusetts | Registered: Oct 2007 | IP: Logged |

tailz
Unregistered



posted

---

Thanks, someone recommended the Harmonic Protector for me, and even orgone. Is that different from the Q-link?

Problem is I don't have money for this stuff, and what about my cats? Do I have to buy them one, too, and what are the chances they'll wear it?

This is insane though - I was already feeling lousy this weekend, especially late yesterday and today because of the increased magnetic fields due to, I'm assuming, the higher magnetic fields from increased weekend power usage.

But then my pain increased ten-fold all of a sudden. Sure enough, I looked out my window and my new neighbor was outside chatting on his cell again.

This is scary. If radiation can cause me to start clenching my teeth, if radiation can cause me to get pain up the left side of my neck and through my back - if radiation can cause my left eyelid to weaken and droop (and his call did all of this today!) - then these fields are not safe.

I'm sure pesticides don't help any, but when we live in a toxic world and then they start microwaving our immune systems, that makes the poisons all the more dangerous. I honestly think poisons aren't that crucial to all of this - it's the EMR/RF.

I'm going to end up with a brain tumor and I never even owned one of these phones.

---

IP: Logged |
Contact Us | LymeNet home page | Privacy Statement

Powered by UBB.classic™ 6.7.3

---
The Lyme Disease Network is a non-profit organization funded by individual donations. If you would like to support the Network and the LymeNet system of Web services, please send your donations to:
The Lyme Disease Network of New Jersey
907 Pebble Creek Court, Pennington, NJ 08534 USA
http://www.lymenet.org/
---
Home | Flash Discussion | Support Groups | On-Line Library
Legal Resources | Medical Abstracts | Newsletter | Books
Pictures | Site Search | Links | Help/Questions
About LymeNet | Contact Us
---
© 1993-2020 The Lyme Disease Network of New Jersey, Inc.
All Rights Reserved.
Use of the LymeNet Site is subject to Terms and Conditions.
---