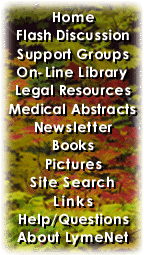 ---
LymeNet on Facebook
LymeNet on Twitter
---
---
The Lyme Disease Network receives a commission from Amazon.com for each purchase originating from this site.
When purchasing from Amazon.com, please
click here first.

Thank you.




Dedicated to the Bachmann Family


LymeNet needs your help:
LymeNet 2020 fund drive

The Lyme Disease Network is a non-profit organization funded by individual donations.

| | |
| --- | --- |
| | |
Author
Topic: Epilepsy and/or Lyme??????

BJ
Member
Member # 12278


posted

---

My daughter who is 18 years old had 2 EEG's done within the month. This was done due to her passing out and has been very tired for the last year. Her brother who is 20 years old was tested for lyme which came back negative with a positive band and 2 indeterminate bands, low CD-57 test count. He will be seeing a LLMD in December to be treated. My daughter's first EEG was borderline abnormal and the second one they tell me shows she has Epilepsy. We are waiting to hear from the neurologist what he wants to do if anything. Could this seizure she had be lyme disease instead of Epilepsy?? Do you think we should have her tested before they might want to put her on medication?? I would appreciate any help. Thanks. :-)

---

Posts: 14 | From Newville, PA | Registered: Jun 2007 | IP: Logged |

canbravelyme
Frequent Contributor (1K+ posts)
Member # 9785


posted

---

Hi BJ,

Lyme ostensibly can cause seizures.

Lyme testing is not accurate by any means.

I think what's best is to post on seeking a doctor, and contact some ILADS doctor's offices to ascertain whether they have seen seizures with Lyme, and whether they have resolved this with Lyme treatment with their afflicted patients.

I personally have some kind of neuro events (likely seizures), and my LLMD said I need to see a neurologist. LLMDs can also refer you to neurologists who are familiar with Lyme (few, I know, but mine did), which is another thing to consider.

If your daughter is having seizures, it's really horrible, so I would say she needs to see a neuro and be treated in the meanwhile. I suffered 4 years with horrible symptoms which could have been controlled significantly with anti-convulsants.

I am not a proponent of pharmaceuticals; just less so seizures...eesh.

With best wishes for health and happiness to you and your family ,

--------------------
For medical advice related to Lyme disease, please see an ILADS physician.


---

Posts: 1494 | From Getting there... | Registered: Aug 2006 | IP: Logged |

Cobweb
Unregistered



posted

---

I developed complex partial seizures after being diagnosed with lyme disease by Primary Care Doctor who sent me to a neurolotist.

Had a bunch of tests. was put on Keppra, which I didn't take at first. Too scared. But then when I did take them life was so much better.

Anyway- I really felt i was not being treated adequately by PCP, and being diagnosed with seizures was the last straw.

I went to an LLMD.

Neurologist said, maybe, maybe I will be able to go off the anticonvulsants when the Lyme is under control.

In my case, LLMD says I have a "seizure disorder",so I would say yeah, lyme can cause seizures, and I'm sure they caused mine.

I personally do not want to say I have "epilepsy", but that may just be denial.
It's all a matter of semantics.

Cobby

---

IP: Logged |

sfcharm
LymeNet Contributor
Member # 9392


posted

---

I too suffered from seizures related to my lyme. Since starting Rocephin IV therapy in June I hav not had any seizures. I do have myoclonus and tremors and am hoping to see them resolve.

Yes lyme and bartonella can cause seizures.

Barb

---

Posts: 281 | From san francisco | Registered: Jun 2006 | IP: Logged |

Keebler
Honored Contributor (25K+ posts)
Member # 12673


posted

---

What you describe sounds VERY much like dozens of other reports from lyme patients.

I also have seizures, mainly from any startle of sound, light flash, motion, heat or shivers from cold. After the lyme and other co-infections were diagnosed, it made more sense.

avoiding flourescent (sp?) lights really helps. Sleep is vital.
avoiding stress is important and adrenal dysfunction alone can contribute to seizures. Adrenal stress and lyme seem to go hand in hand, so ask your LLMD about that, perhaps.

I would be VERY cautious, though, about certain adrenal tests if the challenge with injecting any steroids. from what I've read from LLMD experts, ANY steroids, if lyme is present can be very damaging. if life-threatening and need of steroids, though, perhaps a LLMD can guide you on that.

seizure meds didn't work for me and I have to wonder if the seizures are toxin related from lyme overload or liver overload.

Seizures can have many causes. If there is a history of trauma from an accident, etc.

A gluten-free diet may help. and good quality FISH OIL is essential to begin ASAP. Getting the right EFA essential fatty acids to the brain can be a miracle.

I've not really been treated by a LLMD, but that would be the best choice if you can do that.

I do know when I'm on the full herbal protocol for lyme I do better. (It's all I can do for various reasons.)

I've read of many patients getting past the seizures when the infection is under control.

Seizures are basically just slow brain waves trying to break through to higher levels of alertness. But when the brain tries to "wake up" it's so very shocking to my brain and rather rough on my body.

By lifting the brain fog with treatment, the seizures may subside. Also, if you add enought toxins to ANYONE seizures can result.

Sadly, many of the seizure drugs are toxic to the liver.
Gotu Kola (not a cola) is a herb of good reputation that may help.

That said, though, I do know of someone who has done welll with lower doses of seizure drugs (klonipin) AND lyme treatment.

Best of luck to you all. I hope you find the expertise you need.

Too bad your son has to wait until Dec. to see a LLMD.
Hope you can connect with a local support group.

PubMed - just google it - is a good site for some medical literature from around the world.

www.ilads.org has some medical articles and presentations, too.
this site, too (see left hand side of page) has medical abstracts.

---

Posts: 48021 | From Tree House | Registered: Jul 2007 | IP: Logged |

Lymetoo
Moderator
Member # 743


posted

---

UP

--------------------
--Lymetutu--
Opinions, not medical advice!


---

Posts: 94842 | From Texas | Registered: Feb 2001 | IP: Logged |

Keebler
Honored Contributor (25K+ posts)
Member # 12673


posted

---

One note about my problem with seizure drugs. My QEEG tests show slow brain waves of Alpha and increased Theta/Delta.

so, most seizure drugs are sedatives. they further slow down brain waves. Does not work for me. the herb, Gotu Kola, on the other had has been known to help the brain normalize.

I don't see the date on the article below, but I came across it at least 8 years ago. the site may have updated info. www.vrp.com library

Magnesium and the B vitamins save my life a lot. Fish oils, too. And frequent smaller meals - I would be very cautious with KavaKava (can stress the liver) or GABA.

Fish oils are not mentioned below, but I'll look for my research on that.

Low Blood sugar can also contribute as might a condition called QT syndrome in which the startle reaction actually affects the heart, resulting in fainting. It can look identical to a drop seizure. If you have any relatives who had startle reactions, you might want to look into this.

Still, getting assessed for all Tick Borne Infections by a LLMD would be an excellent idea. In the meantime, I hope you find some relief with what everyone has passed along.

the note in this article about possible emotional connections I see as the adrenal connection. With lyme the adrenal, HPA axis can all be really stressed. So, just because an emotional event may trigger an episode, in my book, does not mean literal "emotional" but involving all the endocrine and nervous system processes, too.

All this said, I've been managing with this approach but still have seizures as I've not really conquered the lyme. IF lyme is a cause, all these other measures might help, but (in my experience) it's not enough without treatment for lyme, too.


http://www.vrp.com/articles.aspx?ProdID=art1066&zTYPE=2

Vitamin Research Center

Seizures: A Nutritional Approach
By Ward Dean, MD

Seizures can be attributed to a number of causes including metabolic abnormalities, infections, nutritional deficiencies, or trauma. Emotional stress also increases the frequency of seizures. But most seizures occur due to unknown reasons.

In the 1920s, before anticonvulsant medications were available, high-fat diets were used to control seizures in epileptics. Clinical trials are now confirming that high-fat diets work ``better than any other regimen'' according to Dr. John M. Freeman, director of the Pediatric Epilepsy Clinic at Children's Center in Baltimore, Maryland.

He recommends a stringent diet consisting of high fat, low protein, low carbohydrate foods. Some experts estimate that this diet can lead to a 50 to 70 percentage reduction of seizures, a record which few drugs can claim.

Dr. Freeman has written a book titled, The Epilepsy Diet Treatment: An Introduction to the Ketogenic Diet, Demos Publications, 1994, New York (Maltz, 1994).

Gamma-aminobutyric acid (GABA), the brain's major inhibitory neurotransmitter, tends to be in lower than normal levels in seizure-prone rats (1) and humans with epilepsy. (2)

Seizure-prone preeclamptic patients (hypertensive condition during late pregnancy) also have decreased brain GABA concentrations. (3)

Brain GABA levels depend on both zinc and vitamin B6. Zinc is involved in the maintenance of pyridoxal phosphate concentrations by the activation of pyridoxal kinase. Pyridoxal kinase is important in decarboxylation, and lack of this enzyme results in lowered brain levels of GABA.

Consequently, zinc deficiency may increase the risk of preeclamptic seizures by reducing brain GABA concentrations and lowering the seizure threshold. Unfortunately, plasma pyridoxal phosphate measurements alone do not appear to accurately reflect vitamin B6 status or true tissue pyridoxal phosphate levels. (3)

Glutamate concentrations in the brain are higher in some seizure patients, and these concentrations can increase to potentially neurotoxic concentrations during seizures. Thus, it appears that a rise in brain glutamate may precipitate seizures.

These concentrations may reach levels capable of causing cell death. (2) The importance of relative concentrations of glutamate, gamma-aminobutyric acid, and pyridoxal-5-phosphate with respect to seizures is illustrated by a 33-month-old male seizure patient whose cerebro-spinal fluid glutamate levels were 200 times normal!

When he was given vitamin B6 at a dose of 5 mg/kg body weight per day (350 mg), his EEG normalized and his seizures stopped, but the CSF glutamate concentration was still 10 times normal. With a higher dose of B6 (10 mg/kg bw/d-700 mg), the CSF glutamic acid normalized.

These results indicate that the optimal dose of B6 for epileptics should be the dose that normalizes CSF glutamate levels, not just the control of seizures. (4)

Dr. Stephen Lasley (1) found that brains of rats that are genetically prone to seizures also have reduced levels of taurine as well as increased levels of aspartate.

Therefore, I believe that avoidance of aspartame should be a key element in an anti-seizure diet. Also, taurine, in doses of 1-3 grams per day may be helpful.

In addition to vitamin B6, magnesium and dimethylglycine have also frequently resulted in a rapid, sometimes overnight, appearance of speech in formerly non-speaking autistic children. Magnesium, vitamin B6 and dimethylglycine all have strong anti-seizure properties and can be effective even when other anti-seizure medications fail. (5) The deficiency of another member of the B-complex, B1, has also been reported as a cause of epileptic seizures. (6)

Vitamin E has been helpful in patients with complex partial seizures, which are often resistant to drug therapy, and may compensate for vitamin E deficiencies induced by anticonvulsant medications.

Dr. Sheldon Levy (7,8) believes that vitamin E, although not an anticonvulsant or an antiepileptogenic agent, plays a useful role in anticonvulsant therapy as an adjunctive therapy which compensates for anticonvulsant-induced vitamin deficiencies.

Carnitine is an amino acid that is excreted in large amounts when anti-seizure medications like valproic acid (Depakote™) or Tegretol™ are taken. Depakote is a very effective antiepileptic drug but has limited use due to risk of fatal hepatotoxicity.

The hepatotoxicity is probably due to valproate-induced carnitine deficiency. Carnitine transports long chain fatty acids into the mitochondria. Valproic acid treatment results in a reduction of free carnitine levels. Carnitine is supplied both by the diet and by endogenous biosynthesis from lysine.

Carnitine's primary metabolic role is to transport 12-20 carbon long-chain fatty acids into the mitochondria where they are catabolized to acetyl-CoA for synthesis of mainly citrate and acetoacetate. Carnitine also is involved in a variety of fatty acid and organic acid transacylation reactions, where the acyl moieties of acetyl-CoA esters are transformed to or from carnitine.

There are four metabolic actions of carnitine that have been utilized as therapeutic rationales: to correct an absolute relative carnitine deficiency, to enhance fatty acid oxidation, to accept and shuttle unmetabolized acyl groups from the mitochondria and to increase levels of free unesterified coenzyme A and thereby increase the intracellular free-CoA/acyl-CoA ratio, an important regulator of enzyme activation/deactivation. (9)

Carnitine supplementation is effective in reducing valproic acid-associated hyperammonemia. (10) Recommended dosages for carnitine replacement are 50-100 mg/kg/day in children, and 1 to 3 gm per day for adults in 2 or 3 divided doses. (11)

In many cases of epilepsy, there is an association with celiac disease and cerebral calcifications. Gluten-free diets, a mainstay in the treatment of celiac disease, often reduce the incidence of seizures, especially if the diet is started soon after the onset of seizures.

The efficacy of the gluten-free diet in epilepsy appears to be inversely related to the duration of epilepsy before the diet, and to the age at the beginning of the diet. (12) The possibility of celiac disease should be investigated in all cases of epilepsy, especially if cerebral calcifications are identified.

In this regard, Dr. A. Ventura reported on two females, 5 and 23 years old, who had focal occipital epilepsy with cerebral calcifications and who were not responding well to anti-epileptic therapy. (13)

Both females also had celiac disease as well as documented folic acid deficiency. It is well-known that antiepileptic drugs may induce a folate deficiency. The patients were placed on gluten-free diets with supplementary folic acid (dosage unknown). This led to complete normalization of the EEG in the five year-old and a cessation of seizures.

The 23-year-old's EEG improved significantly and seizure frequency was reduced. Folic acid levels returned to the normal range within several months. This report suggests that there is an association between folic acid deficiency and neurologic diseases such as epilepsy. Dr. Ventura believes that the mucosal abnormalities of celiac disease may have caused the folate deficiency, which precipitated the seizures. (13)

The causative relationship of cerebral calcifications to seizures is unknown, but this may be a condition that may be helped by EDTA chelation therapy. EDTA chelation is probably the treatment of choice for metastatic calcification in any tissue. Whether resolution of cerebral calcification would help in reducing seizures is unknown, but it certainly wouldn't hurt.

Magnesium sulfate is standard therapy for pregnancy-induced hypertension (eclampsia and pre-eclampsia) to prevent seizures. 10 gm of magnesium are administered intramuscularly initially, followed by 5 gm intramuscularly every 4 hours. If administered intravenously, a 6 gm bolus over 15 minutes is given, followed by 1 to 3 gm per hour.

In a comparative study, Dilantin™ was compared to magnesium in preventing seizures and reducing blood pressure. The investigators found no differences in the patient's tolerance, adverse reactions or outcomes between the two groups.

The authors then made the amazing conclusion that Dilantin ``is a well tolerated alternative to magnesium sulfate for seizure prophylaxis in patients with mild pregnancy-induced hypertension.''(14)

My question is, ``what about magnesium as a well-tolerated alternative to Dilantin?''

Seizures may also result from glutathione peroxidase deficiency, which could be from lack of bioavailable selenium. (15) Selenium supplementation in children resulted in a reduction in seizures and improvement in EEG recordings after 2 weeks.

Selenium is important in the formation of glutathione peroxidase which may play a role in protecting neuronal cells against oxygen radicals and peroxidative damage.

Selenium deficiency in the brain of patients with epilepsy may be an important triggering factor for the origin of intractable seizures and subsequent neuronal damage. (16)

Recently, a colleague related a story of a patient with a history of multiple, intractable, daily grand mal seizures for over 50 years. Because of the frequency of her daily seizures, the patient has been unable to attend school, and is illiterate.

She was treated with pregnenolone, with immediate and near-total resolution of her seizures, being reduced in frequency from several each day to less than one per month.

She repeats over and over that pregnenolone has finally given her a life. Although this anecdotal report is without precedent or confirmation, pregnenolone certainly seems to be worth trying. I recommend starting with 10 mg each morning for one month, increasing the dose to 30 mg, then to 100 mg, at monthly intervals.

Kava Kava, which I believe to be a nutritional precursor to the now-outlawed GHB, has been used traditionally for its anti-convulsant properties. Consequently, Kava Kava might also be considered for its sedative, muscle relaxant and anti-convulsant effects. (20, 21, 22)

In summary, for seizure disorders I recommend using a nutritional ``shotgun'' therapy, which includes:

* Magnesium: 500-1,000 mg/day
* Selenium: 100-200 mcg/day
* Taurine: 1-3 gm/day
* L-carnitine: 1-3 gm/day
* GABA (gamma amino butyric acid): 500-1,000 mg/day
* Vitamin B complex, w/special emphasis on;
* Vitamin B1: 50-100 mg/day
* Vitamin B6: 200-500 mg/day
* Folic Acid: 400-1,000 mcg/day
* Vitamin E: 400-800 IU/day
* DMG (dimethylglycine): 50-200 mg/day
* Pregnenolone: 100-500 mg/day
* Kava Kava: 200-800 mg/day

References:
1. Lasley, S. M. Role of Neurotransmitter Amino Acids in Seizure Severity and Experience in the Genetically Epilepsy-Prone Rat. Brain Res, 1991; 560:63-70

2. During, M.J. and Spencer, D. D. Extracellular Hippocampal Glutamate and Spontaneous Seizure in the Conscious Human Brain. The Lancet, June 26, 1993; 341 (8861): 1607-1610

3. Anonymous. Zinc, Preeclampsia, and Gamma-Aminobutyric Acid. Am Jnl of Obst & Gyn, July 1990, 163, 1, (Part I): 242-243

4. Baumeister, F. Glutamate in Pyridoxine-Dependent Epilepsy: Neurotoxic Glutamate Concentration in the Cerebrospinal Fluid and Its Normalization by Pyridoxine. Ped, September 1994, 94 (3): 318-321

5. Seizures, Vitamin B6, DMG, and Sudden Speech Autism, Res Rev Intl, 1996, 10 (2): 1

6. Keyser, A. Epileptic Manifestations and Vitamin B1 Deficiency. Eur Neuro, 1991, 31: 121-125

7. Levy, S. L. An Evaluation of the Anticonvulsant Effects of Vitamin E. Epilepsy Res, 1990, 6: 12-17

8. Levy, S. L. The Anticonvulsant Effects of Vitamin E: A Further Evaluation. Can Jrnl Neurosci, 1992, 19: 201-203

9. Kelley, R. I. The Role of Carnitine Supplementation in Valproic Acid Therapy. Ped, June 1994, 93 (6): 891-892

10. Sakemi, K., Tohoku, J. The Effect of Carnitine on the Metabolism of Valproic Acid. Exp Med, 1992, 167: 89-92

11. Coulter, Da. L., M.D. Carnitine, Valproate, and Toxicity. Jrnl Child Neuro, January 1991, 6 (1): 7-14

12. Gobbi, G. Celiac Disease, Epilepsy and Cerebral Calcifications. The Lancet, August 22, 1992, 340: 439-442

13. Ventura, A. Celiac Disease, Folic Acid Deficiency and Epilepsy With Cerebral Calcifications. ACTA Pediatrica Scandinavica, 1991, 80: 559-562

14. Appleton, M. P. Magnesium Sulfate Versus Phenytoin for Seizure Prophylaxis of Pregnancy-Induced Hypertension. Am Jnl of Obst & Gyn, October 1991, 907-913

15. Weber, G. Glutathione Peroxidase Deficiency and Childhood Seizures. The Lancet, June 15, 1991, 337: 1443-1444

16. Ramaekers, V., Th. Selenium Deficiency Triggering Intractable Seizures. Neuro Ped, 1994, 25: 216-223

17. Dean, W. Stop criminalization of GHB, VRP Nutrition News, Vol 11, Number 4, April 1997

18. Klunk, W.E., Covey, D.F., and Ferendelli, J.A. Anticonvulsant properties of alpha, gamma, and alpha, gamma-substituted gamma butyrolactones. Molecular Pharmacology, 1982, 22: 438-443.

19. Ikeda, M., Dohi, T., and Tsujimoto, A. Protection from local anesthetic-induced convulsions by gamma amino butyric acid. Anesthesiology, 1982, 56: 365-368.

20. Klohs, M.W., and Keller, F. A review of the chemistry and pharmacology of the constituents of Piper methysticum Forst. J Med, Pharm, Chem 1963, 1(1): 95-103.

21. Klohs, M.W.F., Keller, F., Williams, R.E., Toekes, M.I., and Cronheim, G.E. A chemical and pharmacological investigation of Piper methysticum Forst. J Med, Pharm, Chem, 1959, 1: 95-103.

22. Nickl, J. and Keck, J. Medicines containing lactones from Piper methysticum, Brit Patent 943,121, Nov 27, 1963.

---

Posts: 48021 | From Tree House | Registered: Jul 2007 | IP: Logged |

Keebler
Honored Contributor (25K+ posts)
Member # 12673


posted

---

GOTU KOLA Info. in additon to magnesium and fish oils, Gotu Kola has helped me the most - aside from when I've been able to be on doxycycline (THAT alone was the best help I had to suppress the seizures - but now I break out from it).

if you consider nutritional therapy until you can see a LLMD, you might consult with a naturopathic physician or licensed acupuncturist in your area. Again, if you have a local lyme support group someone may have suggestions for you.

The author of the book below also is available for some teaching consults. His office is not far from you. information at the link's home page.

http://tinyurl.com/yqojt3

anti-convulsant, antispasmodic from THE ONE EARTH HERBAL SOURCEBOOK (Tillotson)

GOTU KOLA LEAF (Centella asiatica,)

WHAT IT DOES: Gotu Kola is bitter and astringent in taste and cooling in action. It is a brain and memory tonic, and an anti-poison, also useful for wound and skin healing.

RATING: Gold

SAFETY ISSUES: None known

STARTING DOSAGE:
see link

Gotu kola is an annual small spreading plant found growing near rivers and ponds. TAM doctors use it as a brain and memory tonic, and have found it especially useful in children.

In Nepal, during the ceremony for the first day of spring, gotu kola leaf is given to schoolchildren to help them in their studies by improving memory and concentration. It is very safe and extremely effective.

TAM doctors also use it to cleanse the system of toxins and reduce inflammation. TCM doctors use gotu kola to clear up boils and toxic fevers.

. . . Unfortunately, the chemical profiles differ among . . . species, and quality varies significantly. If you drink two or three cups per day of good quality gotu kola, you should notice the results quickly.

The primary effects of gotu kola include both wound healing and improvement of mental clarity and emotional balance. It doesn't surprise me that one herb can affect such seemingly unrelated physiologies.

For one thing, the nervous system and skin both originate embryologically from the ectoderm, and the skin is a sense organ.

I think further investigation is warranted to explore gotu kola's effects on other sense organs such as the eye, as well as on neurotransmitters, immune status and other nervous system parameters. At our clinic we sometimes find it useful in treating attention deficit disorder (ADD).

Research Highlights

* Western scientists have focused on the herb's wound and skin healing effects.

Numerous studies from around the world have demonstrated its efficacy in treating keloids, leg ulcers, phlebitis, slow-healing wounds, leprosy, surgical lesions, cellulitis, burns, dermatitis, venous disorders, and even cirrhosis of the liver (Maquart et al., 1999; Shukla et al., 1999; Hausen, 1993; Cesarone et al., 1992). These studies illustrate the plant's numerous stimulating effects on the healing processes of the skin and connective tissue.

* The Indian Central Council for Research on Ayurveda and Siddha, citing more than ten pharmacological and animal studies of gotu kola, also found evidence of the following characteristics:

CNS depressant, memory enhancer, anti-convulsant, antispasmodic, behavior and intelligence enhancer, and blood sugar regulator (Pandley et al., eds, 1996).

Alan Tilltoson, Ph.D. author

---

Posts: 48021 | From Tree House | Registered: Jul 2007 | IP: Logged |

Keebler
Honored Contributor (25K+ posts)
Member # 12673


posted

---

Google for - "infection" "slow brain waves" - comes back with some interesting sites helpful for better understanding.
Also why sleep is so important.
========================

PubMed main page Medical research

http://www.ncbi.nlm.nih.gov/sites/entrez

a Search for "seizures, lyme" came up with 14 abstracts

you can do similar searches for "magnesium, seizures" - "Gotu Kola, seizures" or whatever . . . mostly just abstracts here but from all around the world.

another herb, corydalis, is also helpful for calming the kindling of seizures:

http://tinyurl.com/27ht46

Neurosci Lett. 2002 Mar 8;320(3):113-6.Links

The protective effect of dl-tetrahydropalmatine against the development of amygdala kindling seizures in rats.

Lin MT, Wang JJ, Young MS.

Department of Medical Research, Chi-Mei Medical Center, Yung-Kang City, Tainan Hsien 710, Taiwan. [email protected]

The influence of dl-tetrahydropalmatine (THP), an active component isolated from a Chinese herbal medicine corydalis, was tested on the development of electrically kindled amygdala. . . .

The results suggest that THP is a very effective antiepileptogenic and anticonvulsant agent when applied to electrically kindled rats.

PMID: 11852175 [PubMed - indexed for MEDLINE]

[ 04. October 2007, 10:27 PM: Message edited by: Keebler ]

---

Posts: 48021 | From Tree House | Registered: Jul 2007 | IP: Logged |

Keebler
Honored Contributor (25K+ posts)
Member # 12673


posted

---

sorry for so many lengthy posts. some more thoughts - stuff that took me years to learn. it's a bit mixed up, but hope it helps.

an EEG can't say if someone has epilepsy. It can show that a seizure is happening and from what part of the brain. Epilepsy is sort of a catch-all term. However, it is good that they could see on the EEG. Many people never have that validated.

Still, you might check out an epilepsy site or group for advice on avoiding seizures. For now, becoming a bit of a detective might help. Perhaps she's up for a positive spin to this. The elimination game, so to speak.

Unless seizure activity is from an accident or lesion or other physical inpingement, they cannot say WHY the seizure was triggered. Rarely do they study any metabolic causes and even more rarely do they consider low-level infections.

MANY things can trigger a seizure. It does not mean a person has epilepsy or even a seizure disorder (yet). The passing out first may have been from NMH, neuro-mediated hypotension.

that's a low blood pressure reaction to stress or exercise that many people with Chronic Fatigue syndrome or lyme experience.
SEA SALT in the diet may help that for the time being.

Doctors may run some tests, hopefully especially on electrolytes.

However, my experience with neurologists has been awful and their remarks can harm a medical file and follow a patient forever. Most regular doctors don't know - or care to know - about lyme, so be guarded about that. However if your daughter has any history of a bulls-eye rash that is vital.

If you can at all first go to the LLMD. If this is lyme or tick-borne infections and if treated and cleared her medical record could stay clear of the "epilepsy" label.

If you can't get in to see the LLMD, perhaps be sure to tell their office mgr about this and ask if they can suggest a referral to a neurologist, etc.

As long as she's not driving right now for safety's sake, and she's not operating any machinery that could be harmful, etc.
I'd try to find out WHY.

most neurologists will not go that far.

also, if there are any lesions in the brain, that can be caused by lyme and can clear up with treatment.

you asked about whether to go back to the neurologist or pursue a LLMD. I would stay clear of any MD who is not a LLMD. It would be GREAT if you could find a LLMD who is also a neurologist.

avoid ASPARTAME & MSG (it has different names, too)

I hope you can convince your daughter for the very best diet (meaning EATING, not dietingJ). absolutely no aspartame (nutrasweet). It's in many diet products and can, by itself, cause seizures.

If she exercises vigorously, for now, it might be best to go more gentle, always backing up with food to avoid drops in sugar.
If this is lyme, vigorous exercise (or steroids) are contraindicated. Tai Chi might be fun for her to learn with friends and it or QiGong are GREAT to help the brain waves focus and relax in the right balance.

Mozart is great to listen to for an hour each day - it really helps the brain.

If she wants low-sugar treats, we all have many suggestions.
Berries, Cherries, apples best fruits. Lentil soups are very good.
Leafy greens help alot.

Gluten-free, if possible might really help, too. Many "sprouted" breads such as Ezekial might be a good transition. They also make muffins and tortillas. Not exactly okay for a true celiac, but may help in transition to lessen the gluten.

Paramedics actually taught me that after a seizure my brain is helped with sugar - although general with lyme it's best to avoid actual sugar as a rule.

a little very high level dark chocolate might help with keeping the good brain waves up, though. At least 73% dark or in the 80's.

other questions about environmental factors that can contribute to seizures:

new house, car? new perfumes or cleaning chemicals?

new school environment? new carpet? new hair products?

even a new toothpaste can trigger seizures (find one that is free of aspartame and gluten and dyes).

are clothes dry-cleaned? exposures to mold?

Seventh Generation and Bi-o-Kleen are just two companies that make non-toxic household products - dishwashing, etc.

perfume free personal care products - Magick, I think are just some. Jason may make some, too. If you have a "health" food store or Trader Joe's you can ask there.

I'd avoid Lavender, even though "natural" as many people with chemical sensitivties have trouble with it. Lemon oil seems okay for most if they desire some scent to shampoo, etc .

all this talk is about lessening the toxic load on her liver. Hopefully, she doesn't drink alcohol as that requires much of the liver.

nail polish, perfumes, hair sprays? hope she likes the natural look. If she must use "products" can so do so outdoors? ( I think using nail polish, etc. probably cost me many IQ points in college.)

Is your vehicle diesel? as you drive behind other cars, keeping distance helps not take in their exhaust, too, as well as monitoring the fresh air intake and cutting it off when you approach other cars or buses or trucks.

I used to pass out all the time (that has passed) . . . I often felt VERY sleepy first. I should have taken the clue to lie down no matter where I was. It would have save a few bumps. Ask your daughter if she can be aware of any signals and if so, listen to her body to be safe.

Stay away from any school dances with strobe lights or black lights. Halloween shockers or effects, too, might be good to limit. If you know the planning committee members of upcoming dances, you might be able to plan away from these things.

And, if your daughter has ANY sort of inner or middle ear vertigo stuff going on that might be a contributing factor.

again, good luck. so sorry for so much stuff here. hopefully, this will get better soon.

[ 06. October 2007, 12:51 AM: Message edited by: Keebler ]

---

Posts: 48021 | From Tree House | Registered: Jul 2007 | IP: Logged |

achey
LymeNet Contributor
Member # 6284


posted

---

I had a lyme related seizure disorder and was taking topamax and still having breakthough seizure though less severe.

I also had myoclonis and tremors all of which have subsided with IVIG.

I now only take IVIG, armour thyroid and an ionic colliodal silver preperation and am feeling generally wonderful, though I occasionly have a rundown day.

I hope this info helps. I felt seizure meds were a must until I could find or get insurance approval for IVIG, and proceed down the right healing path.

I also agree with nutrional supplementation.

---

Posts: 663 | From NH USA | Registered: Sep 2004 | IP: Logged |

timaca
Frequent Contributor (1K+ posts)
Member # 6911


posted

---

Go to www.hhv-6foundation.org. The article right on the home page is

"NIH Investigator finds two thirds of patients with Mesial Temporal Lobe Epilepsy to have chronic HHV-6B infection"

So, you may want to check into the possibility of HHV-6 infection.

Timaca

---

Posts: 2872 | From above 7,000 ft in a pine forest | Registered: Feb 2005 | IP: Logged |

tailz
Unregistered



posted

---

I was on Klonopin for 15 or 16 years, and I swear I was convulsing at times, and this is why an anticonvulsant was so helpful to me.

Just out of curiosity, do you live in an area with a heavy concentration of cell phone towers and antennas? You can check at www.antennasearch.com.

If you view the tower results, it will tell you how close the nearest cell tower is from your address. I think seizures are EMF related. I think Lyme is EMF related, too. You may want to research it. Good luck.

---

IP: Logged |
Contact Us | LymeNet home page | Privacy Statement

Powered by UBB.classic™ 6.7.3

---
The Lyme Disease Network is a non-profit organization funded by individual donations. If you would like to support the Network and the LymeNet system of Web services, please send your donations to:
The Lyme Disease Network of New Jersey
907 Pebble Creek Court, Pennington, NJ 08534 USA
http://www.lymenet.org/
---
Home | Flash Discussion | Support Groups | On-Line Library
Legal Resources | Medical Abstracts | Newsletter | Books
Pictures | Site Search | Links | Help/Questions
About LymeNet | Contact Us
---
© 1993-2020 The Lyme Disease Network of New Jersey, Inc.
All Rights Reserved.
Use of the LymeNet Site is subject to Terms and Conditions.
---