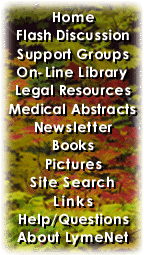 ---
LymeNet on Facebook
LymeNet on Twitter
---
---
The Lyme Disease Network receives a commission from Amazon.com for each purchase originating from this site.
When purchasing from Amazon.com, please
click here first.

Thank you.




Dedicated to the Bachmann Family


LymeNet needs your help:
LymeNet 2020 fund drive

The Lyme Disease Network is a non-profit organization funded by individual donations.

| | |
| --- | --- |
| | |
Author
Topic: Cowden protocol buddies out there?

minoucat
Frequent Contributor (1K+ posts)
Member # 5175


posted

---

I'm entering my 5th week of the Cowden protocol and would like to share experiences with others who are doing the CP.

My sx have increased on the CP -- stiff neck and shoulders, I'm emotional and irritable (particularly since adding the Samento), and I'm nervous about my driving. My insomnia has gone from bad to really horrible. I have had an increase in the number and intensity of headaches, but NOTHING near what it was like when I first started treatment.

Altogether, my symptoms are worse than they were during a halcyon period last year, before I had a Bb relapse (I about 6 months of feeling good on the Buhner protocol), but not nearly as bad as they've been in the past. And my stomach is tolerating this very well.

My LLMD suggested I try Banderol in place of Samento to reduce the irritability -- anyone tried that?

If anyone needs more background:

I've treated very successfully for the coinfections using abx (erlichia, bart, babs -- don't know if I ever had mycoplasm but I don't now; have not tested for viruses).

I've tried pretty much everything for the Bb, including abx and the Buhner protocol, and am now doing Cowden. My Bb load is much reduced but I still have sx and have a terrible time with fatigue.

I've detoxed extensively for both metals, endotoxins, and environmental toxins. I'm still doing detox including TD glutathione, chlorella, and clay baths as well as the detox included in the CP.

--------------------
*********************

RECIDITE, PLEBES! Gero rem imperialem!
(Stand aside plebians! I am on imperial business.)




---

Posts: 2331 | From WA | Registered: Jan 2004 | IP: Logged |

SForsgren
Frequent Contributor (1K+ posts)
Member # 7686


posted

---

Hmm. I think that a position that the co-infections are gone is a pretty bold position with no real way to be sure that is really true. In my experience the co-infections are lurking after each attempt to remove them and if you were really at the point that the only bug left was Bb, it is likely the case that you would not be as symptomatic as you describe.

I have used Banderol. I think it is better than Samento but can create strong herxes. Not as strong as Cumanda though in my experience.

Just don't close the door on the co-infections if you are still struggling so....

--------------------
Be well,
Scott


---

Posts: 4617 | From San Jose, CA | Registered: Jul 2005 | IP: Logged |

valymemom
Frequent Contributor (1K+ posts)
Member # 7076


posted

---

My son is on day 46 of Cowden and he was told that Cowden should hit bart, too.

---

Posts: 1240 | From Centreville,VA | Registered: Mar 2005 | IP: Logged |

lucy96734
LymeNet Contributor
Member # 8372


posted

---

I just got my box in the mail today and OMG! I am feeling overwhelmed already. Wow! What a lot of bottles.

I have been on abx for 21 months (did mepron for 7)after being really sick for 5 years.

I feel 90-95% most days. 3-4 days of the month I have an increase of symptoms and feel fairly icky.

My LLMD said I should try the Cowden protocol along with my current meds and check back in with him after a month and decide what to do from there.

I am hopeful that this protocol will be that final push I need.

I just hope I can keep up with all of it.

How do you keep on the schedule? My work schedule varies day by day- do you mix up what you need to take each day and take it out with you? Do you keep a calendar?

--------------------
Lucy


---

Posts: 342 | From Hawaii | Registered: Nov 2005 | IP: Logged |

GiGi
Frequent Contributor (5K+ posts)
Member # 259


posted

---

I am not addressing this to anyone specific, but just as a comment to what I hear about the various results with the Cowden Protocol.

Just know that The Cowden Protocol is based on
a patient having a clean colon - that is a priority with him. Patients do a 7-day cleanse followed by a colema board colonic or similar to assure that the protocol for heavy metal detox and microorganism elimination has a chance. It is vital. It is a priority with him.

A lot of attention is paid to heavy metal detox, sleeping location (EMF), etc. Emotional - stress, fear, anger, grief, brokenheartedness, love-block, inadequacy, guilt, envy, lack of peace, love joy, purpose, will to live. Quantum Physical (electromagnetic, geopathic, radiation, incorrect light and temperature, miasms, energetic relation thru acupuncture meridians).
Chemical, biological (parasites, bacteria, viruses, fungi, focal infections affecting autonomic nerves) and malalignments.

and TEETh health.

It has been found that sulfa residuals from abx and all other sulfas (I have listed them previously on another post about LED) meds and cosmetics, etc. will hinder the body from releasing heavy metals/mercury.

It appears that the presence of sulfa drugs in the tissues prevents the affected person from being able to effectively take up into their tissues sulfur-containing nutrients and detox substances, such as methionine, cysteine, NAC, taurine, L-glutathione, lipoic acid, MSM, DMSA, DMPS or DMSO. These are essential for heavy metal detox and other toxins.
So you can spend all the time and money on these detox support drugs, but many are not getting to the places where they are needed.

Some people say they are not toxic with any of these - mercury, lead, chemicals, etc. -- I don't know where they live -- maybe on another planet. I think we are so sick mainly because of these toxins which then make for an easy entry of any microbes, including Lyme and Co. The terrain.

Please read the EXPLORE Cowden article
on LED (Laser Energetic Detoxification) on Scott's website, www.betterhealthguy.com. He had received permission to post it there. It's a little hard to find, so keep looking. It is there.

If you are still holding on to metals, the bugs will not leave. Dr. LC states that treating microorganisms with LED while still heavy metal toxic is not practical, because the bugs "come right back". The toxins have to leave first or at least treated effectively alongside.

By the way, Dr. Cowden is a student of Dr. K. and Dr. K. is a student of Dr. Cowden. That's my interpretation of what I see and hear.

Heavy metal treatment/detox usually takes several years. It usually took many years to accumulate. We all would like to brush this aside, and I know many people do just that. It is no surprise to me that so many are still sick, fear relapse, or feel they cannot be without antibiotics for life.

So - to say that the Cowden protocol doesn't work is very valid if the preconditions are not met. A heavy metal toxic body cannot heal. And a toxic gut breeds bad stuff.
(www.Dr-Natura.com works well (look at picture gallery), but takes at least a months to get all out)

Take care.

P.S. Totally well, but still learning every day!

---

Posts: 9834 | From Washington State | Registered: Oct 2000 | IP: Logged |

efsd25
LymeNet Contributor
Member # 2272


posted

---

GiGi,
seeing you posts again has made my day!!!
I missed you, Welcome back!!
Ernie

---

Posts: 546 | From Cascadia subduction zone | Registered: Mar 2002 | IP: Logged |

hardynaka
Frequent Contributor (1K+ posts)
Member # 8099


posted

---

Minocaut, did someone test you to see if you're really rid of coinfections? What about yeast/ candida/ viruses/ parasites?

Are you taking lots of chlorella / cleansers? MSM?

Sorry to see you're going through bad phases. I guess it could be also excess of die-off toxins? I had horrible experiences while killing too many critters, but LOADS of cleansers many times a day made my life 'livable'.

I think Scott may have a point there too... When my co-infections went away, I felt next to healed. Borrelia disappeared rather easily after.

I start to realize that most of my symptoms came from probably from co-infections, not from borrelia, in these 2 years of disease.

I'm on my 5th week lyme-free (only time will tell for sure though), but still treating a last fungal infection in a tooth, that tests as having mercury in its root.

In my experience, Buhner core protocol works wonderful for borrelia, but his co-infections protocols are less effective in general.

Of course, not everyone can accept all 4-5 herbs (stephania included), but if your body accepts them (andro, smilax, resveratrol, cats claw, stephania and possibly astragalus if newly infected), I don't really see how borrelia ALONE would resist this combo. It needs to be taken for a few months of course... It's just my opinion.

Selma

---

Posts: 1086 | From Switzerland | Registered: Oct 2005 | IP: Logged |

hopeful123
Frequent Contributor (1K+ posts)
Member # 3244


posted

---

hi there,

i DID feel better after the cowden protocal. i was in relapse and took the limited cowden for about three months. i still have some sx which have never entirely gone away. i little brain s**t and a little fatigue.

i know we are all different, but the limited cowden did help me out of relapse.

good luck. don't know about switching sametoo for something else.



--------------------
some days you're the bug, some days you're the windshield


---

Posts: 1160 | From NY | Registered: Oct 2002 | IP: Logged |

minoucat
Frequent Contributor (1K+ posts)
Member # 5175


posted

---

Hi guys. Thanks for the input. Any other Cowden folks out there?

I'm still very tired but am doing better, and the irritability has hugely decreased. The insomnia is getting a little better too.

Scott, it is interesting that you have had coinfection sx return. I have not experienced that. I completed my coinfection tx for bart a year ago and for babs a year and a half ago. They both had very distinctive sx (to me) and none of those have returned. I radically improved after completing each coinfection tx.

Also, I think the CP is important taken as a whole -- the combination of the entire set of herbs -- rather than unique experiences with single herbs like Samento.

As far as coinfections -- When the hubby relapsed with babesia, it was within 2 months of completing tx and the relapse was brutal. I my experience is that once babesia manifests, there is no cruising along with it as there sometimes is with Bb.

Lucy, for the CP I got one of those calendars with big squares, and I drew 8 lines horizontally across each week. At the beginning of each week I listed the things I have to take, one on each line, with "C18" or "C20" to show where I was adding Cumanda.

I wrote in where the protocol goes through changes on each date that happens (when to add in Samento, when to add Algas, etc.) for the next 4 months. I messed up 2 (free) calendars doing this but I really understood the protocol by the time I was done.

I've tested free of (known) coinfections -- aside from viruses, which I haven't tested for. I don't actually have much faith in the tests (except for the bart test which seems to be good) but they do agree with what I know about myself and my sx.

I've treated extensively for parasites, including colon cleanses, and appear to be parasite free, although I haven't done top-level testing for that. I have no gut problems any more.

I've done over a year of pretty extensive metals detox and am continuing to do so. I've done some cleanses for other toxins. It feels as if toxins are what the CP is hitting now, as well as (I hope) Bb.

Gigi's point about sulphur is an good one. A Lymie friend of mine is treating for both sulphur and formaldahyde now, and is finally showing improvement after a couple of years of abx. Indications are that she has a genetic predisposition not to detox well, in addition to having been in a toxin-laden profession. If her protocol goes well I'll let y'all know.

It is important to note that this friend has done extensive liver cleanses and detox for metals and parasites, but has never specifically addressed sulphur and formaldahyde before.

Borrelia Brain posted on the detox earlier -- I think it's a vitally important topic.

Selma, I did quite well on the Buhner protocol for a while, but I relapsed. It does not seem to have the intense detox that the CP has.

I have access to a friend's LBG -- I can't find the Cowden LED program anywhere near me, but am still looking. If that helps I'll post.

--------------------
*********************

RECIDITE, PLEBES! Gero rem imperialem!
(Stand aside plebians! I am on imperial business.)




---

Posts: 2331 | From WA | Registered: Jan 2004 | IP: Logged |

CherylSue
Frequent Contributor (1K+ posts)
Member # 13077


posted

---

I'm doing a modified Cowden protocol. I've been using cumanda, burbur, trace minerals, adrenal support, pinella, and magnesium malate (all Nutramedix products).

It took me three months to get to 15 drops of cumanda/twice daily. I just arrived at this point. I can't see how people can survive the full Cowden. It must be brutal, because I herxed pretty much on the cumanda. I had to take a few days off in the beginning weeks. Some days I just cried, but I felt in my gut this was my only way out of the situation.

I hadn't been diagnosed with Lyme officially, but suspected I had it. Just this week I received my Igenex test results. My IgG was positive.

I suspect I may have babesia, too, but not the other co infections. Possibly one of the herpes viruses. I'm going by intuition which seems to have served me well. I think I need to kill the babesia before I obtain a complete recovery, so I'm seeing an LLMD next week.

I don't have arthritic Lyme, but neurological Lyme, I suspect.

I've made modest improvements, some days are worse than others, but I think the Cowden is a good place to start. I don't have intestinal issues or too great a yeast problem that I probably would have if I had started with ABX. Cumanda is a strong antifungal.

My intuition tells me that cumanda/burbur is good thing, albeit a slow recovery.

That's my experience.

CherylSue

---

Posts: 1954 | From Illinois | Registered: Aug 2007 | IP: Logged |
Contact Us | LymeNet home page | Privacy Statement

Powered by UBB.classic™ 6.7.3

---
The Lyme Disease Network is a non-profit organization funded by individual donations. If you would like to support the Network and the LymeNet system of Web services, please send your donations to:
The Lyme Disease Network of New Jersey
907 Pebble Creek Court, Pennington, NJ 08534 USA
http://www.lymenet.org/
---
Home | Flash Discussion | Support Groups | On-Line Library
Legal Resources | Medical Abstracts | Newsletter | Books
Pictures | Site Search | Links | Help/Questions
About LymeNet | Contact Us
---
© 1993-2020 The Lyme Disease Network of New Jersey, Inc.
All Rights Reserved.
Use of the LymeNet Site is subject to Terms and Conditions.
---