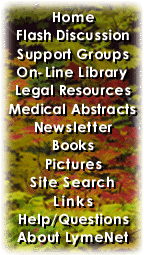 ---
LymeNet on Facebook
LymeNet on Twitter
---
---
The Lyme Disease Network receives a commission from Amazon.com for each purchase originating from this site.
When purchasing from Amazon.com, please
click here first.

Thank you.




Dedicated to the Bachmann Family


LymeNet needs your help:
LymeNet 2020 fund drive

The Lyme Disease Network is a non-profit organization funded by individual donations.

| | |
| --- | --- |
| | |
Author
Topic: Who has done physical therapy

yourtroubl
LymeNet Contributor
Member # 11087


posted

---

I started today. I had some ultrasound on back and hips. I did some stretching exercises.

I feel better just doing something.

Have you had Physical Therapy and what was the results.

---

Posts: 347 | From WV | Registered: Jan 2007 | IP: Logged |

5dana8
Frequent Contributor (1K+ posts)
Member # 7935


posted

---

It's been a long time (1995) since I did PT for neck pain with ultrasound & heat & then they did A mild neck traction devise. Very slowing stretching out my vertabra's in my neck. It fixed the horrible neck pain I had been having at the time.

Now the pain is in my lower back,. I would love to get PT again but we live in the boonies now & I just haven't gotton around to finding the right place yet.

Hope your PT helps you too

healing hugs
Dana

--------------------
5dana8


---

Posts: 4432 | From some where over the rainbow | Registered: Sep 2005 | IP: Logged |

onthemend
LymeNet Contributor
Member # 13454


posted

---

Hey, YT -

I haven't done specific PT yet, although I am starting with a Lyme-specialist chiropractor/MT in the next few weeks. He's been mentioned in some of the Lyme publications, and I am lucky enough to live near him.

After 1 1/2 years of illness, I resumed pretty vigorous aerobic workouts in August. I know that is not possible for all, but I just want to pass along that it really moderates my Lyme symptoms - I would almost say it is amazing.

It is not the endorphin affect or anything like that - before this train wreck, I was a lifelong athlete so I know what all of the normal 'feelgoods' of exercise are. This is over, above, and distinct.

I know vigorous aerobic exercise is a ways from ultrasound and stretching, but I want to share this info to help give you something to shoot for. I don't know if it a detox or an oxygenation affect, or neither, or both, but it is astonishing. On rare days that I don't get the exercise in due to feeling cruddy or what-have-you, I notice a big difference.

Because I've had a lot of hip, knee and ankle issues, right now I am limited to a recumbent bike and some incline treadmill, walking not running. But if you use the hill profile on the bike, you can get a good sweat going.

Right after I ex, I take a loooooong, super-hot soak in Epsom salts to further detox. This program is really adding to my recovery. So even if you've got to start slow and have some setbacks, please stick with it.

Any helpful program/info I get from the chiro, I will pass it along. What are your most troublesome areas? Also, there is a thread somewhere about lymph drainage that you might want to take a look at.

Hope you feel better and better all the time, stick with any/all physical activity that you can tolerate, I really feel it is part of the 'cure'.

Best,

onthemend

---

Posts: 314 | From east coast | Registered: Oct 2007 | IP: Logged |

Aniek
Frequent Contributor (1K+ posts)
Member # 5374


posted

---

I've tried pt a few times. I'm doing it right now, and it's too early to judge. But these are my thoughts.

I first did myofascial trigger point release. I have extremely tight muscles. I found the trigger point release was helpful when I was on muscle relaxers, but it made it worse before that. However, it did not really have lasting effects.

The pt I'm doing now consists of a TENS unit, heat, stretching and strengthening. I've been doing it for 3 weeks, and I've been questioning it because I don't really have confidence in my therapist.

The most important thing is that you have a good therapist. My therapist right now is at a rehabilitation hospital. She is supposed to work with patients who have myofascial pain, but I really think she only has experience with people recovering from injuries.

I'm going to give her a couple more weeks because she is going to teach me strengthening exercises, which I know I need.

--------------------
"When there is pain, there are no words." - Toni Morrison


---

Posts: 4711 | From Washington, DC | Registered: Mar 2004 | IP: Logged |

hurtingramma
LymeNet Contributor
Member # 7770


posted

---

I go to pt weekly. If I didn't, I would have to have a heating pad permanently attached to my neck and shoulders

I have cranial/sacral work and also myofascial release. I also have a home traction unit. My therapists have always said that my head is screwed on too tightly.

--------------------
"Few of us can do great things, but all of us can do small things with great love". Mother Theresa

http://www.facebook.com/profile.php?id=1629665573&ref=name


---

Posts: 938 | From Northeast Kingdom Vermont | Registered: Aug 2005 | IP: Logged |

lpkayak
Honored Contributor (10K+ posts)
Member # 5230


posted

---

i have had pt for many parts of my body. the only one that worked was for my lower back. it really is just a set of stretching / strengthening exercises that i can do at home.

noththing else helped-chiro hurt, acupuncture hurt-

massage was good when done by a really good therapist-but that was all me paying. still i needed it 3 X a week for 5 years to keep working. good luck.

--------------------
Lyme? Its complicated. Educate yourself.


---

Posts: 13712 | From new england | Registered: Feb 2004 | IP: Logged |

listenswithcare
LymeNet Contributor
Member # 10719


posted

---

I got a referral to a sports therapist P.T. by my massage therapist. It was the best thing I ever did. I had been in P.T. before, but the therapist was not that knowledgable.

I agree with others who say the experience of the therapist is paramount. If there is massage training school near you, they could probably give good references for good P.T.'s.

I went to P.T. for about 11 months total. It was the only reason I was able to start exercising again. Anything I tried on my own, I would just get all "balled up" and knotted up and be in more pain.

He was able to work on stretching my nerves and muscles and loosening muscles and also putting bones back in place. I had been seeing a chiropractor, but he did not check my ribs. The P.T. found my first rib out (the rib at the top of your chest), and that was causing major problems for me.

I am very sensitive to having my bones out of place. Some people don't even feel it, but for me, it is like having a knife jab at me. Now I go to the chiropractor regular and make sure he checks those bones that he usually did not check!

Stick with it. It is not easy, but so worth it!

Robin

---

Posts: 276 | From Maryland | Registered: Dec 2006 | IP: Logged |

hopingandpraying
Frequent Contributor (5K+ posts)
Member # 9256


posted

---

My son's doc suggested we try physical therapy. Although he only did a minute or two at each station,the outcome was HORRENDOUS!!

He was in so much pain that we had to stop (doc agreed!). It took him several days to recover.

Exercise is good if you can tolerate it - many cannot as they already have chronic pain. You should do what you are able to.

---

Posts: 8898 | From Illinois | Registered: May 2006 | IP: Logged |

painted turtle
LymeNet Contributor
Member # 7801


posted

---

I am doing some physical therapy, right now mostly sternum/chest and mid spine strengthening. It hurts, it causese numbness in my face, back and upper arms.

I could not have done it at all a year ago. Now I feel it is necessary. Because I am ready for it.

Still, daily, I am forced to be very conscious of being careful with whatever I do since the deep pain in my spinal column, upper, and into neck plus the jaw and TN can take me out in a heartbeat.

So I'm sticking with it ever so slowly, twice a week.

--------------------
www.lymefire.blogspot.com


---

Posts: 855 | From United States of Mind | Registered: Aug 2005 | IP: Logged |

tanzi2u
LymeNet Contributor
Member # 9237


posted

---

My daughter's pediatrician and LLMD both agreed that she needed exercise to help increase her energy and stamina. However, neither wanted to signoff on physical therapy for insurance to help pay.

So I found a licensed medicine sports trainer willing to follow Dr. B's physical training program (written up in his 2005 guidelines) and work 1 on 1 with her, 3 days a week this past spring and summer.

The first week it was all she could do to do the simple stretching and a few warm-up exercises.

She definitely needed a days rest in between sessions. And some sessions only lasted 40-45 minutes if she was exhausted.

Early on, it was advised that she wear a heart exercise monitor, as her heart would race over 180 beats a minute just in a beginning stretching routine. (She has neurally mediated hypotension.)

Her cardiologist ran another echocardiogram just to make sure he hadn't missed something, or that something new had developed in the past year since the last one.

Her heart tested out fine, so the trainer gradually added weight and strength training to her hour-long program (but no cardio workouts). He always had an eye on her monitor, and if she got close to 80% of some calculated heart rate maximum (based on age and weight, I think), they would break and have her rest until it came back down.)

Over the 4 months of training she went from having very poor muscle tone, to developing ankles! and some leg muscles! to lifting and working with 10 and 15 pound weights (the 2 pounders were enough to exhaust her at the start).

She is attending college full-time now (despite not being back to 100% yet) and while she wouldn't admit it at the time, she feels the exercise therapy really helped forge an improvement - enough so to make even attending college a reality.

At the start of training, she had pegged herself at being at 70% of normal. Now she feels she is up to 85%.

I am hoping she takes up yoga, or does some light workouts, but she feels between living on the 3rd floor, and the walking she does and some lifting at her campus job, she is getting enough exercise for now.

Fingers crossed; your mileage may vary.

---

Posts: 115 | From USA | Registered: May 2006 | IP: Logged |

Ann in CA
LymeNet Contributor
Member # 97


posted

---

PT has been really important for me, over the last 15 years.

I have had it for shoulders (two separate times-severe inflammation, severe pain)

Knee--damage from lyme arthritis, so can't run, but can walk as long as stay on maintenance abx

Hips, (turned out to be referred pain from unstable back--daily exercises she taught me have kept that from coming back)

All these developed when I was off abx. By the time I got back on, there was permanent damage to the knee. One frozen shoulder took two acupuncture treatments,12 weeks of PT treatment, and back on abx, but is fine now.

Hope you have success with your treatment.

Ann

---

Posts: 286 | From Northern California, USA | Registered: Oct 2000 | IP: Logged |

Robin123
Moderator
Member # 9197


posted

---

After I developed symptoms 25 years ago, and without knowing what was wrong, I went though a course of pt every year, and I never got anywhere with it.

I get the most benefit from being in a swimming pool once a week, doing every stretch I can find to do, interspersed with light swimming. I wear snorkel and goggles. Initially, I had to wear a torso float to hold me up when I first started. I started my swim program a couple years before I found out I had Lyme. I was able to diminish major pain that way.

I find the Equalizer massager machine perfect for massaging muscle spasms; it works, without being too rough.

[ 13. October 2007, 07:33 PM: Message edited by: Robin123 ]

---

Posts: 13069 | From San Francisco | Registered: May 2006 | IP: Logged |

klutzo
Frequent Contributor (1K+ posts)
Member # 5701


posted

---

I've had PT for DDD in my neck with a bone spur causing left side radiculopathy, and it got rid of the searing pain and has kept me from having neck surgery for over five years now.....I do the exercises I was taught three times weekly.

I had PT for low back pain due to stenosis and piriformus/soas syndrome, and have not had any major sciatica episodes since doing the exercises they taught me daily. I do most of them in bed before I even get up. I have had more minor episodes though, so this was not as successful as the neck therapy.

I am currently getting PT for a torn rotator cuff in my left shoulder. It is not working as well as I'd like in terms of increasing my range of motion, but the pain is a lot less, and my goal is to get the pain to where I can forgo surgery on it. The tear was caused by the position my arm was put in during surgery I had in April. I've had enough %$#*&! surgery!

My biggest problem with PT is getting there. Driving is dangerous for me and everyone else on the road due to a heart problem I have when I am overstimulated, such as by heavy traffic, called PSVT.

Maybe it's because I've worked out all of my life, but I do not find the exercises or weights used in PT to be a problem.....they are less than what I use at home, and my therapist has a rule, ie. if you still hurt after any movement ends, it's too much for you, so back off.

Klutzo

---

Posts: 1267 | From Clearwater, Florida, USA | Registered: May 2004 | IP: Logged |
Contact Us | LymeNet home page | Privacy Statement

Powered by UBB.classic™ 6.7.3

---
The Lyme Disease Network is a non-profit organization funded by individual donations. If you would like to support the Network and the LymeNet system of Web services, please send your donations to:
The Lyme Disease Network of New Jersey
907 Pebble Creek Court, Pennington, NJ 08534 USA
http://www.lymenet.org/
---
Home | Flash Discussion | Support Groups | On-Line Library
Legal Resources | Medical Abstracts | Newsletter | Books
Pictures | Site Search | Links | Help/Questions
About LymeNet | Contact Us
---
© 1993-2020 The Lyme Disease Network of New Jersey, Inc.
All Rights Reserved.
Use of the LymeNet Site is subject to Terms and Conditions.
---