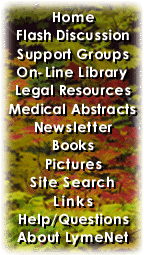 ---
LymeNet on Facebook
LymeNet on Twitter
---
---
The Lyme Disease Network receives a commission from Amazon.com for each purchase originating from this site.
When purchasing from Amazon.com, please
click here first.

Thank you.




Dedicated to the Bachmann Family


LymeNet needs your help:
LymeNet 2020 fund drive

The Lyme Disease Network is a non-profit organization funded by individual donations.

| | |
| --- | --- |
| | |
Author
Topic: How do you deal with people who think you are faking

yourtroubl
LymeNet Contributor
Member # 11087


posted

---

I have been off work 8 months. I want to go back next week to see if I can handle it.

I understand that some of my employees think I have been faking it...

I am so upset at this I can hardly stand it.

I have not been on vacation. I dont go anywhere, because it hurts to drive and I dont have the energy and ability to walk much. I am in constant pain, even though that has gotten so much better.

What do I do

---

Posts: 347 | From WV | Registered: Jan 2007 | IP: Logged |

lou4656
Frequent Contributor (1K+ posts)
Member # 10300


posted

---

Kick them in the knee as hard as you can and shout "now you know how lyme feels!"

--------------------
LouLou


---

Posts: 1276 | From maryland | Registered: Oct 2006 | IP: Logged |

Beverly
Frequent Contributor (5K+ posts)
Member # 1271


posted

---

Well, that has to be a tough situation because you are working with these people. Just be civil, and try to stay away from them as much as you possibly can.

There are folks out there who are not compassionate, that is the way they are, it is not a reflection of you.

I have come across many folks who will not even ask my how I am or how my son is doing. I don't wait for people to acknowledge me anymore, I acknowledge myself and my own sufferings.

Love yourself.

I had to get over a lot of damage done to me by doctors etc., telling me everything was in my head, that I was a hypochondriac and I was causing my illness my IBS my TMJ etc. If you listen enough to the naysayers you start to believe it. I thought I was going crazy and I became so ashamed of my pain that I didn't want to talk/acknowledge my own pain anymore.

Good luck.

[ 18. October 2007, 01:00 PM: Message edited by: Beverly ]

---

Posts: 6626 | From Michigan | Registered: Jun 2001 | IP: Logged |

Just Julie
Frequent Contributor (1K+ posts)
Member # 1119


posted

---

I have never been in your position where I would be returning to a job after having been "down" for a long period of time. But, I do think that since I may have an answer to how you might deal with this, if only from a common sense point of view -----

Everyone who has ever dealt with Lyme, and the people who have viewed them as "having nothing wrong, but, you don't look sick" type reactions from ANYONE (family, friends, etc.) can tell you that the LESS you say about it, the better.

I mean saying less, because if you get into the facts of lyme and what it can do to a person, you will find people who won't believe you because THEY HAVEN'T BEEN THERE. This disease is not easy to "see" in that it's not cancer, or some other well known disease that causes symptoms that are readily recognizable.

What you have with lyme, is so many variables, that unless you can present these (as symptoms in yourself) clearly, most people will doubt you and what you say about what you went thru all those months you were gone from your job.

If you can somehow find a way to present your lyme illness in a clear, concise, SHORT story of what you had, and what you may still be dealing with,that might be the best way to go with what people will ask/question you when/if you do return. Otherwise, I'd suggest saying almost nothing. Be very non-specific, generalize issues, and unless people very specifically can tell you that they "know" about lyme, and what you might have gone thru, you will not be able to educate anyone and get them to empathize with you on this type of level.

YOu'd think it would not have to be this way, that you might be able to even help someone avoid ending up the way you did, but alas, it probably will not be that way. Even in this day and age, when Lyme disease is becoming more recognized in the public eye (and look, Pres. Bush had/has it!)it is still not a disease that people can "see".

They can't look at you and know what you've been thru, what you're still facing. It is such an ugly way to view this type of dilemma, because you want to have support from people you probably deal with on a daily basis in your workplace, but it's just the way life is in this at this point in the lyme arena.

HOpe this helps, wish I could give you a pat answer as to what you might reply with when people ask, but I don't have anything to offer up, maybe someone else can give you pointers in how to reply to people with short, concise answers that won't lead people to treat you with anything less than kindness and respect.
good luck!

--------------------
Julie


---

Posts: 1027 | From Northern CA | Registered: May 2001 | IP: Logged |

tailz
Unregistered



posted

---

I don't have any advice for you really.

I dropped to 88 lbs, and my sister was accusing me of just wanting attention because they weren't finding anything wrong with me. And even when I did test positive, she thought I didn't have Lyme. She's a little better now.

My former PCP made a few remarks to me after I had listed a bunch of 'findings' that should have been a concern to him that made me want to rip his head off...

"Well, you can make yourself lose weight! SPERM can cause protein in your urine!"

I was also accused of drug addiction/dependence because my symptoms would flare up whenever I would discontinue Klonopin.

So basically, I was a sleezy, drug-addicted anorexic to them, I guess.

I was thinking though - let's just say I had been all of these things? Let's just say I was indeed abusing Klonopin, and that I was indeed a prostitute, and that I was indeed starving myself - do I deserve to die of infection because of it? I don't think I'll ever recover from what they did to me, so I just yell now - that's how I handle it.

My neighbor approached me when I had started looking especially emaciated. Even she though, when I started to gain some weight, was ready to push me out the door so that I could become a 'productive' member of society. She thought I was psychologically adverse to working (which I AM, but that's besides the point).

So being employed constitutes 'productivity'? I guess I was extremely unproductive then 'just' raising my daughter and keeping a home OCD clean.

I have no advice except to YELL, but then you would lose your job.

---

IP: Logged |

echostef
Unregistered



posted

---

I suppose you could be thankful that you still HAVE a job!!

My job called and fired me two weeks ago since I have been on medical leave for 3 months. They told me they could no longer hold my position for me and if I didn't chose to resign then I was terminated. So much for my health insurance.

I have worked for this company for years and I'm a healthcare worker myself! I guess doctors have no compassion to support one of their employees who is too sick to work...

As far as people who think you are faking, what can you do about ignorance? It seems to run rampant when anything about Lyme is concerned.

Sorry I'm not much help
Good luck!
Stefanie

---

IP: Logged |

Kerryblue
LymeNet Contributor
Member # 4077


posted

---

HI, Think huge percentage of us experience this from ducks, to friends,to fam.

My mom lived with saw how ill I was.
Still asks whats wrong,honey????DUH.

Through the yrs. to people who matter, friends or fam. This is where still am think was easier to take down the Berlin wall.

I now just say if they do not care enough to research, takes too much of my energy to explain, for more yrs. care to even think of.

After this B-day, made pack, worry is out my vocab. Such waste time, will only be a do`er if able otherwise, still will care, just can`t worry about these things anymore.

It is sad, I personally took care someone, since 11, till now too ill to barely take care myself.

You have to do the same.
Tell them knowledge is power, I found it in library, I have given them the sheets for fam. friends to understand.
Frankly I am always understanding why they do not.
After 20 yrs. getting too old.

Take pride in who you are, pat yourself on back, for getting through each day.

When I became ill after 18 yrs. taking care of him & 15 yrs. between my kids with illness.
When I became ill, turned around everyone close to we gone. Was some semi-close friends who helped after long hosp. stay.

Hold your head up high, that is if you can.lol
OK, hold up by pillows..lol

Take that en-gerny for you.

Remember we can only change ourselves, not others.
Maybe if you do that will get diff. response.

There are no right or wrong answers, until we hear more about.
According to the video, Lyme,all co-infections/sure under other fam. names./
is now considered at epidemic proportions not including all the miss Dxed.
Maybe then????

Gather that is why their is lymnet & group support.
Is sad when you need support,understanding,(Not what we know they are thinking,behind our backs.)

Hang in there best you are able, find friends with chronic illness, that will relate, & support from above mentioned.
Till they know how to use internet or pick up book?????Hmmmmmmm???? Do not hold your breath.

Do not put or give energy to them you do not have. Big mistake we all have made..


---

Posts: 746 | From Clearwater/fl/Pinellas | Registered: Jun 2003 | IP: Logged |

CaliforniaLyme
Frequent Contributor (5K+ posts)
Member # 7136


posted

---

Lou, I LOVE that idea*)!*)!!!!

Not very useful unless you want to get arrested but still, a thought to treasure*)!*)!!!!!!!!!!

Very silly-!!

Trouble, I never had anyone htink I was faking because I had objective visuals they could see (bright red knees, swollen face, limp, slurred speech, etc) but that would be heart rendering to go through Lyme AND then have people doubt you-

So sorry to read that- I hope the rumors are wrong and everyone is sympathetic-
Sincerely,
Sarah

--------------------
There is no wealth but life.
-John Ruskin

All truth goes through 3 stages: first it is ridiculed: then it is violently opposed: finally it is accepted as self evident. - Schopenhauer


---

Posts: 5639 | From Aptos CA USA | Registered: Apr 2005 | IP: Logged |

yourtroubl
LymeNet Contributor
Member # 11087


posted

---

I am so sorry. I should have realized alot have been through this. Its not treated like cancer, though most of the time the pain is much worse.

I am very thankful to have a job... ( I have a great job but I think being the boss and having my job held might be funny to the 60+ people I supervise)...I never thought of that I was just thankful..

---

Posts: 347 | From WV | Registered: Jan 2007 | IP: Logged |

onthemend
LymeNet Contributor
Member # 13454


posted

---

Hi Yourtroubl, I'm always interested in your posts, so I thought I'd throw my hat into the ring on this one.

In addition to all of the hard, sad lessons that we learn about the medical community from the LD experience, I think most of us can also add some hard, sad lessons about our lives and the people in them.

No matter what our individual ages or to-date life experience, I bet we've all been surprised by those who came through for us in our current troubles, those who didn't, those who helped & cared, and those who couldn't be bothered to learn even one little fact about Lyme, etc. I'm taking it all as just another life lesson, although an especially difficult one.

In the case of your employees, I DO think it is worthwhile to share (with those who seem open), some SHORT, THIRD PARTY (i.e. article, etc) info just to slightly clue them in.

Beyond that, previous posters are right - no one wants to hear, no one will ask you how you feel. I always noticed that in work - I mean pre-Lyme - in American society, with work, you are in or you're out. If you show up, there is an assumption of wellness, energy and competence. That's just the way it works.

Plase don't torture yourself on what their thoughts and opinions may be as you go about your daily business. You cannot control what other people think or feel. Do what's right for you, and just do your best/what you can. I know it is not easy.

I've been sick for about 2 1/2 years, diagnosed 9 mos ago. I've gotten much better on abx, and I am starting to 'get out there' again. I have been surprised at how very difficult it is.

My self-esteem was all wrapped up in my brainpower (now totally compromised!)and my outgoing personality (now I'm a hermit!), so it is very difficult to put it all out there now as a changed person. Besides brain, hearing and sight troubles, there is just something different about my entire personality and ability to cope.

BUT, I am choosing to believe about this, as about most things in life, that it will improve the more I try and the more I do it. I hope that will be true for you in the work situation as well.

As far as the feelings of personal betrayal, your negative thoughts can only hurt you, not the people who have been so unkind and thoughtless. So don't go there. Do your best, be kind to yourself, be patient, don't let LD take away any more of your life than it already has.

I also agree with the previous poster who said it's just our lot with the Lyme situation right now. I felt the same about the medical community aspect of it - we've been caught up in something at a bad time, it will all get better, but in the meantime, we suffer. That has happened to different groups for different reasons at different times throughout history, and our time isn't any different. So employing a little bit (but not so much that you give up!) of philosophy and resignation (not a very 21st centruy recommendation, I realize) can add dramtically to your sense of inner peace.

If you're a doer, perhaps you, like me, have a plan for the future - to fight Lyme ignorance on all levels (medical, social, etc.). I'll be out there fighting as soon as I get a few brains back into my darn head - & maybe I'll see you out there.

Good Luck, Be well, Be kind to yourself -

onthemend

---

Posts: 314 | From east coast | Registered: Oct 2007 | IP: Logged |

just don
Frequent Contributor (1K+ posts)
Member # 1129


posted

---

IF you are trying to educate the non sick person,,,less is better. Swamp them with info and all you get is s dazed and confused stare.

BEFORE I got sick that would have included ME too.

A clear concise, east to understand education ice-breaker info MIGHT be a simple sx list. One page spaced a far as possible,,,

You could either check off all YOUR sxs(of which they cant see MOST of them) or IF its sensitive info,,,just put a line on the bottom says I 'enjoy' __ of these 29 sx(or whatever the list is!!

What this does is easy to read down thru, not TOO much info,,,yet it gives them the BEST info to also look at and say,,,well 'maybe' Aunt Mary or Uncle Harry 'might' have this too!!(OR neighbor Susie)

It also has those sx that you cant SEE!!

One page they are prone to keep,,,30-40-100 pages of info,,,invariably hits the waste basket first!!

IF they request MORE info or want to discuss further you can,,,but let them bring it up,,,that way THEY own it.

Other than that you can mention in passing,,,"my knees are killing me today!!" BUT ONE at a time,,," My head is pounding!!" "Whose truck ran over me today??" AT leaast it conveys you arent feeling as well as you LOOK!!!(But easy does it!!)

Mostly we give TMI like --just don--

--------------------
just don


---

Posts: 4548 | From Middle of midwest | Registered: May 2001 | IP: Logged |

Allie
LymeNet Contributor
Member # 10778


posted

---

So far I've been able to work through my illness and most of my co-workers know I've been sick (the PICC line dangling off my arm is hard to miss).

There are a few here who know all the gory details because it is important to share with co-workers (but these are a carefully chosen bunch).

To the "masses" at work, to daycare teachers, neighbors... etc. who I can't explain the details to (or who I don't think deserve the details) I say "You know, I've been dealing with some health problems..." It's a good quote, because it's elusive and most people know it's worse than a toothache.

Good luck with this! I'm so glad that you are feeling well enough to work!

Allie

I say this line whenever I say I'll be out of work for tests or MD appts. stuff like that.

This seems to work for me.

---

Posts: 300 | From Northeast | Registered: Dec 2006 | IP: Logged |

cjnelson
LymeNet Contributor
Member # 12928


posted

---

i think lou has the answer - if u cant bring urself to do it, just think about it everytime

you get that "look" - we all know the one i am talking about....

if nothing else, you will have the last laugh!!!



--------------------
Seeking renewed health & vitality.
---------------------------------
Do not take anything I say as medical advice - I am NOT a dr!


---

Posts: 830 | From TN | Registered: Aug 2007 | IP: Logged |

blazinglyme
Member
Member # 13320


posted

---

Hey there,

I can relate to what u r saying about going to work and no one believing u!

Like Kerryblue said.. Hold your head up high and be proud of who u r and what u have.

Just keep in mind u r a "figher" of a disease that is hard to understand! something we with it only understand it!

Suggestion for u, there is a poem called the "Forgotten" carry a couple copies of it!

When someone says something to u or u know who is doubts u... give them a copy!

Best of Luck to u! If u want more information on the poem.. email me, be glad to give u more
Give it to your co workers and say this is me, please read it.

--------------------
don't give up the fight


---

Posts: 49 | From Frankford, DE | Registered: Sep 2007 | IP: Logged |

bejoy
Frequent Contributor (1K+ posts)
Member # 11129


posted

---

No matter what you do, some people will still think you are faking it. People are so afraid of illness and of being out of control themselves.

The idea that it is real for you means that something like it could be just as real for them. That's too terrifying for some people to deal with.

My immediate reaction to such people is to be really angry and hate them. It's so unfair.

Now I can say the following, although I can't promise you that I do it (I might want to kick em in the knee really):

When you hold anger for people you get it back like a mirror.

It's better to hold compassion for them, for their limited understanding and for their fear of being out of control.

If you are hurt and angry and try to defend yourself, they will fight back and try to prove they were right about you all along.

You don't have anything to defend!!! You are going through something so horrible that most people will never have the experience to understand.

You know that your disease has a name and is a serious condition. If you deal with it that way, people will pick up on it and will tend to be respectful, even if they are not as familiar with it as something like cancer.

Even with cancer, there are those who lack compassion, "You know my mother had cancer, and she raised ten kids and delivered papers every morning before cooking pancakes and sausage, and we never had a dishwasher or clothers dryer, and she never never complained a day in her life. I don't know what your problem is!"

I would maintain the internal position that you have a serious illness that nobody has the right to disrespect or dispute. Then you'll just know how to repond from inside, if the issue comes up.

I'd post a few short articles about lyme disease and leave it at that.

Those who want to understand will ask and will have compassion. Then you can provide more explanations and education where there is openness.

Those who are loving will love you. Those who are too afraid to deal with the reality just won't, no matter what you do, unless it hits their own lives.

Good luck going back to work. I hope it goes well for you.

--------------------
bejoy!

"Do not go where the path may lead; go instead where there is no path and leave a trail." -Ralph Waldo Emerson


---

Posts: 1918 | From Alive and Well! | Registered: Feb 2007 | IP: Logged |

yourtroubl
LymeNet Contributor
Member # 11087


posted

---

Thank you guys so much..

Please post the poem Forgotten. It sounds interesting.

---

Posts: 347 | From WV | Registered: Jan 2007 | IP: Logged |

disturbedme
Frequent Contributor (1K+ posts)
Member # 12346


posted

---

I had to quit working at my job and ended up working at home, luckily through the same company. They are very nice about it.

I still felt akward and ashamed though. I still felt like they were looking at me funny. But I think most of them understood, especially the higher-ups. The human resource mananger said her mother had lyme disease and said she was very ill and almost died at one point from it, so she completely understands.

--------------------
One can never consent to creep when one feels an impulse to soar.
~ Helen Keller

My Lyme Story


---

Posts: 2965 | From Land of Confusion (bitten in KS, moved to PA, now living in MD) | Registered: Jun 2007 | IP: Logged |

Geneal
Frequent Contributor (5K+ posts)
Member # 10375


posted

---

Not sure what type of job you have, but what about putting some info about

Lyme disease (such as pamplets) on your desk?

Maybe just a list of symptoms.

It may be helpful so that you don't feel compelled to defend yourself (which you don't)

And may help someone else recognize the symptoms in someone else or themselves.

I am now the owner of a health alert bracelet as rec'd by my LLMD due to some of the meds I am on.

It says on the front Lyme Disease, POTs and NMH. It has the med my LLMD says is important

For others to know I am taking.

I have had several people look and ask about my "health" condition.

Somehow the bracelet makes it more "official" to those who don't understand.

If that doesn't work, kick them in the knee and hip, then spin them around in an office chair,

And let 'em go!

Hugs

Geneal

---

Posts: 6250 | From Louisiana | Registered: Oct 2006 | IP: Logged |

bettyg
Unregistered



posted

---

i suggest printing off these 3 items and having available for them to read:


Betty G's LYME/TICK BROCHURE with LDA info plus other stuff from Betty including: lyme books, support groups, lyme/co-infection illnesses, symptoms, diagnosis, treatments, hunting/gardening ... how to dress; how to remove ticks, etc. prints out to 9 pages 2 columns per page!

http://flash.lymenet.org/scripts/ultimatebb.cgi?ubb=get_topic;f=1;t=045337

**********************

LYMEDAD'S LETTER TO FAMILIES OF LYME PATIENTS...OUTSTANDING! PRINT & GIVE TO FAMILY MEMBERS!!

Author Topic: Open Letter to Families of Lyme
lymedad
Frequent Contributor
Member # 8074

posted 20-04-2007 03:52 PM

Dear Family of a Lyme Disease patient,

I am writing this letter to all parents and family members who are witnessing their children, wife, son, father, aunt, uncle, cousin, etc. struggle with Lyme Disease.

I am one of you.

For more than 6 years my daughter has suffered through this ugly, dark disease.

She has experienced horrible migraines, severe joint & muscle pain, nausea, vomiting, extreme fatigue and loss of her ability to speak or think logically (these are just a few of her symptoms).

She has become unable to work. She has been forced to move back into our home at the age of 23 (she is now 29). She has virtually lost her 20's, one of the most productive and exciting time of her life.

We have taken her to every known medical specialist in southern California as well as three different General Practioners.

She has been diagnosed, at differing times, as having Chronic Fatigue Syndrome, Chronic Pain Syndrome, Fibromyalgia, Lupus, Psychosis, and MS (please notice that all of these are either syndromes or descriptions of symptoms; none of them are diseases).

For the first 4 years of her struggle, I was not a good parent, even though I thought I was.

My daughter didn't have any outward sign of her illness. She looked "normal". After many, many blood tests, MRIs, CAT Scans, x-rays, psychological tests; everything came back "normal".

I was, and sill am, one of the world's biggest cynics and skeptics (I'm originally from Missouri - so "Show-Me").

Surely if you are as sick as you say you are, there must be something that will show up in your blood tests or on x-rays.

You can't possibly be this ill and not have something tangible to show for your symptoms.

You're either just faking it or your lazy or it's psychosomatic or your trying avoid the real world.

Get off your lazy butt and get some exercise or get a real job or face up to life like the rest of us.

That's the way I approached her illness. It's time you took control of your illness and will yourself well.

I was so far off-base. It took an outstanding Lyme Literate Medical Doctor to show me the error in my approach with my daughter and to show me the reality of this disease.

My daughter and I have both suffered because of my ignorance (I'm not saying all of you are ignorant, I'm saying I was ignorant. To be ignorant simply means to be uninformed not stupid). I am still working to rebuild the closeness we had before Lyme.

Lyme Disease is real, the pain is real, the problem with logical thought is real, the lack of energy is real, etc., etc., etc.

If your child or family member has been diagnosed with Lyme Disease, they are just as sick, if not more, than someone who has a more "traditional" illness, like Lupus or Multiple Sclerosis or Cancer.

I've done all the study, I've been with my daughter at all of the appointments, I've watched the misery she's been through.

Hey they just can't help the way this disease treats them. It's not their fault.

We as family members need to be there to support them. They don't need our pity. They don't need our skepticism. They don't need our criticism.

They need our understanding.

If you as family members will take the time to study this disease, you'll see that it is real. The little buggers who have invaided their bodies are real and they are making our loved ones sick.

Please spend the time you currently spend trying to figure out why your loved one acts the way they do really studying the disease. There are volumes being written on the internet as well as new books being published everyday on this disease.

We can't possibly understand the way they feel, not unless we have the same bacteria in our bodies.

My daughter has a long way to go before she's back to where she was 6 years ago. She has a lot of work and pain to endure before she can get there.

She certainly doesn't need someone who claims to love her causing her any more pain than she has already.

Families. from one who has been in your shoes, please let them know you love them.

Let them know you're there to help them.

Let them know that there's no way you can possibly understand their pain, but that you wil try to understand their illness.

I think one of the most important things I've come to learn is that my daughter's disease may be God's way to teach me a lesson.

I'm not saying God gave my daughter Lyme Disease, but He may be using this disease to teach me how to love, how to be patient and how to be more understanding.

I wish you all good health and I hope that none of you will ever have to experience what our Lyme Disease loved ones are experiencing.

Sincerely,

LymeDad
**********************

DAR'S TOY STORY; outstanding for family, friends, etc!

This was written by a friend of mine. He asked me to post it here. We hope you like it!!! Lymetoo/TUTU posted 5-11-07
*********************************************

The last essay I did was how I feel having Lyme disease and all the other things I have wrong going on inside me. Last night I was awake at 3 a.m. and once my mind gets going, I'm all done sleeping.

So now you know how I feel, but you don't know how we feel looking back at all of you who are healthy. All of us who have immune-compromising diseases such as Lyme, Crohns, CFS, ALS, Alzheimer's, MS, non Hodgkins lymphoma, muscular dystrophy, bipolar disease or any other chronic illness.

People with chronic illness face two hurdles. One is the illness itself, and the other is the perception others have of them because they are ill. The illness becomes their identity, essentially making them faceless.

People have no clue what it's like to be us! Well, now you will. See, all of us with something broken have been taken out of the real world, or the working world and we just can't explain what it's like.

Well, imagine for a moment that all of us are toys lying on the living room floor. The toy box is next to the kids' bedroom doorway. Mom and Dad say, ``OK, kids, pick up all your toys and get them into the toy box and back into the closet. It's time for bed!''

OK......and in go all the new toys from Christmas and birthdays past. (That would be all of YOU!) Along with the newer toys goes a truck with the front tires missing, a car with the doors off, a matchbox car that has no hood, a 56 T-Bird without the top on it, and the trunk is missing.

Then there's that ole tractor that once had a bucket on the front and a back-hoe on the back, but somehow they're gone and and broken off.

Susie loved that doll, but over time her head got broken off and one arm was missing. GI Joe has seen better days, because his left arm and his right leg have come up missing.

Johnny's plastic train with 9 cars was the best thing last Christmas, but 3 cars are missing and the caboose has no wheels. Now when the toys come back out another day and get dumped on the floor, there's all the good ones that are played with right away. All the ones that have parts missing (That's all of US!).... Well, nobody plays with them because they're defective. They can't roll because the wheels are missing and parts are long since gone.

But they are still toys that the kids got and don't have the heart to throw away. So even though we get to come out and sit on the floor, nobody plays with us because we're not ``whole'' anymore.

But we still get to be with all of you and get to watch and see what's going on! And then there's lots of times we never get out of the toy box. There's days on end that we just sit on the bottom of the toy box, because we can't do the things that we once could, and nobody needs us anymore.

Then it's back in the closet and the door is shut, and it's dark once more in our lives. Not that we're not alive, we just can't fit in anymore and have to wait till everyone comes back from the real world and lets us out from the dark closet and we just sit on the floor and get to see what y'all are doing all over again.

We know we have parts missing and can't roll with the good toys. We know we'll never fit in with all the toys that have all their parts and are newer and shinier and we expect that.

Thank you for not throwing us away though, even though we can't compete with the new toys. Some of us do better than others. Those with only one wheel missing get around better than the ones with all the tires missing.

And we have gotten used to the dark closet when all of you get to go out in the world and do whatever y'all do. We just know that we can't do that anymore.

We used to be able to run with you too, but somehow got some parts missing and we're `Stay at Home Dars All Day Long', like my new Lyme song goes. We've even got used to watching all of the good toys go roaring up and down the carpet, and some of you even get to go outside and play in the sandbox too. But we have to just stay where we are because that's just what has happened to some of us, and tonight it's back in the toy box and into the dark closet.

There may be a cure for some of us, but it's hard to get the big companies to send those few little parts, like hoods, trunks, wheels, heads, arms, legs, and missing eyes. They are just too busy to take time for such little things like that.

We accept that too. And if you look at us just right, you can't even see there are parts missing and you think we should be able to come out and play.

It looks like we should be able to keep up with all the good toys, but it's so hard being stuck in this old broken frame, knowing we once were part of the big picture and had something to offer, and could go places.

But no, we're dependent on everyone else to help us out of the toy box and back in again in the dark closet. You can't imagine how lonely it gets in there, day after day, all alone, knowing that all the healthy toys get to go out and play.

What makes us feel good though is to hear stories of how we would rip up and down the hallway and across the family room and into the kitchen. Or how much sand we could dig on a good day in the sand box.

Those are called ``memories'' and all of us broken toys have lots of them, because that's all we have left! We really appreciate all the things all of the good toys do for us and hope they all understand it's not our fault. We just got stuck with weak or broken parts!

Hopefully my broken-toy story will help all of you understand what it's like being us. Up until last night, I didn't know how to put it either. But somehow I think I got it right now. It's just the way I feel, stuck at home trying to do the best I can with what little parts I have left.

I once had ``big dreams'' of being a real country music star, with my songs on the radio, and the videos on TV. You can plan your career, plot the success ladder all you want, but you can't count on your health to be there for you.

Not everyone gets to stay healthy. There are a lot bigger guys than me that were taken to their knees by a health problem and taken out of the game. I'm just glad I can do what little I still can. Like the ole saying goes, we don't have to look too far away to find someone that would gladly trade places with us.

Be glad what you do have! There's a lot of people worse off!

Written by Darwin Schultz
Texas Dar
http://profile.myspace.com/index.cfm?fuseaction=user.viewprofile&friendid=170506428

---

IP: Logged |

dontlikeliver
Frequent Contributor (1K+ posts)
Member # 4749


posted

---

I agree with Just Don - less is better. I tend to just ignore those folks now.

---

Posts: 2824 | From The Back of Beyond | Registered: Oct 2003 | IP: Logged |

Robin123
Moderator
Member # 9197


posted

---

I think it's good to have some info for people about Lyme disease and co's, like some brochures, any articles you like, etc.

I'm wondering if there's a way to turn it around, from a focus on you to a focus on them. Because we all know here that anyone is now at risk.

When I talk about myself to the public, I am very quick to say that one of the reasons I'm telling them about me is because it is here now and can hit anyone and we're now trying to keep others from getting it. So to put the focus on why they would want to know.

---

Posts: 13069 | From San Francisco | Registered: May 2006 | IP: Logged |

justwondering
LymeNet Contributor
Member # 12813


posted

---

I know exactly how you feel.... for years I was the brunt of every hypochondriac joke in my family. Doctors even treated me like I was crazy. A few years ago, when I told my mother-in-law I had been experiencing health problems she shrugged her shoulders and said "That isn't that rare...." When I told her I had chronic pain she said, "You're probably used to it then...." (Needless to say, I despise my mother-in-law)

You just have to realize that you can't control anyone but yourself. The reality is most people will never understand. It really doesn't matter. If you have one or two people who you care about that truly care, that's all you need to get through it.

I might not get the understanding I wish I did from so many. But my husband is so suuportive and sweet. And my 10 year old daughter wrote me a letter just the other day telling me I was her idol because I've been sick so long and never complain. That is all I need in life!

Focus on what you have, getting better and not fighting what you can't control. Like someone said earlier, feel sorry for those who can't understand. And realize one day they will suffer a hardship and a loss in their own life and they will feel the sting from someone who doesn't give them the compassion they so desperately need and they will realize how it feels.... ouch.

---

Posts: 209 | From maryland | Registered: Aug 2007 | IP: Logged |

sal66
Member
Member # 13223


posted

---

I'm so happy that I'm not alone. Same thing has been happening to me. After awhile you start doubting yourself. Do I really have Lynes? Am I going crazy or is it in my head? As soon as your job knows that your also seeing a pychiatrist, they think that deppresion /anxiety is your real problem.Luckily I've managed to hold on to my job.But they haven't paid me disability pay yet.Been on Oxycodone for a few months because the pain is so bad. Then people start thinking your a drug addict. My pharmacist and now I'm having problems with the staff at my primary care Doctor. They think I'm just taking pain meds for enjoyment and are thinking of denying me anymore. Thinking of switching primary Doctors. Everyone makes you feel guilty, but you shouldn't feel this way.Right? Luckily I have a great Lyme's specialist that believes in me. Unfortunately she will only prescribe antibiotics and offer me anti-oxident supplements.Don't want to take the pains meds too much longer but I just can't deal with things right now.If your having true pain then isn't it appropriate to do if it's the only thing working at the present time. I feel so guilty about this. Please help.

---

Posts: 30 | From enfield,ct | Registered: Sep 2007 | IP: Logged |

justwondering
LymeNet Contributor
Member # 12813


posted

---

Sal66

You have nothing to feel guilty about. Guilt implies you are doing something wrong, which you are not. You are doing the best you can to cope with a horrible illness and FEW people will understand. Let it go... It is not your job to convince people of anything! What goes around comes around, and God forbid any of those people need sympathy and compassion one day. It is a terrible feeling to be misunderstood and to be accused of faking or when others try to tell you how you feel or don't feel. You just have to put up a sort of wall between you and them and stand firm. You know you are sick. you know you are doing your best. You know you are stressed and anxious and maybe depressed at times b/c of what you are going through, not b/c you are crazy. Just take care of yourself and realize you can only control yourself. YOU ARE NOT ALONE!!

---

Posts: 209 | From maryland | Registered: Aug 2007 | IP: Logged |

Kerryblue
LymeNet Contributor
Member # 4077


posted

---

Hi, DO LET OTHERS PUT YOUR SELF_WORTH IN THE CRAPPER``````````````(whoops,sorry,but true).

In begin I am ashamed to say I even hid in House, pretended went to work. I was such a Jock,owned own business, ++++. Here am hiding out as if skipped school.

This after 10 days in hosp meningitis,or Lyme.Never well again...., 20 yrs. later my fam. seeing me next to my death bed,for real.

Now it is not my(your), job to teach or train them anymore.
Unfortunately they will have to eat their words.
That does not make me feel any better, Just tad sad.
If fam. will not believe then WHO will.

1 Day had Dr. experience wanted to cry,he read DX referral (Pain Management Dr.) Labeling me drug seeker. All wanted was saline Inject. in neck(spinal inj., & muscle spasm. To give me small relief to turn neck.
He would not even walk into room, said did not believe in Lyme D.

Got my Co-Pay walked out holding my head high, would not give him the power to make me cry.
I felt much bigger person.

I am somewhat ashamed to say for yrs. part of med. field from nursing to P.A>

Soooo Hold You Head Up High/Ha, If You Can.lol

Huggssss, to ALL in Need,You too...
E-mail me if you need added support what I did best at pain clinic.

---

Posts: 746 | From Clearwater/fl/Pinellas | Registered: Jun 2003 | IP: Logged |

Robin123
Moderator
Member # 9197


posted

---

Sal -- it's a major attitudinal turn-around to switch from guilty to not-guilty. I went through it too, with many making me out to be a malingerer of some sort because there were no positive tests for any of my symptoms.

Now that we understand, it's ok -- we can tell them what's going on, not the other way around. We are not guilty of Lyme/co's! Only the organisms are guilty of being who they are, and they probably don't even realize it!

---

Posts: 13069 | From San Francisco | Registered: May 2006 | IP: Logged |

MagicAcorn
Frequent Contributor (1K+ posts)
Member # 8786


posted

---

I work with two folks who have no idea how hard it is for me to keep a part time job. They are so materialistic and think everyone who isn't actively and aggressively going after the $$$'s is a lamer.

We live in a society were people think toys prove their worth. These people make an unbelievably cool and easy job a chore.

Some folks just suck.

Just go back to work and do the best you can do. Believe me people will see for themselves over time.

--------------------



---

Posts: 1279 | From In hiding | Registered: Feb 2006 | IP: Logged |
Contact Us | LymeNet home page | Privacy Statement

Powered by UBB.classic™ 6.7.3

---
The Lyme Disease Network is a non-profit organization funded by individual donations. If you would like to support the Network and the LymeNet system of Web services, please send your donations to:
The Lyme Disease Network of New Jersey
907 Pebble Creek Court, Pennington, NJ 08534 USA
http://www.lymenet.org/
---
Home | Flash Discussion | Support Groups | On-Line Library
Legal Resources | Medical Abstracts | Newsletter | Books
Pictures | Site Search | Links | Help/Questions
About LymeNet | Contact Us
---
© 1993-2020 The Lyme Disease Network of New Jersey, Inc.
All Rights Reserved.
Use of the LymeNet Site is subject to Terms and Conditions.
---