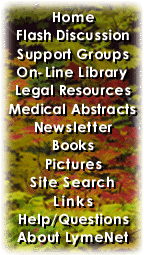 ---
LymeNet on Facebook
LymeNet on Twitter
---
---
The Lyme Disease Network receives a commission from Amazon.com for each purchase originating from this site.
When purchasing from Amazon.com, please
click here first.

Thank you.




Dedicated to the Bachmann Family


LymeNet needs your help:
LymeNet 2020 fund drive

The Lyme Disease Network is a non-profit organization funded by individual donations.

| | |
| --- | --- |
| | |
Author
Topic: Deer Problem

MarsyNY
LymeNet Contributor
Member # 7766


posted

---

After reading the posts about deer blood and deer meat I thought this might be enlightening (also frightening) about the deer population and diseases on Shelter Island and what has been proposed.

The Shelter Island Tick Task Force

Executive Summary


Shelter Island, NY, an approximately 6,000 acre island in the Peconic Bay, has been for many years concerned with the high incidence of diseases which have been identified as "tick borne" diseases, i.e., diseases transmitted by tick vectors. The primary host of these tick vectors is the white tailed deer.

In a recent survey of "Selected Notifiable Diseases" in Suffolk County, Shelter Island had an incidence of Lyme disease that was almost twice that of the next highest town. Both Lyme disease, caused by the spirochete "Borrelia burgdorferi" and transmitted through the bite of the deer tick and Ehrlichiosis, caused by the several species of Ehrlichia and transmitted by the bite of the Lone Star tick, cause seriously debilitating and often chronic disease.

Ticks of various species have been incriminated in transmitting, besides Lyme disease and Ehrlichiosis, Tularemia, Babesiosis, Lone Star tick disease, and Rocky Mountain spotted fever in this geographic region.

In considering solutions to the problem of the high incidence of tick borne disease on Shelter Island, several methods and approaches to deer control and tick control were examined:

Increasing the length of the deer-hunting season and or adding special hunting seasons to further reduce the deer herd.

Immuno-contraception where the female deer (does) are rendered reproductively sterile by the use of a one-dose vaccine that prevents conception for 3 years.

Controlled bums to bum back vegetation that provides tick habitat.
Use of Insecticidal (tick) sprays in area throughout the island.

Devices to kill larval ticks on the white-footed mouse, from which the spirochete of Lyme disease enters the tick life cycle.

Deer collaring device which is similar to the "4-Poster" but instead of rubbing the permethrin on their necks with a roller, the feeding station is computerized and slips a Tick collar on the deer's neck as it feeds.

The "4 Poster" system which relies on a unique method of applying the insecticide, permethrin, to the neck and head of deer which are lured to a feeding site by a special com feeding device. This system has proven to be very effective in several trials in various geographic areas. It has reduced tick numbers by up to 99% over a 3-year period.

The discussion and data to follow this synopsis-will explain the pros and cons of each method considered.
The committee believes that a broad attack on the problem will require four well-coordinated actions:

Create a town appointed commission to implement and coordinate the recommended programs and to work with elected officials to obtain approvals and funding.

Initiate an aggressive campaign to call attention to tick borne illnesses, with year round public education on minimizing exposure and dealing with tick bites and their effects.
Reduce the deer herd by regular season hunting and, if necessary, by using additional or extended hunting seasons.

Put the "4 Poster" system in place to reduce tick numbers. The safety and effectiveness of this product has been proven in many areas of the country, but using it in New York will require permission to feed deer, which is now illegal in NY State, and permission to use permethrin on deer, which is currently not approved by NY State.


Report


The Shelter Island Tick Task Force, a committee formed by the coalition of the League of Women Voters of Shelter Island, the Shelter Island Association, and representatives of the Garden Club of Shelter Island, the Nature Conservancy (Mashomack Preserve), hunters and community members of our community, have over the past year investigated different methods in which to reduce the tick population on our island and thereby reduce the incidence of tick borne diseases.

The time has come to declare that Shelter Island has a serious public health issue with tick borne illnesses. Currently, there are six different tick-borne diseases on the island:

Lyme Disease, Babesiosis, Ehrlichiosis, Lone Star Tick Disease, Rocky Mountain Spotted Fever, and Tularemia. Some ofthese diseases can turn into life threatening illnesses.

Two of the ticks in our area, the black legged or Deer tick and the Lone Star tick have the white tail deer as their host. The Deer tick is well known for being the vector of Lyme disease. The Lone Star tick, which spreads both Lone Star tick disease and in some areas Ehrlichiosis, has become much more prevalent on the island in recent years and lives in grass as well as the woods, is aggressive and quickly travels up to 30 feet to reach a host. It has caused a sharp increase in the number of tick borne illnesses in the past few years.

There is currently no medical test available to detect Lone Star Tick disease, which is similar to Lyme disease in many ways. Also, Doxycycline, the primary treatment for the Lone Star Tick Disease, cannot be given to children except in life threatening cases. Babesiosis, Ehrlichiosis, and Lyme disease are also difficult to treat. There are currently no vaccines on the market to prevent any of these diseases (the one vaccine that came out for Lyme has since been taken off the market).

Current statistics from the Peconic Community Council show that Shelter Island in 1999-2000 has the highest incidence of Lyme Disease, 925 cases per 100,000 as opposed to the next closest town on the east end, East Hampton, of 494 cases.

The committee researched many options that control the host and/or control the ticks including substantially reducing the deer herd on the island, immuno-contraception of the does, prescribed burning, spraying, bait boxes, collaring devices, and four posters.

Reducing the deer herd will certainly cut the number of ticks but reduction is not proportional. Hopefully, the majority of islanders would not allow the extermination of all of the deer, as they are a part of the mystique of Shelter Island.

We do not live in the city...we live here because its rural and the deer are a part of that. Also, the expense of killing all of the deer would be immense and very difficult. Ticks would still be present on many other animals including raccoons and birds.

<>Immuno-contraception. Could be utilized but it is a very slow process, expensive and not EP A approved. In a 10-year program on Fire Island the herd was reduced by 1/3. 100 bucks and 100 does were each darted 34 times at $20 per dose in the first year. The darting procedure is very traumatic and is recommended if the deer are controlled non-violently.

The SpayVac immuno-contraception vaccine is new and holds much greater promise in that one inoculation lasts (protects) 3 years butJhe delivery system needs improvement. In both cases deer need to be corralled in some manner to be able to deliver the vaccine effectively to larger numbers.

Once the delivery system is worked out, Immuno-contraception will eventually be a very safe and humane way to reduce deer herd numbers. However, reducing the deer herd by half barely affects the number of disease carrying ticks and is not a total solution for eliminating the ticks.

Burning. Prescribed burning has been allowed for many years. However, this option does not necessarily get rid of the ticks as well as might be expected. The ticks mainly live in areas at the edges of woods and that area proves difficult to bum safely.

Many other living creatures would be destroyed in addition to the ticks and within a few months of burning, new grasses would grow and be quite inviting to deer and then ticks will be re-introduced.

The committee believes burning is not an answer for reducing the tick population on the island.


Spraying most of the island was determined to be expensive, ecologically disastrous to all the good insects such as bees and butterflies, and would endanger our bays and ground water as well. Not considered an option for our island.

Bait boxes. Bait boxes are effective for the deer ticks but would not rid the island of the aggressive Lone Star tick.

The Maxforce tick management system is designed to treat mice through baiting and applying an insecticide on the white-footed mouse that would kill the ticks that can carry Lyme disease. (See addendum 3)

The committee believes they are expensive for homeowners, 15-18 boxes are estimated to be needed in order to be effective due to most lots being approx. 1 acre and would cost a homeowner from $400 to $600.00 a year. They must be serviced at least twice a year but they are relatively safe for the environment

. The committee eliminated this choice due to expense and not being effective to combat Lone Star Ticks.

Collaring device. Similar to the four-poster in that the deer come to feed and stick their heads in a container to feed. But instead of having a roller applicator, the collaring device puts a collar on the deer that is similar to a tick collar for dogs.

This collaring device is computerized and will only put a collar on a deer that does not already have one. It is currently in the developing stages.

4-Poster Deer Feeder. This is a bait station that requires clean whole kernel com as feed to attract the deer to the location. The design forces the deer to rub against the pesticideimpregnated applicator rollers that in turn apply permethrin to their ears, heads, necks and shoulders.

Initial concern by hunters was the use of permethrin on the deer they hunt. They were concerned that the deer meat during skinning would become contaminated.

There is also concern that the grooming techniques used by deer would lead to ingestion of permethrin thereby also contaminating the meat.

The committee found, after a thorough investigation, that these concerns were minimal and not really a problem. The problem with the 4 poster deer-feeding program is that it requires a special permit from the DEC for l.

The use of permethrin, which is not approved in New York State for use on wildlife (deer), (Note: New York is the only state in the country that has not approved this) and 2. Baiting/feeding of the deer.

After studying all of these alternatives carefully the committee came to a consensus and suggests a collaborative effort of government agencies and the community to reduce Shelter Island's tick problem. The following four-pronged effort is suggested.

The creation of a tick advisory board or commission to be appointed by the town board. This committee, implementing the following proposals, would help with the following:

a. Oversee and coordinate the educational programs

b. Work with our elected officials to assist in obtaining funding for the purchase of the 4-Posters and for the salaries of qualified employees or possibly the cost of contracting with a qualified company who would maintain the units and obtaining the appropriate permits.

c. Oversee the maintenance of the 4-Posters and the record keeping

A year round public education program to call attention to the tick borne illness problems and how to best deal with the ticks and their bites and the illnesses that result.

Programs recommended are

a. Public forums with qualified guest speakers.

b. Brochures, written in English and Spanish that would be distributed through mailings, government agencies and organizations and businesses.

c. Educational signs on town owned properties. d. Newspaper articles to further public awareness.

Reduction of the deer population utilizing the irnmuno-contraception program is not feasible for many reasons so hunting must continue October through January and/or special hunting seasons in order to help reduce the over crowding of deer.

The density of white-tailed deer has been estimated to be as high as 80 deer per square mile, which is far greater than the population density normally considered by professional deer biologists to be within carrying capacity (estimated at 20 or less deer per square mile).

This reduction is beneficial for homeowner's and their gardens and for the reduction of deer vs. vehicle accidents.

The average number of accidents that had damage over $1000 has been consistently above 20 per year except for 2003, where accidents numbered 31. For accidents that caused damaged under $1000 there was a much higher incidence with an average in the mid 30's except for 2000, which was 53.
For a combined total it went down from a high of 74 deer vs. vehicular accidents in 2000 to a low of 55 in 2004. Reducing the herds through hunting will continue to keep these numbers low.

The 4-Poster Deer Feeder best answers this island's need to eliminate the ticks. It has been extremely effective in killing adult Lone Star ticks and deer ticks and preliminary studies suggest that over 2-3 years, this program can eliminate over 90% of the tick population in a 50-acre area around each station.

The 4-Poster program uses a number of strategically placed deer-feeding stations to lure deer-the primary hosts for adult female ticks. 95% of the adult ticks prior to laying their eggs will take their blood feeding on the deer host.

As previously stated the 4-poster will treat the fur on their heads and necks with permethrin, a chemical that kills ticks. The 4- Poster units would be activated during the months of March to mid December for the first three years and then every other year after that.

a. Capital Expenses: First Year will be approximately $182,000.00, Second and Third year will be approximately $118,767.00, Fourth year to be approximately $ 0, Fifth year to be approximately $118,767.00, Sixth year to be approximately $0.

b. The Committee proposes that the Town of Shelter Island will aggressively look for grants and govt. funding. However, ifthat funding is not found and taxes need to be raised then there are 3281 taxable parcels on this island. If each taxable parcel's real estate taxes were raised by $40.00 a year then this entire program would be paid for. This is less expensive than treating Lyme disease and all the other tick borne illnesses.


The State DEC recently ruled "New York State may be willing to issue a Special Local Needs Registration for selected isolated communities." Shelter Island, as well as Fire Island, which is also considering using the "4-Posters," is an isolated community. The committee understands that convincing the DEC to give our island a special permit will not be an easy task.

The committee suggests that we inform our State and Federal Representatives about our serious medical crisis and request that they help us open a dialogue with the DEC in order to obtain this permit. Currently, New York is the only state that has not approved the 4-Poster program. The DEC needs to understand the serious nature of our problem and that we are an isolated community and should receive the special permit in order to reduce ticks.

Research has shown the effectiveness and safety of the four-poster in many communities such as Nantucket Island, Martha's Vineyard, MA and Paris Island, NC. The Northeast Tick Project was a test project of the 4-Poster in Maryland, NJ, NY, Conn., and R.I.

In most places the ticks were reduced by over 90% in three years; the deer ticks about 92-98% and the Lone Star tick about 99%. We recommend that this community decide to strongly pursue this matter.

The small dabs of permethrin on the necks of deer do not get into our ground water or bays unlike the spraying of our yards. The program is actually similar to treating dogs with a permethrin compound in order to kill ticks.

Permethrin is used in many over-the-counter products and ranchers put it on cattle in large doses before sending them to the slaughterhouses including on the day of slaughter. It's also commonly used on dairy cattle.

Government-sponsored research found that permethrin stays on the hide and doesn't permeate the meat of an animal. The CDC has advised hunters to wear gloves while skinning the deer in order to eliminate contact with the deerskin.

Another example of the commercial use of permethrin is that Orvis has been marketing clothing for hunters that are impregnated with permethrin and is called Buzz Off. If the ticks can be eliminated through the 4- Poster program then a great reduction of harmful spraying of yards is anticipated.

In conclusion, the committee's objective is to eliminate a serious public health issue on our island by reducing tick-borne disease risk through the use of multiple intervention strategies and making Shelter Island a model for other communities to emulate.


The Members of the Shelter Island Tick Task Force


Ann Brunswick, Director, League of Women Voters of Shelter Island; Susan Cincotta, Community member; Christina Cunningham, Garden Club of Shelter Island; Joe Cunningham, Community member; Tom Damiani, Mashomack Preserve, The Nature Conservancy; Tim Hogue, President, Shelter Island Association; Rae Lapides, Community member; Ted Lapides, Community member; Steve Lenox, Hunter, Community member; Janalyn Travis-Messer, President, League of Women Voters Shelter Island; Mike Scheibel, Mashomack Preserve, The Nature Conservancy; Patricia Shillingburg, Community member; Gordon Van Vranken, Community member; Paulette Van Vranken, Garden Club of Shelter Island; and Dr. Bill Zitek, Veterinarian, Community member.

[ 23. November 2007, 12:02 AM: Message edited by: MarsyNY ]

---

Posts: 465 | From New York, NY | Registered: Aug 2005 | IP: Logged |

Lymetoo
Moderator
Member # 743


posted

---

Marz...If you have time, would you go back and edit this into smaller paragraphs?

Too hard for most to read. Thanks!!

--------------------
--Lymetutu--
Opinions, not medical advice!


---

Posts: 95729 | From Texas | Registered: Feb 2001 | IP: Logged |

lymednva
Frequent Contributor (1K+ posts)
Member # 9098


posted

---

Lymetoo said:



quote:

---

Too hard for most to read.

---

You took the words right out of my mouth!

--------------------
Lymednva


---

Posts: 2407 | From over the river and through the woods | Registered: Apr 2006 | IP: Logged |

tailz
Unregistered



posted

---

quote:

---

Put the "4 Poster" system in place to reduce tick numbers. The safety and effectiveness of this product has been proven in many areas of the country, but using it in New York will require permission to feed deer, which is now illegal in NY State, and permission to use permethrin on deer, which is currently not approved by NY State.

---

It's illegal to feed deer in NY? I guess if I ever go to NY, I'll have to be really, really sneaky then, because I like deer.

---

IP: Logged |

schnuddelka
LymeNet Contributor
Member # 8031


posted

---

I've found that the best way to keep lyme disease out of our area is deterring the deer. Your LONG article as I breezed through it reminded me of this.

There's a GREEN company that manufactures an organic deer repellent that REALLY works. They guarantee it, and I've never had a problem with it. It smells good, doesn't wash off in the rain and lasts six months with one application.

It's granular - you place the bags around the perimeter of your yard and bammo NO DEER! I live in the middle of a national forest riddled with deer and it works for us!

Check it out if interested:
www.cedarcreekproducts.com

--------------------
When given lyme make lymeade!
A tick check a day keeps lyme away! [email protected]
Raising awareness by creating as many lymebassadors as possible!


---

Posts: 158 | From Northern Wisconsin | Registered: Oct 2005 | IP: Logged |
Contact Us | LymeNet home page | Privacy Statement

Powered by UBB.classic™ 6.7.3

---
The Lyme Disease Network is a non-profit organization funded by individual donations. If you would like to support the Network and the LymeNet system of Web services, please send your donations to:
The Lyme Disease Network of New Jersey
907 Pebble Creek Court, Pennington, NJ 08534 USA
http://www.lymenet.org/
---
Home | Flash Discussion | Support Groups | On-Line Library
Legal Resources | Medical Abstracts | Newsletter | Books
Pictures | Site Search | Links | Help/Questions
About LymeNet | Contact Us
---
© 1993-2020 The Lyme Disease Network of New Jersey, Inc.
All Rights Reserved.
Use of the LymeNet Site is subject to Terms and Conditions.
---