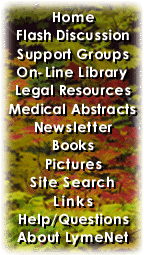 ---
LymeNet on Facebook
LymeNet on Twitter
---
---
The Lyme Disease Network receives a commission from Amazon.com for each purchase originating from this site.
When purchasing from Amazon.com, please
click here first.

Thank you.




Dedicated to the Bachmann Family


LymeNet needs your help:
LymeNet 2020 fund drive

The Lyme Disease Network is a non-profit organization funded by individual donations.

| | |
| --- | --- |
| | |
Author
Topic: Any advice about which is best for detoxification?

sparkle7
Frequent Contributor (5K+ posts)
Member # 10397


posted

---

I'm interested in trying some new things for detoxification or absorbing neurotoxins from my system.

Any advice on which herbs to use &/or chlorella, zeolites, or chitosan, nano chitosan, or any other suggestions?

Also, how much (or many) do you take?

I'm taking chlorella now & it's working out well. I'd like to explore some new possibilities of other things, too.

I was using a drug called Welchol but I didn't like it. I'd prefer to use something natural unless it comes highly recommended.

---

Posts: 7772 | From Northeast, again... | Registered: Oct 2006 | IP: Logged |

bestblondemom
Member
Member # 14103


posted

---

My LD recommended milk thistle. I also use Vitamin C and epson salt baths.

---

Posts: 19 | From New Jersey | Registered: Dec 2007 | IP: Logged |

sixgoofykids
Moderator
Member # 11141


posted

---

I just found an interesting site today on neurotoxins -- www.chronicneurotoxins.com

I took Cholestyramine .... I also do coffee enemas, take epsom salt baths, use FIR sauna, take parsley/burbur and chlorella.

--------------------
sixgoofykids.blogspot.com


---

Posts: 13449 | From Ohio | Registered: Feb 2007 | IP: Logged |

adamm
Unregistered



posted

---

Hey, how much chlorella do you guys take?

---

IP: Logged |

sparkle7
Frequent Contributor (5K+ posts)
Member # 10397


posted

---

I found this about nanotec chitosan -

NanoTekTM Chitosan (Chitosan oligosaccharides)
New Hope for Lyme-Related Herxheimer Symptoms
Steven Hines, N.D., N.E. Hope Clinics International San Angelo,Texas

Success rarely comes without a price, and treating Lyme disease and related complexes is no different. Often, the treatment may be worse than the disease. At our clinic in Mexico, we have been treating Lyme disease for many years. However, it seems the better we get at killing the spirochete borrelia, the more our patients hurt. I have read many books on Lyme disease, and most have a section regarding the dreaded Herxheimer reaction. One book goes so far as to say that the Herxheimer reaction is the symptom of a bad treatment protocol. I am not convinced, however, that those who claim to eradicate this miserable organism without pain are actually killing the organism. I believe they are only driving the organism into the cyst form.

I have my suspicions that homeopathic treatments for Lyme may do the same thing. We know that the organism quite readily reverts to the cyst form within two hours of being exposed to Doxycycline and many other antibiotics. I have seen many patients who have been ``successfully treated'' with antibiotics for their Lyme, but whose live blood showed massive amounts of cyst-form spirochetes even though their western blot Lyme test came back negative. Yes, their symptoms were indeed resolved, but possibly only because most of the spirochetes were driven into the cyst form. I can only speculate here, but spirochetes in cyst form may not produce toxins, replicate or invoke an immune response. All of this reinforces my belief in the adage, ``No pain, no gain.'' We are not entirely without tools for the Herxheimer reaction. Among the useful tools are Vitamin C IVs, acetyl-L-carnitine, phosphocholine/serine/ethanolamine, lipoic acid, and all manner of TNF-alpha inhibitors and zeolites. The zeolites have been the most beneficial until now, but we are still working handcuffed.

Nano-Particle Chitosan

We desperately need help in this area, which leads me to my enthusiasm about nano-particle chitosan. Earlier this year I was sharing some thoughts on the subject of neuroborreliosis with a colleague, specifically how some patients respond well and others not at all, even though they both have advanced Lyme disease. In recent years we have ordered some genomic tests on these patients, with some interesting findings. All but one of our neuroborreliosis cases have had a genetic defect in their ability to produce glutathione. Most notably, a Glutathione S-Transferase deficiency. Also, several have shown impaired ability to remove biotoxins. We believe deficiencies in detoxification may be the reason some Lyme cases have neurological symptoms more than others with seemingly comparable levels of infection. Either way, we have desperately needed something that could pass through the gastric mucosa and into the blood stream and the CNS to bind up the toxins. We've discovered something very powerful in this regard.

The compound is nano-particle chitosan (NPC). It differs from standard chitosan in that its particle size is small enough that it easily passes through the gut. We do not know if it passes the blood-brain barrier.


Small Clinical Trial

Following are the results of a small clinical trial of short duration. The product was in short supply at the time, so we used it sparingly. Each patient took one-fourth of a teaspoon three times a day for a week on an empty stomach. The product was encapsulated due to its less-than-enjoyable flavor. One capsule contained one-fourth teaspoon powder. The patients ceased taking their zeolites during the trial.

Seventeen patients were chosen from our general population. All 17 were positive for Borrelia borgdorferi. Symptoms measured were: joint and muscle pain, sleep disturbance, headaches, depression, and fatigue. Three patients reacted immediately with allergy symptoms and ceased taking NPC immediately. All three patients said they had known shellfish allergies.

Number of patients with
with each symptom: Number of patients improvement in each category:
Pain 8/17 Pain 8/8
Sleep disturbance 13/17 Sleep disturbance 10/13
Headaches 2/17 Headaches 1/2
Depression 3/17 Depression 2/3
Fatigue 10/17 Fatigue 2/10


Pain

The most profound improvement was in the symptom of pain. All of the participants with pain reported improvement. Four of the eight said their pain was totally resolved. After cessation of the NPC, three of four said their pain returned. One patient reported no pain several weeks after cessation.

Sleep

The second most improved symptom was sleep. Most of the patients said they slept deeply. Many woke in the same spot in which they fell asleep, indicating they didn't toss and turn. Some still woke in the night, but not as much as usual, and most reported waking much more rested.

Adverse reactions were few, withstanding the shellfish allergies. One patient said NPC ``wired'' her. Three patients said NPC had a Valium-like effect (the patients did not regard this as a negative reaction). Most patients reported feeling very relaxed. One patient said NPC provided a little too much relaxation.

Patient Report

One of the patients was a 32-year-old male with symptoms of multiple sclerosis with a positive Romberg test. His symptoms included disorientation and visual disturbance, primarily due to the neuroborreliosis, we believe. After three months of treatment with cat's claw, IV ozone, high-dose vitamin C IV, two grams of Ceftriaxone twice daily, three milligrams of Neltrexone daily, a no-grain diet, and aggressive anti-fungal treatments (just a partial list), he was still walking into walls, stumbling, confusing his words, and experiencing extreme fatigue. We suspected that we were successful in killing the organisms but were still failing at removing the borrelia toxins from the brain. After administration of three capsules the first day, he reported sleeping like a baby and experienced major improvement in his pain. After four days he was able to walk a mile a day, and after 14 days he was walking three miles a day. We continued him on NPC because of his dramatic improvement. His cognition is much improved. He is now negative for Romberg, and his visual disturbance and disorientation have improved by 70 to 80 percent. This case is quite profound.

Patient Report

One of the patients was diagnosed with PTSD (Post Traumatic Stress Disorder). The patient reported an inability to sleep for six to seven days at a time, extreme anxiety, and outbursts of rage.After starting on NPC, he reported ``feeling almost human.'' His sleep has improved as well as his anxiety and rage.

Standard Chitosan Not The Same

I have previously tested standard large-particle chitosan with lackluster results. The small-particle size seems to make a significant difference. Its sleep benefits alone are worth whatever it might cost. We have seen some very exciting results with NPC. We are looking forward to longer trials with a larger patient population.

---

Posts: 7772 | From Northeast, again... | Registered: Oct 2006 | IP: Logged |

heiwalove
Frequent Contributor (1K+ posts)
Member # 6467


posted

---

hi adamm,

i take A LOT of chlorella - the more the better, because you want to make sure you bind the toxins, not just stir them up & leave them with nowhere to go.

so, i probably take 40-50 chlorella tablets a day: 10 or more before meals, and when i'm herxing.

--------------------
http://www.myspace.com/violinexplosion


---

Posts: 1848 | From seattle, wa | Registered: Nov 2004 | IP: Logged |

sparkle7
Frequent Contributor (5K+ posts)
Member # 10397


posted

---

I found this about chlorella-

Chlorella:
Both C.pyreneidosa (better absorption of toxins, but harder to digest) and C.vulgaris (higher CGF content - see below, easier to digest, less metal absorbing capability) are available. Chlorella has multiple health inducing effects:

Antiviral (especially effective against the cytomegaly virus from the herpes family)

Toxin binding (mucopolysaccharide membrane)
all known toxic metals, environmental toxins such as dioxin and others

Repairs and activates the bodys detoxification functions:

Dramatically increases reduced glutathion,

Sporopollein is as effective as cholestyramin in binding neurotoxins and more effective in binding toxic metals then any other natural substance found.

Various peptides restore coeruloplasmin and metallothioneine,

Lipids (12.4 %) alpha-and gamma-linoleic acid help to balance the increased intake of fish oil during our detox program and are necessary for a multitude of functions, including formation of ther peroxisomes.

Methyl-coblolamine is food for the nervous system, restores damaged neurons and has ist own detoxifying efect.

Chlorella growth factor helps the body detoxify itself in a yet not understood profound way. It appears that over millions of years chlorella has developed specific detoxifying proteins and peptides for every existing toxic metal.

The porphyrins in chlorophyl have their own strong metal binding effect. Chlorophyll also activates the PPAR-receptor on the nucleus of the cell which is responsible for the transcription of Dna and coding the formation of the peroxisomes (see fish oil), opening of the cell wall (unknown mechanism) which is necessary for all detox procedures, normalizes insulin resistance and much more. Medical drugs that activate the PPAR receptor (such as pioglitazone) have been effective in the treatment of breast and prostate cancer.

Super nutrient: 50-60% aminoacid content, ideal nutrient for vegetarians, methylcobolamin - the most easily absorbed and utilized form of B12, B6, minerals, chlorophyll, beta carotene etc.

Immune system strengthening

Restores bowel flora

Digestive aid (bulking agent)

Alkalinizing agent (important for patients with malignancies)


Dosage: start with 1 gram (=4 tabl) 3-4 times/day.

This is the standard maintainance dosage for grown ups for the 6-24 months of active detox.

During the more active phase of the detox (every 2-4 weeks for 1 week), whenever cilantro is given, the dose can be increased to 3 grams 3-4 times per day (1 week on, 2-4 weeks back down to the maintainance dosage).

Take 30 minutes before the main meals and at bedtime. This way chlorella is exactly in that portion of the small intestine where the bile squirts into the gut at the beginning of the meal, carrying with it toxic metals and other toxic waste.

These are bound by the chlorella cell wall and carried out via the digestive tract.

When amalgam fillings are removed, the higher dose should be given for 2 days before and 2-5 days after the procedure (the more fillings are removed, the longer the higher dose should be given).

No cilantro should be given around the time of dental work.

During this time we do not want to moblize deeply stored metals in addition to the expected new exposure.

If you take Vitamin C during your detox program, take it as far away from Chlorella as possible (best after meals).


Side effects: most side effects reflect the toxic effect of the mobilized metals which are shuttled through the organism. This problem is instantly avoided by significantly increasing the chlorella dosage, not by reducing it, which would worsen the problem (small chlorella doses mobilize more metals then are bound in the gut, large chlorella doses bind more toxins then are mobilized). Some people have problems digesting the cell membrane of chlorella. The enzyme cellulase resolves this problem. Cellulase is available in many health food stores in digestive enzyme products. Taking chlorella together with food also helps in some cases, even though it is less effective that way. C.vulgaris has a thinner cell wall and is better toerated by people with digestive problems. Some manufactures have created cell wall free chlorella extracts (NDF, PCA) which are very expensive, less effective - but easily absorbed.

Chlorella growth factor
This is a heat extract from chlorella that concentrates certain peptides, proteins and other ingredients. The research on CGF shows that children develop no tooth decay and their dentition (maxillary-facial development) is near perfect. There are less illnesses and children grow earlier to a larger size with higher I.Q and are socially more skilled. There are case reports of patients with dramatic tumor remissions after taking CGF in higher amounts. In our experience, CGF makes the detox experience for the patient much easier, shorter and more effective.

Recommended dosage: 1 cap. CGF for each 20 tabl.chlorella

---

Posts: 7772 | From Northeast, again... | Registered: Oct 2006 | IP: Logged |

Cass A
Frequent Contributor (1K+ posts)
Member # 11134


posted

---

Very interesting!!

More data would be great!

UP!

Cass A

---

Posts: 1245 | From Thousand Oaks, CA | Registered: Feb 2007 | IP: Logged |

hardynaka
Frequent Contributor (1K+ posts)
Member # 8099


posted

---

When chlorella is not enough, you could try MSM, in my experience, they're complementary. I don't know if this is 'natural', but it saved me from awful herxes when I mostly needed!! So I just took it by spoonfull when chlorella alone was not enough.

I had recently very good experiences with cardamon and cloves in low doses, that help in detoxification in my case (but they're mild comparing to chlolrella and MSM).

But one astonishing surprise, was trace minerals (like selenium, molybednium, chromium etc), I'm taking it every day and got no more swelling in hands/ feet. I'm SURE they're immensely helping me NOW.

I also feel that enzymes help overall, and also in detoxification. It's not a clear cut reaction as I feel with chrorella though, but they can't do bad (I prefer liquid enzymes).

I also like Chitosan as support (sometimes), of course milk thistle and artichoke (almost always), but also alpha lipoic acid (but must be taken with care) and Zeolites that I told before.

Selma

---

Posts: 1086 | From Switzerland | Registered: Oct 2005 | IP: Logged |

sparkle7
Frequent Contributor (5K+ posts)
Member # 10397


posted

---

I ordered some of this - ImmunoPro Rx

It was cheaper than the brand name "Immunocal". I was reading that taking something that has the precursors of Glutathione was beneficial for detoxing (it's a strong anti-oxident).

I also bought some N.A.C. today at the whole foods store. That's supposed to be beneficial, as well, for Glutathione production.

Anyone else try this method or any of these products?

-----
ImmunoPro Rx
http://www.immunesupport.com/immunopro_rx.htm
(This company sells alot of products for people with fibromyalgia.)

EFFECTIVE IMMUNE SUPPORT & DETOXIFICATION FORMULA

High quality undenatured whey protein concentrate
Contains the full range of undenatured biologically active proteins
Contains naturally occurring Cysteine for optimal Glutathione production
Tested at the Cheney Clinic

ImmunePro RX™ contains Lactoferrin, Immunoglobulins (IgGs), Bovine Serum Albumin, Active Peptides and Growth Factors to promote optimal immune function and detoxification.
Whey Protein and Immune Health

Biologically active whey protein has been formally recognized by the medical community for improving immune system function and detoxification. The Physician's Desk Reference states that biologically active whey protein is an important contributor to health. It plays a major role in the following: Antioxidant production (Glutathione production via Cysteine and Glutamine supplementation) support against free radicals, maintains cell health, improved liver and lung function, binding and safe removal of heavy metals and support growth of new muscle.

Glutathione: A Powerful Antioxidant

Glutathione (GSH) is essential to immune system activity. It is the body's primary antioxidant, detoxificant and anti-aging factor. Antioxidants are vitally important for the function of a healthy immune system, as they neutralize the free radical activity in the body.

Replenishment of Glutathione is one process for enhancing the body's immune response. According to the Journal of Immunology, ``Lymphocytes, cells vital for your immune response, depend on GSH for their proper function and replication.'' (Immunology 61: 503-508, 1987).

Regarding whey protein concentrate, the journal Immunology reports, "The bioactivity occurs through the ability of the protein concentrate to help replenish Glutathione levels via continuous dietary provision of Glutathione precursors, especially Cysteine, during lymphocyte proliferation, thus supporting an optimal immune response. This process seems to not only increase intercellular levels of Glutathione and precursors at the time of ingestion, but also builds up stores of these substances within the cells that lasts for a substantial post-ingestion time interval."

The Importance of Cysteine

Biologically active whey protein such as ImmunePro Rx, that contains naturally occurring Cysteine, is the optimal component for the intracellular production of Glutathione. Modern diets tend to be deficient in Cysteine, which causes limited Glutathione production. Supplementation with ImmunePro Rx replenishes Cysteine. It is important to note, heating destroys Cysteine, which is why ImmunePro Rx is subjected only to low-temperature, prolonged pasteurization. Most denatured whey protein products on the market are heated, which means that the Cysteine has been converted to a form which does not promote the production of Glutathione.

Recognized by the Medical Community

The Journal of the American College of Nutrition published a paper by Anderson and Meister titled "Intracellular Delivery of Cysteine and Glutathione Delivery Systems." It concluded that when subjects were fed naturally-occurring Cysteine, it gave them significantly more production of Glutathione than when fed Cystine.

ImmunePro RX: Contains the Full Range of Undenatured Biologically Active Proteins

ImmunePro Rx contains the highest levels of Lactoferrin, Immunoglobulins, and Serum Albumin. These three protein fractions contain exceptional amounts of Cysteine and Glutamine, the precursors required for the production of intracellular Glutathione. ImmunePro Rx also naturally contains the full range of peptides and amino acids that support healthy tissue and proper immune function.

Here's what people are saying about ImmunePro RX™:
"Although I have only been taking ImmunePro for about a month now, I can already state with confidence that it is the single greatest [whey]...I have tried... I am immensely pleased with my decision to use ImmunePro Rx." - Stephanie F., San Francisco, CA

"Undenatured whey proteins have been shown to raise levels of our body's powerful antioxidant and immune stimulant, Glutathione. However, these research findings further show that whey proteins have far more benefits than their ability to raise Glutathione." - Dr. J.P. Perraudin, Brussels, Belgium

"Glutathione is the body's master antioxidant and best kept secret to maintaining health." - Theodore Hersh, M.D., Harvard graduate, Professor of Medicine, Emeritus, from Emory University.

What is the best way to store ImmunePro RX™?

60 degrees Fahrenheit (or cooler) in a dry location; refrigeration is acceptable.

What is the best solution to mix it in?

Purified water is the best liquid to thoroughly mix ImmuneProRx™. Use a sealable container to shake it, or a manual eggbeater. Do not use an electric blender. The whey proteins are easily denatured through heat and pH change. Mixing the whey protein with any other types of food can induce a pH change and slow the transit time in the stomach through its digestive response to the solid food. Liquids that are not neutral in their pH can also denature the proteins, for example: most fruit juices, coffee, and tea. By following the above guide, the uptake of the undenatured protein fractions in the upper small intestine is optimized. A small amount of Stevia is an acceptable sweetener, if desired, for palatability.

How much should I take and how often?

Servings can vary greatly for each individual. For many individuals it can be up to 5 grams, one, two, three, or more times per day. If you are unaccustomed to this whey protein concentrate, and there's a possibility you may be sensitive, we suggest that you begin with one measuring teaspoon (approx. 1.5 grams) or less per day, in the morning. Ingest on an empty stomach and do not eat for 30 minutes afterwards. Ramping up slowly is advisable to avoid possible uncomfortable responses. It is acceptable to alternate days of use for sensitive individuals. We recommend that you consult with your health care professional regarding dosage.

Possible Whey Protein Reactions:

Allergies to milk proteins and/or pasteurized dairy can make dairy consumption a problem. If you can drink raw or pasteurized milk, but cannot handle this whey protein, then the problem is probably elsewhere. True lactose intolerance presents itself as diarrhea, and is rarely a problem. Lactose content is 0.3g per 5 grams. For sensitive individuals, the use of a milk digestant that contains lactase and rennin can be helpful, as well as the concurrent use of probiotics. Ask your doctor about this issue.

Contraindications:

If you are pregnant or have an existing health condition, please consult with your health care professional before using this product. If you are unaccustomed to this whey protein concentrate, and there's a possibility you may be sensitive, we suggest that you begin with one measuring teaspoon (approx. 1.5 grams) or less per day, in the morning. Ingest on an empty stomach and do not eat for 20 minutes afterwards. Ramping up slowly is advisable to avoid possible uncomfortable responses. If you experience bloating from drinking the solution, try placing 1 teaspoon at a time of the whey powder in the mouth, and let it dissolve by slowly chewing it. For sensitive individuals, it is acceptable to alternate days of use.

---

Posts: 7772 | From Northeast, again... | Registered: Oct 2006 | IP: Logged |
Contact Us | LymeNet home page | Privacy Statement

Powered by UBB.classic™ 6.7.3

---
The Lyme Disease Network is a non-profit organization funded by individual donations. If you would like to support the Network and the LymeNet system of Web services, please send your donations to:
The Lyme Disease Network of New Jersey
907 Pebble Creek Court, Pennington, NJ 08534 USA
http://www.lymenet.org/
---
Home | Flash Discussion | Support Groups | On-Line Library
Legal Resources | Medical Abstracts | Newsletter | Books
Pictures | Site Search | Links | Help/Questions
About LymeNet | Contact Us
---
© 1993-2020 The Lyme Disease Network of New Jersey, Inc.
All Rights Reserved.
Use of the LymeNet Site is subject to Terms and Conditions.
---