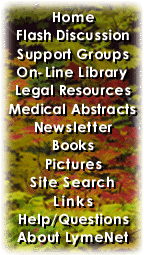 ---
LymeNet on Facebook
LymeNet on Twitter
---
---
The Lyme Disease Network receives a commission from Amazon.com for each purchase originating from this site.
When purchasing from Amazon.com, please
click here first.

Thank you.




Dedicated to the Bachmann Family


LymeNet needs your help:
LymeNet 2020 fund drive

The Lyme Disease Network is a non-profit organization funded by individual donations.

| | |
| --- | --- |
| | |
Author
Topic: horrific head noises - is there a cure?

webmeg
LymeNet Contributor
Member # 13647


posted

---

I'm writing about my Mom. She has been sick with Lyme - clearly for 2 years, probably many more. Tons of tick bites due to her cats. IGeneX postive.

Her BIGGEST problem is head noises (and headaches). It's horrible and constant for her. Like buzzing/banging/bongos in her head. And ear pain that comes and goes.

She sees the Dr. C which is good. Did almost 2 years or orals, all sorts of combos, now on IV Rocephin.

No co-infections (has done Flagyl, etc, so Dr C is confident any of those would be gone now).

Has seen an ENT - can do nothing.

Dr. C said headnoise/ear stuff from Lyme could be permanent. She's devastated. Been doing IV Rocephin 6 weeks now with little improvement in the head.

She drives an hour each way every day for a 15 minute appointment because insurance won't pay for her to do it at home. She's 70 so doing this 7 days a week is getting to her.

Is there really hope for Lyme patients with horrific head noises?

Has anyone who had this gotten cured? She doesn't think she can live like this forever. She's very discouraged and lost hope.

She's not into alternatives like herbs, but at this point we have to figure out something for her.

Any ideas are appreciated. I'm open to suggesting anything.

Thanks, webmeg

---

Posts: 257 | From Connecticut | Registered: Oct 2007 | IP: Logged |

savebabe
Frequent Contributor (1K+ posts)
Member # 9847


posted

---

I would address co-infections again.

Has she ever tried mepron and zith?

---

Posts: 1603 | From ny | Registered: Aug 2006 | IP: Logged |

Doomer
LymeNet Contributor
Member # 11013


posted

---

I have serious "head buzz". Here is the best way I know how to describe it. When you are in an old department store and they have the overhead lights that have a loud buzz, well that's what it is like in my head 24/7. Always there, some days worse than others. THe onset of the head buzz came when my sudden illness came on.

I was told it was probably from babesia. I have been treating babesia for 9 months with no improvement in symptoms.

The head buzz - noise in ears can really start to do a number on the old mind. It is sooooooo loud sometimes. It sucks, so I can relate.

I would also suggest treating coinfections. I just started IV Rocephin 11 days in so can't give feedback on that. Medicare insurance is so crazy.

Does anyone else have head buzz and if so what made it go away? How long did it take? Good post, hopefully some good feedback will come.

---

Posts: 188 | From ID | Registered: Jan 2007 | IP: Logged |

Keebler
Honored Contributor (25K+ posts)
Member # 12673


posted

---

-

I've been dealing with this for years. I've only done 2 months of abx as, oddly for me most abx raise this to such a level I can't stand it. Never had a LLMD, though, and never had chance for any IV.

I find doing the herbals, some help, some don't but you said your Mom is not into that. I will say, though, that allicin raises my tinnitus to the moon. So, if she has a lot of garlic in her diet, you might see what happens if she backs off that a bit (although it is very good for many other reasons).


I would advise NOT calling them "head" noises around any doctor- or anyone, really - as many people think it's all in someone's head. some doctors think it comes from the brain, some think from nerve involvement. It can be either or both.
It can come from a sluggish or damaged liver, too.

Too bad the ENT sent her away without at least some suggestions and hope. Others have gotten better.

What you describe is known as tinnitus. Hyperacusis may also be involved as well as other vestibular conditions - and all of this is very common with lyme and neurolyme and, yes, there are reports of this subsiding after treatment.

There can be many causes of tinnitus, too. Something as simple as avoiding perfumes and switching to all natural household and kitchen soaps and cleaners can help.

Bi-o-kleen and Seventh Generation are two companies with safe products, but I'd go with scent-free or a citrus, not lavender.


She should be very careful to avoid any drugs or OTC meds that are ototoxic, and many are. You can google the drug name and that term. Asprin can increase it, as can caffeine and alcohol.


The 7 and 8th cranial nerves may be involved and cranial-sacral tx may help - but GENTLE - not the snap and crack stuff. Many D.C.s and D.O.s do a gentle tecnique but you have to inquire in advance, or chat a few minutes on the phone before scheduling.

These are not herbs, but required nutrients for every body: Magnesium - calcium - zinc plus B vitamins can help. Folic Acid, B6 and B12 have much written about helping tinnitus.

the mag. calc. can help reduce the high NMDA receptors that zoom to the moon from toxins. Also any adrenal support and liver support may help. (But those would likely be herbs. At least making sure bowels move once or more a day might be helpful. magnesium and Vit. C. helps there).

A little packet of fizzy stuff with lots of vitamins in EMERGEN-C
- with or without fructose. Lots of tasty flavors. She might really like this and not even consider it medicine.

Frequent rest is helpful, especially if neck is tired. Being in the dark and quiet is good to help the body settle down. Soft music for distraction might be nice.

Avoiding noise exposure is vital. Using earplugs when around hairdryers, vacuums, even dishwashers . . . best NOT to use headphones, even on low as the impulses are just too close to the tender nerves.

Be aware, however, that ear plugs can make some one dizzy and balance can be a safety matter then. Running the hairdryer on low - or finding one that is truly quieter (some say they are but are not).

-

[ 08. January 2008, 05:30 PM: Message edited by: Keebler ]

---

Posts: 48021 | From Tree House | Registered: Jul 2007 | IP: Logged |

Keebler
Honored Contributor (25K+ posts)
Member # 12673


posted

---

-

Below is a post from a previous time. there may be info. here of help. good luck. You may want to copy, paste and print it out.

=================================

I know of a doctor who, every Friday will talk to folks from all over the world for no charge. He is a retired specialist in hearing disorders. PM me of you want his name/number.

DENTAL VISITS - postpone if you can. For cleanings this doctor advised me to tell the hygenist to clean for 15 seconds and rest for 30 seconds. I had to find one willing to NOT use the ultrasonic water cleaner, too, as that was way too loud and the tinnitus was greatly affected.

Plan to rest the entire rest of the day and following day after a dental appointment if equipment is used. The ears will need some serious recovery time.

===================

MRI - Personally, I will never have one again as the sound (even while wearing earplugs) did major damage to my ears. The quieter MRI's are not quieter at all, in my experience.


However, there are quieter scans such as C.T. or PET/SPECT. Ask if one of those would show what the doctor would want to see.

=================================

I strongly advise the best lyme/TBD treatment possible as so many patients report vestibular symptoms clear with lyme treatment. In the meantime, the sites below may help.
Prevention, too, is key with many conditions regarding the ears.

-

The Vestibular Disorders Association (VEDA)

information, resources, support, and advocacy for people with dizziness, vertigo, and imbalance . . .

www.vestibular.org

========================

American Tinnitus Association

my note: tinnitus can be ringing, single or multiple tones, wooshing, swishing, buzzing, on and off . . . This group help with education and advice.

www.ata.org/

===================

The Hyperacusis Network

my note: All about collapsed tolerance to sound. Does even the rustling of a paper bag send you to the moon? A car door closing a block away? Someone's voice ? This is very common with lyme and many who are lucky to get treatment find this disappears. This site will help with get you through it.

www.hyperacusis.net/

=====================

SHHH - Self Help for Hard of Hearing is another group that can be found by a Google search.

====================

If you see any physical or occupational therapist for vestibular issues, be SURE they also are LL. Many are not and are really thrown by the complex symptoms.

===================

Oto-neurologists or Neuro-otologists are doctors with training in both vestibular and neurological systems, one the ear more, the other neuro more, but I forget which is which.
-

ENT - Ear, nose, and throat doctors.


-
Audiologists can help assist with testing, vestibular training and aids. There is something called "tuners" - or similar name that can retrain the ears to disregard the tinnitus.

An audiologist can also help you select custom made ear plugs for your needs. Many type. I advise not to expect a miracle as nothing can make it quiet due to bone conduction. However, ear plugs can help a lot.

-
PHYSICAL THERAPY

If balance is an issue, leave a night light on at night so your eyes can help your body know which way is up. Looking ahead at where you want to go helps, too.

P.T. mostly to regain balance. If our inner ear system is off, we use our eyes more. A PT trained with vestibular matters will know how to teach to integrate as much as you can. For instance, when I kept falling over, it never occured to me to feel the bottom of my feet or watch the floor where I was going. PT helped there.

there are some physical therapists who have special training with vestibular stuff.

With any all the professionals, though best to see someone who also really knows about lyme. People with lyme seem to have a whole different mix that many professionals have never seen - in my experience. And, many are quick to judge the exhaustion rather than understand how severe it can be with lyme/TBD. Find one who is really educated.

----------

AIT

Due to volume or startles, some auditory integrative training (AIT) may be damaging for some people - see the hyperacusis network for info. on that. I would advise those with lyme to AVOID AIT.

If hyperacusis is due to infection or damage to the nerve coating, loudness training can be harmful. A LL professional might have some suggestions, tough, on the safe kinds of sound training or exposure.


Tomatis or other music brain training may be very good, (different from AIT) - you control the volume and loudness is not forced.

Tomatis Multi-system developmental disorder, autism, pervasive
Clinics in New York City, New York and Bethesda, Maryland use the Tomatis System to treat apraxia in children.

www.tomatis.net - the bright green background at this site is impossible to read. Best to go to the top source, but if you can't read it, try:

www.integratedlistening.com/

TOMATIS
Dr. Alfred A. Tomatis is a French ear, nose, and throat doctor who made astonishing medical and psychological discoveries that led to audio-psycho-phonology ...

A google search will yield more. Perhaps PubMed, too.

there is another doctor, from Spain, I think, beginnig with an "S" who is similar. Some audiologists know about this sort of music training. It is very precise with different bands and the technology.


==================================

QiGong and Tai Chi are slow movement exercises that can help retrain if balance is affected. Excellent for everyone, everything.

==========================

http://tinyurl.com/28vzmx

Ototoxic Medications

Timothy C. Hain, MD

Lists and advice such as: Ear drops may contain antibiotics, some of which can be ototoxic when administered to persons with perforated ear drums.

==================================

Ototoxic Drugs Can Damage Hearing

Ototoxic drugs, which are medications that are toxic to the ear, have the potential to cause permanent or temporary hearing loss. ...
www.asha.org/about/news/tipsheets/ototoxic.htm

-------
Ototoxic Drugs: Background and General Information

www-personal.umich.edu/~mshlafer/ototox.htm
(copy and paste link into URL)


=========================

www.tinnitusformula.com/infocenter/articles/treatments/excito.aspx

Excitotoxicity & New Drugs for Tinnitus

by Barry Keate - article at link - just one source

=====================================

-

[ 08. January 2008, 06:12 PM: Message edited by: Keebler ]

---

Posts: 48021 | From Tree House | Registered: Jul 2007 | IP: Logged |

Keebler
Honored Contributor (25K+ posts)
Member # 12673


posted

---

-

Driving an hour each way every day ??


Is there no way someone could volunteer to do it for her at home after being taught by an IV nurse - with her maybe going in once a week to be checked ?

Perhaps a retired nurse's association could help (if matter of liability were not an issue in their ability to even consider it).

A volunteer should have no such concerns, I would think.


-

---

Posts: 48021 | From Tree House | Registered: Jul 2007 | IP: Logged |

Doomer
LymeNet Contributor
Member # 11013


posted

---

Keebler,

Thanks for the info. It will take awhile to ingest it all.

I'm assuming that Medicare (posted age of 70) will not pay for infusion medication at home, needs to be done in doctor's office, infusion center, hospital, etc.

I'm just hoping that some day SOON the head noise will abate.

---

Posts: 188 | From ID | Registered: Jan 2007 | IP: Logged |

webmeg
LymeNet Contributor
Member # 13647


posted

---

I think the issue is insurance (Medicare I believe) - if she doesn't do it at the doctor's office then it costs like $1,300/week to do it at home.

So if I did convince her to try an herb(s), has anyone with head noises found something that eased this issue a bit?

Appreciate ALL the replies above! Thanks so much.

---

Posts: 257 | From Connecticut | Registered: Oct 2007 | IP: Logged |

Keebler
Honored Contributor (25K+ posts)
Member # 12673


posted

---

-

You can do a search on this site for "tinnitus" - many threads.

From one of those:

http://flash.lymenet.org/scripts/ultimatebb.cgi?ubb=get_topic;f=1;t=060660

excerpts:

I had horrible tinnitus for over 2+ years and thought I would never be free of it. It has been gone 100% now for over 7 years since IV Rocephin- thank goodness*)!*)!!!!!!!!!!!!!!!

===

Deep sleep made my tinnitus better the following night, night after night.

-

5.] Tinnitus is a symptom of Lyme disease.

My hearing also wavered for a year. . . Now, after a year of prolonged, high dose, multiple Lyme antibiotics (and more to come) I can't remember the last time I had ringing between my ears. Thank goodness!


--
more at the link and at other threads on this subject.

-

---

Posts: 48021 | From Tree House | Registered: Jul 2007 | IP: Logged |

Aligondo Bruce
LymeNet Contributor
Member # 6219


posted

---

I used to have this problem, and you're right, it is very disturbing. much of my conscious existence revolved around weird clicks and buzzings that came from my head and ears. the presence of an encephalopathy will magnify these annoying sounds and might lead,as it did in my case, to paranoia.

there is hope.with treatment, these symptoms have largely gone away. I still have big probs, but not with this. it takes a while for rocephin and other drugs to work. The period of symptom resolution is usually months and not weeks.

---

Posts: 523 | From Stillwater,OK,USA | Registered: Sep 2004 | IP: Logged |

Clarissa
Frequent Contributor (1K+ posts)
Member # 4715


posted

---

IV Rocephin was the only thing that finally killed my debilitating headaches so I think it's awesome she's on that protocol now. I was on it for 8 mos but I think the headaches cleared within 2 months. It was like a miracle! They never returned.

The ringing/buzzing seems to happen to me only when taking zithromax (or when I have reeeeallly bad candida die-off).

Neither the headaches or ringing have been permanent symptoms. Keep the faith! I, personally hate the word permanent!

I had a dermatolagist tell me (at 18 years-old) that I would have permanent acne scarring.

Fast forward to: chemical peels, microdermabrasion and collagen injections in the scars.

Guess who has flawless ivory skin now? Take everything with a grain of salt and keep chugging along!!

--------------------
Clarissa

Because I knew you:
I have been changed for good.




---

Posts: 1625 | From Florida | Registered: Oct 2003 | IP: Logged |

Keebler
Honored Contributor (25K+ posts)
Member # 12673


posted

---

-

I gotta say that I have used just about every herb known to man from the beginning of time. I am very much a fan of naturopathic medicine and have seen many top-notch doctors in that field.

Still, I have found no herb that really settles this for me. For me the hyperacusis is worse than tinnitus in that distraction is harder. The vertigo and lots of other vestibular stuff is all in the mix.

If I can stick to allicin and other strong antimicrobial herbs, I do find the hyperacusis decreases some, but the tinnitus just gets too high to handle. From what I've read, you are on a path that may have a good chance with the IV abx.

However, I have found that supplementing with vitamins, minerals and fish oil DO help - but more in an overall able to tolerate it way than in a diminished symptom way.

Being sure to get enough protein all really matters.

One medical mushroom, lion's mane, has helped with some nerve repair, I think. Google: " "Lion's mane" mushroom " - I only used it for a short time years ago and just now remembered that it seemed to help.


Herbs that would help the adrenal system not be so stressed by this include: ashwagandha, siberian ginseng (not a true ginseng) and the mushroom, cordyceps. the stress hormones that are intensified, I think, also push up the tinnitus, so addressing hormonal/endocrine support is of value.

Again, I find they don't help so much with the ears itself, but the ability not to go take a flying leap off my deck from it.


Herbs that help the liver to detox - or to make glutathione in order to better detox - include milk thistle. However, you should consult with the LLMD who order the IV abx regarding timing and dose and if this is okay at the same times.

Of herbs that help with rest - and good rest and deep sleep help to repair all that is involved - well, that's an individual thing.

Many of the minerals help with that, too, so I'd try that first.
B6 is supposed to be good to calm nerves, but be sure to have it within a certain balance of other B's. And, I need to take my B-complex by noon as it is a bit exciting for me.

A warm bath in epson salts might be of help.

-

A book, The Better Brain Book, by Perlmutter, might be a good one for nutritional support in that area. www.perlhealth.com/drperlmutter.php
-

I wish she did not have to drive so far for treatments, but that is one reason I could never do the IV ABX. I don't live in a state with an LLMD and with medicare, I remember now that requirement of going into the clinic each day. It is truly sad and cost medicare more that way, too.

So, I am glad she can get the medicine, though. Best of luck.

Take care, all of you. I'm sure you are spinning now at the complexity of this and all the advice from all corners, but just take it easy and this will be worth it.

-

I wonder if you contact the lyme support group near you (or, better yet, near the clinic) if you might find someone who would have a guest room where your mom could stay for a few nights a week ?

-

---

Posts: 48021 | From Tree House | Registered: Jul 2007 | IP: Logged |

bandit100
Member
Member # 11941


posted

---

Webmeg,
I wish I had an answer for you and your Mom. Unfortunately I don't. I have only been on ABX since August 07, but felt compelled to at least respond and say she is not alone.

I understand completely how she feels. Since January 07 I have had ringing ears what I would call lots of popping and cracking noises in my head along with other symptoms. The noises described above can be when my head is still, so go figure.

Reading this discussion board for me has at least made me aware that hey I am not alone with these weird symptoms and gives me hope that they will go away in time.

In the mean time we just try and keep plugging along and do the best we can. Thinking of your Mom.

Roger

---

Posts: 25 | From Missouri | Registered: May 2007 | IP: Logged |

webmeg
LymeNet Contributor
Member # 13647


posted

---

All I can say is you guys are AWESOME.

I'm going to read through all of this carefully tomorrow - so much great info and ideas!!

Thank you for detailed responses and kind thoughts.

If Mom ever has a break through on this issue for sure I will post what worked!

webmeg

---

Posts: 257 | From Connecticut | Registered: Oct 2007 | IP: Logged |

Keebler
Honored Contributor (25K+ posts)
Member # 12673


posted

---

-

www.ncbi.nlm.nih.gov/sites/entrez

PubMed Search: tinnitus, magnesium - 17 abstracts


when you select a certain abstract, check out the right side of the page for links to similar articles.

NAC, another nutritional supplement (not an herb) is also in some research.

While some of the abstracts may deal with hearing loss, I view any help in the ear area as a good sign.

The Better Brain Book I mentioned above has many supplements such as NAC, and I'm sure taurine. Taurine is an amino acid that helps with sleep and I think it helps me some with lowering tinnitus, too. It makes me too sleepy, though, for day time.

Just ask the LLMD as far as timing, etc. when on abx, etc.

-

Ohhhh . . . there are masking devices that really help some people. Worn something like a hearing aid, programmed with a certain tone and changed ever so often the an audiologist who specializes in this. I considered it. Most insurance will not cover, but if an audiologist will donate their time, the company that makes the masking devised used to donate now and then.

In the meantime, on the hyperacusis network site, you can guy a CD of just rain - no thunder. Sometimes music is just too busy for me to listen to . . . I keep meaning to order "rain" - Your Mom might like something like that.

I have found many sound machines to have motors that are far too annoying in sound or whhhrrr themselves.

-

Good luck.

-

---

Posts: 48021 | From Tree House | Registered: Jul 2007 | IP: Logged |

beckyM
Member
Member # 13944


posted

---

Webmeg,

I'm sorry that your mom is going through all off this...

I have a suggestion, that may or may not work...but worth a try.

A lot of Visiting Nursing Agencies are non-profit and are partially funded by agencies such as the United Way.

If you or someone is willing to do the IV's (or if you think your mom coud do it if she was completely set up...and I have taught people up into their 80's to do it) than there is a chance they MIGHT be able to help...

Give the local agency a call and explain the situation and ask if they are funded by the United Way and ask if they could "United Way" the visits to teach you (or someone else)

If they are not united way, they may have donated funds to help people get visits who would not normally qualify.

But understand, these visits are very limited.

The problem with nurses "voluneteering" their time is with liability.

I wold go out and help everyone, but if something was to happen, they are not covered under their employer (I know, it's horrible, but we live in an age of everyone being sue happy)

Medicare is VERY strict in regards to providing homecare.

The person has to be HOMEBOUND by every sense of the word before they will pay.

Since your mother is ABLE to drive the hour to get to her appt, Medicare would deam her not HOMEBOUND.

It is a horrible system.

If they can't help...can the doctors office teach someone to do the infusions at home and she can just go once a week for the dressing changes?

I hope tehse suggestions help a little...

Bek

---

Posts: 68 | From Massachusetts | Registered: Nov 2007 | IP: Logged |

Ellie K
LymeNet Contributor
Member # 12056


posted

---

I agree that this is a terrible symptom. I used to have it really bad, especially at night while trying to fall asleep. It really made me crazy sometimes.

Not many of my symptoms have gone yet (7 months into tx for Lyme, Bart, Babs) but my head noise/ear pain/pressure has actually gotten about 80% better after 4 months on Bicillin.

It's encouraging for me because otherwise I wouldn't be so sure that I am making any progress at all. I haven't tried IVs yet but I know that IM Bicillin is good for penetrating the CNS, which I think is where this problem stems from.

I do get the ear pressure/pain/noise for a few hours when I'm herxing really badly on a particular day, but thats's only a few times a month.

I wish you and your mum the best.

---

Posts: 390 | From Oakland, CA | Registered: May 2007 | IP: Logged |

webmeg
LymeNet Contributor
Member # 13647


posted

---

Thanks Ellie and Becky for your suggestions and advice!

I don't think my Mom has tried Bicillin yet. I'll ask her about that.

~webmeg

---

Posts: 257 | From Connecticut | Registered: Oct 2007 | IP: Logged |

TheCrimeOfLyme
Frequent Contributor (1K+ posts)
Member # 4019


posted

---

rifampin is the only thing that took that away. When I couldnt get it, or get it prescribed, I did artemisinin. Worked like a charm.

--------------------
You want your life back? Take it.


---

Posts: 3169 | From Greensburg, Pennsylvania | Registered: Jun 2003 | IP: Logged |

randibear
Honored Contributor (10K+ posts)
Member # 11290


posted

---

i have terrible tinnitus and headaches. they only went away when the doctor gave me flagyl. don't know why, but it worked for me.

unfortunately, he would not renew it. he gave it to me for c. difficile but it really helped my lyme. i can't convince any other doctor to give it to me.

--------------------
do not look back when the only course is forward


---

Posts: 12262 | From texas | Registered: Mar 2007 | IP: Logged |
Contact Us | LymeNet home page | Privacy Statement

Powered by UBB.classic™ 6.7.3

---
The Lyme Disease Network is a non-profit organization funded by individual donations. If you would like to support the Network and the LymeNet system of Web services, please send your donations to:
The Lyme Disease Network of New Jersey
907 Pebble Creek Court, Pennington, NJ 08534 USA
http://www.lymenet.org/
---
Home | Flash Discussion | Support Groups | On-Line Library
Legal Resources | Medical Abstracts | Newsletter | Books
Pictures | Site Search | Links | Help/Questions
About LymeNet | Contact Us
---
© 1993-2020 The Lyme Disease Network of New Jersey, Inc.
All Rights Reserved.
Use of the LymeNet Site is subject to Terms and Conditions.
---