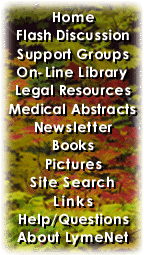 ---
LymeNet on Facebook
LymeNet on Twitter
---
---
The Lyme Disease Network receives a commission from Amazon.com for each purchase originating from this site.
When purchasing from Amazon.com, please
click here first.

Thank you.




Dedicated to the Bachmann Family


LymeNet needs your help:
LymeNet 2020 fund drive

The Lyme Disease Network is a non-profit organization funded by individual donations.

| | |
| --- | --- |
| | |
Author
Topic: Chinese medicine

scottie
Member
Member # 9956


posted

---

My LLMD is now recommending that I go see a Chinese Medicine doctor. Has anyone ever gotten better with this is a primary or adjuct therapy?

---

Posts: 90 | From massachusetts | Registered: Aug 2006 | IP: Logged |

lymie tony z
Frequent Contributor (1K+ posts)
Member # 5130


posted

---

I don't think it's anything but adjunctive therapy.

That is, unless, you are lucky enough to get the Dali Llama, to fix you up with some of his herbs.

Even then, think of how many things we had to ship back this year due to lead,unwanted chemicals in dog food,etc and so on.

I think I would rather use adjunctive therapies suggested by ILLADS Foundation/Burrascano.

They worked for me and that was when all I was doing was Flagyl(metronidazol)about two years prophylactically.

zman

--------------------
I am not a doctor...opinions expressed are from personal experiences only and should never be viewed as coming from a healthcare provider. zman


---

Posts: 2527 | From safety harbor florida(origin Cleve., Ohio | Registered: Jan 2004 | IP: Logged |

Keebler
Honored Contributor (25K+ posts)
Member # 12673


posted

---

-

The lead in toys from China has NOTHING to do with the centuries worth of knowledge from the plant world - not just from China, but many other countries.

The doctors are not putting lead in the toys, businesses are.
And we buy them. We sell them.

And, as Americans, we put more chemicals into our environment than any other nation, per capita.

================================

Yes, I can say absolutely investigate your LLMD's suggestion, if you can afford it. Actually, appointments will cost much less.

It is a very involved form of treatment that requires changes in diet and lifestyle - but most of us have done that already - and for those who have not, the type of medicine offers tremendous support to body systems while changes are made.

I find certain herbal formulas to be very helpful. Some of the nutritional supplements, like a specific magnesium, has literally saved my life.

Ask your LLMD for a specific recommendation based upon success from his patients.

I've seen many NDs and L.Ac.s - be sure you get one who is very familiar with all stages of all TBI. Some say they are but have no clue. Some NDs say "just get the body stronger and it can fight infection" - you need to go to someone who has studied the spirochete and can work in tandem with your LLMD's advice on anti-infectives.

This is a world of medicine that many have no idea about. It is fascinating - and can be very effective. But it's a long process and its first premise is "do no harm." Beyond that, mitigate harm as much as possible. And, of course, helping the body get stronger . . . that is exciting.

Acupuncture is very helpful to many. Again, make sure the L.Ac. is very familiar with TBI patients.

Also realize that "detox" is a complex idea. It can mean setting right the liver, lymph - and lessening your exposure to chemicals. A good ND can read pulses and know which organs or systems may be stressed.

===========

How I feel acupuncture helps me. It's hard to explain, but once I found the right L.Ac. my CNS or all nervous system stuff just feel more "settled" - my mood is better and my brain is clearer. My ability to settle down for sleep improves and pain is lessened. It can help get a speeding heart rhythm settled down - especially if visualization is used during acupunture.

Rather than going in and just having someone put in magic needles, it helps to take part in the relaxing, going into a quiet state - leaving all internal chatter and questions on the curb.

Repeated treatments help. Were I not to have TBI that went so long untended, this recovery might not be so long.

This helps me live and acupuncture and supplements have brought me out of despair and near suicide. It helps calms that stimulus overload that can be crushing.


==========


Your local support group may have some suggestions.

==================================

RESEARCH AVENUES

===================================

PUBMED - medical abstracts from around the world.

You can look up some specific herbs or minerals on PubMed - www.ncbi.nlm.nih.gov/sites/entrez.

You might try searches on coptis - and one on magnesium. this just gives you an idea of some of the research being done.

You can also cross check and search for "coptis, spirochete" or "coptis, sprirochetal" or "coptis, lyme" or "smilax, spirochete" or "smilax, spriochetal"

"Allicin" also will bring many abstracts. cross reference "allicin, virus" or "allicin, viruses" and see what happens - or "allicin, MRSA"

"Magnesium, heart" or "magnesium, cardiac" or "magnesium, seizures" all bring up good reading. Good learning.

You can trade "borrelia" for "lyme" and sometimes get different results. You can trade "spirochetes" with "spirochetal" and also get a different number of search results.

But once you find something of interest, that's not enough. Most often formulas work best with certain herbs used to potentiate the effectiveness - or offset something else.

This is where the doctor in that field come in. This can be very complex.

To help open the window here are just a few sources:


=======

http://oneearthherbs.squarespace.com/

THE ONE EARTH HERBAL SOURCEBOOK (Tillotson) - explains much about this. Primarily herbs from India, and great chapters on how the body works. Most of the book is on their site, but it can be purchased at Amazon,etc.

========

www.amazon.com - Buhner's and Zhang's books are here. Schaller's, too and other lyme authors (Shoemaker, etc.)

You might want to see what they have to say specific to lyme or to Chinese Medicine or Naturopathic medicine.

Michael Murray, ND is one author of note for the field, not specific to any one condition.

===========

www.itmonline.org has some very good articles.

Lyme Disease: Treatment with Chinese Herbs
Treatment with Chinese Herbs. by Subhuti Dharmananda, Ph.D., Director, Institute for Traditional Medicine, Portland, Oregon. Lyme disease is the result of a ...
www.itmonline.org/arts/lyme.htm

note, this is a few years old and some of the info about lyme is old information. Still, it stands as a good article.

I feel compelled to add that for many years all I did was this sort of approach. For myself, it was not nearly enough. Perhaps too many TBI (3 positives), maybe too many years before dx or too many steroids before that. This did keep me out of a wheelchair ( I was falling dozens of times a day, many seizures), it got me walking and talking again and keep me from ending it all.

Had I had access to both MD and NDs were were able to really treat the lyme I might have faired better. No LLMDs here. The NDs at that time had no clue about lyme, really.

And, being extremely ill, I expected too much. No one had seen anyone as "deteriorated" before and many told me that.

As we learn more about TBI, though, I think it is fair of us to expect the professionals we see to know as much as it out there.

Be sure that proper anti-infective measures are explored - not just support herbs. If what you're doing doesn't work, check in, adjust or move along. I stuck, blindly, too many years with one doctor.

A couple of the books on lyme and complementary treatment address this now. Those books were not around ten years ago.

Sorry for just tossing out so much, I wanted to give a fair estimation of my experiences so others can be better informed.

===========

THE WEB THAT HAS NO WEAVER is another book on this area.


However, all these books cannot look at you - in person - and determine what you need. You need a doctor trained and licensed in this - again, if your LLMD suggested you see someone in this field, I hope there is a specific name for you.

Whatever items you buy - be certain that the source is a clean one. There are grass clipping out there in capsules. And there also are top quality products. Again, it's best to go with a doctor in this area, but the reading helps you understand the principles and issues involved in getting the best - specific -care for you.

===========================

And a note about alcohol / Rx. You owe it to yourself and whomever you see to be honest about everything you take for meds and over the counter - and if you smoke or drink.

Only then can they know what to suggest. Some supplements and alcohol can be dangerous combinations, just as with alcohol and pharmaceuticals - and some pharmaceuticals and OTC products do not mix with certain herbs or minerals.

There are interactions in all these categories. So anyone treating you must have a complete list of what you take - or drink - and even eat. It all matters.

==============

With apologies to those who cannot go see a doctor of any type for reasons of location or cost. I get tired of hearing that when there is no way short of winning the lotto that most of us can see a LLMD.

Just as many states do not have a single LLMD, many states do not have naturopathic physicians nor acupuncturists - or even licensing for such. Some states are just now moving massage therapist licensing out of local politic's mindset of massage "parlor" - a far cry from the LMT.

I am grateful for the internet and our freedom, as intelligent adults, to learn and to choose and to study historical uses of plant-based medicine as well as modern pharmaceutical drugs.

And . . . thank you to LymeNet -especially for the relatively new feature of spell check as we type our notes here (or was it my new computer upgrade?). I can try out big words that I used to know.


-

[ 13. January 2008, 08:14 PM: Message edited by: Keebler ]

---

Posts: 48021 | From Tree House | Registered: Jul 2007 | IP: Logged |

Keebler
Honored Contributor (25K+ posts)
Member # 12673


posted

---

-

I have also come to respect the complexities of each herb and its various properties.


I had read in a book that a particular mushroom, gastrodia, could lessen seizures so I got some and then told my ND the next time I saw him - with my fatigue increased to the max.

He just shook his head, gave a short, sweet smile and said "yes, but it can also REALLY lower blood pressure . . . and let's see . . . I do believe yours is already low." He had a better idea.

We had a good laugh and I learned to ask BEFORE I make changes on my own. I have learned so much from these people that I consider it my second-college era - just stretched out.

So, about selecting which herb is best - there are thousands of choices, many not in books available to us. While some books may show some of the properties and some good information - key information may not be in the books we read - or in a particular article.

Medical abstracts, especially, tend to isolate one characteristic of a substance. While that can be helpful in research the complete understanding must be there for treatment.

Blending of formulas makes it possible to take the anti-seizure or calming property of one herb and blend it with another for my own personal considerations.

This is individualized medicine. Individualized support.


-

---

Posts: 48021 | From Tree House | Registered: Jul 2007 | IP: Logged |

Keebler
Honored Contributor (25K+ posts)
Member # 12673


posted

---

-


www.compassionateacupuncture.com/herb%20drug_interactions.htm

HERB-DRUG INTERACTIONS AND HOW TO AVOID THEM

Conner, 2005

=======================================

AND

=

www.itmonline.org/arts/herbdrug2.htm

CHECKING FOR POSSIBLE HERB-DRUG INTERACTIONS

by Subhuti Dharmananda, Ph.D., Director, Institute for Traditional Medicine, Portland, Oregon - September 2003

FULL ARTICLE AND CHARTS AT THE LINK

EXCERPT:


The issue of herb-drug interactions looms large over the practice of herbal medicine. Up to now there have been very few incidents recorded of herb-drug interactions, but since the first such reports emerged a decade ago, a concern has been raised:

that we know so little about herbs and their potential for interaction with drugs that these incidents could be just the "tip of the iceberg."

Virtually all medical writers who review the literature acknowledge the small number of reports, but conclude that the issue of herb-drug interactions is a serious one that must be pursued. In a few instances, the interactions may have been responsible for severe consequences.


As described in a previous article (The interactions of herbs and drugs, 2000 START Manuscripts), the nature of herb-drug interactions is not a chemical interaction between a drug and an herb component to produce something toxic.


Instead, the interaction may involve having an herb component cause either an increase or decrease in the amount of drug in the blood stream.

A decrease in the amount of drug could occur by herb components binding up the drug and preventing it from getting into the blood stream from the gastrointestinal tract, or by stimulating the production and activity of enzymes that degrade the drug and prepare it for elimination from the body.


An increase in the drug dosage could occur when an herb component aids absorption of the drug, or inhibits the enzymes that break down the drug and prepare it for elimination.


A decrease in drug dosage by virtue of an interaction could make the drug ineffective; an increase in drug dosage could make it reach levels that produce side effects.


Alternatively, an herb might produce an effect that is contrary to the effect desired for the drug, thereby reducing the drug effect; or, an herb might produce the same kind of effect as the drug and give an increase in the drug effect (without increasing the amount of the drug).

Examples of concerns about herb-drug interactions that have been raised are that an herb might:

increase or decrease the effect of a blood thinner such as Warfarin and lead to either a bleeding episode or formation of a dangerous clot;

decrease the effect of a blood pressure medication, leading to high blood pressure and a stroke;

decrease the effect of an anti-infection agent, letting the infection get out of control;

or increase the effect of an anti-diabetes drug and plunge blood sugar to dangerously low levels.


Such responses can occur with drug-drug interactions and with food-drug interactions, so the finding of some instances of herb-drug interaction would not be surprising.


In China it is common for herbs to be combined with drugs. Their combination is sometimes incidental, but is often intentional and based on a prevalent favorable theory about using herbs and drugs.

The general sense of the situation among Chinese doctors has been that herbs reduce the side effects of drugs and help them to perform their function better; in turn, drugs will make an herb formula work more strongly and quickly.


Together, herbs and drugs may produce a more desirable result than either taken alone. As an outcome of working within this scenario, little attention has been paid to adverse herb-drug interactions.


The Chinese culture is one in which herbs were a dominant medical therapy during the 20th Century, and drugs were a relatively recent addition to the medical field.

The situation was different in the West. Herbs had been almost entirely replaced by drugs during the 20th Century, and were later reintroduced once drugs had become a dominant feature of modern health care.


In the West, the replacement of herbs by drugs took place over a period of many decades during which there was a prevailing attitude that drugs were more reliable than herbs. The re-introduction of herbs brings with it suspicions and concerns about their unreliability and the lack of adequate knowledge about them.


Today, doctors and pharmacists are provided courses and educational materials outlining potential problems with herbs that their patients may be using.

The matter of herb-drug interactions involves a considerable amount of speculation about what might happen, based on knowledge-which is also quite limited-about drug-drug interactions and food-drug interactions.

An example presentation to doctors is the following chart, produced in 1999 and presented by Jerry Cott, a neuropsychopharmacologist:

CHARTS, FULL ARTICLE AT LINK ABOVE.


-

[ 13. January 2008, 08:25 PM: Message edited by: Keebler ]

---

Posts: 48021 | From Tree House | Registered: Jul 2007 | IP: Logged |

CaliforniaLyme
Frequent Contributor (5K+ posts)
Member # 7136


posted

---

I think acupuncture is great. I think real Chinese medicine practitioners are great- they often treat CFS with Artemisia by a different name*)!!! I think you have to be careful to get a real herbalist and not some wanna be*)!!!

I know antibiotics are the only thing I have ever seen put chronic Lyme into full remission.
But herbs- Artemisia- can put chronic Babs into full remission. For people who don't expect full remission for Lyme, herbs can be a treatment option. Many chronic Lymies never get full remission and herbs can give the body a break from abx if you are lucky enough not to deteriorate rapidly off of them.

--------------------
There is no wealth but life.
-John Ruskin

All truth goes through 3 stages: first it is ridiculed: then it is violently opposed: finally it is accepted as self evident. - Schopenhauer


---

Posts: 5639 | From Aptos CA USA | Registered: Apr 2005 | IP: Logged |

Nori
LymeNet Contributor
Member # 8983


posted

---

I credit my acupuncturist for saving my life with an herbal treatment for infection before I knew I had lyme.

I thank God for him everyday and every week when I see him.

--------------------
Nori


---

Posts: 109 | From Virginia | Registered: Mar 2006 | IP: Logged |

hardynaka
Frequent Contributor (1K+ posts)
Member # 8099


posted

---

Chinese herbs can do wonderful things. I treated most of my bartonella with these herbs.

Not an adjunct therapy at all, but one of the main therapy in my case. But I believe, it' s more difficult to make an therapy out of herbs because they work better in combo (not alone).

I believe I'm in remission again due to many Chinese herbs and other herbs/ treatments.

I'm still on one astragalus (used for ages by the Chinese) and one cats claw (rain forest plant) as maintenance.

Selma

---

Posts: 1086 | From Switzerland | Registered: Oct 2005 | IP: Logged |

daisys
LymeNet Contributor
Member # 11802


posted

---

I have been going to acupuncture while being treated with lyme.

The acupuncture helps with the pain for about a day and a half--the same benefit as going to my massage therapist.

My acupunturist has given me chinese medicine to strengthen my organs of detoxification. This is in support of my lyme treatment. I can't tell if it works or not.

My LLMD asked me to look into the Zhang protocol, which I take to be a chinese doctor's suggested herbs. After abx, I'll be switched to herbs.

I wouldn't want to be on abx for years and years. I think it's necessary at first to knock down the numbers, and hopefully allow the body to gain strength. I do believe I will use herbs for long term maintenance.

---

Posts: 521 | From New Mexico, USA | Registered: May 2007 | IP: Logged |

improver
LymeNet Contributor
Member # 8380


posted

---

I have a friend who had been having lyme like symptoms for the last few months so I told her it sounded like lyme. She was tested by a regular lab and was negative (pos 41 kda though). I talked her into being tested by Igenex. She tested positive IGM.

During the last few months she has been getting acupuncture and taking chinese herbs and right now is symptom free. She however has only been sick for several months instead of years.

I tried acupuncture and the herbs a while back but didn't follow the nutritional part all that well, therefore didn't get the full benefit. I am trying again soon.

Good luck, Rich

---

Posts: 413 | From nj | Registered: Nov 2005 | IP: Logged |

CaliforniaLyme
Frequent Contributor (5K+ posts)
Member # 7136


posted

---

I have to add in here again that I have never had ANYONE I know with Lyme go wrong with acupuncture- it is an adjunctive therapy which seems to benefit every single Lymie I know who has tried it- and we all know there are very little things like that in the world!!! Seriously, every single person I know who has tried it has been helped by it!!! It's neat.

I think this may be because it helps inflammation issues but who knows...

--------------------
There is no wealth but life.
-John Ruskin

All truth goes through 3 stages: first it is ridiculed: then it is violently opposed: finally it is accepted as self evident. - Schopenhauer


---

Posts: 5639 | From Aptos CA USA | Registered: Apr 2005 | IP: Logged |

Keebler
Honored Contributor (25K+ posts)
Member # 12673


posted

---

-

A note about acupuncture.

If your system is highly sensitive you may just need the needles in for a very short time.

If a regular L.Ac. put needles in and let me rest for the usual 20-minute session at the height of this, I'll be flying around like a balloon that had just been stuck. My individual nerve cells, that is . . . I'd be down for the count, but just "wired."

I found an L.Ac. who understood this. Needles in and out. Months later, a little longer.

Now I can benefit from the 20 minute sessions.

If you have the right L.Ac. for you, personal adjustments should be apparent to them. However, if you get overloaded with stimuli or fatigue even from fun, be sure to let them know that up front. They can help.

For these reasons, be sure to find someone schooled fully in this. Some doctors take short courses and learn needles for things like carpel tunnel and other isolated pain relief. This may work fine for some people.

My opinion is that acupuncture, for those with such a complex multi-system involvement, requires someone with years of concentrated training at a specifically accredited college. And, usually, years of practice. Interns are helpful, but I never found one who really "got it."

Edited to add: be sure to plan to rest the rest of the day, and go slow the day after. Even if you feel great after the treatment, take it easy. This is very important to letting it work. It's not just the time at the office, care in the 24-hours - or days afterward - also make the treatment work better.


Ohhhhh - and a note about electro-acupuncture. This may be great for a bad shoulder or knee. But for someone with a weak adrenal system, be careful.

I had this done a time or two. The attach tiny electrodes to acupoints outside, like a TENS unit (or the the needle tips, I don't recall) . . . anyway, I got the bright idea to turn up the voltage, it felt good at the time, really getting to a tight muscle . . . but I was exhausted for a week. Just drained.

I got the same effect from microcurrent, too. Some find that worked great, but I just don't do electricity well, I guess. Too stimulating !

It took a while to learn if an acupuncturist (especially an intern) ever said something about BOOSTING THE ADRENALS that I should RUN, RUN, RUN. Gentle support is what it's all about.

-

[ 14. January 2008, 01:37 PM: Message edited by: Keebler ]

---

Posts: 48021 | From Tree House | Registered: Jul 2007 | IP: Logged |

clairenotes
Frequent Contributor (1K+ posts)
Member # 10392


posted

---

And needles in too long can also make you feel fatigued for a period of time, before better. I really didn't mind it at the time because the rest seemed really productive and nourishing and the energy built slowly over time. But it probably would have been better to take the needles out much sooner. I could lose a day or a day and a half to rest afterward!

Five element acupuncture has a good grasp of this, but they do not believe in using herbs, which is a drawback and so I would probably choose a traditional practitioner. And it is true that a good TCM practitioner should be able to match a proper treatment to your needs.

Claire

---

Posts: 1111 | From Colorado | Registered: Oct 2006 | IP: Logged |

ldfighter
LymeNet Contributor
Member # 9405


posted

---

For me acupunture was a help especially during herxes. Would have done a lot more if I had the money. Not a substitute for abx in my case (even my acupuncturist agreed abx needed to be the main thing) but worked well together. I had also tried acupuncture and TCM herbs before Lyme diagnosis and abx, and it did nothing for me then.

Ditto what Claire said about needles in too long. Gets very relaxing but can wipe you out, seemed like it might be good in the long run though.

Some resources to share with a Chinese medicine practitioner, for anyone going that route:

The TCM Approach to Fibromyalgia, Chronic Fatigue Syndrome and Lyme Disease
http://www.yinessence.com/articles/article/758758/5882.htm

The Use of Chinese Herbs for Lyme Disease
http://www.yinessence.com/page/page/2727303.htm

"Lyme Disease and Modern Chinese Medicine" by Zhang (book)

---

Posts: 621 | From US | Registered: Jun 2006 | IP: Logged |

daisys
LymeNet Contributor
Member # 11802


posted

---

There is definitely 2 schools of acupuncture.

The practitioner I go to studied in Hong Kong and built up a successful business there amid all that competition, so I have a lot of confidence in her. It's so much more complicated than the American school that teaches, for example, "what to do for a headache"--a set number and positions for "headaches".

She has told me a couple of times that she realizes the need to use abx to get control over the infection in my case. She's definitely looking forward to the time that I'm off them tho, and use chinese medicine entirely. Meanwhile, she treats me in a way that supports what my LLMD is doing.

It's interesting that some need the needles to be removed soon. The only thing I've noticed about me is a certain area in my lower back reacts strongly, actually flinches every time the needles go in.

In Chinese medicine it's called the kidney area, and corresponds to deep (from within) organ strength.

I did read the book The Web That Has No Weaver, and found it fascinating, but it just showed me how different a person has to think to practice chinese medicine, as opposed to Western theory.

---

Posts: 521 | From New Mexico, USA | Registered: May 2007 | IP: Logged |

ldfighter
LymeNet Contributor
Member # 9405


posted

---

quote:

---

Originally posted by daisys:
It's so much more complicated than the American school that teaches, for example, "what to do for a headache"--a set number and positions for "headaches".

---

Good point, I think this is true of any good acupuncturist. They shouldn't be treating the disease with a set protocol (that would be a red flag imho) but the person's imbalances in terms of TCM. For this reason I wasn't sure about putting those resources in my last post, but thought they'd be food for thought anyway.

My acupuncturist didn't support abx simply because I was diagnosed with Lyme (in fact she wasn't so supportive of abx at first), but because of the way my pulses and the other things she used to evaluate me improved so dramatically when I changed abx regimens. Fascinating to see different modalities validate one another this way.

Also, in my experience it's better if the acupuncturist takes at least a few minutes to evaluate you each time and change things accordingly, rather than sticking to a set of points decided upon at the first visit. Especially when you're also shaking things up with other treatment like abx or herbs.

---

Posts: 621 | From US | Registered: Jun 2006 | IP: Logged |

clairenotes
Frequent Contributor (1K+ posts)
Member # 10392


posted

---

Just noticed that yinessence.com was listed here in a previous post. This is a great website.

Claire

---

Posts: 1111 | From Colorado | Registered: Oct 2006 | IP: Logged |

Andie333
Frequent Contributor (1K+ posts)
Member # 7370


posted

---

I too credit my acupuncturist with saving my life...because she's the one who first suggested Lyme Disease to me (this after seeing 14 doctors who misdiagnosed me).

She's accredited, studied in China and is licensed in Chinese medicine. She was also strongly supportive of my being on abx to treat both my Lyme and the co-infections. And she's worked in connection with my LLMD.

During the 2.5 year treatment, she's alternately given me herbs, teas and treatment, depending on the type and severity of my symptoms at the time.

I have traded wtih her to get this treatment; otherwise it's NOT something I could have afforded. Even the herbs aren't inexpensive. But I feel it's been worth the sacrifice.

For me, it's been an integral part of my treatment protocol. And at this point, I'm back to work and back to about 85% health.

---

Posts: 2549 | From never never land | Registered: May 2005 | IP: Logged |
Contact Us | LymeNet home page | Privacy Statement

Powered by UBB.classic™ 6.7.3

---
The Lyme Disease Network is a non-profit organization funded by individual donations. If you would like to support the Network and the LymeNet system of Web services, please send your donations to:
The Lyme Disease Network of New Jersey
907 Pebble Creek Court, Pennington, NJ 08534 USA
http://www.lymenet.org/
---
Home | Flash Discussion | Support Groups | On-Line Library
Legal Resources | Medical Abstracts | Newsletter | Books
Pictures | Site Search | Links | Help/Questions
About LymeNet | Contact Us
---
© 1993-2020 The Lyme Disease Network of New Jersey, Inc.
All Rights Reserved.
Use of the LymeNet Site is subject to Terms and Conditions.
---