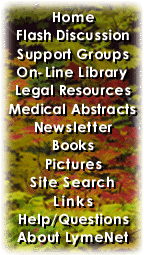 ---
LymeNet on Facebook
LymeNet on Twitter
---
---
The Lyme Disease Network receives a commission from Amazon.com for each purchase originating from this site.
When purchasing from Amazon.com, please
click here first.

Thank you.




Dedicated to the Bachmann Family


LymeNet needs your help:
LymeNet 2020 fund drive

The Lyme Disease Network is a non-profit organization funded by individual donations.

| | |
| --- | --- |
| | |
Author
Topic: lyme & mercury

aam7
Member
Member # 2268


posted

---

Would like some help - I have read on some alternative natural remedy sites that mercury in our system (mostly from fillings in our teeth when we eat) CAUSES lyme bacteria to be more active and thus makes us feel much worse. Anyone have any thoughts on this? Also, does anyone know of any medical journal articles or research papers that support this theory. One of my doctors is leaning towards the removal of my fillings in case this could be a contributing factor in exhasurbating my lyme condition. I have had lyme for 13 years, been through heavy doses of antibiotics and other "lyme remedies" without any real success. My condition prevents me from being employable in any realistic sense.

---

Posts: 11 | From crozier, va, usa | Registered: Mar 2002 | IP: Logged |

SForsgren
Frequent Contributor (1K+ posts)
Member # 7686


posted

---

I do NOT believe we can recover from Lyme disease without addressing heavy metals including mercury. It just isn't very likely. Read the work of Dr. K, Dr. G.G., and others.

--------------------
Be well,
Scott


---

Posts: 4617 | From San Jose, CA | Registered: Jul 2005 | IP: Logged |

aam7
Member
Member # 2268


posted

---

quote:

---

Originally posted by SForsgren:
I do NOT believe we can recover from Lyme disease without addressing heavy metals including mercury. It just isn't very likely. Read the work of Dr. K, Dr. G.G., and others.

---

Can you provide some links to these?

---

Posts: 11 | From crozier, va, usa | Registered: Mar 2002 | IP: Logged |

Peacesoul
Unregistered



posted

---

I've not read a lot of reseach on this, but I always felt my fillings were a poison in my mouth.
I've also had lyme for 13 yrs (but only dx last Aug) and have been on abx for over 2 months with no improvement, so tomorrow I go get my fillings out.
I'm not sure if it will help, but it can't hurt (I hope)

Would love to hear from others who had their fillings out and if there was a difference.

---

IP: Logged |

adamm
Unregistered



posted

---

It probably causes all pathogens to be more active. The stuff

is poison, plain and simple.

---

IP: Logged |

RoadRunner
Frequent Contributor (1K+ posts)
Member # 380


posted

---

Do a search on this site for it.

I did it for you but there is a lot more.

here is some read for you.

Dr k on heavy metal


http://www.mercuryexposure.org/index.php?article_id=39

http://www.usautism.org/PDF_files_newsletters/JNRnicolson_2007.pdf


Dr. Klinghardt and Dr. Patricia Kane lecture on "Heavy metals and their health impact"
by Dr. Klinghardt and Dr. Patricia Kane

Without claiming completeness, brought in readable form using own wording. If you want to see Dr. Klinghardt and Dr. Kane as originals, you have to get the videos.

Dr. Klinghardt:
1. In all chronic diseases heavy metals play a role. So please don't ask: May heavy metals play a role at my MS or my Morbus Crohn? The question is answered: heavy metals play a role at all
chronic diseases.
2. Heavy metals lead to chronic infections by fungi, bacteria, mycoplasma, viruses. But it is a big mistake to treat these infections without changing the milieu.
3. We all have neuro toxins in our body. Under these neuro toxins mercury has a special importance, because it prevents detoxification. When mercury is removed, then the other toxins
tumble out. Neuro toxins lead to "Neurotoxine mediated chronic illness".
4. Heavy metals are excreted via liver into the bowels and are resorbed again in the colon (enterohepatic cycle). This cycle must be interrupted. The green algae Chlorella pyrenoidosa is
suitable for this. Beginning with 4 x 5 to 6 g per day, this dose may be reduced after 6 weeks.
5. All fish has heavy metal burden; the higher in food chain, the more its contamination (the shark eats many fish, which have eaten many other fishes, is much more contaminated than the
little fish). Therefore pregnant women should not eat fish or, if they do, then with Chlorella (fish breaded with Chlorella).
6. There is a synergistic effect between different treatments for heavy metal excretion. The combination of Chlorella - bear's garlic - Chinese parsley is after all the basis of heavy metal excretion.
7. Heavy metals disturb the fatty acid metabolism, which can result in neurologic defects. But the nerve system may be "repaired" by certain fats and oils.

Neurologic diseases increase massively, e.g. autism. Autism is made by damage of the immune system by vaccination and heavy metals. Damage by vaccination concerns enzymes of the
fatty acid metabolism of the nerves. At those children first of all you have to excrete the heavy metals,. with 6 g Chlorella 4 x per day, and bears garlic.

During detoxification infections will be visible, because after dropping the
mercury the bacteria can once more grow in the body. Heavy metal load induces weakened immune resistance, and so viruses, bacteria and fungi are not really rejected and are chronically at half sleep. But because of the antibiotic property of mercury can not really grow. If the mercury is now excreted, then these bacteria and viruses get the chance to grow. Result: there is no heavy metal excretion without infection, including muscle pain and headache.

Some statistics: 400 - 500 years old skeletons and the bones of persons died in 1987 - 1997 have been examined for lead. The modern bones had 500 - 1000 times more lead than the old.
Lead inhibits development and disturbs formation of blood. Since some years lead is out of the petrol. But now carcinogen chemicals (MTBE) are in it. So the neuro toxins are replaced by carcinogenes.

Now Dr. Klinghardt gave the floor to Dr. Patricia Kane, a leading food expert in the USA, who reported about her research on essential fatty acids and her treatment of neurologically ill
patients. Dr. Klinghardt translated (into German):

60 % of the brain are lipids. Mercury is lipophil. Mercury goes, where fats and oils are. So the brain is damaged.

There is a good message: a brain damaged by toxins can be "repaired" partially by adding the right, essential fatty acids and by avoiding of the wrong fatty acids.

In the interior of the cells there are, besides other structures and the mitochondria, which had been the center of research so far, also peroxisomes, or organelles. In these peroxisomes all
detoxification takes place. The metabolism via Cytochrome P450 takes place in the peroxisomes. In the peroxisomes the fats are burned (i.e. processed).

At persons poisoned with mercury, long chained fatty acids, which can not be broken down, are established in the peroxisomes. If mercury makes the peroxisomes be sticky, detoxification is
impossible.

The cell is filled with microtubules (tube structures). They are important for the transportation within the nerve cells. Emotions go along these tubuli. Also mitochondria wander along these tubuli. Brains with mercury loose these tubuli. Mercury damages proteins in brain as at Alzheimer. The damage is identical.

60 % of the brain are lipids and also the membrane of each cell consists of a double lipid layer. Fatty acids are among others responsible for the transport of information and nutrition through
the cell membrane.

An unsaturated fatty acid has a long chain with strong vibration. A saturated fatty acid has no vibration, it is stiff. When mercury nests into the chain of unsaturated fatty acids, the vibration stops, the fatty acid becomes stiff. Also the fatty acids in the cell membrane are damaged by mercury. The mercurydamaged cell is stiff, the transport of information and nutrition will be impossible.

The cell needs fatty acids for its normal functioning. But with damage of the cell membrane too much fat could be in the blood - but, caused by the disturbed transport mechanism, too few fat in the cell.

Heavy metals consume Omega-6-lipids, which are - among others - serve as predecessors of the arachidonic acid, which is very important for the body. Twelve years ago Dr. Klinghardt recommended to his patients to eat 6 eggs per day - because of its sulphur and its arachidonic acid. This fatty acid is also found in butter and cheese.

What has to be taken into account now to give the burdened brain, what it needs?

At the intake of fats the balance between Omega-6 and Omega-3 is very important. Omega-6-oils are in sun flower oil, thistle oil and evening primrose oil. From this the protaglandins-1-seires is established, which is important for the communication in the cell. Omega-6-oils are also in meat and butter, from which the prostaglandins of the series 2 are produced, which are among others important for the production of the leukotriene (inflammation mediators). Omega-3-oils are in fish or in linseed oil. Consideration of oils is essential for mercury detoxification.

The work of Dr. Yehuda and Dr. Rabinowitz is important, e.g. Fatty Acids and Brain Peptides" (Peptides 1998;19(2):407-19). Dr. Yehuda recommends a balance of 4 : 1 between Omega-6 and Omega-3-oils, e.g. 4 parts sun flower with 1 part linseed oil.

The oils should be biological, cold squeezed, in dark bottles and cooled. In the USA there are manufacturers, who cool their oils from the beginning. Just during the two days of mailing the oils are not cooled.

If you want to know it exactly, you have a lab in USA, which can find out by blood test, which fatty acids are missing in the patients brain (see addendum). The lipid concentration in the red
blood cells is measured, this correlates with the lipid concentration in the brain. Then a diet plan with exactly fats and oils is recommended.

An other point should be considered at detoxification. The Phospholipase 2 (PLA2) destroys essential fatty acids. Therefor PLA2 stimulants should be avoided

Insulin is a PLA2-stimulator. So the patients should have a diet with low carbohydrates, a maximum of 6 bread exchange units per day. Dr. Klinghardt adds: avoid all grain, also rice. No
bread! So eat in future vegetables with eggs.

With increased PLA2 the following happens:
- membrane lipids are lost
- prostaglandins synthesis is disturbed
- the membrane permeability is disturbed
- the homeostasis is disturbed.

The therapeutic goal at brain diseases is to break down long chained fatty acids. So you should avoid peanut oil, rape-seed oil and mustard, because they contain long chained fatty acids.
E.g. at autistic children we work with evening primrose oil and electrolytes.

First nutrition has to changed, missing substances have to be added, then detoxification. Dr. Kane and Dr. Klinghardt trace autism back to a heavy metal burden. With the method described above Dr. Kane has cured some children with diagnosis autism.

Now Dr. Klinghardt spoke until the end of the evening:

There are 3 kinds of mercury: metallic mercury, mercury salts and organic mercury.
In an amalgam filling there is often 500 mg mercury. Basically in 2 fillings
there is enough mercury to kill a person. But mercury leaves the fillings very slowly, and so the body has time to distribute it all. Bacteria in mouth and gut change it to methyl mercury. It is that methyl mercury, which is carried from the mother to the child during pregnancy. If then additionally the child is vaccinated, sometimes the burden is too big after the 3rd
or 4th vaccination, it is enough. In USA a child of 5 years has gotten 33 vaccinations.

In former times mercury chrome was a source, which has meanwhile been taken from
the market. Now mercury is available in drops for ears and eyes, in thermostats, in liquids for
contact lenses.

As soon as the blood brain barrier is damaged by mercury, all other poisons can pass into the brain unhindered.

If the body is filled up with all those good things, which the body needs, then there will be a competition - mercury is released out of the compound. If calcium is dosed very high, mercury
is released.

Complete detoxification is possible with goat whey, Chlorella, Chinese parsley and bears garlic. If you don't find goat whey, you can take sheep whey or cow whey as a replacement.

If you don't tolerate Chlorella, there is an alternative with sauerkraut, 4 x per day 2 spoons, also with apple pectin or Chitosan, which is made from the skeleton of insects.

At patients, who suffer from Parkinson's disease, also at MS and ALS, additionally to the above mentioned glutathione is injected.

Asthma sufferers are successfully treated with selenase: inhale with sprayer 1 ampul of selenase per day, during 3 weeks. This therapy has worked until now with every patient.

At brain patients the poisoning is also in the guts. Formerly detoxification was given i.v. (intravenous). But mercury poisoning is mainly in the guts. Dr. Klinghardt had a patient, a
dentist, who excreted after DMPS i.v. just 2 micro g / liter in urine. Then Dr. Klinghardt injected DMPS into the stomach - and in urine there were values of 1500 micro g per liter! A little bit DMPS into the stomach skin - and via nerves and spinal cord the guts were detoxificated. So it is important to inject small quantities directly at the concerned place.

If somebody is chronically ill, then he has a heavy metal burden. In the center of malign tumour there is always heavy metal. But be careful: mercury is volatile at room temperature and escapes
even from the tumour tissue!

A hair analysis is a good supervision of effectiveness of detoxification. The first analysis has to be done before the beginning of the detoxification, the second 6 weeks after beginning of the detoxification. If heavy metals are increased at the second analysis, then detoxification is efficient. If not increased, then the detoxification schedule is useless and should be changed.

Detoxification in short words:

1. goat whey
2. oil schedule
3. diet: low carbohydrates, many proteins (amino acids are needed for transportation of mercury). When diet is changed and minerals are supplemented, detoxification can start.
4. Basis of detoxification is the combination of Chlorella, bear's garlic and Chinese parsley.
It is important to say, that strict vegetarians, who don't eat eggs, will get difficulties at detoxification.

There is a new kind of Chlorella, which is grown in glass tubes, which is better (cleaner) than the types of Chlorella used until now.

Following: enumeration of further methods of excretion.

At last some remarks concerning the discussion: selenium yes or no. Most people have selenium deficiency and need selenium. Too much selenium binds mercury in the brain.

Addendum:

1. Some URLs concerning fatty acids:
http://www.ncbi.nlm.nih.gov/entrez/query.fcgi?cmd=Retrieve&db=PubMed&list_uids=9493877&dopt=Abstract

Lab in USA, which makes fatty acid analysis: http://www.bodybio.com/aboutus.html

A forum on autism, where Dr. Kane gave information:
http://groups.yahoo.com/group/AUTISM-FBI/message/1042

2. Chlorella, bear's garlic, Chinese parsley:

* Chlorella pyrenoidosa: a sweet water algae, which always has played e big role in Chinese medicine. It can mobilise and bind to toxins. So they are transported out of the body. The enterohepatic circulation is interrupted. Detoxification goes via liver and guts. Algae are dried and pressed to tablets.
* Bear's garlic (ransom, Bärlauch, allium ursinum) contains sulphur compounds, binds to mercury and excretes it via liver and guts out of the body.
* The cell detoxifying effect of Chinese parsley (Koriander) was discovered and described by Prof. Omura. The therapeutic experience is impressive, but be careful with dosage. (Excretion of heavy metals by Chlorella, bear's garlic and chinese parsley was discussed in detail in Dr. Klinghardt's first lecture 1998 in Zürich. From then there is also a video, which can be delivered by Paracelsus
Pharmacy in Einsiedeln.
Personal: Auditorium Maximum of the ETH Zürich (Translation)
Copyright: Amalgam Patients Organisation, Switzerland (German version) and Reinhard Lauer (English translation)
Published: 31st October 2001
Contact: A video from this event is available at Paracelsus Pharmacy in Einsiedeln, Switzerland. e-Mail:[email protected]
Url: www.amalgam-info.ch/vortrag011031.pdf

--------------------
"Beep Beep"


---

Posts: 2630 | From ct | Registered: Nov 2000 | IP: Logged |

RoadRunner
Frequent Contributor (1K+ posts)
Member # 380


posted

---

Heavy Metal Detoxification

http://www.detoxmetal.com/NewFiles/ReviewPearls.html


The following is based on my own experience as I was conquering Lyme Disease. Let me assure you that I am totally well today and have been for a goodly number of years.
If you would like to know more, please read some of my many posts:

No, we cannot detox mercury with amalgams still in our mouth. That would be like having a leaking gas stove, opening the kitchen window and not shutting off the stove and letting the gas continue to contaminate the house.

How does the mercury leave the tooth?

http://flash.lymenet.org/ubb/ultimatebb.php?ubb=get_topic;f=1;t=057203#000001

Heavy Metal Detoxification - Why and How
http://www.detoxmetal.com/NewFiles/ReviewPearls.html

Mercury & Related Issues - The Domino Effect

According to Dr. Bruce Shelton, MD (H), Di.Hom, director of the Allergy Center in Phoenix, Arizona, "Mercury amalgams are as close as you can get to the center of the illness universe, their use in dentistry has set us up for most of the health problems we see today."

In his practice, Dr. Shelton frequently observes a domino effect of illness that begins with mercury toxicity. He reports that 90% of his patients who come in with allergies have an over-growth of the yeast-like fungus, Candida Albicans. This overgrowth can be due to heavy metals in the body, principally from mercury in the teeth, continually draining in minute amounts into body tissues."

"The next stage" he says of the domino effect, "is that patients in this predicament typically develop leaky gut syndrome. If we do not totally digest and absorb our foods before they are broken to basic chemicals, then we have a 'leaky gut.'... He says the "leaky gut syndrome s, in turn, to food allergies." He remarks the soon the person becomes a universal reactor, allergic to multiple chemicals, to almost everything. Environmental illness is then at hand.

"Although dental work tends to be very expensive, if you can get a patient to have their teeth corrected, they will get well," reports Dr. Shelton. Other contributing factors that are prevelant in this domino effect can also be an under-active thyroid, which is generally associated with Chronic Fatigue Syndrome. He says that, "Specifically, in thyroid cases, the fifth tooth from the midline of the mouth (between the two front teeth), upper and lower, in both directions, frequently has a mercury filling or a root canal, or is in a state of degeneration in this situation. In other words, "potentially four different teeth can have a thyroid connection."

Another situation in the domino effect is the parasites, usually associated with the yeast or fungus infection. Patients or clients can have everything from tapeworms, pinworms, hookworms, etc. and these can be expelled naturally through various supplements or frequency equipment instruments, and colonics.

"Mercury then works on the Central Nervous System and damages the myelin sheath around the nerves. Heavy metals such as mercury act as free radical which are highly reactive, charged particles that can cause damage to body tissues. This cumulative poison builds up in the body with repeated exposure having devastating effects. It then can prevent nutrients from entering the cells and wastes from leaving, and block enzymes necessary for the body's detoxification processes," says Dr. Shelton.

Again, he says, "Mercury can bind to the DNA (deoxyribonucleic acid) of cells, as well as to the cell membranes, distorting them and interfering with normal cell functions. When this happens, the immune system no longer recognizes the cell as part of the body and will attack it. This is the basis of an autoimmune disease."

Note: "Free radicals are formed when molecules within cells react with oxygen (oxidize) as part of normal metabolic processes.

Free radicals then begin to break down cells, especially if there are not enough free radical quenching nutrients, such as vitamins C and E, in the cell. While free radicals are normal products of metabolism, uncontrolled free-radical production plays a major role in the development of degenerative disease, including cancer and heart disease. Free radicals harmfully alter important molecules, such as proteins, enzymes, fats, even DNA. Other sources of free radicals include pesticides, industrial pollutants, smoking, alcohol, viruses, most infections, allergies, stress, even certain foods and excessive exercise." Dr. Bruce Shelton, M.D.(H), Di.Hom."

Hope this helps understand that Lyme is not the only cause of our problems.


http://www.xs4all.nl/~stgvisie/AMALGAM/EN/SCIENCE/bernie_science.html


http://www.curezone.com/blogs/m.asp?f=86&i=3


PLEASE COMMENT ON THE EFFECTIVNESS /IMPORTANCE if you know, when you post....

***CILANTRO & CHLORELLA

***CLAY BATHS

***1/2 LEMON-JUICE, 1 Tlb OLICE OIL & 1 CLOVE OF GARLIC- BLEND - FOLLOW WITH CUP OF TEA

I feel this helps...decreases my liver pains & scent senitivities (sign of a stressed liver)


***SAUNA

I read lots of controvercies about using saunas if you have amalgams & brain fog....???CAN BE HARMFUL??...commments???

***FOOT PATHCES

***REBOUNDER(TRAMPOLEAN)

helps me!!gets my blood movin', only for of exercise I'm capable of now... lOVE it...

***MILK THISTLE-

www.UltraThistle.com (supposed to be highest potency milk thistle product avalibale...check it out...

note-some believe it decrease Mepron effectivness...???

***DETOX TEAS
anyone have great ones to reccomend?

***EPSON SALT BATHS

***DR. NATURA'S COLON CLEANSE PRODUCTS

TOXIN OUT, PARASITE KILLER, FIBER & MULTI- VITAMIN
www.DrNatura.com
really like these products...use fiber their fiber daily...


***INCREASE WATER INTAKE & TEAS

*** ION CLEANSE


Chlorella
D O S A G E : Start with 1 gram (=4 tabl) 3-4 times/day. This is the standard maintenance dosage for grownups for the 6-24 months of active detox. During the more active phase of the detox (every 2-4 weeks for 1 week), whenever cilantro is given, the dose can be increased to 3 grams 3-4 times per day (1 week on, 2-4 weeks back down to the maintenance dosage). Take 30 minutes before the main meals and at bedtime. This way chlorella is exactly in that portion of the small intestine where the bile squirts into the gut at the beginning of the meal, carrying with it toxic metals and other toxic waste. These are bound by the chlorella cell wall and carried out via the digestive tract.

When amalgam fillings are removed, the higher dose should be given for 2 days before and 2-5 days after the procedure (the more fillings are removed, the longer the higher dose should be given).

NO cilantro should be given around the time of dental work. During this time we do not want to mobilize deeply stored metals in addition to the expected new exposure.

If you take Vitamin C during your detox program, take it as far away from Chlorella as possible (best after meals).

--------------------
"Beep Beep"


---

Posts: 2630 | From ct | Registered: Nov 2000 | IP: Logged |

Aniek
Frequent Contributor (1K+ posts)
Member # 5374


posted

---

I just found out I have high mercury. I don't have any fillings, which is a reminder to people that there are other sources of mercury. Certain fishes have high content and mercury is in our air because of mercury pollution from some Asian countries.

My LLMD said they don't know exactly why mercury makes it harder to kill Lyme. One theory is that the mercury actually coats the spirochete so the antibiotics can't get to them.

--------------------
"When there is pain, there are no words." - Toni Morrison


---

Posts: 4711 | From Washington, DC | Registered: Mar 2004 | IP: Logged |

SForsgren
Frequent Contributor (1K+ posts)
Member # 7686


posted

---

klinghardt.org
neuraltherapy.com
gordonresearch.com

--------------------
Be well,
Scott


---

Posts: 4617 | From San Jose, CA | Registered: Jul 2005 | IP: Logged |

sixgoofykids
Moderator
Member # 11141


posted

---

In 1991 I had what I now know was a Lyme flare. I basically had CFS very badly. Fatigue has always been one of my bad symptoms, as well as GI symptoms.

I always felt worse on days after I would grind my teeth.

I found a biological dentist (www.mercuryfreedentists.com) and had my amalgams removed. I also took the supplements and went on an anti-candida diet.

My Lyme went mostly into remission for the next 12 years. I would have symptom flares when I was pregnant, but other than that, I felt very good. I did not know I had Lyme.

Eventually my Lyme did come back, and after four years of being sick, I found out what was wrong. This time after 1 year of treatment, I've been switched over to Cowden herbs with only a couple meds and I'm pretty much back to normal ... just a couple days per month that I'm sick. A year ago I spent most of my time in bed and couldn't walk without help as I was too weak and unbalanced.

I think metals are a big player in this. I also think parasites are. Really, anything that causes toxins ... ultimately, it's the toxins from the bugs/metals/parasites that make us feel bad.

--------------------
sixgoofykids.blogspot.com


---

Posts: 13449 | From Ohio | Registered: Feb 2007 | IP: Logged |

sparkle7
Frequent Contributor (5K+ posts)
Member # 10397


posted

---

I went to a doctor a few years ago & he told me to have the fillings removed very slowly.

1 every 6 months or so.

I'm not sure if this is the best way or to just do it all at once & bite the bullet.

It may just be very hard for your body to deal with a toxic overload from the mercury (plus the Lyme).

Mercury is a neurotoxin.

You will be exposed to some mercury - even if you are very careful.

Be sure to use a dental dam & have them give you some kind of air filter so you don't breathe in the mercury vapor while they are drilling them out.

There are also some supplements you can take but I'm not sure of the dosages & when is the appropriate time to take them.

Someone may have written that in this thread, already.

Having the mercury removed improperly can cause you to be alot worse - so be cautious.

---

Posts: 7772 | From Northeast, again... | Registered: Oct 2006 | IP: Logged |

TerryK
Frequent Contributor (5K+ posts)
Member # 8552


posted

---

This has been posted here several times but I'll post again.

1: Clin Exp Immunol. 2007 Oct;150(1):189-97. Epub 2007 Aug 2.

Mercury exposure as a model for deviation of cytokine responses in experimental Lyme arthritis: HgCl2 treatment decreases T helper cell type 1-like responses and arthritis severity but delays eradication of Borrelia burgdorferi in C3H/HeN mice.

Ekerfelt C, Andersson M, Olausson A, Bergström S, Hultman P.

Division of Clinical Immunology, and Unit of Autoimmunity and Immune Regulation, Department of Molecular and Clinical Medicine, Faculty of Health Sciences, University Hospital, Linköping, Sweden. [email protected]

Lyme borreliosis is a complex infection, where some individuals develop so-called 'chronic borreliosis'. The pathogenetic mechanisms are unknown, but the type of immune response is probably important for healing.

A strong T helper cell type 1 (Th1)-like response has been suggested as crucial for eradication of Borrelia and for avoiding development of chronic disease.

Many studies aimed at altering the Th1/Th2 balance in Lyme arthritis employed mice deficient in cytokine genes, but the outcome has not been clear-cut, due possibly to the high redundancy of cytokines.

This study aimed at studying the importance of the Th1/Th2 balance in murine Borrelia arthritis by using the Th2-deviating effect of subtoxic doses of inorganic mercury. Ninety-eight C3H/HeN mice were divided into four groups: Borrelia-infected (Bb), Borrelia-infected exposed to HgCl(2) (BbHg), controls exposed to HgCl(2) alone and normal controls. Mice were killed on days 3, 16, 44 and 65 post-Borrelia inoculation.

Arthritis severity was evaluated by histology, spirochaetal load determined by Borrelia culture, IgG2a- and IgE-levels analysed by enzyme-linked immunosorbemt assay (ELISA) and cytokine-secreting cells detected by enzyme-linked immunospot (ELISPOT).

BbHg mice showed less severe histological arthritis, but delayed eradication of spirochaetes compared to Bb mice, associated with increased levels of IgE (Th2-induced) and decreased levels of IgG2a (Th1-induced), consistent with a Th2-deviation.

Both the numbers of Th1 and Th2 cytokine-secreting cells were reduced in BbHg mice, possibly explained by the fact that numbers of cytokine-secreting cells do not correlate with cytokine concentration.

In conclusion, this study supports the hypothesis that a Th1-like response is required for optimal eradication of Borrelia.

PMID: 17672870 [PubMed - indexed for MEDLINE]

---

Posts: 6285 | From Oregon | Registered: Jan 2006 | IP: Logged |

heiwalove
Frequent Contributor (1K+ posts)
Member # 6467


posted

---

you need to make sure you have it done right. i wish GiGi were still here because she could point you in the right direction. perhaps do a search on her name; she's shared tomes of info about proper amalgam removal & subsequent chelation over the years.

if it's done improperly, there is a good chance you will get much sicker. so please do exercise caution.

--------------------
http://www.myspace.com/violinexplosion


---

Posts: 1848 | From seattle, wa | Registered: Nov 2004 | IP: Logged |
Contact Us | LymeNet home page | Privacy Statement

Powered by UBB.classic™ 6.7.3

---
The Lyme Disease Network is a non-profit organization funded by individual donations. If you would like to support the Network and the LymeNet system of Web services, please send your donations to:
The Lyme Disease Network of New Jersey
907 Pebble Creek Court, Pennington, NJ 08534 USA
http://www.lymenet.org/
---
Home | Flash Discussion | Support Groups | On-Line Library
Legal Resources | Medical Abstracts | Newsletter | Books
Pictures | Site Search | Links | Help/Questions
About LymeNet | Contact Us
---
© 1993-2020 The Lyme Disease Network of New Jersey, Inc.
All Rights Reserved.
Use of the LymeNet Site is subject to Terms and Conditions.
---